I am thrilled to join eight other amazing bloggers as we open up our homes and share what Hygge (pronounced hoo-gah) looks like and means in each of our beautiful and unique homes. Even though we have many different types of homes and styles, Hygge fits them all. Hygge, roughly translated, means coziness. And you will find an abundance of inspiration on how to make your homes cozy on this tour. Thank you so much to my friend Jessica Honey and Hydrangea for organizing!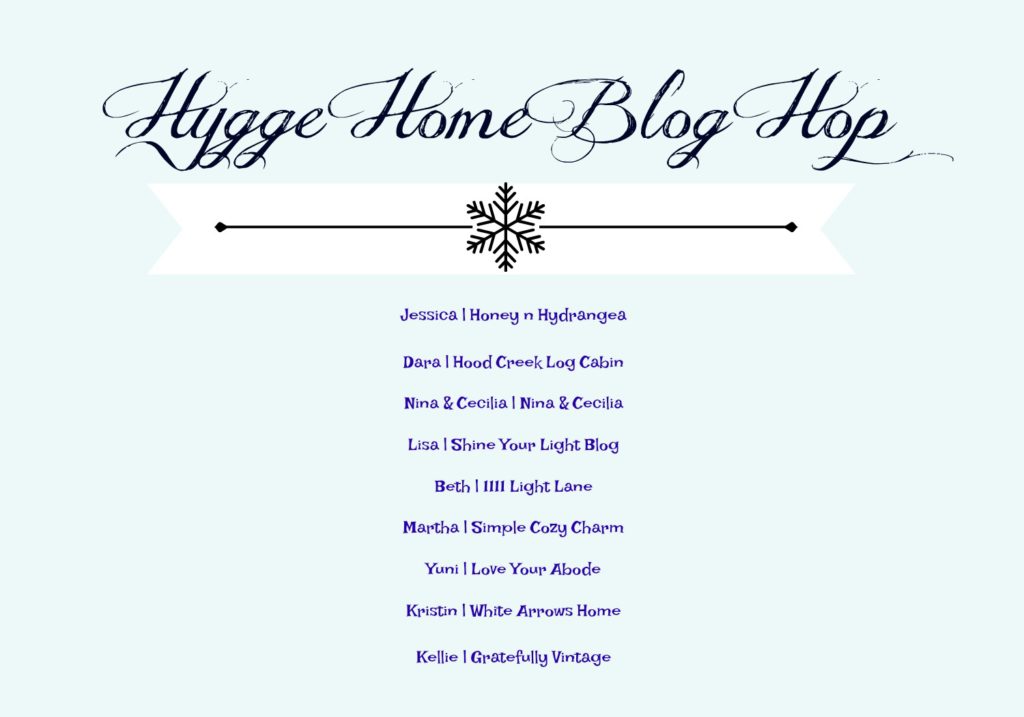 If you are coming over from Yuni's blog Love Your Abode, welcome! Weren't you inspired by her gorgeous winter decor! At the end of my post you will find the full list of all the participants in this hop. You can read in any order and come back here as a reference.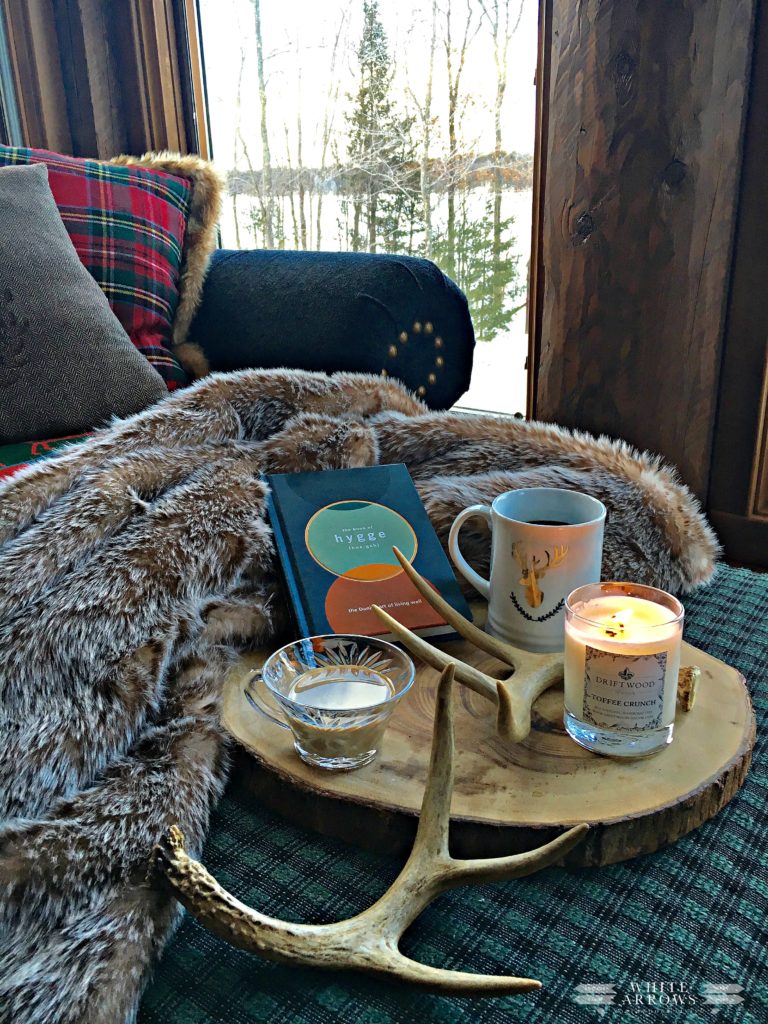 Until a year ago I had never heard of Hygge. Then I came across an article on the phrase and was amazed to find that the way we live, here at our cabin in The Northwoods of Wisconsin, had a term,  a way of living, derived from Danish culture. Hygge is the definition of our lifestyle. Reading the article was like going through a checklist of the way we do life.
Winter in The Northwoods of Wisconsin typically gets 82 inches of snow. We relish the snow, enjoying its beauty and all the fun outdoor activities that come along with it. You can see how we have fun in the snow in this post. Maybe the best part of winter though is coming in from all those cold outings to the warmth and comfort of home.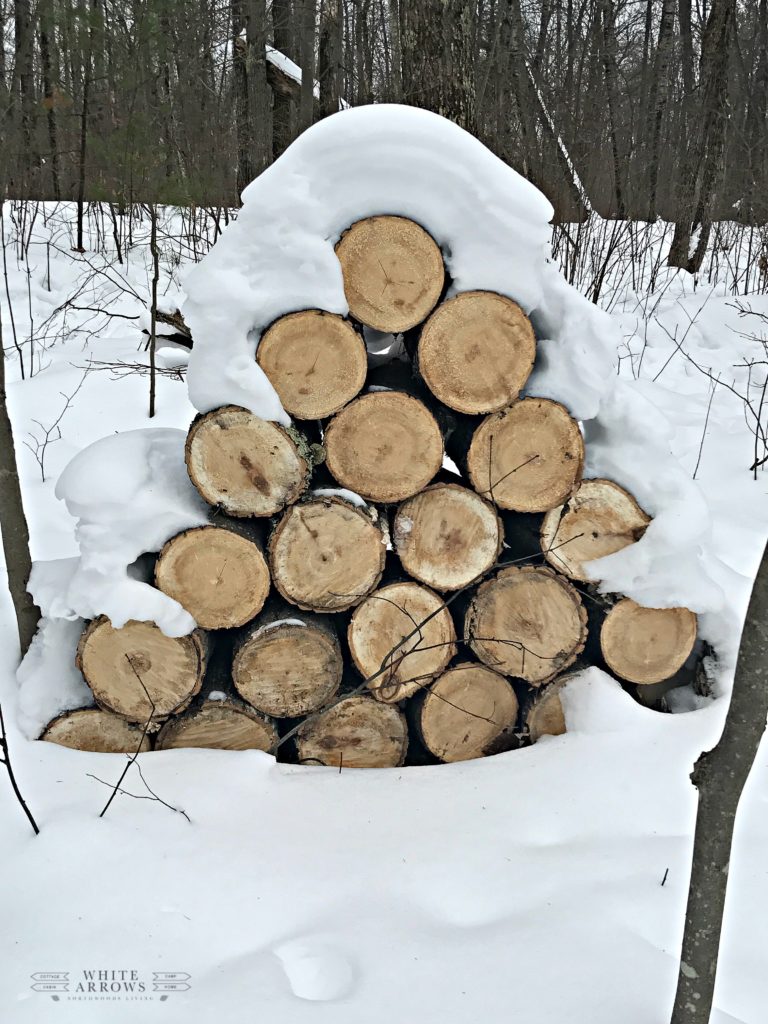 My Hygge Home Essentials
Warm Glow
One  of the most calming aspects of our great room in the evenings is lamp light. I try to keep the overhead lights off and turn on all the lamps around the room. It instantly makes the room peaceful.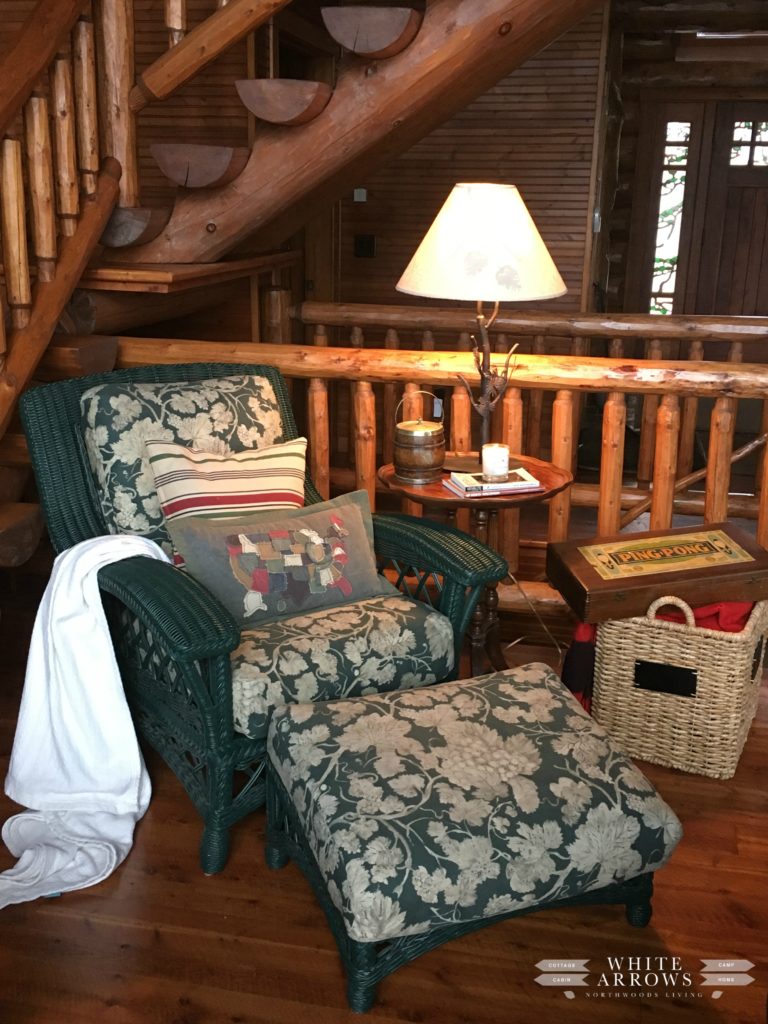 Keeping candles burning with aromas that set the mood are an important part of our Hygge home. My favorite are pine scented candles that remind me of the woods outside our home.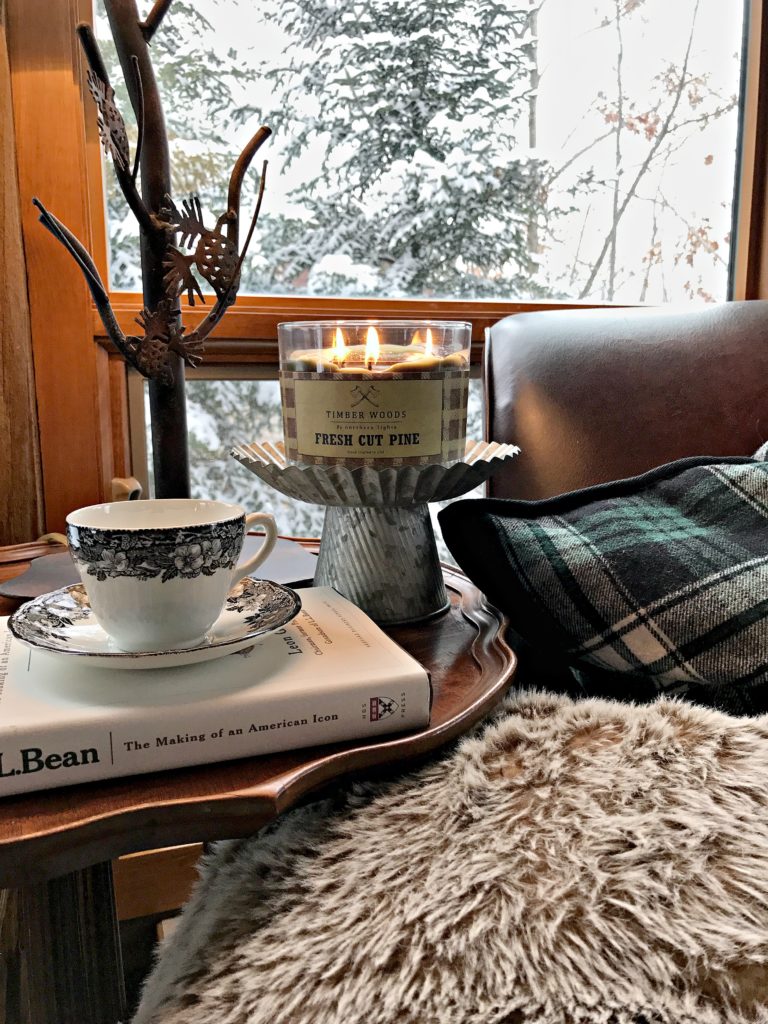 Layers & Textures
Adding layers, whether in what we wear, or to our spaces makes everything more cozy.
Blankets and  throw pillows add quick and easy layers. Vary the textures you are using with faux fur throws and fur edged pillows, cable knits and wool.
Layering what we wear is also very Hygeg. I always have on a favorite pair of cozy slippers or cuddly socks. I add warmth with sweaters and even wear my favorite hats indoors.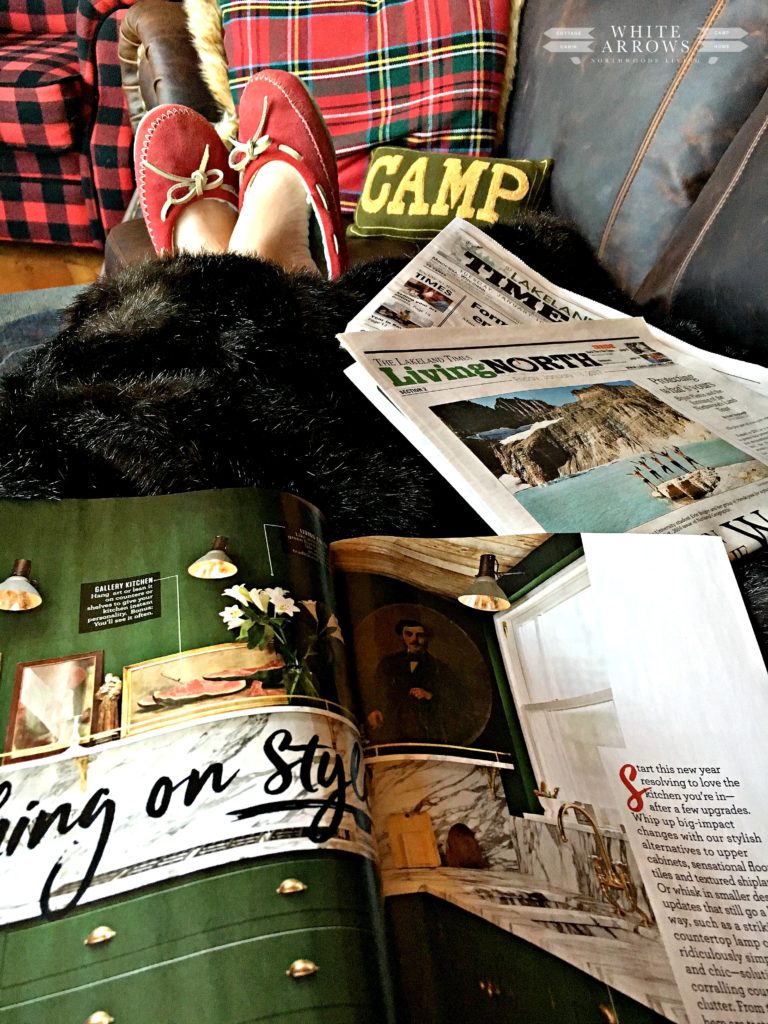 Comfort
We keep our wood burning fireplaces going during the late fall-early spring and our Master Bedroom turns on every night to get our room cozy before bed. Fireplaces are such an essential part of our Hygge Home. Whether log, gas or electric, fireplaces instantly make a space cozy. If you don't have a fireplace, there are really cute electric fireplaces you can get for your home here. If you love vintage and antiques, you can also find a mantel to put along a wall and fill with fake logs, books, or candles. See ideas for this on my Pinterest board here.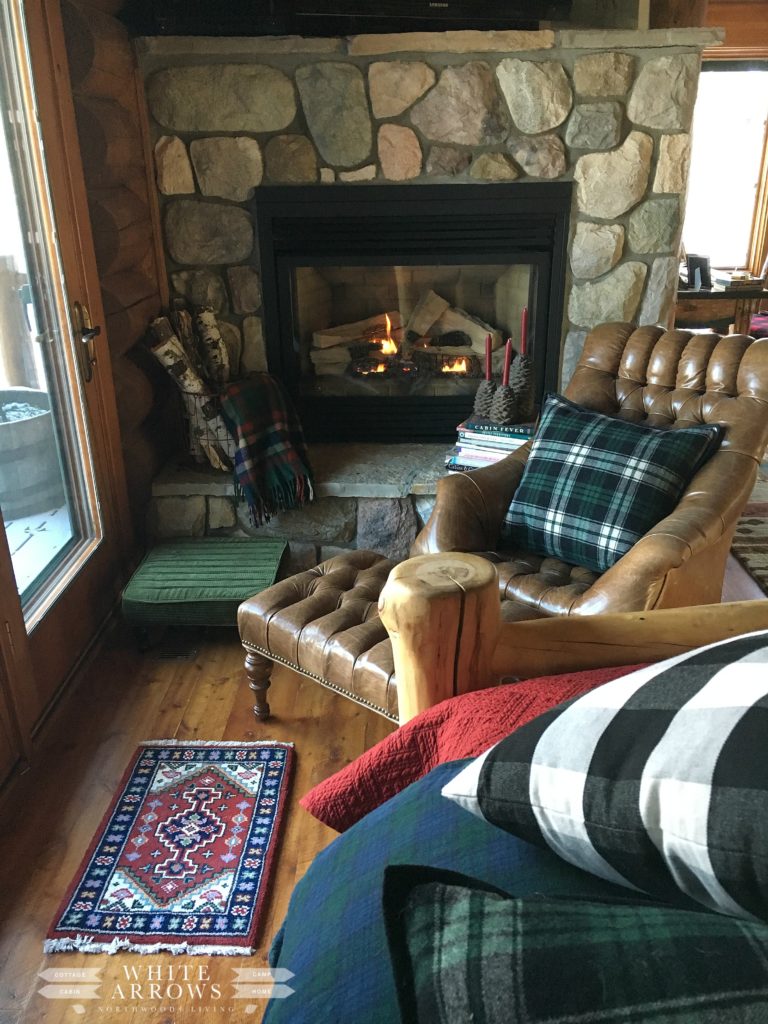 Sharing food and drink is an important element of our Hygge home. We enjoy cocktail hours in the evening or visiting over coffee with a friend. Having a special treat to share is an indulgence that makes our guests feel welcome and special.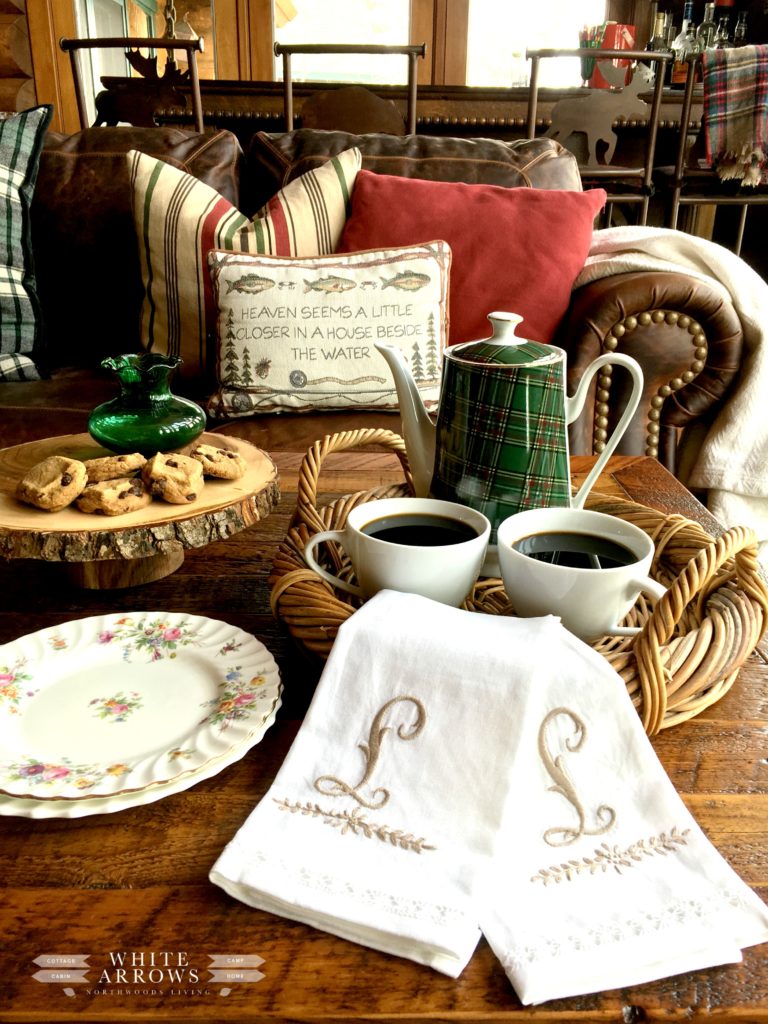 Togetherness
A favorite ingredient of Hygge is togetherness. My kids love to sit around the Great Room with us, and considering many of them are teenagers, I think that says a lot about how inviting a Hygge lifestyle is. I keep out a puzzle on the table. A chess board is always set up and ready in a corner.(See tips for styling cozy corners in this post.) I have a beautiful animal hide checker board that is gorgeous decor when not being used for checkers tournaments. I keep out stacks of magazines and coffee table books, decks of cards and set out munchies like a small bowl of nuts or a tray of veggies depending on the time of day.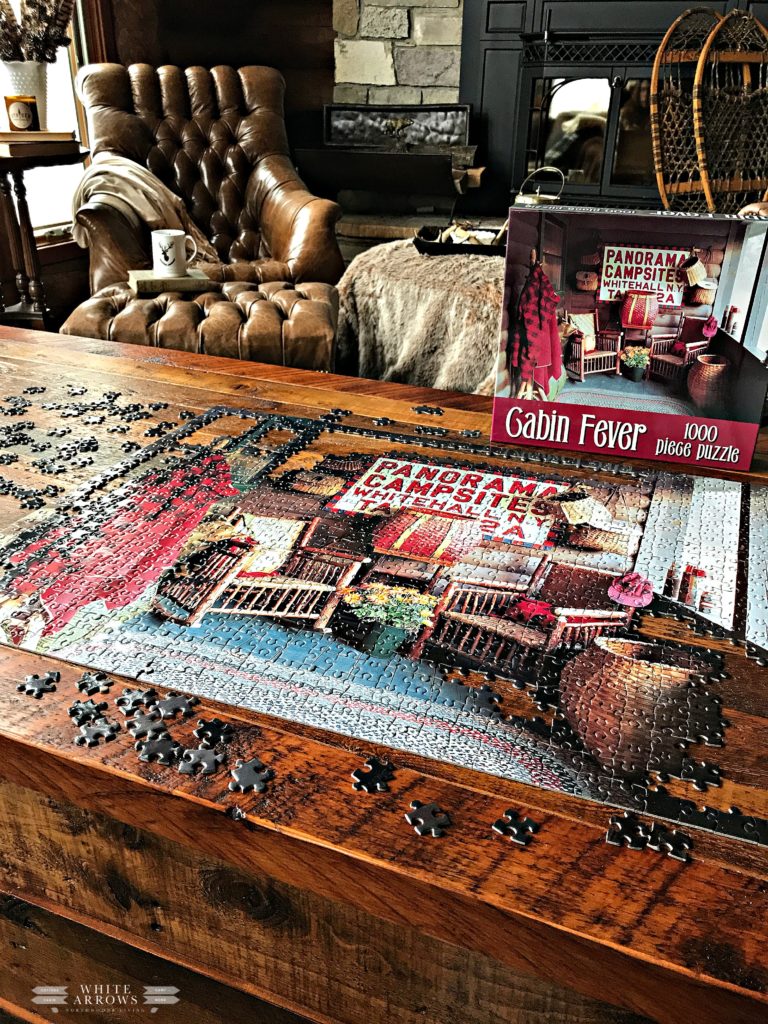 Time For You
Taking time to relax and slow down is so important. Take time each day to journal, draw, read or craft, something that let's you be creative and peaceful.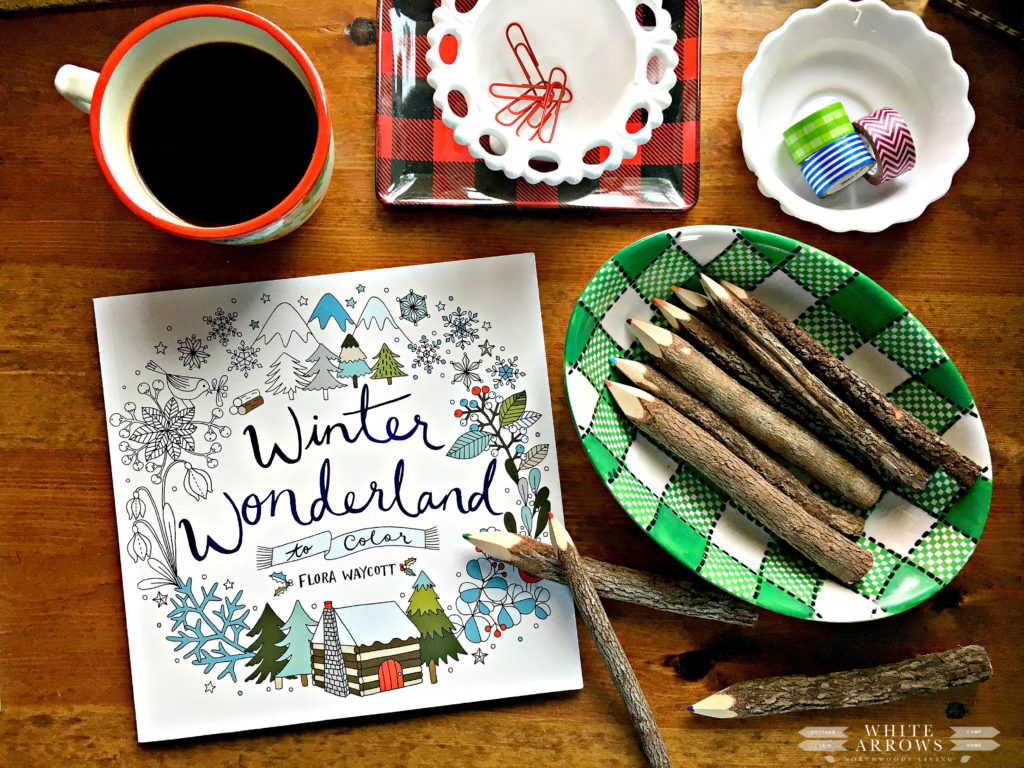 Enjoying The Moments
The most essential Hygge principal to me is making memories, slowing down and enjoying the moments. Cherishing time together with those you care about most is key. I hope this winter you are able to add some Hygge to your own homes or understand more deeply why what you have already been doing is so important for a "cozy life." See more of how I add cozy to our home in this post.
White Arrows Home Hygge Hints
turn off overhead lights and turn on lamp light
light a candle
add layers and textures with throw pillows and blankets

to cut down on cost purchase pillow covers to change things up seasonally

wear slippers, warm socks and sweaters
use your fireplace
create comfortable seating where it's easy to gather and relax
have activities like puzzles and games readily available
keep stacks of books and magazines in baskets or stacked on the coffee table
offer beverages to guests

keep a coffee/hot chocolate bar set up and ready for self serving

put out snacks or special treats
play background music
give yourself permission to relax

color, read, journal, even take a nap
I hope you will continue to follow along with me here at White Arrows Home. One of my favorite parts of participating in these blog hops is how it introduces me to new people who become followers and friends! You can sign up for my newsletter so you don't miss a post on the sidebar. You can also follow along with me on Instagram, Facebook, Twitter and Pinterest. I share video stories each day on Instagram and Facebook where you can see our Northwoods life and ideas for home daily.
And now on with the tour! Next, you are off to the gorgeous home of Kellie at Gratefully Vintage.
Enjoy our Hygge Home Tour at each of these amazing blogs:
Jessica | Honey n Hydrangea
Dara | Hood Creek Log Cabin
Nina & Cecilia | Nina & Cecilia
Lisa | Shine Your Light Blog
Beth | 1111 Light Lane
Martha | Simple Cozy Charm
Yuni | Love Your Abode
Kristin | White Arrows Home
Kellie | Gratefully Vintage
(This post may contain affiliate links which won't change your price but will share some commission.)
Get The Look


Shared at the following Link Parties: