Find inspiration in a beautiful lakehouse nautical table on the sunporch to enjoy Spring and Summer meals.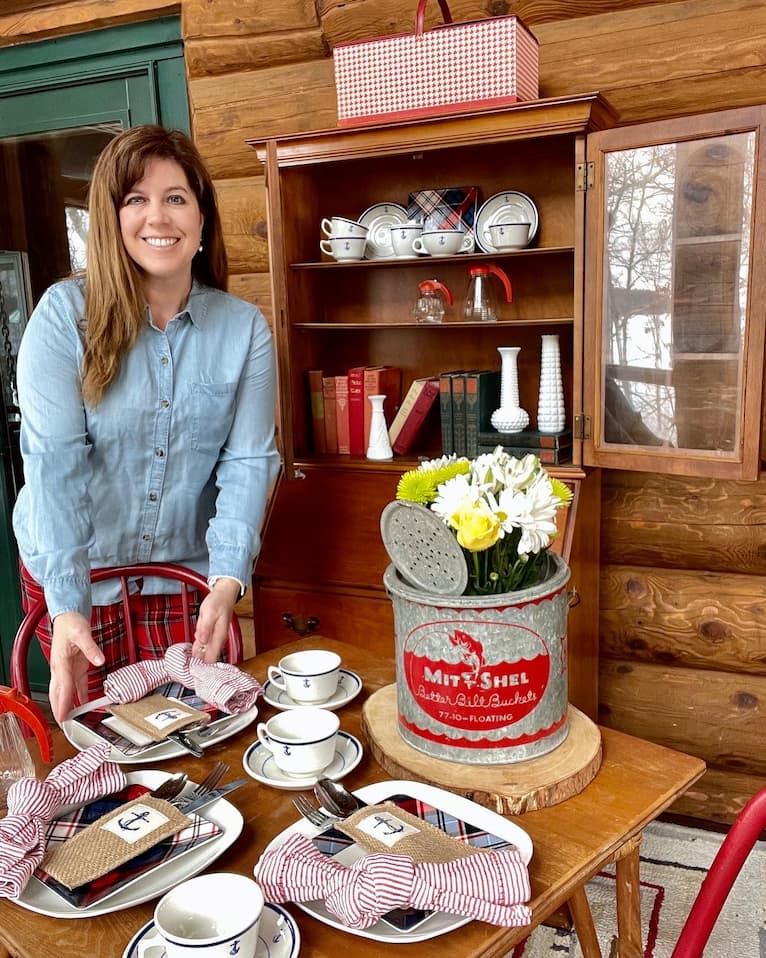 I'm excited to share my lakehouse nautical table decor along with several of my blogging besties. We all met on Instagram and have been friends now for years.
Come follow all of us over onInstagram. Our friend Molly of Molly in Maine is joining in too! You can visit each of our feeds and stories to see more details.
(Affiliate links are used for your convenience. Read my full disclosure here.)
We are all sharing one similar item on our tables, silverware pouches from Cutlery Couture.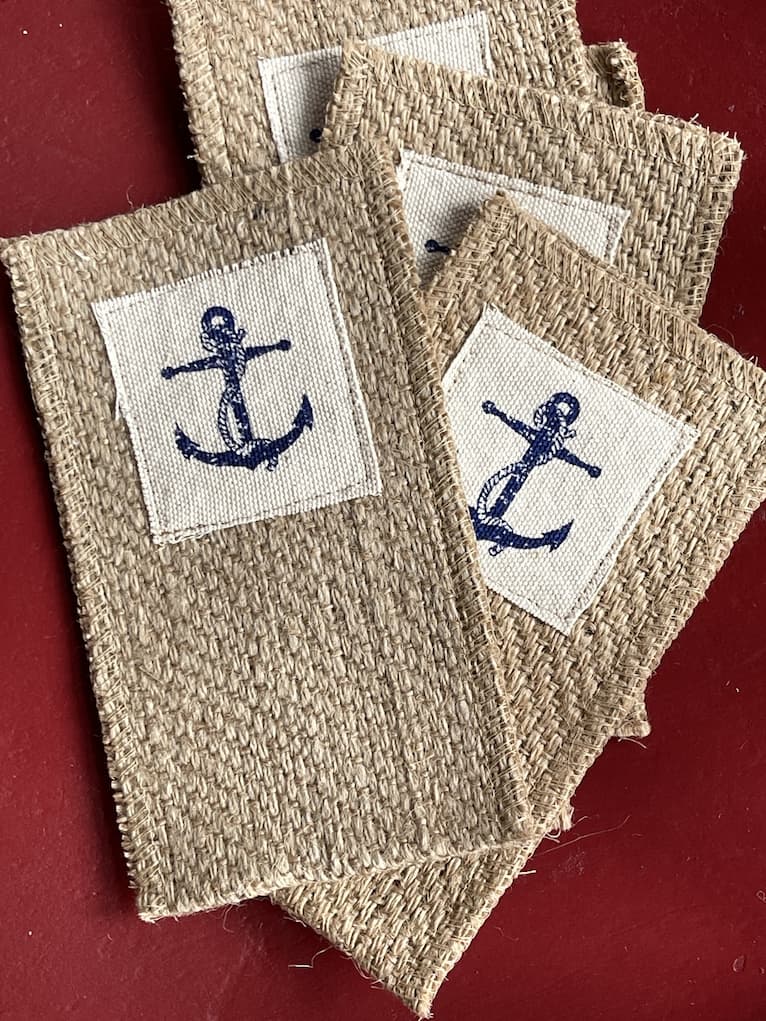 Cutlery Couture carries one of my favorite products to make my table settings special. They work well on my everyday table, for entertaining or holidays.
I was so excited to add the coastal | anchor pouches to my collection recently. They came in a set of 8, the perfect amount for our dining room table. The woven jute silverware pouches have a screen-printed anchor on a canvas patch and they are packaged in a muslin, reusable storage bag.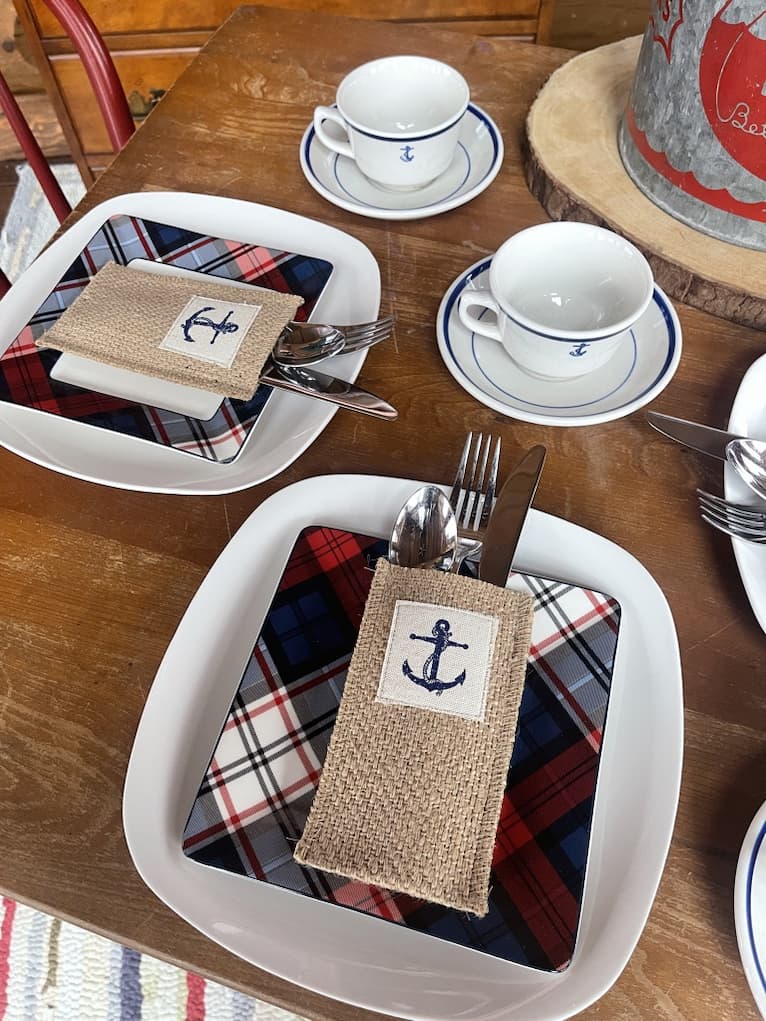 10 for 10
Cutlery Couture is celebrating 10 years! They want to share the excitement with YOU! Enjoy 10% OFF from April 5- April 10! 10% OFF to celebrate 10 Years- 10 for 10!
If you are coming over from my friend Rachel's home in North Carolina, welcome to our lakeside log cabin home in The Northwoods of Wisconsin. Didn't you love Rachel's table! Her tablestyling always inspires me whether she sets them up in her farmhouse, her greenhouse or on the dock by her pond. You'll love following her at The Pond's Farmhouse!
Our Lakeside Home
We live in a full log cabin (just like Lincoln Logs) on the edge of a gin clear lake way Up North in Wisconsin. We are three hours north of Madison in Minocqua, a vacationland full of forests and lakes.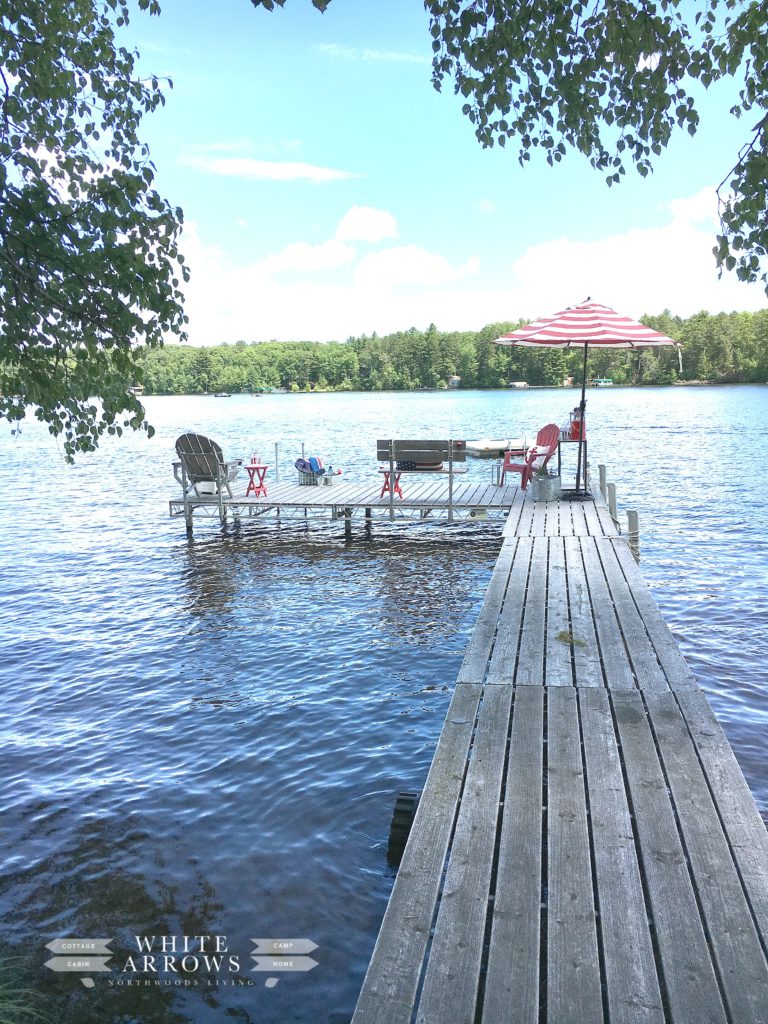 My decor is inspired by what is outside my windows and I love using nautical elements. My tablescape on this tour is inspired by this view.
The Table
I had a crazy idea the other day. I ran it by my husband and he thought it was great!
To use rooms and spaces in our home in new ways is so fun. I thought it would be a great change for Summer to move our dining room table to the Sunroom off the Dining Room.
The Sunroom is usually a sitting room that doesn't actually get much attention. It's a beautiful space and I thought eating our meals out there starting this Spring, as the weather warms up, would be a great way to use it.
For this tablescape I thought I'd try the Sunroom out with my little game table. The secretary behind the table will be replaced by a hutch to show off my dish collections, but for now it works well to hold some of my extra pieces from this table.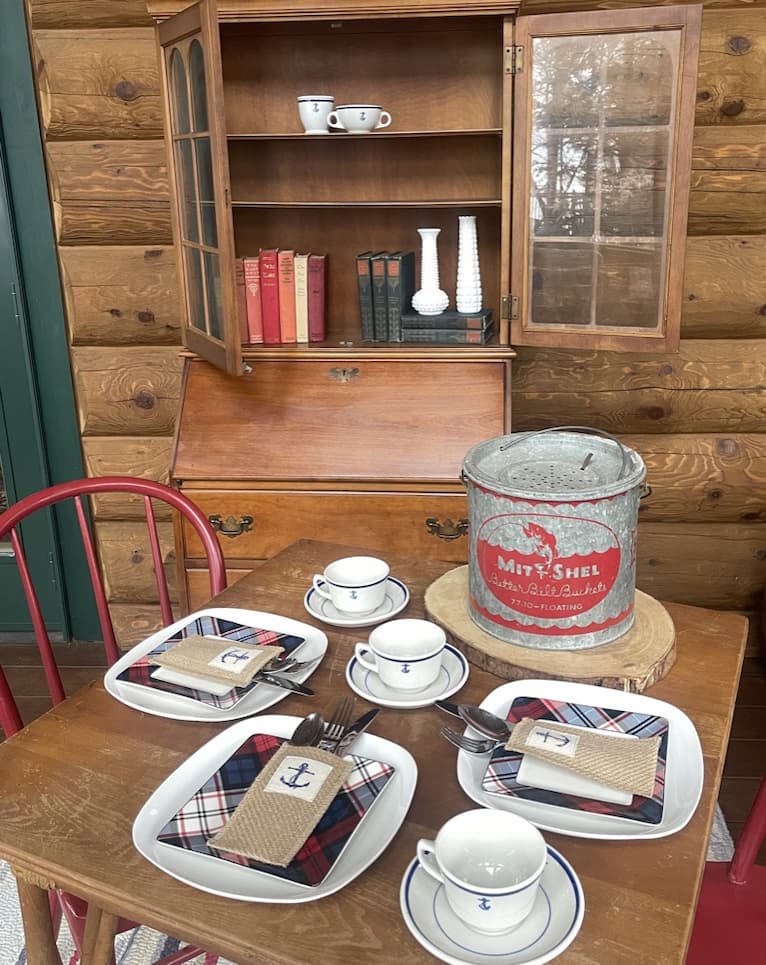 One of the other areas in the cabin I am working on restyling is the loft. Most of the pieces are being moved to the loft from around the house. "Shopping My House" is such an affordable way to make a space look new. The secretary desk from the Sunroom will be one of the pieces moving to the Loft. Follow along to see how it all comes together!
Follow along to keep updated. SUBSCRIBE HERE.
And stay tuned for how the dining room flip turns out! The current dining room will be a sitting room.
Enjoy this post seeing my table and shelf styling come together.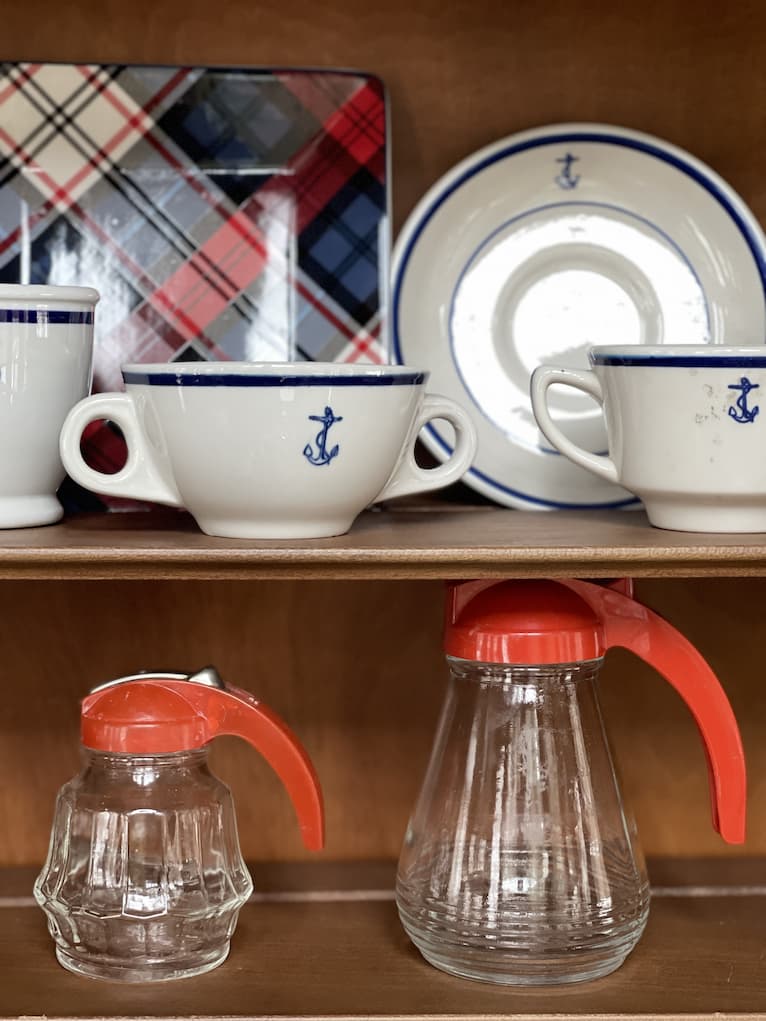 Vintage Finds
My tablescapes are a great way to showcase many of my vintage finds. A lot of these treasures are found while I'm out Thrifting With the Gals. Rachel (The Pond's Farmhouse), Ann (Dabbling & Decorating) and I share in our Instagram Stories throughout the week when we are out at antique shops, vintage markets and thrift stores. We also share our finds and upcycles in a monthly blog hop. Our friend Robyn of Robyn's French Nest joins us too.
Here are some of my vintage finds on this tablescape and on the shelves:
Plaid Plates
Syrup Dispensers
Milk Glass
Books
US Navy Plates
Minnow Bucket
Plaid Plates
One of my favorite things is that my local friends love to antique as much as I do and we always have our eyes out for the things we know we all like. My friend Diana brought back these plaid plates for me from one of her recent trips to Stillwater, Minnesota.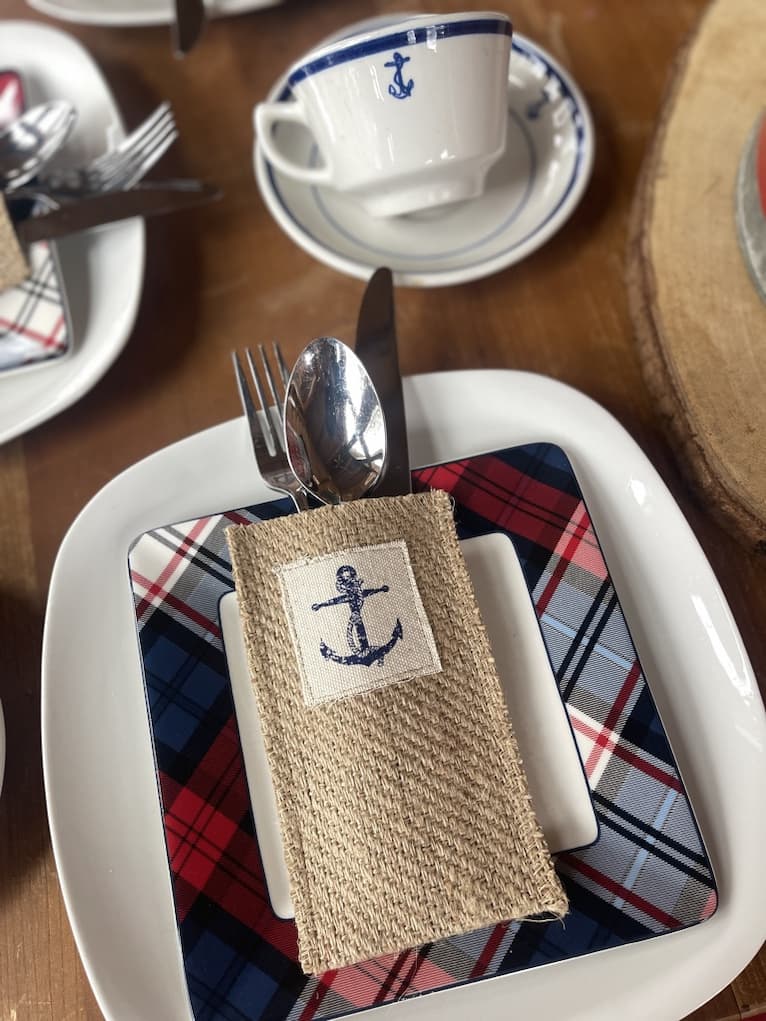 Syrup Dispensers
Big weekend breakfasts are an essential part of cabin living. Often those breakfasts require syrup. I love collecting vintage syrup dispensers. So many of them have beautiful glass bottles. I always am careful to inspect that the top is not rusted and is in good condition.
Want to find out more fun cabin essentials, stories, recipes and travel tips? Listen to my podcast, The Cabincast. New episodes air each Friday. LISTEN HERE.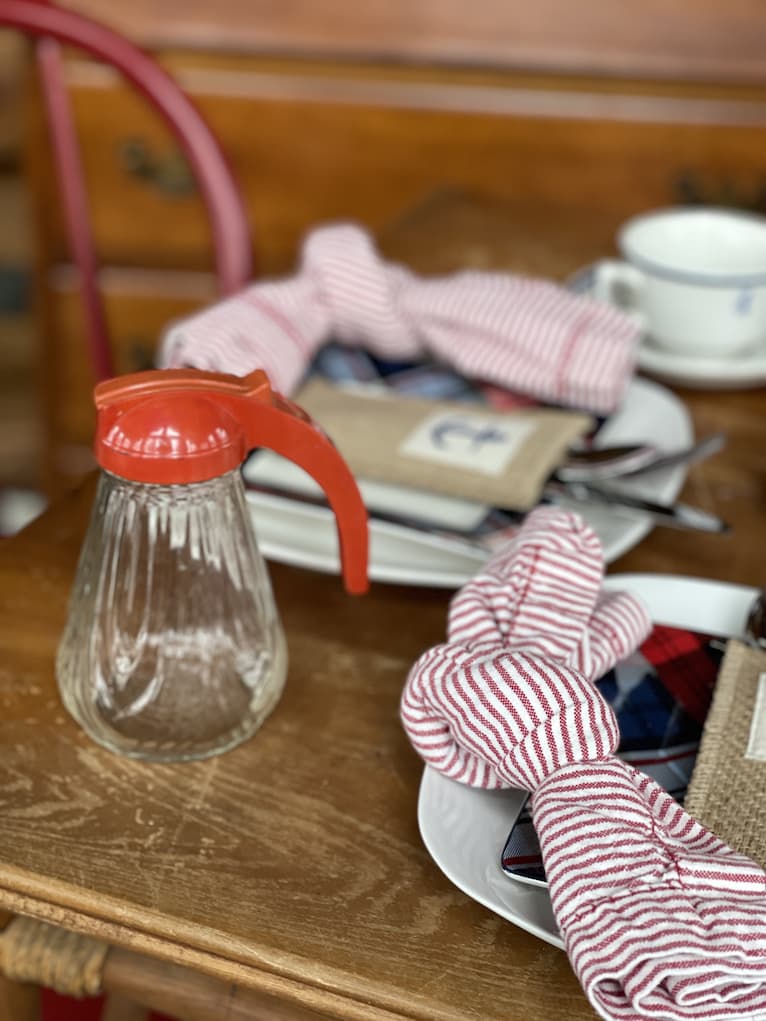 I also love collecting log cabin syrup dispensers. They are perfect in decor in our log cabin.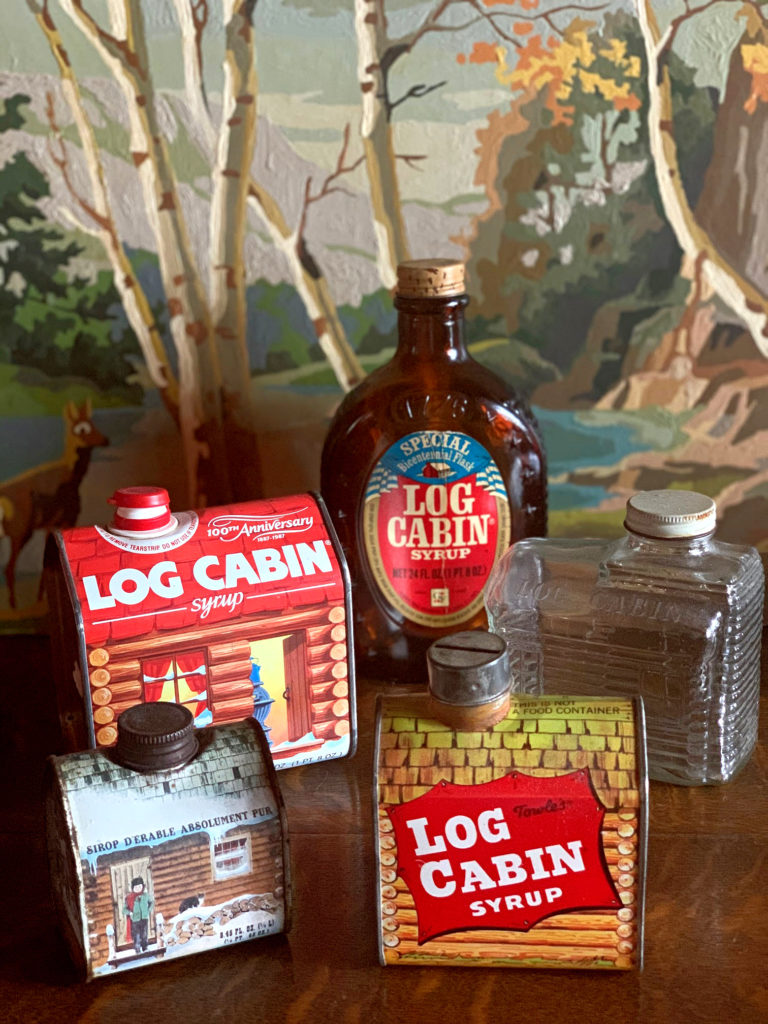 Get my favorite pancake recipe in THIS POST.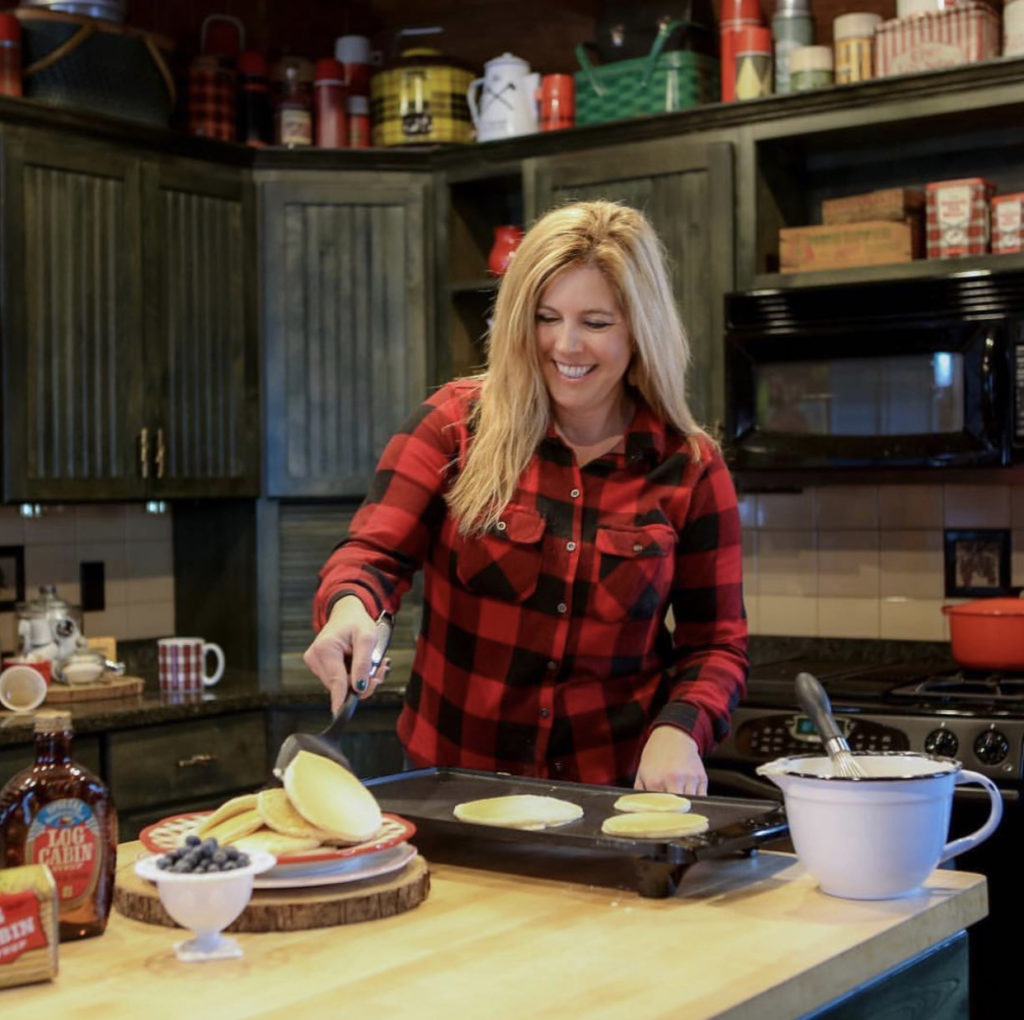 Milk Glass
Milk glass looks beautiful in every season. I love mixing it in anytime I can and finding new pieces to add to my collection. Usually I can find new items for inexpensive prices and there are so many styles and types of pieces.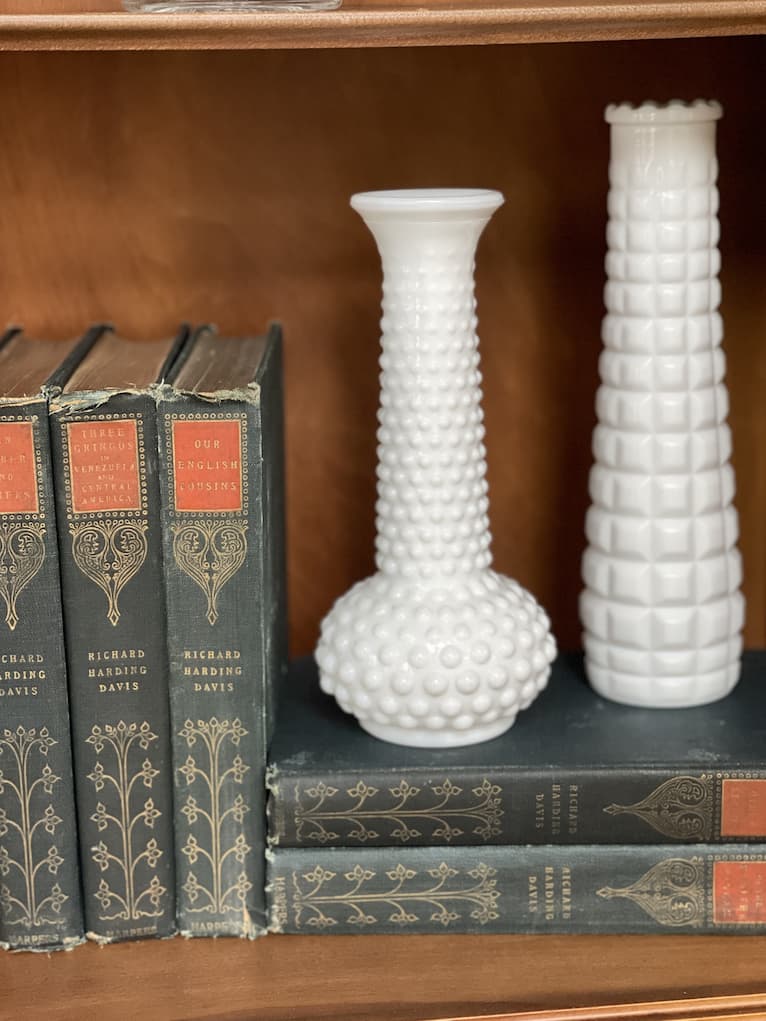 Books
I love the treasure hunt of finding special vintage books. I look for certain colors, beautiful bindings and outdoor titles. For different seasons or holidays I will pull out certain colors or themes to use throughout my decor.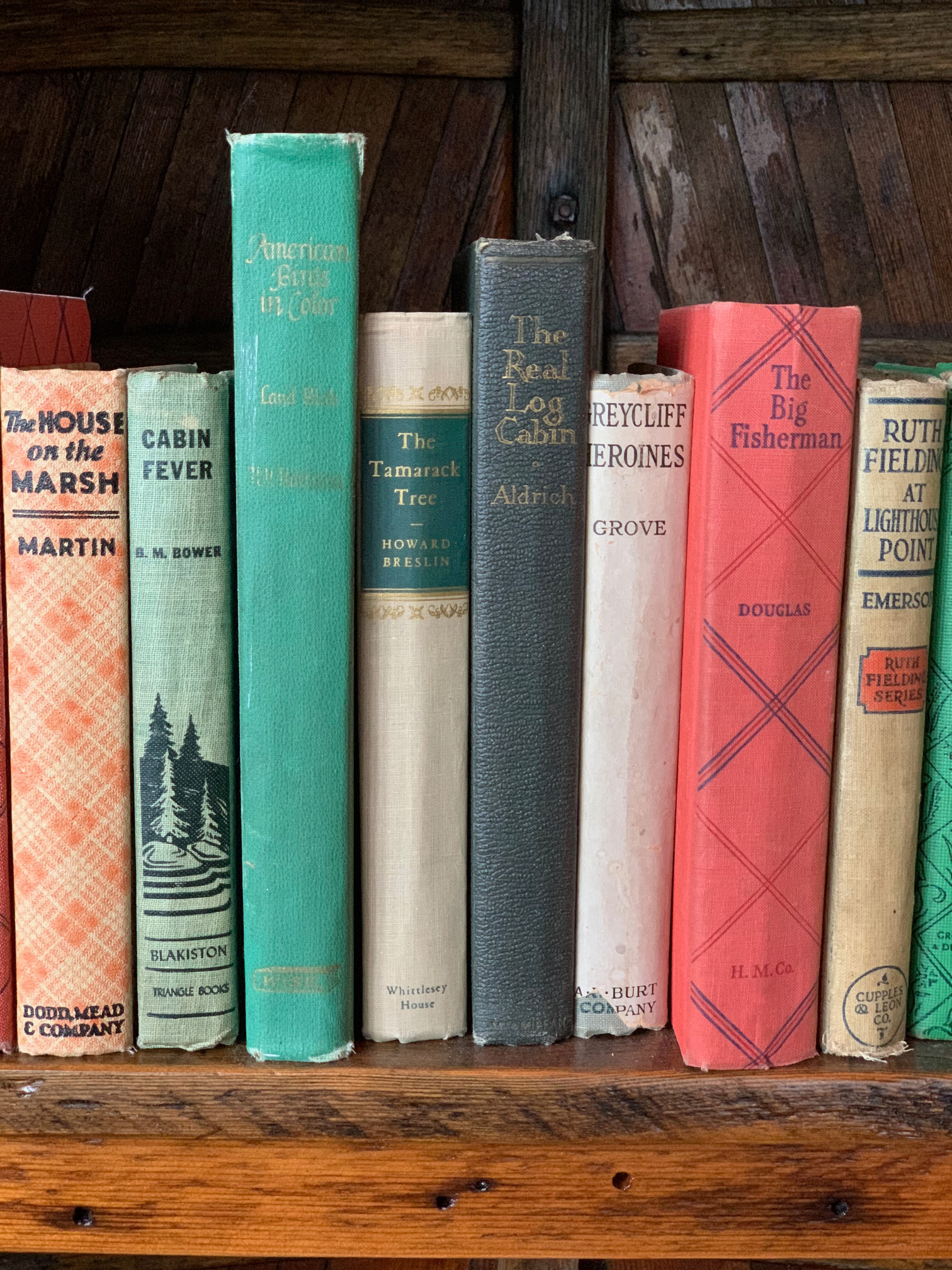 For this table I used blue and red books on the shelves. These books all came out of a local Supper Club, Polecat and Lace, that was recently sold in our downtown. It was a historic favorite place, but had not found a new restaurant owner. We are all so sad to see it go. The new owners sold everything out of it. I visited the sale and brought home several things to remember the place by. These books were part of it. They were on the bookcases on the landing to the second floor.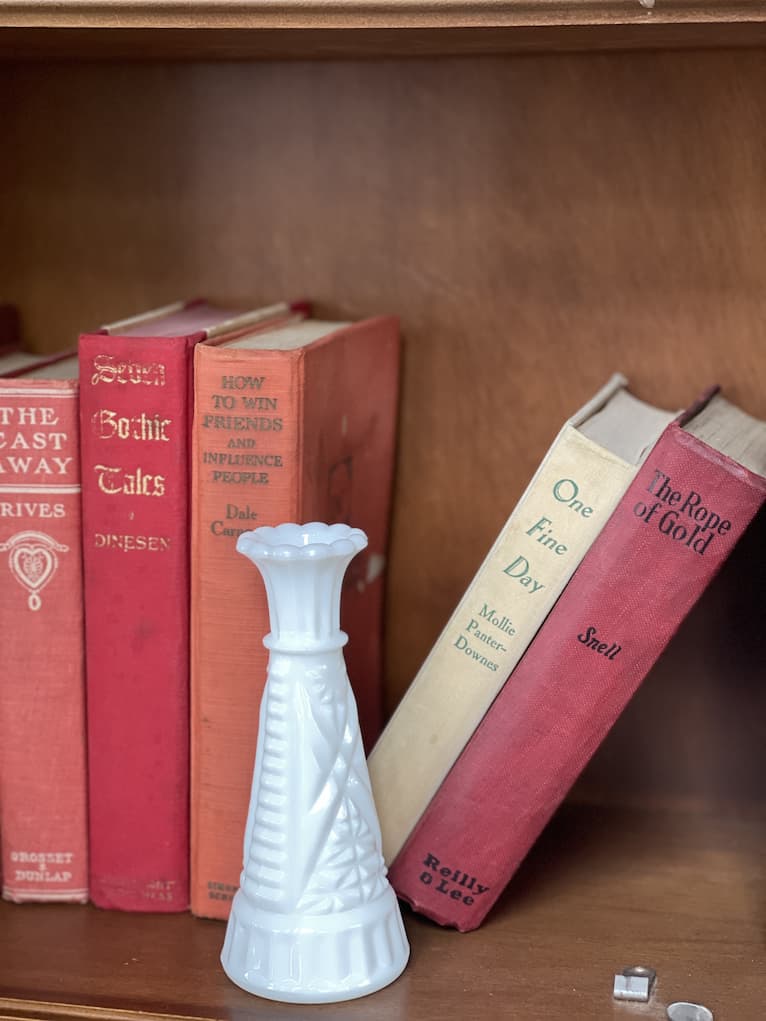 US Navy Plates
When I ran across these plates at a local antique shop they were love at first sight. Not only are they perfect for a lake house with their white and blue color and anchor emblem, but my grandfather was in the Navy. So these are a treasure to me.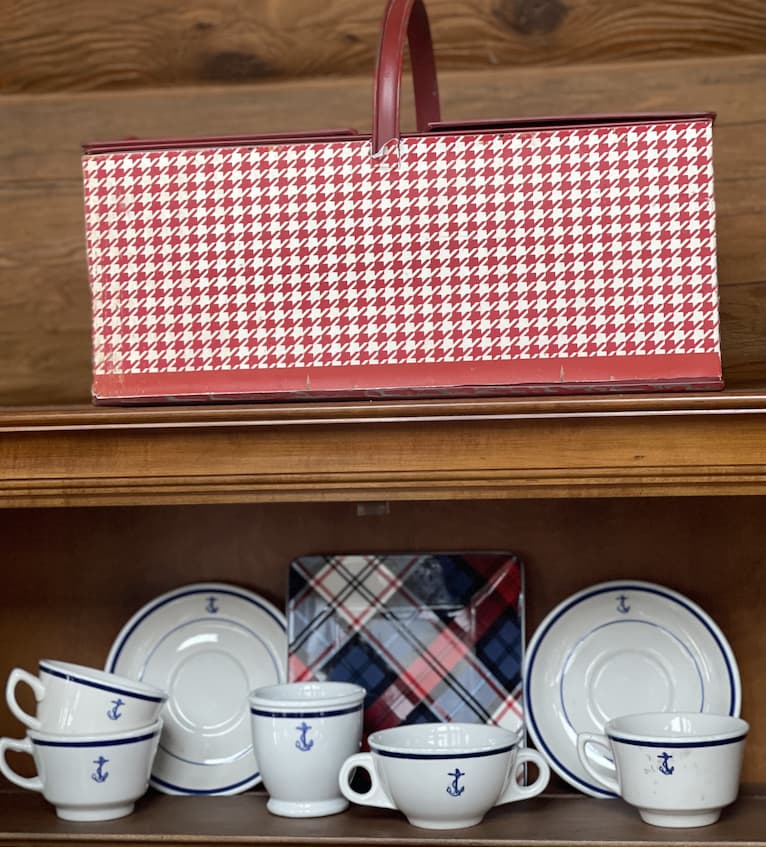 I only have the tea cups and saucers and a few other pieces so want to continue to collect more.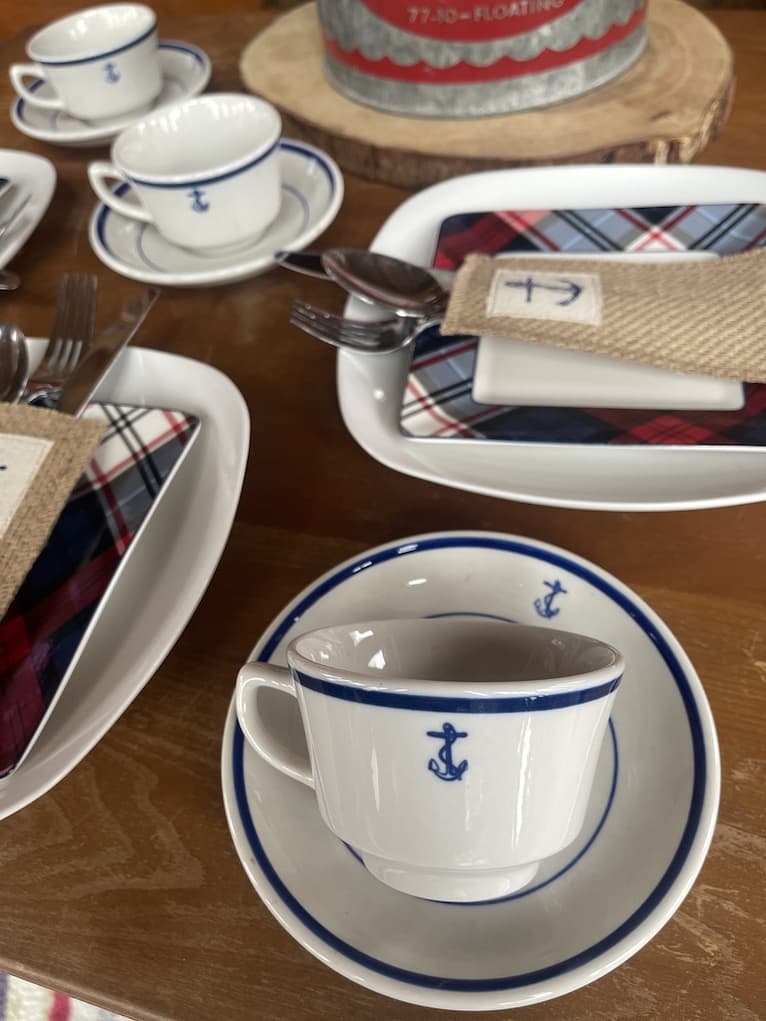 Minnow Bucket
Minnow buckets are one of my most favorite things to use in my lake house decor inside and outside. I used one on this tablescape. It can serve as a vase and hold flowers or it can even hold a wine bottle. It could hold a collection of American Flags or even breadstick crackers. Depending on what I serve and if it's a breakfast, lunch or dinner I can reuse the bucket in many ways.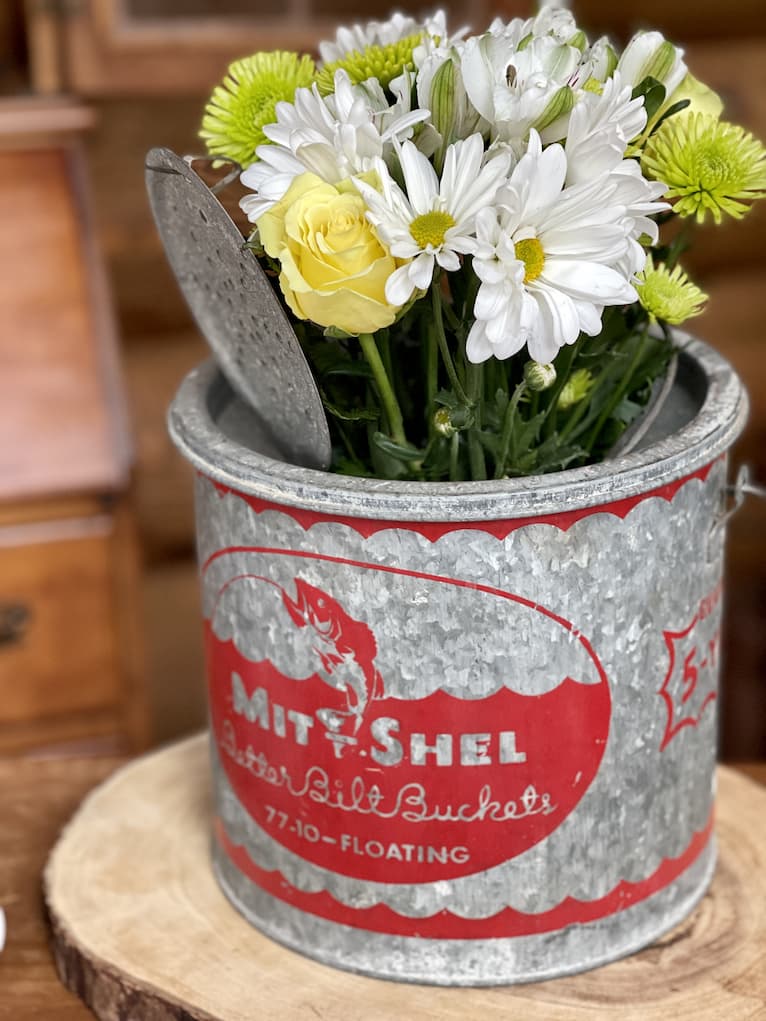 Around the house they hold extra toilet paper in a bathroom, they hold string lights and work as beautiful lights out on the patio in the evenings.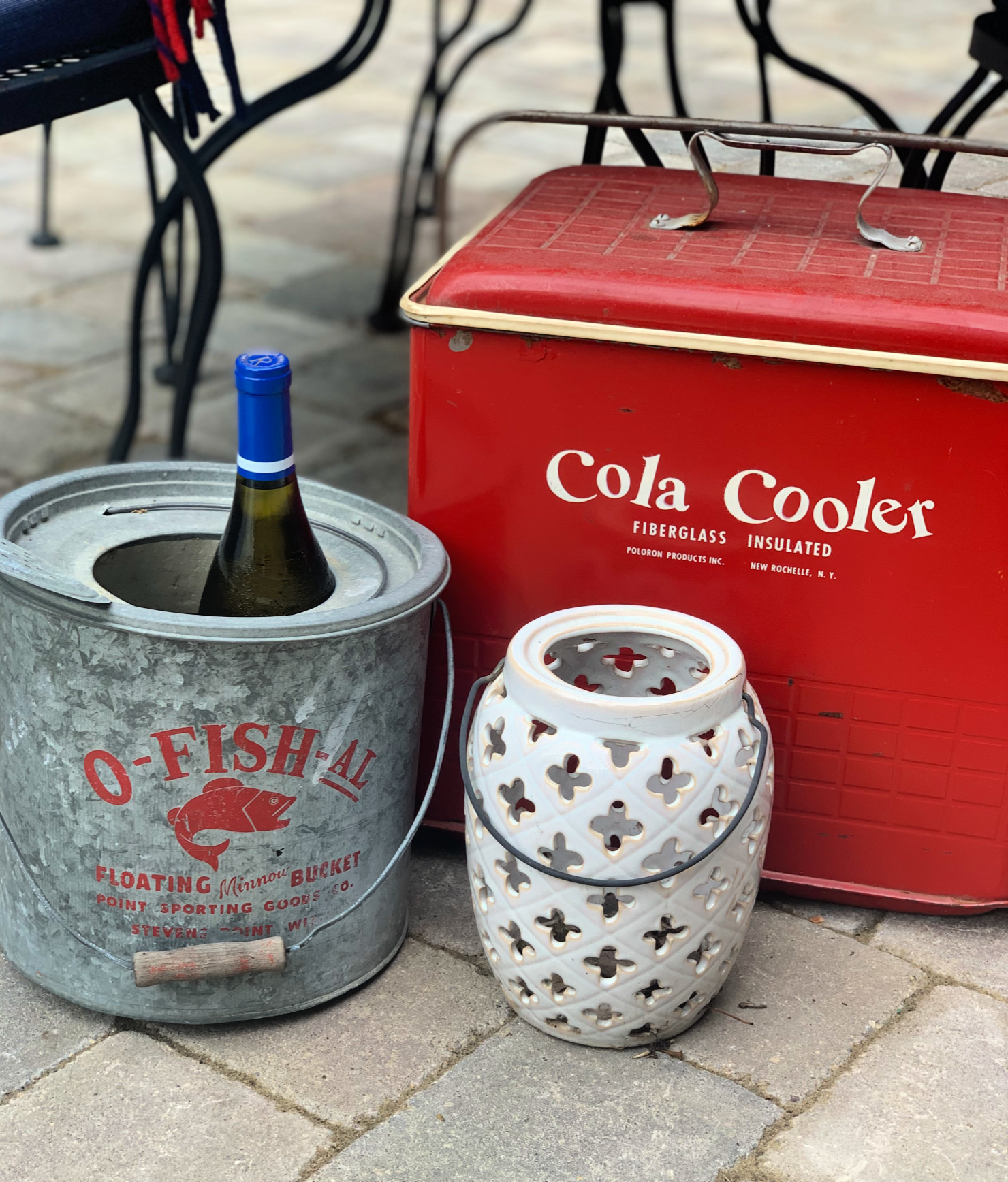 Thanks so much for coming to visit our lakeside home! Next up you are heading East to visit my friend Stacy in New Jersey. Stacy is also a lake girl. They love to spend time at their lake home in Vermont. You will be so inspired by her table and get lost in her beautiful blog at Bricks n' Blooms where she shares gorgeous decor and gardens.
Take the Tour
Enjoy the beautiful tables from my inspiring friends.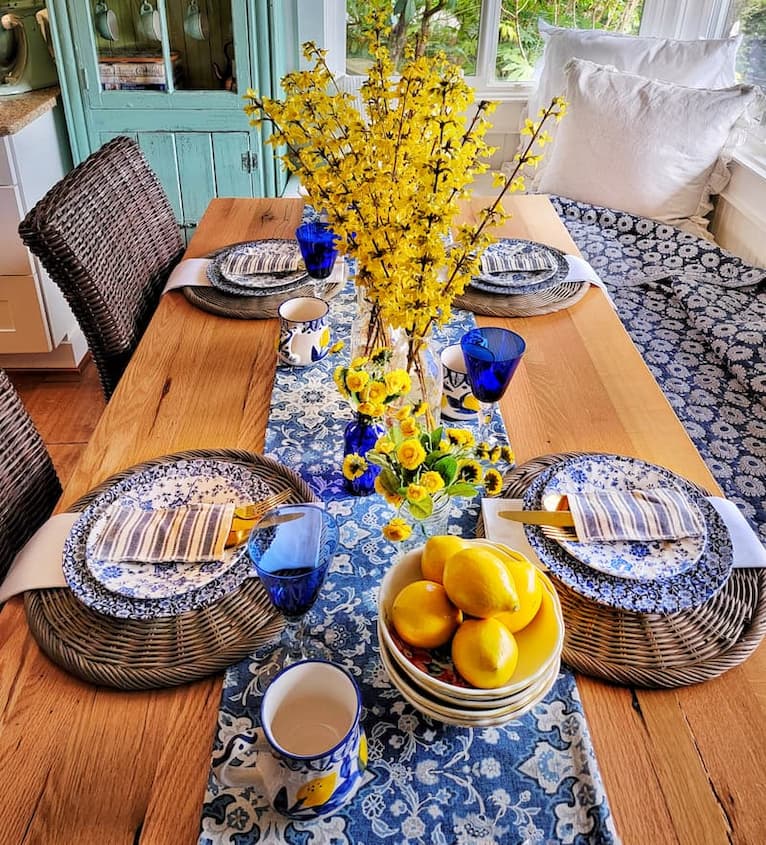 Shiplap and Shells ~ Dabbling & Decorating ~ The Pond's Farmhouse ~ White Arrows Home ~ Bricks n' Blooms
Get the Look


FOLLOW ALONG
Instagram ~ Facebook ~ Pinterest ~ Twitter ~ YouTube ~ Tik Tok ~ Liketoknow.it ~ Podcast