Vintage Milk Glass is the perfect decor for any season, but especially in Spring when I love to fill it with fresh flowers, moss and plants.
I'm so glad to be joining my friend Pasha of Pasha is Home for a Spring Home Tour with several of our blogging friends. I'm sharing my Spring Decorating with Thrifted Milk Glass. You can find links to all the blogs at the bottom of this post.
If you are coming over from my friend Meeghan's blog, Cali Girl in a Southern World, welcome! Meeghan was one of my first friends on Instagram years ago and she continues to inspire me today! I know you loved the beautiful table she shared today!
It's a pleasure to welcome you to our lakeside log cabin home in The Northwoods of Wisconsin. If this is your first time visiting my blog, I'm so glad you came and I hope you will become a regular! For all my subscribers, I love having you visit!!
SUBSCRIBE HERE so you don't miss any inspiration!
I'm a big collector of antique and vintage items and I love sharing how I style them into my home.
One of my favorite things to collect is milk glass. It's fun to treasure hunt for because there are so many styles and pieces and they are typically affordable.I wrote about some of my favorite things to collect for under $10 IN THIS POST.
Here are some of my favorite ways to use it for Spring.
Accent Pieces
Milk glass is the perfect accent piece in any vignette. This Spring grouping works beautifully next to the kitchen sink or in the bathroom. A favorite soap and lotion combo of a fresh Spring scent is accented by a hobnail milk glass piece and some yellow roses in a green vase.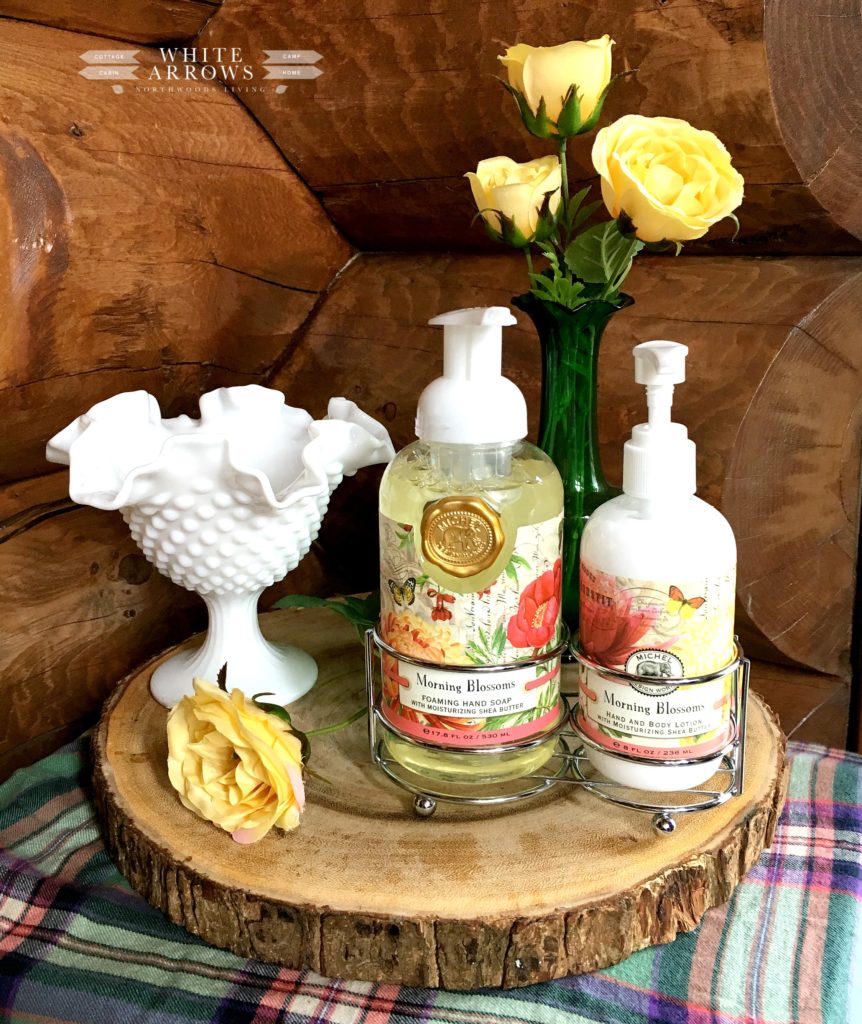 Vases
A milk glass vase holds a bouquet of beautiful Spring flowers. I love to pick up flowers each time I go to the grocery store.
I've been reading The Artist's Way and it talks about doing a "creative date" with yourself each week. One way to be creative is to take a few minutes to enjoy looking at the flowers when you walk into the grocery store. I usually just choose the flowers that catch my eye, then go home and find a fun vintage vessel to use as a vase often it's milk glass. See more of my vintage vases in THIS POST.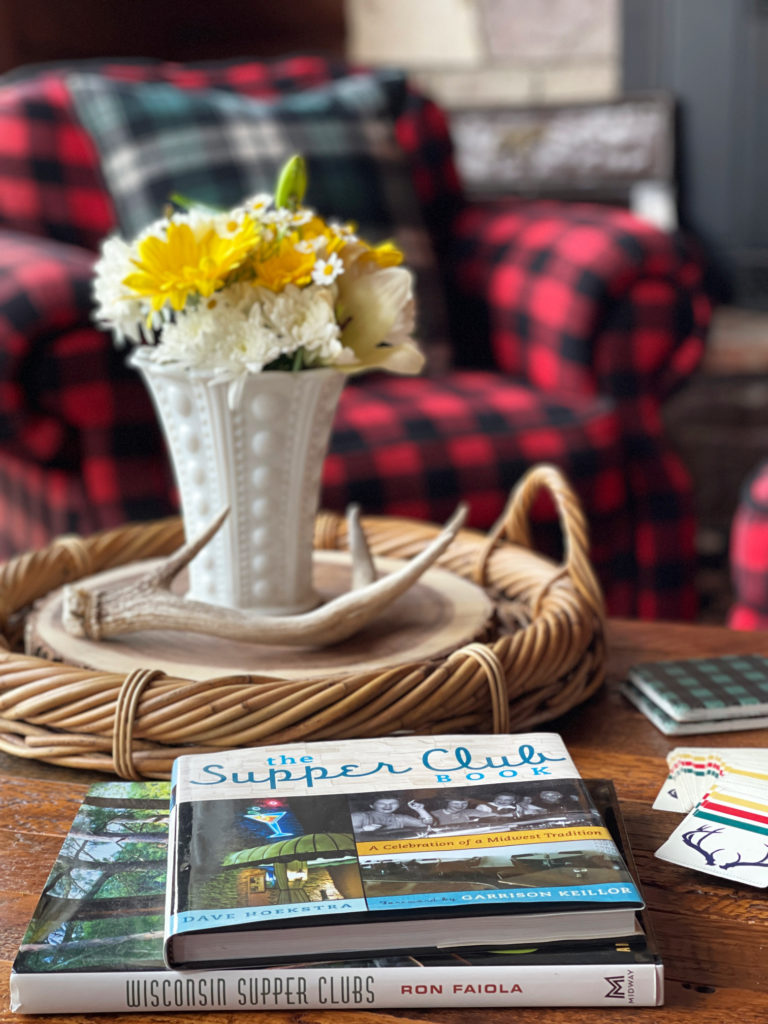 Groupings
I do my vignette groupings in odd numbers, often in threes, like my Easter scene below. I stuck a faux cabbage plant in a hobnail milk glass planter and some moss and eggs and in a footed dish.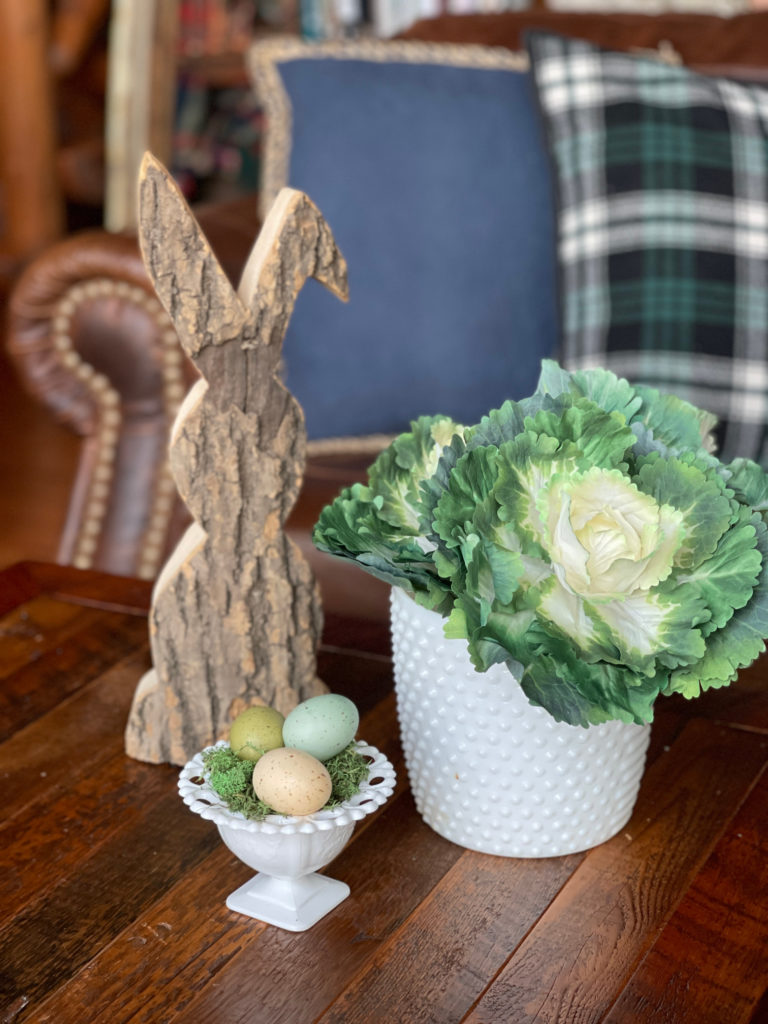 Moss
I found a pack of faux moss at The Dollar Tree for $1 and used some of it to fill milk glass dishes. The texture it adds and the bright green color is so refreshing in Spring. In this pretty vignette, I styled it with an egg basket full of faux yellow roses and moss egg.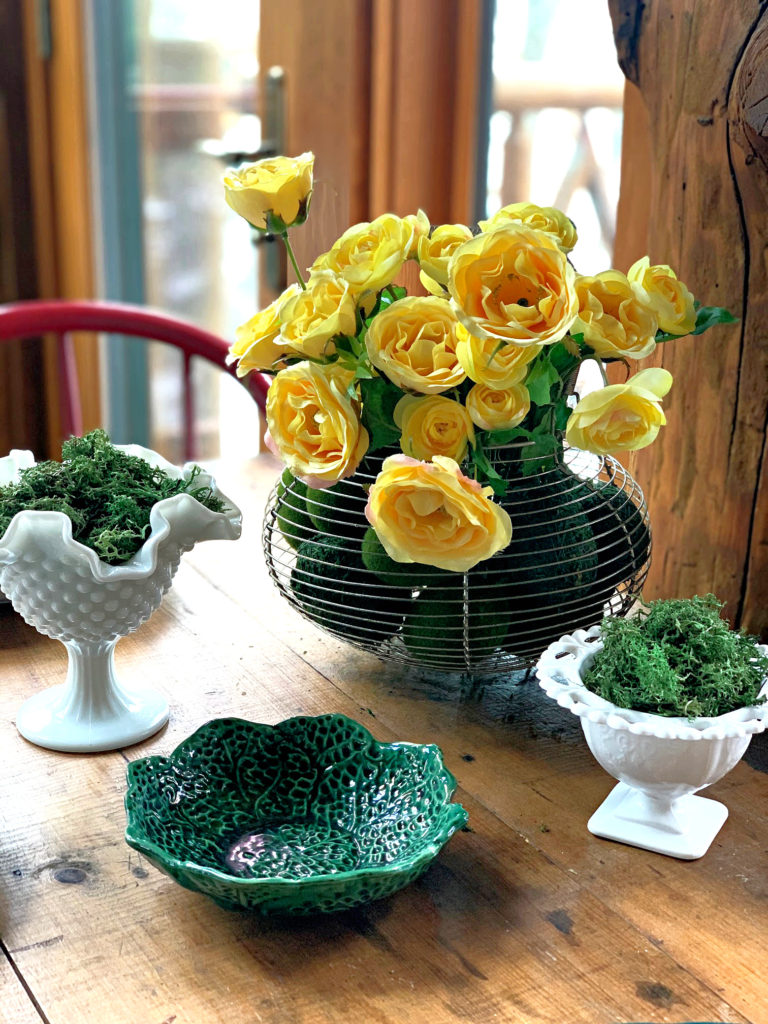 Pots
Just like bringing home a bouquet from the grocery store, sometimes i pick out a potted plant instead. This time of year when Spring is so vibrant everywhere else, we still have snow in The Northwoods of Wisconsin, so I add color indoors before there's any outside.
The pinks and purples of this plant brought a lot of beautiful color for only a few dollars and the color pops when placed into the crisp white of my milk glass pot.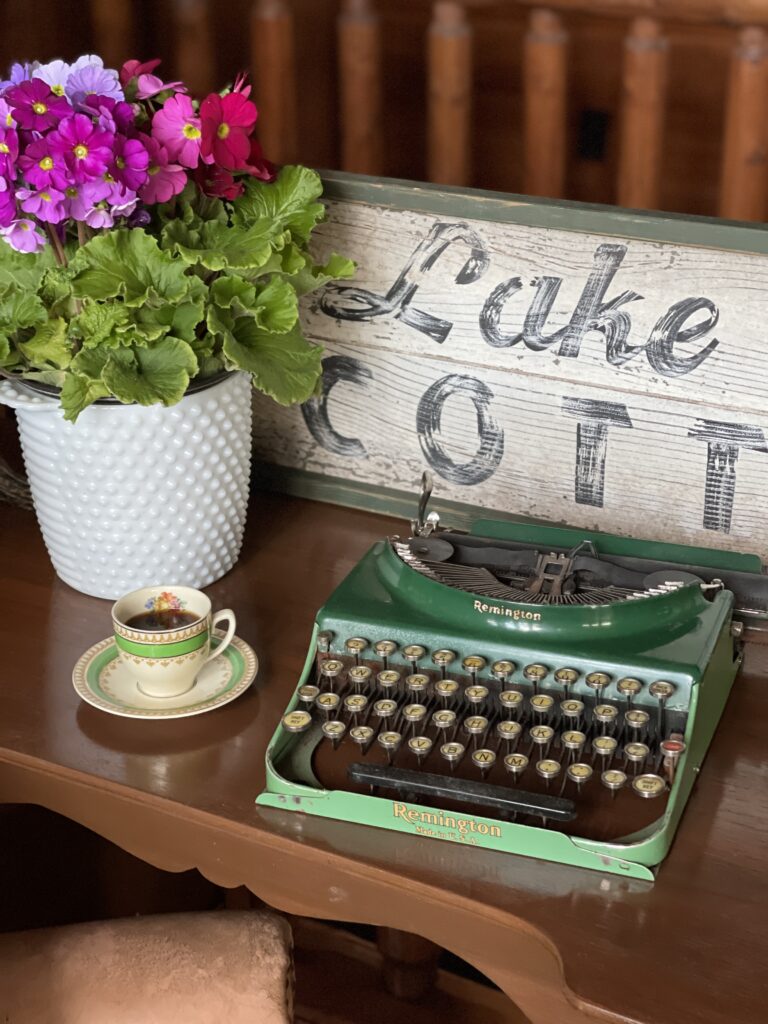 Greenery
I add lots of greenery into the house at Spring and I can do it so affordable by using moss eggs and faux greenery inside pieces of my milk glass collection.
Shopping my home is such a fun way to change things up for the season. Sometimes I move things from room to room, but I also go into my storage room and see what's on the shelf organized seasonally.
I store my extra dishes and pottery in my laundry room so I will often start there and pull out pieces from my milk glass collection to add into a seasonal vignette.
Changing out the throw pillows on the sofa is also an easy way to add seasonal decor. In Spring I bring in lots of green pillows. You can read more about the Easy Ways I Decorate For Spring in THIS POST.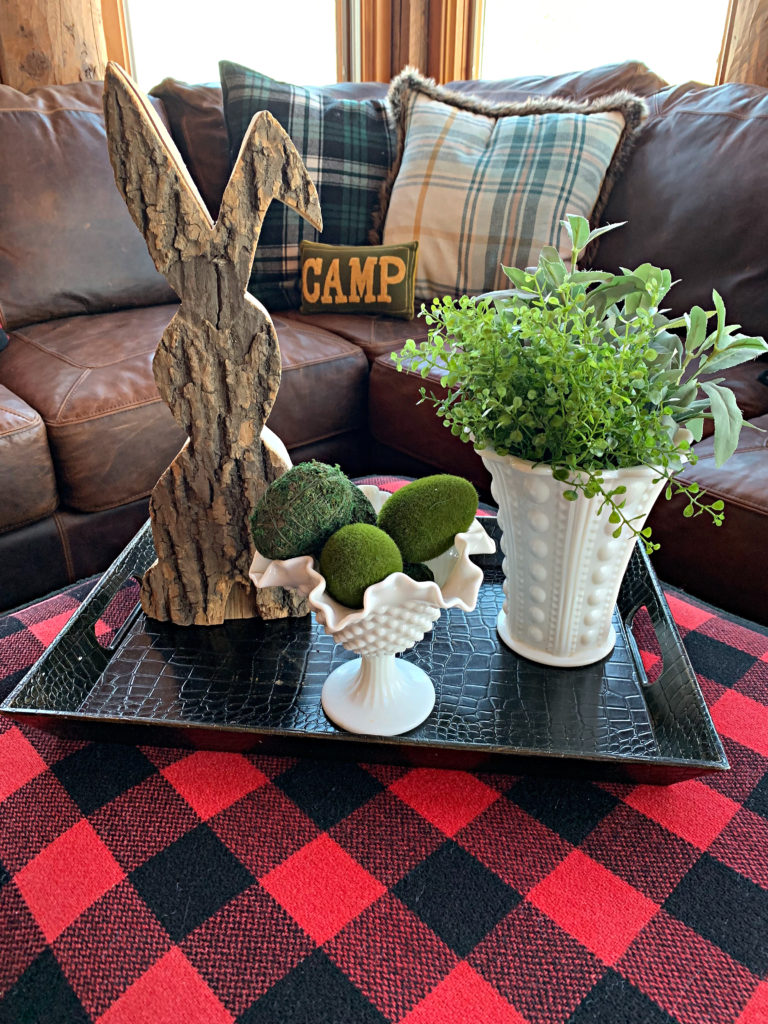 Hobnail
Many of my milk glass pieces are hobnail. You can quickly recognize these pieces by the raised polka dots on them.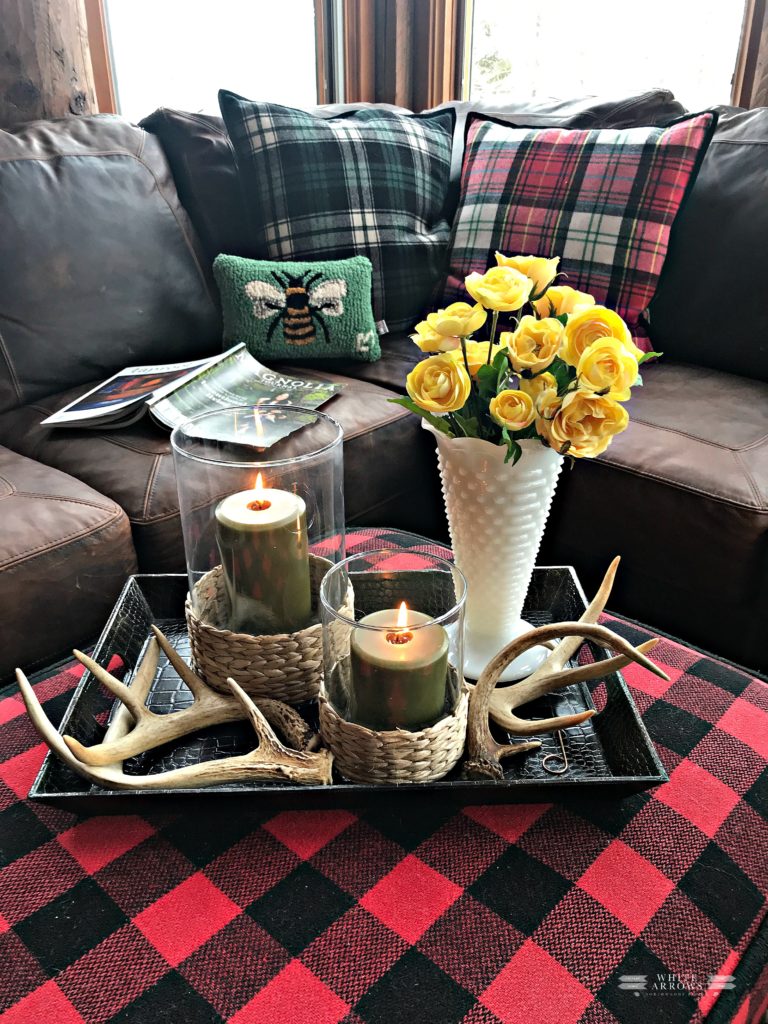 On the Table
Milk glass works so beautifully on the table incorporated into my centerpieces. I love filling them with flowers, faux or real. They also make great candleholders.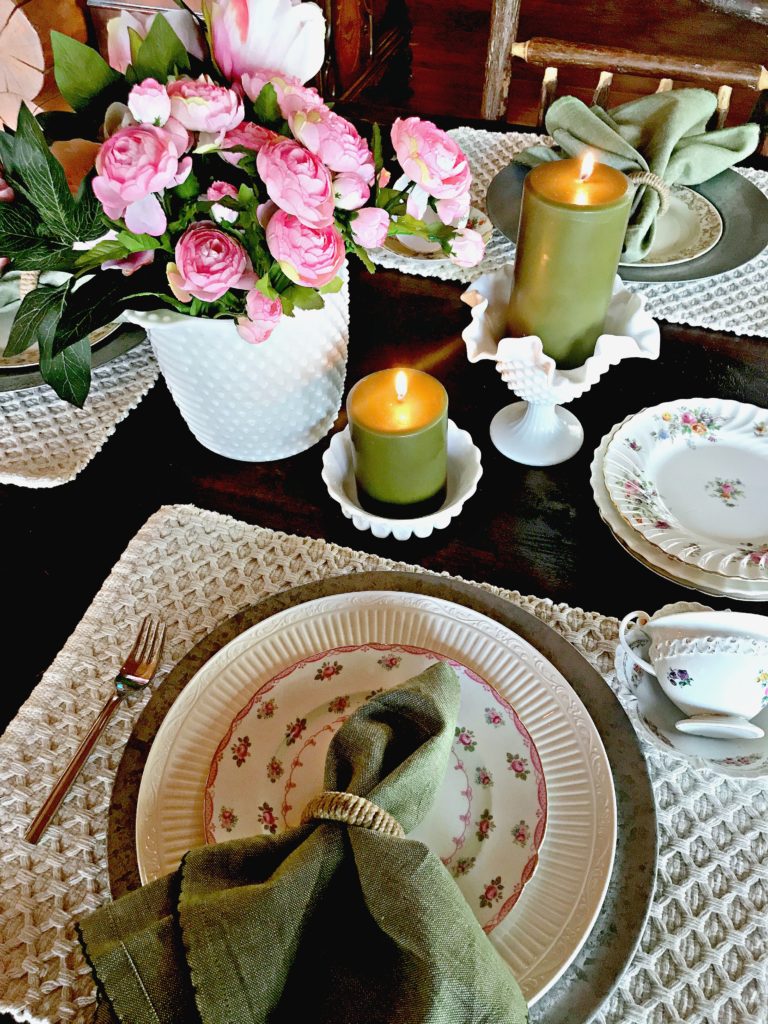 On the Mantel
One year I used them on my Botanical Mantel theme for Spring. Everything was in shades of green and white and they were such a beautiful addition.
I love mixing old and new and this Spring mantel decor is a great example of it, with my vintage milk glass and several new pieces from Hobby Lobby that have vintage style like the botanical prints.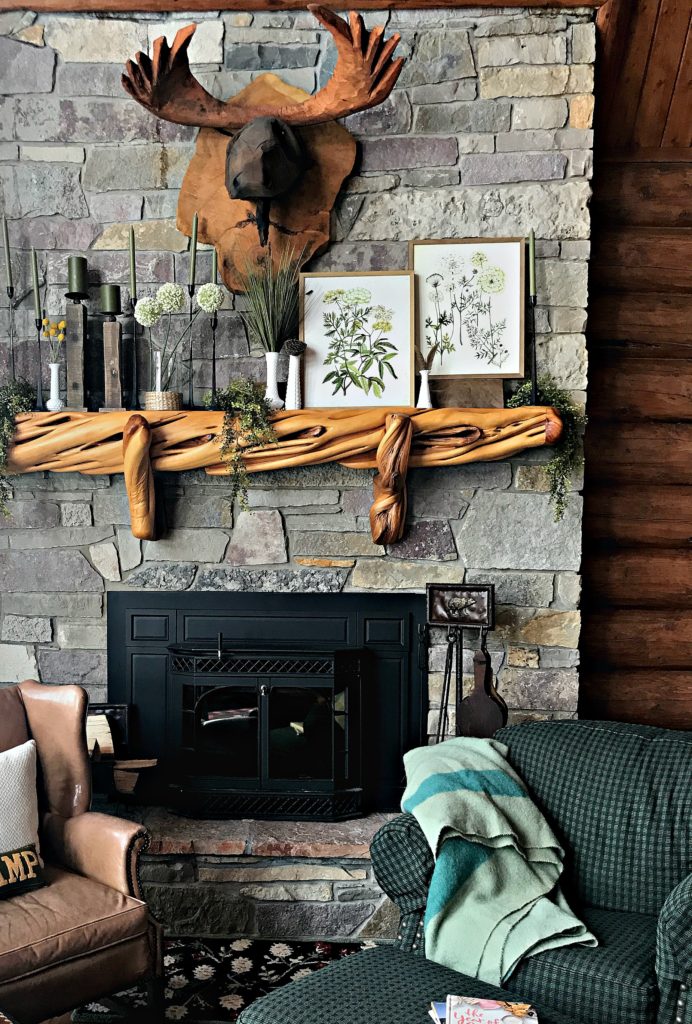 Thanks so much for coming to visit! Next up you are heading to my friend Kelly's home in Colorado. Kelly is a teacher and a decor blogger at The Tattered Pew. Kelly is not only a great friend, but a huge inspiration to me!
Take the Tour
Spring Decor Inspiration

How to Do a Spring Kitchen Refresh // Pasha is Home
How To Make A Fern Wreath for Springtime // Midwest Life and Style
How to Set a Simple Spring Table // Cali Girl in a Southern World

Spring Decorating with Thrifted Milk Glass // White Arrows Home
How To Make A Flower Arrangement In a Basket // The Tattered Pew
19 Simple Ways to Decorate with Faux Greenery this Spring // Simply 2 Moms

How to Make Beautiful Artificial Floral Arrangements Step-by-Step // Open Doors Open Hearts
A Few Easy Ways To Add Cheerful Spring Decor // Cottage in the Mitten
Spring Dining Room Tablescape // Tater Tots & Jello

Perk up Your Porch : Simple Spring Flower Arrangements in Baskets // Old Barn Company
Farmhouse Spring Home Decor Ideas // She Gave It A Go
Easy Ways to Add Fresh Flowers to your Spring Decor // A Life Unfolding
Farmhouse Porch Ideas for Spring // The Ponds Farmhouse
Get the Look


FOLLOW ALONG
Instagram ~ Facebook ~ Pinterest ~ Twitter ~ YouTube ~ Tik Tok ~ Liketoknow.it ~ Podcast