A beautiful day at Magnolia Market's Spring at The Silos brings inspiration for my wwn gardens and so much more as I shopped and explored.
I'm excited to share part two, of my three part series, of my trip to Texas and the Spring at the Silos Event.
One of my best girlfriends asked me to go along with her to Magnolia. She had been a few times before, but it was my first. We had so much fun!
(Affiliate links are used for your convenience. Read my full disclosure here.)
Our first full day in Waco we woke up to gorgeous sunshine. The hotel had an amazing included breakfast. It was so delicious, unique and special and presented so beautifully. See the details in my post about the Pivovar boutique hotel HERE.
What You May Have Missed in My Magnolia Series:
Part Three comes tomorrow so stay tuned!
Want to get daily encouragement? SUBSCRIBE HERE so you don't miss any posts!
Spring at the Silos
After breakfast we walked over to The Silos, which were just across the street from our hotel. It was so convenient and easy!
I grabbed a coffee from Magnolia Press and then we began enjoy all The Silos grounds have to offer. There's so much more than shopping! Food trucks, gathering spots, quiet in the church, games, tastings…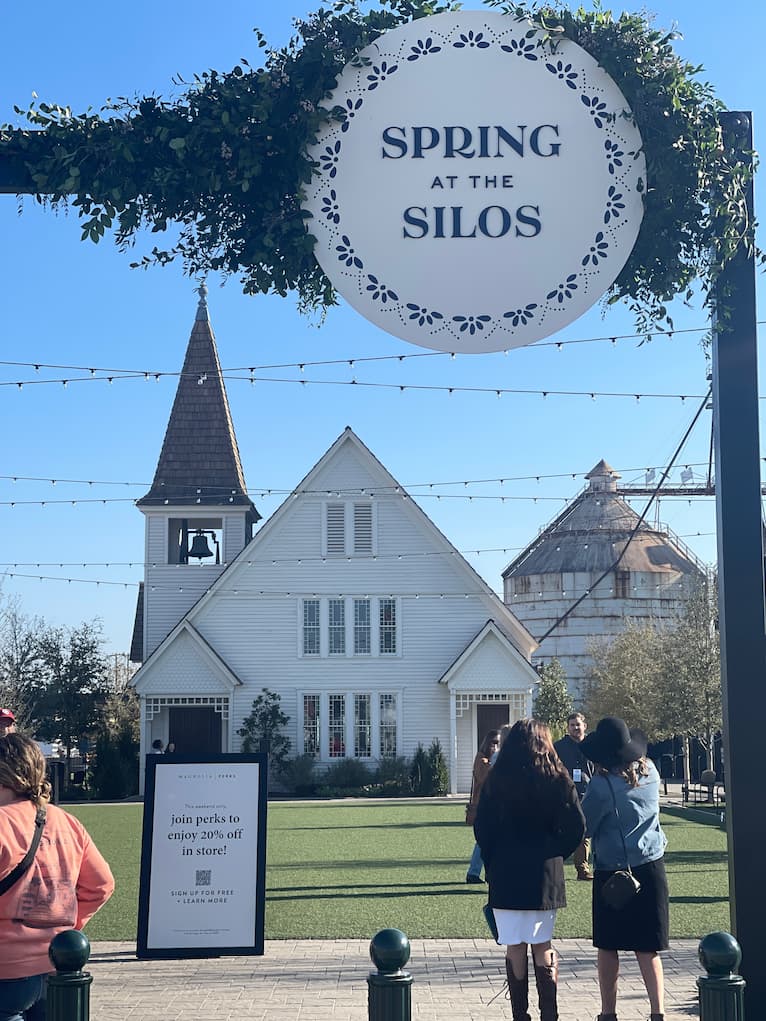 Shopping at the Silos
When people ask me to name favorites, I really struggle. I am easily content and have so many likes and interests. So when I'm asked what my favorite shop is at Magnolia, I can't answer. I love them all. I love the variety of offerings, settings and seeing how they were styled and merchandised.
The Shops at the Silos located in six cute cottages were fun with their different themes.

Vie Bien Aimee, the bath and body shop had so many wonderful items to take care of your skin and whole body to rejuvenate, enhance health and relaxation.

Chapter One had gorgeous paper goods, books, journals and art supplies. I could have lived in this shop! (so maybe that means I'm leaning toward a favorite?)


No. 16, named for Chip's old baseball number had men's provisions.


There were also cottages, Vie Bien Aimee with women's fashion and Tried & True had bags and jewelry. There's also Ferny's Retro Plant Shop now open, but it wasn't yet when we visited.
Magnolia Home was full of gorgeous home decor and accessories and also ideas. It was full of inspiration even though we didn't take any furniture home with us!

I love they way they communicate messages of home, love and family so beautifully and artistically.

Building mood/dream/idea boards is one of my favorite things so this one had me swooning. And check out the cute book stack for a table leg!

Just the simple ideas like the washi tape holding the leaves on the plate was such a lovely idea to take home to my own gatherings.



Later in the day we participated in the ticket only Rooftop Picnic above the main Magnolia shop. I'll share all about the fun of that even in tomorrow's post.

There was a guest book just outside with messages and signatures from all over.

This space was one of the ones I was most excited to see because I love hearing about the background of the feature walls and displays Jo does for the seasons.
This wall did not disappoint with the cuttings and beautiful message.

Do you read Magnolia magazine? I love the inspiration inside each issue.

I am learning each year more and more about gardening. If you've been following me for a bit, you've seen my vegetable garden, pumpkin patch and orchard at our getaway, Badger Hollow.
This year I'm hoping to add some flowers for cutting around too. I'm also participating in the Better Homes & Gardens One Room Challenge in April to spruce up a potting shed on the property. I'm excited to have you follow along and see the progress week by week!
SUBSCRIBE HERE so you don't miss any posts!

Magnolia Bakery
The one thing we did not do, was sample the cupcakes. Now for some of you I'm sure that would be the Must Do item on your Magnolia bucket list, but the line was so long we decided not to take time for it.

The addition of the phrase ALL GOOD is oh so good!

Magnolia Seed and Supply
As I mentioned before I'm excited for all that lies ahead this Spring for my growing gardens and my skills. I'm learning as I go and having fun just trying things, reading a lot and asking a lot of questions. I don't naturally have green thumbs.
So I was so drawn to all the flowers around Magnolia.
I'm also a vintage vehicle lover so this display had my heart!

As other places around The Silos grounds the seating and gathering spots were gorgeous!

These raised beds were amazing.

I love the look and impact using just one color of the same flower can do in an area.


How fun is this little fort with the mushroom stools!


Again, the impact of all pink tulips and the bounty of terra cotta pots. The shed has me swooning!




Inside The Feed and Seed shop were beautiful gardening items for inside and outside the home.

The Details
The attention to detail at Magnolia was what put it over the top. Everything was so clean and well maintained and happy people were everywhere- customers and staff alike.
They make things easy, like shipping things home that won't fit in your suitcase.

They have clear organization and lots of activities to connect with those you came with of all ages.

You get to leave with lots of fun memories!

Thanks so much for following along on my trip! It's been fun to hear your Magnolia stories, just after posting part one of my series yesterday. I hope this encourages you to explore some new or favorite places near or far. Maybe you've even found some inspiration for your own home and gardens.
Be sure to check back tomorrow for part three!
FOLLOW ALONG
Instagram ~ Facebook ~ Pinterest ~ Twitter ~ YouTube ~ Tik Tok ~ Liketoknow.it