A girls' trip to Texas for Spring at the Silos at Magnolia in Waco with a stop in my hometown of Waxahachie for antiquing.
Last year one of my best friends, Carolin, who lives a state away, asked if I wanted to join her for Spring at the Silos. I quickly said yes! I love any chance I get to hang out with her and I may have been the only person left in the country who hadn't visited Magnolia yet.
Carolin had picked this weekend because it was a special event weekend, Spring at the Silos. We would be enjoying a special rooftop luncheon and there would be special vendors to shop up and down the streets surrounding the grounds.

They just celebrated Spring at the Silos 2023 the past two weekends.
There was another reason I was excited to go. I'm from Texas. I lived in Dallas until I was in fifth grade and then we moved 20 miles south to a charming small town called Waxahachie.
We moved to have an average with could keep our horses on. My sister and I competed in Three Day Eventing.
I LOVED living on our ranch and in this special little town.
(Affiliate links are used for your convenience. Read my full disclosure here.)
To Texas
I flew down a day earlier than Carolin and spent an evening with a few of my high school girlfriends. We went out for dinner (Tex Mex of course) and slumber partied talking 'til the wee hours of the morning.
The next day, I headed back to the airport to pick up Carolin and start heading South. It's such an easy drive from DFW down to Waco.

A Stop in My Hometown
Half an hour from DFW and an hour north of Waco, right off I-35 is Waxahachie, Texas. It's definitely worth the detour.
It's always fun for me to go back and see how much has changed, how much hasn't and how much it's growing!
Waxahachie is a historic cotton town full of Gingerbread houses and an iconic courthouse.

It was known as Little Hollywood for all the movies that have filmed there. If you are looking for an amazing movie to watch take time to see Places in the Heart with Sally Field.
Lately Yellowstone's Prequel 1883 has done some filming there. And out near our ranch, in Midlothian is where they film the seriesThe Chosen.
Downtown Waxahachie
We headed straight to downtown Waxahachie. When you leave the highway to head downtown it takes you down a beautiful street lined with beautiful historic homes. Every Summer Waxahachie holds the Gingerbread Trail Home Tours where several homes are featured and you can take tours.
Downtown has shops, restaurants, businesses, the old theater and Rogers Hotel all around the square with the courthouse in the middle.
Our goal was to do a little shopping and antiquing as I took this trip down memory lane. It was also to eat lunch at The Dove's Nest.

The Dove's Nest has beautiful shopping with antiques, home goods and gifts all displayed beautifully.

It's also home to The Tea Room with some of the most delicious items on the menu I will forever crave and miss. So when I get the chance I must stop there. The orange iced tea is what to order first.
The Tea Room was also my first job. I was a waitress there for a few years in high school and had so much fun!

And if I have nothing else, I have to get the Chocolate Chip Bourbon Pecan Pie. They gave me an extra fork in case I wanted to share with Carolin. (I did 😉 )

Around the corner is another antique shop worth visiting, Gingerbread Antiques.

If you love to grill and BBQ you may have already heard of Meat Church. It's based in Waxahachie and worth stopping in or ordering their spices and products online.

Their spices are one of my favorite Christmas gifts from my parents.

Just off the square is a great antique and salvage shop. I love visiting great shops like these I'm sharing not just to find great treasures, but to be inspired.
As a shop owner myself, I love seeing how other stores do things, what they are selling, how they are merchandised.

What kept running through my mind the whole time was that next trip, I'm driving and bringing the trailer!!

I'm so anxious to get back for another visit with friends and to shop.


When we were done shopping we pulled into the Sonic to grab cherry limeades before heading to Waco.

I left Waxahachie after graduating high school to head to Coe College, in Iowa. I met my husband there who was from Wisconsin. We lived in Iowa for several years after college and getting married. Then, moved to his home state in 2003.
My parents moved to Montana over 20 years ago. They spent several years going back and forth between Texas and the mountains, but ended up moving full there full time.
So I only get back to Texas maybe once a year now to see friends. And I hadn't been to Waco since 2002 maybe, when my baby brother graduated from Baylor. And that was pre Magnolia.
Our Waco Hotel
Carolin had said I could pick where we stayed and I was more than happy to accept the task. One of my favorite things in the world are boutique hotels! They are so special. I love seeing how creatively they decorate and make guests feel special. Sometimes I pick where to travel just because there's a hotel there I want to stay at.
Right across a little street from The Silos is the Pivovar Hotel. It's so charming and made the trip so easy. We could go back and forth as often as we wanted from the Magnolia grounds to our room. It also had an amazing restaurant.

I wrote a blog post about my stay there as part of a series I did on Boutique Hotels. You can read more about it and see more photos of the beautiful inside HERE.

Spring at The Silos
When we arrived in Waco the Silos were open for another hour before closing for the day. Just enough time to walk around and get a lay of the land.
Carolin had been a few times before, to their Fall event and the Magnolia Marathon, but it was the first time for me.
It worked out so well, because the crowds were gone. We almost had it to ourselves. The weather was also beautiful that day, and coming from snow covered Wisconsin, I relished it!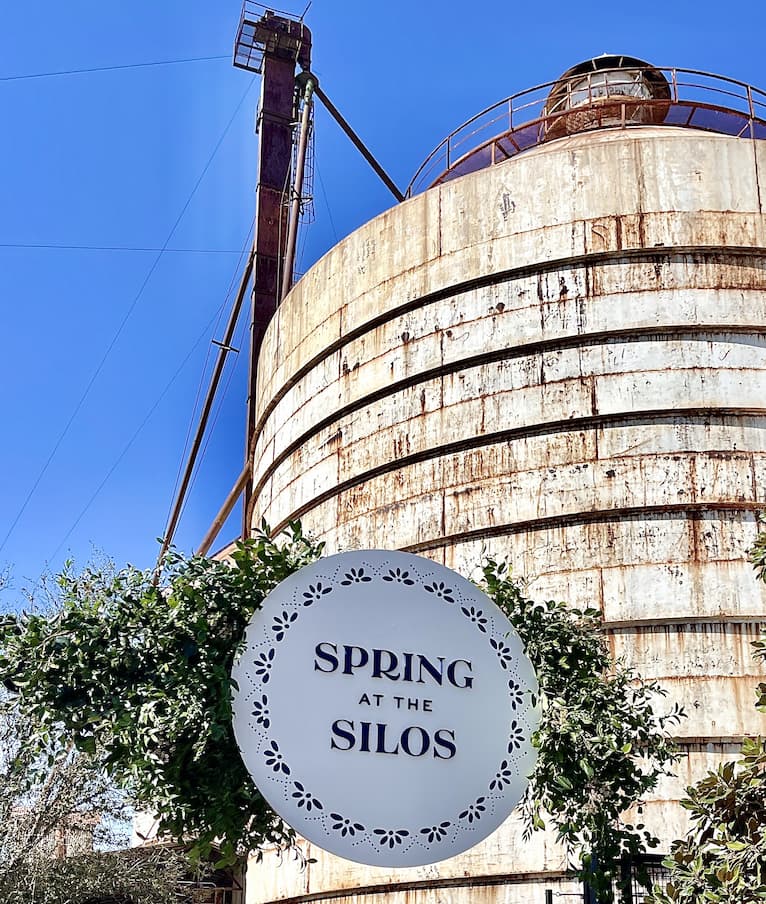 Magnolia Grounds
As I mentioned before as a shop owner myself I love visiting well appointed and styled shops. I also LOVE being surrounded by creative people who take big dreams and make them reality. And Magnolia is exactly that.
It was so fun to see how they had laid everything out and created this special space.
Magnolia Home holds beautiful home decor and furniture. I'll share inside photos of all the buildings in a post tomorrow.

It wasn't just the beautiful buildings that made me stop often to take things in, it was the landscaping and all the attention to detail.
Everything was so clean and well maintained.

It was fun to see some of the buildings that I had seen go from dream to reality on Fixer Upper or in Magnolia Magazine like the church they moved and restored.

It was such a charming and peaceful spot.


In the courtyard in front of the church were six cottages, each selling a different theme of items: Bath & Body, Gentleman, Women, Stationary…

One really neat area was the whiffle ball field. I'm smitten by whiffle ball anyways because of how much my husband loves it and my boys.
At our first house, my husband put up a net and lights to play whiffle ball with his friends and as time went on our sons played nonstop in the yard or driveway of each home we moved to.
The Silos field is on the site of a historic field they wanted to honor. The next day when we went back over to spend time at The Silos, there were kids and families happily playing on the field.


Food Trucks
What I love more than the food in food trucks, are the trucks themselves. I'm a sucker for vintage campers and vehicles and love the creative way they get used.
The black Magnolia Table trailer was so classy and I loved the quote on it! "The Good Ol' Days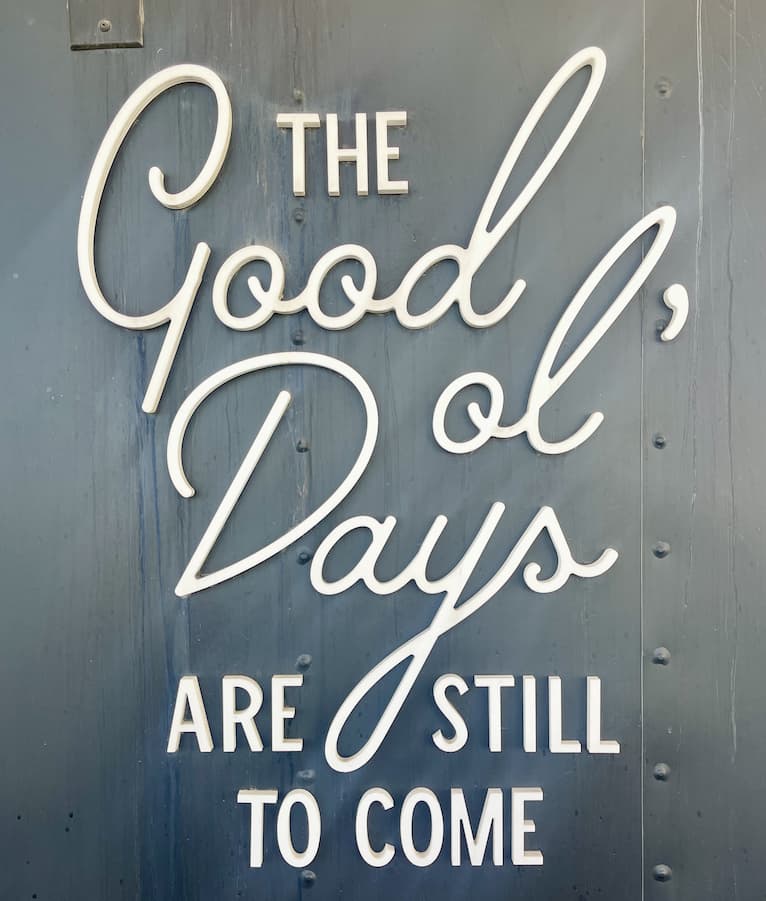 Yes to each and every Airstream! Though I didn't get one of the famous Magnolia cupcakes, I did admire the bakery and the camper. The lines were so long the next day at the bakery, I didn't need a cupcake that badly.

I love the blue of Maggies and the old fashioned signage!

One of the things I loved most about the Magnolia grounds were all the spots to sit and gather. By these food trucks was this little table. I also love all their signage, branding and classy mix of materials used.


Even the bathroom area has beautiful signage and was planned into the design beautifully.


I love the old water fountains and the continuation of the greens, blacks and whites.

Magnolia Press
If you've been following me for a while then you know I'm a coffee girl so visiting Magnolia Press was a must. I didn't wait in line for the cupcake, but I did for the coffee. (The line wasn't too long though).

One of the other fun parts about coming to visit in Spring, when it's still cold at home Up North, was seeing the tulips coming up here in Waco.
I love how they planted just white ones in the planters out in front of the Press.

The nod toward nostalgia is also something I love, in the architecture, the styling and signage throughout Magnolia.

Again, all the wonderful spots to sit are so inviting and encourage connecting with each other.

I not only found inspiration for my shop while visiting, but also for my homes. The grasses in the black planter would look amazing at our getaway Badger Hollow.

These stacks of wood remind me of how we stack our wood on the sides of our fireplace indoors. I love it outside here too, as well as the terra cotta pots on the mantel.

Though we didn't eat on the grounds, other than for The Spring at the Silos rooftop lunch (I'll share in tomorrow's post), it was fun to see options!
I mean who doesn't love a grilled cheese? There was a time period in my oldest daughter's life when that was all she wanted to eat!



I was so thankful for this quick hour walking around before they closed for the night and the few people that were around because I was able to get so many great photos!
I loved all these picnic tables with the stripped awnings. Black and white stripped umbrellas are one of the things I decorate with at my shop. They are such a happy feature!

The "Brady Bunch" grass around keeps everything looking clean, fresh and pretty. By tomorrow when we come back over the stage beneath the Silos will be full of entertainment, one musician after another taking their turn. And the grass area will be full of people sitting, eating, hanging out and playing.



It was such fun to see so much in bloom around.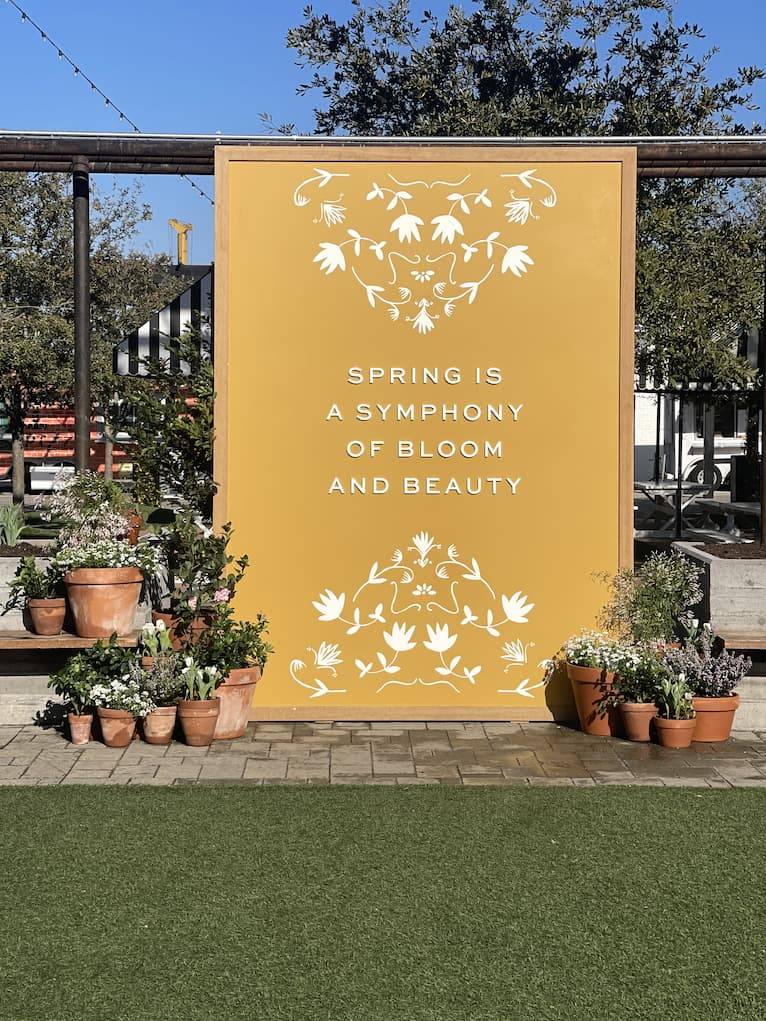 I'll share more of the gardens and shop interior photos in tomorrow's post so keep following along.
It's been fun to share and write about this fun trip and remember all the fun we had. I can't wait to go on another adventure!
I would love to hear about your trip there and what you loved most, or if you are one of the few like me who hadn't been and you are still waiting to go, what are you most excited to see?
Want to get daily encouragement? SUBSCRIBE HERE so you don't miss any posts!
Magnolia Favorites From Hearth & Hand
If you can't make it to Waco, bring some Magnolia home with you from Target's Hearth & Hand collaboration with Skip and Jo. Here are some of my Spring favorites:


FOLLOW ALONG
Instagram ~ Facebook ~ Pinterest ~ Twitter ~ YouTube ~ Tik Tok ~ Liketoknow.it