My friend Rachel of The Ponds Farmhouse has gathered a group of home decor bloggers to share Nine Easy Valentine Decor Ideas and DIYs. Thanks so much to Rachel for hosting all the inspiration!
(Affiliate links are used for your convenience. Read my full disclosure here.)
It's fun to look back at Valentine decor from past years. I always think I'll replicate many of my ideas year to year because I love them so much, but I never usually do. I get new ideas each year or use the same pieces, but in a new place or way.
My house is a mix of new and old and I love carrying that into my seasonal decorating too. This time of year it's exciting to pull out my vintage Valentine items and do some easy DIYs.
Vintage Valentine Decor
This Loveit beverage crate was a favorite find. I loved the colors and the graphics.
Valentine's can be a harder holiday to decorate for, so I was excited to find an old piece like this that is unique, special and fits my rustic style.
The crate made the perfect vase when I added dozens of red and yellow roses into mason jars inside the crate.
See more ideas for using vintage containers as vases IN THIS POST.

The crate also looks great holding vintage camp blankets. The weather is still really cold here in The Northwoods of Wisconsin this time of year, so it's great to always have blankets nearby to cozy up with.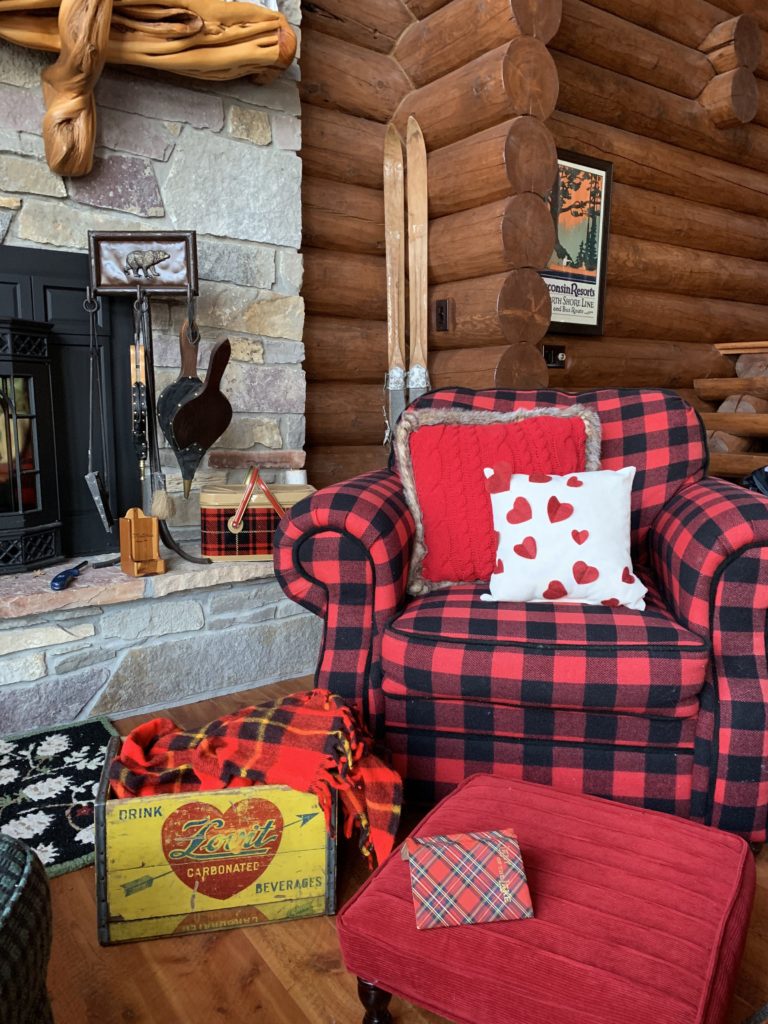 The little plaid book was a Christmas gift a few years ago from my mom. It started a fun collection of plaid books. But this first one is extra special.
The Lady of the Lake is a book of poetry by Sir Walter Scott published in 1810, set in Scotland.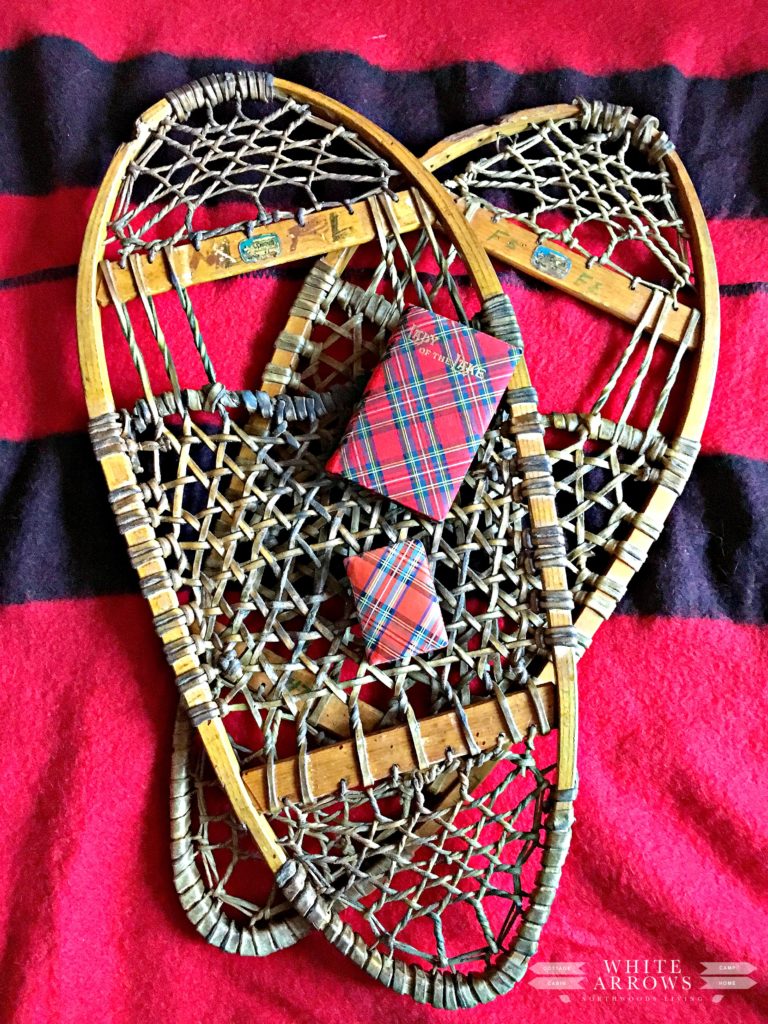 Vintage Valentine DIY
This year I did a fun Pinterest Challenge Blog Hop where we were inspired to put together a Valentine cloche.
I used two special vintage Valentine's and then pulled out my cloche and added some fun accessories to decorate the coffee table.
See more of this post HERE.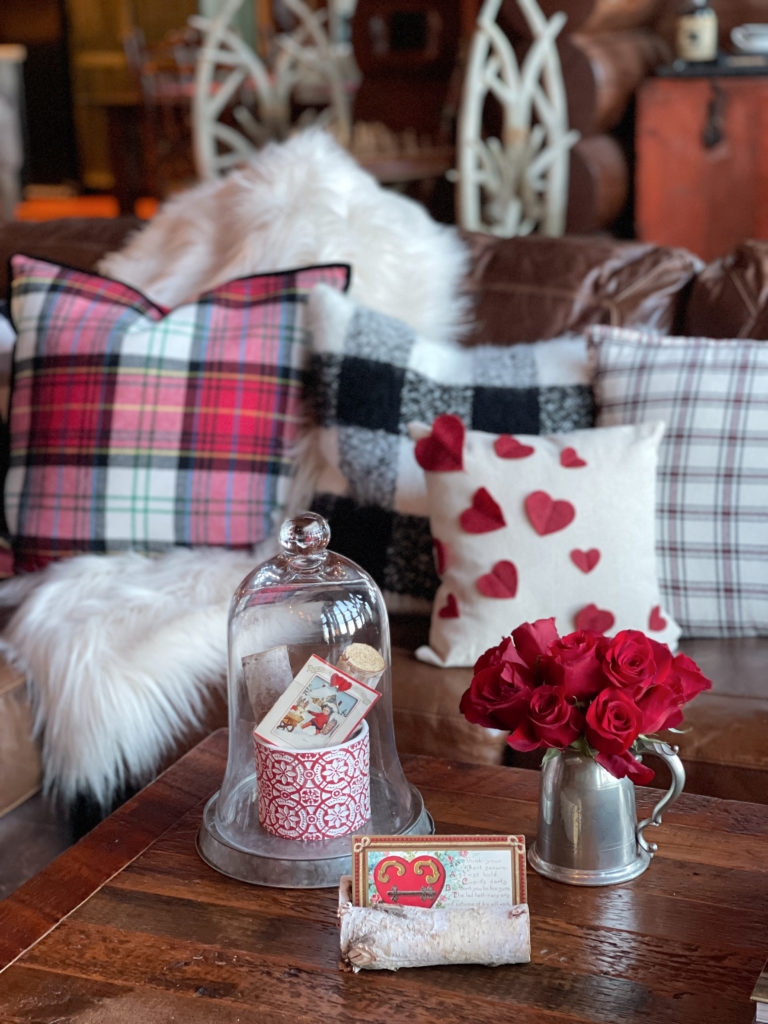 Be sure to also check out these amazing blog posts. Find a comfy chair and grab your warm drink. You will want to spend time at each of these blogs exploring all they have to share!
Take the Tour
The Ponds Farmhouse / Fabric Scrap Pillow
Looking for something to do with all those fabric scraps? My friend Rachel has a gorgeous tutorial for a Valentine pillow on her blog. It's inexpensive, quick, easy and so pretty- my kind of craft project.

The Tattered Pew / Felted Heart Pillow Pockets
The perfect Valentine's project? This pretty one from my friend Kelly of The Tattered Pew. She shared these felted hearts. They are not only shaped like one, but it's full of heart too with the addition of sweet little messages inserted into the pockets.

Dabbling & Decorating / Romantic Table in Pink
Ann is one of my Thrifting With the Gals teammates. I love seeing all the ways she decorates her homes in Maine and Vermont with the items she finds. These dishes were one of her recent finds and they inspired this gorgeous tablescape.
Be sure to check out our #thriftingwiththegals adventures over on Instagram Stories throughout the week and in our monthly blog hops. Here are a few recent posts:

Thistlewood Farms / DIY Heart Pillow
My friend KariAnne made the cutest pillow using cut out burlap hearts. This project is so pretty and so inspiring. You can get all the details on how to make your own in her post.

Cottage on Bunker Hill / Grapevine Heart Wreath
Looking for a beautiful DIY for your front door? This wreath from my friend Jennifer is a perfect project. I love the shape. It's great transitional wreath for this time between Winer and Spring.

Shiplap and Shells / Garden Inspired Valentine Table
I'm always inspired by my friend Kim and how she uses her beautiful gardens to inspire her decor like her Valentine table. She always has beautiful blooms inside and out of her home.

Peacock Ridge Farm / Valentine Wreath
I love the idea of hanging a wreath on a mirror and my friend at Peacock Ridge Farm shared a beautiful one you can make yourself on her blog. It's the perfect touch for Valentine's Day!

Follow The Yellow Brick Home / DIY Shabby-Vintage Valentine Hearts
My friend Amber has some creative ideas using supplies from your scrapbooking and craft stashes for Valentine's Day. This would be a really fun one to do together with a group of girlfriends!

Thanks so much for visiting today!
FOLLOW ALONG
Instagram ~ Facebook ~ Pinterest ~ Twitter ~ YouTube ~ Tik Tok ~ Liketoknow.it ~ Podcast