When I'm thrifting I always have my wishlist in the back of my mind. See what's on it in today's post.
I am so excited to be joining my #thriftingwiththegals friends again for another fun blog hop. Each Wednesday in our Instagram stories we share our thrifting adventures and once a month we do a blog hop together.
We were thrilled to have Robyn of Robyn's French Nest and Emily of The Thrifted Table along this month as guest hosts!
Be sure to give all the Thrifting gals a follow!
We we would love for you to continue to follow us on our blogs and our social media!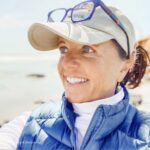 Ann @ Dabbling & Decorating | Pinterest | Instagram | Facebook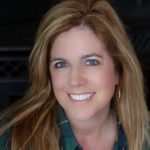 Kristin @ White Arrows Home | Pinterest | Instagram | Facebook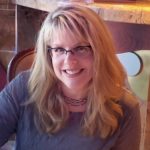 Kim @ Shiplap and Shells | Pinterest | Instagram | Facebook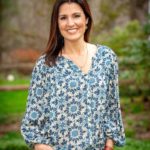 Stacy @ Stacy Ling | Pinterest | Instagram | Facebook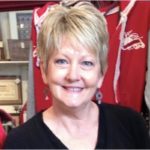 Rachel @ The Ponds Farmhouse | Pinterest | Instagram | Facebook
How I Thrift
When I head out thrifting I always have certain things I keep my eyes out for. You are seeing my heart in this post. These photos show all my favorite collected pieces. Many are just parts of bigger collections that I continue to love adding to. Do you collect any of the same things?
If you are coming over from Stacy Ling Bricks N Blooms, welcome to Wisconsin! I'm so glad you've stopped over. We live in a full log cabin, lakeside in The Northwoods. Way Up North! I love to blog about our life here, interview amazing people on my Podcast and welcome customers to my Shop.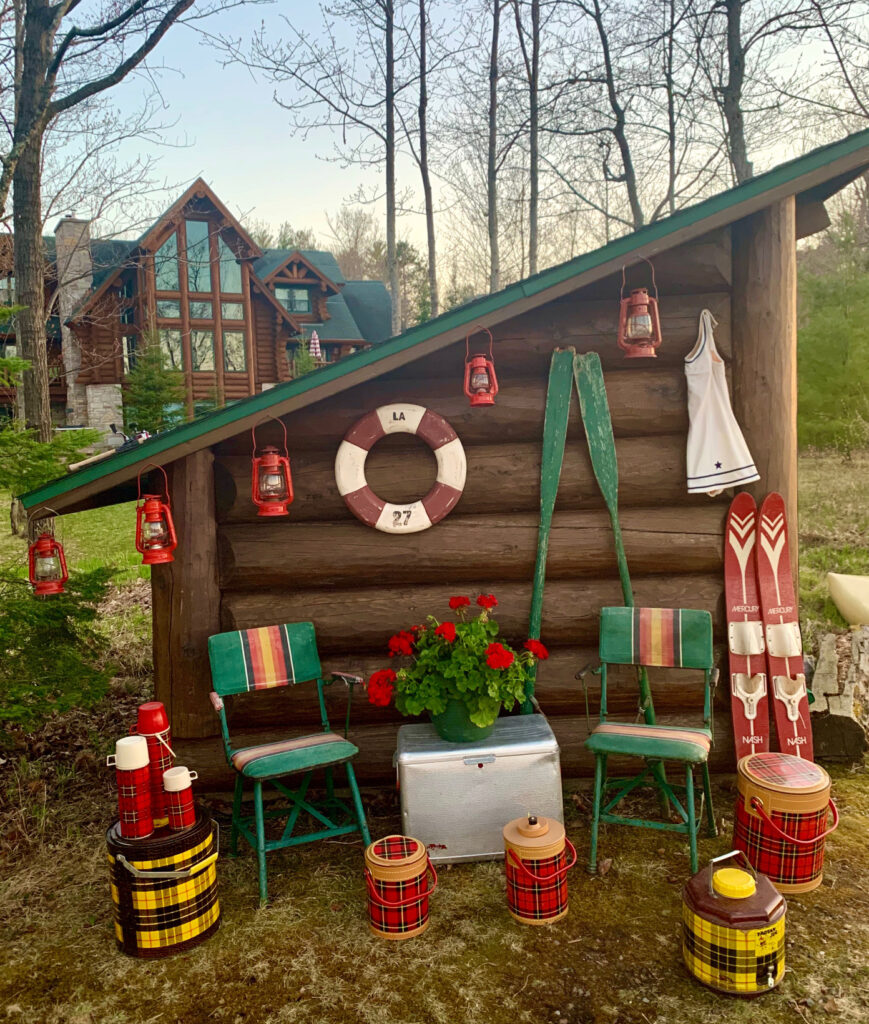 Picnic Baskets & Typewriters
This green typewriter is a favorite find! I never work at my desks around the house, but I love looking at them styled! I picked up this one at the Duluth Junk Hunt.
I also love collecting picnic baskets, tin or woven. I have them in so many patterns and colors. I love stacking them like three of my green ones here. The top one was a gift from a friend. Several of my local friends and I've to go thrifting together and love collecting similar things. We always have our eyes out for each other. Here's a post about my favorite local antique shops we love.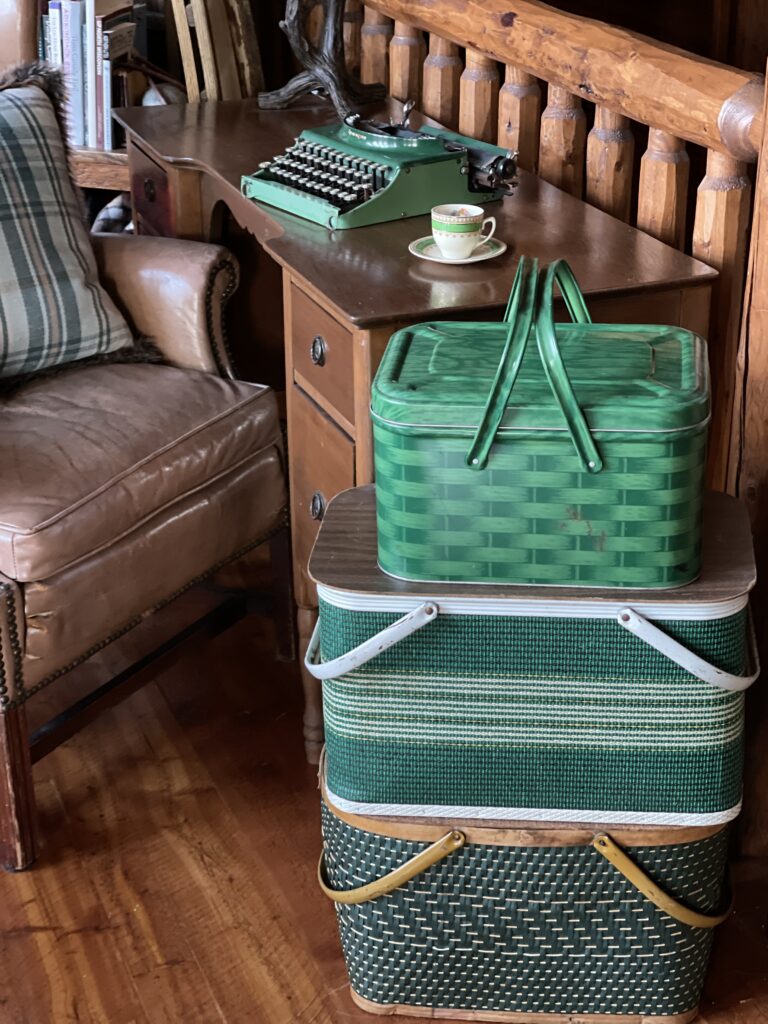 China Coffee Cups & Austrian Moose Creamers
These Austrian moose pitchers are fun to keep my eyes out for. They come in different sizes and slightly different styles.
I love dainty coffee cups with pretty patterns. I found these at a Good Will.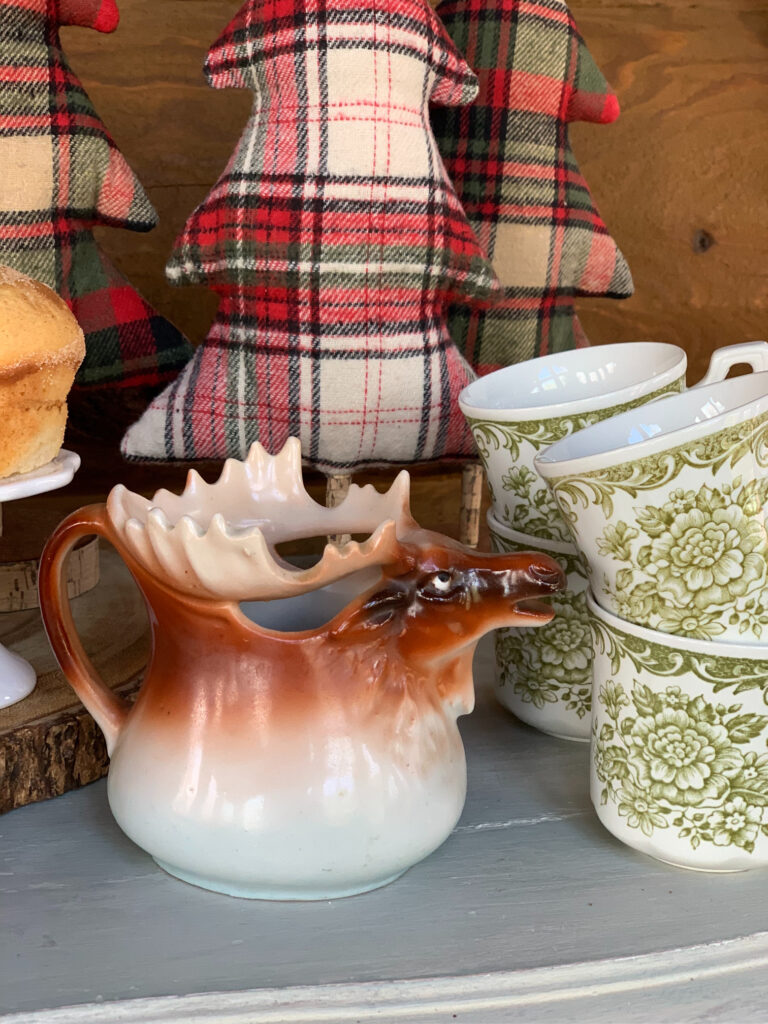 Fun Glassware & Anything Plaid
I was so excited when I found these cute polka dot glasses. I thought they would be so cute for lots of seasons and holidays. Valentines, Christmas, Fourth of July… I styled them in this fun Summer Picnic.
And I'm always looking for anything plaid. Can you ever have too much? I think not! Plaid's my favorite color! Is it yours too?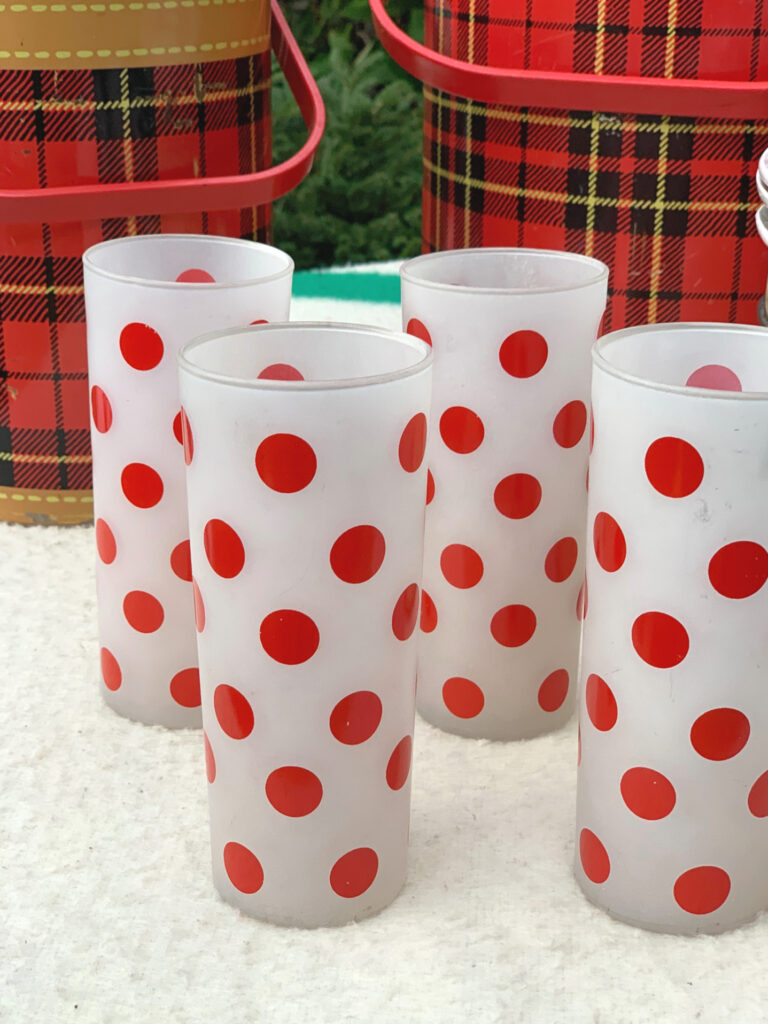 Fishing Guides & Gear
I love to collect old fishing gear. We have several fisherman in our home! I even turned this vintage fishing guide into a giant wall mural in our guest house! It's one of my favorite projects yet!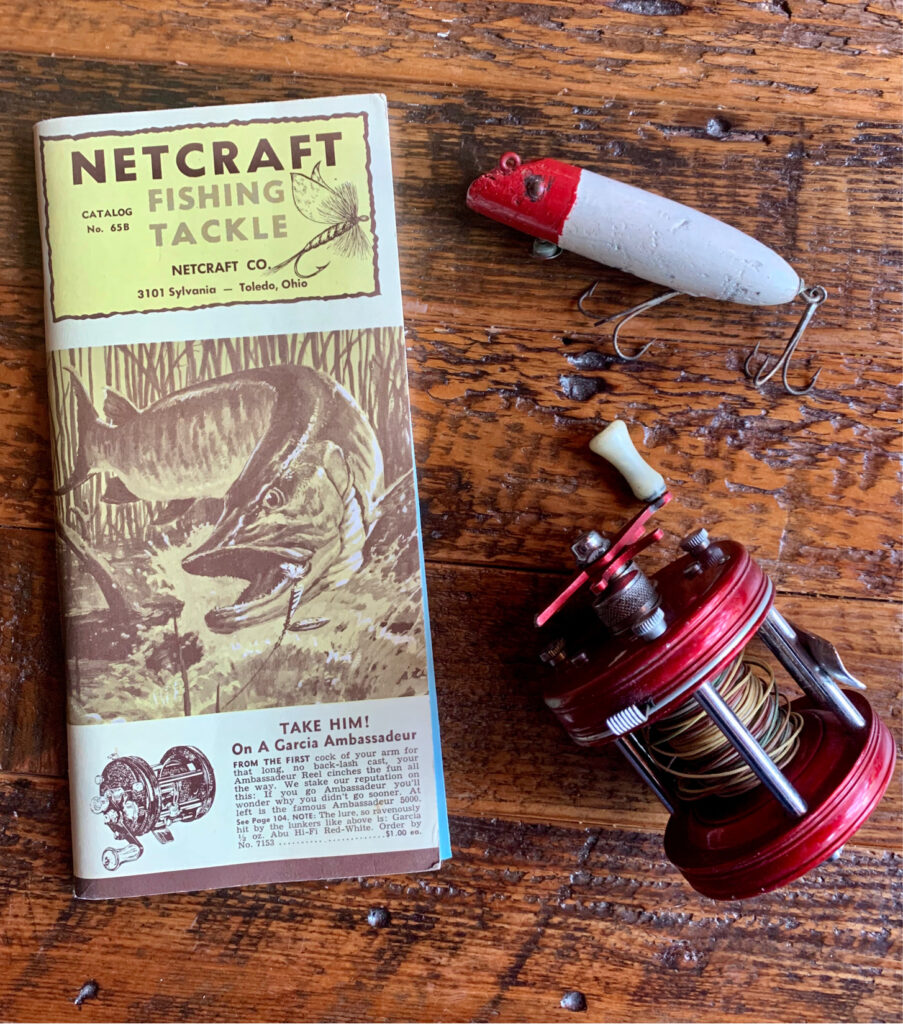 Syrup Containers
Not only do we live in a log cabin, but we love pancakes. We eat them every Saturday morning so vintage syrup containers are the perfect thing to collect!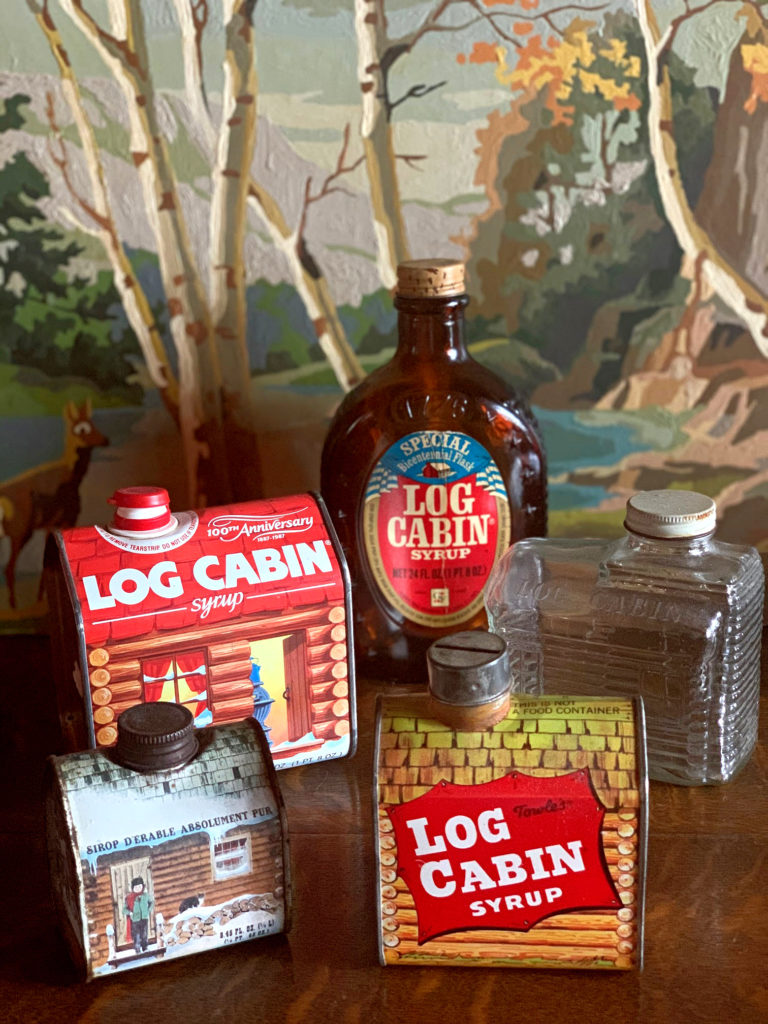 Wilderness Titled Books
I love scanning the books when I'm thrifting to see if any titles are lake, forest, fishing, trees, cabin, etc. titles. I also look for colors and beautiful bindings.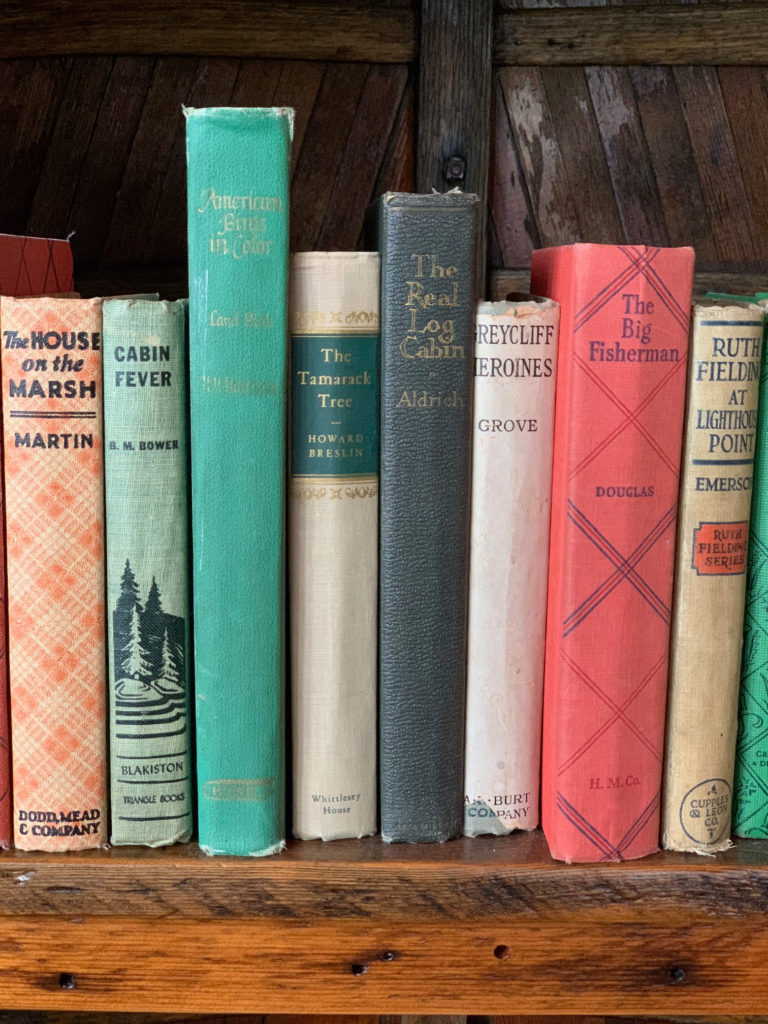 Nancy Drew & Flashlights
Nancy Drew books were my absolute favorite growing up and I love their bright cheerful yellow covers. I love the blue Hardy Boys too. They look so great on my bookshelves styled with my vintage flashlight collection.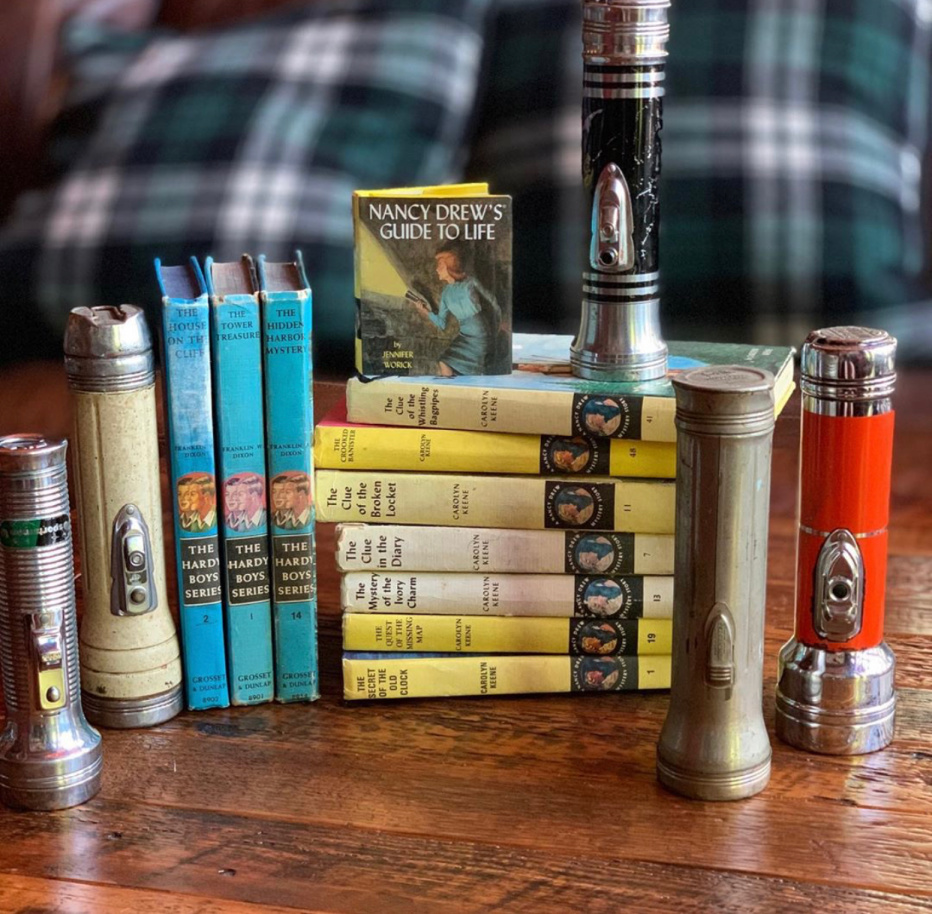 Coolers & Minnow Buckets
Not only do I collect vintage coolers, but I love using them too. When we entertain I fill them with ice and drinks for our guests. I also often use them to hold plants or towels or backyard games.
Minnow buckets are one of my favorite things to multipurpose! They make great lanterns, pots and wine coolers!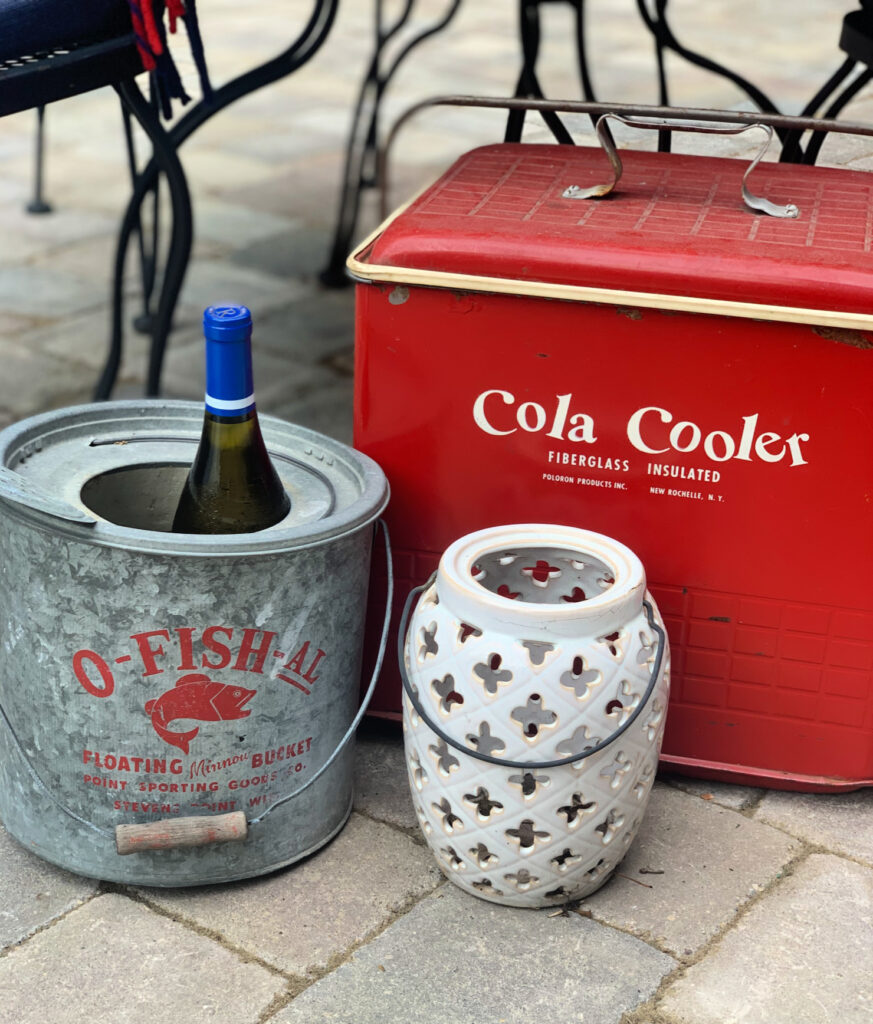 Swizzle Sticks
Never wonder which drink is yours again! I love collecting vintage swizzle sticks. They are great conversation pieces and guests love to choose one to use in their favorite cocktails.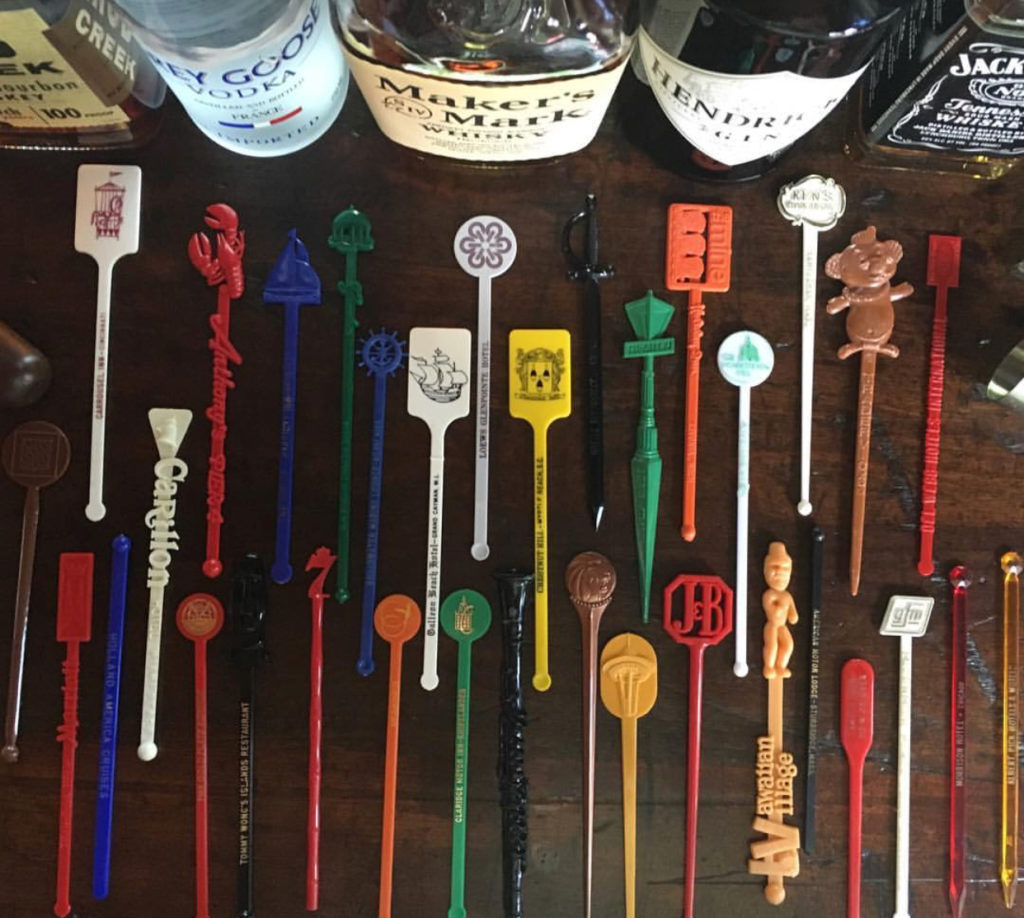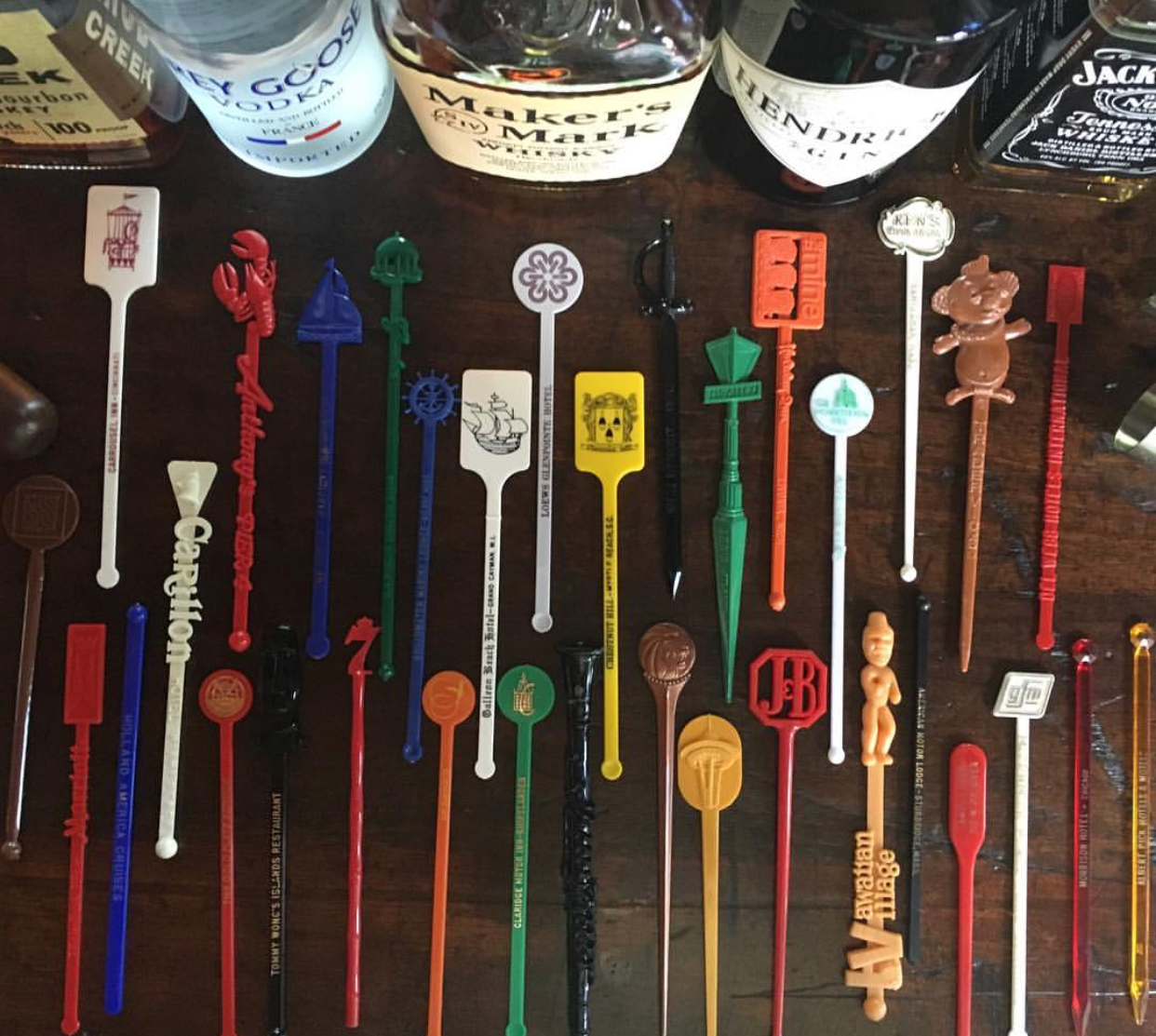 Dishes & Soda Crates
I love mixing and matching vintage dishes in lots of patterns and colors.
Soda crates are one of the most versatile vintage objects. They make great trays and organizers, even centerpieces.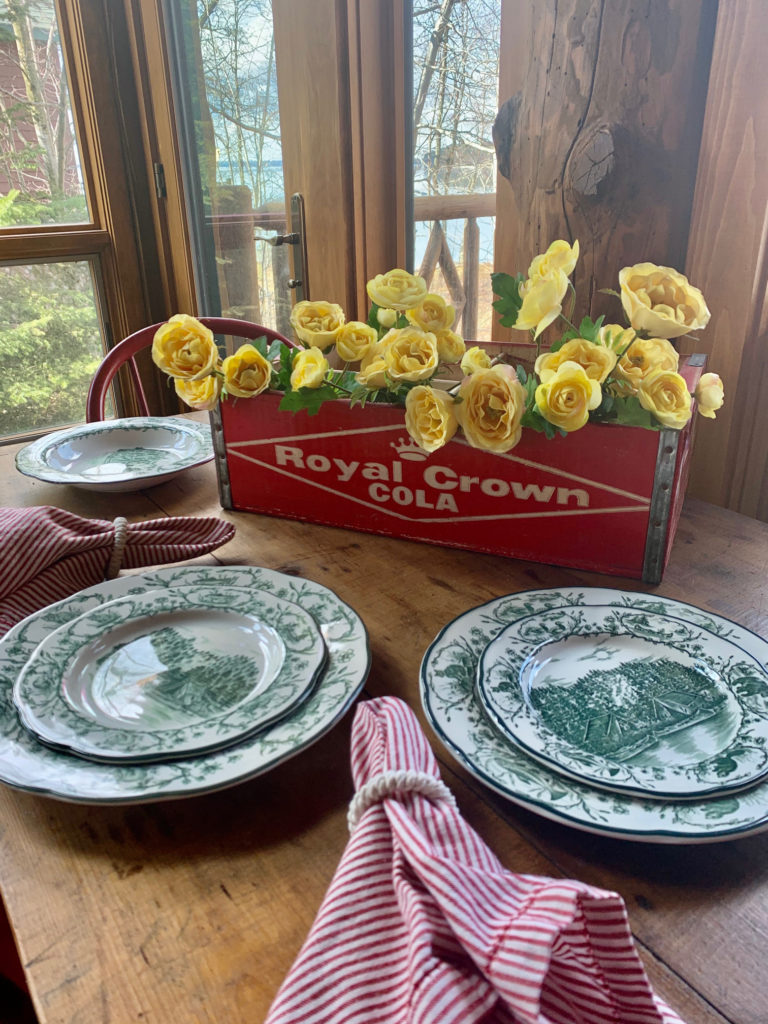 Scotch Koolers & Tennis Rackets
Vintage sports equipment is a fun nostalgic collection, especially when you find racquets with plaid covers.
And Scotch Coolers are one of my favorite things. I use them as end tables in my house, Christmas Tree holders and actually use them still to hold drinks. They are perfect to take along to a party, to watch a parade or on the boat. They can double as a seat.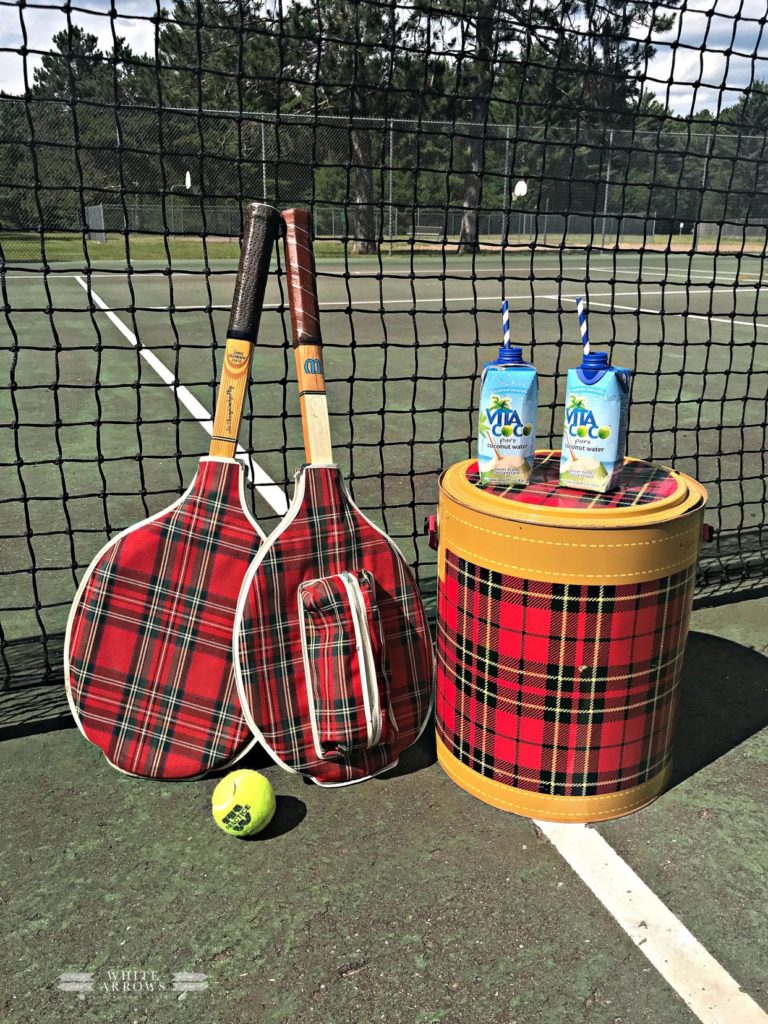 Water Skis
Snow skis, water skis, vintage snow shoes. I love them all!! Living on a lake water skis are a perfect addition to my decor.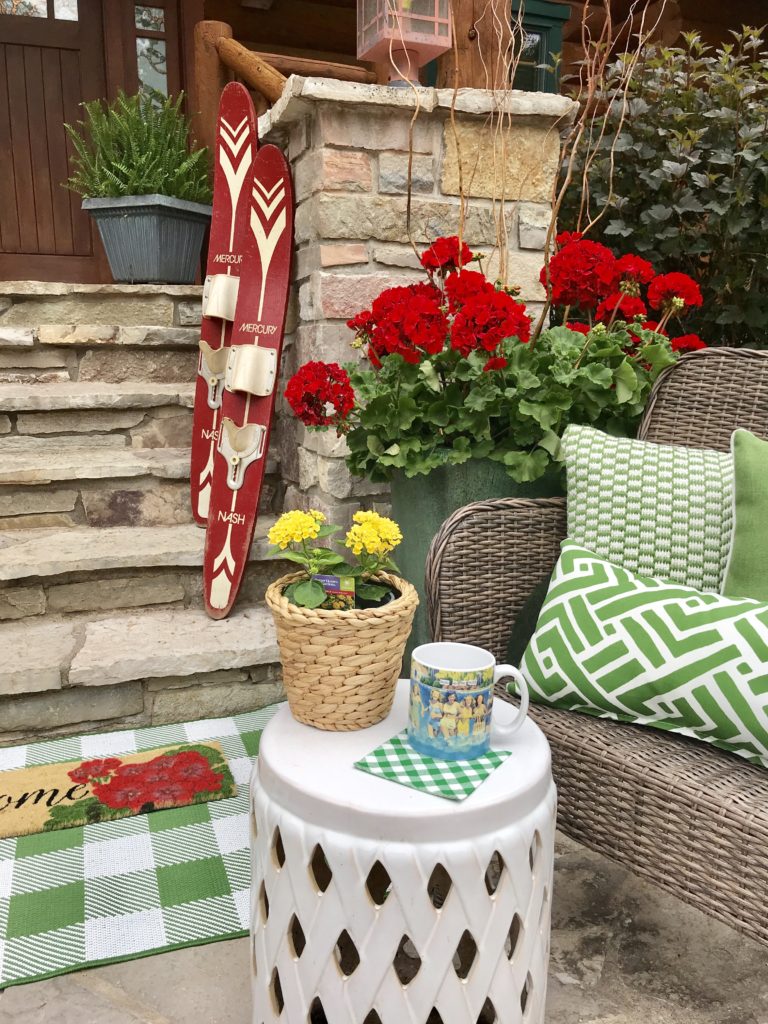 Tea Cups & Plaid Kentucky Club Tins
My grandmother started my tea cup collection and I love adding to it.
Kentucky Club tobacco tins are one of my favorite things to find.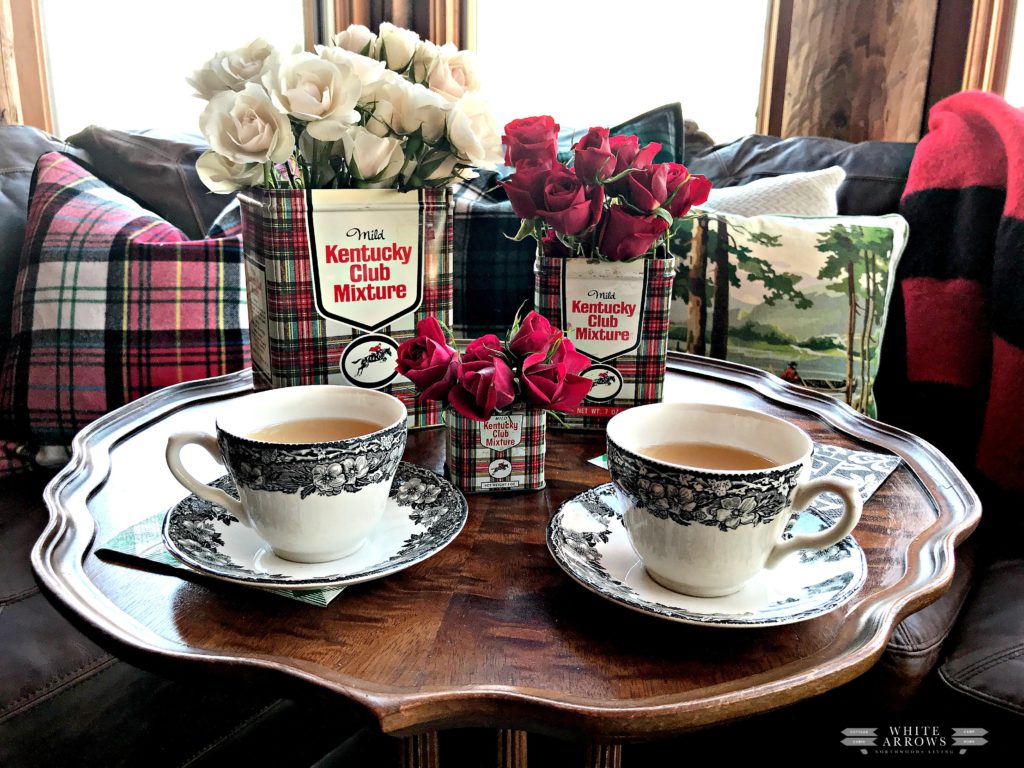 Fishing Creels & Lanterns
Fishing Creels are a work of art. I share a tour of a space in our home on Tuesdays on IGTV. I recently shared how I hang them in a collection on the wall in our half bath.
I also love collecting lanterns, especially red ones. I often line them all up down our dining room table or above our entryway cubbies. I also love to hang them on our boathouse.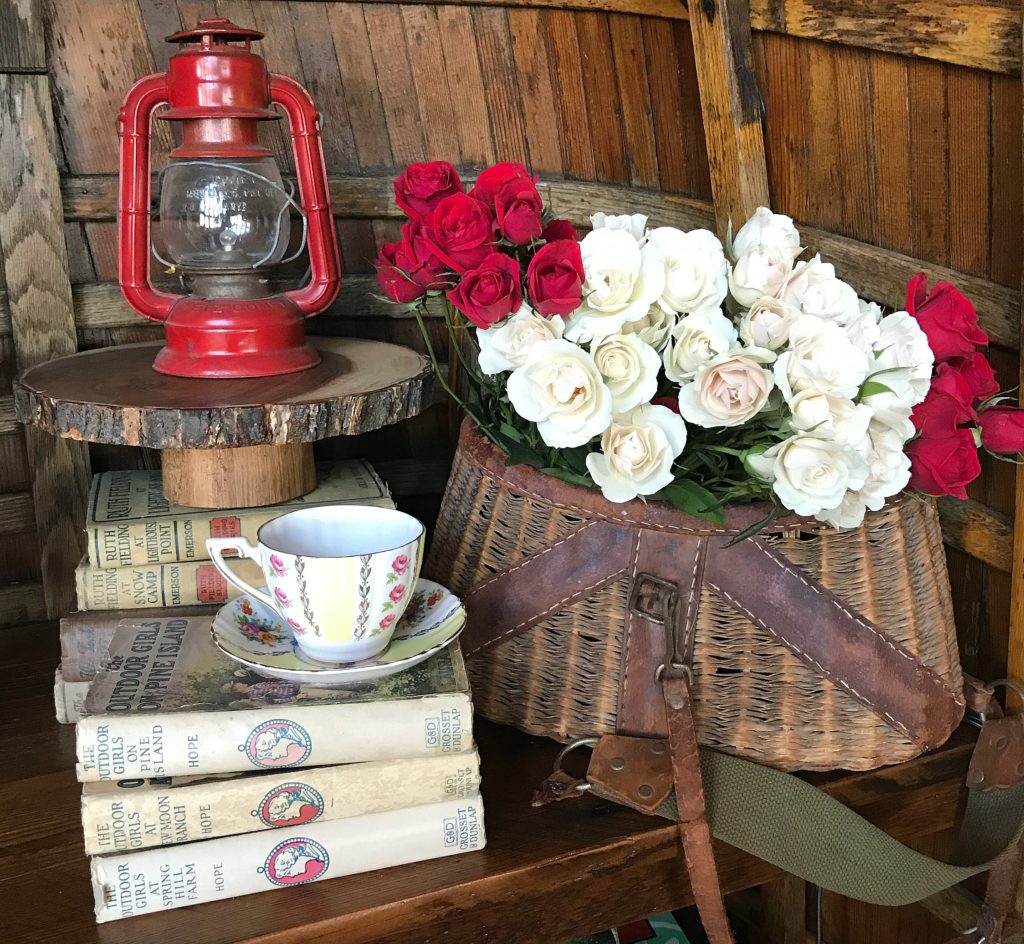 Thank you so much for visiting! I hope you will become a subscriber!! Next, you are off to my friend Rachel's On the Ponds Farmhouse.
Take the Tour

FOLLOW WHITE ARROWS HOME


Instagram ~ Facebook ~ Pinterest ~ Twitter ~ YouTube