I'm sharing a beautiful and rustic way to style Valentine decor with a vintage card and cloche.
(Affiliate links are used for your convenience. Read my full disclosure here.)
I'm excited to join another Pinterest Challenge Blog Hop hosted by Cindy of County Road 407. Each month, Cindy chooses a picture from a blogger on Pinterest and all of us participating in the hop style a vignette or space in our own style inspired by the photo. It's amazing to see how each of us comes out with something so unique!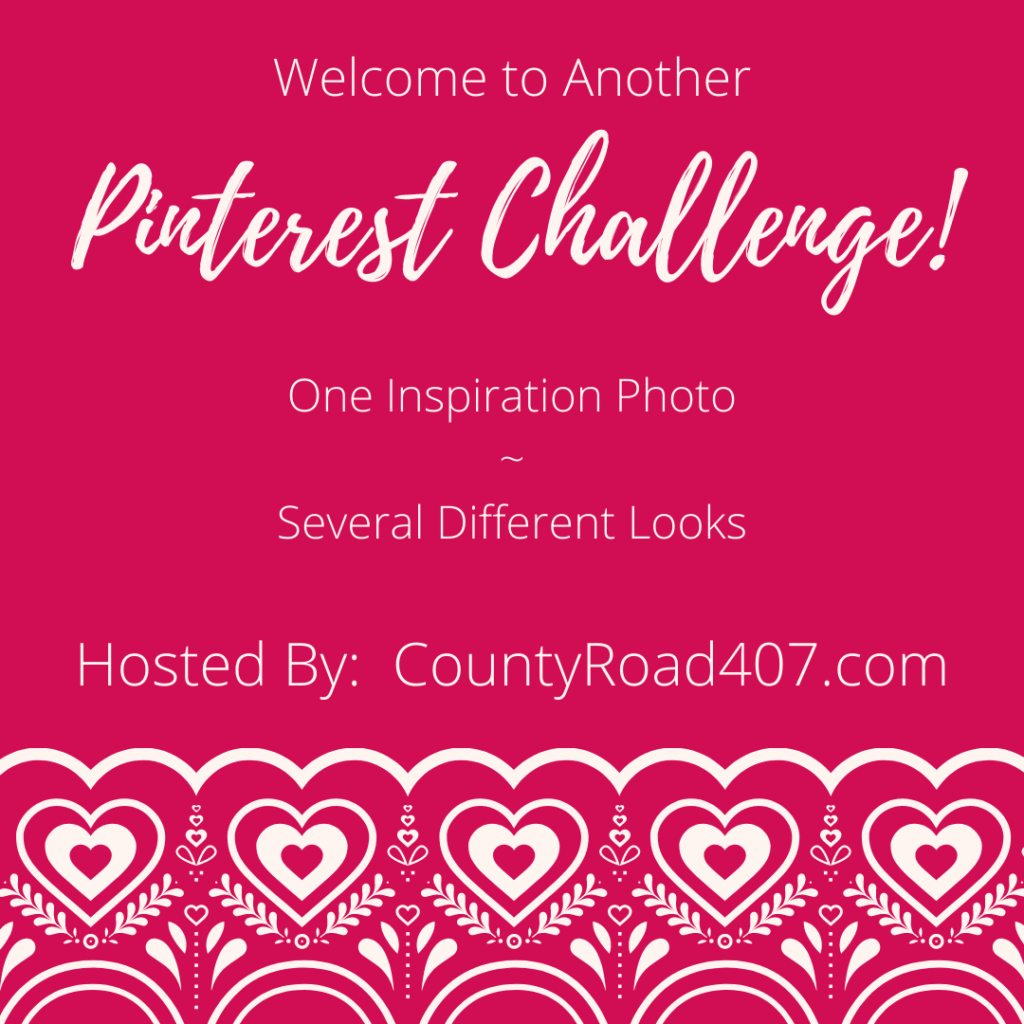 If you are coming over from my friend Paula's at Sweet Pea, didn't you love her take on the challenge! I love how Paula always shares her vintage family heirlooms and treasures! Paula's also a fellow lake house girl.
Welcome now to our lakeside log cabin home in The Northwoods of Wisconsin where we LOVE snow! This post is all about Valentine's Day so that means it's all about love.
In The Northwoods we love:
snowmobiling
ice fishing
xc skiing
ice skating
hockey
downhill skiing
snowshoeing
cozying up by the fire
So like my Winter Home Tour shared, we Pray for Snow. See more of my Winter Tour in THIS POST.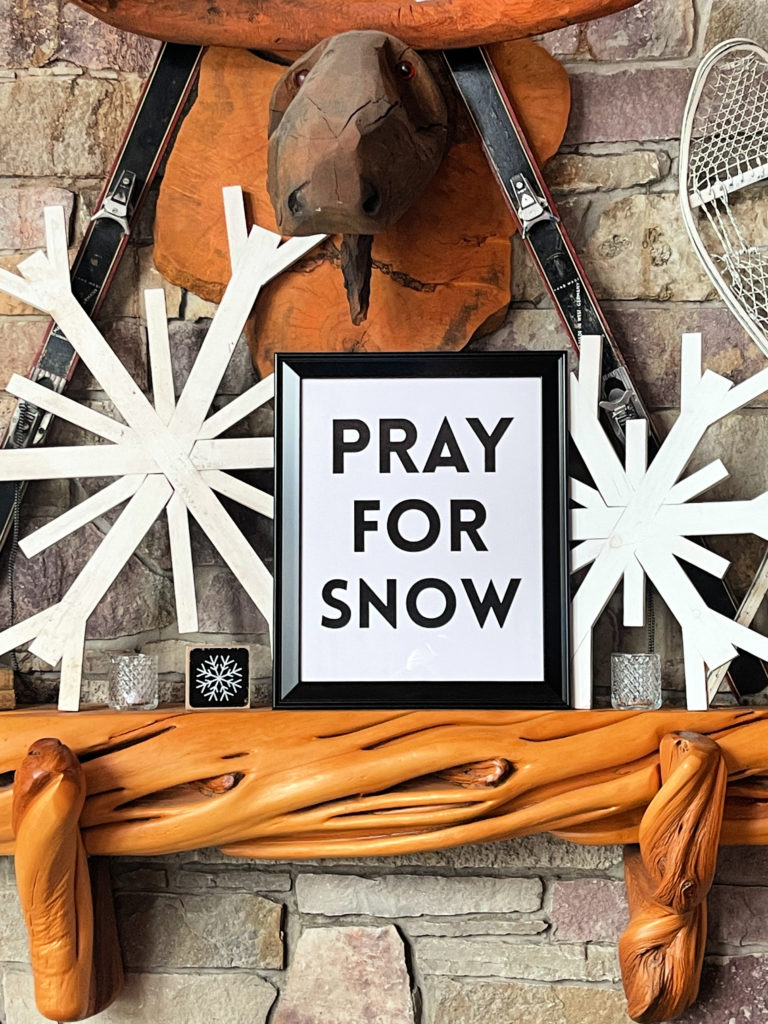 The Challenge
This month's challenge photo came from Crafting While I Wait. I thought this was such a sweet decoration and was excited to style my own. My favorite part was the vintage Valentine's.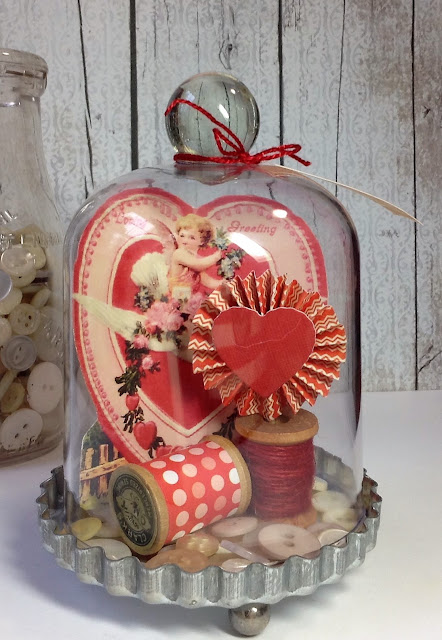 I have a cloche that I bought at Hobby Lobby. Mine has a galvanized base, like the inspiration photo, but mine is more simple. I haven't had it out in a few months, so had to go grab it from the storage closet.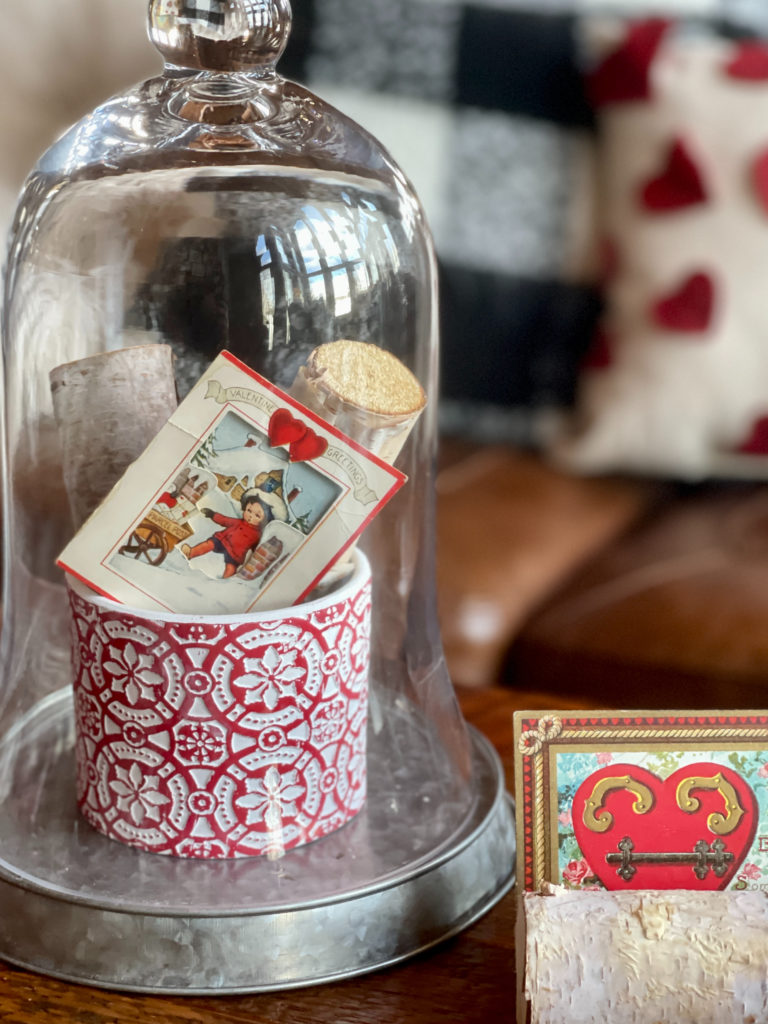 For another Pinterest Challenge in the Fall we did a Cloche challenge too. See the details IN THIS POST.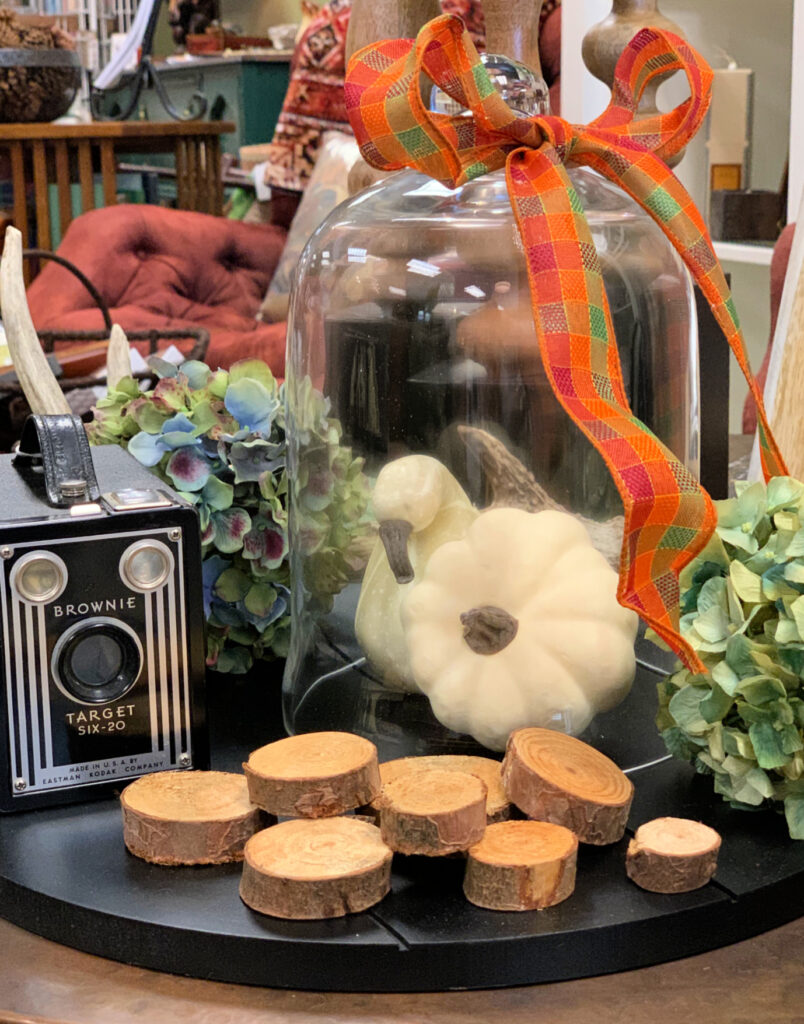 Valentine Decor DIY
For this challenge I wanted to incorporate the vintage Valentines, but instead of spools I took an idea from the forest surrounding my house and used some birch branches.
The birch gave it the rustic winter look I was hoping for.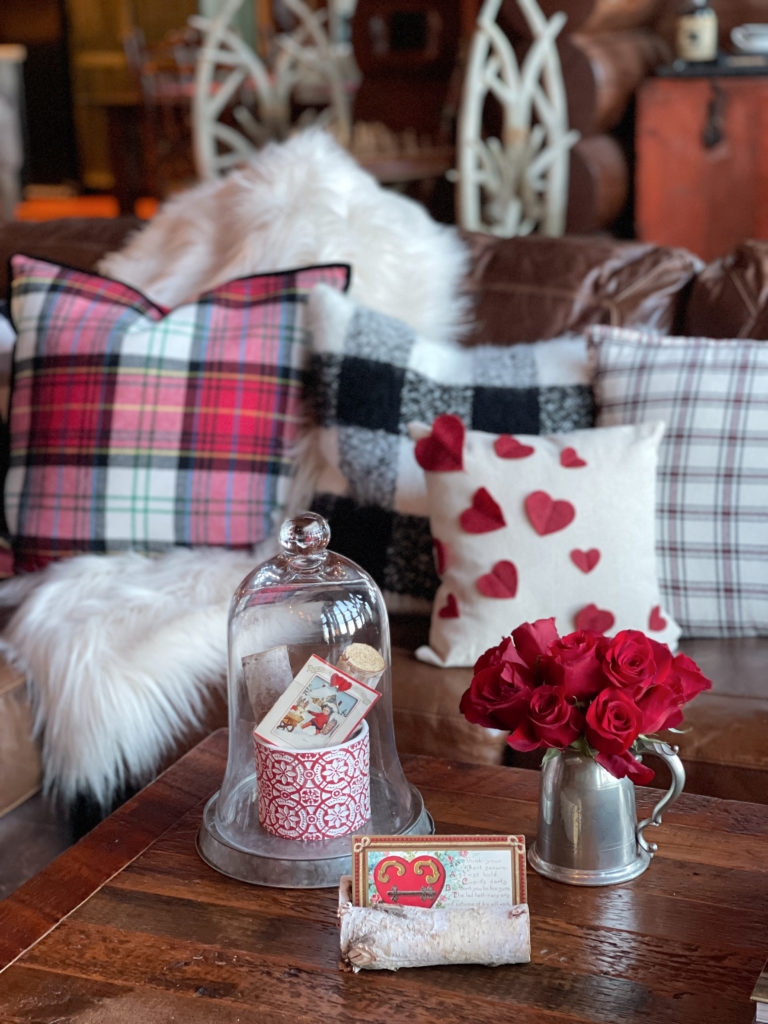 I tried just leaning together several birch branches inside the cloche and it wasn't staying in place the way I wanted it to so I grabbed one of the nordic dishes that I use sometimes in my giant brass candle holders.
The red and white pattern of the dish worked perfectly with the Valentine and held the birch in place. Then I just tucked the Valentine between the branches.
I also used two more branches to become a stand for my second Valentine on the table outside the cloche.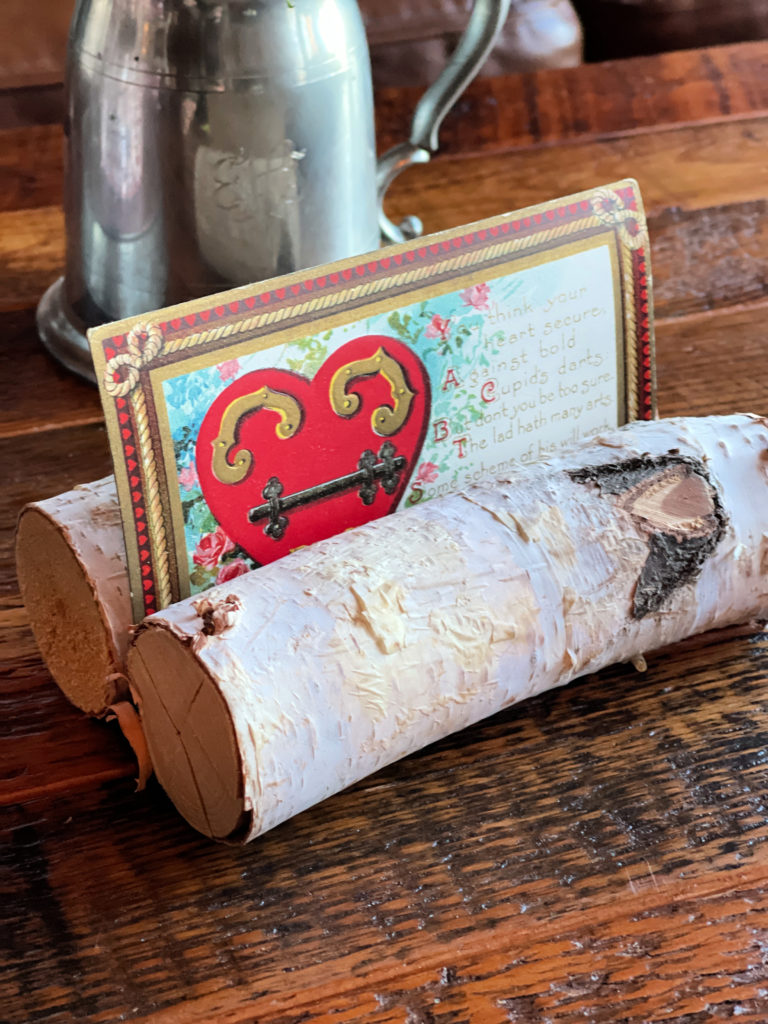 Vintage Valentines
Vintage Valentine's are so sweet. I love their graphics and their sweet messages. When I see them in antique shops I peek through them and bring any home that catch my eye.
For this challenge I pulled out two of my favorites.
The cute little one I used inside the cloche says Valentine Greetings and has a little snow scene and a cabin. It seemed like the perfect one my house.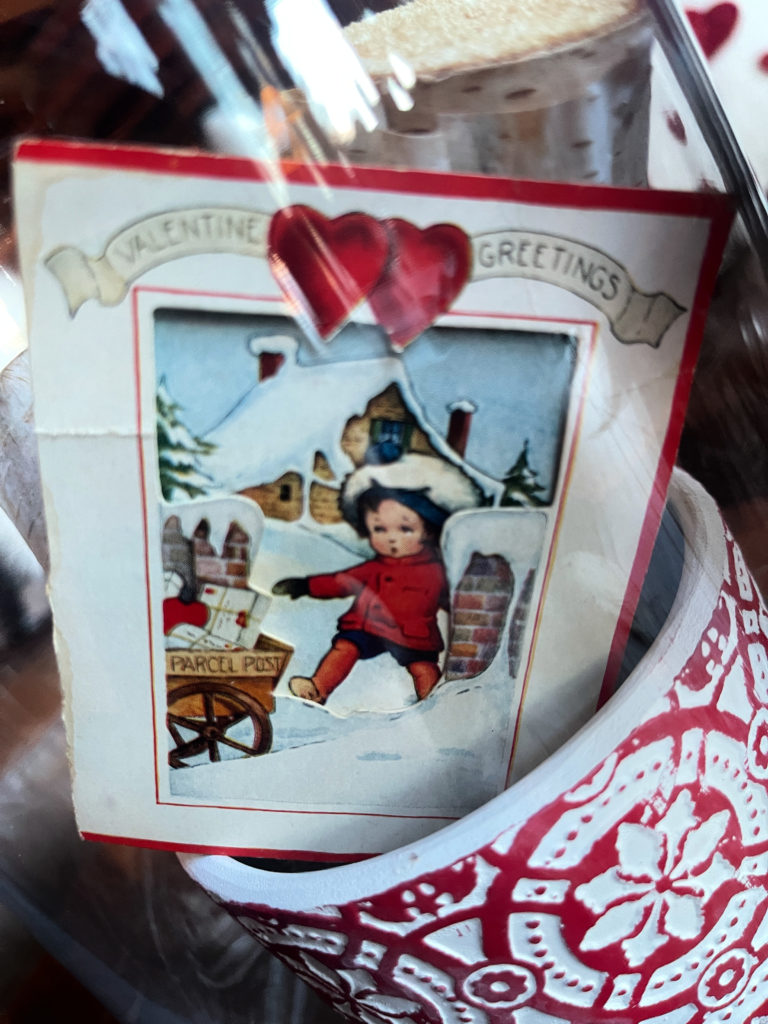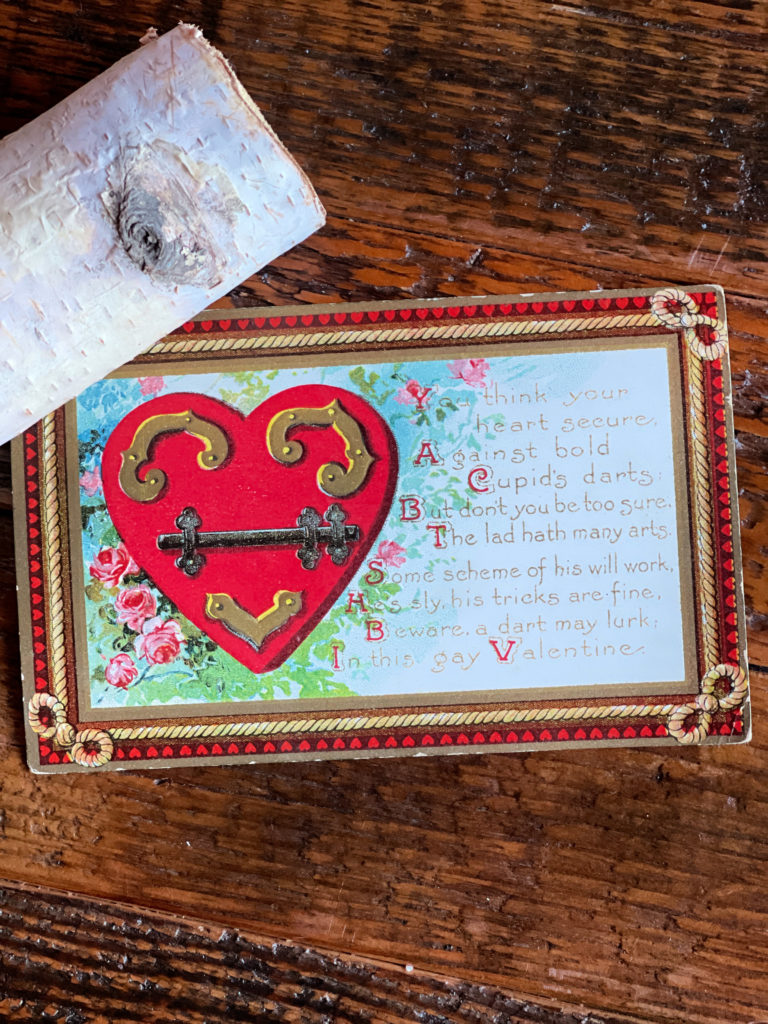 I added an arrangement of red roses inside a pewter mug.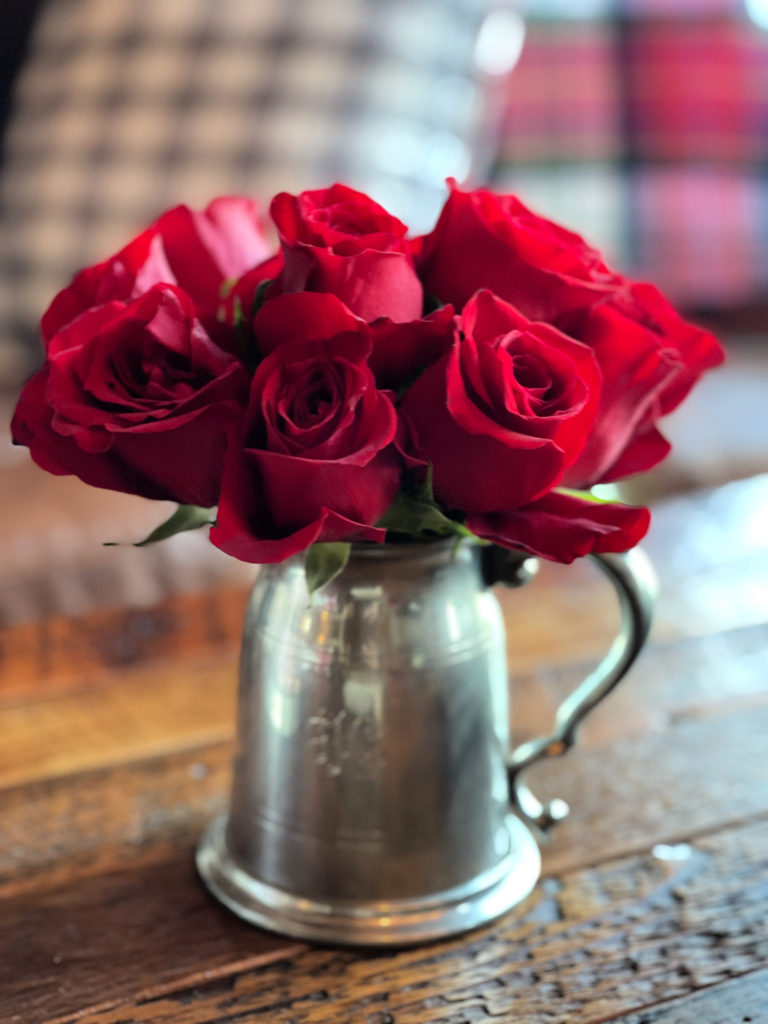 The mug was a find on one of my #thriftingwiththegals adventures. A few of my friends and I share our shopping finds on Instagram Stories throughout the week and monthly on a blog hop. See my recent post HERE.
I love that the mug has a monogram on it. I am always curious about the story behind the antique and vintage pieces I buy. Who's mug was this? Who's initials were these?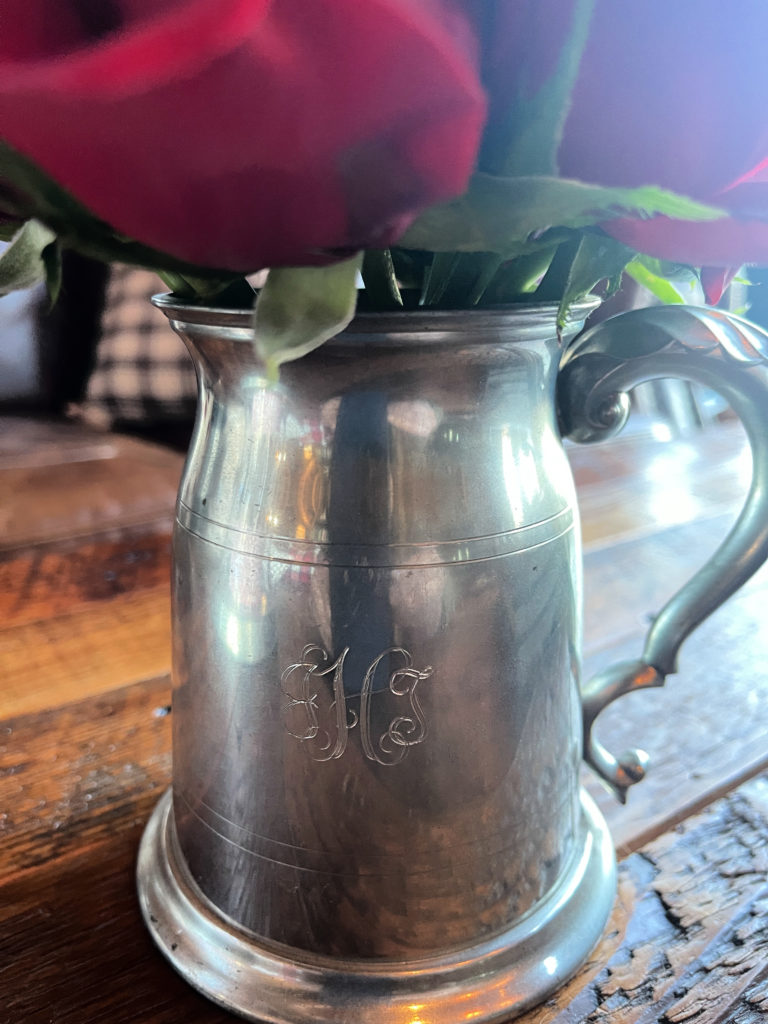 I like to keep my vignettes in a grouping of threes so the mug of roses balanced the grouping.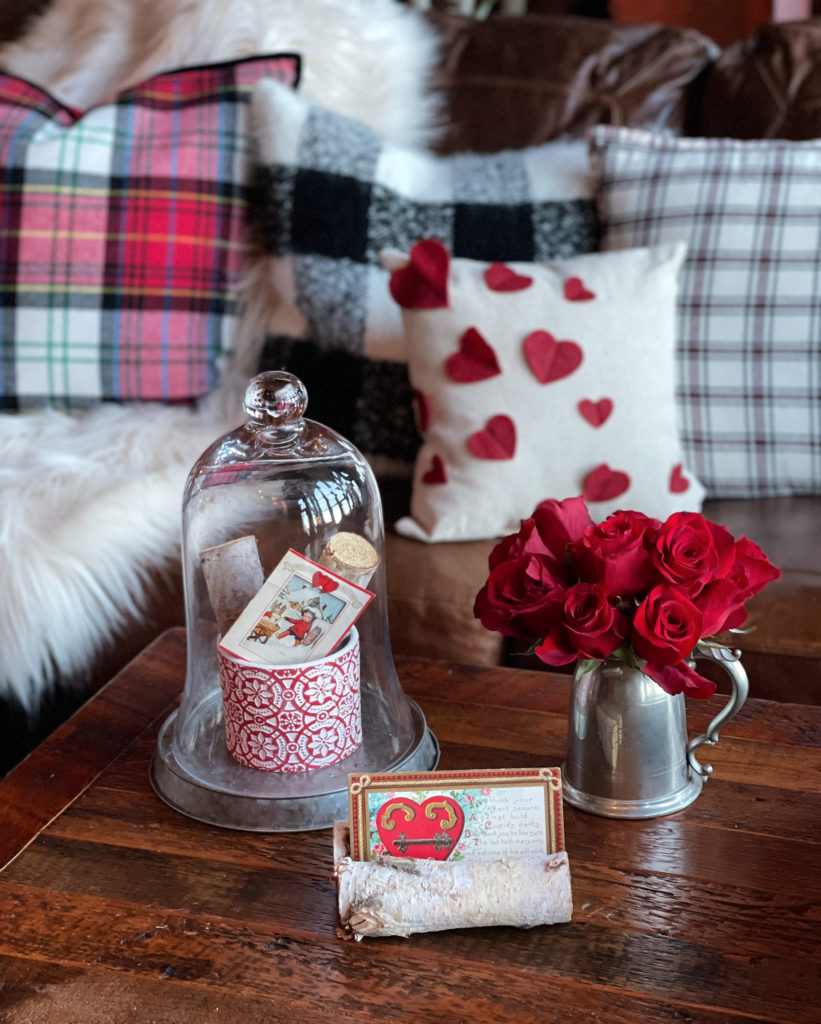 If you don't have a cloche, check out my ideas to make your own with these quick and inexpensive DIYs IN THIS POST.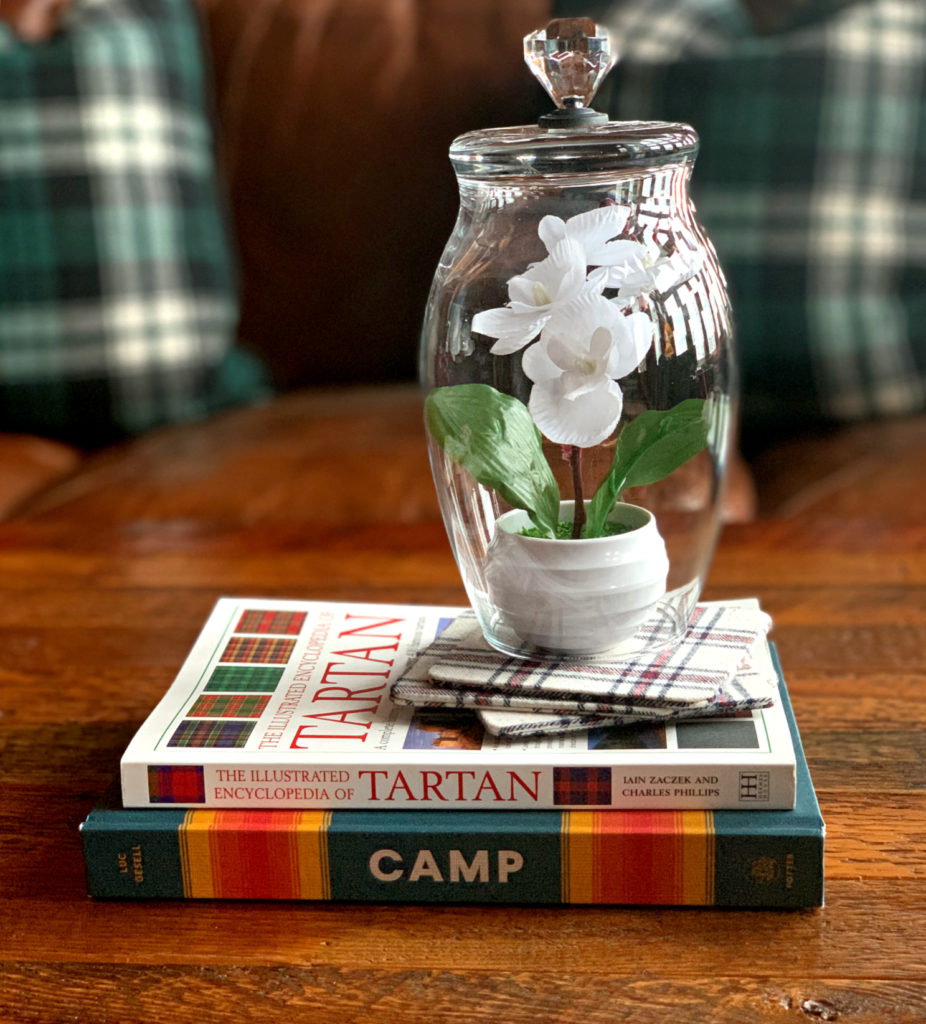 Next up, you head to my friend Kim's home atShiplap and Shells. Like Paula and me, Kim has a beautiful water view too. You'll love seeing her take on the challenge!
And check the list and links below to make sure you get a chance to see all the posts.
Take the Tour
You are invited to the Inlinkz link party!
County Road 407 ~ DIY Beautify ~ Sweet Pea ~ White Arrows Home ~ Shiplap and Shells ~ Decor To Adore ~ The Ponds Farmhouse ~ Bluesky At Home ~ My Wee Abode ~ Lora Bloomquist ~ The House On Silverado ~ Thistle Key Lane ~ Everyday Edits
FOLLOW ALONG
Instagram ~ Facebook ~ Pinterest ~ Twitter ~ YouTube ~ Tik Tok ~ Liketoknow.it ~ Podcast