We have one more week of school and then it's SUMMER! Where we live in The Northwoods of Wisconsin is known as Lakeland because of all the lakes in our area. Living in the middle of a forest on the shores of a lake makes a beautiful backdrop for the Summer season and a reason to spend most of our days outdoors. That is why my outdoor spaces are so special to me.
I'm excited to share our porches, patios and outdoor spaces as part of a blog hop hosted by my talented friend Amber of Follow the Yellow Brick Home. She has gathered together an amazing group of 20 bloggers sharing their Spring to Summer spaces. I'm honored to be a part of it. You can find links to the entire tour at the bottom of this post.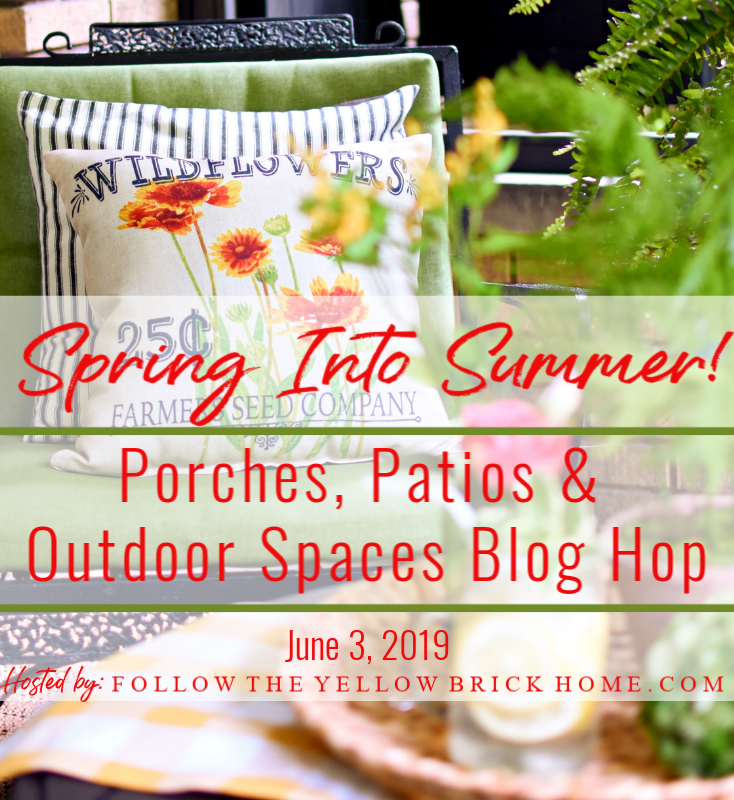 If you are coming over from Thistle Key Lane, welcome! Weren't you inspired by her style! I always am!
Spring comes late where we live this far North. This time of the year we are still waiting for our gardens to grow. We've only had our hanging baskets, pots and other flowers out for about three weeks having waited for the last of the frost to end.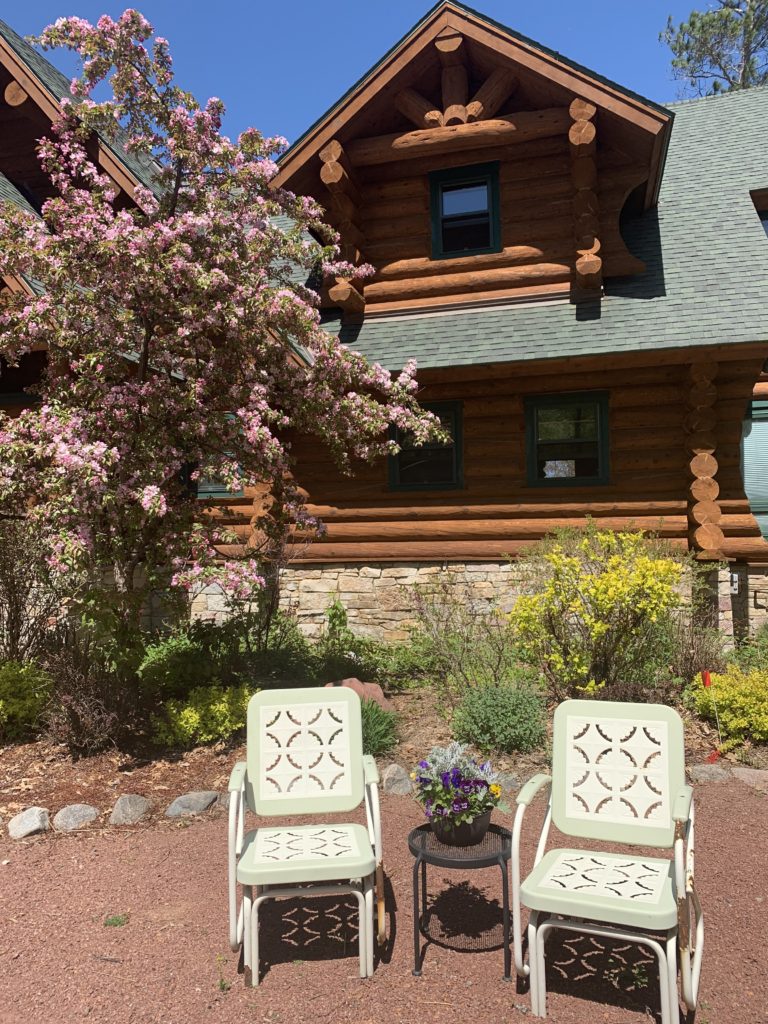 I have begun decorating my outdoor spaces, but it is not in it's full glory yet.
The first space I always decorate is our front porch. I shared our porch a few weeks ago in this post. I went with a green and blue color theme and white geraniums, taking a turn from my usual red ones. Last year I used greens, whites and reds. This year I kept the same green decor and mixed in some new blues.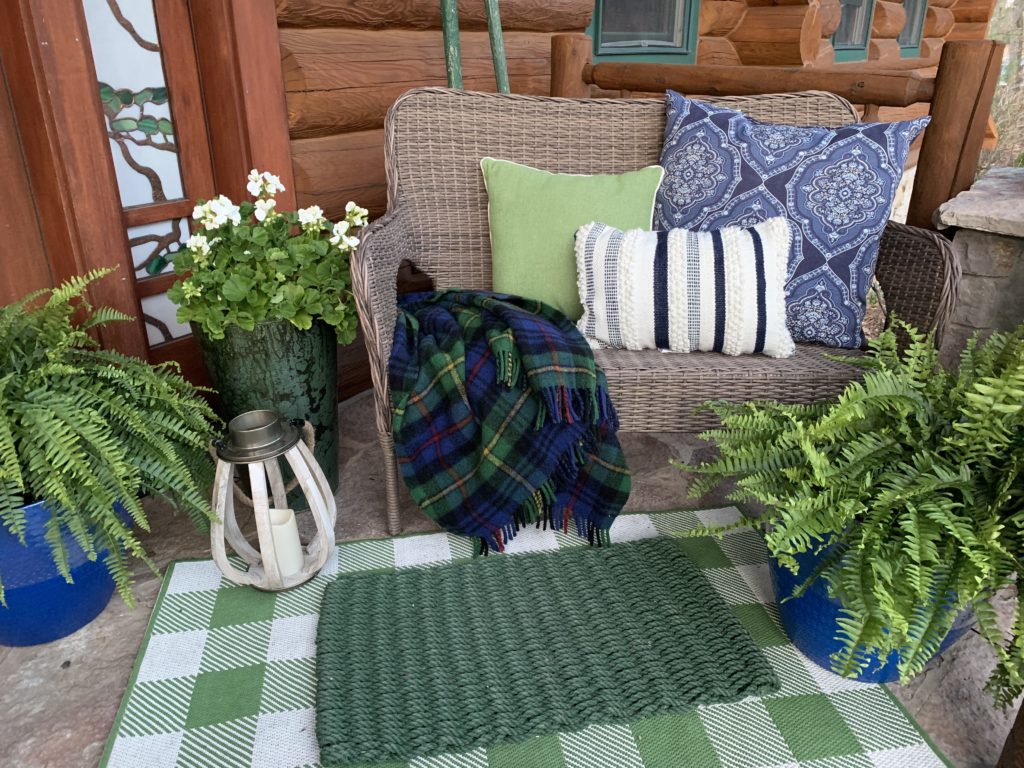 I am using this same color scheme for the rest of my front yard spaces.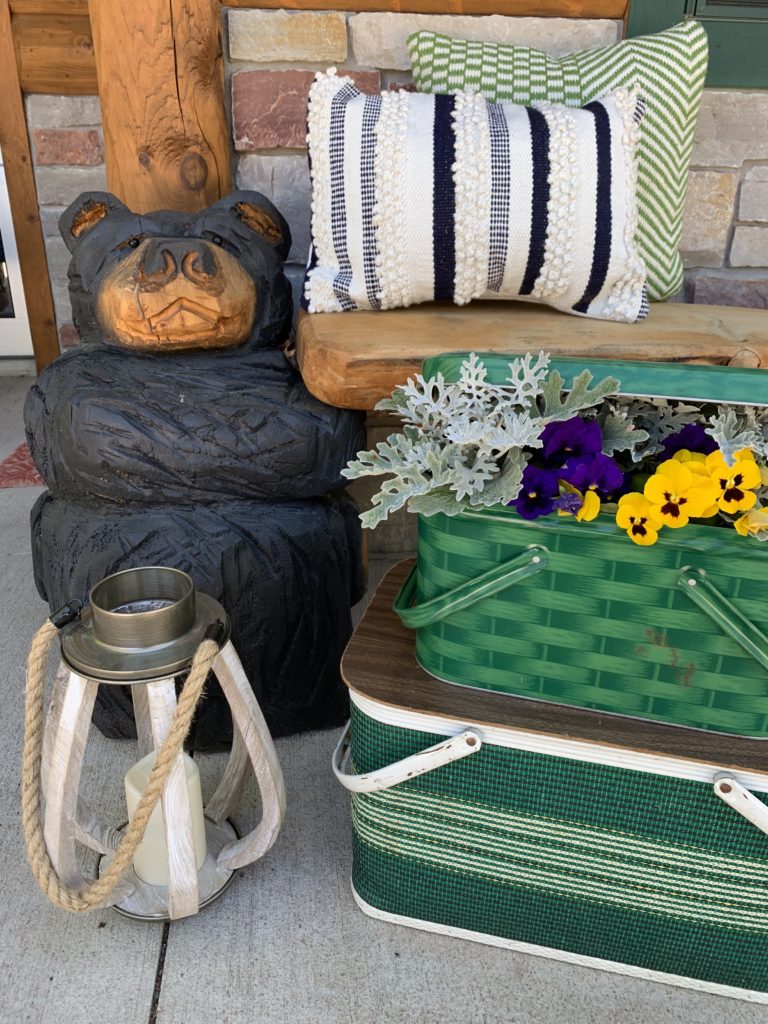 I like to set up lots of seating areas in our front yard for a couple of reasons. One is curb appeal. I like the welcoming feel it gives to the front of the house to have seating ready to invite guests to sit and linger.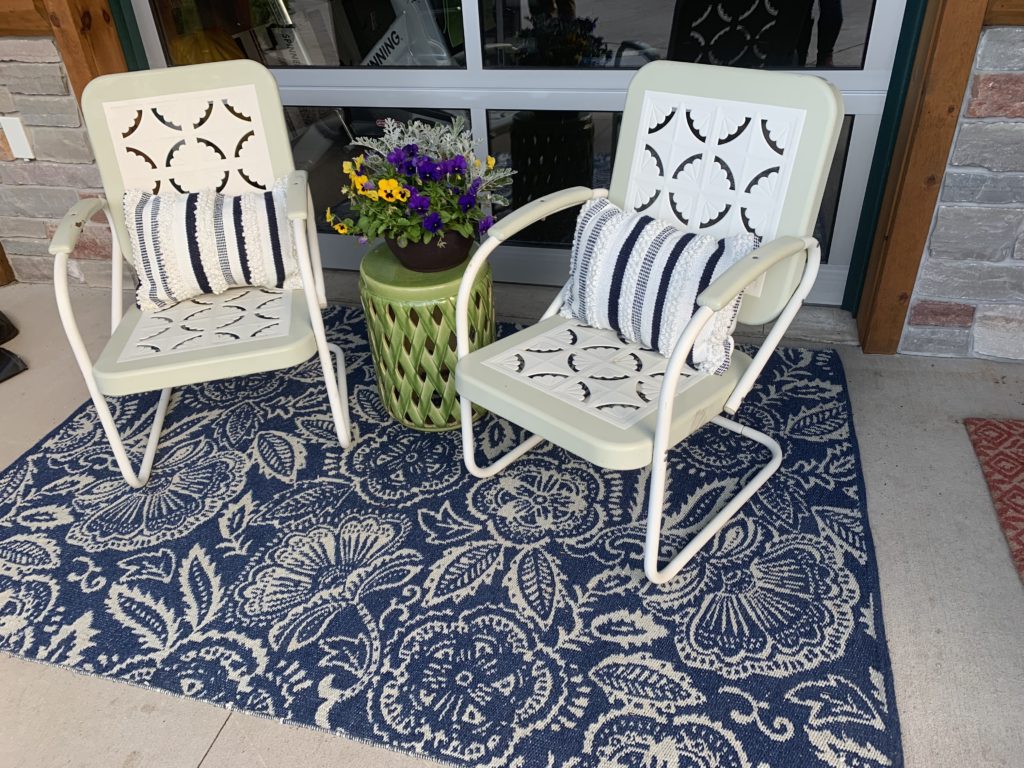 Along with white geraniums this year, I'm using pansies in purple, yellow and white.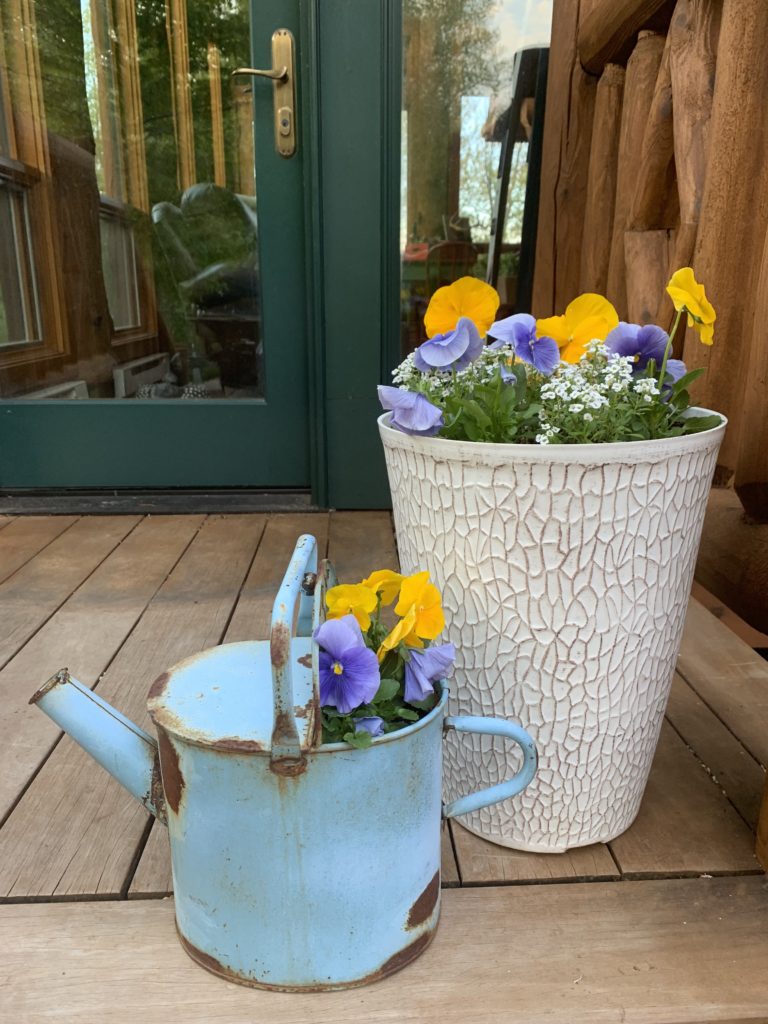 My kids spend a lot of time out front playing basketball, throwing bags or playing catch in our circle drive. So I like to have spaces to sit and watch them play.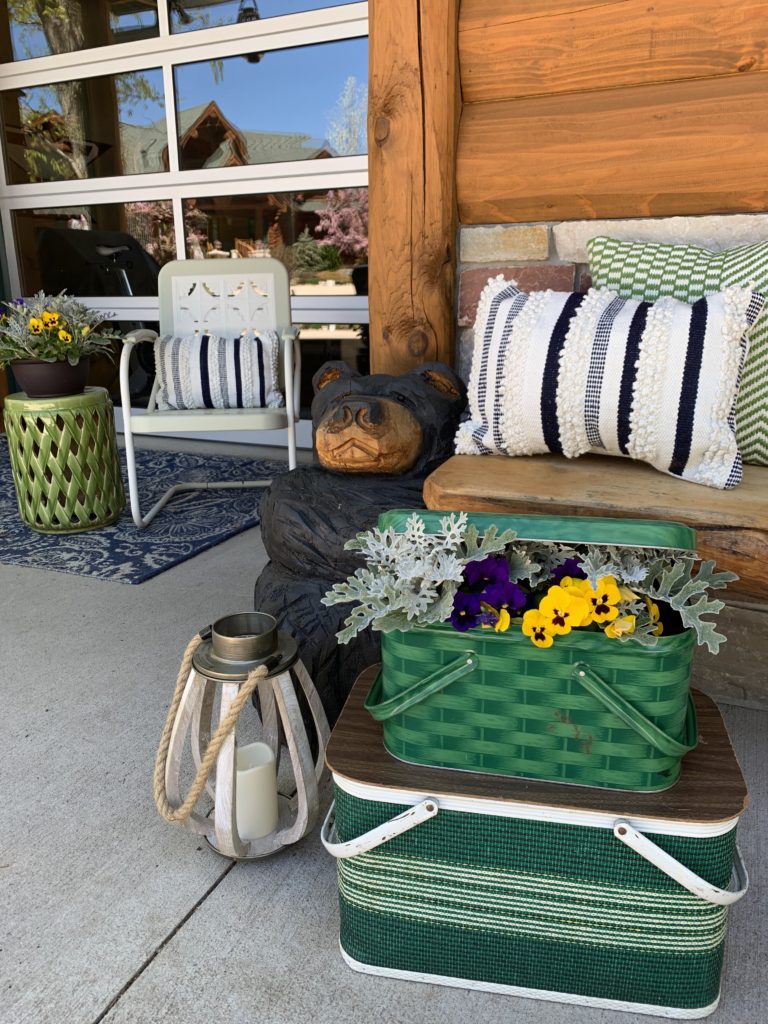 Our main house, detached garage and guest house curve around our circle drive. A garden island is in the middle of the drive. We keep a grill by the front porch of the guest house and grill out most evenings while watching the kids play.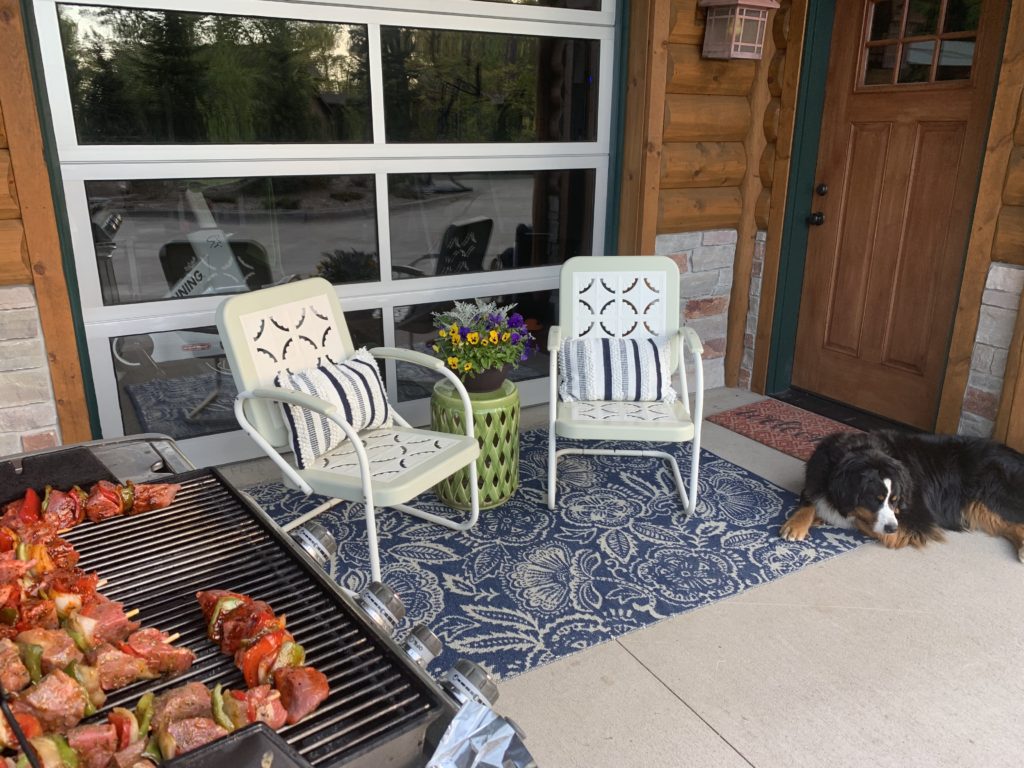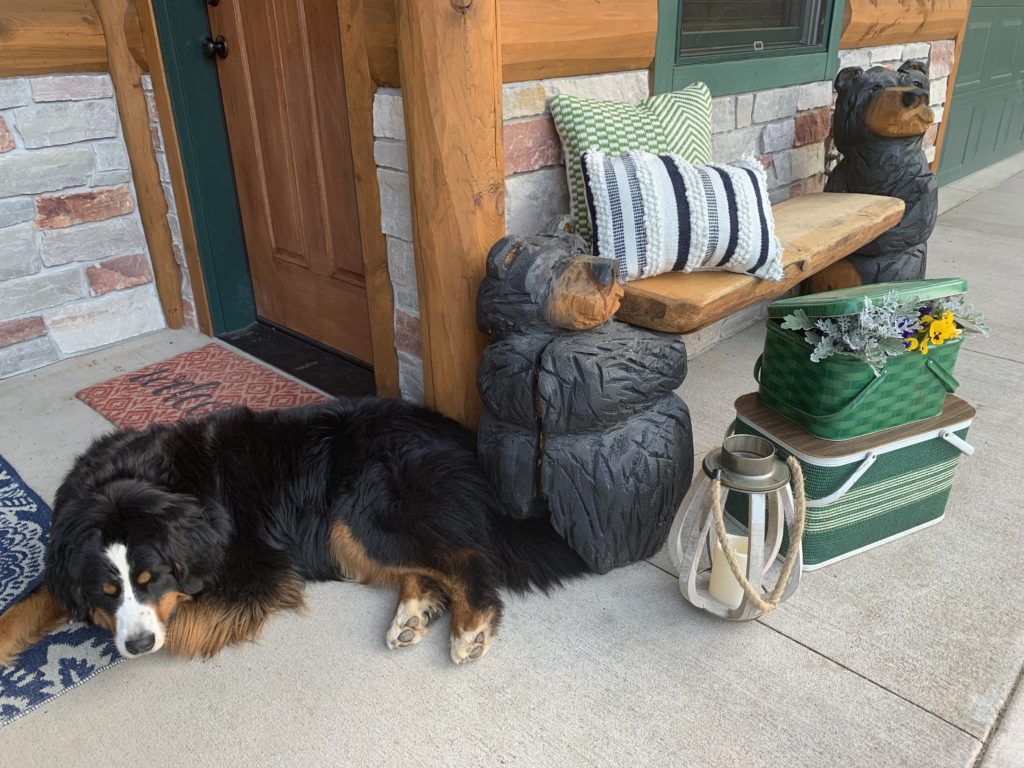 Our backyard is another area we love to hang out in. With the lake view, fire pit and grass lawn, there is lots to enjoy. I haven't touched the back patio yet this year. We are about to remodel this area. Be sure to subscribe and follow along so you can see the progress as we make decisions about plants, furniture and a built in grill.
I moved the table we usually have on the back patio to the front yard. I read a wonderful book for my White Arrows Home Book Club this past month called The Turquoise Table by Kristin Schell. It's about being neighborly. I don't have a turquoise picnic table, but I had this table needing a new spot so I moved it to the front. Want to know what I'm reading next? Join my book club! Subscribe and get the announcements each month and read along with me!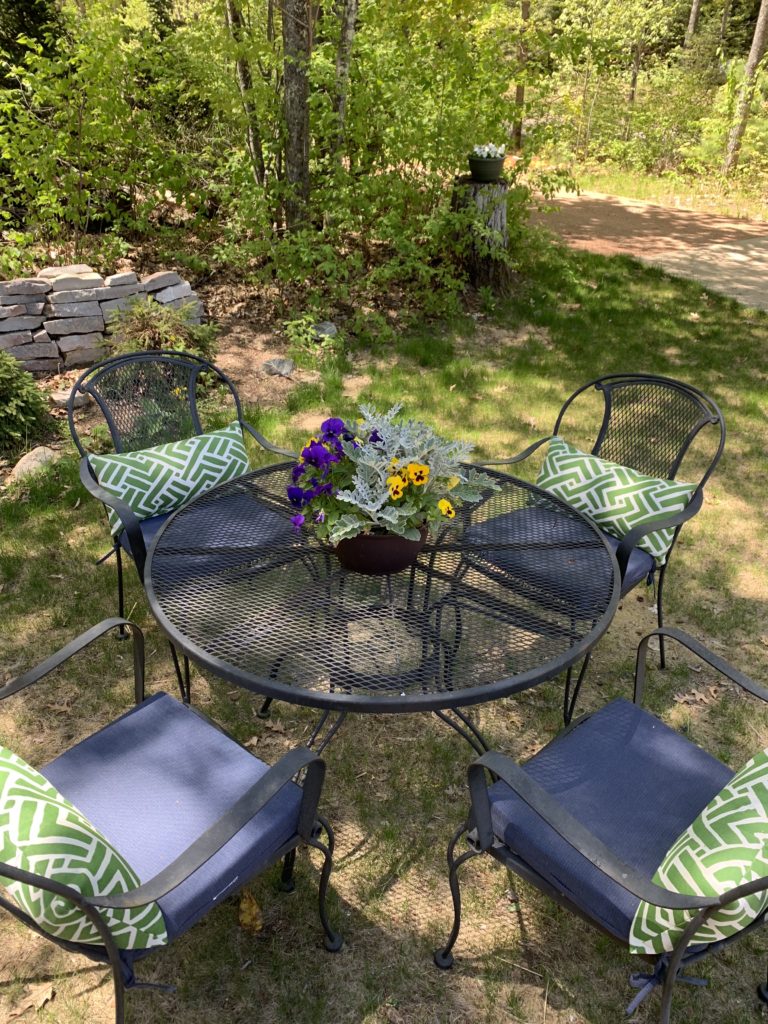 The dock gets a lot of attention in the Summer. I love to sit on the dock and watch the kids swim, visit with friends or enjoy a glass of wine at the end of the day.
Off of the dining room is our back porch. We eat out there often in the Summer.

Our Master Bedroom also has a small porch that is a relaxing space to sip my morning coffee and listen to the loons on the lake.
Thanks so much for coming on my outdoor spaces tour! If you are following along in order, you are off to visit Welch House 1900 next! Prepare to be wowed by Larissa's home!!
I hope you will continue to follow me! Sign up below to receive my emails and follow along on your favorite social media site!
FOLLOW ALONG
Instagram ~ Facebook ~ Pinterest ~ Twitter ~ YouTube



Follow the Tour!
You are invited to the Inlinkz link party!