Rustic styling in our entryway is accented by my Summer Basket Decor full of flowers and faux greens inspired by this monthly Pinterest Challenge.
I'm so excited to be participating in another monthly Pinterest Challenge hosted by Cindy of County Road 407 to share my Summer basket decor. These are one of my favorite things each month.
(Affiliate links are used for your convenience. Read my full disclosure here.)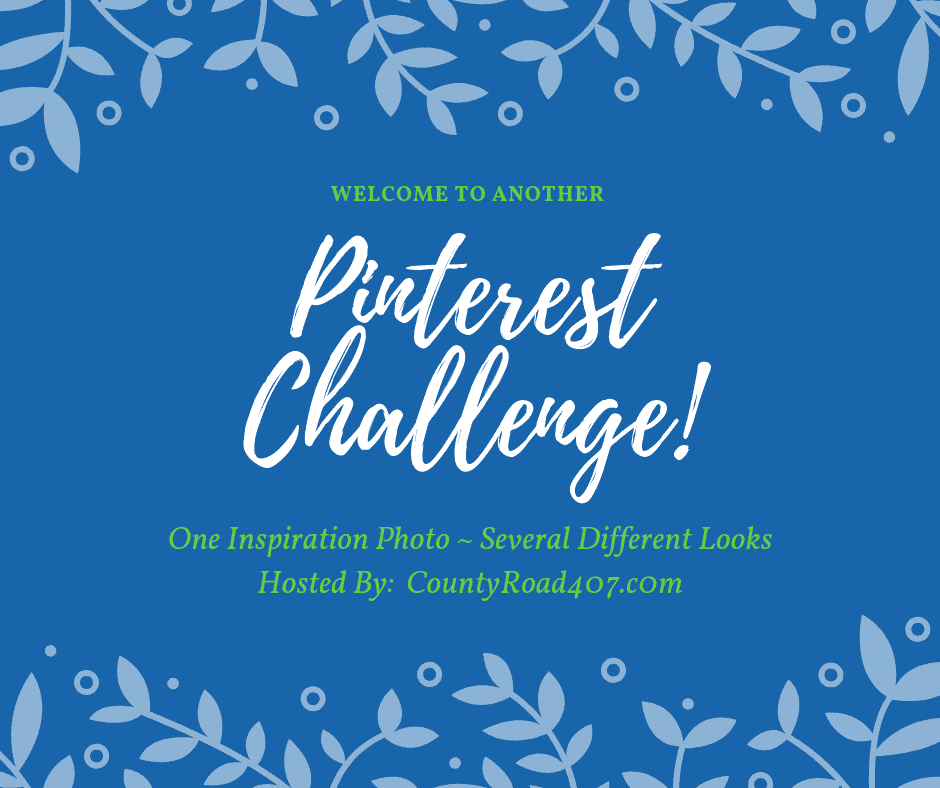 This month our inspiration photo is from Anderson and Grant. Our challenge was to decorate a Summer looking basket or bucket inspired by this photo.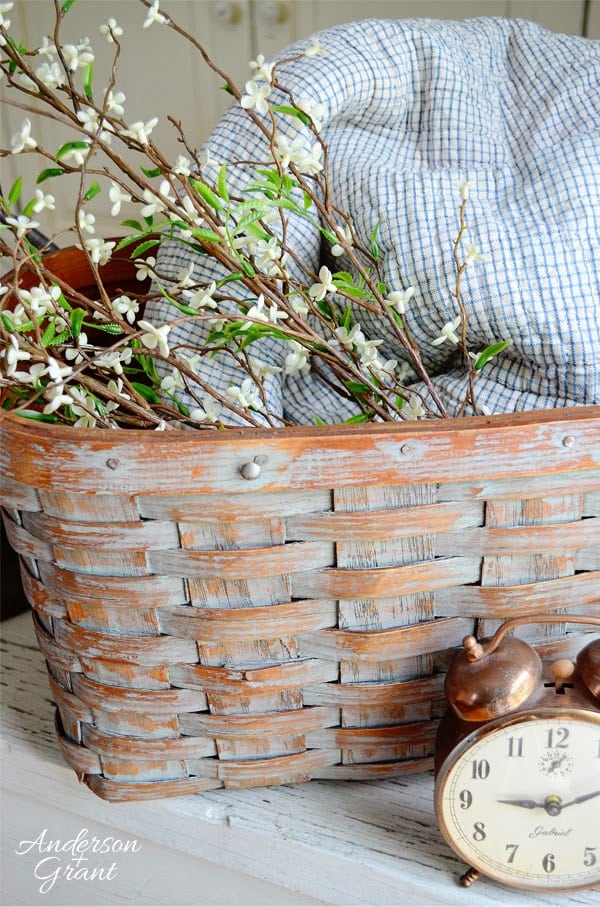 Here's what I took away from the photo. I wanted to include:
woven basket
white flowers
a blanket
a small decor item like a clock
Be sure to take the whole tour listed at the bottom of this post to see how 14 of us styled our own interpretation of the inspiration photo. I love seeing how my styling ends up and how all my fellow bloggers design theirs too.
If you are coming over from my friend and fellow lake girl Paula's home, over at Sweet Pea, didn't you love her basket? I am always so excited to see her posts!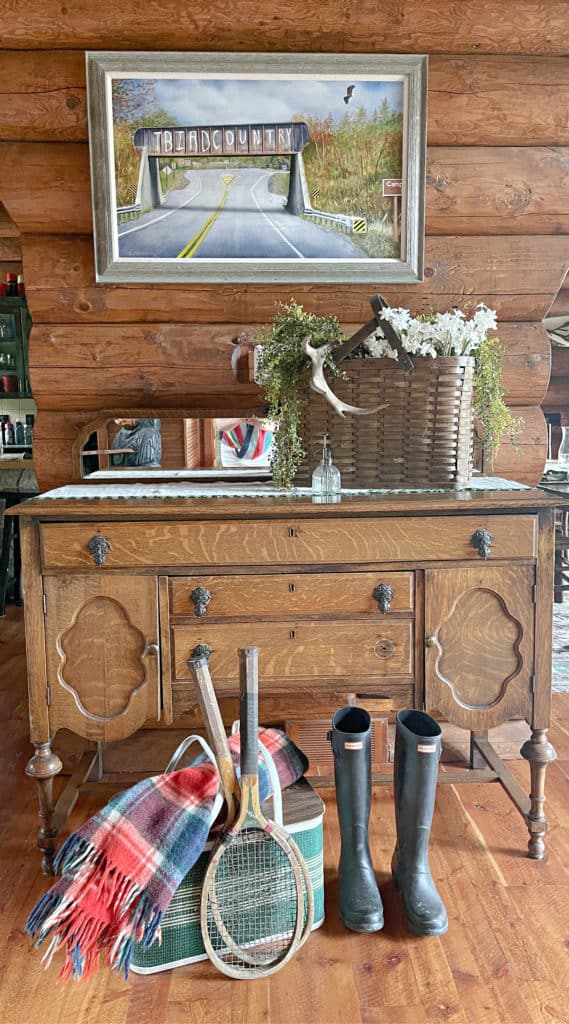 Woven Basket
One of my favorite antiques is my Hawkeye Basket. I love to fill it for the seasons in different ways.
"Hawkeye Refrigerator Baskets were originally designed for "picnics, sportsters, travelers, automobilists, and office people." They were made in the early 1900s, sold at hardware stores and sporting goods stores." – Source
I thought it would be the perfect one to use for this challenge!
Mine has a cotton webbed buckle strap that would have made it perfect for carrying over your shoulder. It's woven sides and handles are stained rattan and the inside is a metal liner.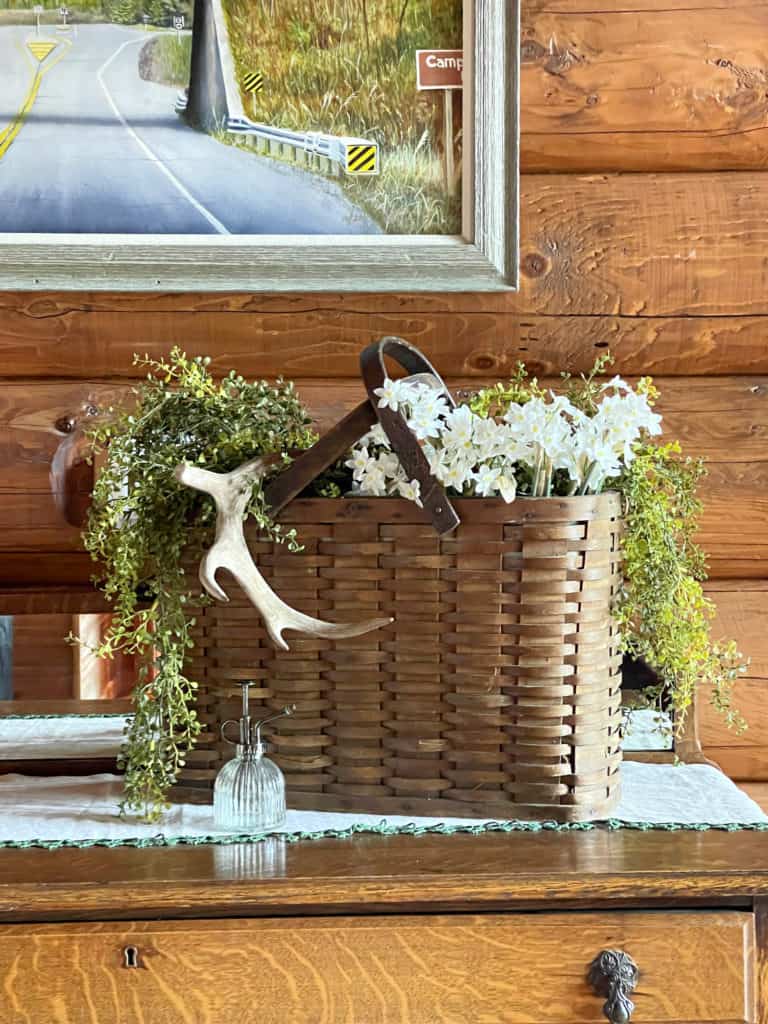 A Small Decorative Item
Jamie used a clock in front of her basket. I decided to use a flower mister.
In our Pinterest challenge back in February , I shared that a mister was on my wish list. I came across this pretty one while out thrifting last month and was so excited.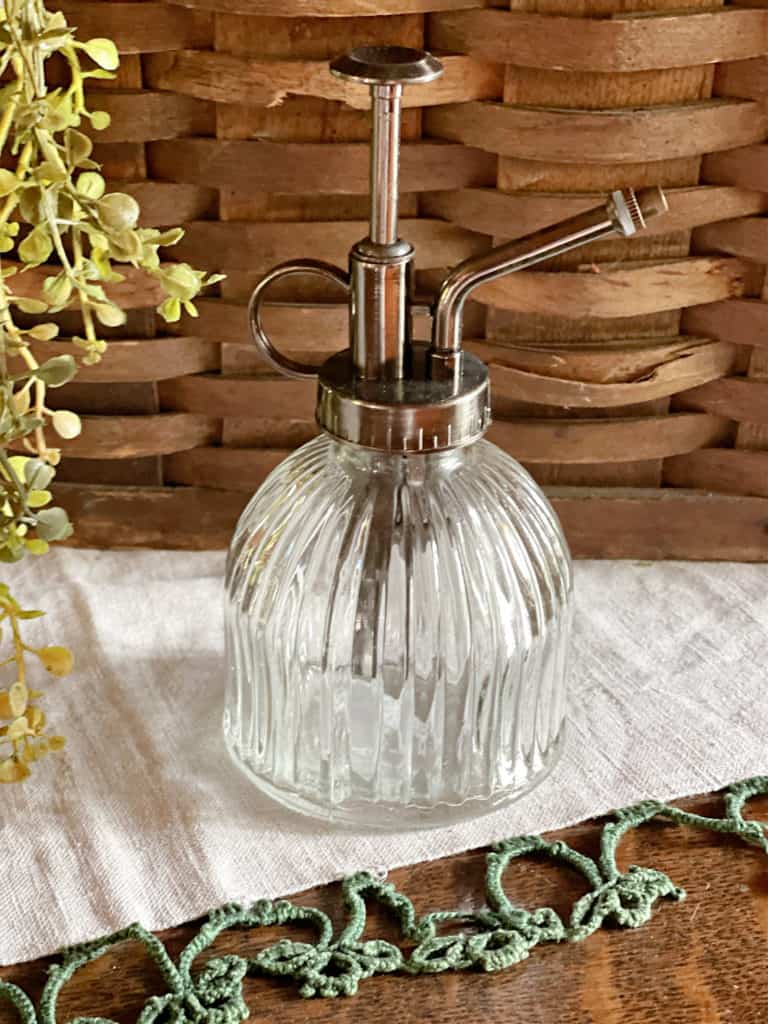 My husband and I drove out to visit my parents last month in Montana and take a load of antiques to my booth at The Shops at Station 8.
While we were out there Brian and my dad spent some time fly fishing. As Brian was walking along the banks of the river he found a deer shed. I love adding antlers in my decor all year round so I added it to this basket.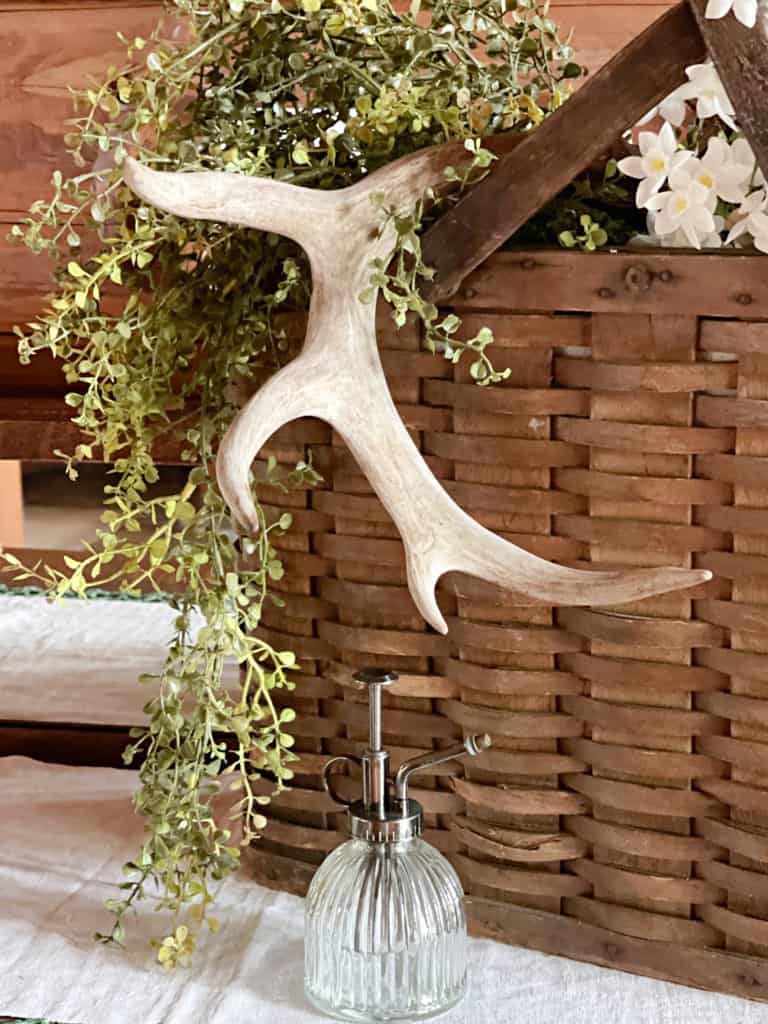 White Flowers
I have a large collection of various faux greens and flowers in my storage room. When I'm looking for something to add during a certain season or holiday I just go down and "shop" my shelves.
These little white flowers were the perfect height and touch I was looking for. They worked great with the cascading greenery I also choose.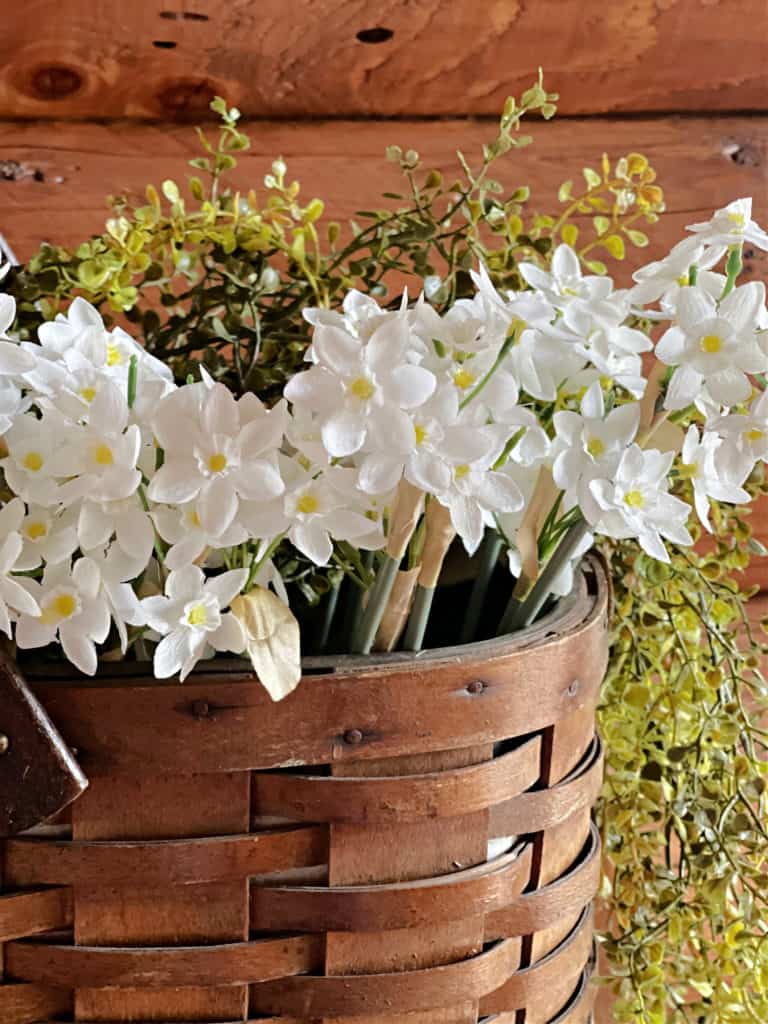 Blanket
I didn't add my blanket to the Hawkeye basket, but set it atop a green basket from my vintage picnic basket collection.
Picnic ready, was the look I was going for. We can grab our racquets and head out for a fun afternoon.
Late Spring and early Summer is also crazy weather in Wisconsin so I'm always prepared for warm sun, cold and rain all in the same day. I keep my rain boots nearby.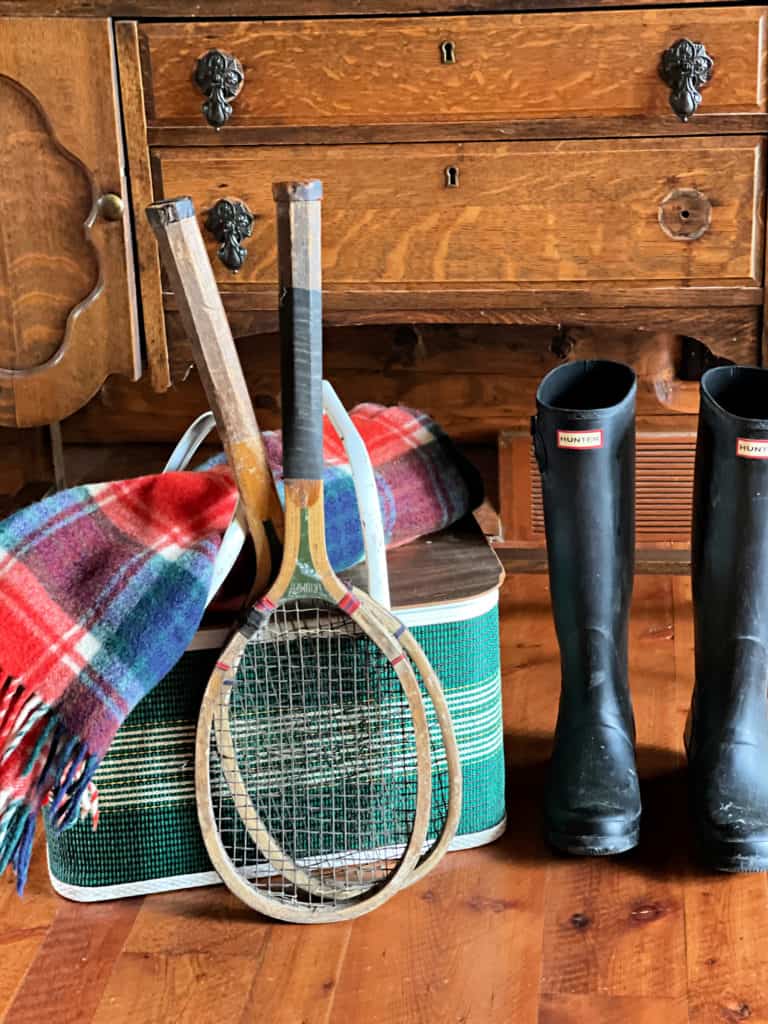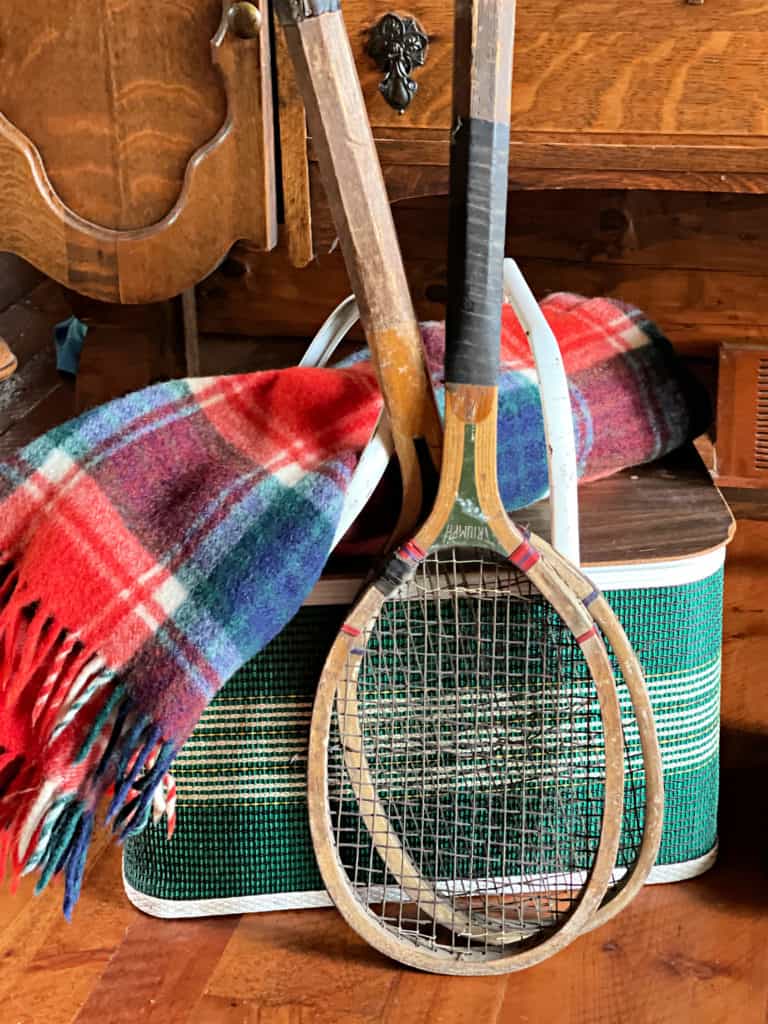 Next up on the tour you are headed to my friend Julie's home at My Wee Abode. I find so much inspiration from Julie and I know you will too!
Take the Tour
You are invited to the Inlinkz link party!
FOLLOW WHITE ARROWS HOME

Instagram ~ Facebook ~ Pinterest ~ Twitter ~ YouTube ~ Tik Tok