(Affiliate links are used for your convience. Read my full disclosure here.)
Hello and welcome to the Summer Outdoor Spaces Blog Hop hosted by AnnMarie & Anne from Simply2Moms! If you're visiting from Jessica at The Old Barn Company, or if you just happened to stop by, I'm so glad you're here to visit Camp Paradise.
Camp Paradise is our lakeside log cabin home in The Northwoods of Wisconsin where my family lives surrounded by pine and birch forests on the shores of a gin clear lake. White Arrow Signs point your way throughout our community. The nostalgic signs inspired my blog name.
For this outdoor spaces tour I wanted to give you a tour of some of the favorite spots we spend time during the Summer.
Gardens
Two years ago, we added a cement circle driveway out in front of our house and put in a garden in the center. We have loved how it has turned out. Not just for the ease of driving in and out, but for the beauty and curb appeal it brought to the front of the cabin. Boulders and low maintenance trees, shrubs and flowers fill the space.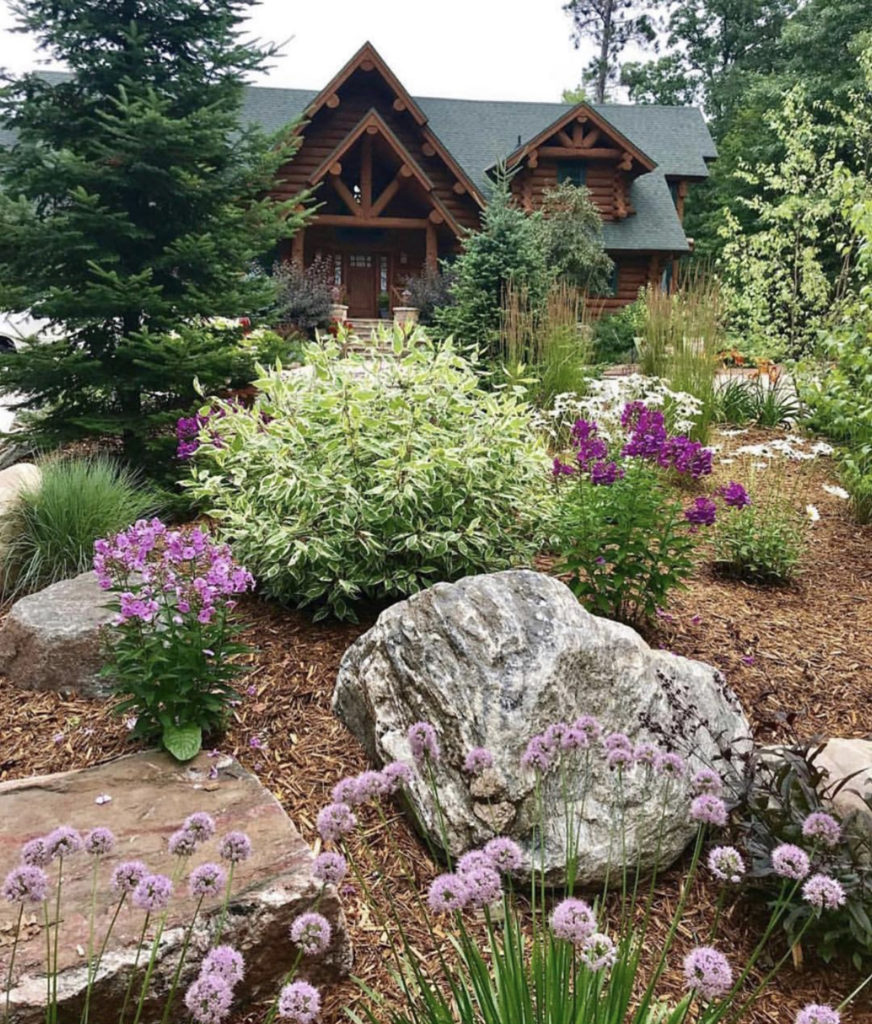 In the gardens and in my front porch pots and plantings I went with bright colors. My daughter helps me with all my gardens and she planted beautiful flowers in my old, rusty cart. I found a few fun vintage sprinklers to add to the Summer decor too.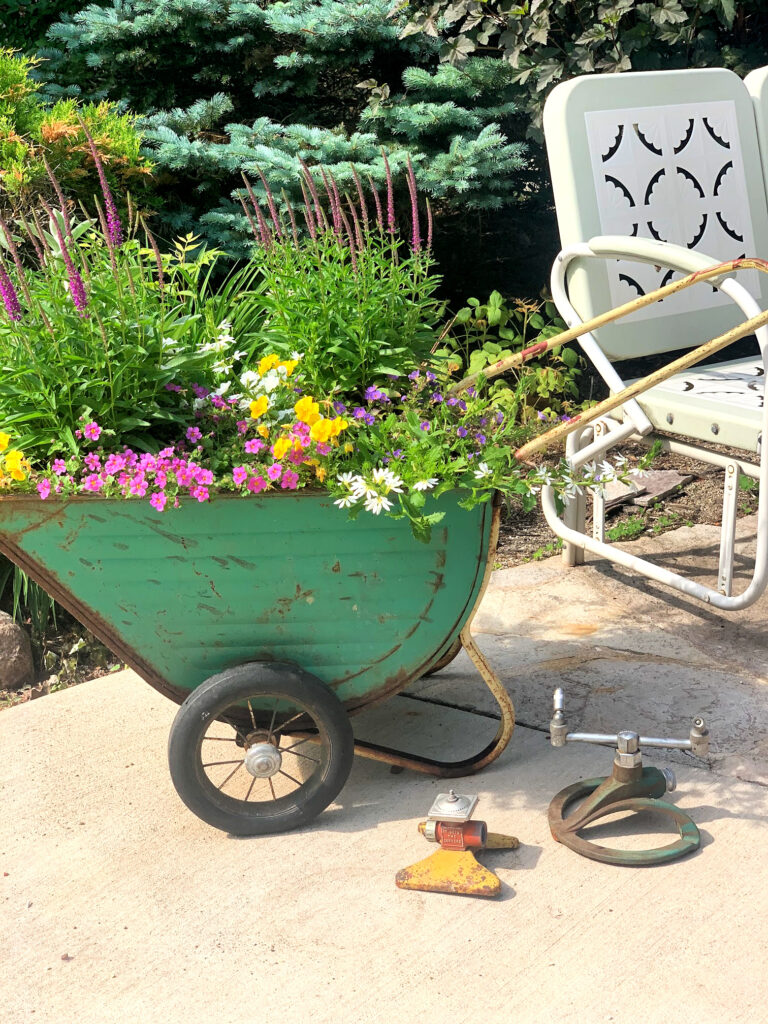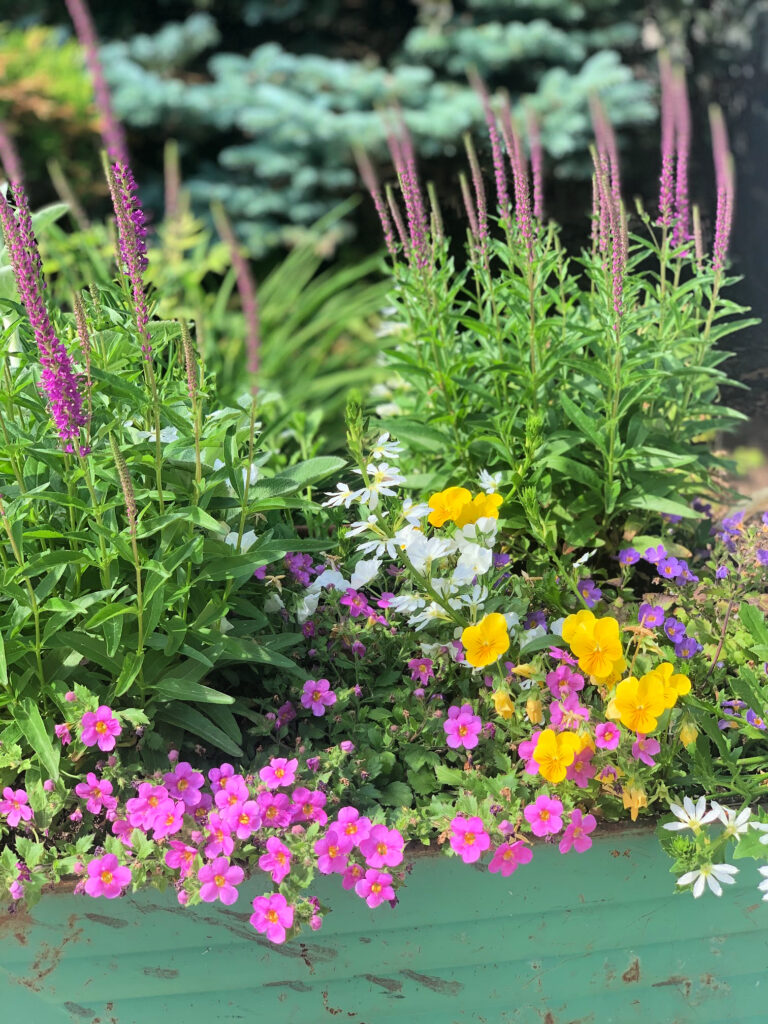 By the front porch pillars and by the edges of the garage I have some green tall planters that have wooden trellis in them. Climbing white flowers wind their way up.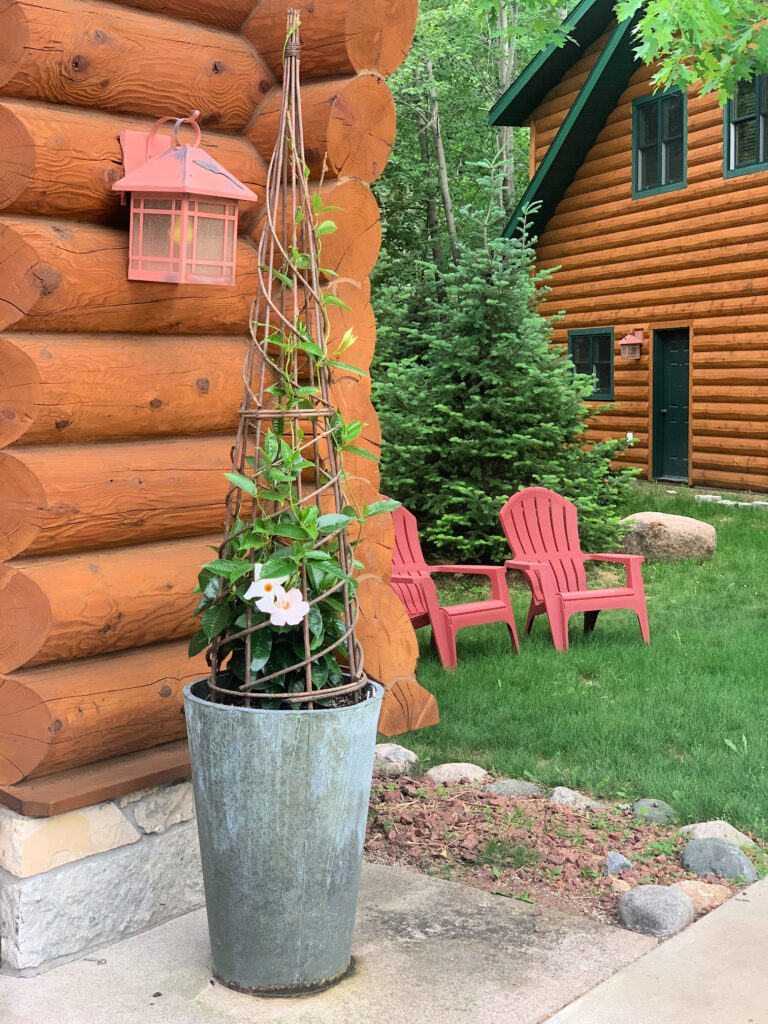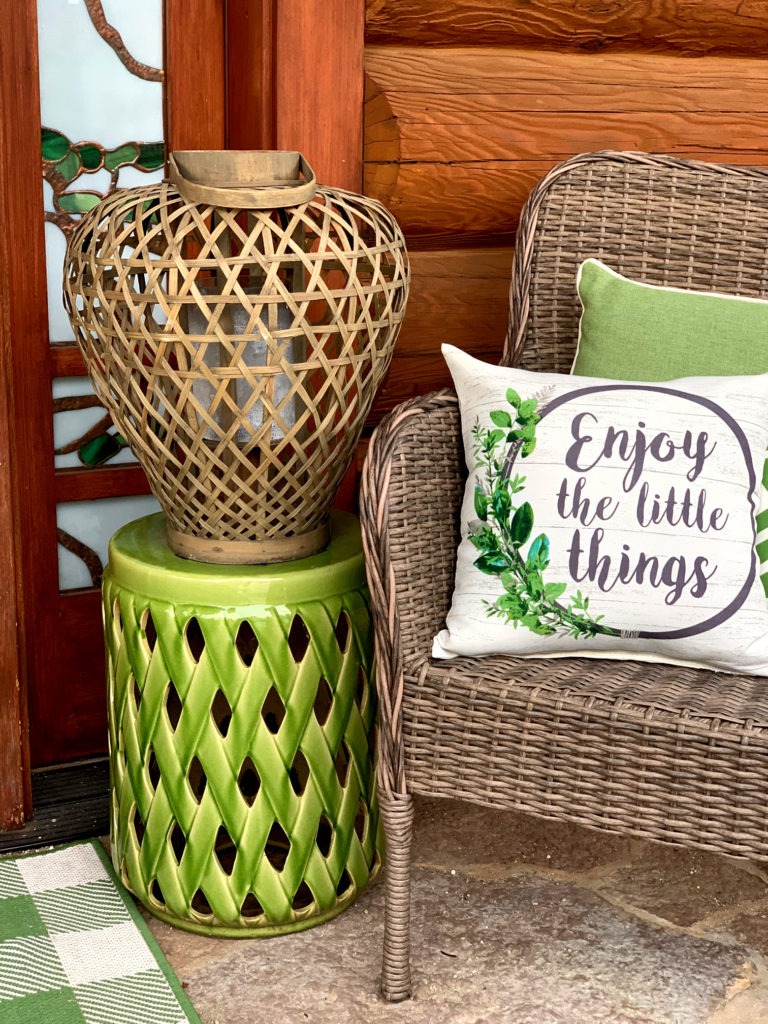 Back Porch
The back porch is right off of our dining room and gives great views down to the lake and the yard below. When we first moved in the house there was no yard, just wild growth. We decided we wanted to have a grassy space for the kids to play so we brought in a landscape company to help us. We are so glad we did this. The kids (and grown ups) have so much fun playing all kinds of games out back. The favorite game this week, Spikeball.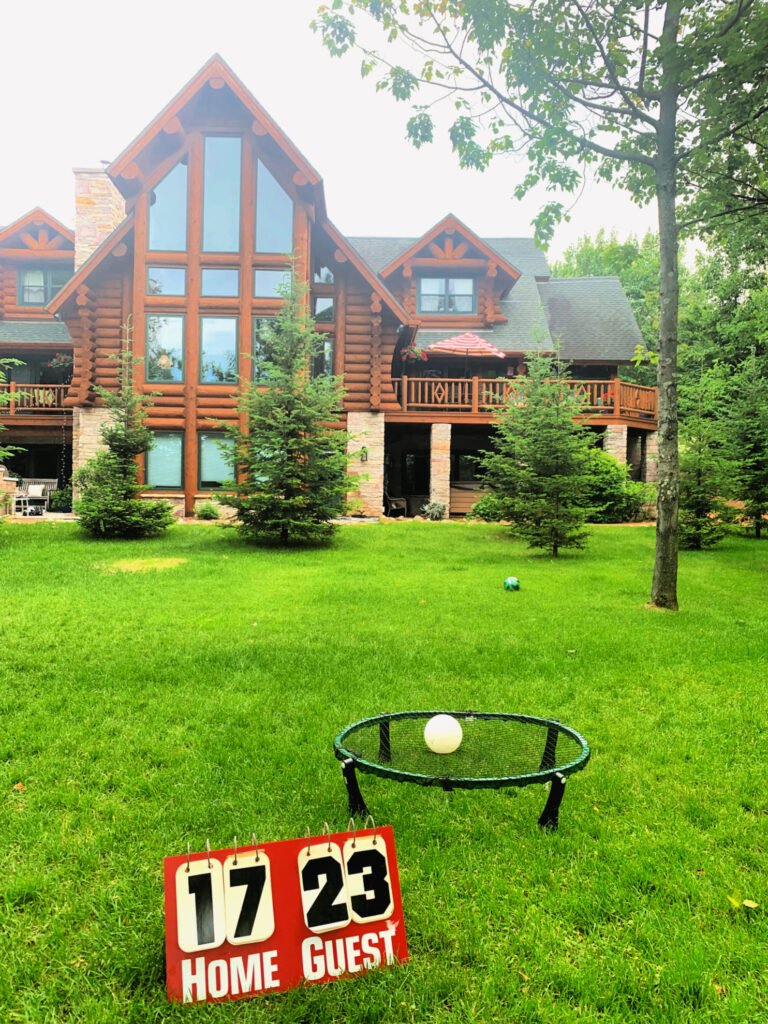 We often eat out on the porch around the table of beautiful days.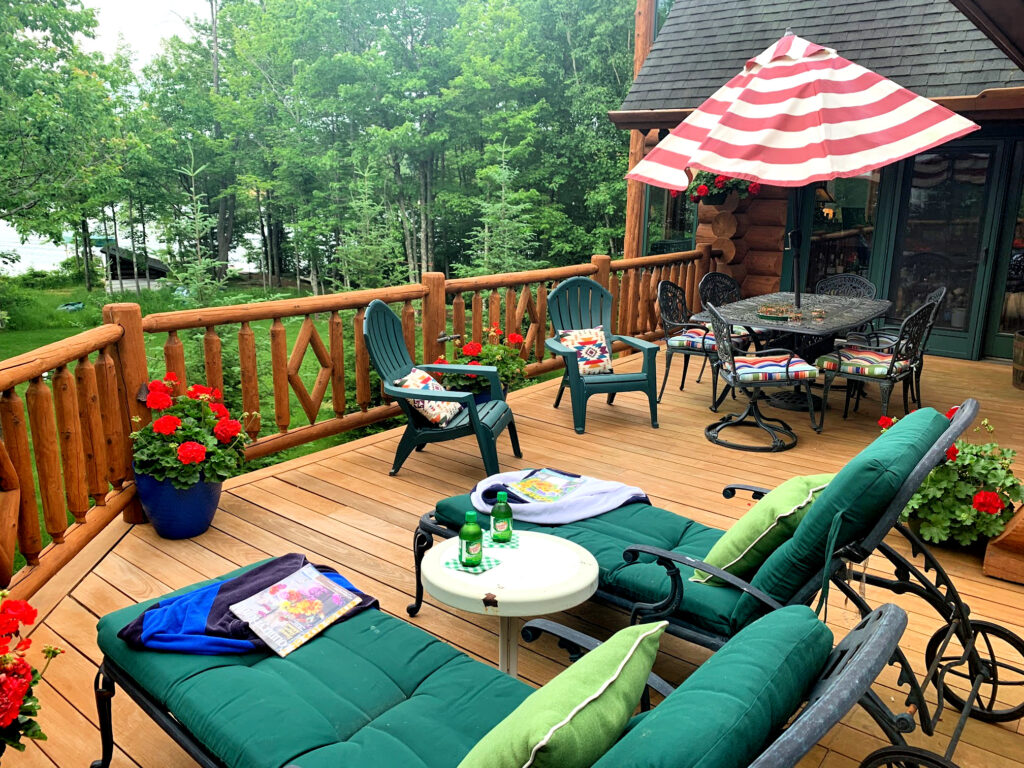 Our two chaise lounges are the perfect place to relax and read. I keep a stack of recent magazines to enjoy reading outside.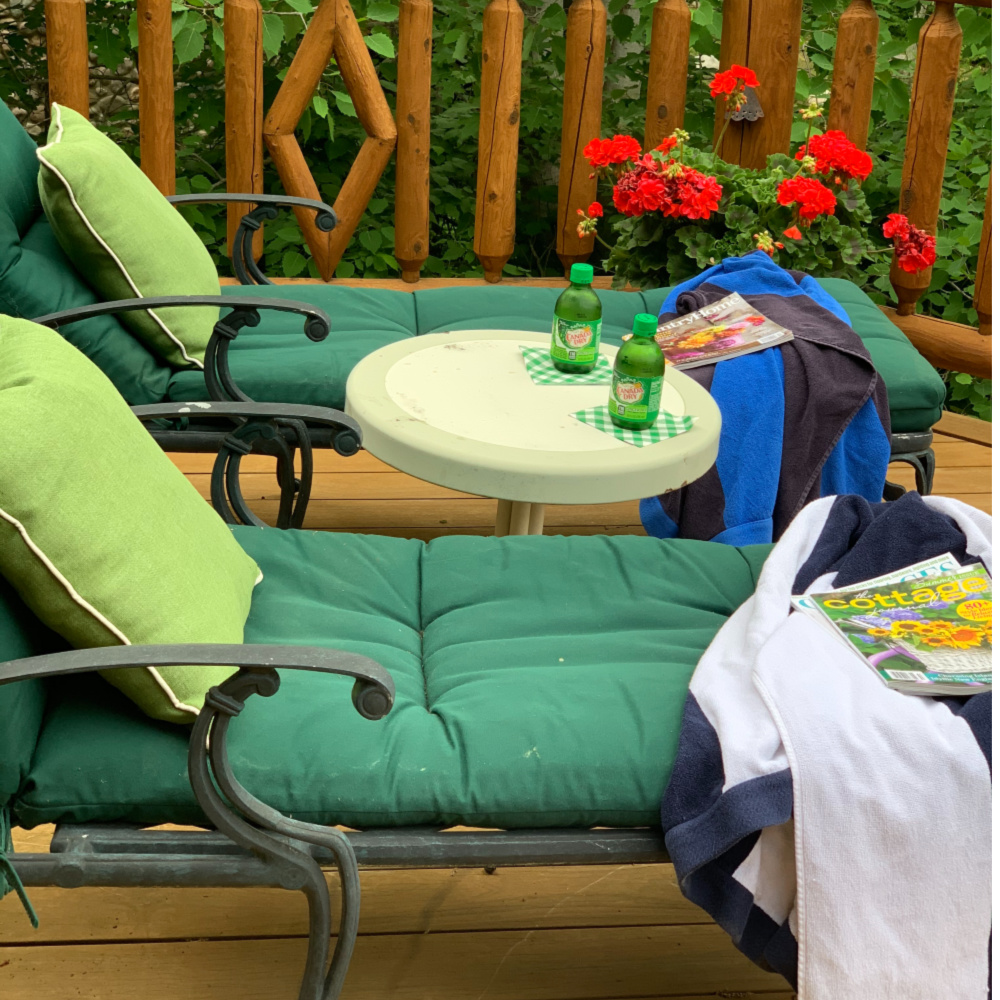 Around the back porch we put red geraniums in blue pots near the railings and hung red geraniums from the roof. I found this fun Garden Walk sign at a local antique shop. Read about my favorite spots to shop locally here.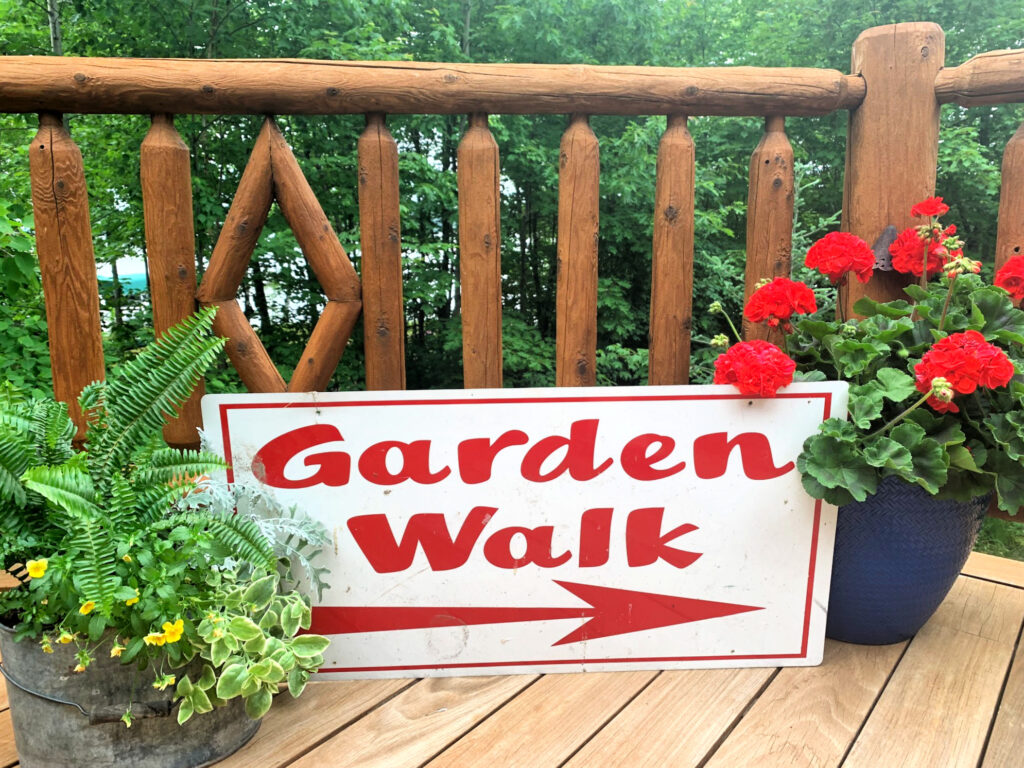 In the back, it's all about the red geraniums. They hang from the roof and look great set on a side table.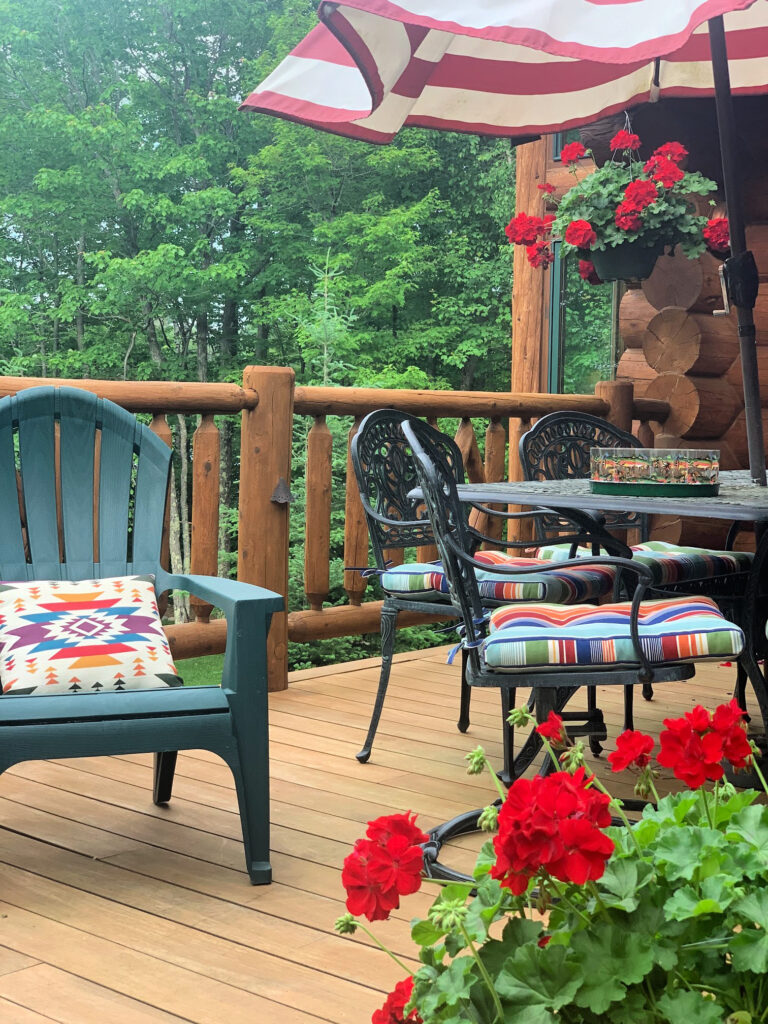 Patio
Out back we have our patio. Last Summer's project was expanding the patio. Before only a small four person table could fit on the patio. Now we have a beautiful seating area, a dining area, a built in bar/grill and a fire pit.
We spend so much time sitting right here on the patio.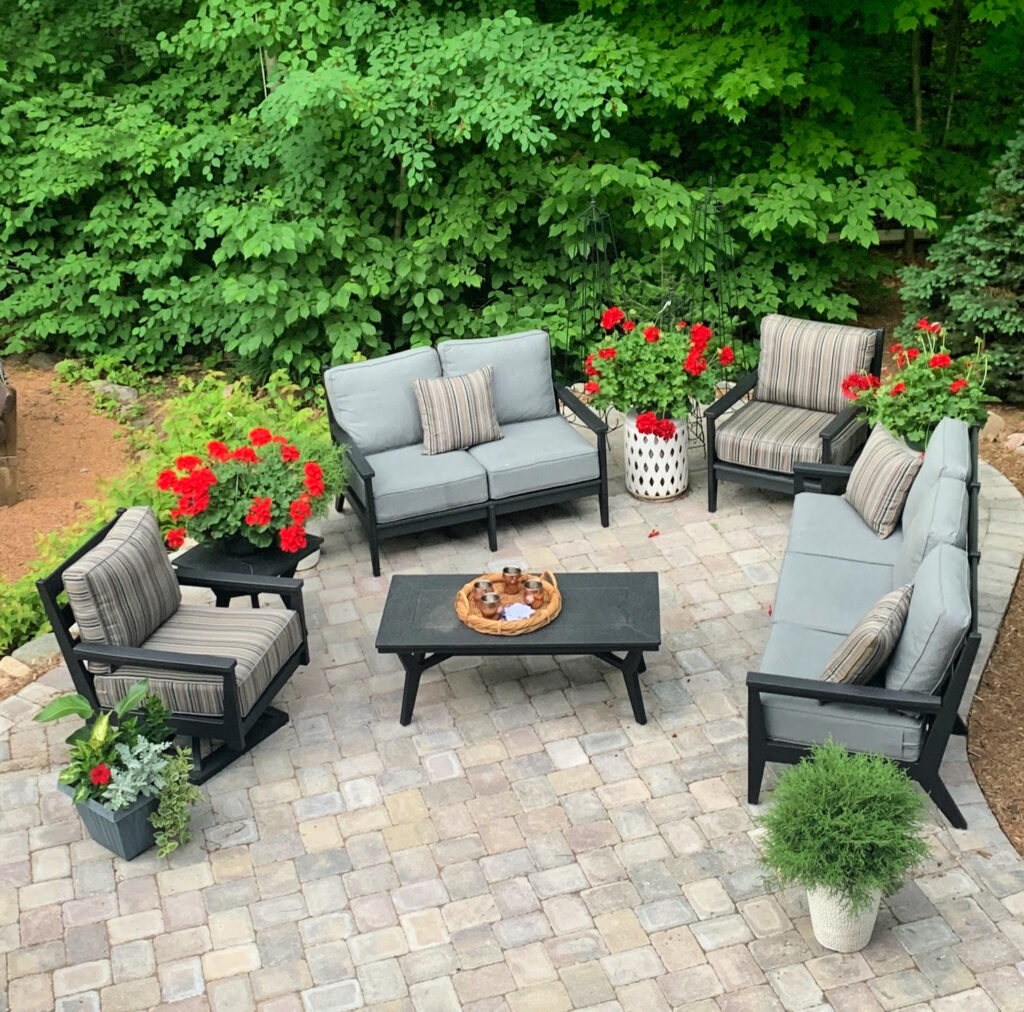 The grill and bar are such great spaces to have. I have so much room to set up an outside bar or all the dinner fixings down the concrete top.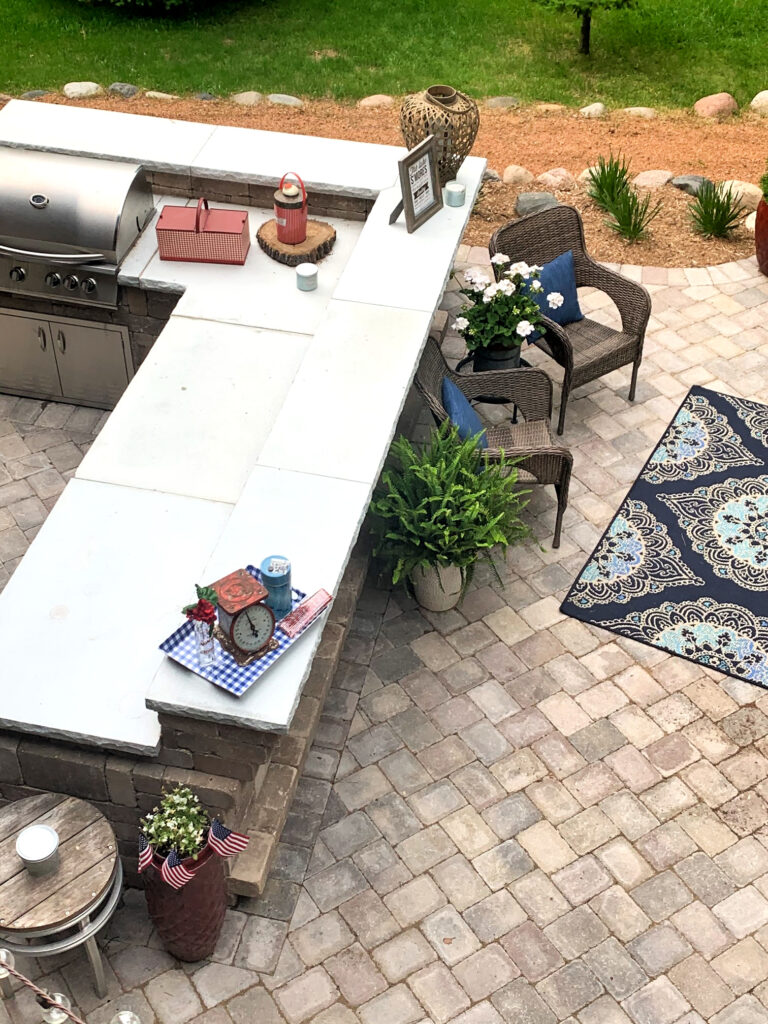 Vintage minnow buckets are one of my favorite things to use around the house! I added some white geraniums inside to this cozy sitting area near the grill.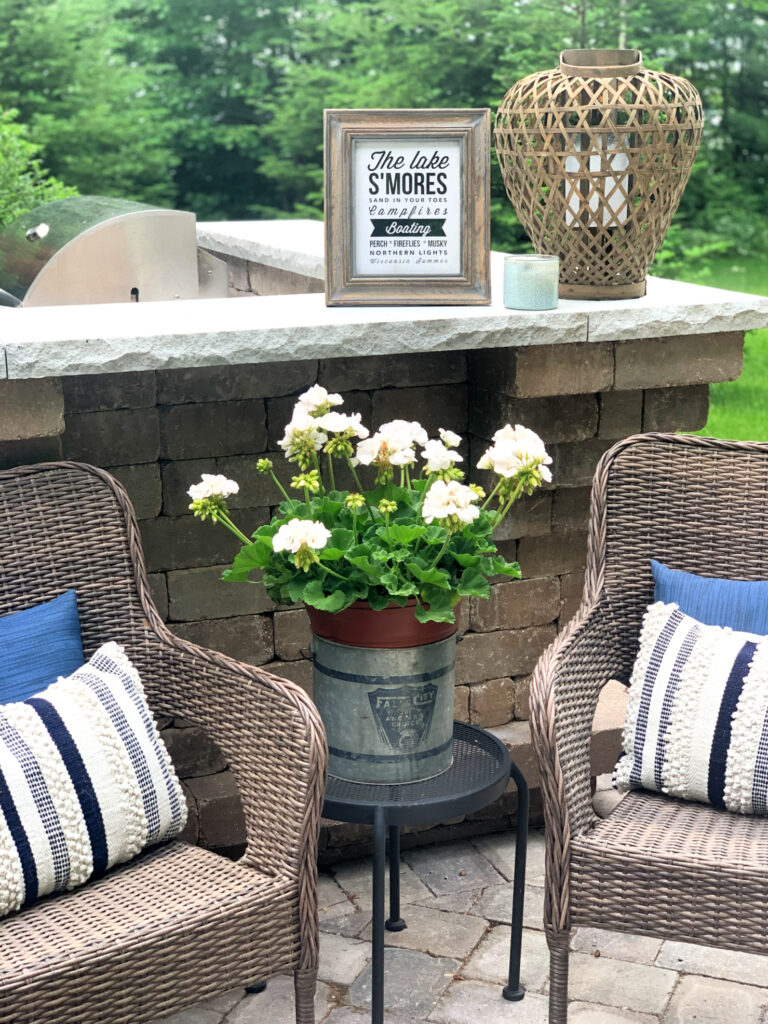 On the other side of the grill space I styled this sitting arrangement. I shared it in a recent post here.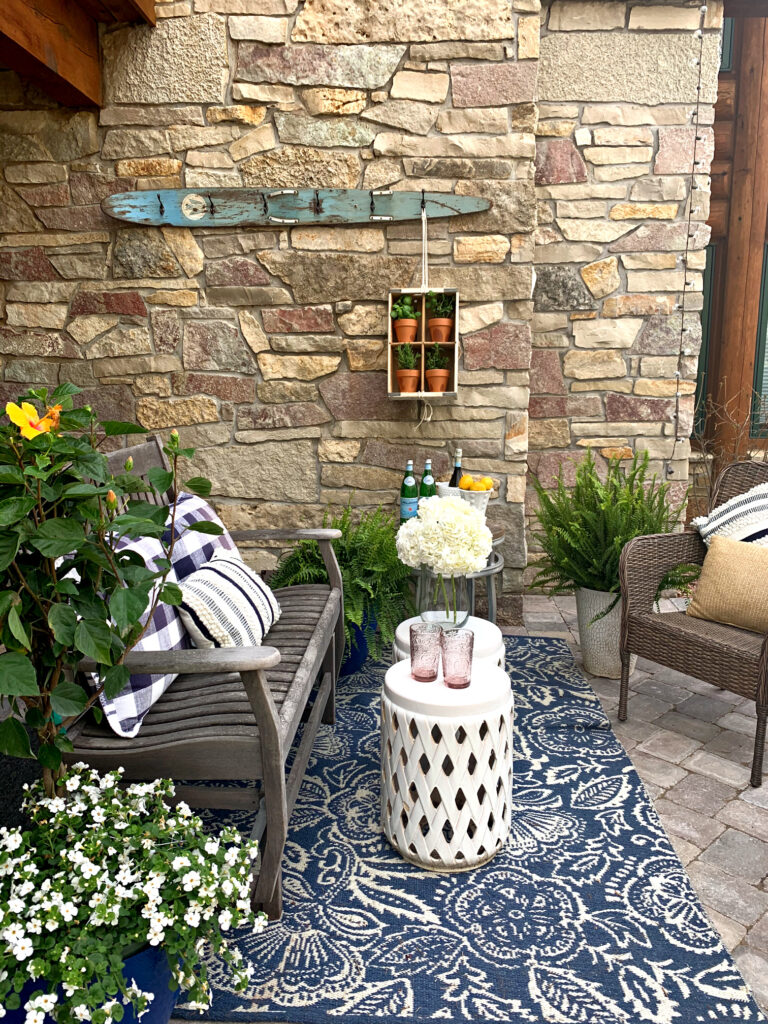 This framed sign was a birthday gift from my friends. I love adding it out to the end of the bar with a citronella candle and a lighted lantern.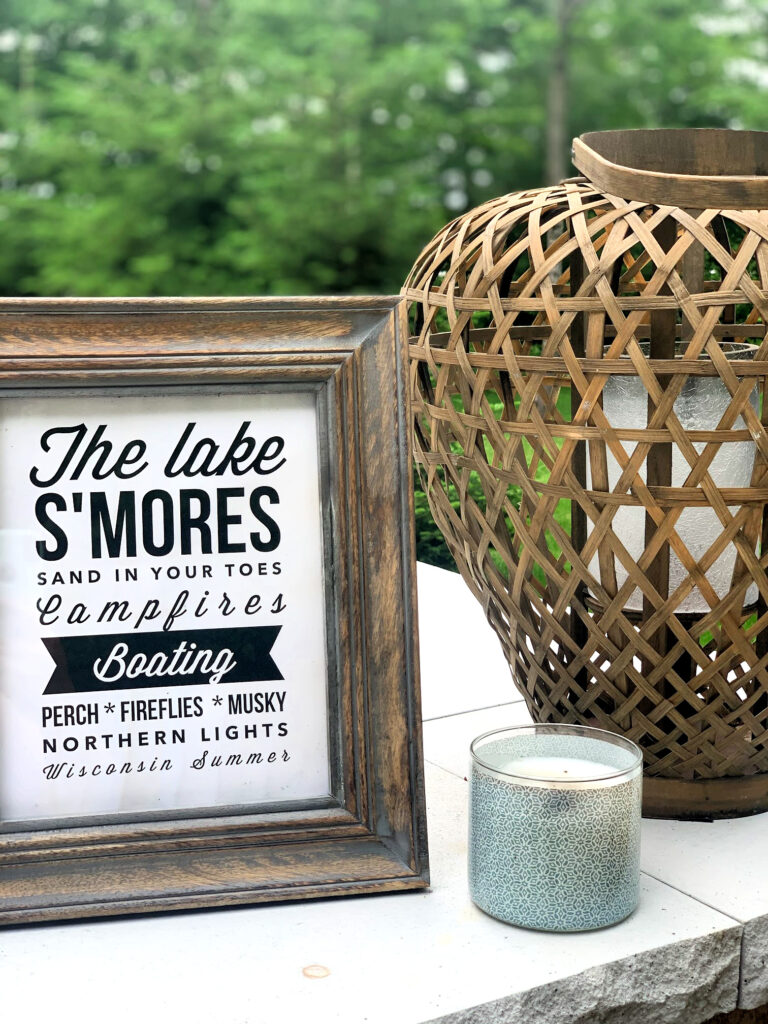 We kept our small table on the patio. I love to style it. See how I did last Summer here.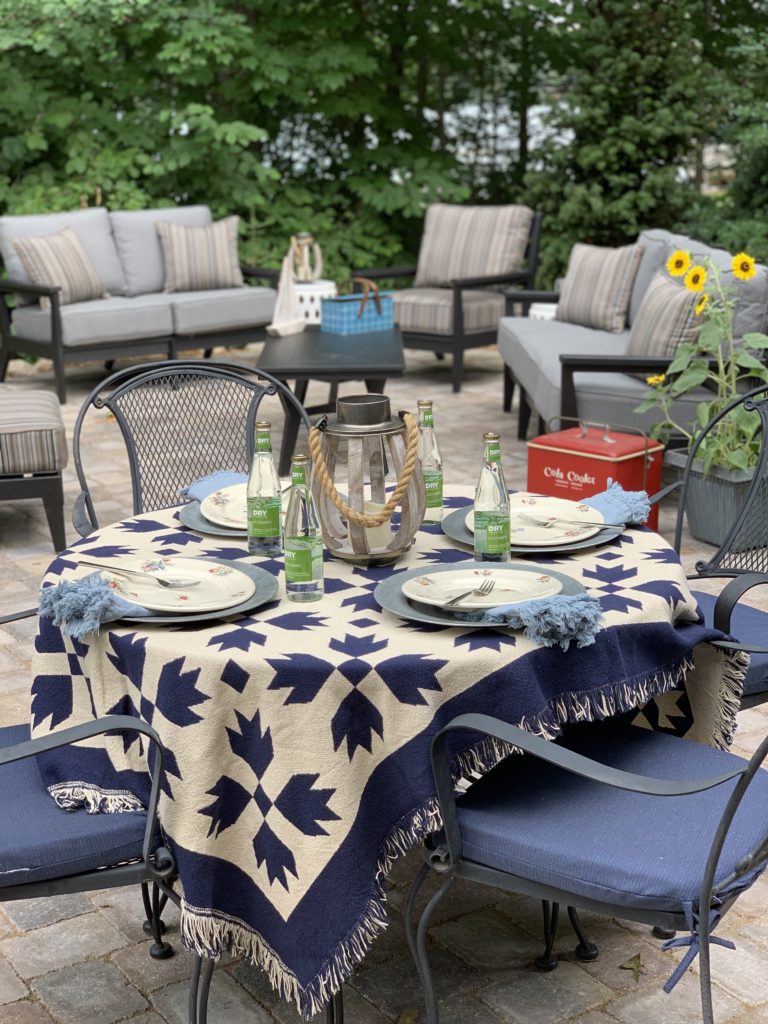 Just beyond the patio is a clothes line for all those beach towels to hang after we get off the boat.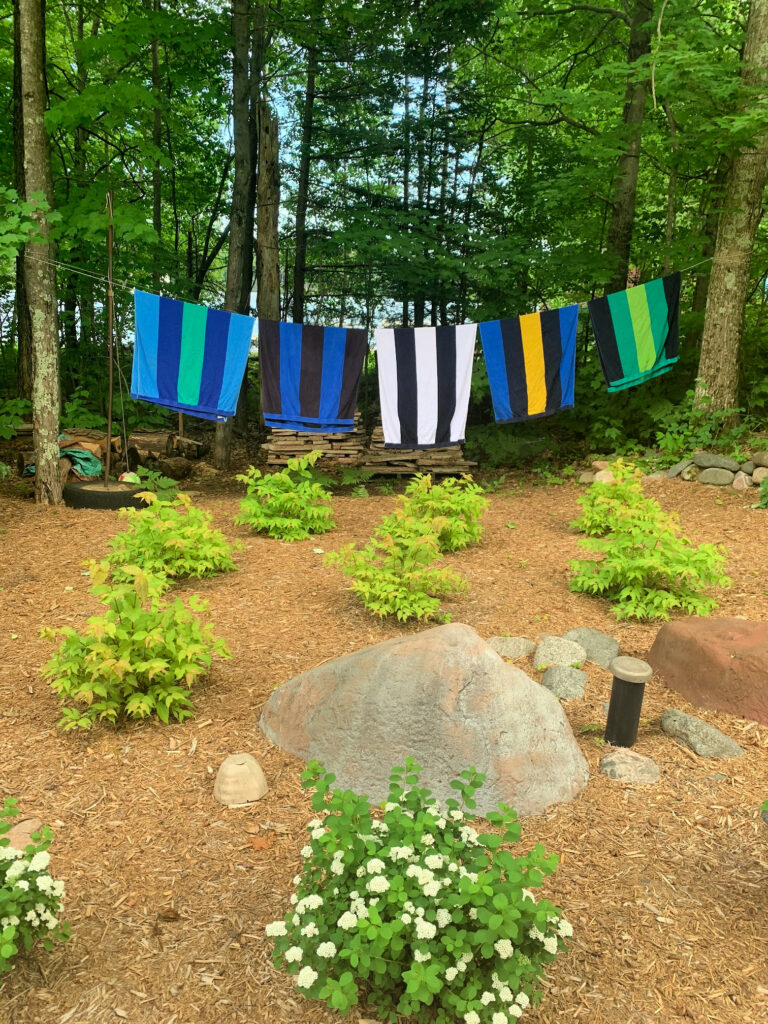 Some of the spots in my backyard gardens are full of ferns. They helped inspire my Ferns and Daisies tablescape you can see here.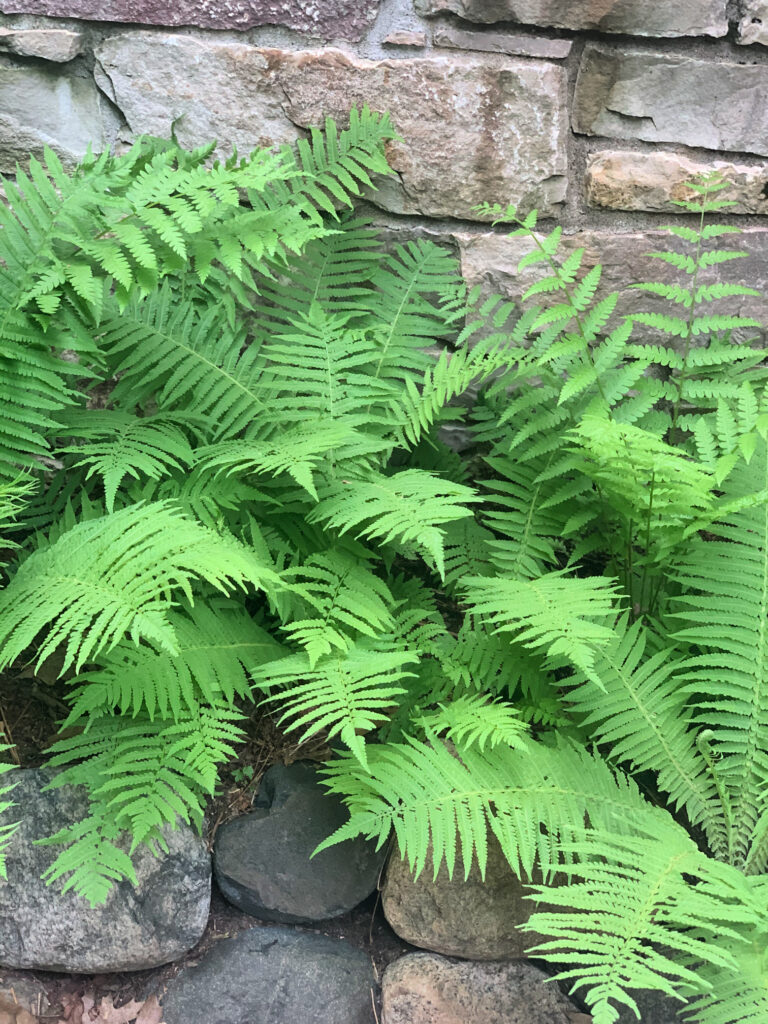 Firepit
Our firepit is such a fun place to finish the day. When we redid the patio I considered putting in an outdoor fireplace. But we love the ambiance of sitting around a simple campfire so left the fire pit in a traditional Northwoods circle.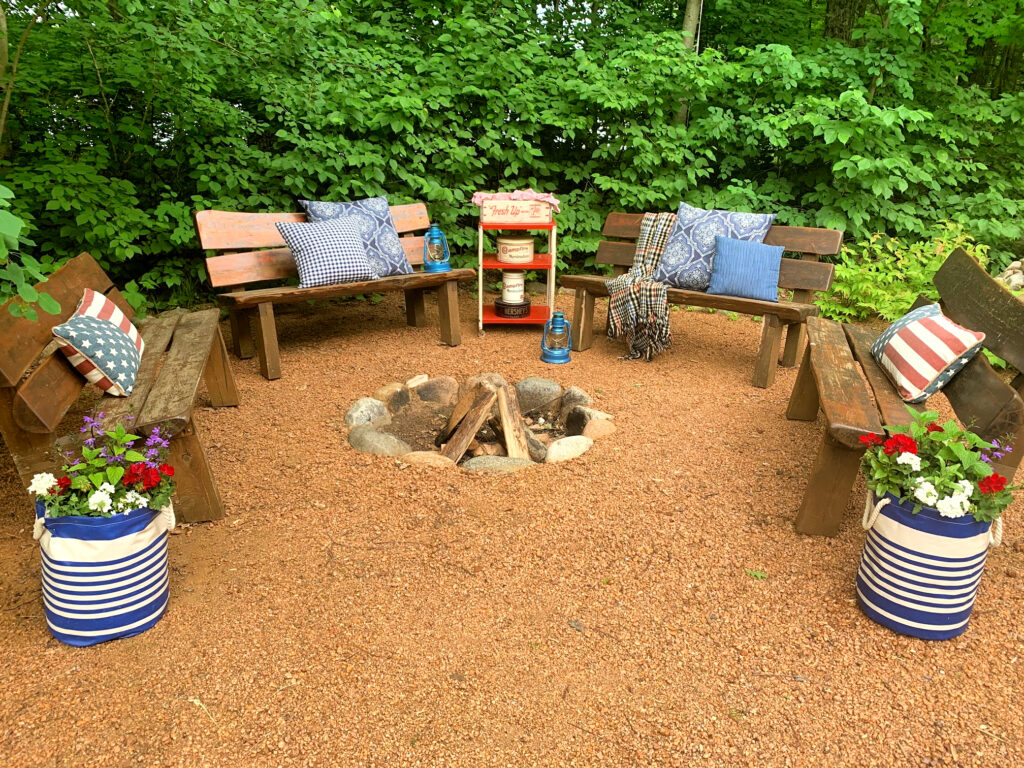 Thanks so all of you that helped me choose these cute tote bags full of flowers. I came on Instagram Live as I tried to decide which sales to pick and you had such great advice. So I choose the blue and white stripes to go here at the edges by the last benches.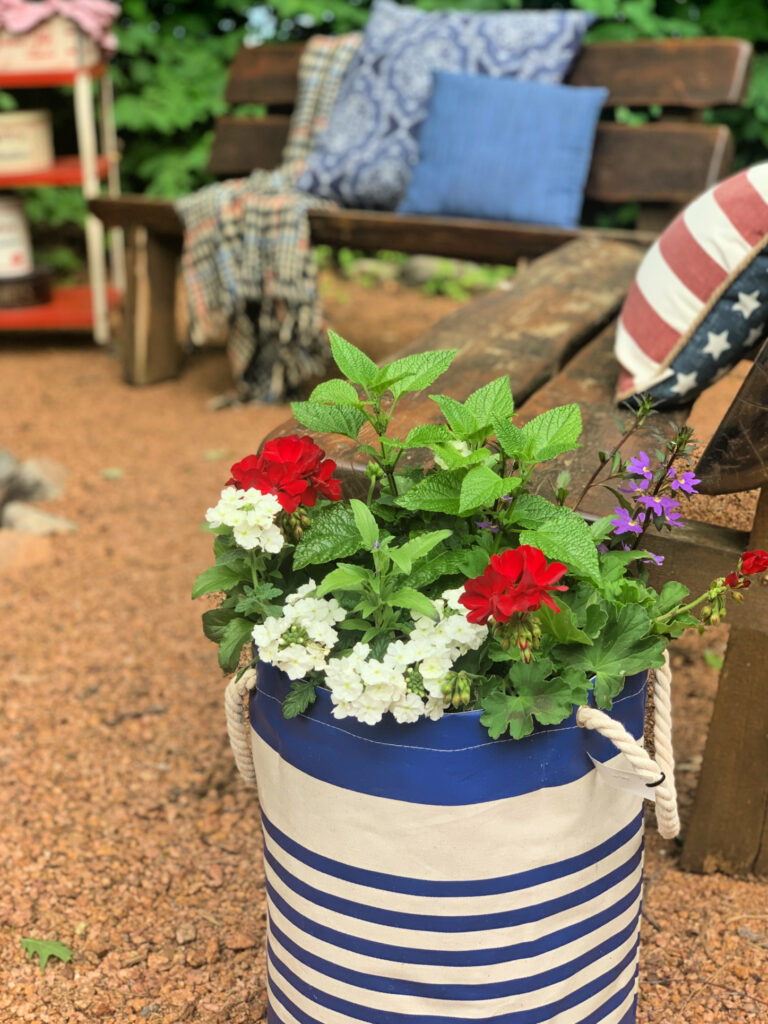 I set up a cart full of treats to make delicious S'mores.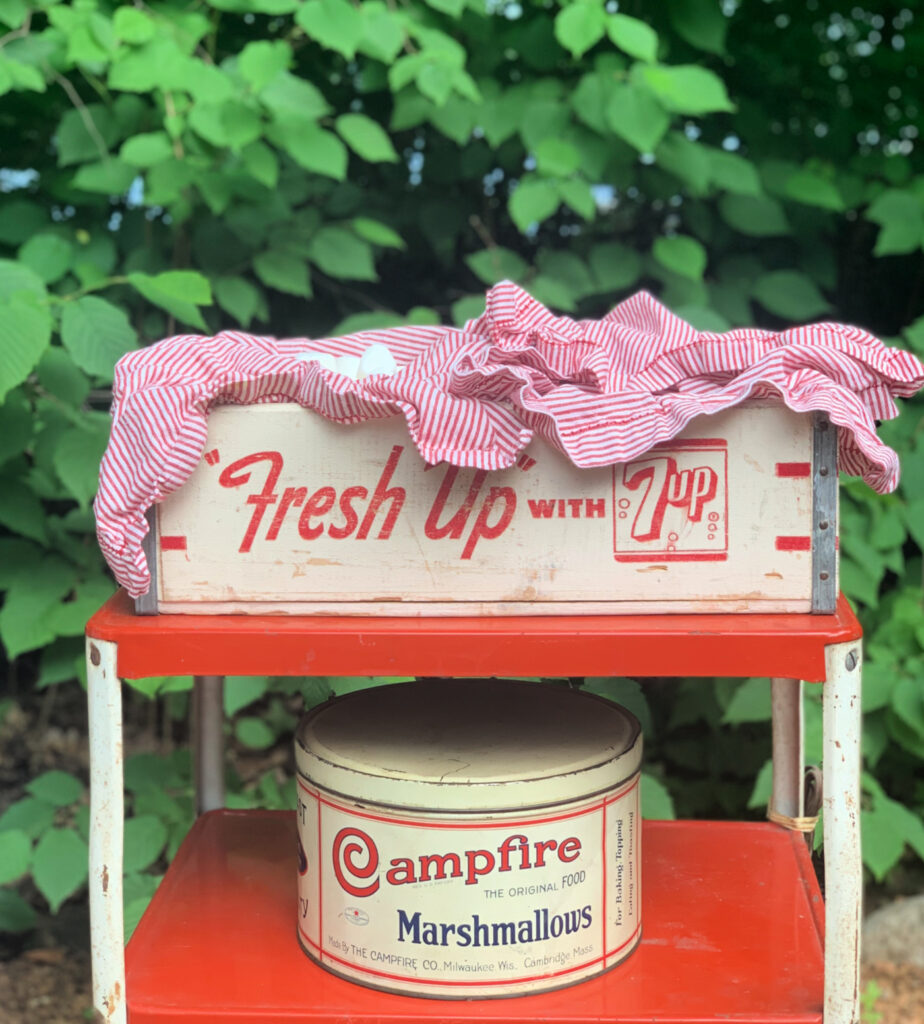 I'll fill you in on my S'mores secret. I use cookies instead of Hershey's and Graham Crackers.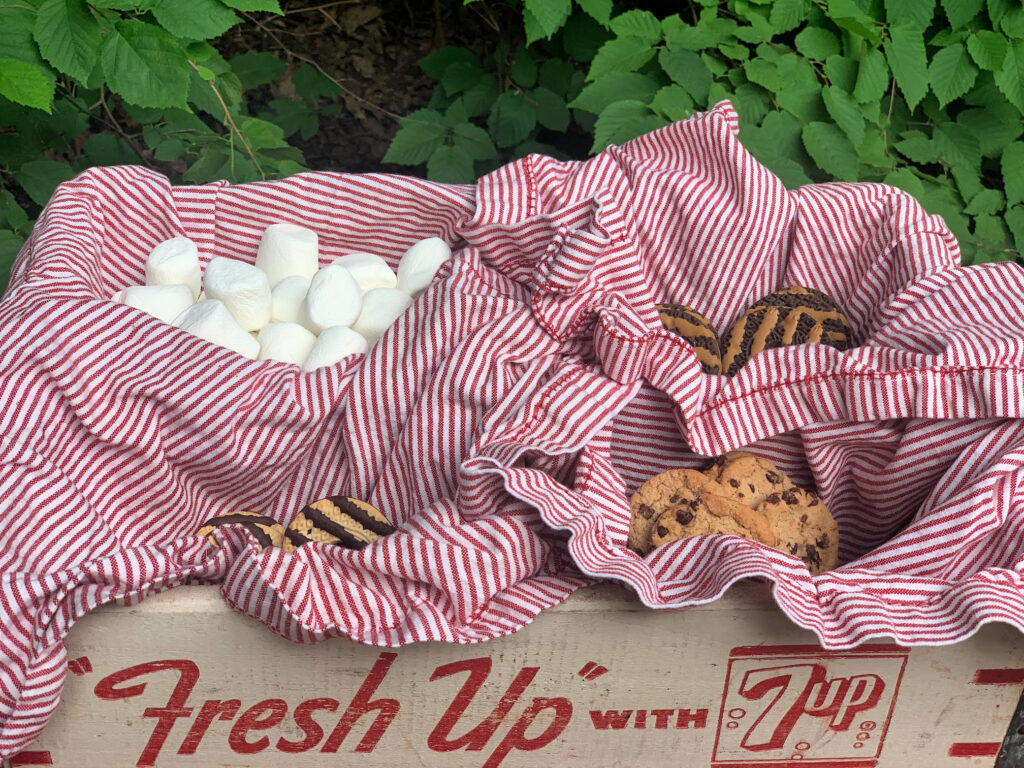 Follow along to see more of our lake life and time on the dock and the water.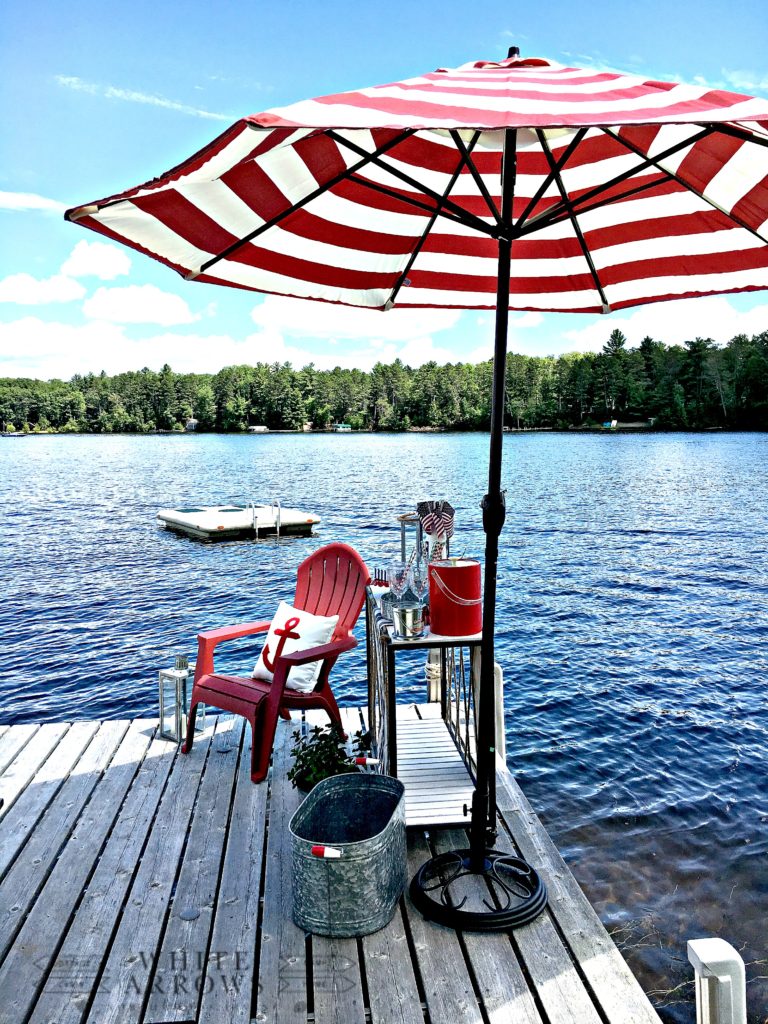 Get the Look


The Summer Outdoor Spaces Blog Hop continues with Marly from A Brick Home. You can find links to all the inspiring outdoor spaces below!
Take the Tour
FOLLOW WHITE ARROWS HOME


Instagram ~ Facebook ~ Pinterest ~ Twitter ~ YouTube