Vintage, thrifted finds become the perfect display objects for encouraging messages, quotes and remembrances. I'm sharing six beautiful ways to style them.
I love collecting quotes, uplifting messages, souvenirs and cards from friends. Using my thrifted finds I can display these encouragements throughout my house where they can bring me joy during the day when I see them.
They are styled deliberately and beautifully to blend in with my decor while reminding me to smile.
(Affiliate links are used for your convenience. Read my full disclosure here.)
I'm joining my Thrifting with the Gals friends to share in our monthly blog hop. We all write a post showcasing our finds and how we use them in our homes or upcycle them.
You can find links to all the blogs at the bottom of this post.
Weekly we share our thrifting adventures in our stories on Instagram and then gather monthly for this blog hop. You can follow along with us at the links below and tag us on your adventures too using #thriftingwiththegals.
MEET THE GALS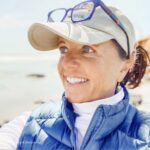 Ann @ Dabbling & Decorating | Pinterest | Instagram | Facebook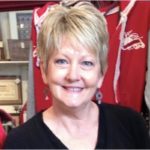 Rachel @ The Ponds Farmhouse | Pinterest | Instagram | Facebook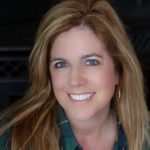 Kristin @ White Arrows Home | Pinterest | Instagram | Facebook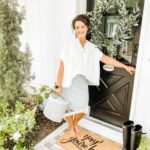 Robyn @ Robyn's French Nest | Pinterest | Instagram | Facebook
And our Guest Host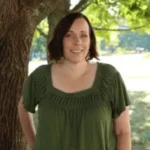 Jennifer @ Cottage on Bunker Hill | Pinterest | Instagram | Facebook
If you are coming over from my friend Rachel's blog The Ponds Farmhouse, welcome to White Arrows Home. You've traveled from North Carolina to Wisconsin by way of one of my favorite blogs!
Rachel's farmhouse and her coastal cottage are so inspiring. I love her style and her DIYS! She always leaves me in awe. Didn't you love her thrifting finds from Wilmington, North Carolina!
I blog from the backdrop of our lakeside log cabin home in The Northwoods of Wisconsin where I love to decorate with thrifted and gathered finds that tell a story. The story of a home spent sharing good times and memory making moments.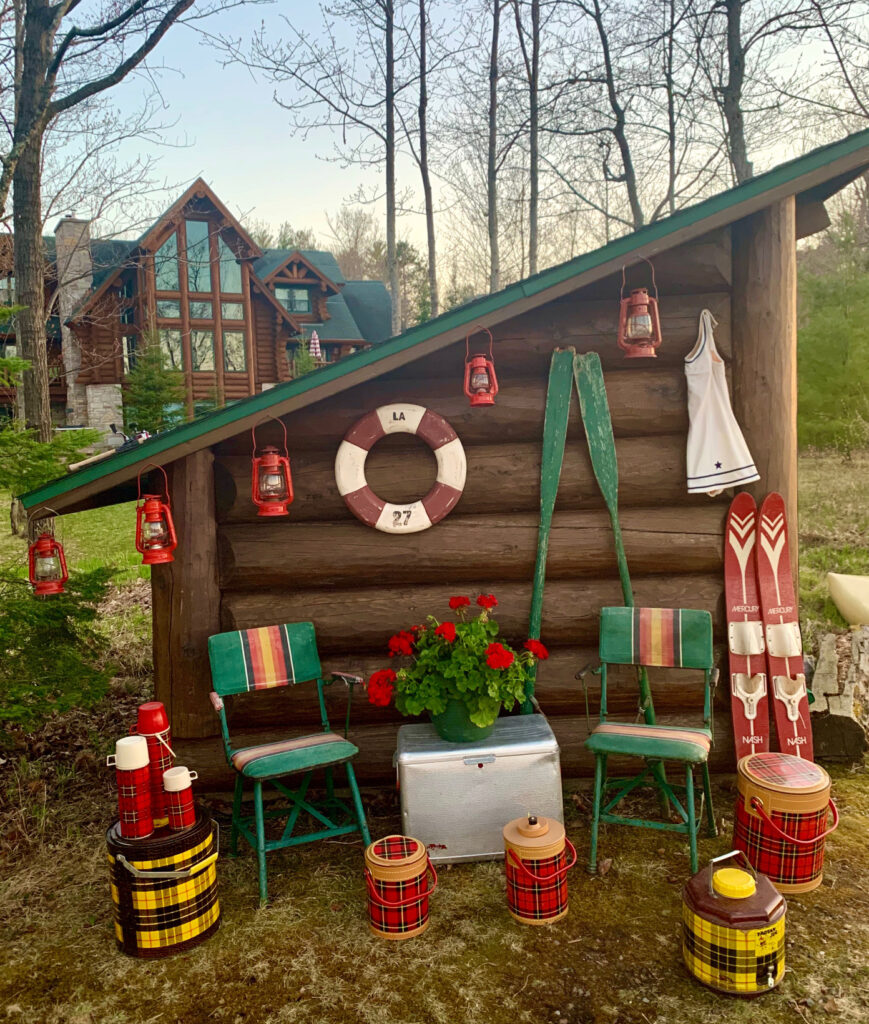 SUBSCRIBE HERE so you don't miss any inspiration!
I'm a collector of vintage and antique items and of quotes and encouragements. So bringing the two collections together is a perfect match. Here are some of my favorite ways to display these messages and reminders.
Brooches
Heart felt messages can be displayed on the refrigerator where I see them often by turning beautiful vintage brooches into magnets. This is such an easy, quick and beautiful DIY.
Its fun to pick up pretty brooches when I am out antiquing. I wish I had some of the ones from my grandmothers, I loved playing with their old earrings and jewelry as a little girl, but I don't, so I just pick out ones I love at the antique shop.
All it takes is a few brooches, a little bit of glue and a pack of round magnets (I found mine at Walmart) and in minutes I have a handful of beautiful magnets to hold up pretty, uplifting messages. See the full details IN THIS POST.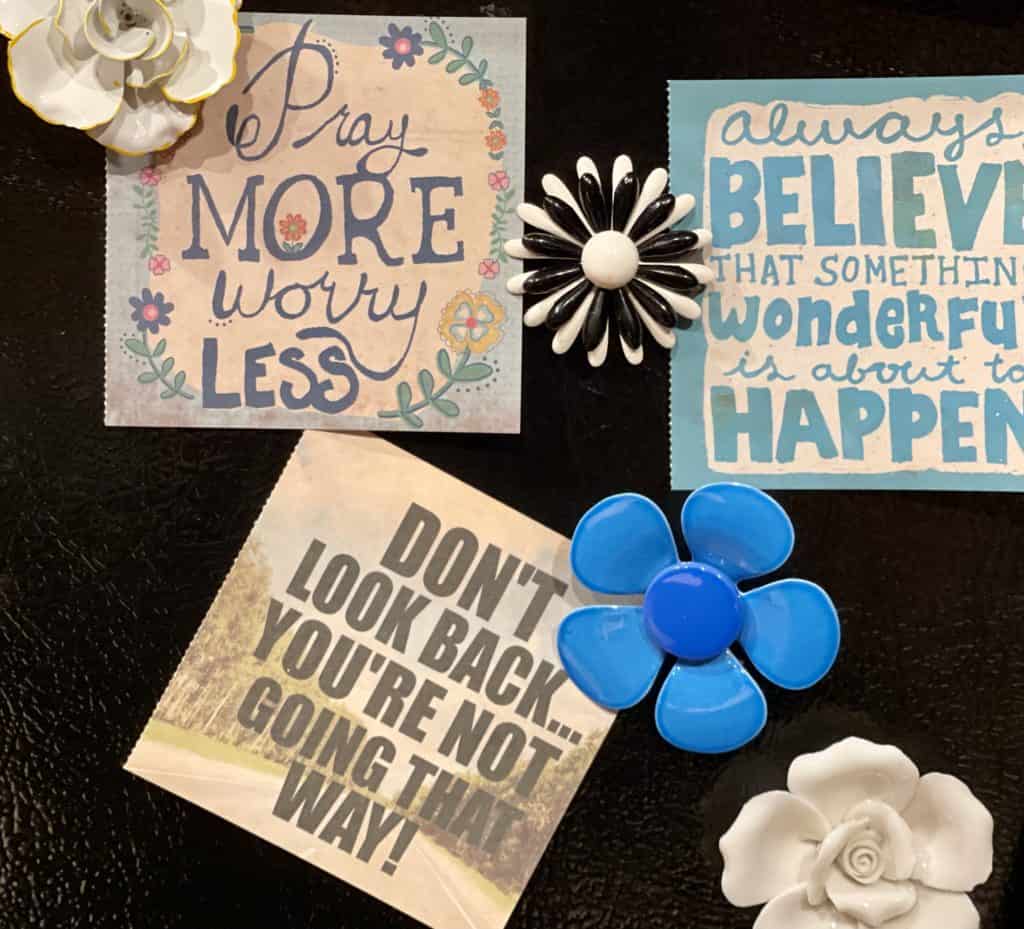 Flower Frogs
One of the easiest ways to display anything is by using old flower frogs. They are another thing I pick up often when I find them for a few bucks out thrifting.
One of the fun things about flower frogs is how many sizes and styles there are so it's fun to find new ones.
I use them to hold photos, cards, uplifting reminders and bible verses.I even use them around my store to hold messages or business cards or information about my podcast.



Typewriter
Old typewriters are one of my favorite antique items. I have several of them and love to use them throughout my decor. One sits on my desk in our great room, my little vintage green one. It's the perfect spot to stick a note of encouragement.
Follow me on Pinterest and find inspiration like my board for ways to Decorate with Vintage Typewriters.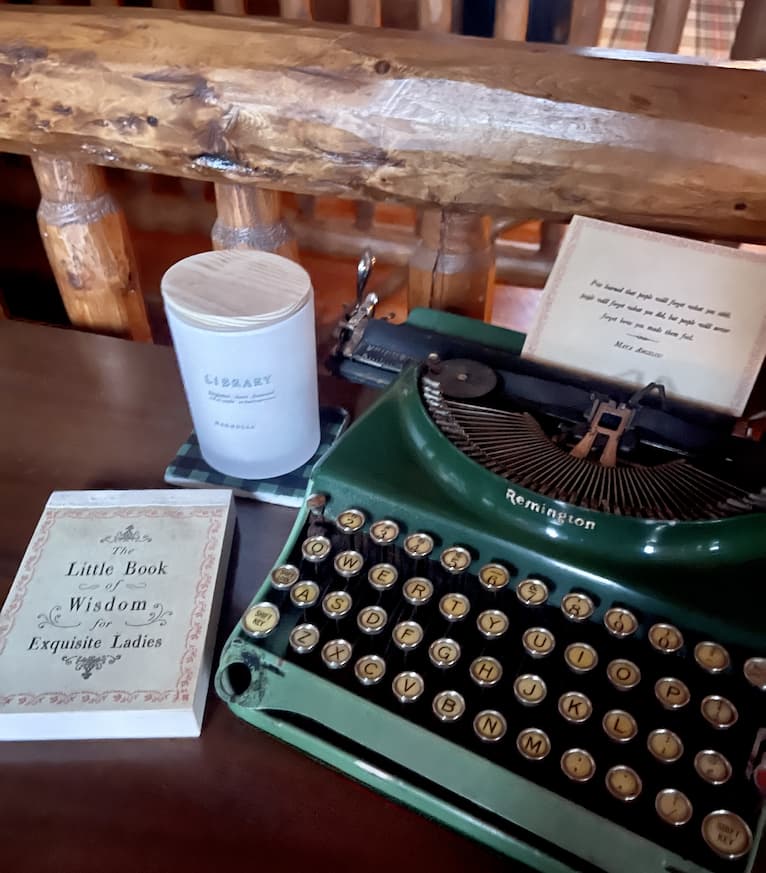 Frames
When I'm at the thrift stores and antique shops I always keep my eye out for beautiful old frames. Even frames that may have something in it, where I don't want the photo or art, but love the frame. I can take out what's inside and then add in my own.
Sometimes I copy an encouragement I find on Pinterest and paste it onto a blank word document then print it out. I can add it anywhere then like into one of my antique, found frames.
Receipt Holder
Items once used for one purpose, and now creatively used for another are one of my favorite things. I use old receipt holders to do things like display glass blown Christmas tree toppers during the Holidays or to hold an encouragement with a mini clothes pin.
When I'm at gift shops or stores like Hobby Lobby I always love finding pretty stacks of quote cards or wisdom that I can share with others or display around my house.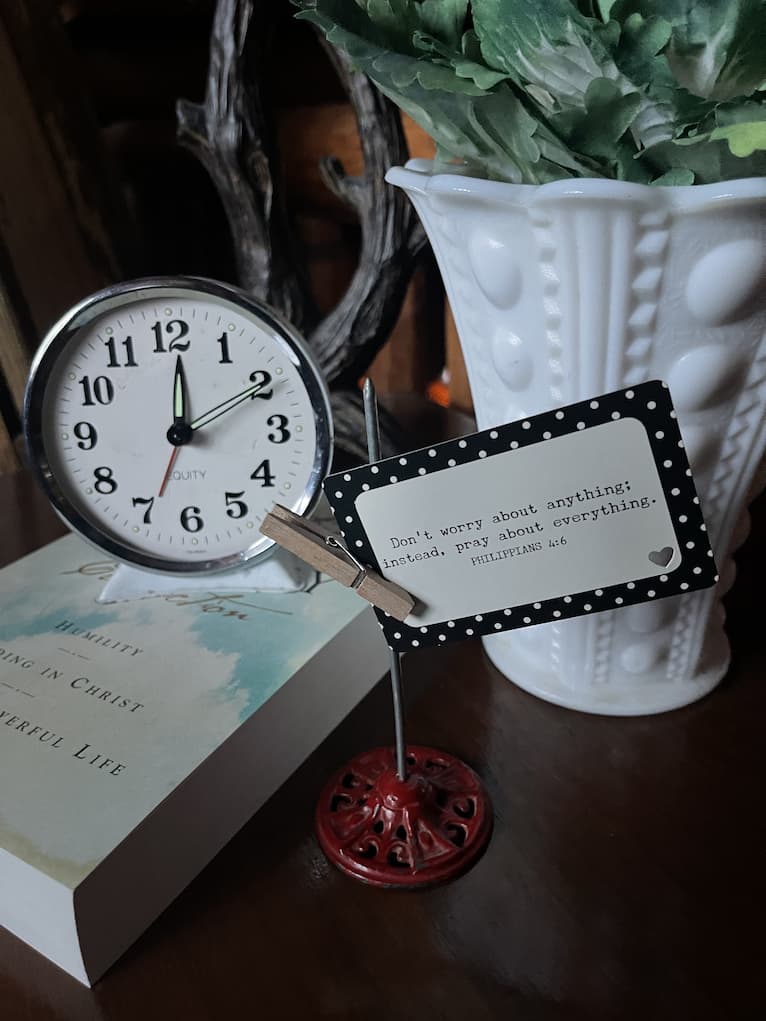 Tea Cups
I collect old tea cups. Some have been passed down to me through my grandmother and others I have collected while out thrifting. They are the perfect thing to hold a stack of encouragement cards that I can pick up and read through when I need a boost.
I also love drinking out of them and keeping a coaster with an encouraging message to set them on.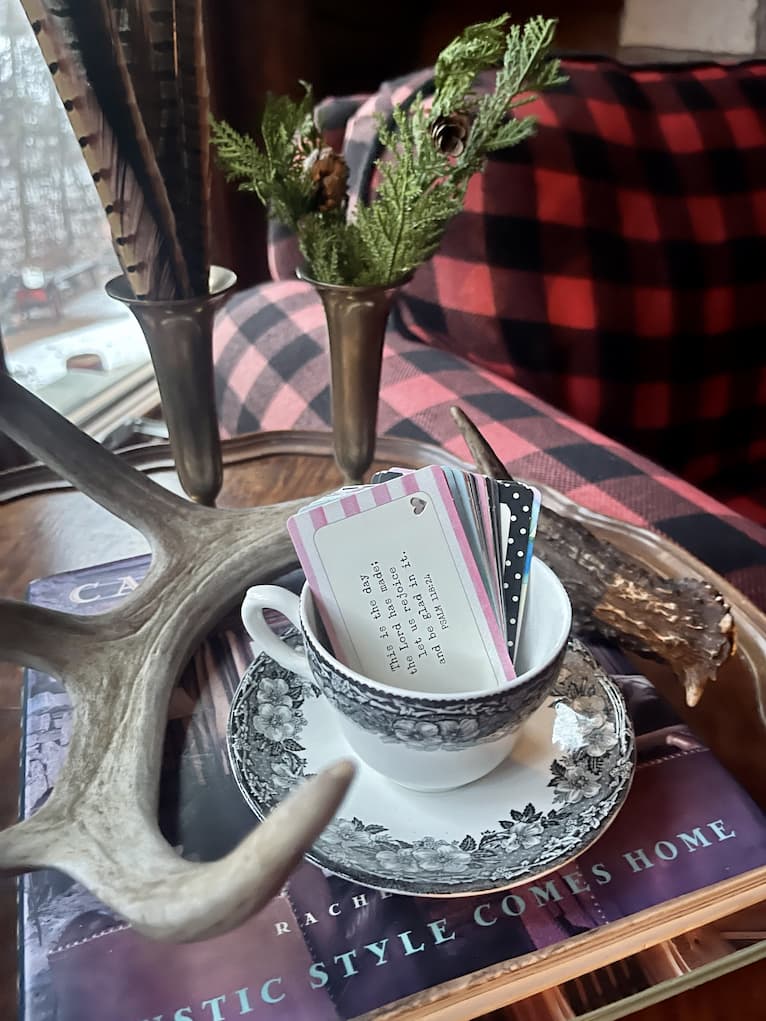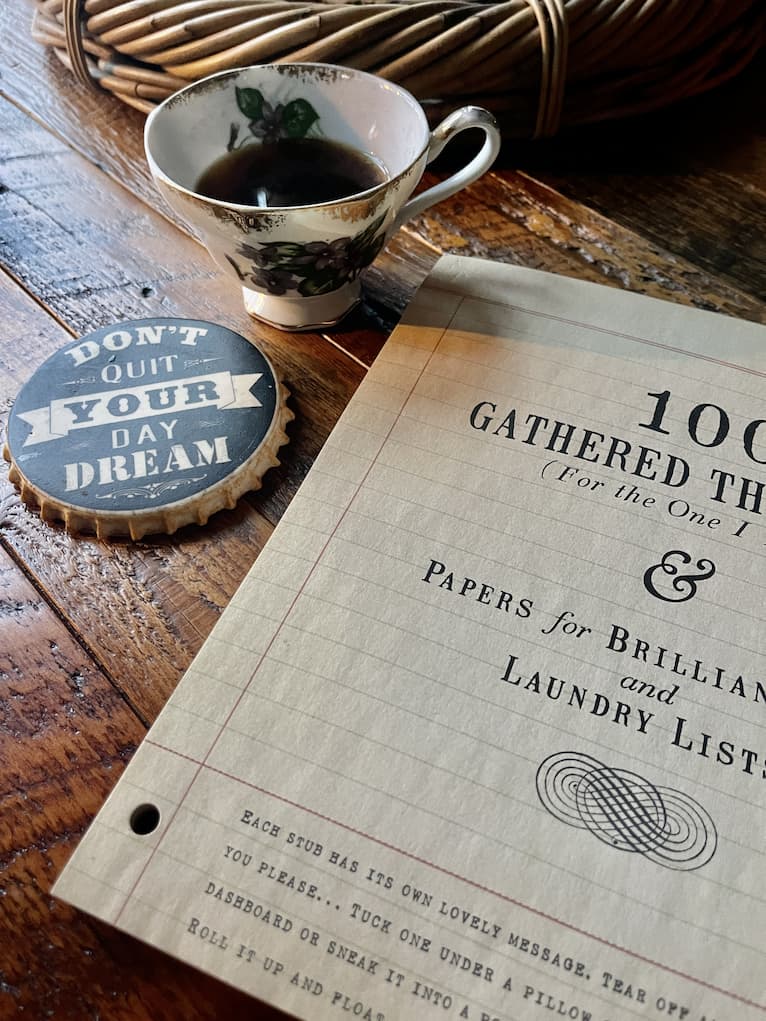 Thanks so much for visiting. I hope you have been inspired to find ways to surround yourself with encouraging messages in beautiful ways throughout your decor with thrifted finds. I'm always so excited to go thrifting again after reading all these posts! Do you feel that way too? Your "On the Hunt For" list can include:
Flower Frogs
Vintage Typewriter
Brooches
Receipt Holders
Frames
Tea Cups
Next up you are headed to Florida and my friend Robyn's house. Robyn blogs at Robyn's French Nest . I love Robyn's home and how she styles in her thrifted finds. You will love the Spring table she's styled!
Take the Tour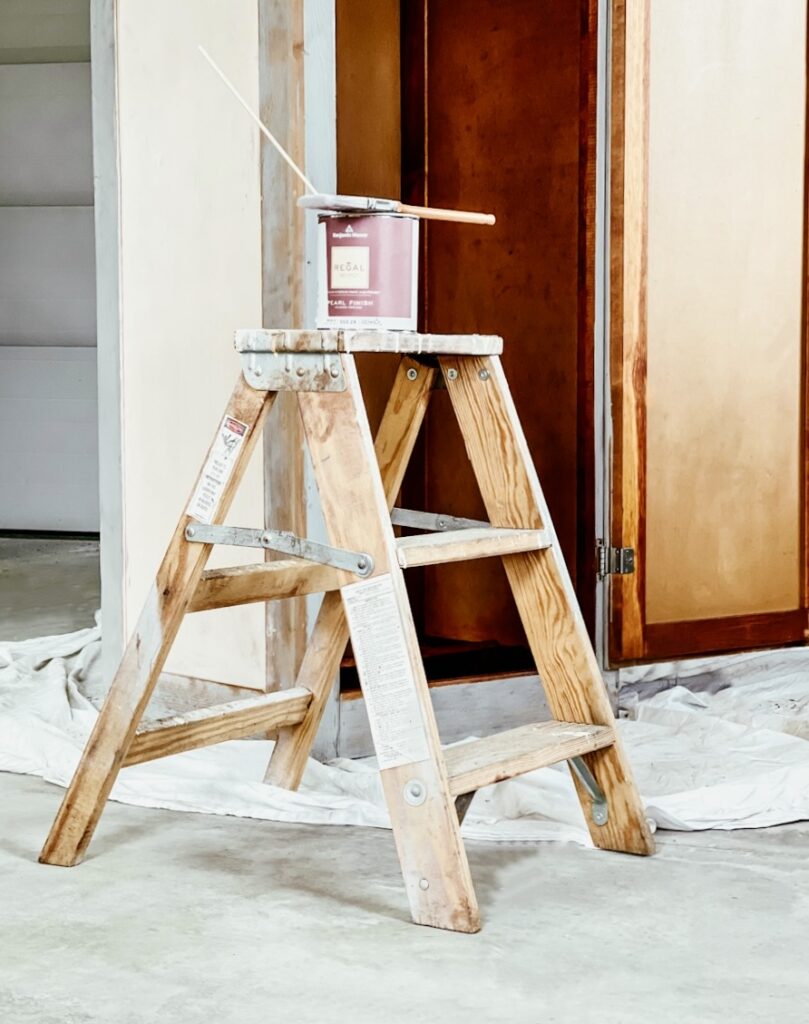 Dabbling and Decorating ~ The Ponds Farmhouse ~ White Arrows Home ~ Robyn's French Nest ~ Cottage on Bunker Hill
A Few Favorite Things


FOLLOW ALONG
Instagram ~ Facebook ~ Pinterest ~ Twitter ~ YouTube ~ Tik Tok ~ Liketoknow.it ~ Podcast