Tips for building confidence with positive, encouraging self talk and learning how to stand up straight.
(Affiliate links are used for your convenience. Read my full disclosure here.)
Do you feel like a confident person or do you feel like you struggle to believe in yourself, put yourself out there to try something new, take a stand or be different?
Today is Day Six of my Thrive Series here on White Arrows Home and I'm sharing all about confidence. I'm sharing the self talk tips that help me and the little things that can help us stand up straight with beautiful posture that excludes that confidence.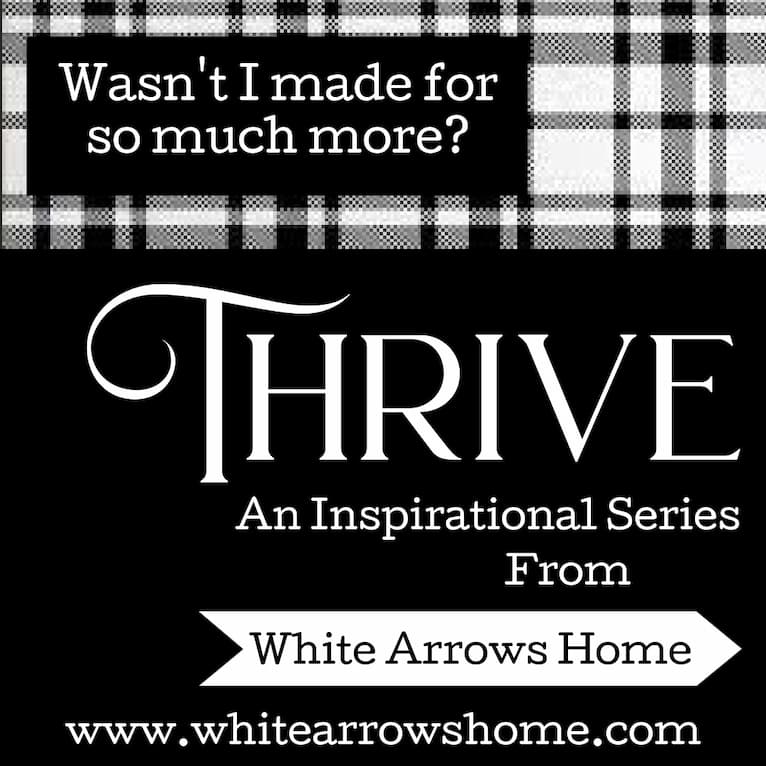 In case you've missed some of the Series here are links to last week's topics and a peek at what's to come.
THRIVE SERIES:
COMING UP IN THE SERIES:
What's Your Fuel?
Hydration How Tos
Chase That Dream
I shared last week about how I love learning and think we are never too old to start, try again or pivot. One of the ways I keep learning and trying to get better personally day by day is by reading books.
Many of these books are by people I consider mentors even though I have never met them. By sharing what they know and are learning themselves it helps me. I hope I can be a mentor to you by sharing my journey too.
To me a mentor is someone who helps you learn, pushes you to expect more out of yourself and lets you see that dreams and thriving are possible. But mentors don't candy coat anything, letting you know a lot of growth comes from hard work. But hard work and self discipline make it worth it.
Believe you can and you're halfway there. ~ Theodore Roosevelt
In Day Three of the Series I shared some of the books that have inspired me. My "Want to Read" list grows all the time as author's reference each other or I listen to someone on a TED Talk or Podcast. Head back to THAT POST to see some of my recommendations.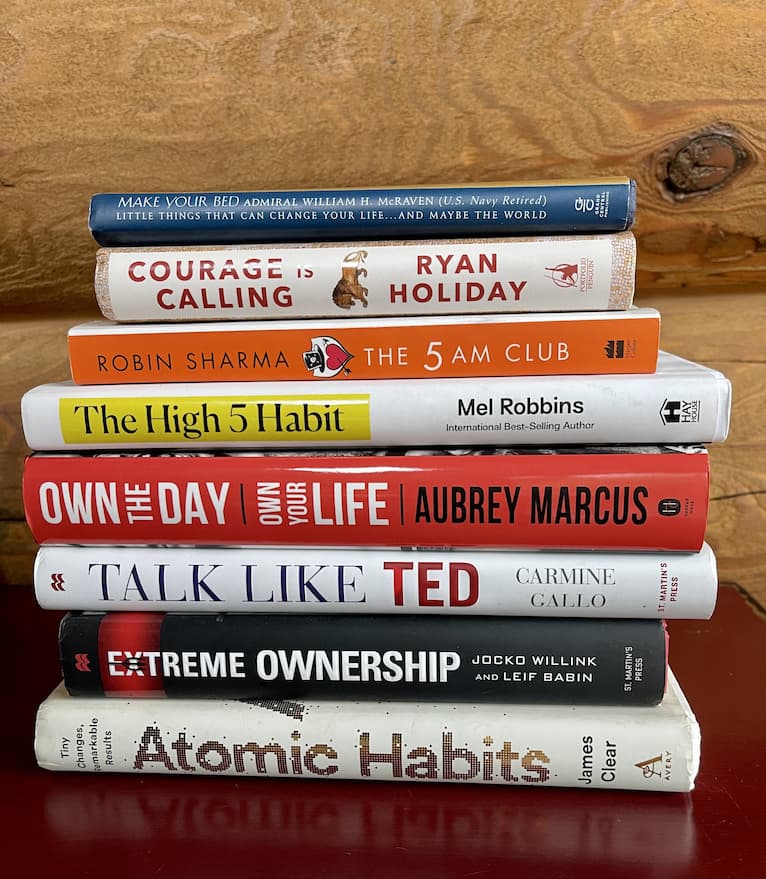 A few of my favorites including some shown above:
Each month I share what I'm reading and one of the books is always a personal or professional book like these. I call them my Wait Time Books because I keep them in the car and in my bag to pull out when I'm waiting for kids at practice or I'm at an appointment. I keep a highlighter or pen with it to underline passages that inspire me.
SUBSCRIBE HERE to have my monthly reads posts emailed to you and read along with me.
Confidence
I do have some confidence that comes to me naturally. I'm not sure what parts I was born with and what parts come from my supportive and encouraging parents. I think they have a lot to do with it. They have always had the perfect balance of lovingly supporting me right where I'm at while at the same time expecting me to reach for more. They could and can always see the best in me.
I've also had some great teachers and a support network of wonderful friends in each chapter of my life.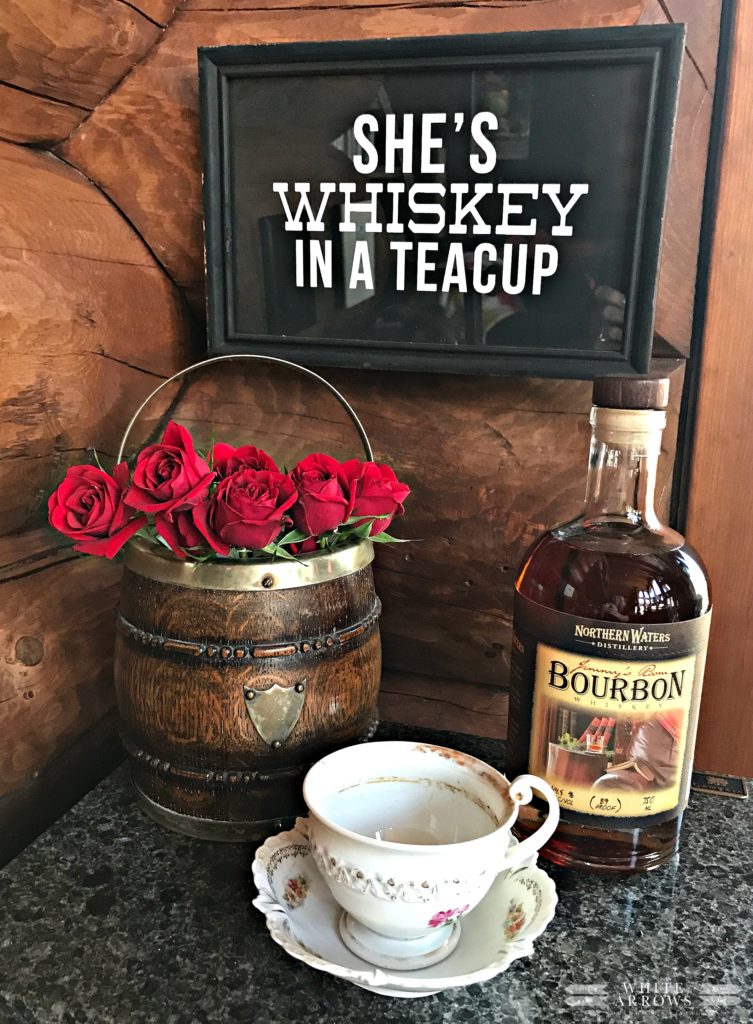 One of the most impactful moments of my life was when I was a junior in high school. I still had my braces, I needed to drop a few pounds and though comfortable in who I was, I was a bit awkward. It was school picture day and after they took my photo I was walking out and my English teacher stopped me and said, "You have no idea do you?" I looked at him blankly. He said, "You have no idea how amazing you are." It was not inappropriate, it was not weird, it was a moment when someone I respected pointed out something to me I was oblivious too. I wasn't just the girl next door, I thought of myself as. I was made to Thrive. God put me here to do something great.
Little by little over the next several months, I started blooming, growing into a young woman that had real confidence.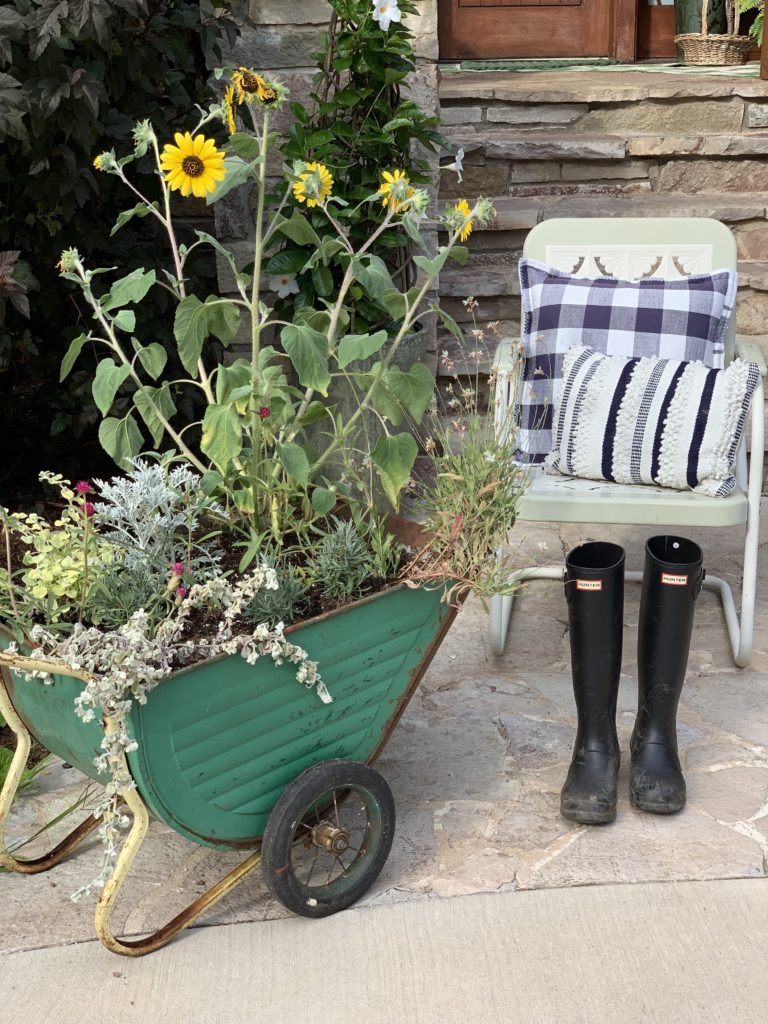 The biggest factor in my confidence is my faith. I believe that God has me on earth for a purpose, that I was meant to thrive and that I am never alone. I believe the promises in the Bible and that gives me a lot of solid ground to stand on.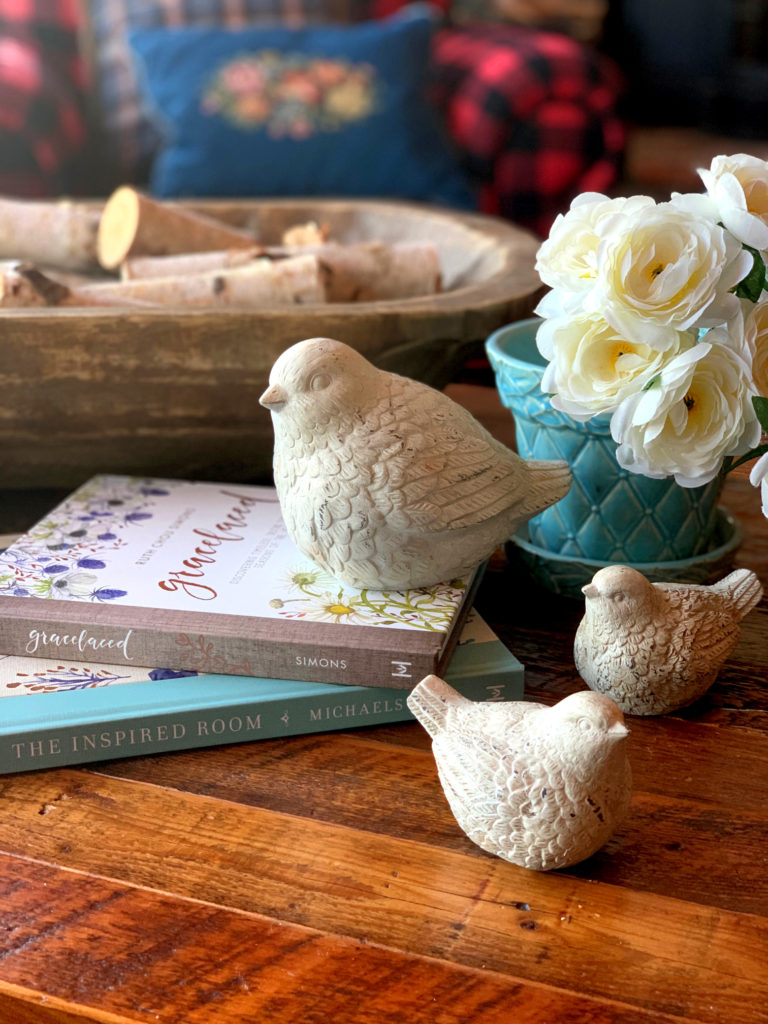 Here are some things I am proud of that confidence gave me:
The ability to speak in front of a crowd.
Now, before I continue my list, I want to put a disclaimer out there that confidence can be defined in different ways for different people. We all have different ways that we are bold and we have different fears and different challenges.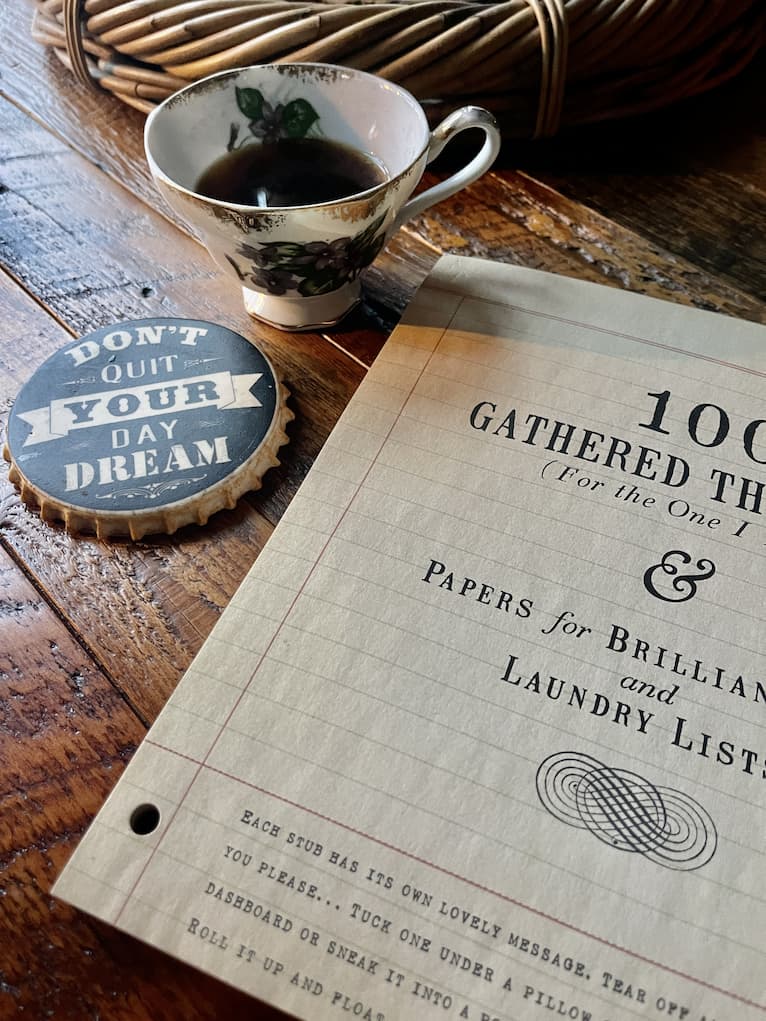 If you've been journalling as we go through this Series, ask yourself these questions. Then we will get back to my list.
How do you define confidence?
What are some things that are easy for you that are hard for others?
Write about a time you felt confident and remember being surprised by it.
If you consider yourself confident, how do you think you got that way. If you don't consider yourself confident, what do you think keeps you from it.
Now back to my list of some things I'm glad confidence gives me:
The ability to speak in front of a crowd.
The courage to say what I think.
Feeling ok to be alone.
No fear of walking into a group or event.
Being ok to make mistakes or laugh at myself.
But at the same time I have insecurities that I work at overcoming every day. The biggest way I combat my insecurities is self talk.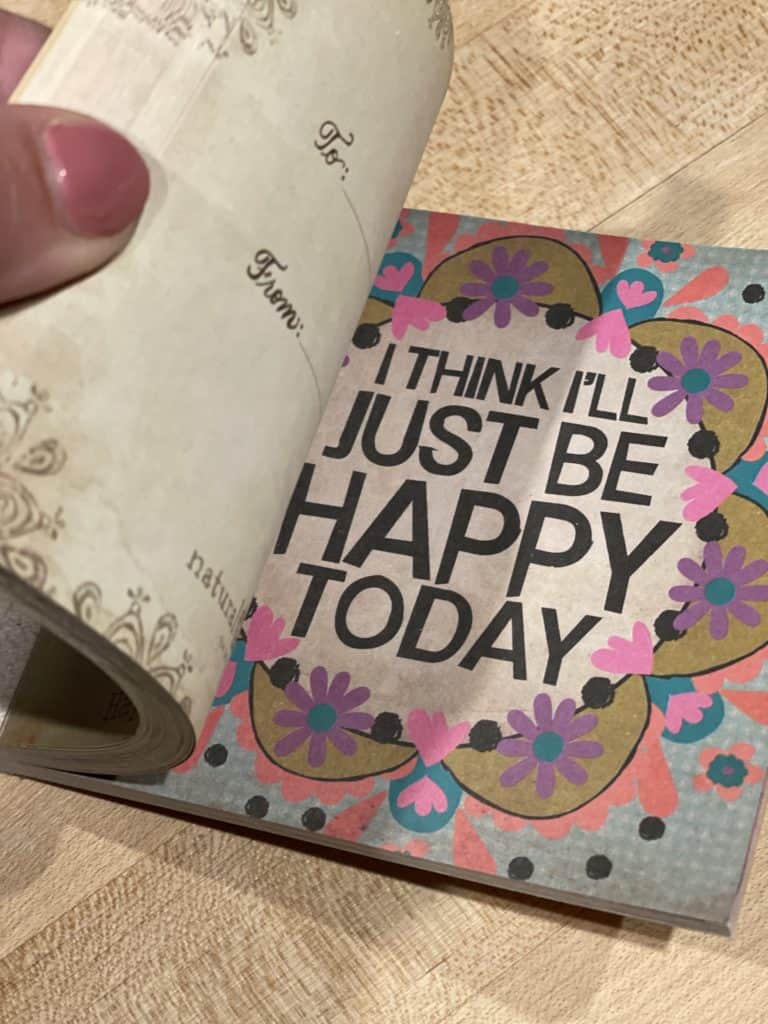 One of the books I recently read is Mel Robins High Five Habit about giving yourself a high five in the mirror and the science behind why it works to build confidence. It sounds silly, but it's powerful. I highly recommend the book.
Follow along with me in Instagram and Facebook stories as I share encouragement throughout the week as well.
Self Talk
I do a lot of self talk inside my head throughout the day to keep myself encouraged, positive and moving forward.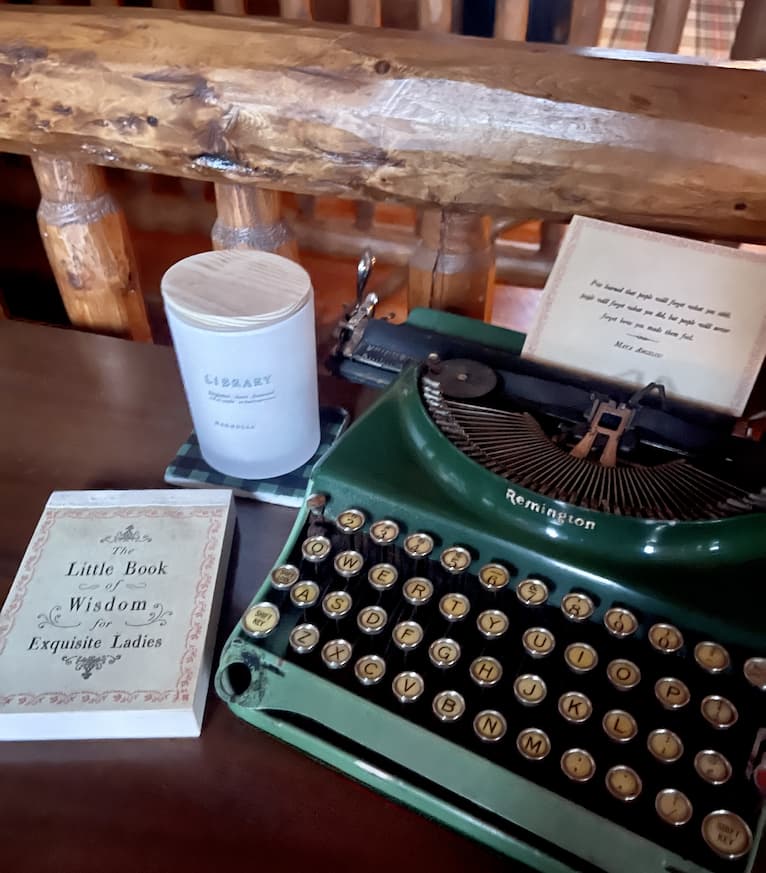 One of the the things I often do when I feel hurt, left out or misunderstood is to stop and think, "what do I know is true?" Then I try to only react to what I know is true, not what I just think. Most of what we think is not the truth, it's based on our feelings and assumptions and causes us to overreact.
A great book I read about overthinking was Get Out Of Your Head by Jennie Allen.
Some of my best tips for growing your positive self talk is to find ways to put encouraging messages where you can see them and read them to yourself over and over again so you have some tracks going in your head.
tape them to your bathroom mirror
add one to the dashboard of your car
record an encouraging voice memo to yourself on your phone like you were talking to you best friend and listen to it often
keep a box where you store notes, letters of encouragement, even birthday cards to pull out when you need to feel like you are getting a hug
put encouragement on your refrigerator.
See some ways I display encouragements around my house IN THIS POST.
Here's a FREE set of Mirror Messages I made for you. Cut the quotes apart and hang them where you will see them throughout the day.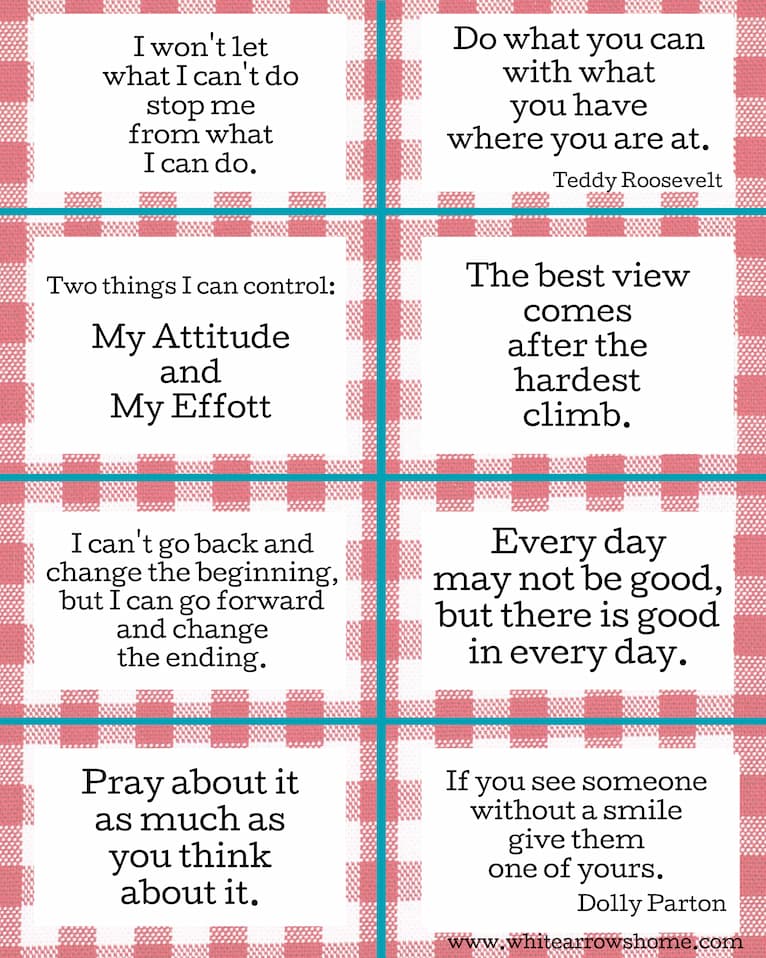 Here are some examples of my self talk:
When I am about to enter a meeting or record a podcast or write parts of my upcoming book and I start to feel a bit insecure, I say, "This is what you do." Reminding myself that i have the skills and what it takes to do this job already.
When I feel left out when I hear friends did something without me, I say, "It probably came up last minute, they wouldn't intentionally leave me out."
When someone says something that comes across rudely, I tell myself, "I don't know what's behind that, but it probably has nothing really to do with me."
I often try to just flip my script too. When I'm out for a run, I may start to think, "I'm so slow. I'm so out of shape. I look horrible." I flip it to, "I can do this. Just think about where I will be next week and the week after. Look at me, I'm doing it."
On top of self talk I do visualization and picture myself successfully doing the activity and succeeding at my goals. The day dreaming is motivating!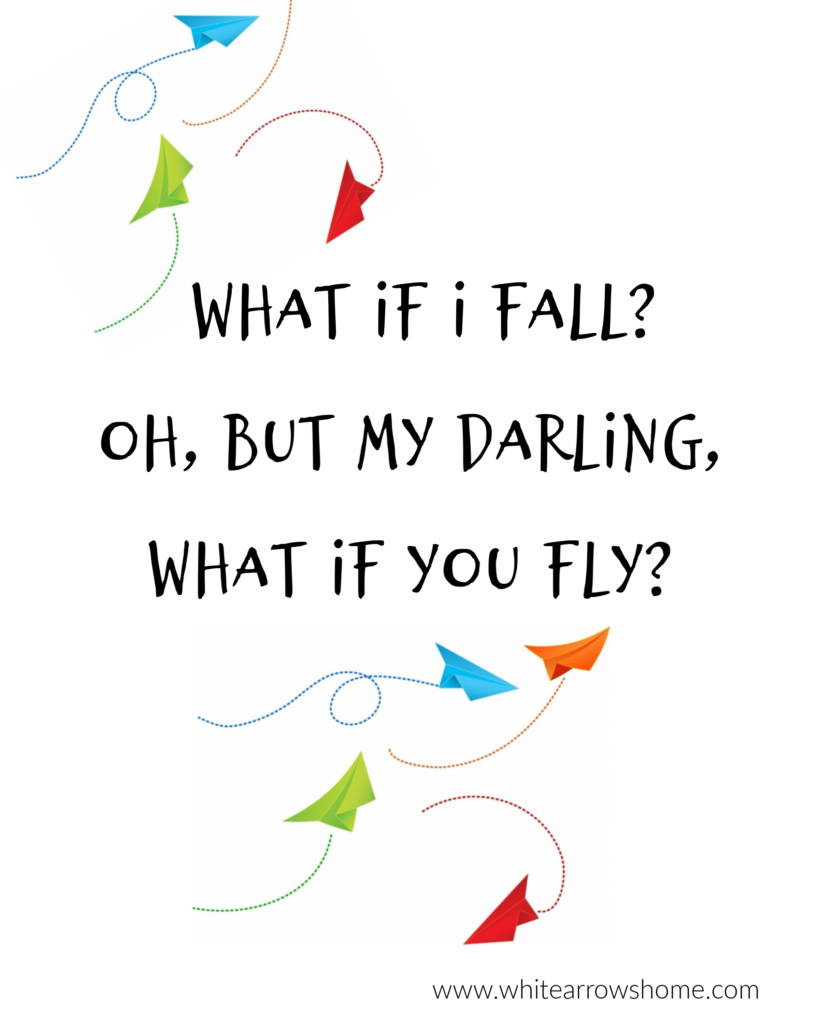 Posture
One of the instant ways to show confidence and to increase it in how you feel is to have good posture.
Stand tall, keep your chin up and look people in the eye. Look around you, smile at other people. Walk with purpose. No hunching, no staring at the floor, no staring at your phone, no resting $#!%& face.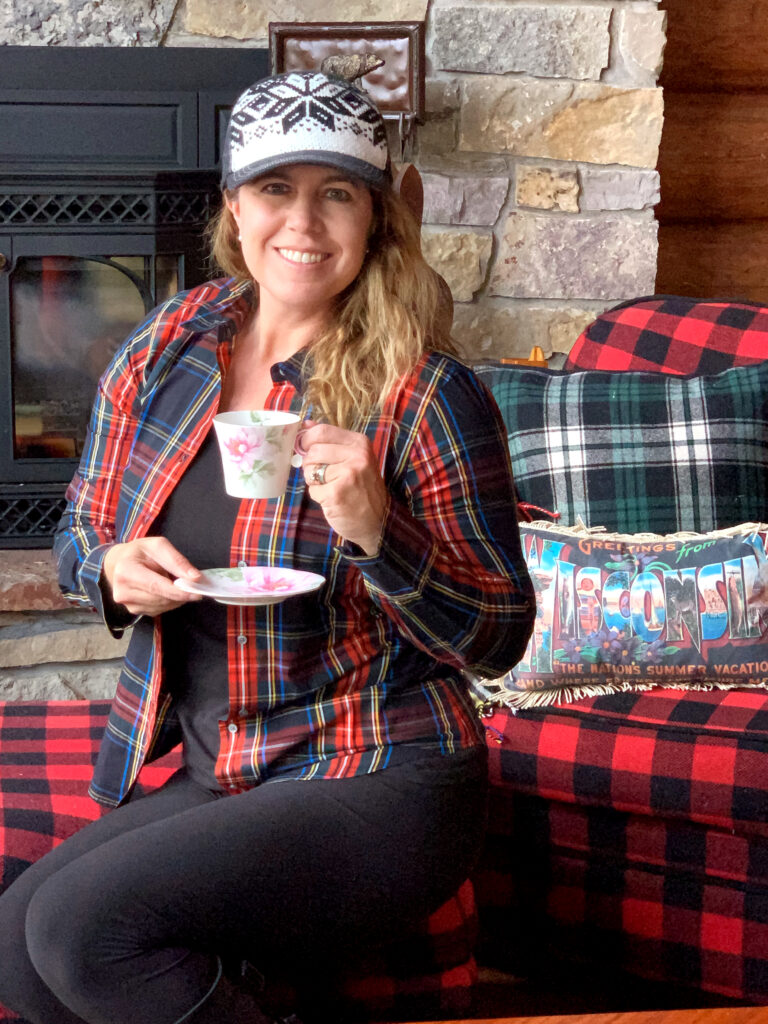 You will probably catch me often without a pleasant look on my face, but I consciously try to think about have a pleasant expression and smiling at other people. I try to remember to say thank you to everyone who helps me big or small.
I'm working at putting my phone away when I'm walking. This is a hard one, because I'm trying to catch up on messages, but it's not polite. I should be aware of my space, keep my phone away and walk with my chin up and my eyes watching what's around me. When I do I see a lot of really amazing things and beautiful moments.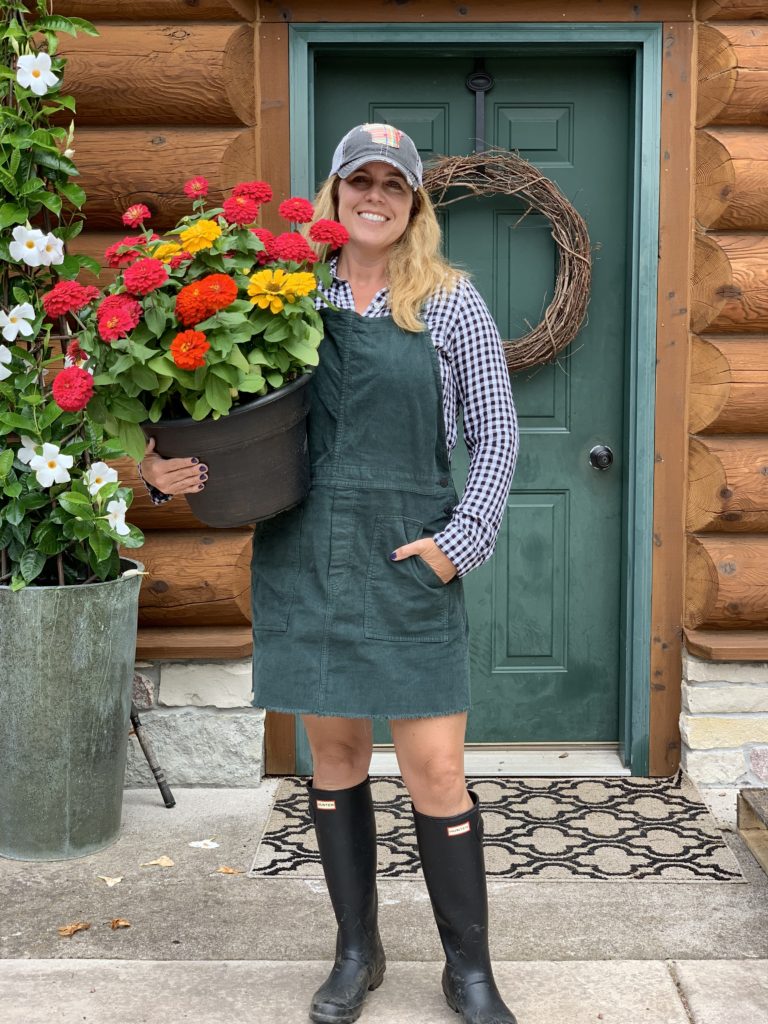 Hunching and rounding shoulders is something I often see teenagers doing, especially girls. It makes me think they are saying, "Don't notice me." It's like they are a turtle trying to get back in their shell and hide.
Over 20 years ago I heard something while watching Oprah that has stuck with me since. I don't remember who shared it, but it was about having great posture. If you roll your shoulders back and then turn your wrists so that your thumbs face forward you will improve your posture instantly. It's such a quick check and reset to be conscious of this throughout the day.
How to Improve Our Posture
Here are a few ways to work on our posture:
Build a strong core with consistent workouts, stability training and yoga.
If your work requires you to sit for long amounts of time, stand up and stretch or take a walk often. I love my Apple Watch for this. It gives me reminders when it's time to stand.
Think about how to do activities where your head isn't always looking down with a bent neck, like hunching over your phone.
Get a great mattress and pillows.


FOLLOW ALONG
Instagram ~ Facebook ~ Pinterest ~ Twitter ~ YouTube ~ Tik Tok ~ Liketoknow.it