Here's A Cozy Cabin Christmas Tablescape Perfect For Entertaining Family and Friends For the Holidays as they gather around the table.
(Affiliate links are used for your convenience. Read my full disclosure here.)
I'm so excited to join the Dinner Club gals again for another fun blog hop sharing tablescapes and recipes all around a theme together.
Last year, I was part of their Tailgating themed tour.
You can read the post HERE.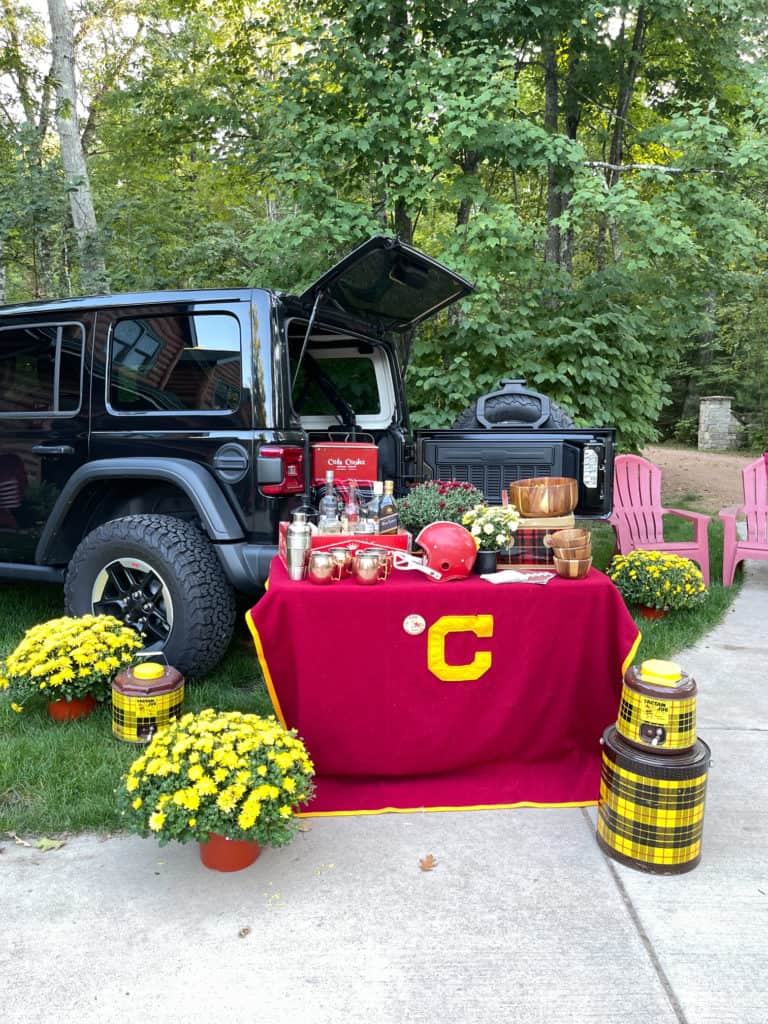 Virtual Progressive Dinner
Have you ever participated in a progressive dinner.
They are such a fun way to gather and entertain.
One home hosts apps and cocktails, another dinner and the third dessert.
For many years we did this tradition with neighbors.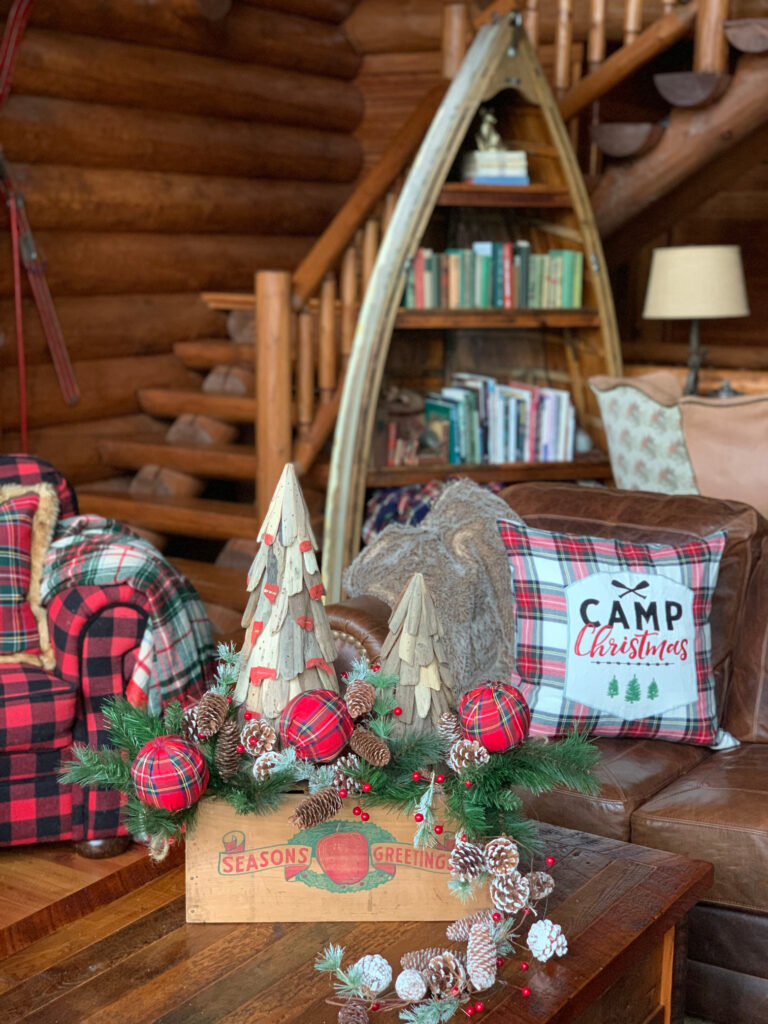 This blog hop tour is a lot like the progressive dinner idea, but virtually from blog to blog.
At the bottom of this post you'll find links to all those participating.
If you are going in order then you are coming over from Midwest Life & Style.
I'm sure you loved Jen's tips on How To Style A Rustic Christmas Tablescape In 5 Simple Steps as much as I did.
Welcome to Camp Paradise
This month they chose Christmas at the Cabin as their theme and it couldn't be more perfect for me, because I actually live in a full log cabin, called Camp Paradise.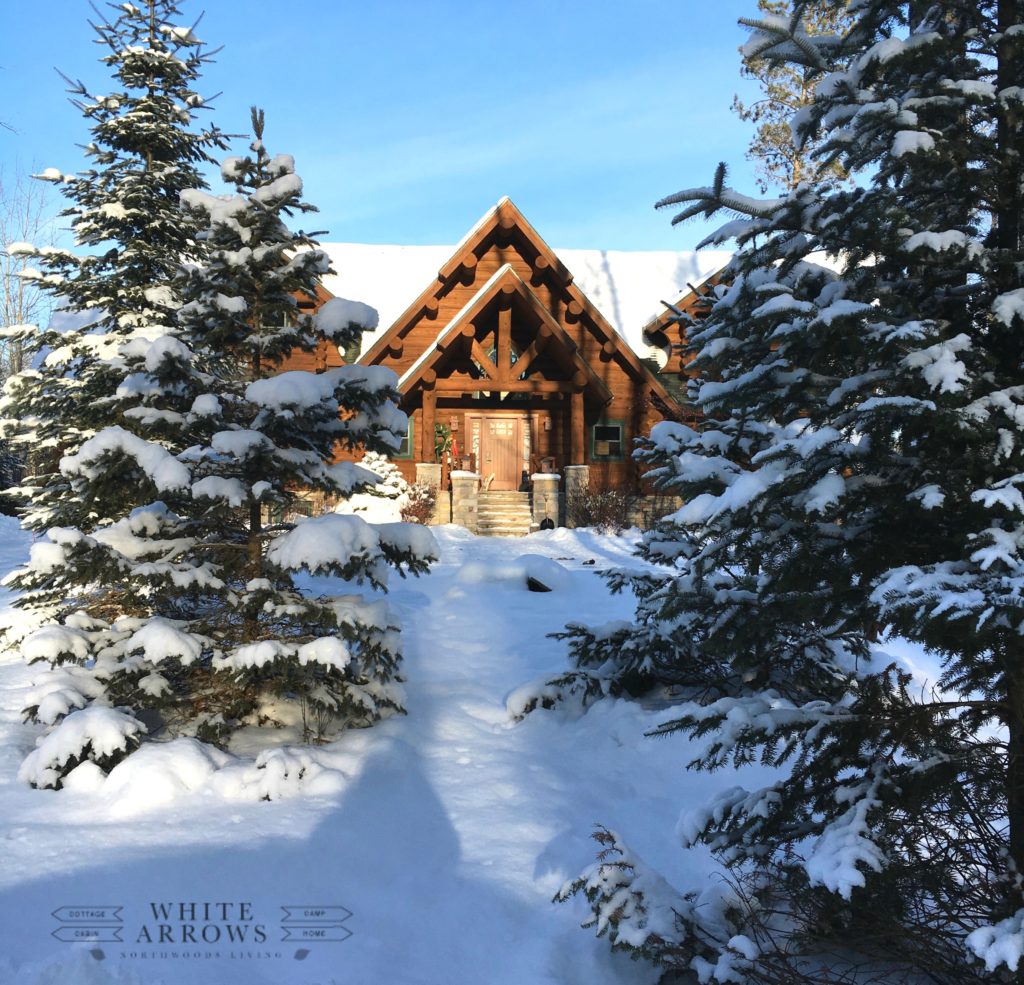 We enjoy our cabin in every season.
It sits lakeside and we enjoy all the water sports in summer.
In winter the lake freezes so solid trucks can drive on it.
We clear a spot for an ice rink, snowmobile and ice fish.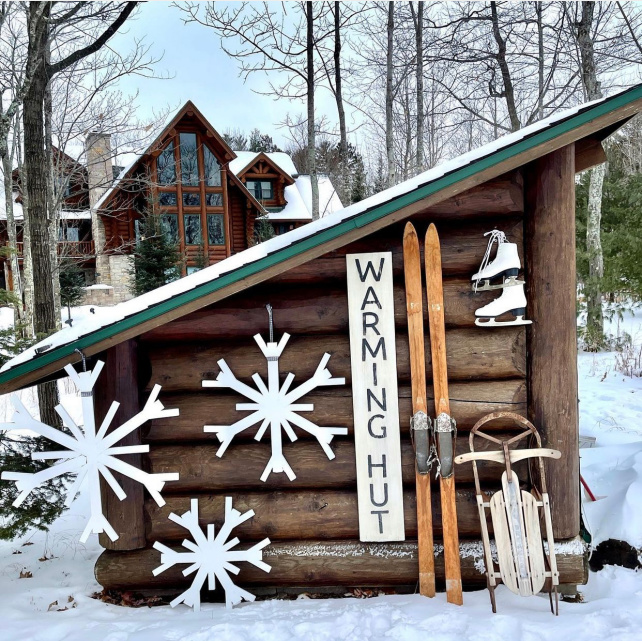 Christmas is magical in the inside the cabin as well and I love decorating, adding festive details and carrying on traditions.
Collecting holiday dishes is one of my favorites.
I love setting the table for my family and mixing and matching my collections.

I only buy a few new things a year and then enjoy pulling out old favorites.
This year on a recent trip to Duluth I stopped at Home Goods and fell in love with these woven placemats and Christmas tree napkins.

In a few days this post will be continued with delicious recipes to enjoy like a creamy potato soup.
The recipes are perfect for a cozy Christmas dinner at the cabin gathered around the table with friends or family.

These green dishes…
A few years ago I fell in love with the Lefton holly pattern.
It's been fun to collect because I don't find a piece every time i go antiquing, but often enough to keep me interested.
I especially love these snack trays with tea cups.

I love how the colors pop against the wood of the chairs and tables.
The white knit placemats frame the pacesetting well followed by the plaid dinner plate.

These old cottage shutters are a favorite find from a local antique store.
I didn't know what I was going to do with them, but knew I needed them.
They sat in a closet for a few years and then I go the idea to put them on my mantel at Christmas.
Last year I got the idea to hang them on the wall of our sunroom dining room and have loved them here.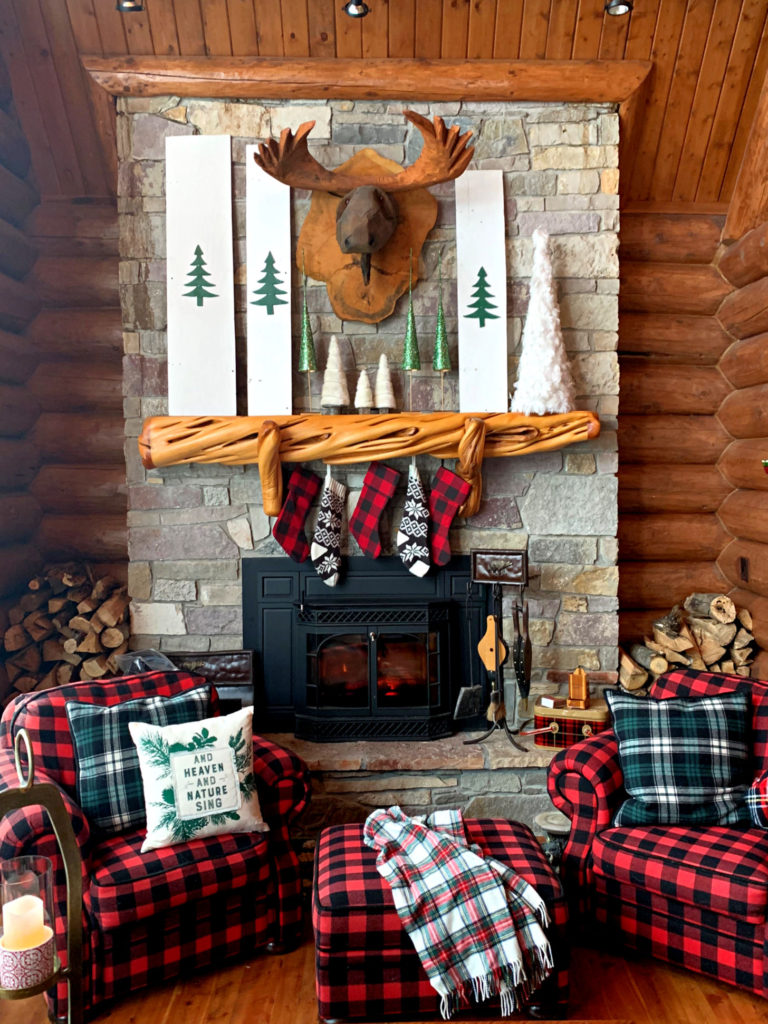 Here's the dining room set for every day dining.

Thanks so much for spending time with me at the cabin.
Next up on the tour are my friends Ann and Anne Marie, neighbors who blog together at Simply 2 Moms.
You will be so inspired as they share How to Create a Rustic but Elegant Christmas Tablescape.
Take the Tour

The Ponds Farmhouse | Bricks 'n Blooms | Vintage Home Designs | Midwest Life & Style | White Arrows Home | Simply 2 Moms
FOLLOW ALONG
Instagram ~ Facebook ~ Pinterest ~ Twitter ~ YouTube ~ Tik Tok ~ Liketoknow.it