An easy Easter centerpiece comes together
It's time for another Pinterest Challenge hosted by Cindy of County Road 407. Several bloggers come together each month inspired by one photo from Pinterest to style a space in or vignette based on that image. I'm so honored to be part of the challenge again this month. This month's challenge: An easy Easter centerpiece.
(Affiliate links are used for your convenience. Read my full disclosure here.)
I love seeing how different each bloggers' post turns out as each of us adds our own style to the challenge. At the bottom of this post you'll find links for all bloggers on the tour.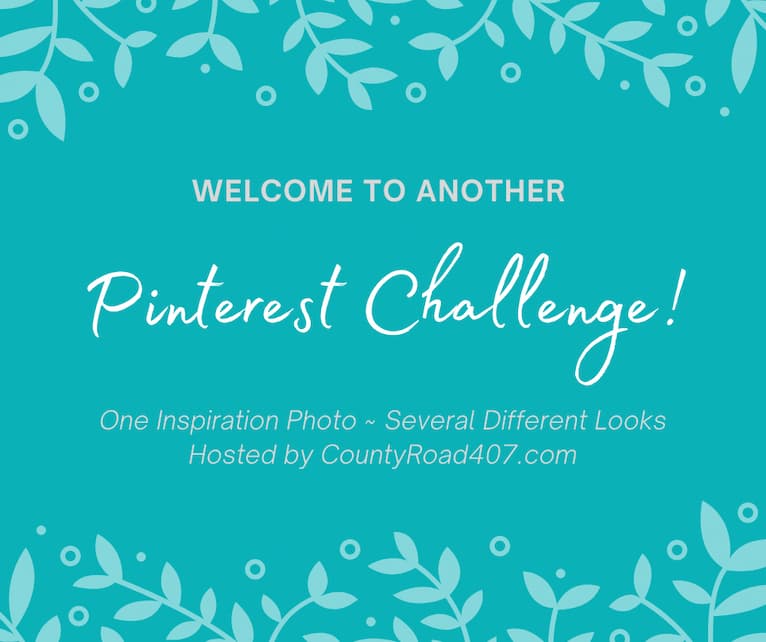 This month's inspiration photo is from Worthing Court. Suzy styled a beautiful Easter centerpiece on her dining room table.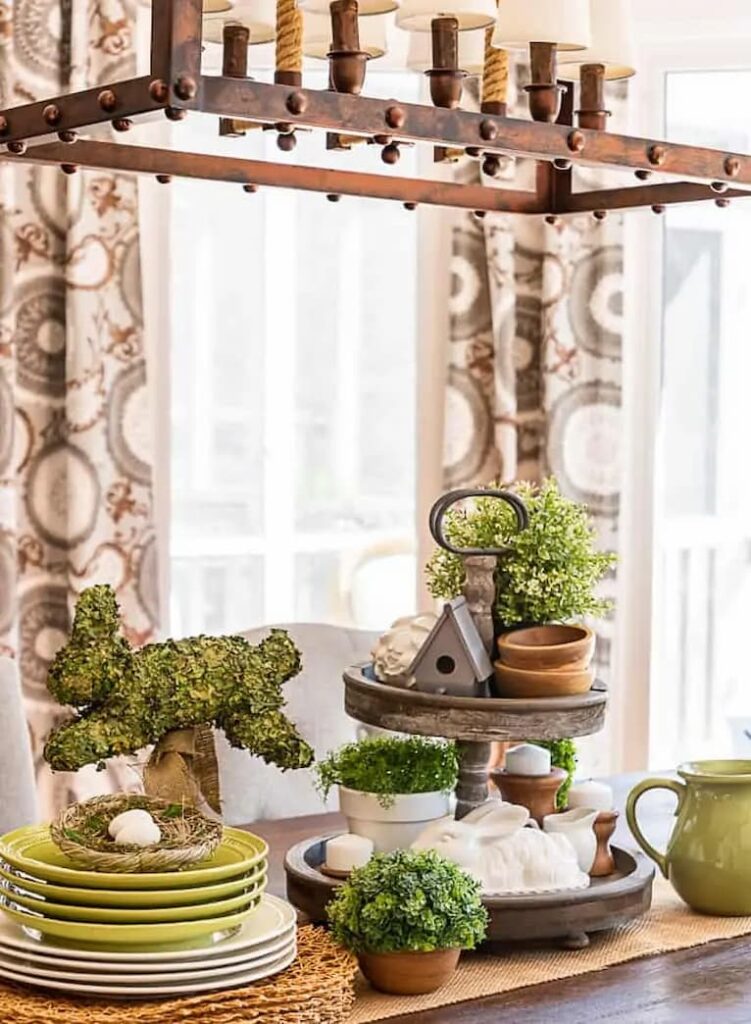 Here are the elements I'm seeing in the photo and adapting to my own style:
Stack of Plates
Birds Nest
Bunny
Pitcher
Candles
Runner
Placemats
Terra Cotta
Greenery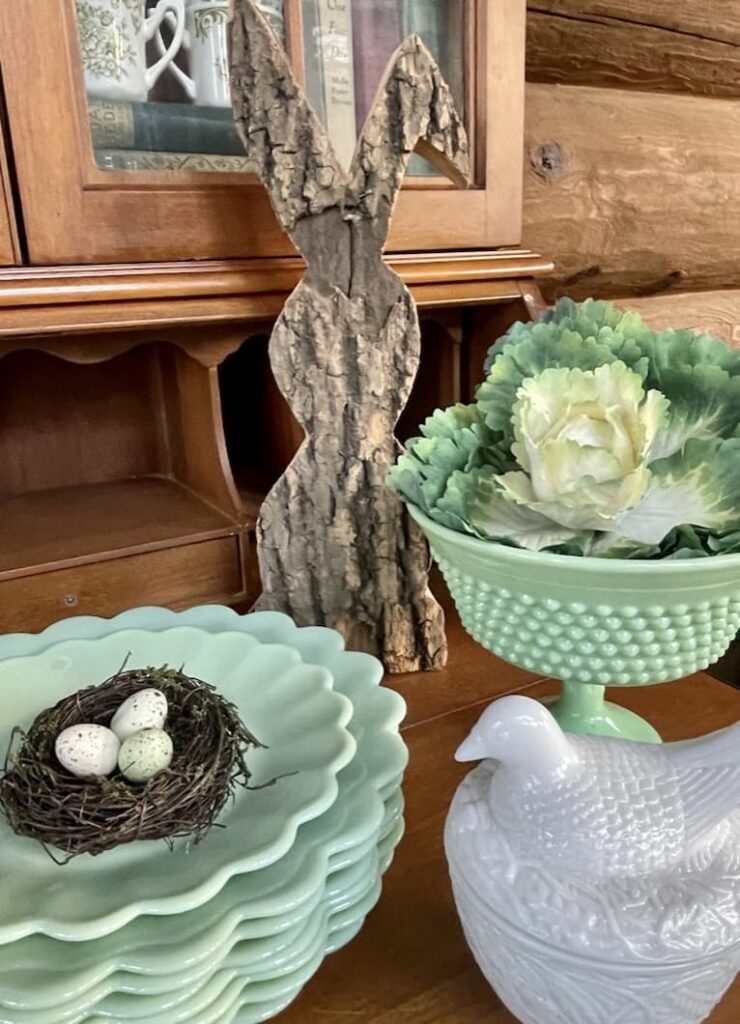 Want to see past challeges:
If you are coming over from Everyday Edits welcome to our lakeside log cabin home. Weren't you inspired by her take on the challenge!!
It is finally Spring in The Northwoods of Wisconsin. Spring here is mud season. Our many inches of snow are beginning to melt into puddles everywhere. Our thousands of lakes are beginning to thaw. The lake behind out house often doesn't open until the end of April. Last year it was May 1.
We could still get some snow falls for the next several weeks, though now they will melt soon after falling.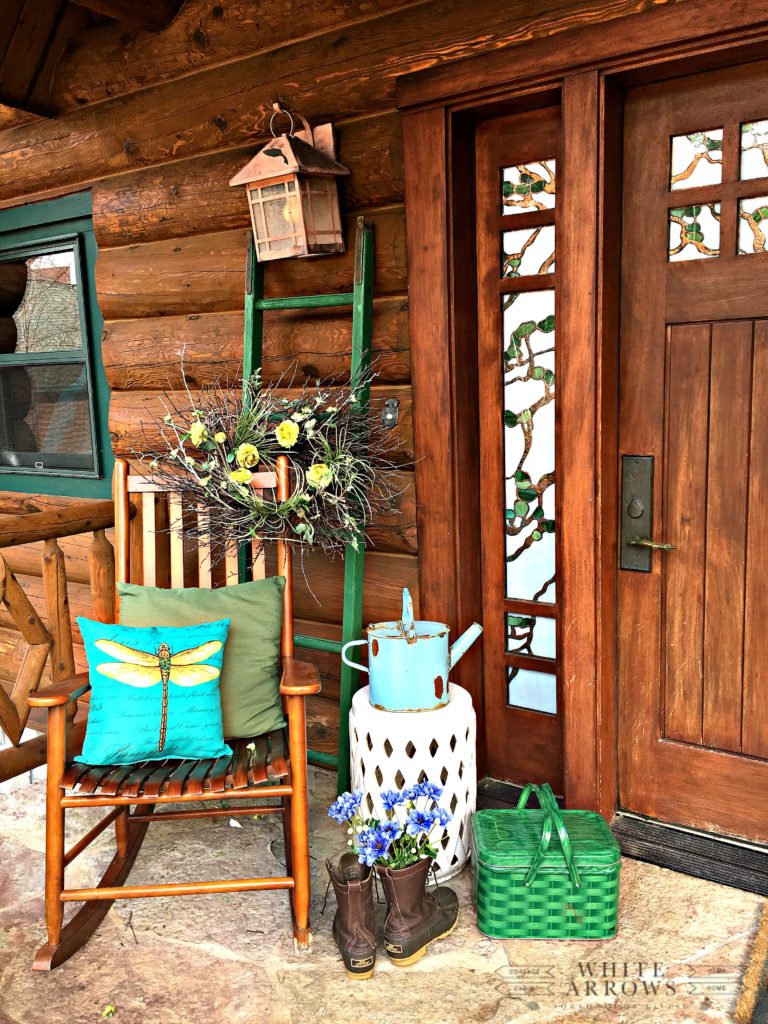 SUBSCRIBE HERE so you don't miss any inspiration!
How to Make an Easy Easter Centerpiece
One of the main differences you will see in my centerpiece and the inspiration photo is that I did not use a tiered tray. I don't even own one. It may be hard to believe, but I'm a decor blogger who has never been to Ikea, owns no Rae Dunn and no tiered tray! LOL!
Stack of Plates
For my stack of plates I pulled out my jadeite pieces. I have not jumped into collecting real jadeite yet. These plates are part of the Pioneer Woman collection from Walmart that I found a pretty and affordable way to get the look.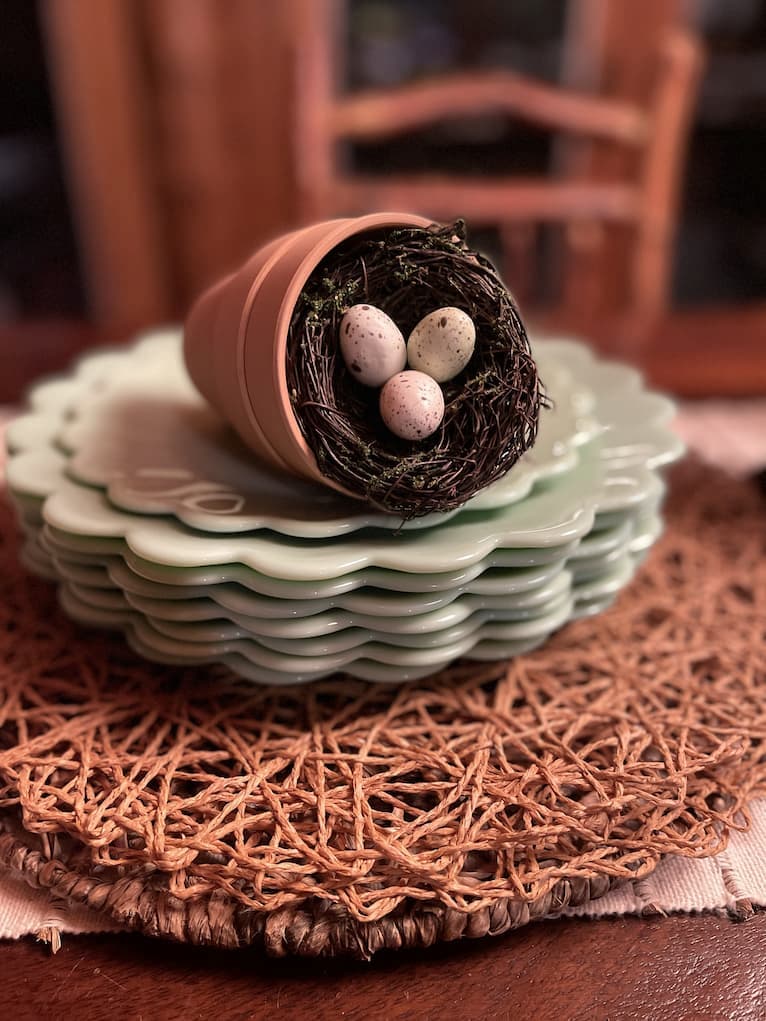 Birds Nest
I used one of my little birds nests on top of the plate stack just like Suzy did in the inspiration photo. I love the texture and Spring touch that gives!
I decided to add a few eggs and a bird on top too.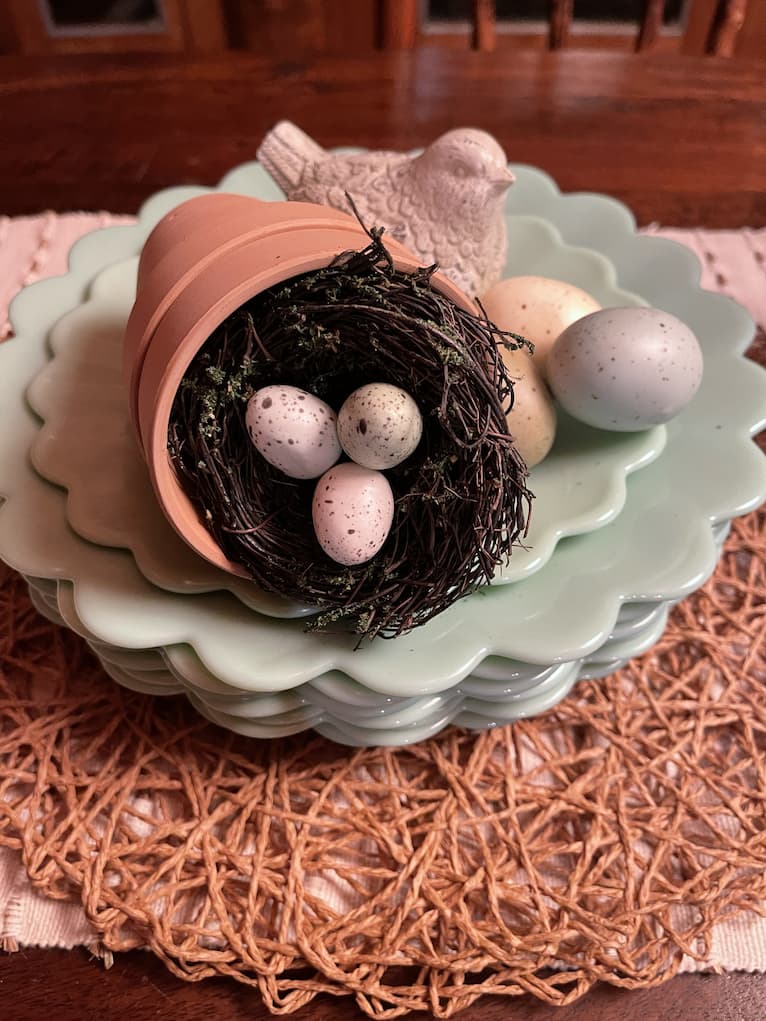 Bunny
Suzy used a pretty little white ceramic bunny, I decided to bring in my rustic style with my wood bark bunny.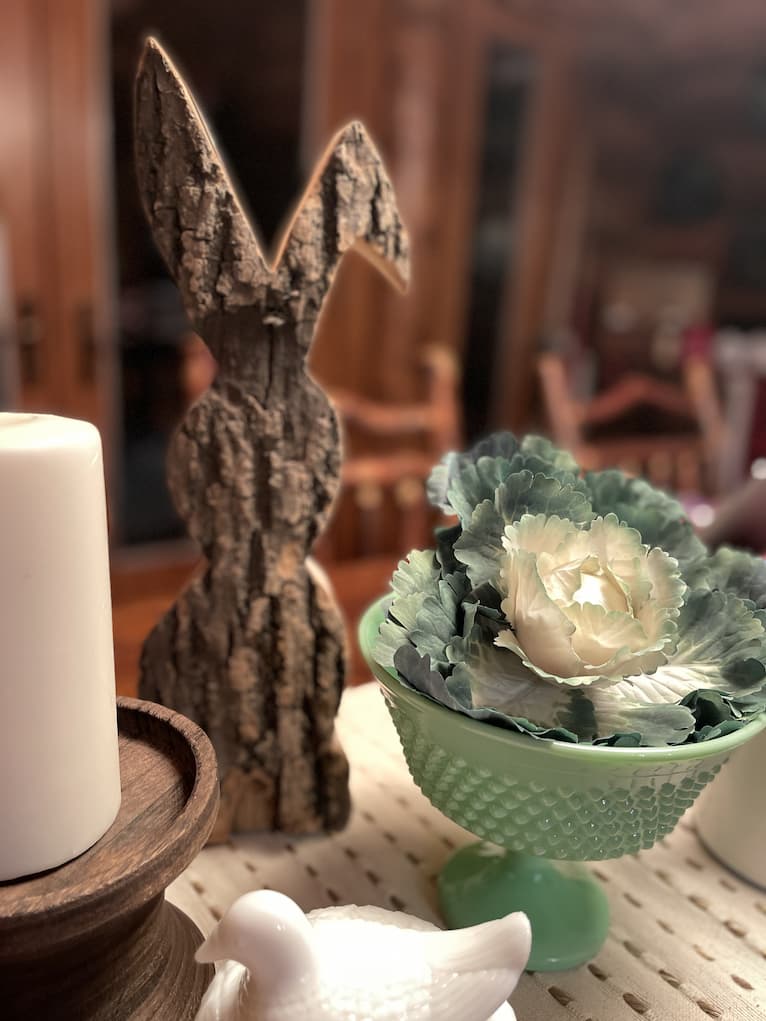 To bring in an item like the white of the bunny, I added my sweet little hen on nest that I found a few years ago. I've always wanted to collect them, but so far have only brought home this one.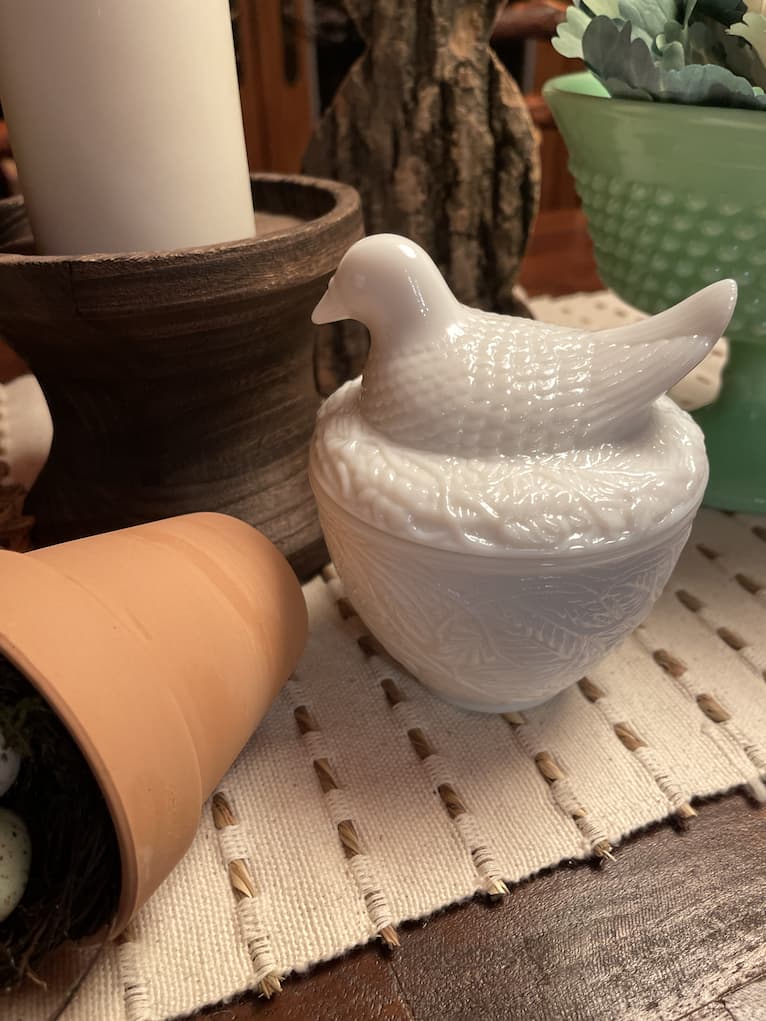 Pitcher
This Tiffany & Co pitcher was a wedding gift. I usually leave it out all the time on one of my kitchen shelves, but pulled it off to add add to the centerpiece for it's beautiful Spring colors.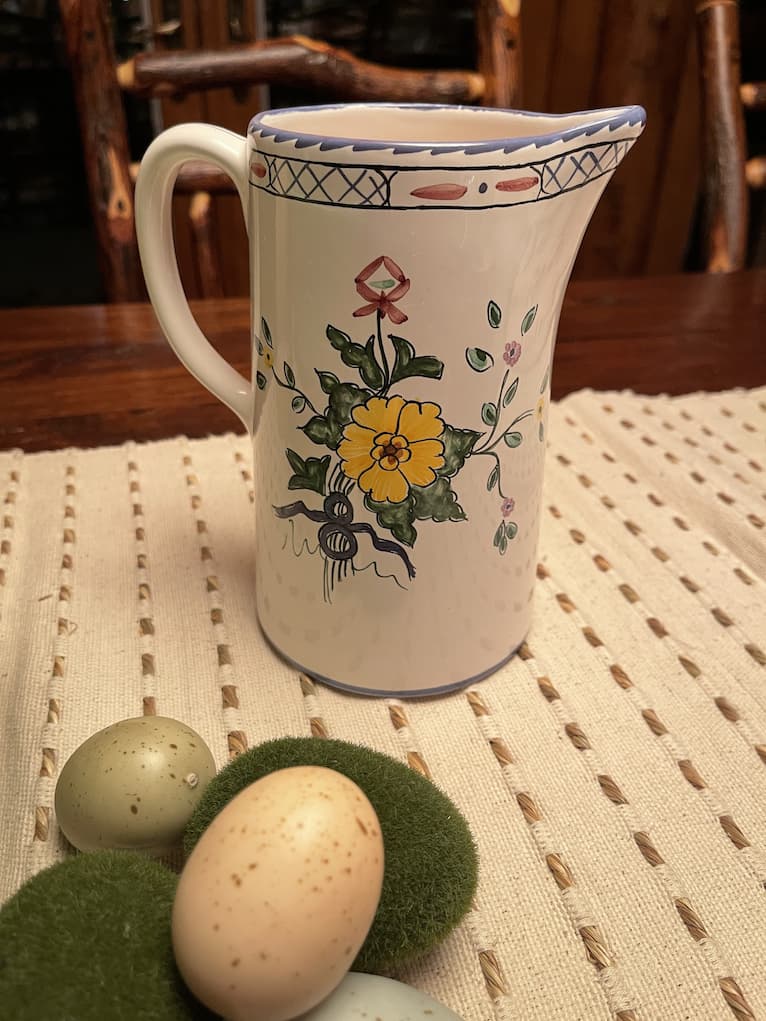 Candles
I decided to add a little moss from The Dollar Tree around my candle.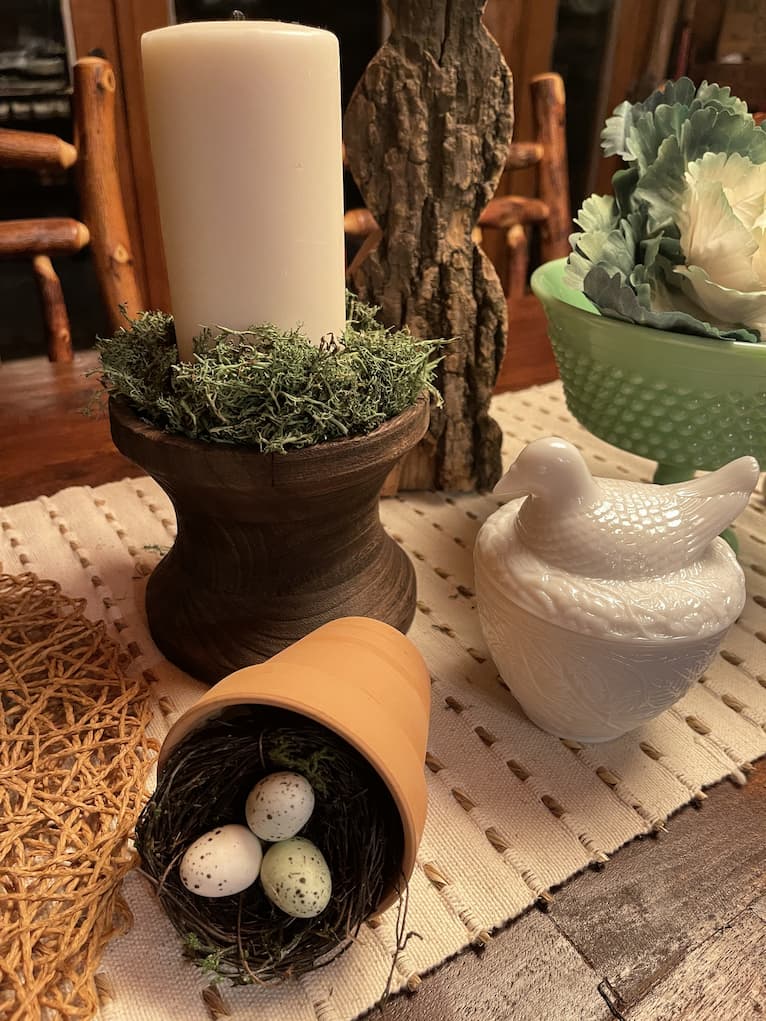 Runner
I have a burlap runner I love, but I decided to use this cream colored one with the jute woven through instead.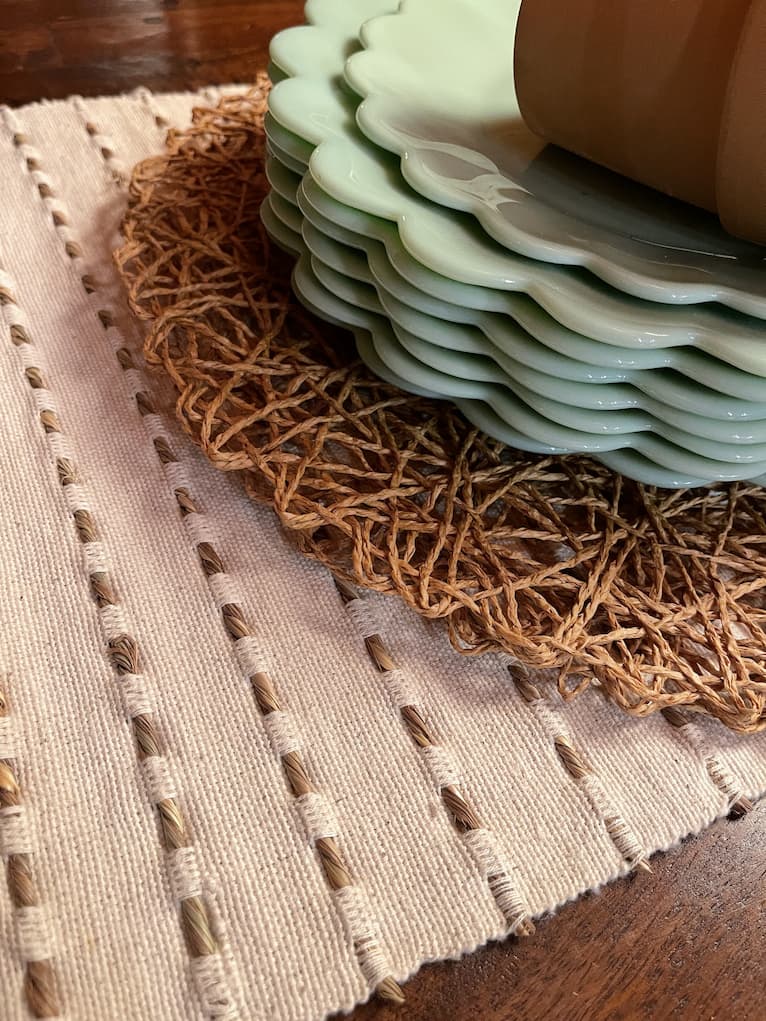 Placemats
I love using lots of texture with woven baskets and other items in the Spring. My woven placemats bring this element in.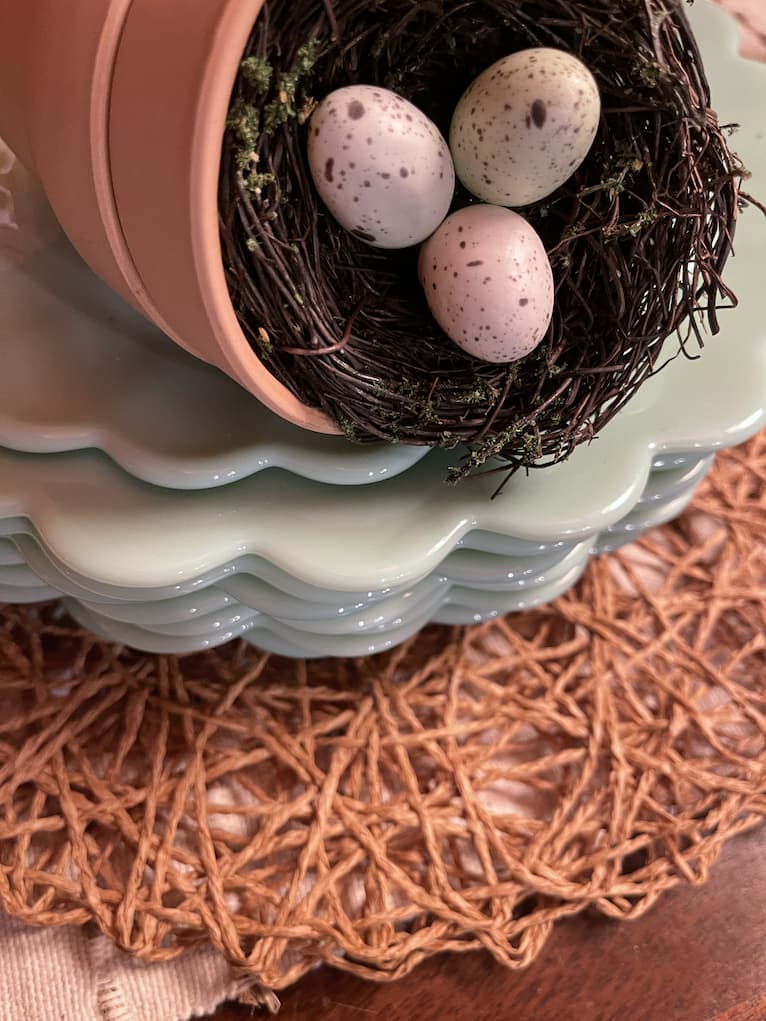 Terra Cotta
I can't wait to start working on my gardens and the addition of terra cotta pots to the centerpiece make me think of that. Here at the cabin I have one raised veggie garden (last year I did a salsa garden) and then my flower beds.
I also do big vegetable gardens and a pumpkin patch at our land further south in The Driftless Area of Wisconsin. This year I'm also adding a cutting garden there. Follow along to see see how it goes!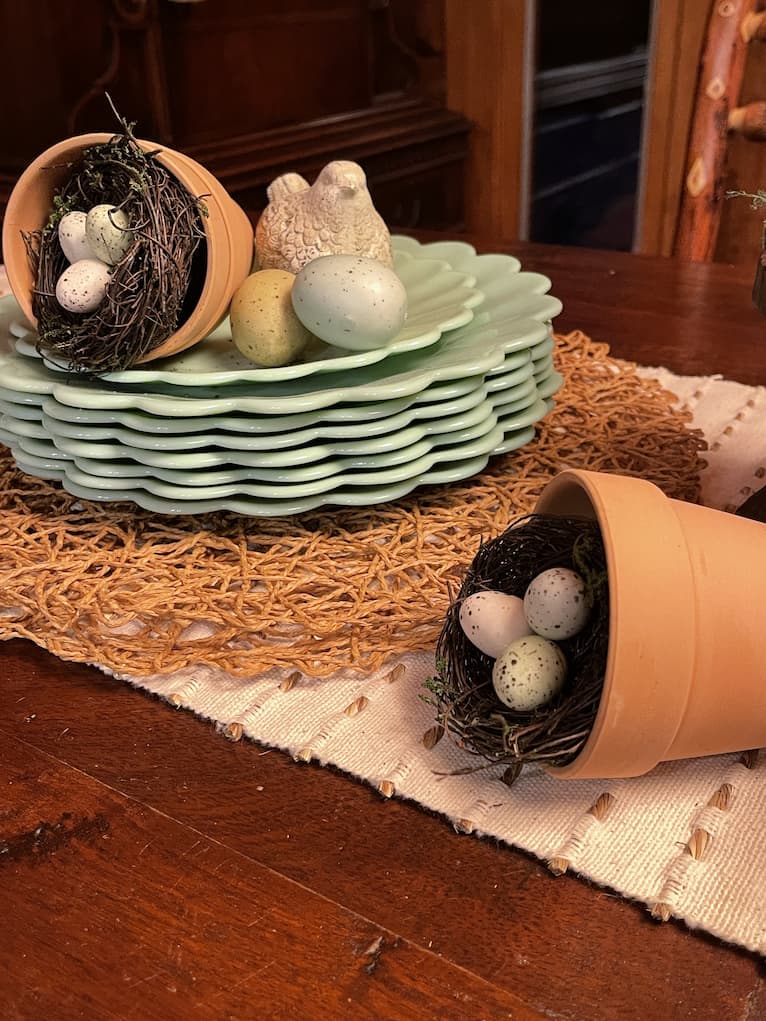 Greenery
For some of my greenery I used faux cabbage heads. i added one to this jadeite footed bowl.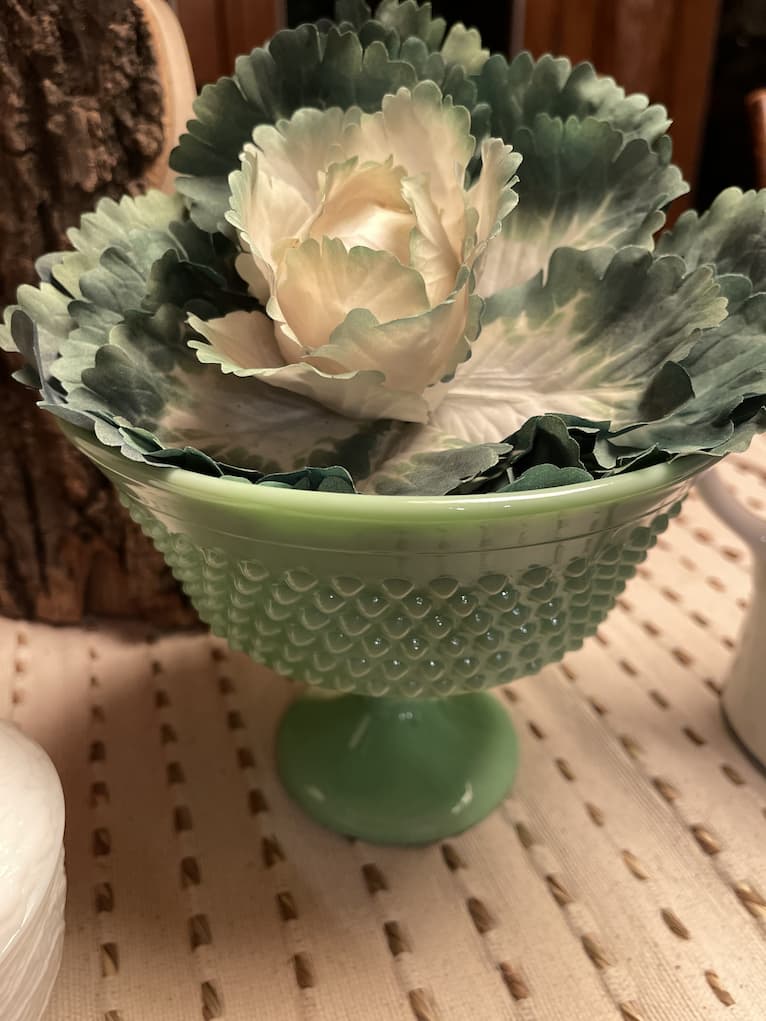 This set up took minutes and brought in not only touches of Spring with the green colors and touches of the garden in the cabbage and terra cotta, but also Easter with the bunny figure.
Thanks so much for stopping by! I hope you find inspiration from my tour and the others for your own Easter decor!
Next up you are headed down to my home state of Texas to visit my friend Laura's beautiful home where she blogs at Décor To Adore. Laura is so talented in so many ways, decorating, gardening, sewing… She inspires me so much. You'll love her Spring decor in her kitchen!
Take the Tour
County Road 407 ~ Postcards From The Ridge ~ A Stroll Thru Life ~ The Ponds Farmhouse ~ Bluesky At Home ~ Lora Bloomquist ~ Thistle Key Lane ~ Shiplap and Shells ~ French Ethereal ~ The House On Silverado ~ Everyday Edits ~ White Arrows Home ~ Décor To Adore
Get the Look


FOLLOW ALONG
Instagram ~ Facebook ~ Pinterest ~ Twitter ~ YouTube ~ Tik Tok ~ Liketoknow.it ~ Podcast