In Part Two of my Backyard Patio Remodeling Project, I'm sharing the construction and final reveal of the new patio and bar.
(Affiliate links are used for your convenience. Read my full disclosure here.)
It felt so good to check our backyard patio remodeling project off the list. The space instantly became our favorite place to hangout.
I shared about the small patio area we had before and why we wanted to reconfigure it in my Part One post.
Backyard Patio Before
Our patio space just outside our walk out basement door was not well laid out. It was small and any furniture blocked the traffic flow to the path down to the lake. There wasn't even room for our whole family to sit out there.
There was also a giant area that was just weeds and mulch and wasted space.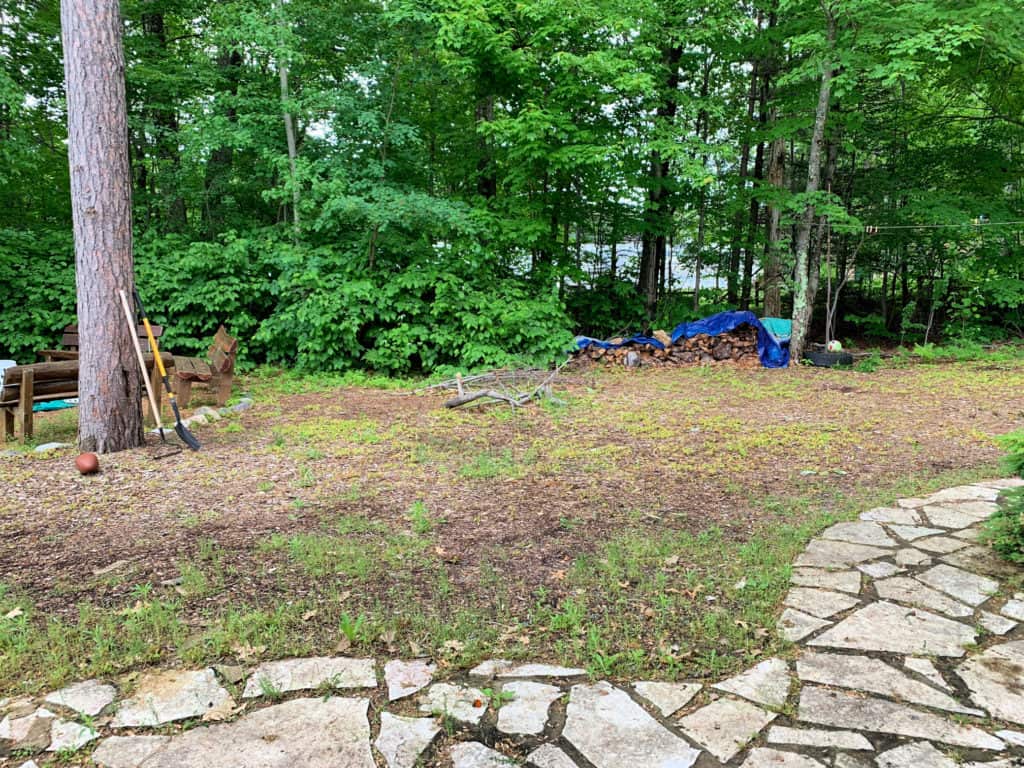 Backyard Patio Construction
So we worked with a landscaper designer to put our ideas onto paper.
Then they staked it out so we could see the actual floor plan and size.We made a few tweaks and then they began demolition removing the flagstone patio that had been there.
They were careful to save any plants that were in the area and in healthy condition.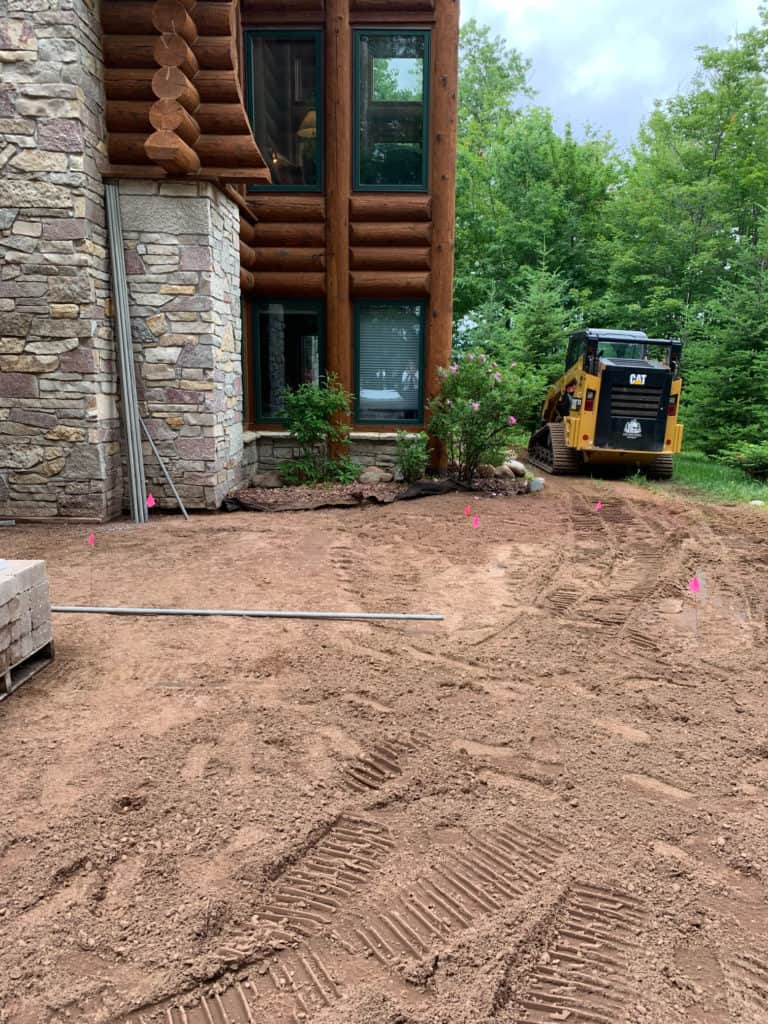 Grading the area came next and getting everything level and prepped for laying pavers.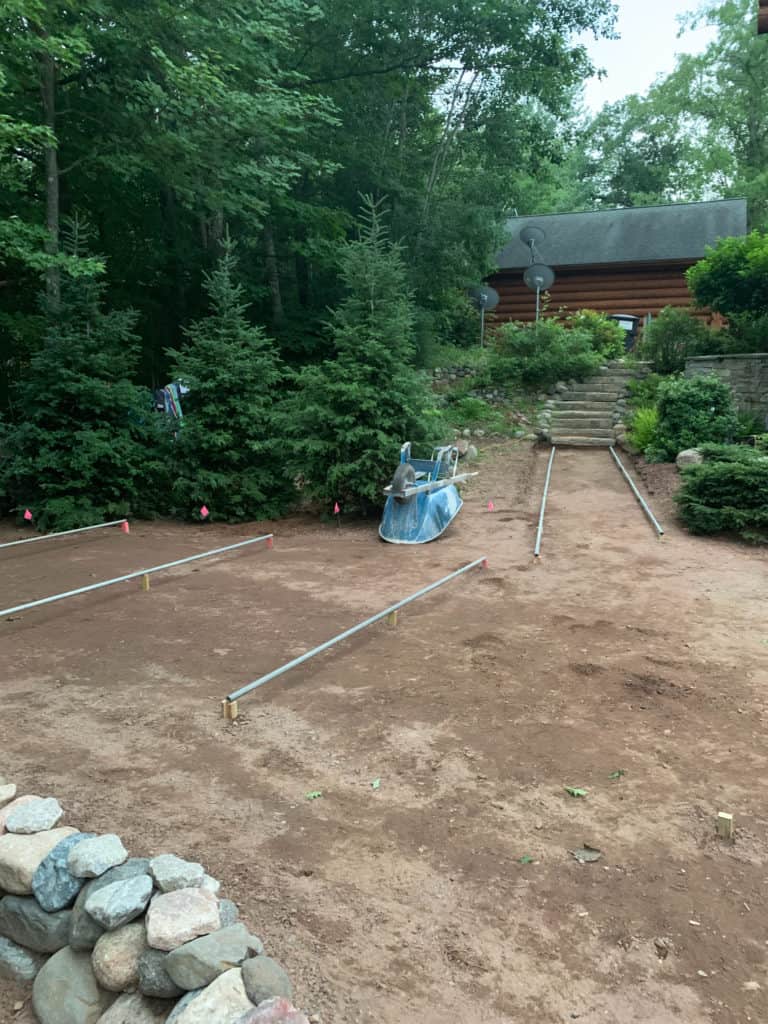 The patio would be a step up from the firepit area. Field stones would define the area for plantings.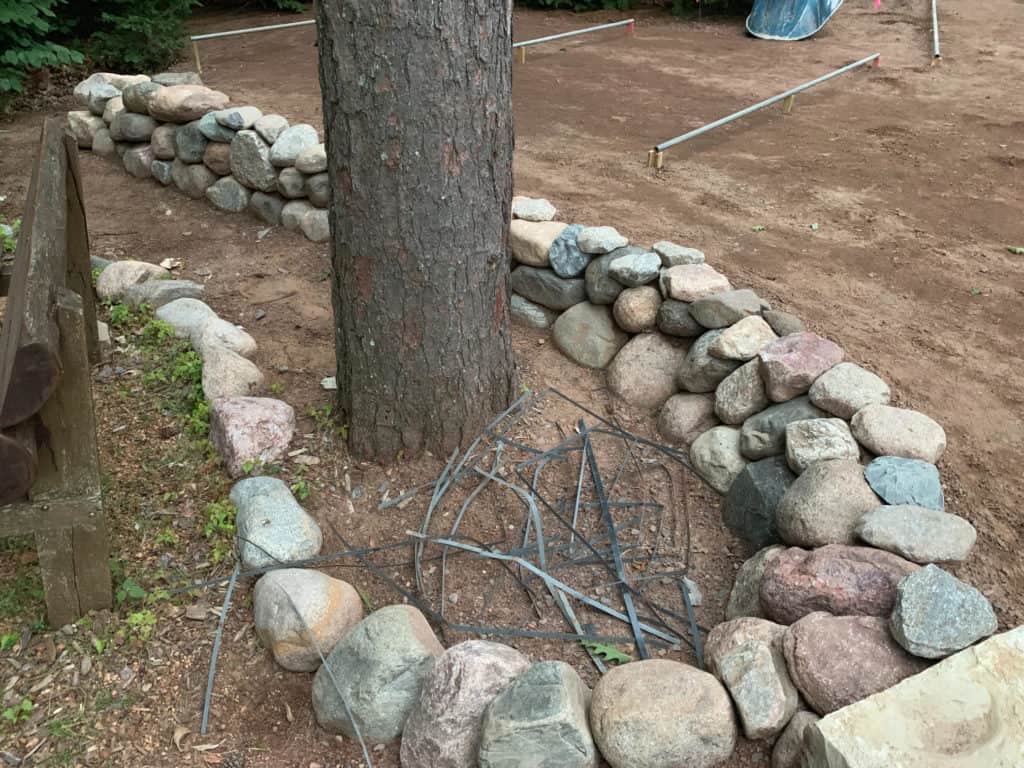 The longest part was building the outdoor bar with a built in grill. They wanted that done before the pavers. I designed it so that when my husband was grilling he would be looking out at the lake.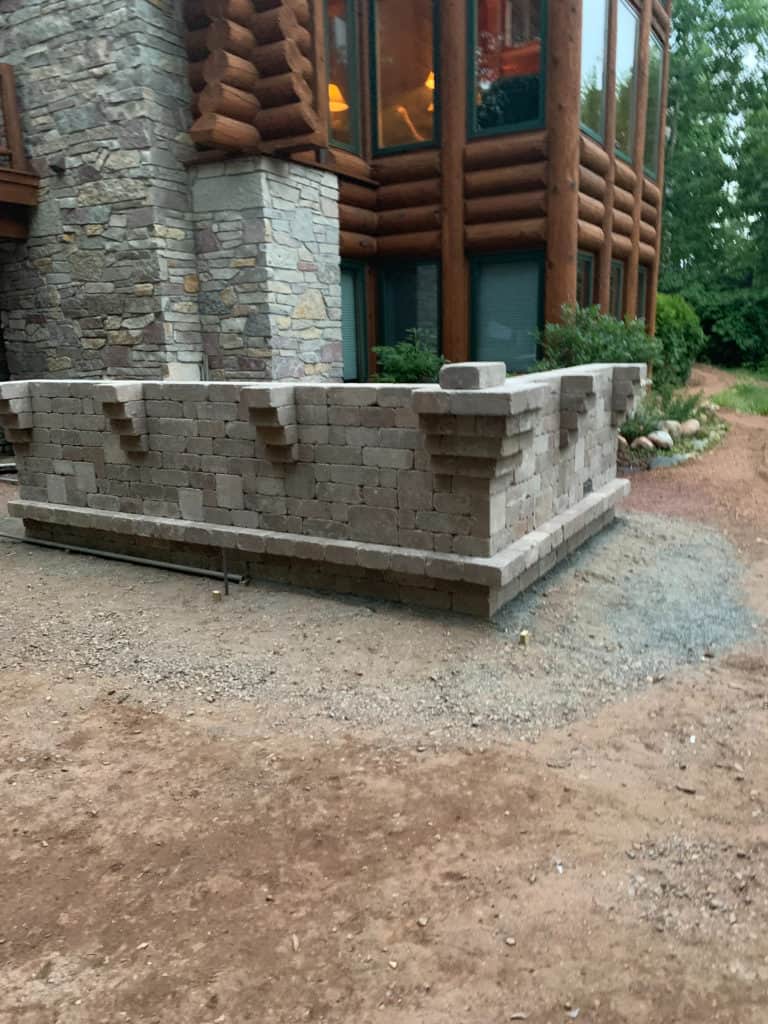 Rochester Concrete Products Lamont 6″x8″ size pavers, soldier course border, herringbone pattern at 45 degrees
Antique brown color blend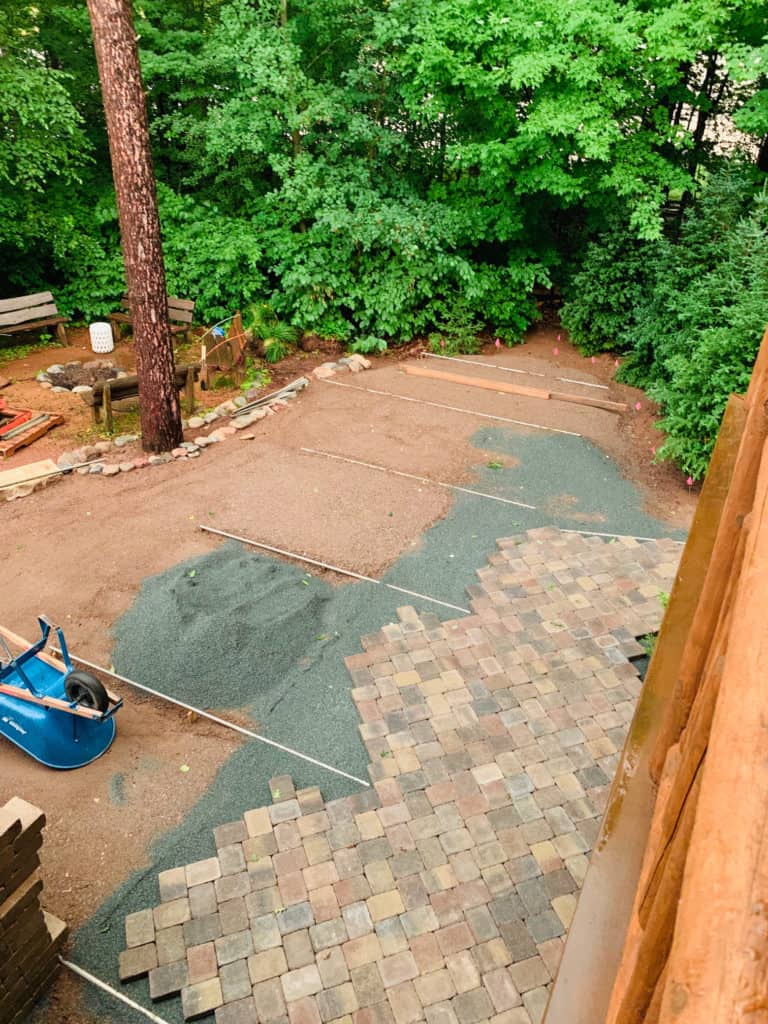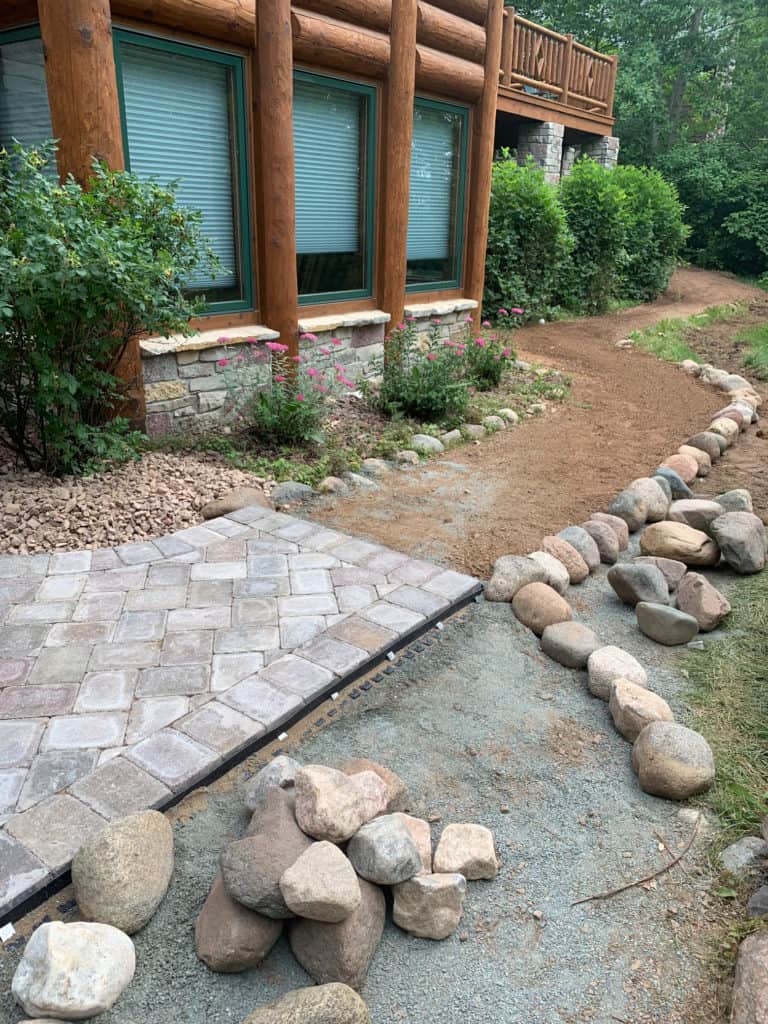 The grill was built from a kit Rochester concrete Grand Island bar with a grill, a corner return, and a 4′ bar section in Santa Fe color blend.
We did a natural stone step.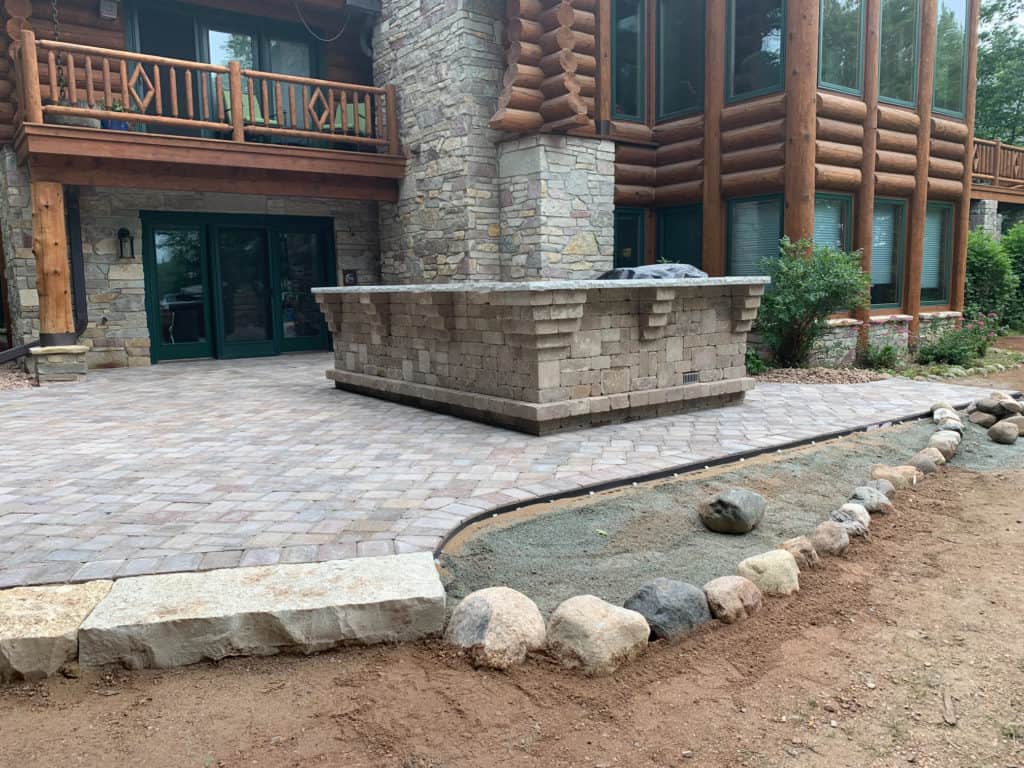 Backyard Patio Plantings
We kept the plantings simple with some Summer Beauty Alliums with shredded bark and a fieldstone border.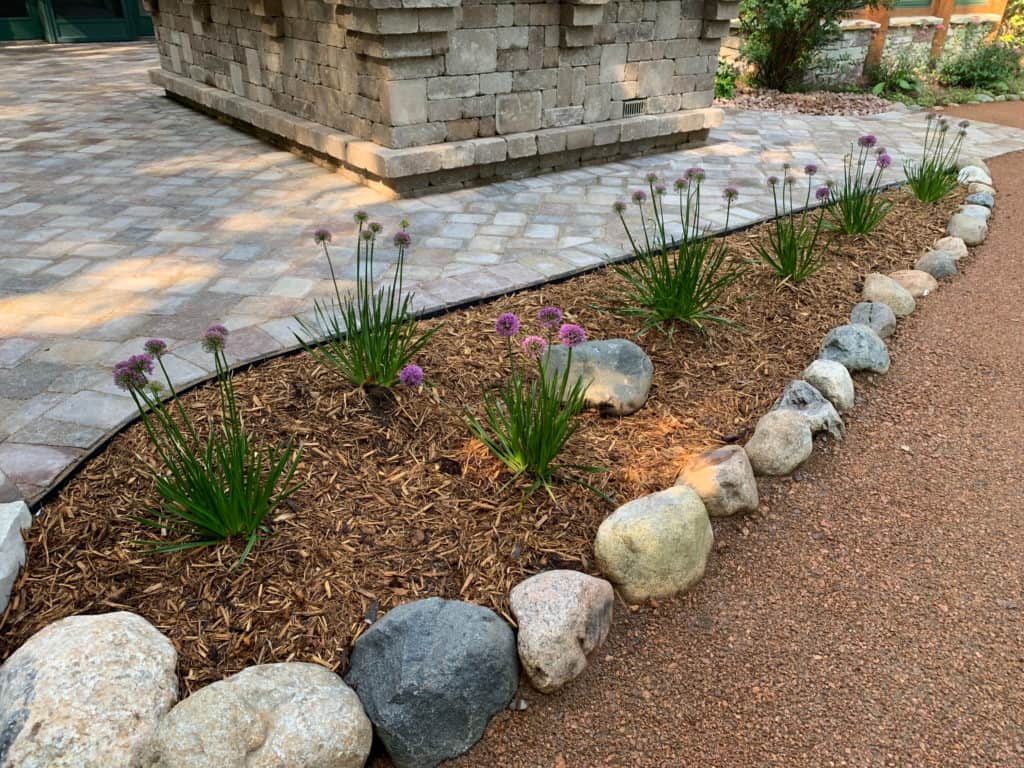 We added some Dwarf Bush Honeysuckle.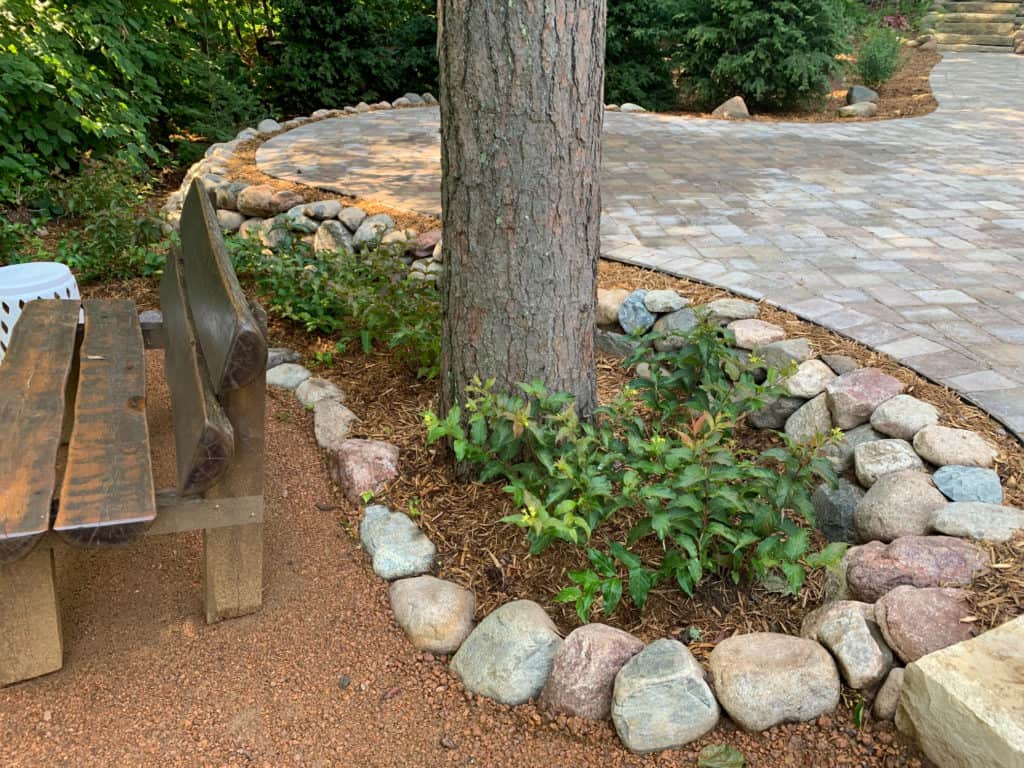 The Reveal
Then we brought in the furniture. We have an area for a dining table near the bar/grill.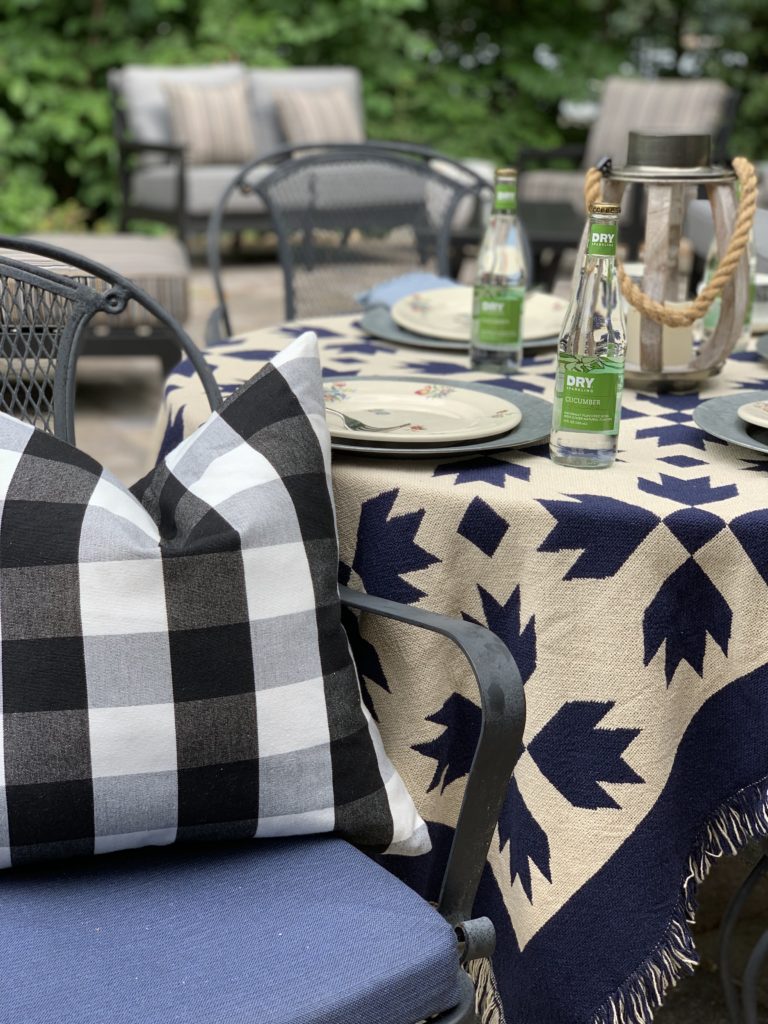 There's a spot for a seating/ gathering area. We sit here all the time with our family or entertaining friends. We sit out here to read and you'll often catch someone napping on the sofa.
It's also a great spot to still enjoy the firepit below.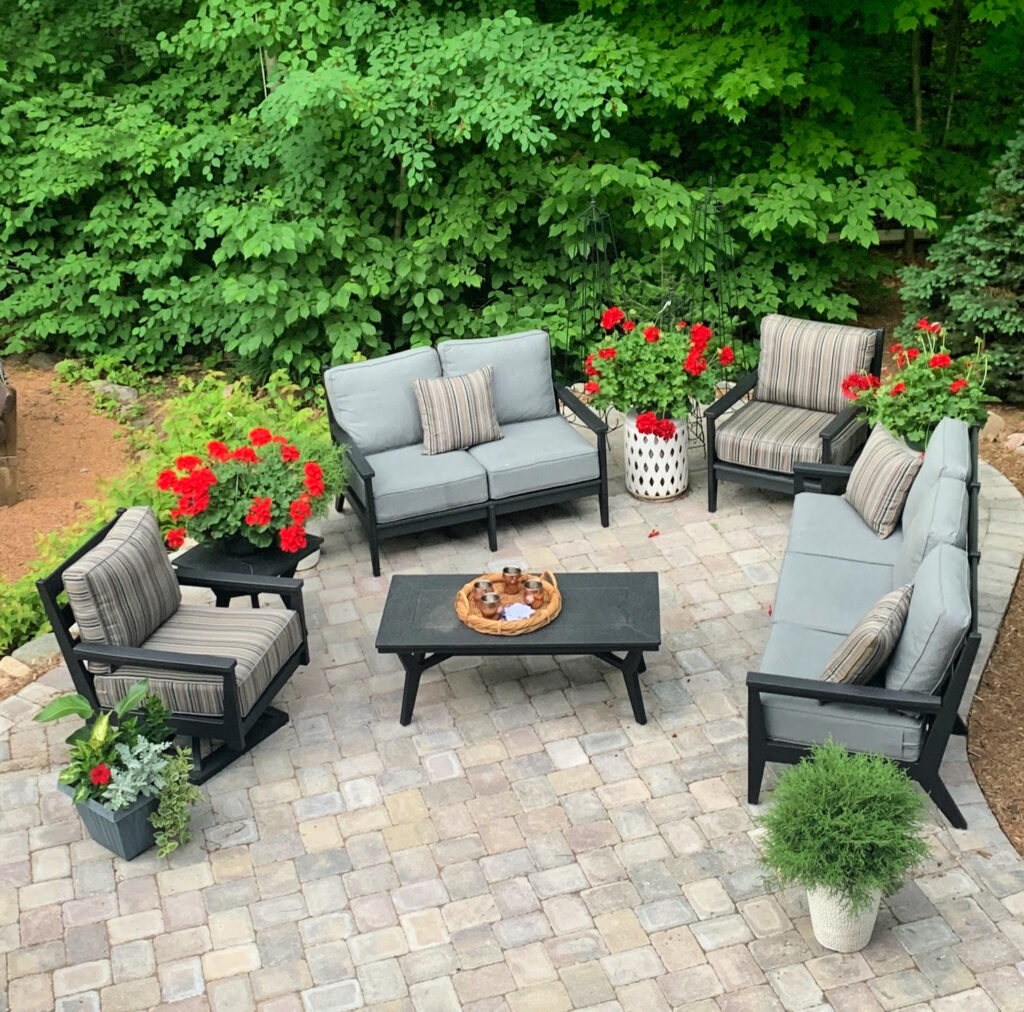 I like to decorate the corner of the bar. It's such a great counter for entertaining!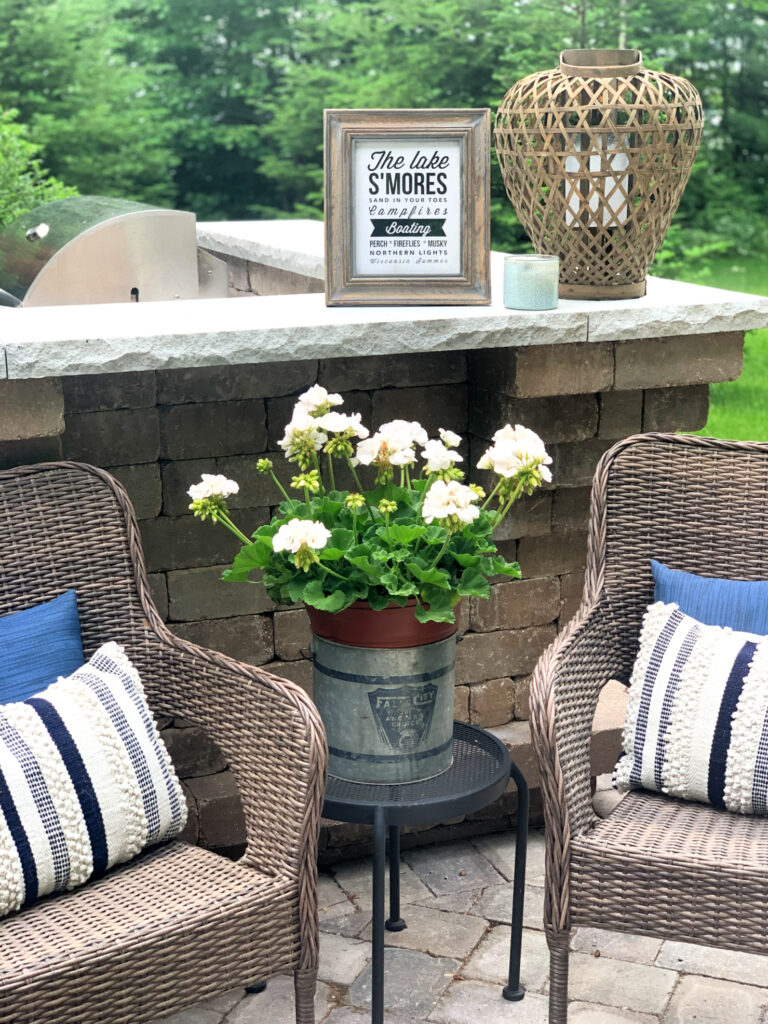 Four 8′ Balsams were planted behind the gathering area and make a gorgeous living wall to define the space.
Extra greenery and color is added with pots around the patio.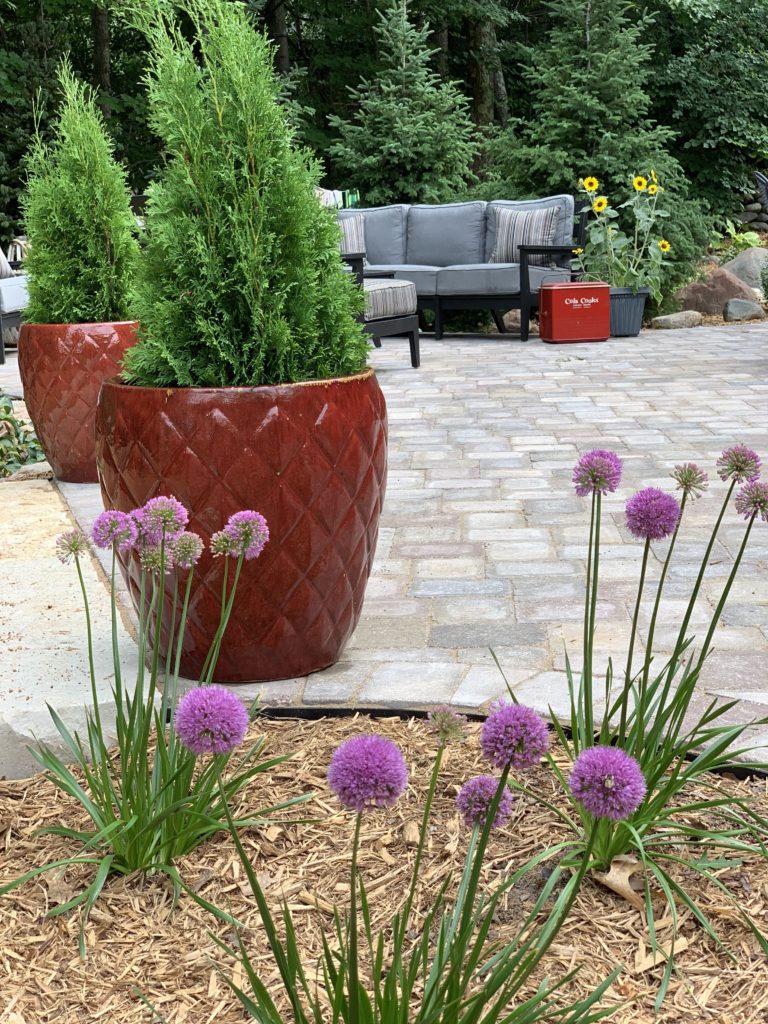 The final touch was when Brian hung the string lights over the patio and firepit. It makes the area magical when the sun goes down.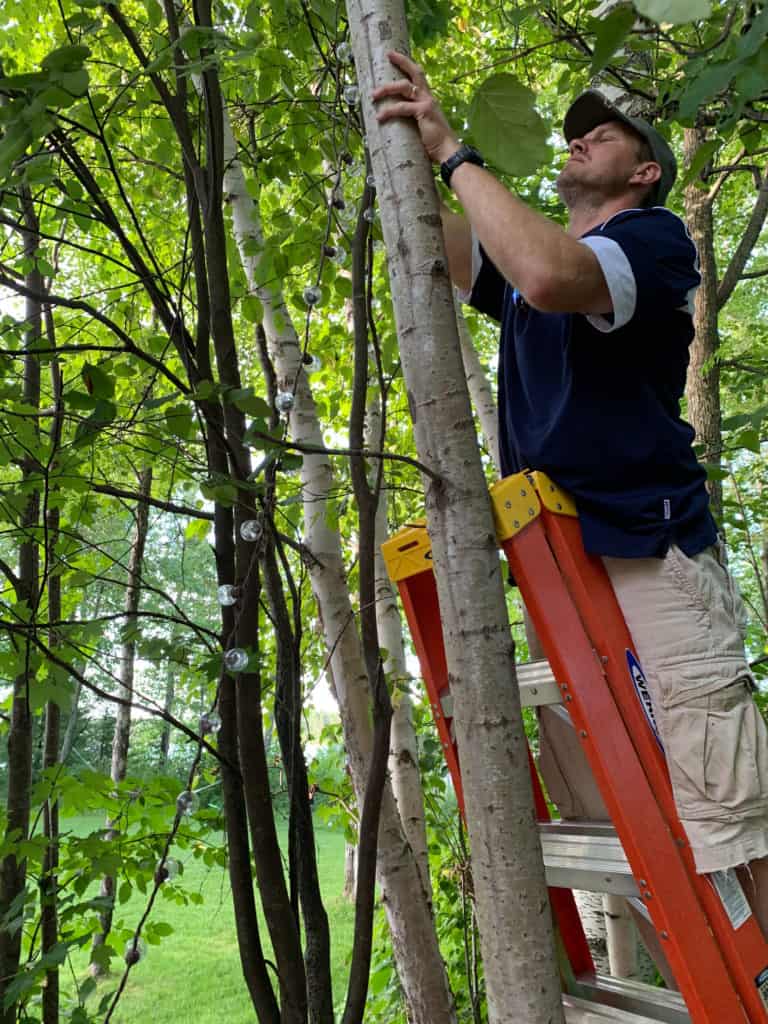 We went from a tiny area that we couldn't all sit together on, to a layout with wonderful flow. There are five distinct spaces now and where ever you are sitting you still feel a part of the whole space.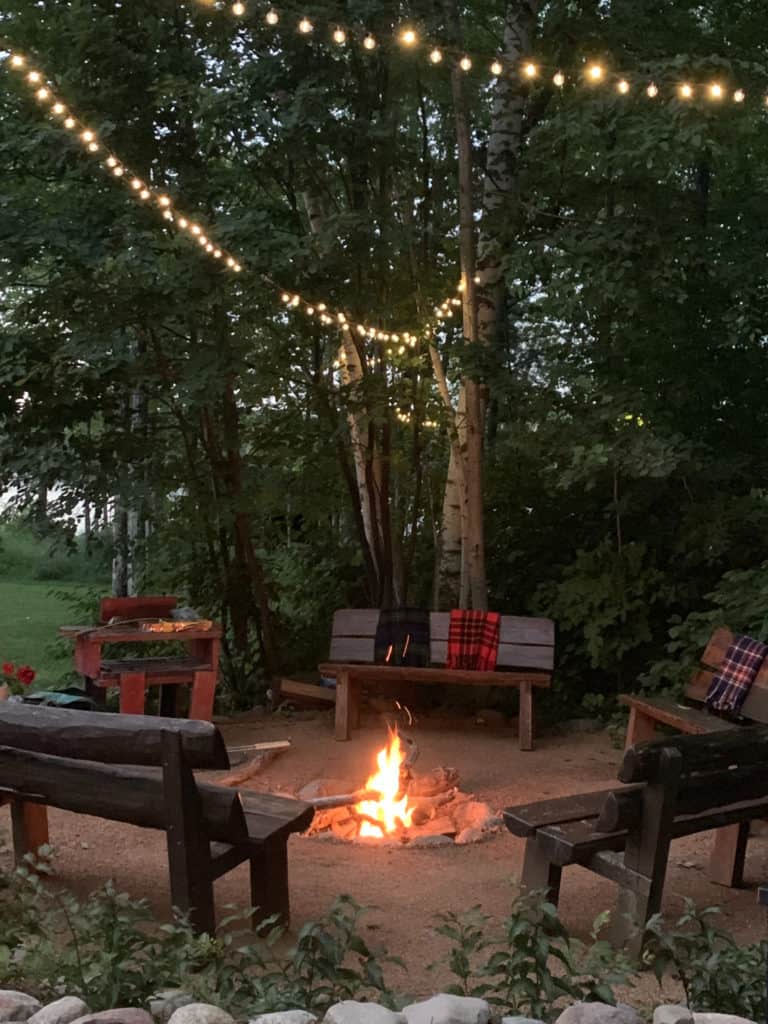 No where is too crowded and there is still room for people standing and mingling around. We couldn't be happier with the final result.
Outdoor Rooms
It's as if we have made outdoor rooms to enjoy the Northwoods days, whenever there's no snow!
Firepit
Gathering
Dining
Grilling
Outdoor Shower
The outdoor shower was already there. We had them build around it because we wanted to keep it. But we gave it some privacy. See this post for our DIY curtain.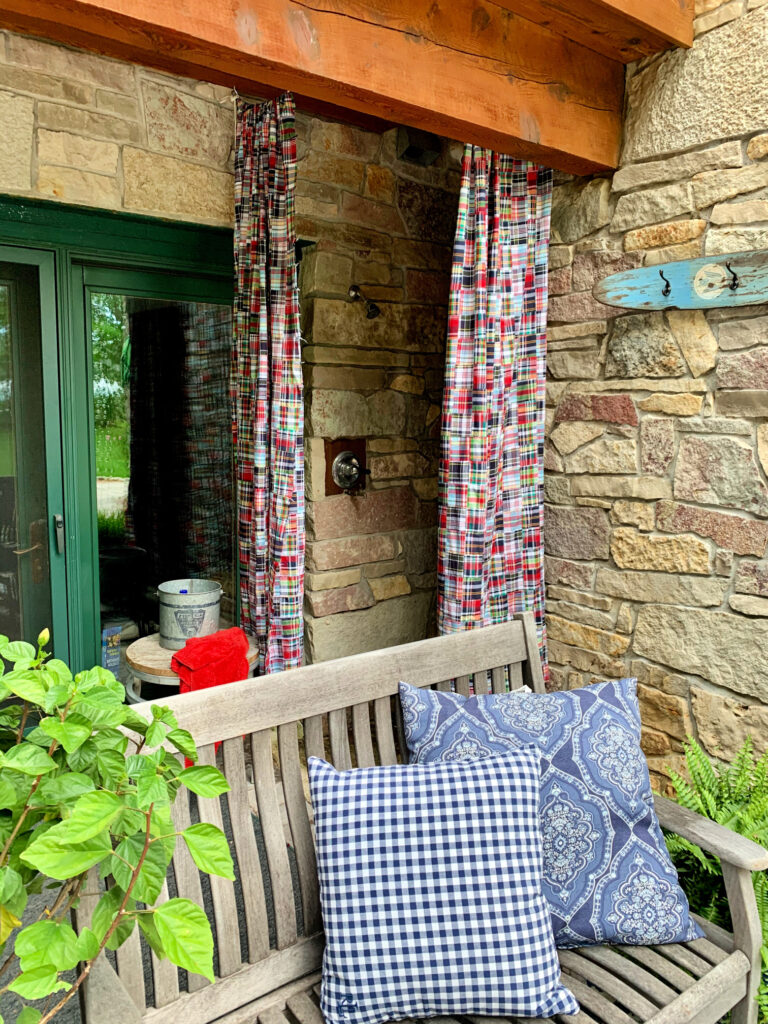 The extra mulch space by our septic got some plants too and the clothes line. When it's full of beach towels you know it's been a fun Summer day!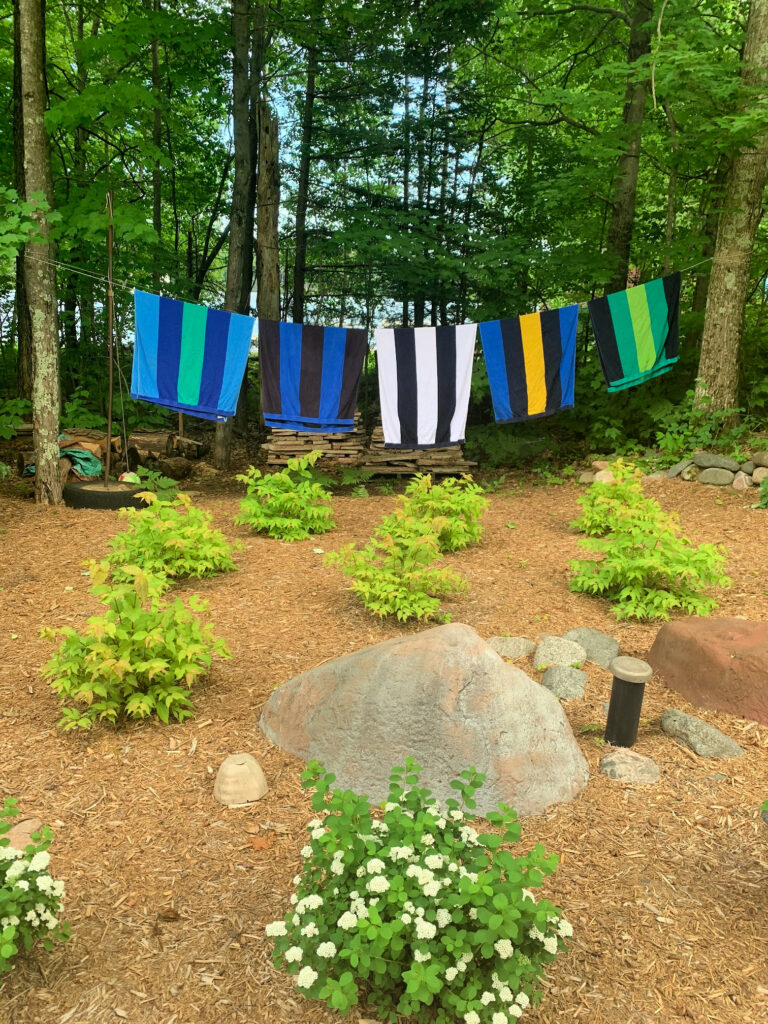 Fun Patio Entertaining Posts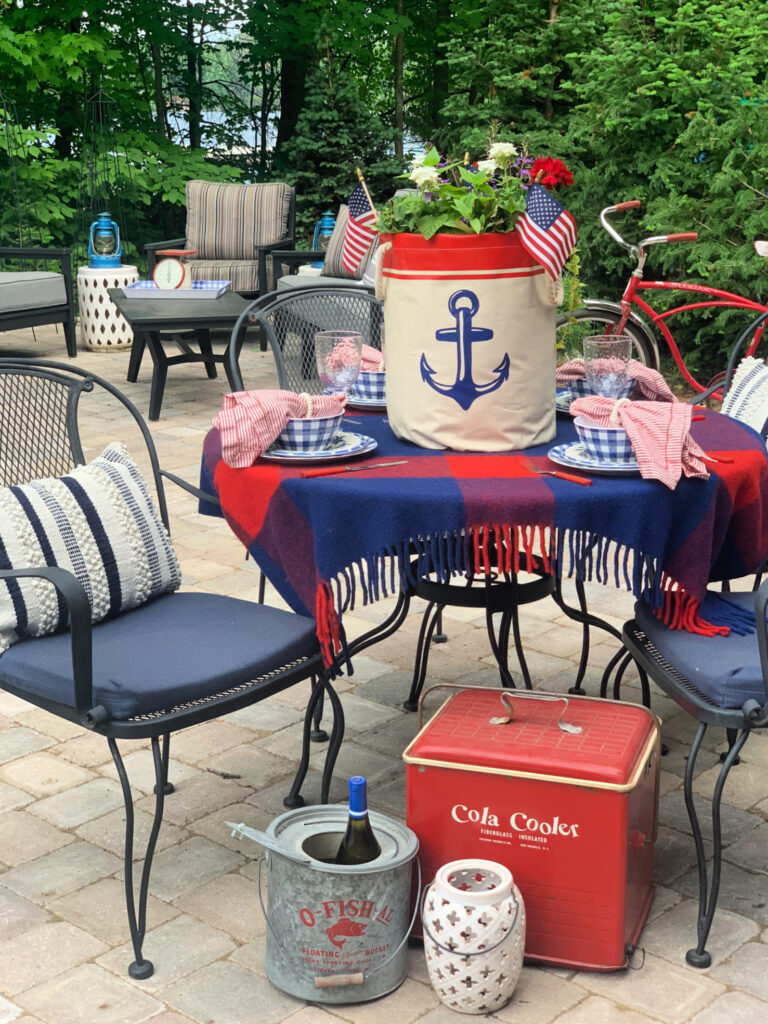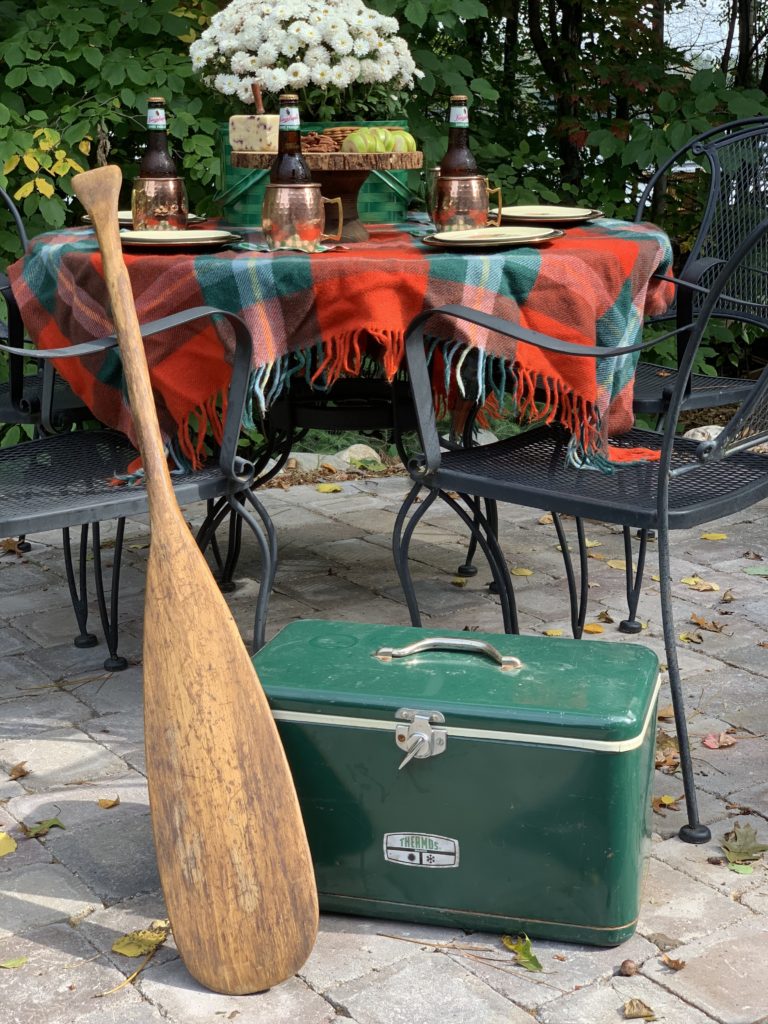 FOLLOW ALONG
Instagram ~ Facebook ~ Pinterest ~ Twitter ~ YouTube ~ Liketoknow.it