Valentine Inspiration from 15 top bloggers and my cabin home.
Do you decorate for Valentine's Day? I always think I don't have much Valentine's decor. After putting away tote after tote of Christmas, my one box of Valentine items seems so small.
I've had fun collecting Valentine decor over the years, a lot of it is vintage and stumbled upon as I'm out thrifting and at antique shops. Things catch my eye that might be Valentine themed or just in the traditional colors like reds and pinks.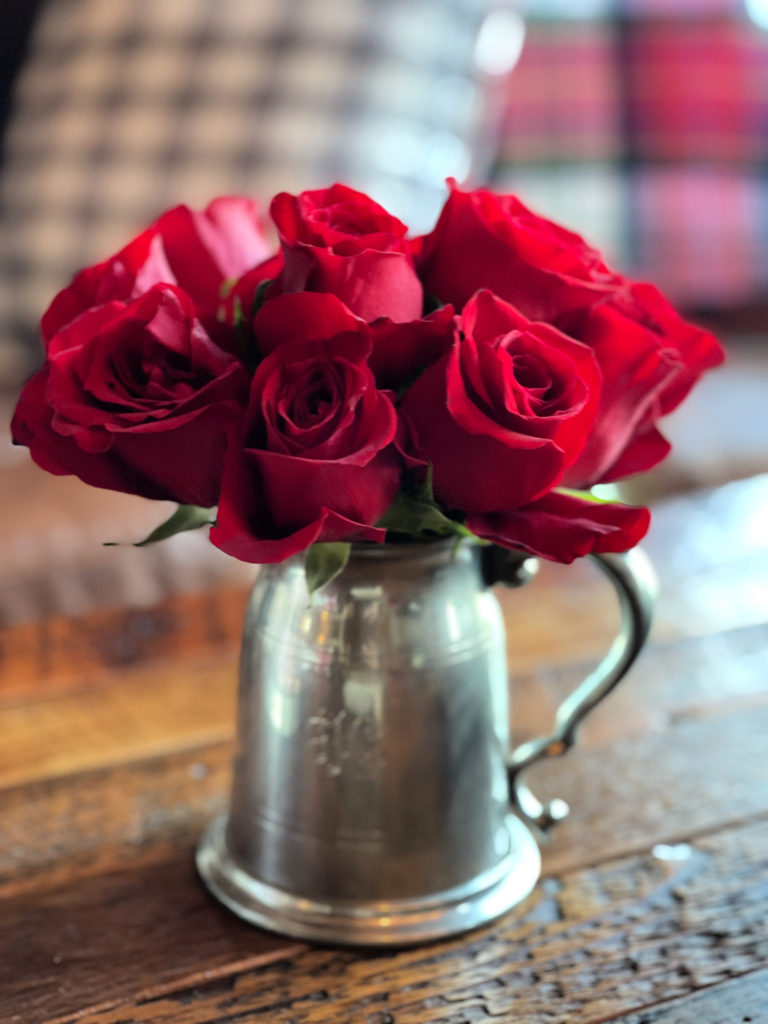 Many of the things I collect are specifically Valentine's Day decor, but can be pulled in and fit well for the season and Holiday. They can be as simple as some red grocery store roses in a pewter mug.
(Affiliate links are used for your convenience. Read my full disclosure here.)
I'm always so honored to be part of a blog hop hosted by my friend Pasha of Pasha is Home. She pulls together such a great group of bloggers to share ideas around different seasonal themes. This month it's Valentines Day Inspiration.

You can find the links to all 15 participating blogs at the bottom of my post. You'll love reading each one and finding something that inspires you. You can save photos you want to remember into a Pinterest board to come back to later.
Usually when you hover over a photo as you are reading a blog post a Pinterest logo will appear in the top left corner or somewhere on the image. You click on that and it will take you to Pinterest to save it. Follow me on Pinterest HERE.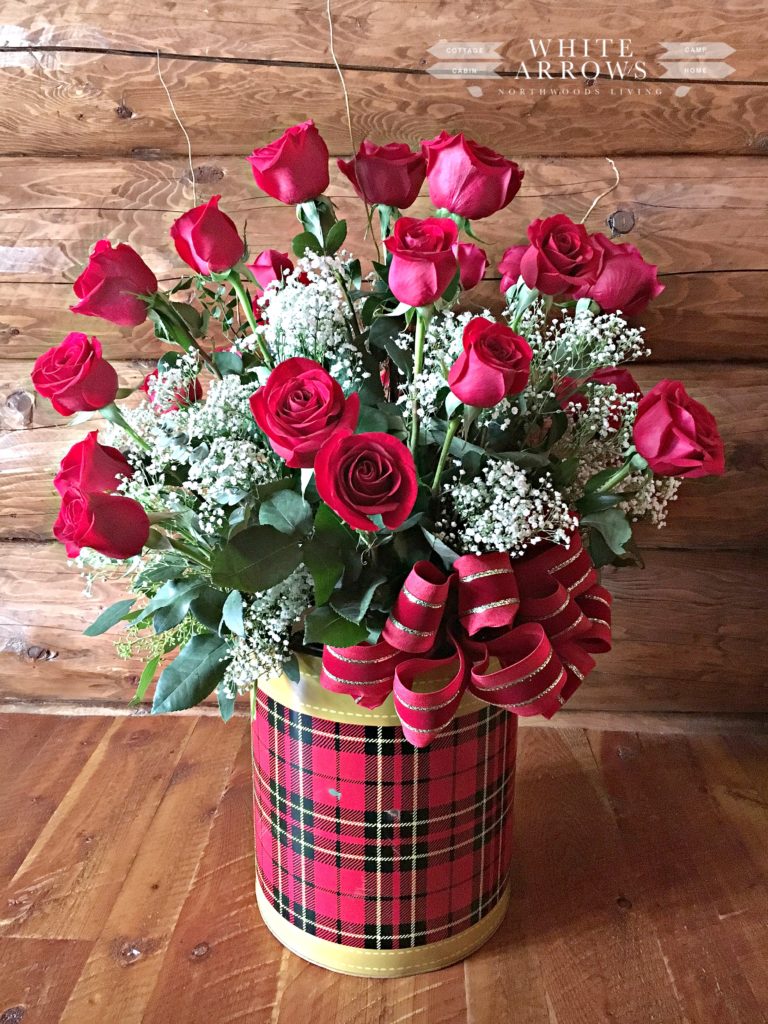 If you are coming over from my friend Ann's blog at Dabbling & Decorating, welcome to White Arrows Home. Didn't you love her Romantic Antique Table Setting? Take some time reading and exploring her blog, she has so much inspiration from her homes in Vermont and Maine- lots more tablescapes and vintage finds. You'll love meeting Ella, her Bernese Mountain dog sidekick too.
Welcome to White Arrows Home
For those of you who are regular readers, I love pulling together new posts for you and welcoming new followers as well.
My passion is encourage you as I share my faith, through stories of family, friendship and life against the backdrop of my Northwoods lakeside cabin. I love styling my home with a mix of collected vintage finds and timeless new pieces to create spaces where everyone wants to linger longer and connect in meaningful ways.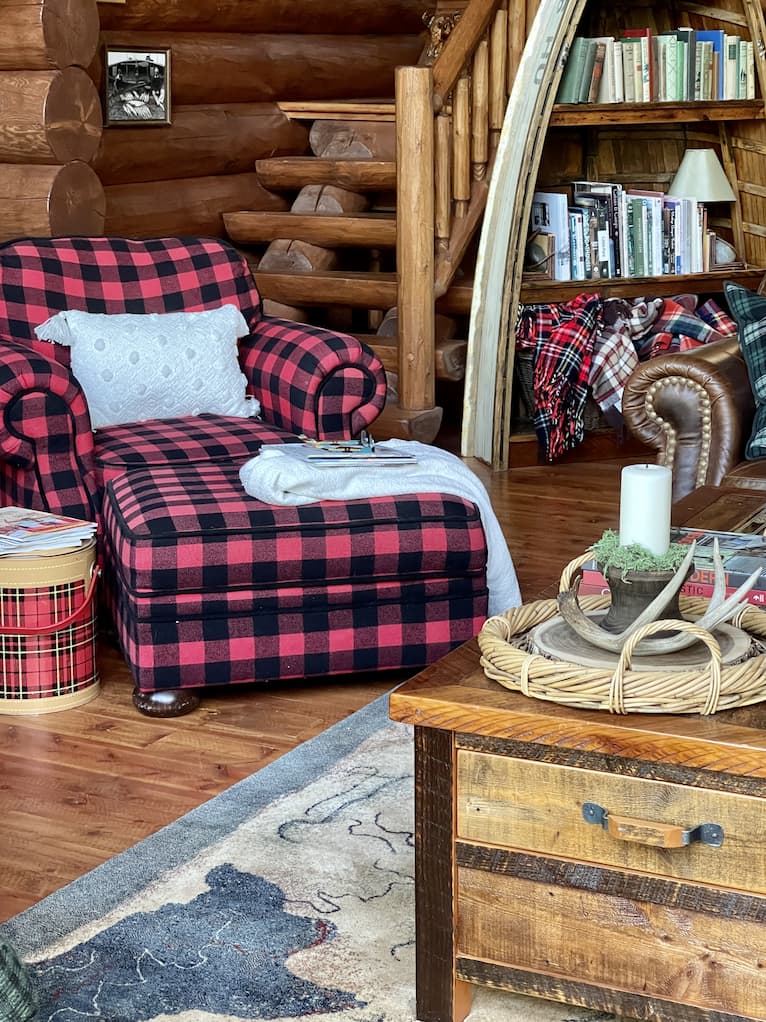 Valentine's Day Decor
I have many collections. My typewriters may be one of my favorites. I don't know if it's the writer in me. It's definitely the nostalgia. In many spaces around my home you'll see one of my typewriters. (Did you know Tom Hanks is a fellow collector?)
They are fun to add seasonal touches to with treasures like vintage Valentines.

Here are a few others around my house. I'm a self proclaimed History buff. I was a History minor in college and I married a History major. Our kids love watching documentaries and historically set shows with us. That could be what fascinates me about collecting old things. It's the stories that come with them. The pieces of time they hold. Who owned it? Where did they live? With the typewriters- did they write a love letter? Five drafts of a high school paper?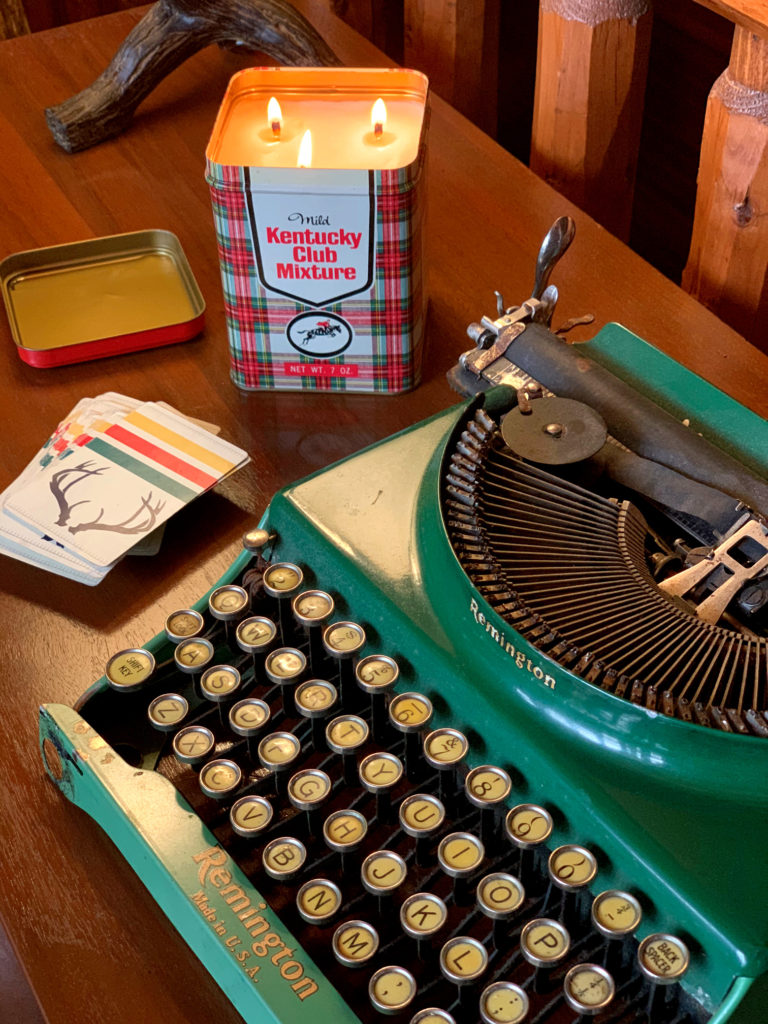 Next to my typewriter you may have noticed my plaid book of poems, The Lady of the Lake. I have a beautiful collection of plaid books, many of them are tiny with satin covers. What makes better Valentine decor than a book of poetry?
"My hope, my heaven, my trust must be,
My gentle guide, in following thee."
― Sir Walter Scott, The Lady of the Lake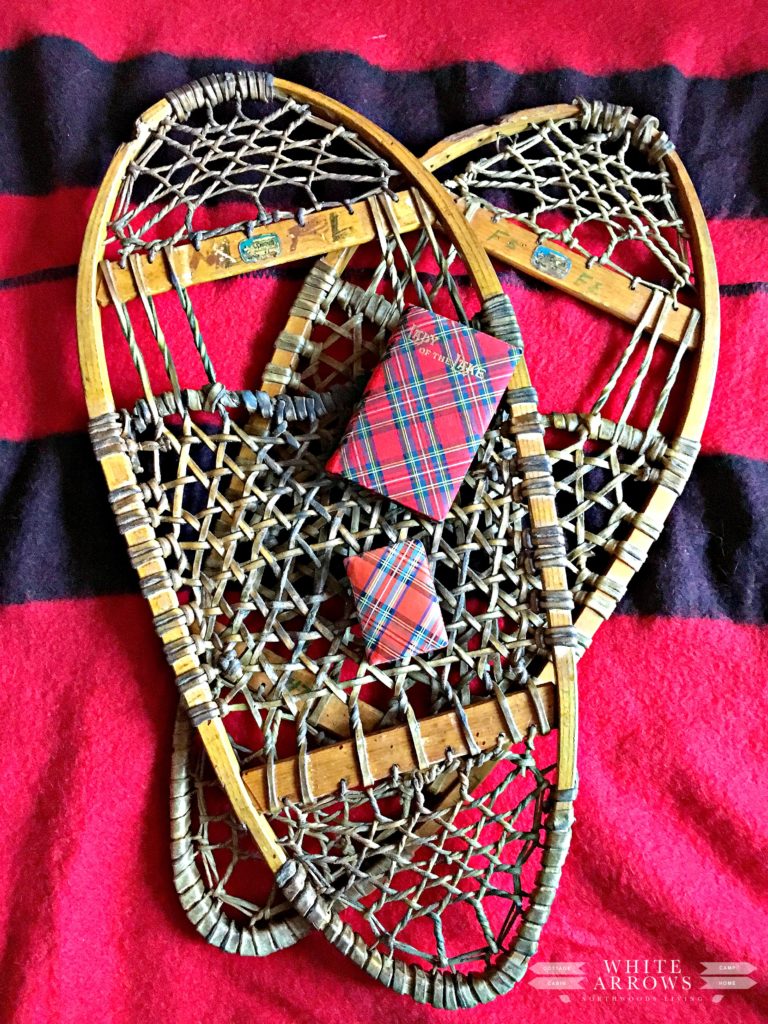 Quick Decor
It is easy to add in Holiday layers by adding in a seasonal pillow and changing out the decor on the coffee table.
I picked up this heart pillow years ago and love the little lovely touch it adds in February mixed in with my plaid pillows.
Other items I shop my house for, whether it is something from another room I move to this spot or from my storage room. I try to actually organize and style my storage room so it's easy to find things and pick out what I want to use. It helps me remember what I have.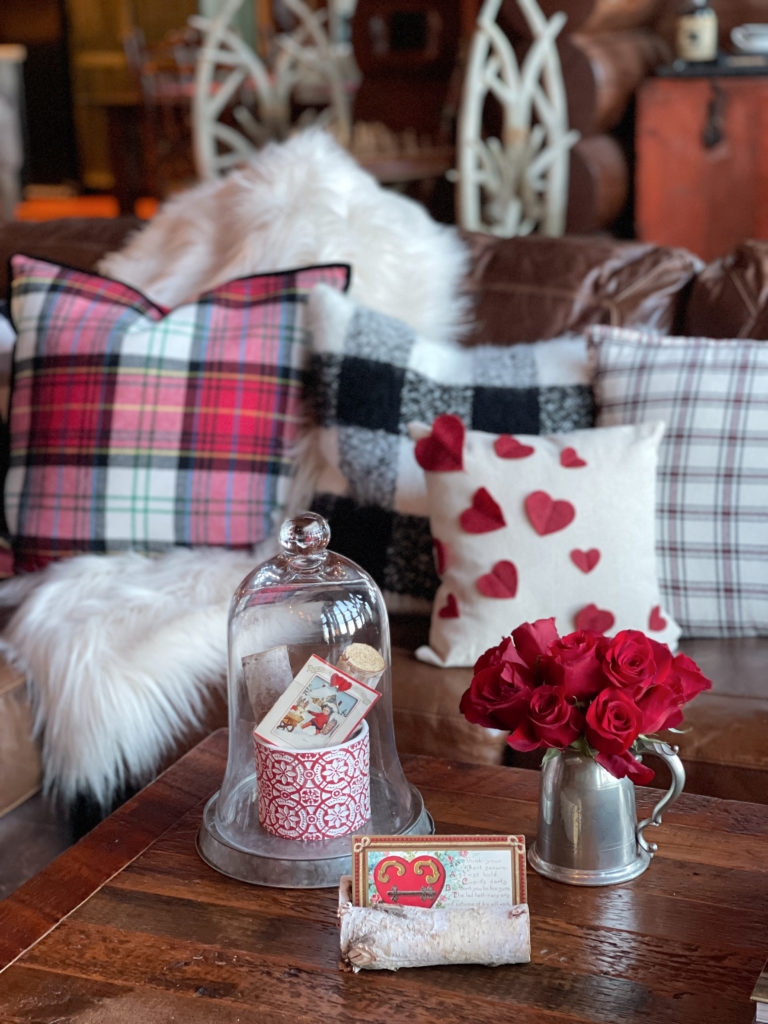 See more of how I pulled this simply sweet vignette together in this post.


We sell some really cute Valentine pillows in my shop we made from an old camp blanket. The blanket had holes in it when we found it so we thought it would be great to repurpose into pillows. 
We made large ones and small ones. The small ones are so cute spilling out on an old red tool box. My shop has brick and mortar location- White Arrows Home in Minocqua, Wisconsin. You can also shop online. The entire store is online to make it easy to shop from anywhere. We have flat rate domestic shipping for $15 and mail packages out to customers daily. 

Want to get daily encouragement? SUBSCRIBE HERE so you don't miss any posts!


We also sell these cute themed white arrows. The name of my blog and store is inspired by the nostalgic white wooden signs that line the sides of the roads here in the Northwoods pointing your way to homes, cottages and businesses. 

One of my favorite sayings is:
We Make Room For the People and Things We Love

That's how I live life. When I find a piece to add to a collection or a special treasure I bring it home and find a spot for it. It might not be out all the time. This Lovit crate is a perfect example. I loved the colors and graphics and knew it would bring a lot of joy when I pulled it out each Valentine's Day.
I love using vintage items as vases and pots. Here's a post I wrote with lots of ideas.

It works great to hold warm vintage camp blankets by the fireplace too. I keep my blankets scattered around so they are easy to access and curl up with.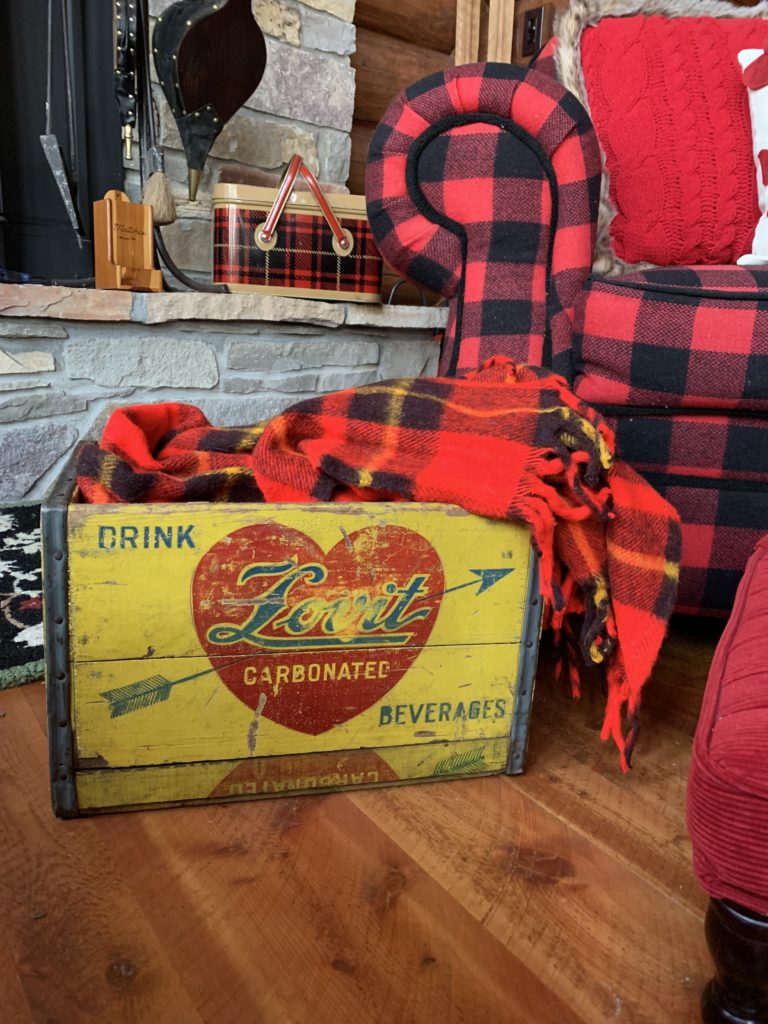 Simple Valentine Vignette
I usually gather items together on my breakfast table to see what I have and then I start creating. When I'm decorating I get lost in the fun of it and I give myself the grace to do so because I consider it art. It's a gift that those of us who love to style our homes were given to show our love to others.
I put this vignette together by just starting to stack. Old soda crates in reds and whites were the base and then I worked on varying the heights of items to display.
I love how it looks against the backdrop of our wood walls.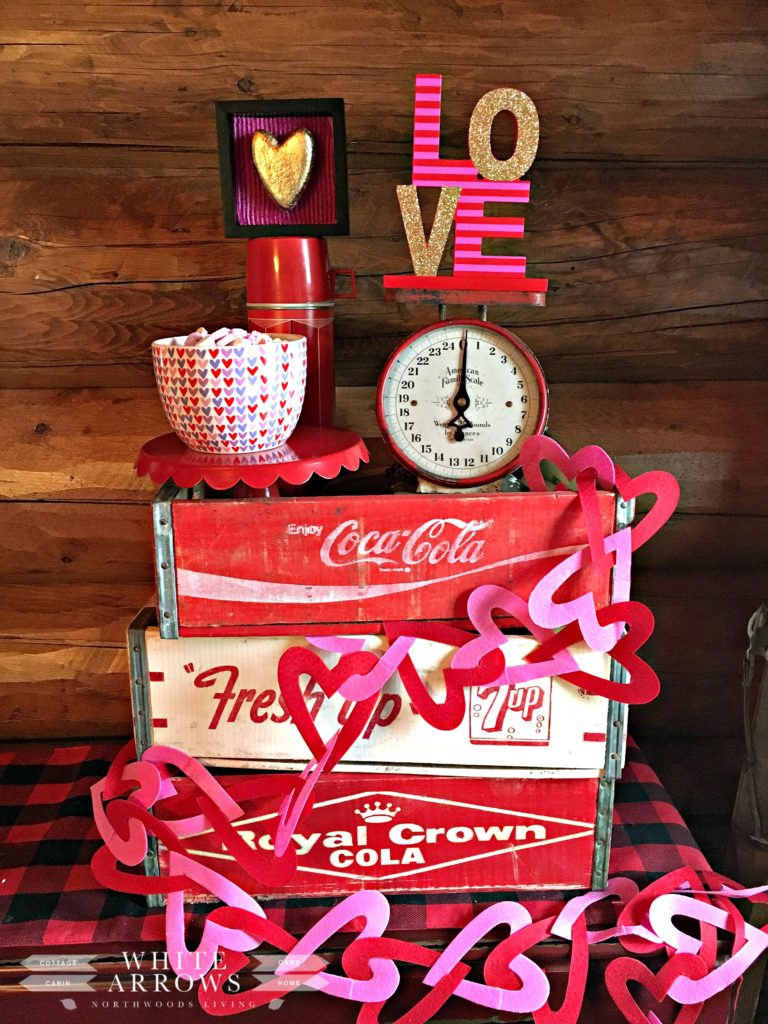 Next up you are headed over to Paint Me Pink. She has the cutest DIY for heart shaped tea bags. I can't wait to try them myself!
Thanks so much for stopping by! I hope you'll come often so we can connect. Use the comments below to start a conversation and follow me on all my social media where you can "hang out" with me each day.
I share a LIVE conversation over coffee over on Facebook each week.
I'm also popping in often on my Instagram stories daily.
I've got two Facebook groups to connect more with followers who love vintage and love to read.
Follow me on Twitter for your Daily Fill Up of Fun Features that are inspiring me and I can't wait to pass on.
Get quick visual inspiration over on my TikTok.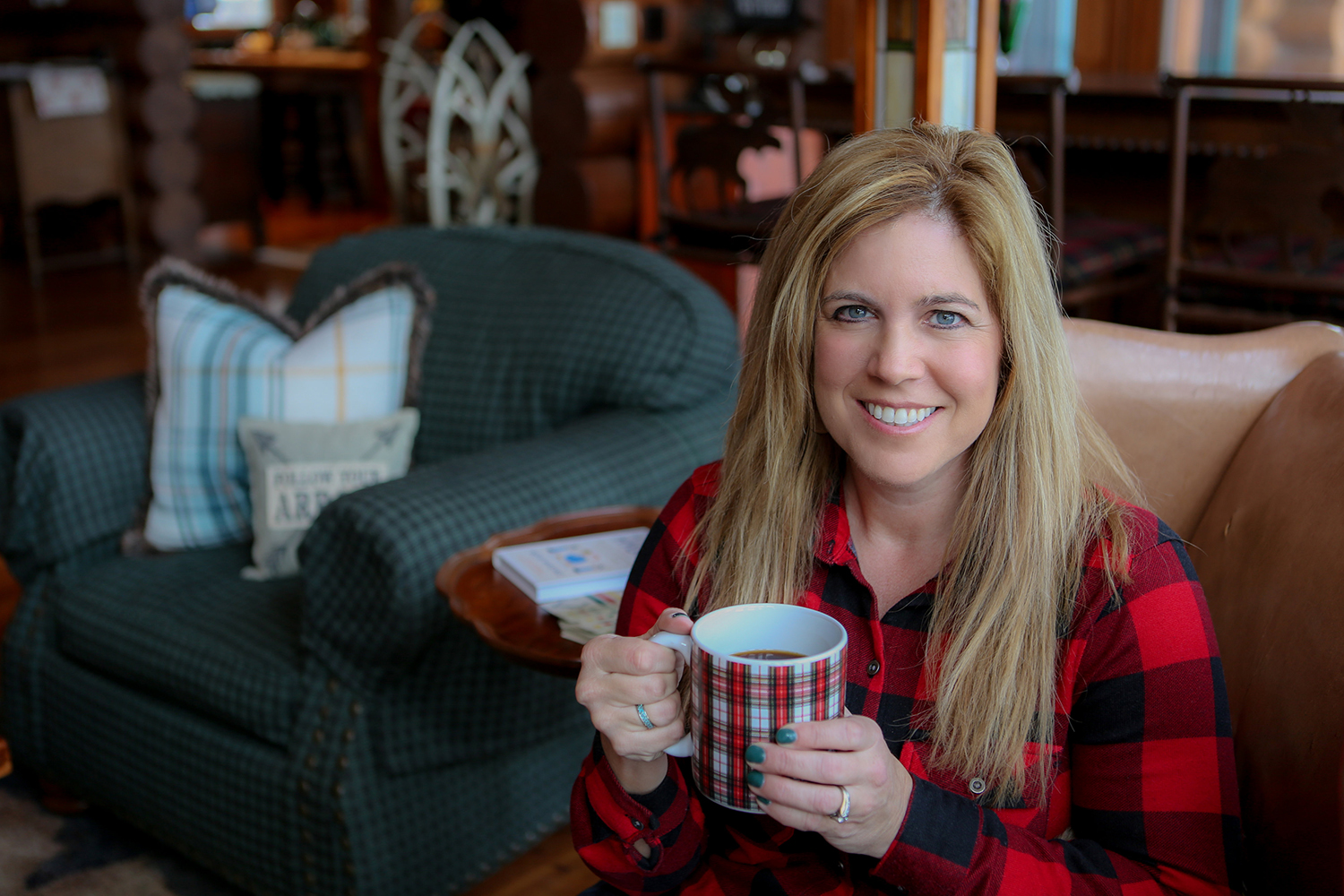 Take the Tour
More Valentine's and Galentine's Inspiration

How to Keep Your Valentines Day Decor Simple yet Pretty // Pasha is Home
5 Decor Ideas to Show Your Home Some Love this Valentine's Day // Shiplap and Shells
At Home Valentines Ideas // Sand Dollar Lane
Cozy Valentine Bedroom Ideas // The Pond's Farmhouse

How To Set A Beautiful Valentine's Day Table Setting // White Lilac Farmhouse
Shades of Pink Valentine's Home Tour // Willow Bloom Home Blog
Romantic Antique Table Setting with Thoughtful Design // Dabbling and Decorating
Beautiful Valentine's Decor Inspiration // White Arrows Home

Heart Shaped Tea Bags DIY // Paint Me Pink
How to Make Easy DIY Valentine's Tree Ornaments // Simply 2 Moms
How to Create an Updated Vintage Look For a Delightful Centerpiece // County Road 407
How to Make an Easy Valentine's Garland // Cottage in the Mitten

Cocktails for Galentine's Day // A Life Unfolding
Handwritten Valentine's Day Love Letter // My Sweet Savannah
Last Minute Valentine's Day Gifts // Southern Crush at Home
FOLLOW ALONG
Instagram ~ Facebook ~ Pinterest ~ Twitter ~ YouTube ~ Tik Tok ~ Liketoknow.it