St. Patrick's Day Decor Ideas from thrifted vintage finds and simple DIYS perfect for any home.
Do you decorate for St. Patrick's Day? I have only a few pieces specifically for the holiday, but bring in other vintage finds and easy DIYs to celebrate and kick off Spring.
(Affiliate links are used for your convenience. Read my full disclosure here.)
I'm joining seven other bloggers sharing ideas for St. Patrick's Day decorating in a Celebrate the Holiday Hop hosted by Carol of Bluesky at Home. This truly is a home and garden tour with inspiration for decorating, DIYS, recipes and plants within the eight posts. Find links to each one at the bottom of this page.

If you are coming over from Feet Under My Table, welcome to White Arrows Home.I'm sure you are just like me and found so much inspiration from her simple ways to celebrate St. Patrick's Day.
Welcome to White Arrows Home
Where I live way Up North in The Northwoods of Wisconsin we are still covered in feet of snow, but St. Patrick's Day gets my mind slowly shifting toward Spring. Here's a view of my log cabin home just as everything starts to bloom.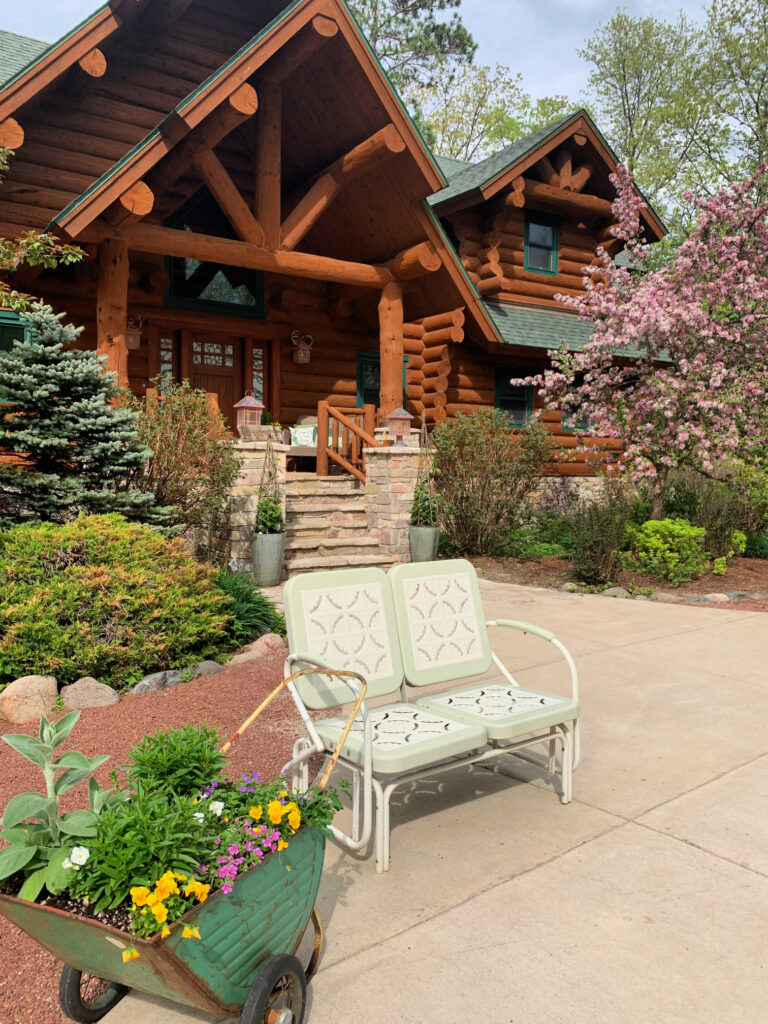 Want to get daily encouragement? SUBSCRIBE HERE so you don't miss any posts!
Decorate With Greens
Our Springs do come late. Snow often falls here into May. But bringing in some green to my decor inside and out starting after Spring Break in March gives my eyes the color its starting to crave.

Just switching out the view on your porch is a great way to bring in a new season or holiday. For St. Patrick's Day I layered green rugs and throw pillows. This wreath was an easy and inexpensive DIY (every supply from Dollar Tree ). You can read more about HERE.
Vintage Seasonal Finds
I don't own a lot of St. Patrick's Day decor. When the kids were little I had a few leprechauns I found at a garden store. They would build leprechaun traps and on the 17th they would catch one and his gold coins.
Now that my kids are older, my decor is pulled together as I shop my house for green items or vintage items I've found out thrifting and at antique shops and vintage markets.
The green and white on this Fiesta Jug is perfect to kick off Spring with St. Patrick's Day and keep out for weeks after too.

My vintage finds make my favorite vases. You see several examples in this post and can find more HERE.
St. Patrick's Day Vignette
My little green lantern works beautifully pulled into this St. Patrick's Day vignette. I stacked a little sign I picked up at Walmart atop antique green books.
Antique books are one of the things I'm always looking for. I'll pick them up because of their titles or their colors. I love pulling them out to add interest and height as I decorate. I call it the Art of Bookscaping. I wrote about it HERE.
This milk bottle was a fun find. I grabbed it right away because I loved the shamrock on it. Paired with grocery store tulips, it's the perfect St. Patrick's Day vase.
Living in a log cabin in the woods, I am inspired throughout my decor by nature. The wood tray is a great example and I love the texture the woven tray adds.

One of the many collections I have is old crates. I love them for their graphics and their versatile uses. This clover leaf box is definitely a favorite for exactly that reason. It's so refreshing to fill it with faux hydrangeas before real flowers break ground outdoors.
I mentioned that Spring comes late for us, so I start it with my decorating inside and out. There's inspiration IN THIS POST for decorating in Spring before flowers.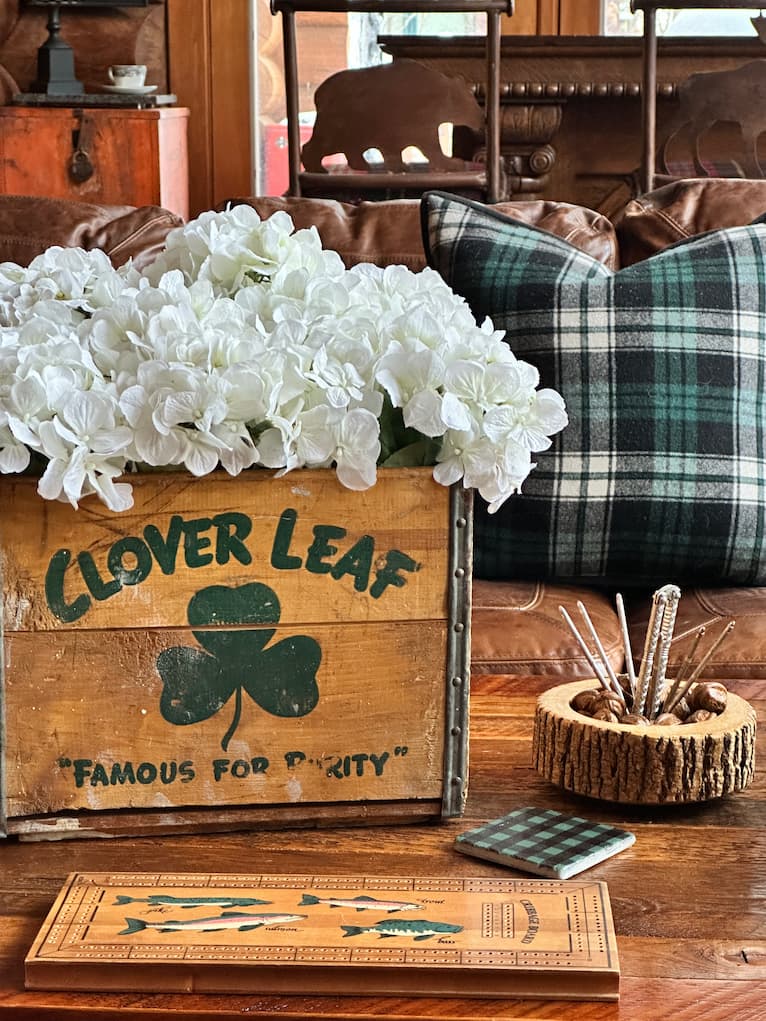 Shamrocks
A St. Patrick's Day decor must have are shamrocks. I not only love them on my vintage decor pieces like my crate and milk bottle vase, but also a live plant. This one I found at the local florist and tucked it into my sunshine biscuit tin.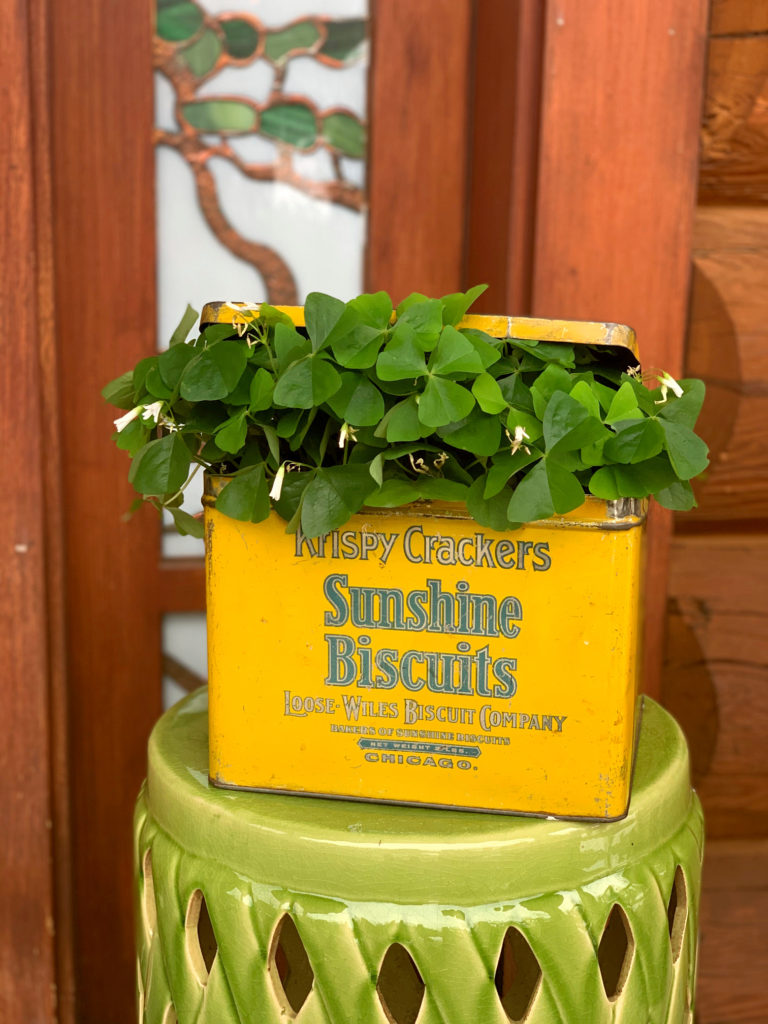 St. Patrick's Day Greens
Don't forget you don't need to have specific St. Patrick's Day decor to enjoy the Holiday.
pull together your green decor
add green plants
Here are some more examples of ways I've decorated with green.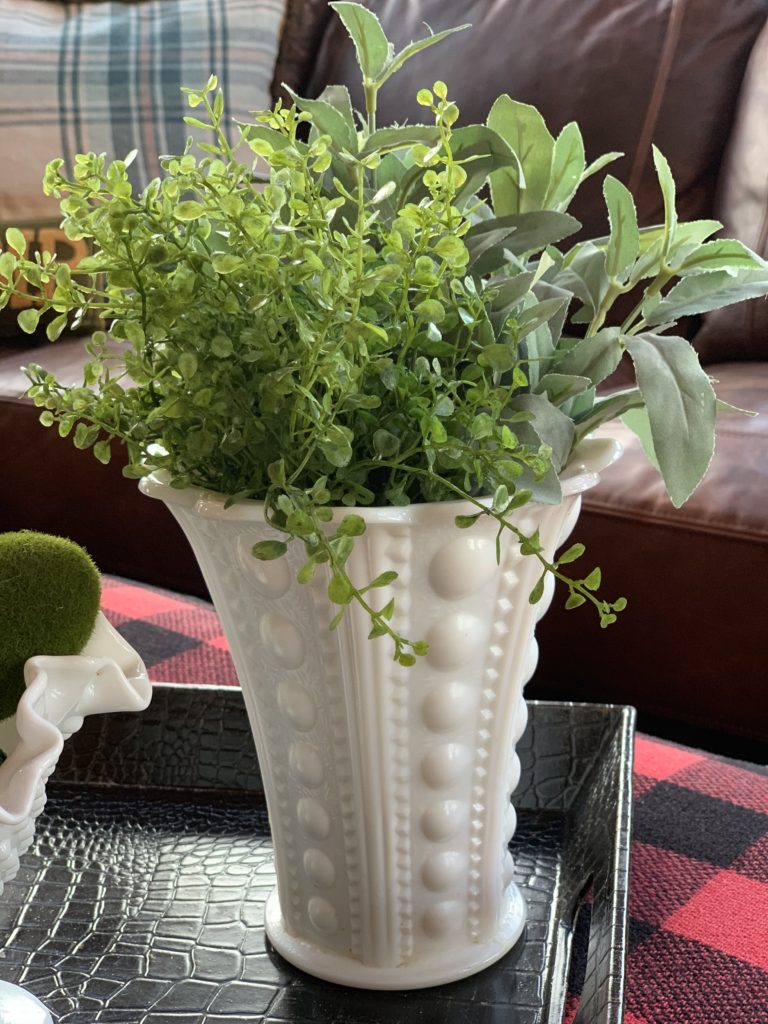 Start collecting green items when you go out thrifting. Many, like my green glass vase collection, can be brought home for just dollars. The same with green old books and glassware.
Thanks so much for stopping by! I hope you'll come often so we can connect. Use the comments below to start a conversation and follow me on all my social media where you can "hang out" with me each day.
I share a LIVE conversation over coffee over on Facebook each week.
I'm also popping in often on my Instagram stories daily.
I've got two Facebook groups to connect more with followers who love vintage and love to read.
Follow me on Twitter for your Daily Fill Up of Fun Features that are inspiring me and I can't wait to pass on.
Get quick visual inspiration over on my TikTok.
Next up on the tour is my friend Renea of Peacock Ridge Farm with a super fun idea for making a St. Patrick's Day charcuterie.
Take the Tour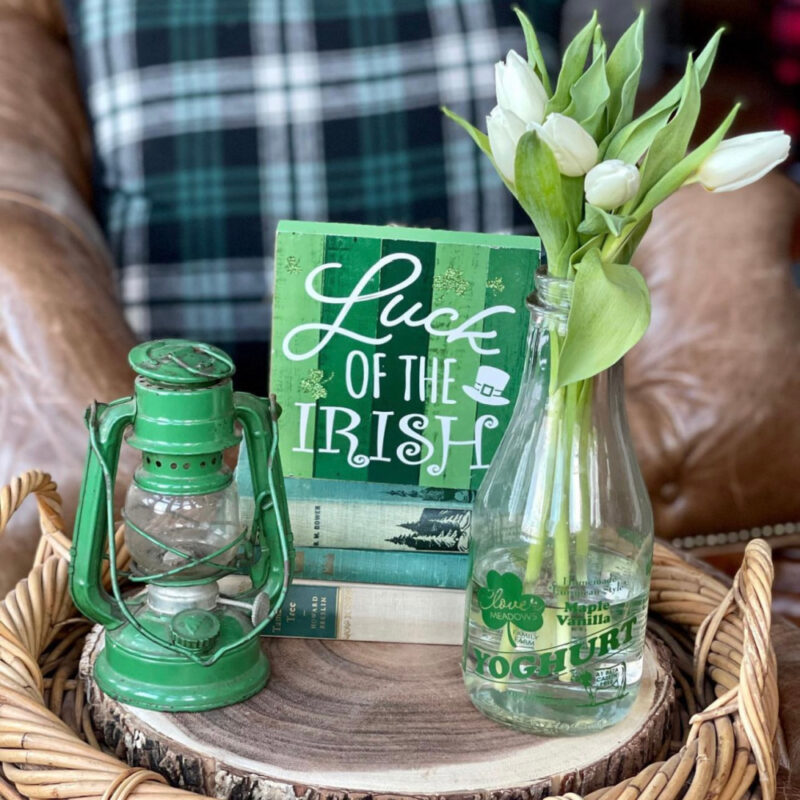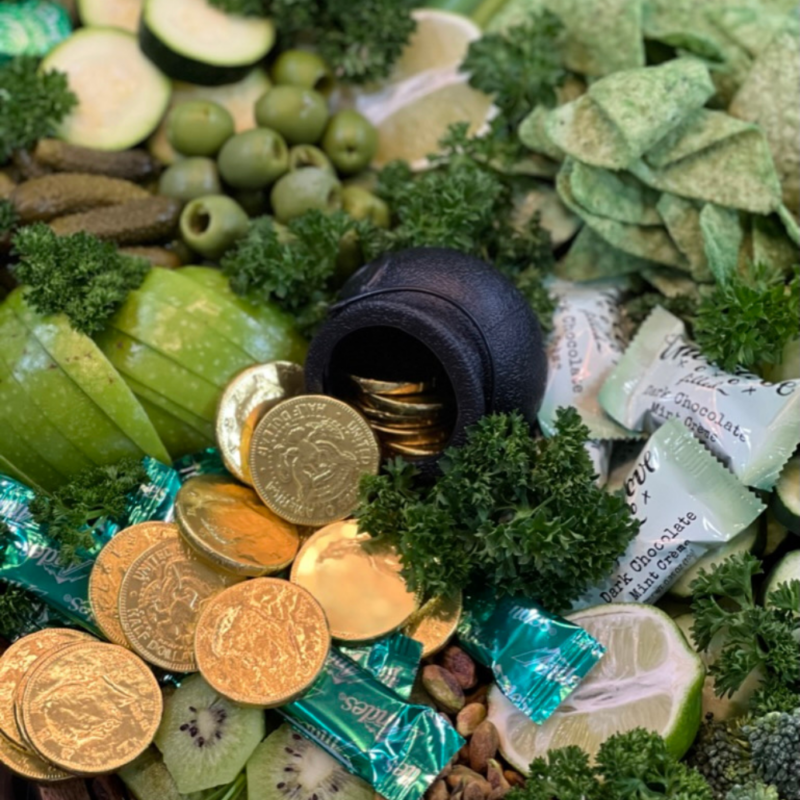 Shop St. Patrick's Day Finds


FOLLOW ALONG
Instagram ~ Facebook ~ Pinterest ~ Twitter ~ YouTube ~ Tik Tok ~ Liketoknow.it