Decorating with Sunflowers From Late Summer into Fall is a beautiful way to transition the garden.
I'm excited to be joining my friend Amber of Follow the Yellow Brick Home for another one of her fun tours! This one is all about sunflowers!

I love decorating with sunflowers from late Summer into Fall to help transition my garden and keep bright color going with a Fall feel.
(Affiliate links are used for your convenience. Read my full disclosure here.)
If you are coming over from my friend Shelley's blog, Calypso in the Country, welcome to our Wisconsin home. I love how Shelley decorates with sunflowers!
We live in a log cabin that sits lakeside in an area of the state known as The Northwoods. It's a big tourist area because of all our lakes and woodland trails.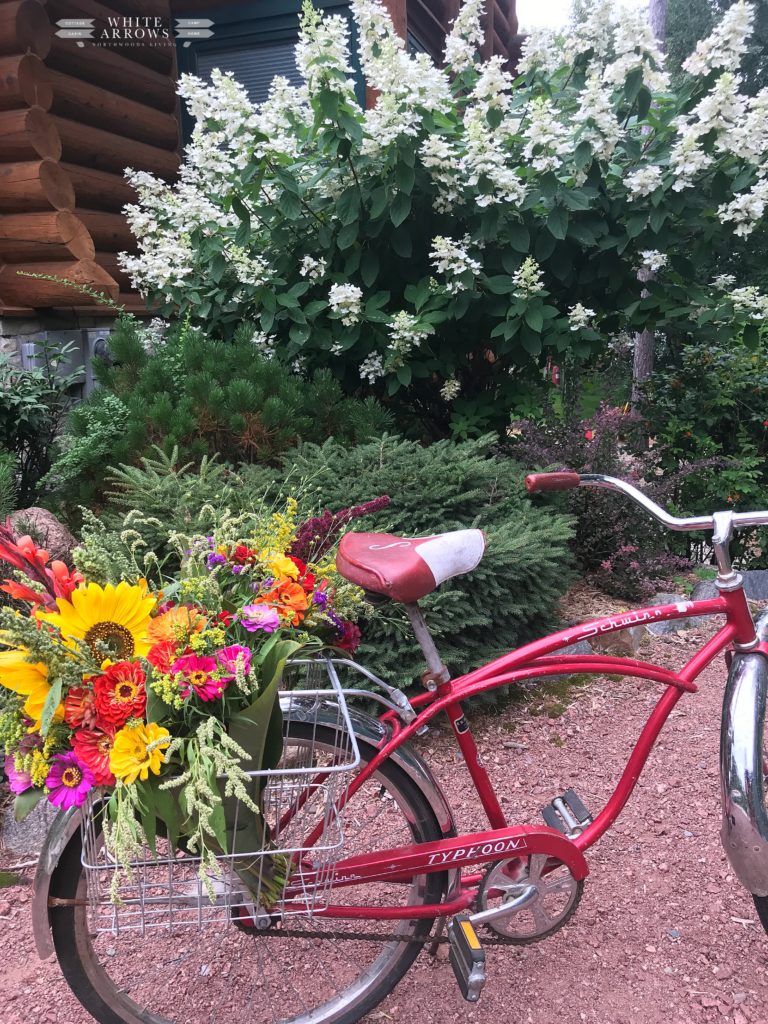 It's a charming area we moved to eight years ago because we loved The Northwoods lifestyle. Life here is the best of small town living where people want to spend time active and outdoors and are down to earth and so friendly. Our kids have loved growing up here.
My husband and I both opened businesses here too. I own a home decor store, White Arrows Home, full of antiques, vintage and new furniture, accessories and gifts. I hope you'll put our town of Minocqua on your bucket list and come visit! Our entire shop is online if you can't get to the shop in person.
Here's a pic of some sunflowers on our checkout desk in a vintage jug. Vintage containers are my favorite thing to hold flowers. Here's a post I shared with ideas.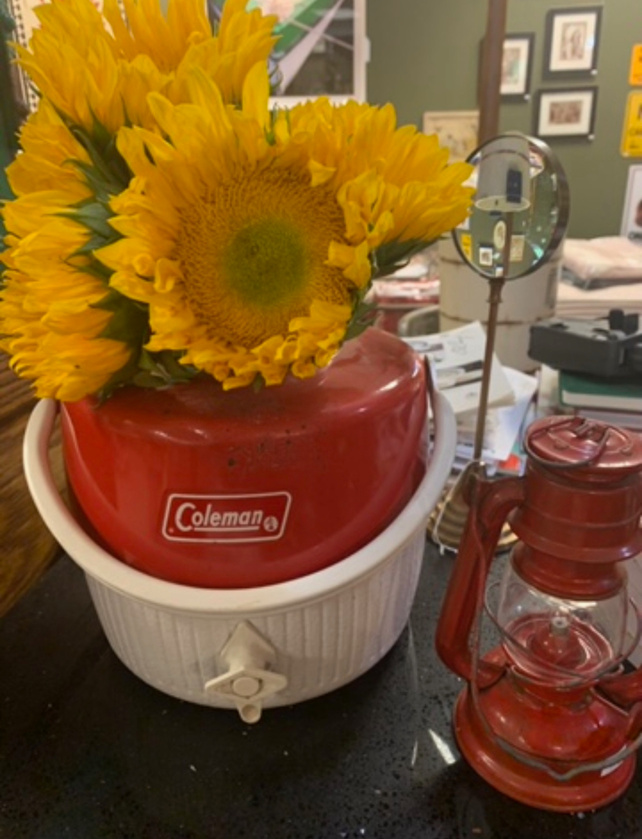 There's just something about sunflowers! They are joyful and fun! They look like a sunshine and I am always cheered by having them around.
One of my favorite things to plant is our rusty old green wagon. We planted a tall, happy sunflower in the corner.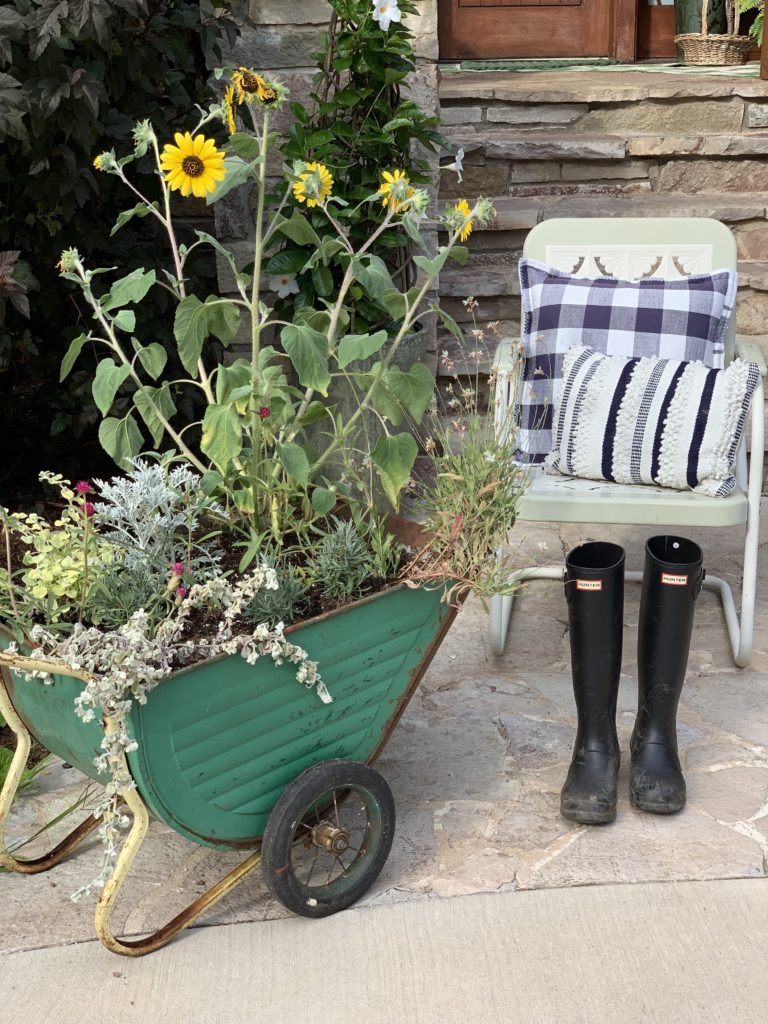 I have plans to plant some in our garden next year along with our cutting flowers, veggies and pumpkins.
A bunch of sunflowers make a sweet picnic centerpiece inside an old metal basket. We held this one in the Summer at my parents in Montana enjoying fresh lemonade.
I love when we drive to Montana and pass fields of sunflowers in North Dakota!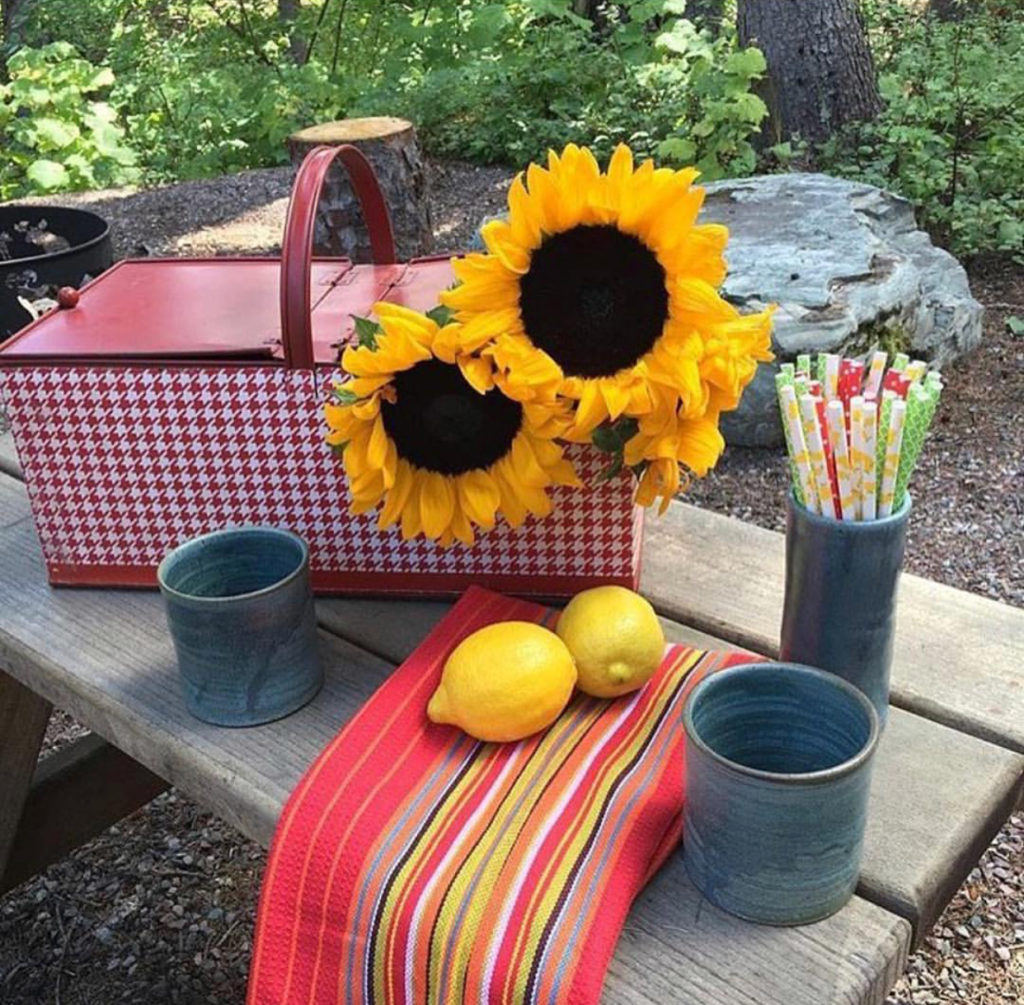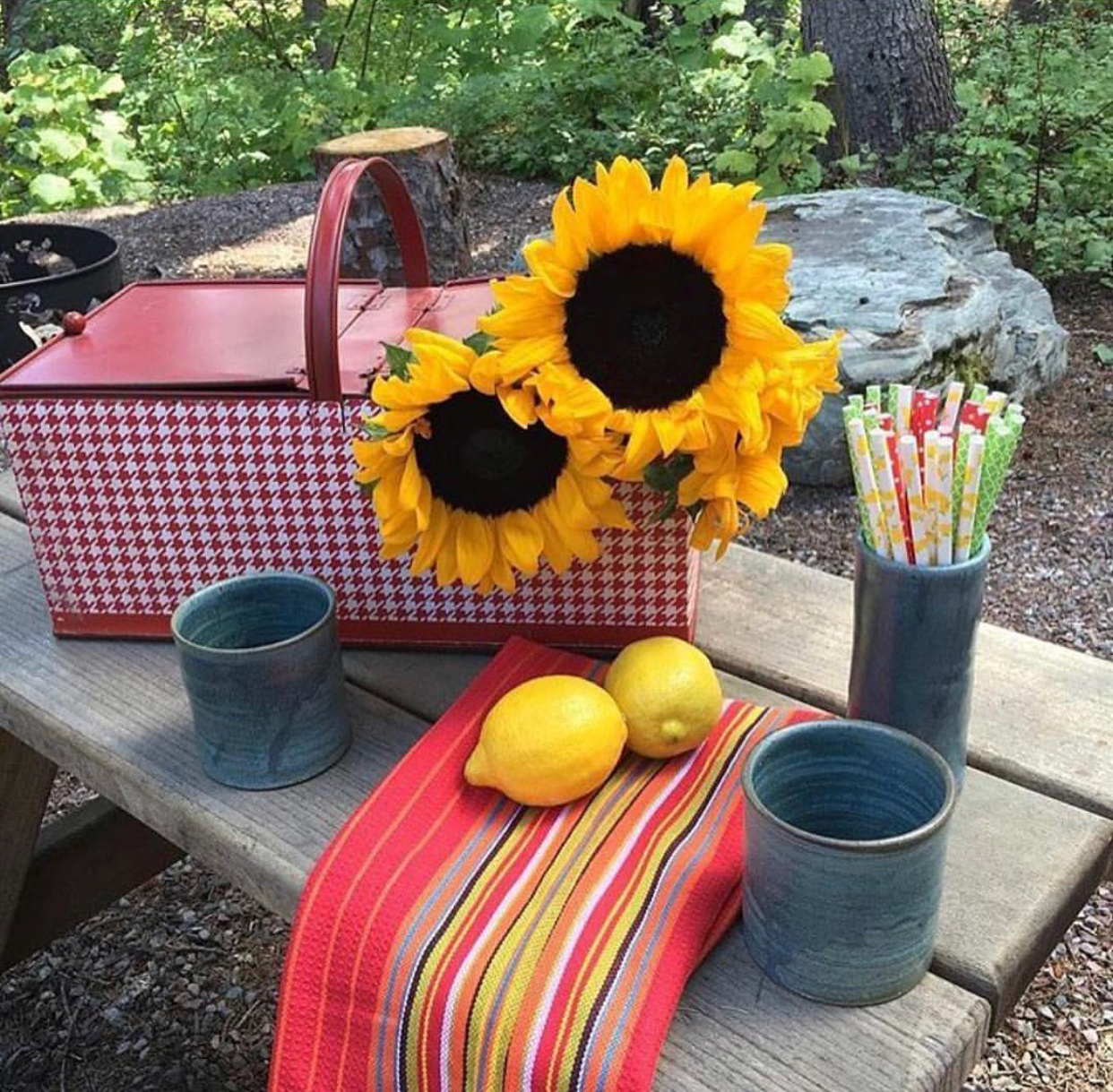 Want to get daily encouragement? SUBSCRIBE HERE so you don't miss any posts!
A potted sunflower plant looks amazing on the back patio. The pop of yellow paired up with the red of the vintage cooler makes me so happy!
For these seasonal pots, I don't repot the plants, I just set the whole plant in the container they came in inside one of the pots I have at home.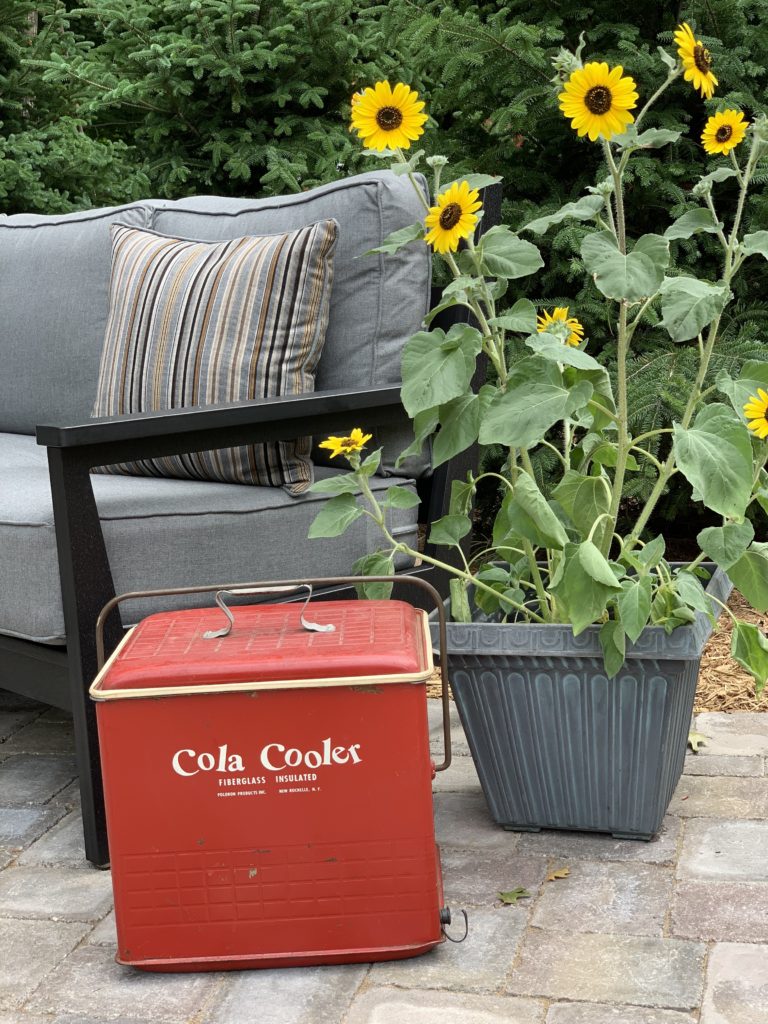 Sunflowers make such beautiful centerpieces. Their bright color looks so beautiful with many different shades. I loved when I paired it with blues and whites for this little tablescape.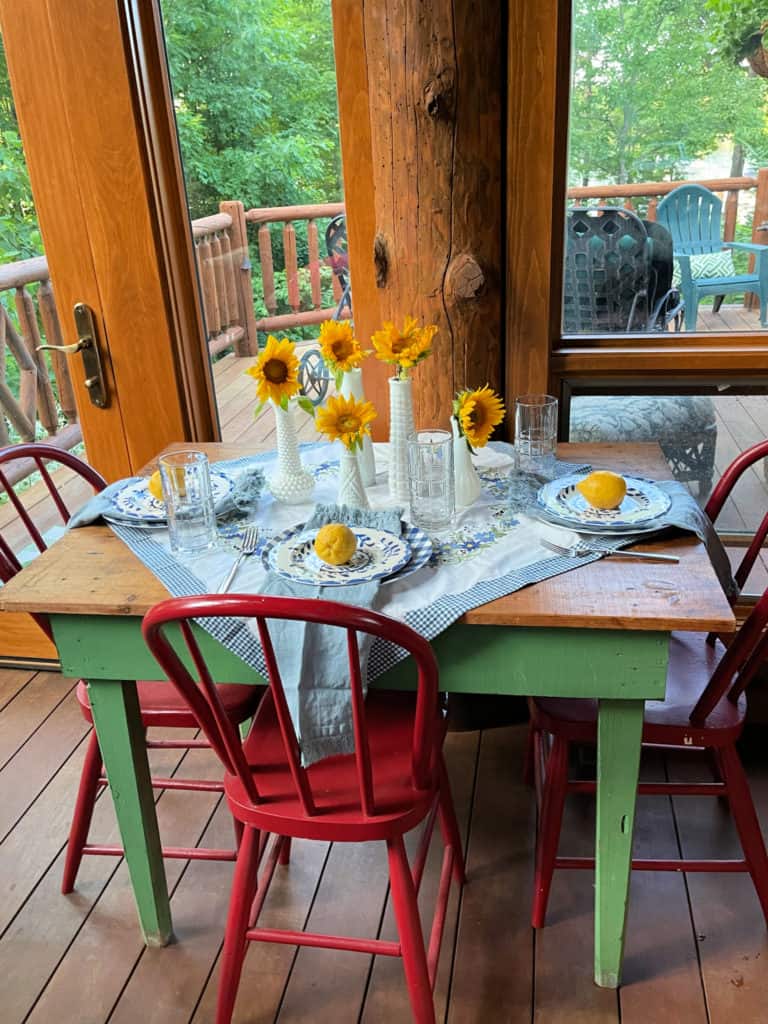 Vintage milk glass is one of the things I love to collect. They are easy to pick up when I'm out thrifting.
Other posts to enjoy:
Rather than keeping them in a bunch in one vase, I loved the look of putting one bloom in a single vase and making a grouping.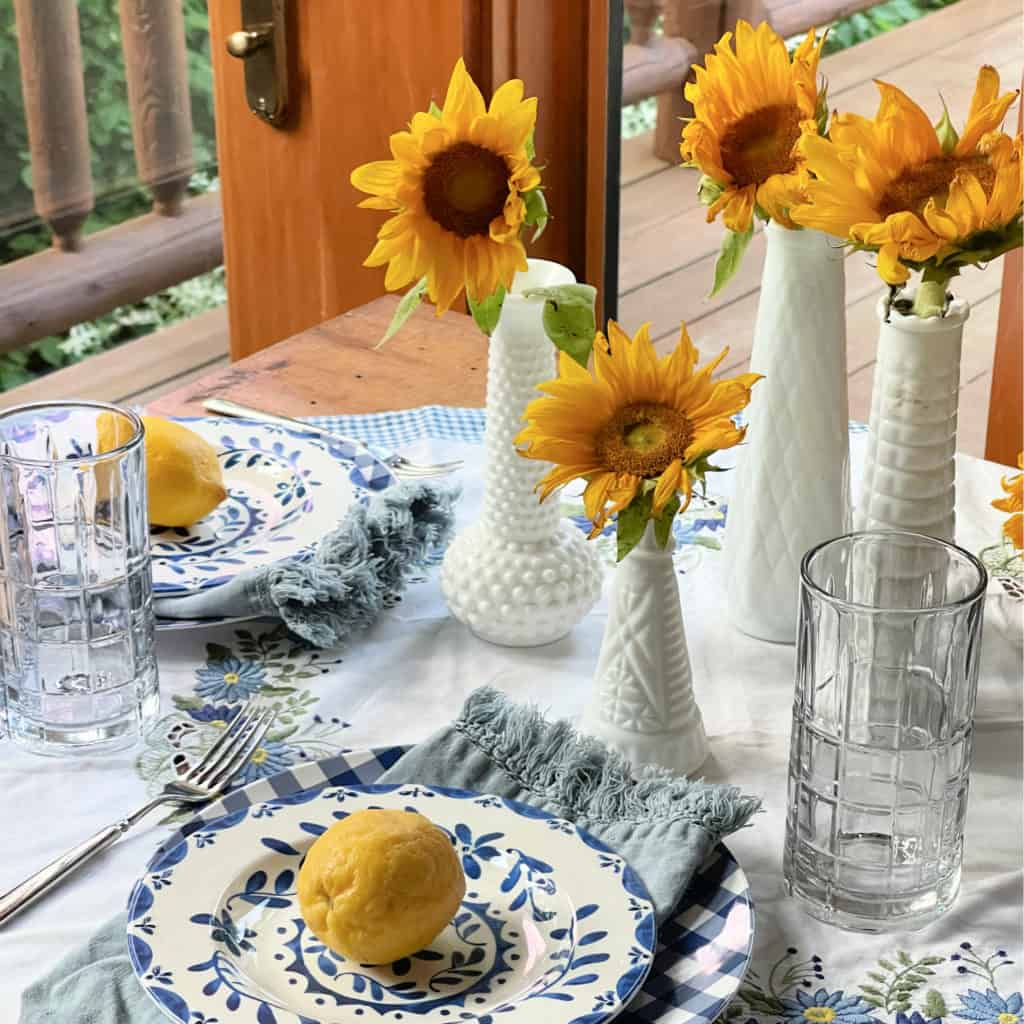 I find my sunflowers:
I pick up a bunch at the grocery store
I pick up a fresh cut bouquet at the farmer's market
I pick up potted sunflowers at local greenhouses like JJs Acres.
Be sure to continue following along, you'll see sunflowers popping up more around here as we head into Fall!
Again, thank you to Amber for hosting this inspiring blog hop. If you haven't yet, head to her blog, Follow the Yellow Brick Home, where the tour begins. She has such beautiful, simple ideas for decorating with sunflowers.
Take the Tour
You are invited to the Inlinkz link party!
Follow the Yellow Brick Home ~ A Stroll Thru Life ~ Common Ground ~ Our Southern Home ~ The Ponds Farmhouse ~ Decor to Adore ~ Let's Add Sprinkles ~ Thistle Key Lane ~ The Crowned Goat ~ Calypso in the Country ~ White Arrows Home
Get the Look


FOLLOW ALONG
Instagram ~ Facebook ~ Pinterest ~ Twitter ~ YouTube ~ Tik Tok ~ Liketoknow.it