Red Geraniums make the perfect Summer flower to add to pots, hanging baskets, window boxes and decor outside on porches, patios, docks and inside in vases and on tables.
(Affiliate links are used for your convenience. Read my full disclosure here.)
I love decorating with geraniums. They are the perfect summer flower to me. They are beautiful in every color, but I usually choose red. I think they are a classic and look so great with our log cabin home.
I live way Up North in what is known as The Northwoods of Wisconsin in a lakeside log cabin home. It was built just like the Lincoln Logs my kids played with when they were little. Its full log stacked one on top of the other. The plumbing, electrical and HVAC is all tucked inside the logs, a construction marvel!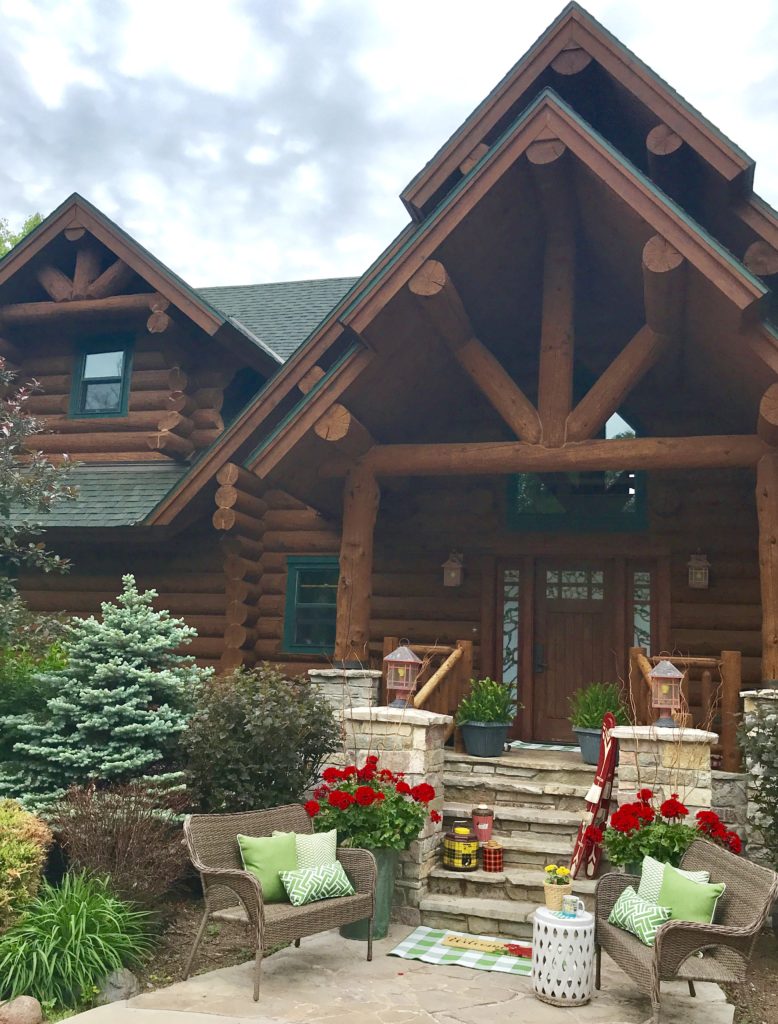 You'll find I love to decorate inside and outside with a mix of vintage and new decor. I find a few new treasures each year, but reuse most of my decor year after year because I buy what I love and not just based on trends.
Most of my vintage doesn't stay outside in the elements. I bring it out for entertaining or if we are home for a long stretch of beautiful days. Otherwise I keep inside where it's safe.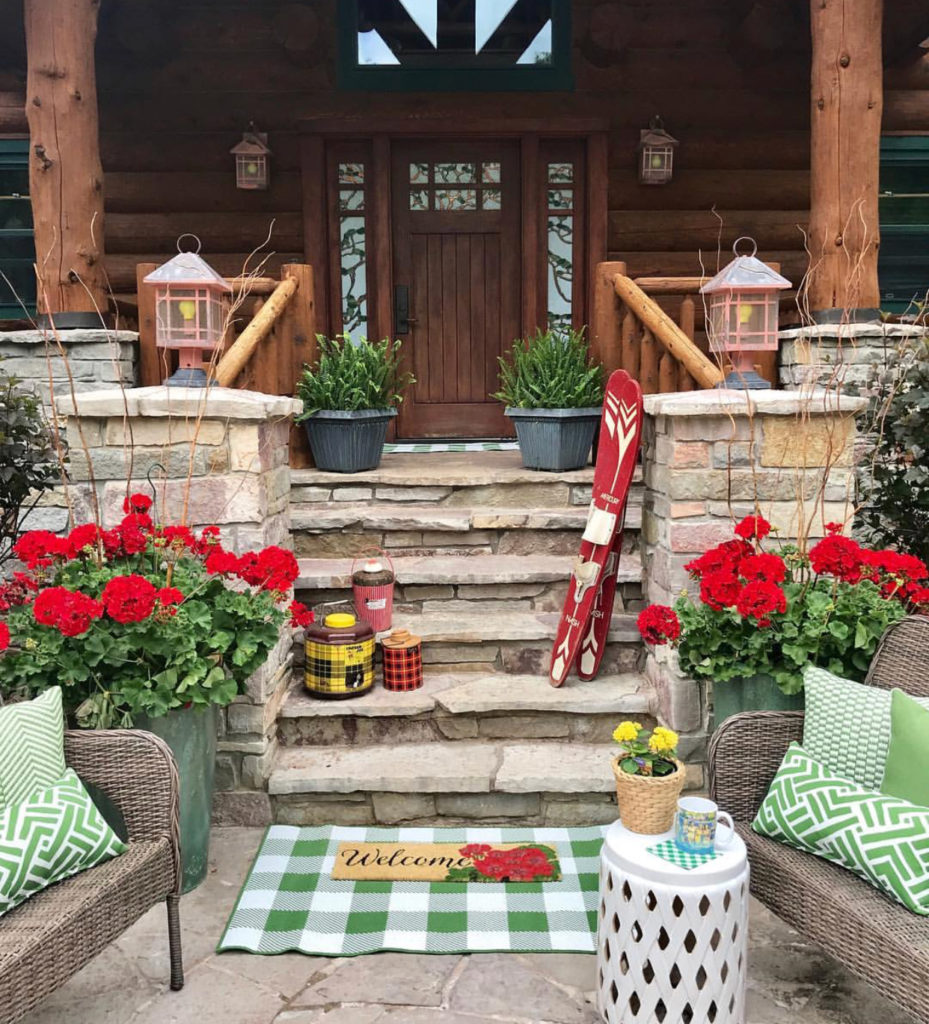 Red Geraniums are so welcoming and give instant curb appeal. As visitors pull up they are drawn toward the front porch by the cheery red blooms.
I added willow branches to these pots of geraniums to give them even more interest. See more of my vintage cottage decor in THIS POST.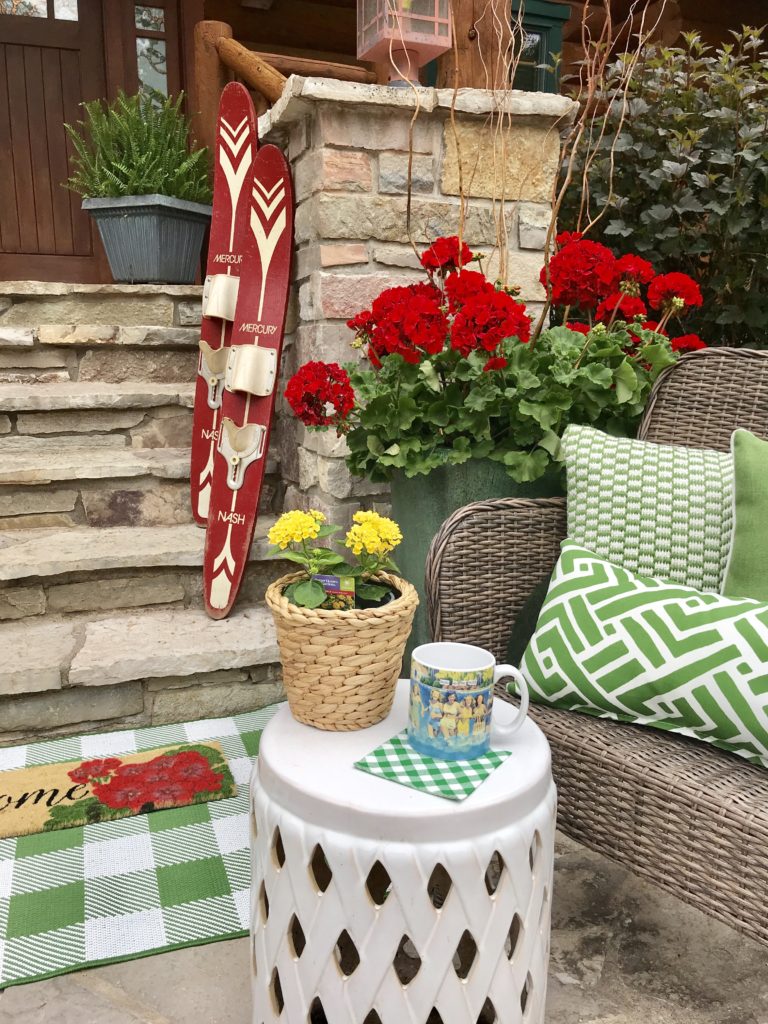 I added a little pot of geraniums to this Skotch Kooler next to my refurbished garden bench. See how else I love to decorate with Skotch Koolers in THIS POST.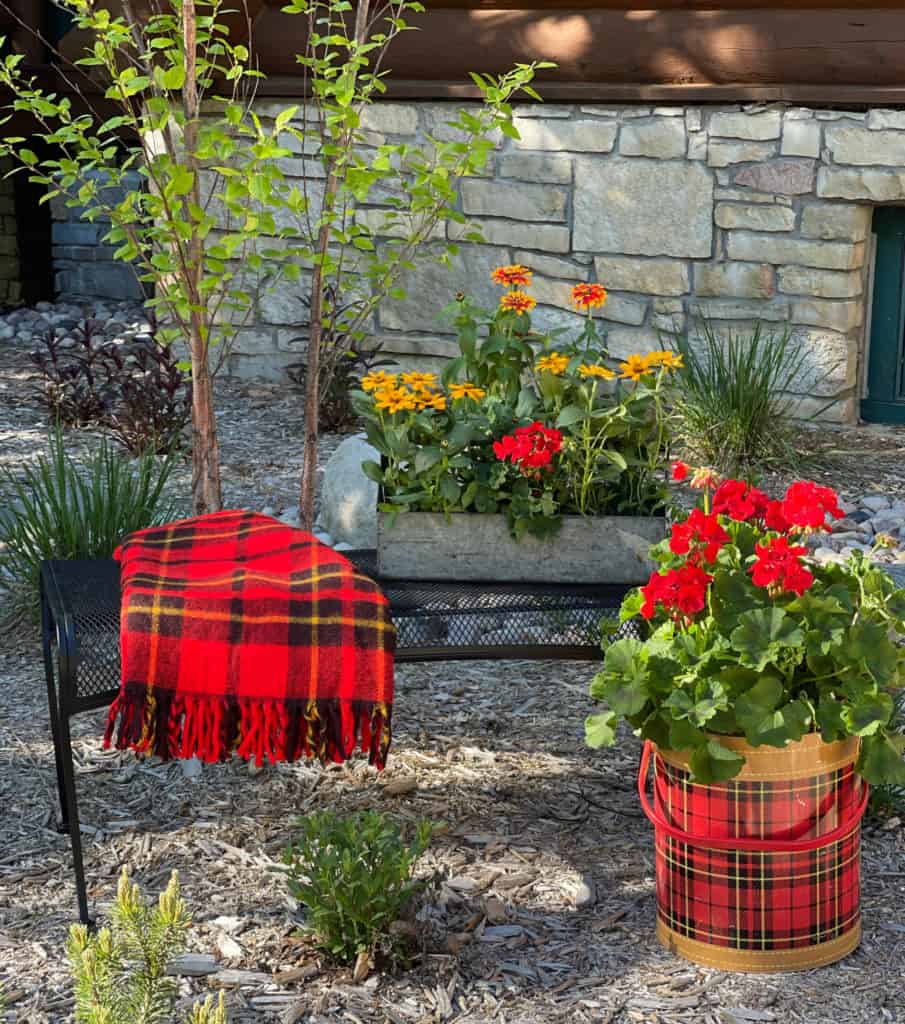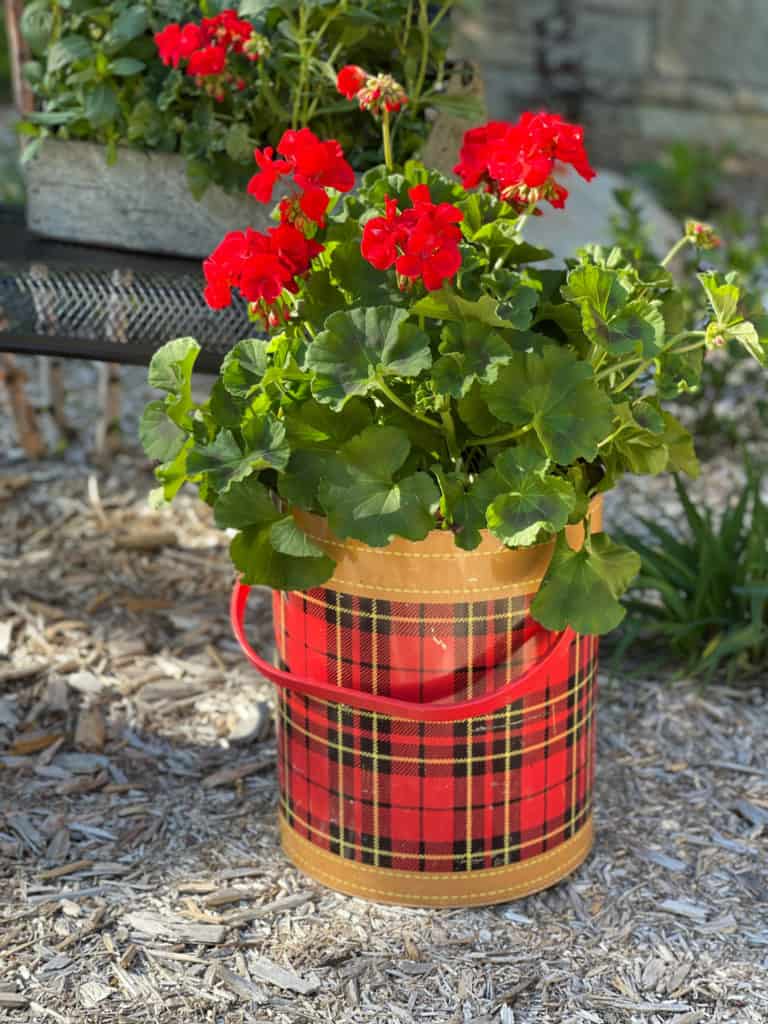 White Geraniums
One year instead of doing red geraniums I went with white. I was doing a bit of a switch and did lots of blues on my porches and patio and thought the pop of white would be a beautiful accent. I loved it! It was fresh and clean.
I love using my vintage minnow buckets all around my house inside and out. Here I used one as a planter for a pot of geraniums. See more of my ideas in THIS POST.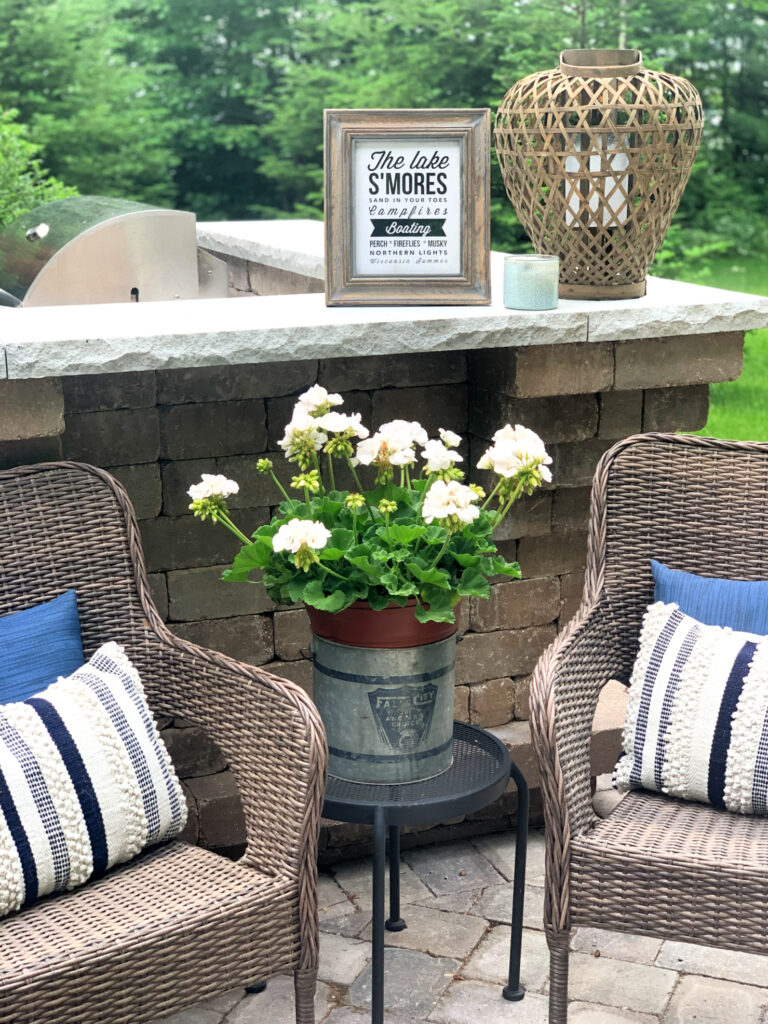 I love pairing my geraniums with ferns. Here on the front porch I added some near our seating area. To keep it simple I just use hanging baskets and remove the hanging hook. Then I have a potted plant without all the mess of dirt and in seconds.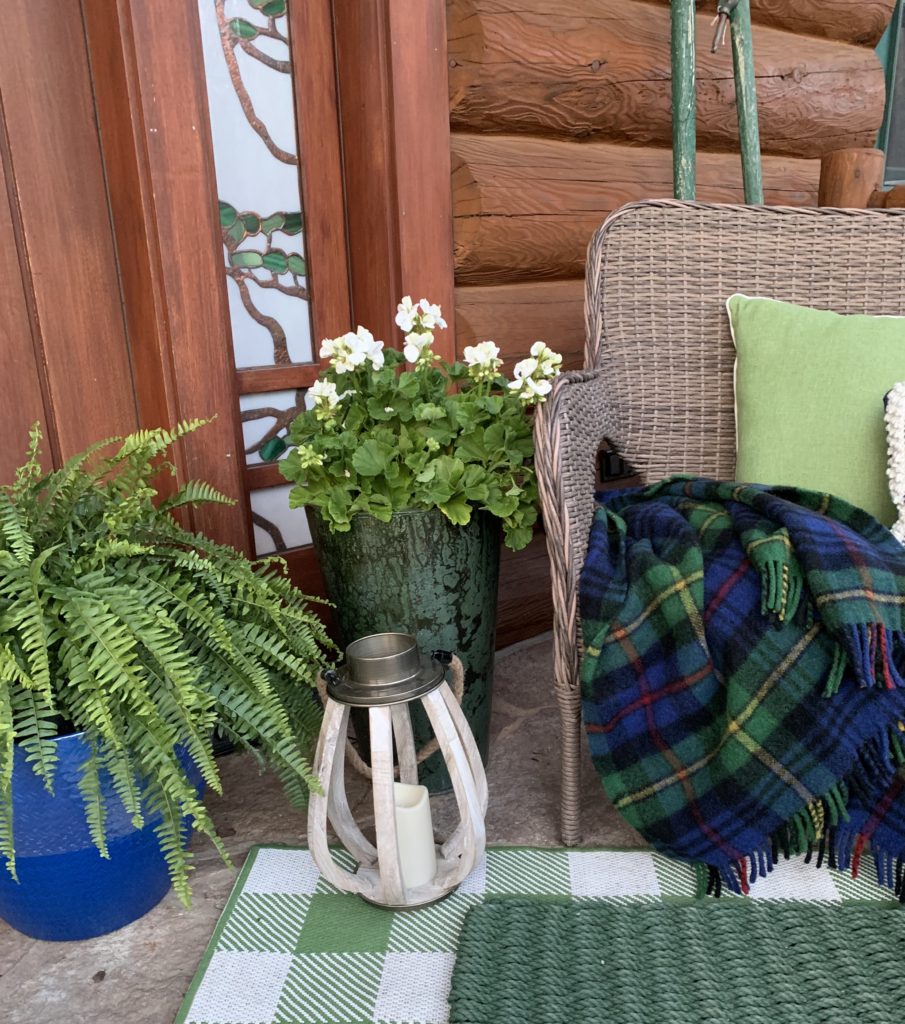 I have not done any pink geraniums before, but I do think a mix of pink and red would look beautiful together.
Want to get daily encouragement? SUBSCRIBE HERE so you don't miss any posts!


Geranium Hanging Baskets
I was so excited to make one of my dreams come true this year by hanging geraniums across the front and back of our cabin.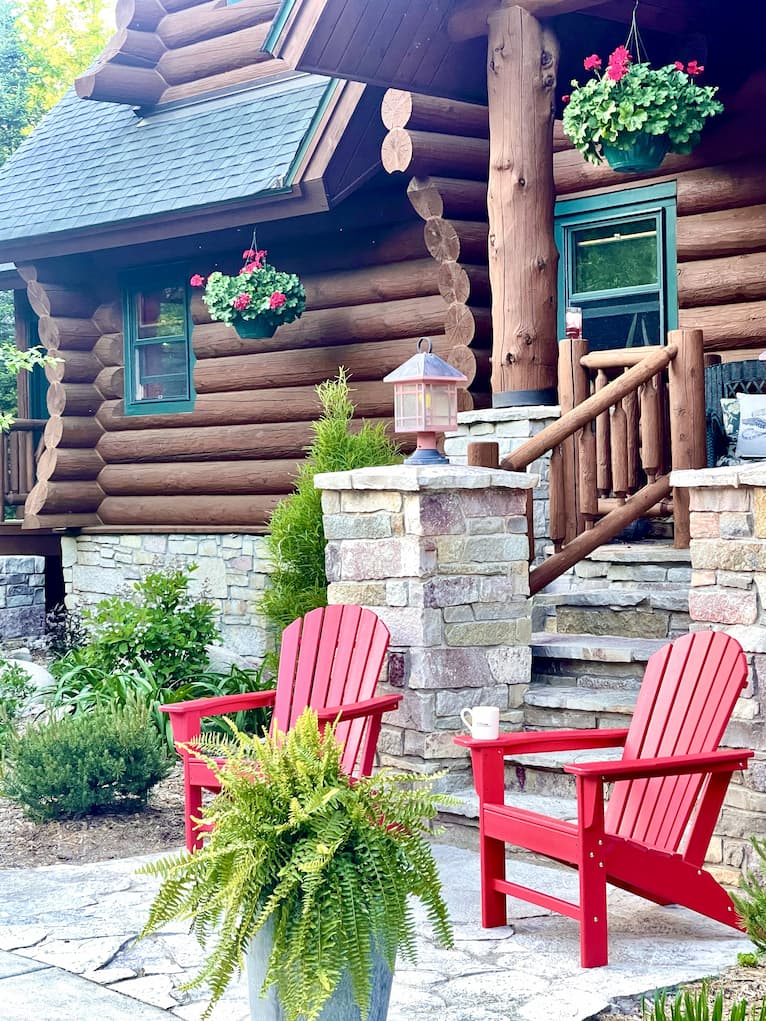 The red of the flowers just pops against the brown logs of our home and the green woods surrounding it.
I love bright colors as you can tell throughout my decor and red geraniums are such a happy addition.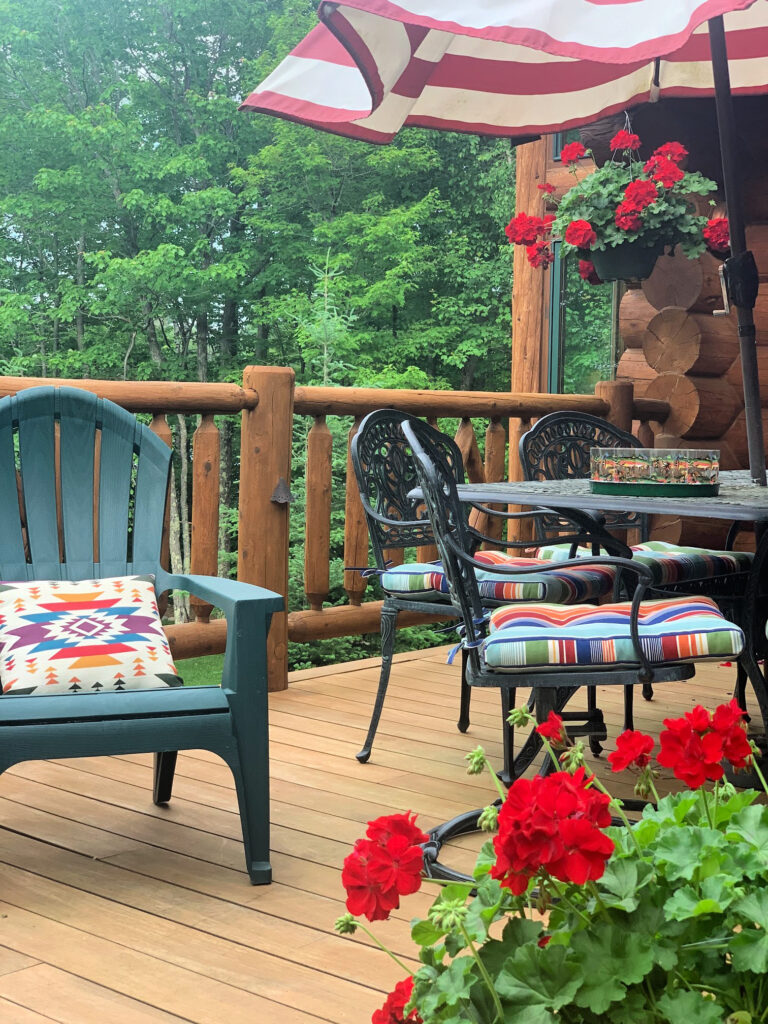 Faux Geraniums
Not only do I enjoy real geraniums, but I have places I use faux ones. I add a little stem inside vases for a pop of color. Here IN THIS POST I used an old pop bottle for a vase.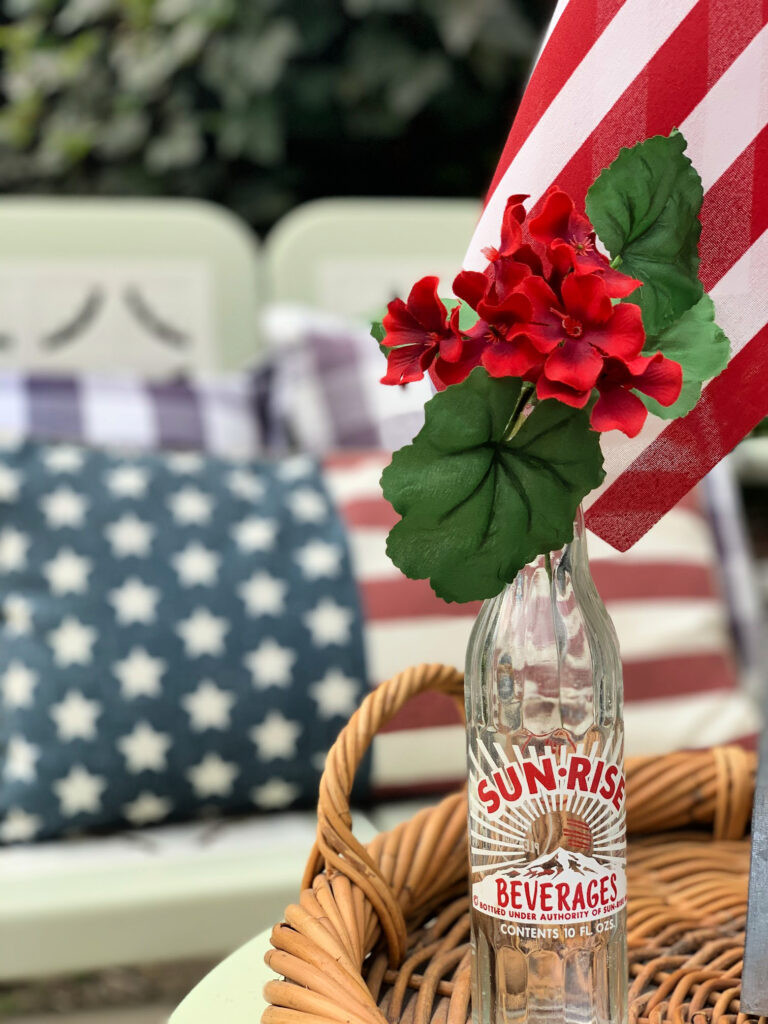 I did a big bouquet of them inside an antique trophy and then set it on a side table next to my buffalo plaid chairs.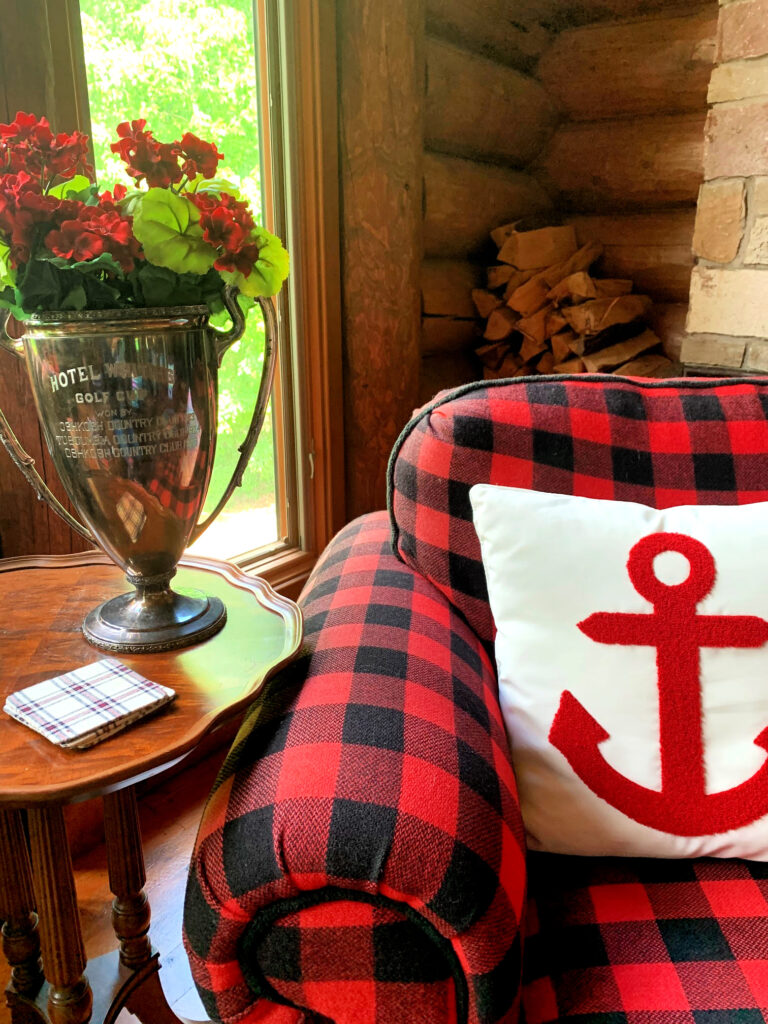 Check Out These Posts
One of the blogs that's my Go To for gardening advice is Shiplap & Shells. Kim has the most beautiful gardens and great posts about how to care for flowers like geraniums. She wrote about How to Start Geraniums From Cuttings.

She also shared this one about 4 Easy Options for Overwintering Your Geraniums.

If I hadn't done hanging baskets I had dreamed of doing window boxes and my friend Ann over at Dabbling and Decorating shared this beautiful post Red Geraniums Time-Honored Window Flower Boxes.

Geraniums look wonderful on the table. I loved this idea from my friend Jen of Midwest Life and Style in her post 5 Minute Simple Summer Centerpiece.

I learned so much from my friend Rachel's post Best Tips to Keep Geraniums Blooming on her inspiring blog The Ponds Farmhouse.

My friend Susan has the right idea. She shows how geraniums are the perfect accent to patriotic decor all Summer in her post Simple Patriotic Decorating For Your Backyard.

Thanks so much for visiting! What's your favorite Summer flower?
FOLLOW ALONG
Instagram ~ Facebook ~ Pinterest ~ Twitter ~ YouTube ~ Tik Tok ~ Liketoknow.it