Living on a lake, natural objects of decor are paddles and oars. I use them in several ways around our log cabin. Nostalgic camp style, old and chippy, new and painted or DIY designs all add nautical style to a home.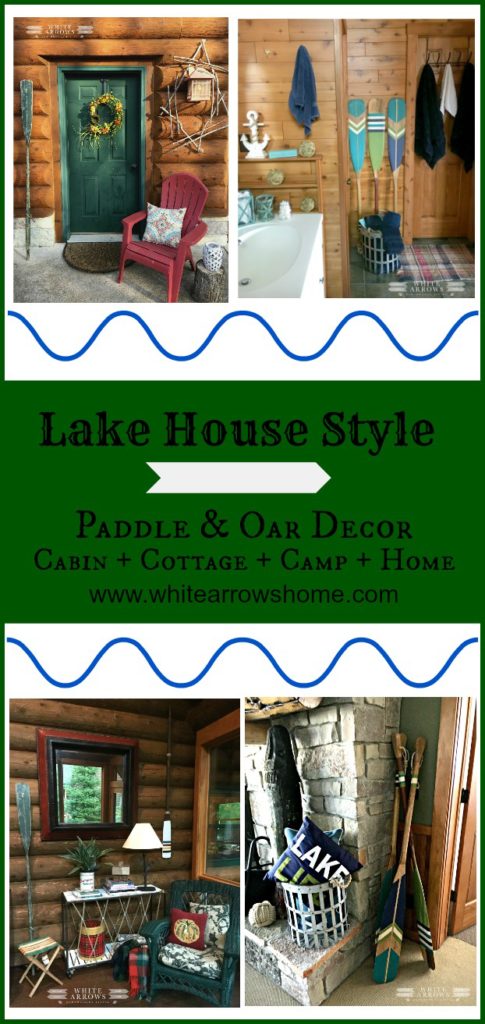 Some of mine were old and forgotten in a neighbor's boathouse. A few I found at a favorite store painted and ready for display. And other vintage ones became a fun DIY project with some girlfriends when we spent a day sanding and painting paddles. (See post here.)
Chippy & Old
A friend found this chippy, green oar in her neighbor's neglected boathouse. The color and the number seven painted on it (probably for the cabin number it went with) made her think of me and our family of seven. I loved it like this and wanted to keep its natural wear and worn look. I can just imagine the history it has bringing memories to campers and visitors in The Northwoods of Wisconsin.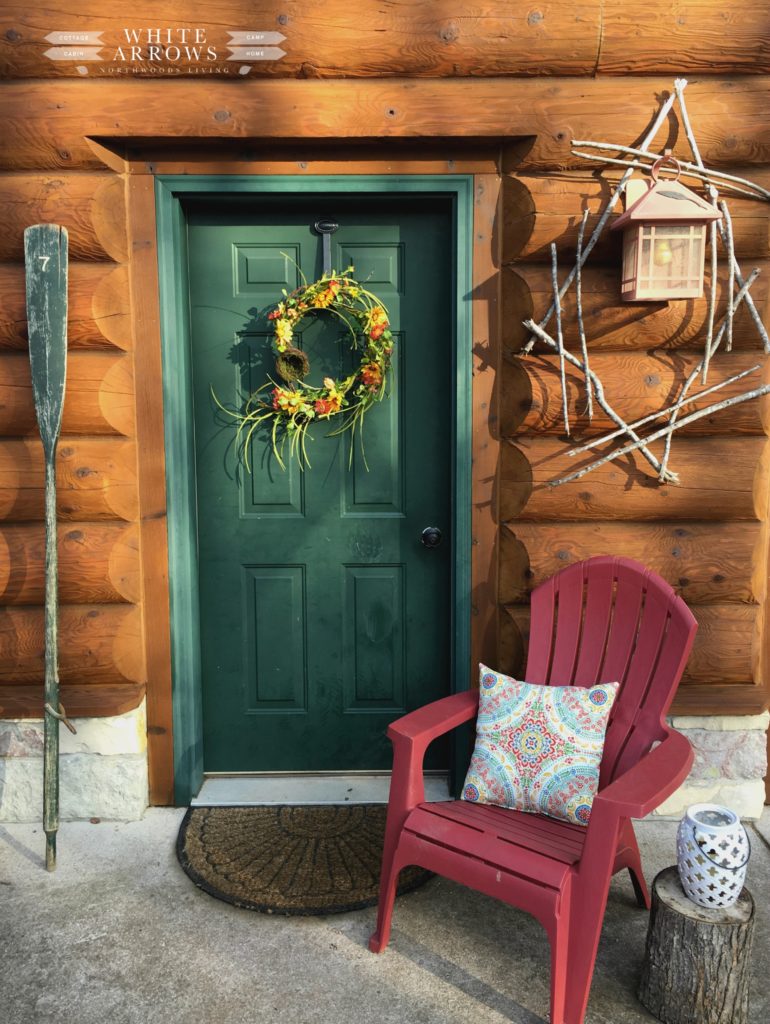 Painted & New
On a stroll through World Market last year I saw these painted paddles with rope through the handles. I loved the colors and thought they would look perfect in our basement. Our basement has painted green walls, carved walleye fireplace posts and nautical and fishing touches throughout. Leaning them in the corner by the fireplace makes them the first thing you see when you walk down the stairs to the lower level.
(See more of our basement here.)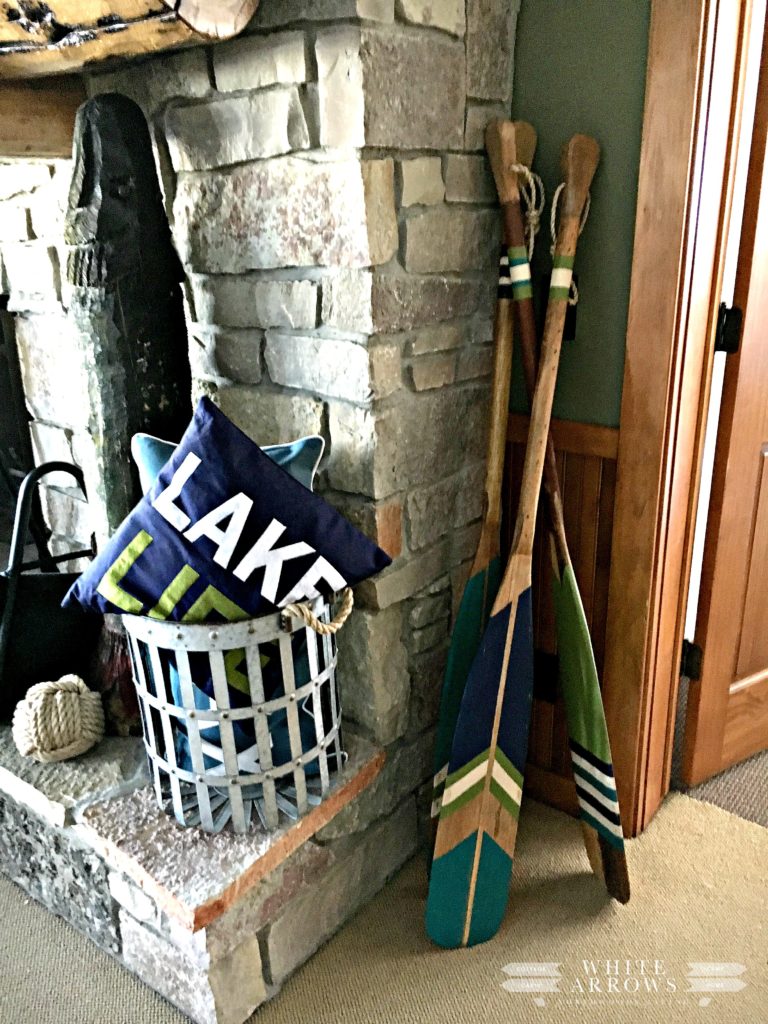 For a time I used them in the Lake Bathroom. They were perfect against the  green 12×12 tile and knotty pine paneling backdrop, giving color and style to a "blank canvas" bathroom used mostly by family members and guests coming in from the path to the lake or from the backyard and patio.
(See more of this bathroom here.)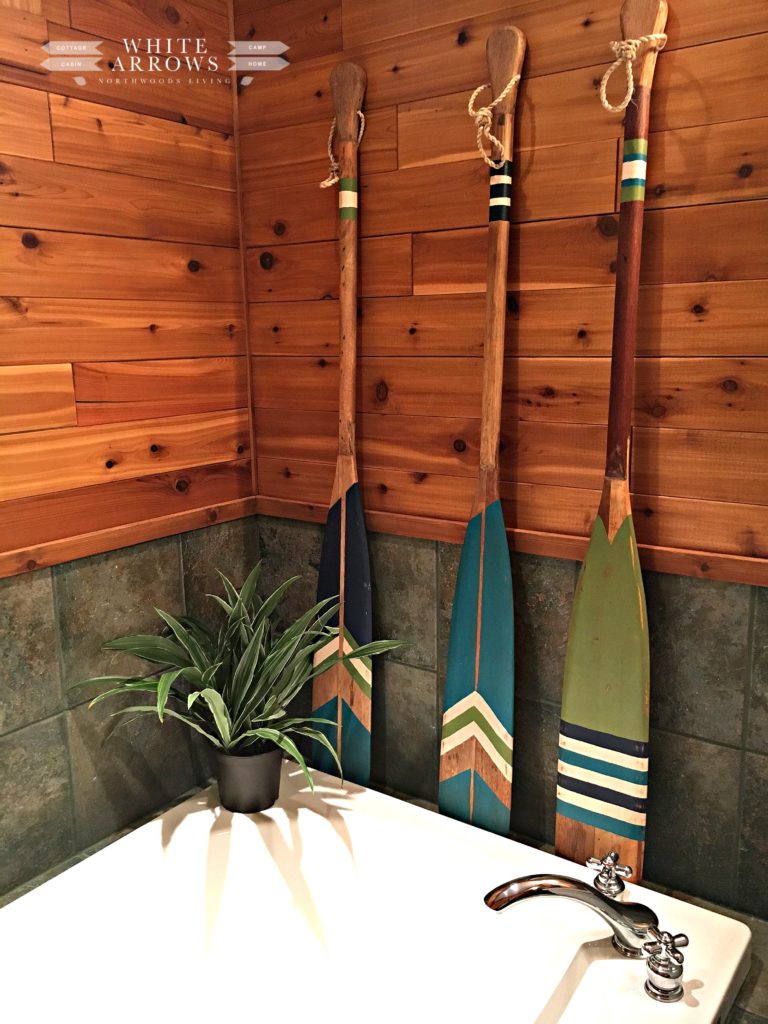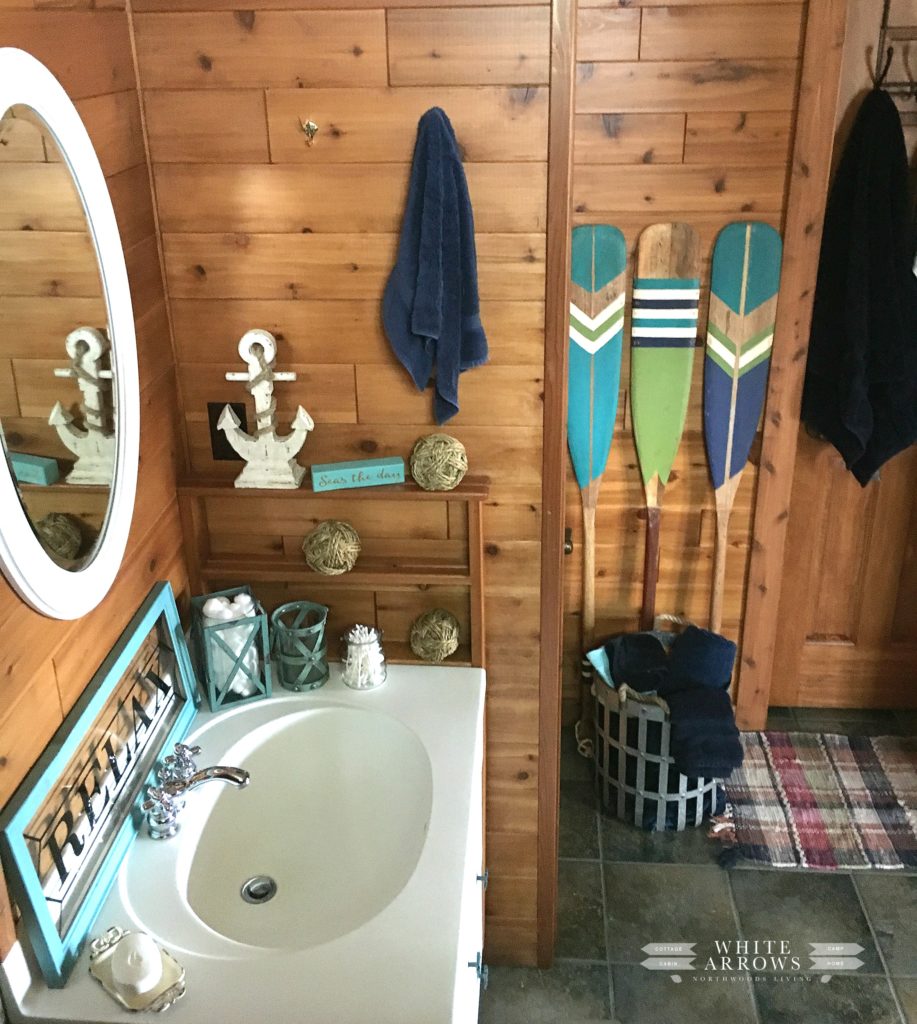 Vintage & DIY
Here you can see my chippy green oar used again in our sunroom. The oar hanging on the wall I sanded, stained and painted during a fun craft day with some girlfriends. We all brought our paddles, oars, paints and tools to one friend's garage and spent the day hanging out and creating fun decor for our lake homes. With over 60 named lakes in our area many of my friends live on lakes. When kids go to each other's houses for playdates, they always take along their lifejackets! Now we all have a pretty oar hanging in our homes. (See DIY Painting Paddles with Girlfriends post here.)
(See more of our sunroom here.)

Antique & Stained
This antique wooden paddle hung in my son's nursery. I had fish crib bedding and a nautical theme in his room. It must have been foreshadowing to the lake life that lay ahead for us! This paddle hung over his crib.
When we moved into the cabin and I was trying to decide how to decorate the mantle I wanted to break up all the stone with some taller items. A framed Wisconsin Resort print, a wooden vase full of dried flowers and my paddle help draw your eyes up to our vaulted ceilings and beams!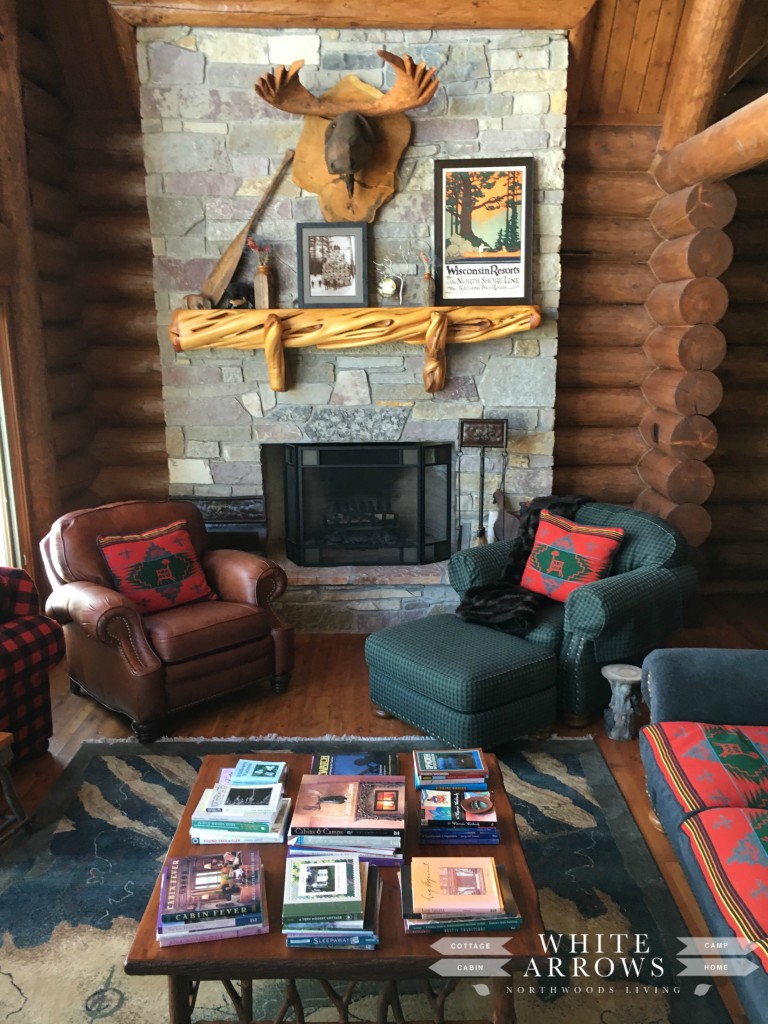 Here are a few inspiring ways to use Paddles and Oars to decorate from around the web.
Use an oar as a curtain rod.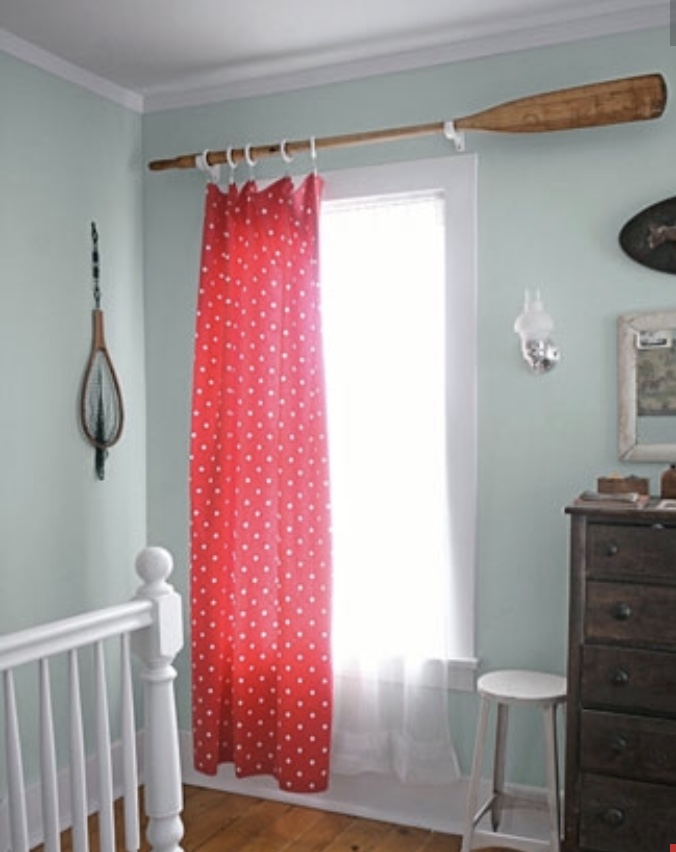 Use an oar as a stair handrail.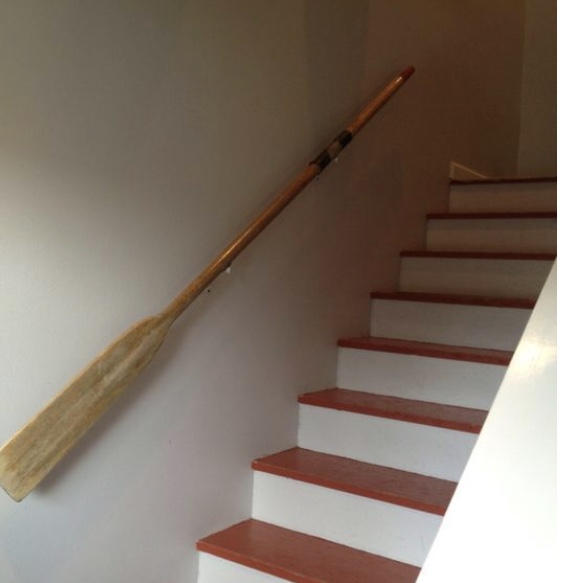 Use paddles as a headboard.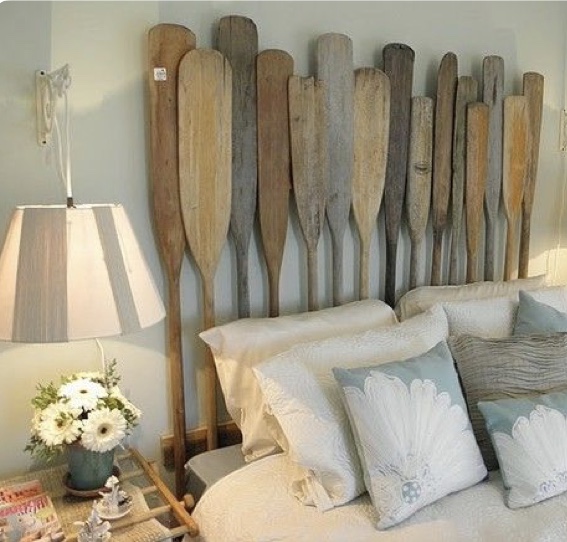 You can follow my Paddles & Oars inspiration board on Pinterest to get more ideas. And remember:
If the wind will not serve, take to the oars. ~ Latin Proverb