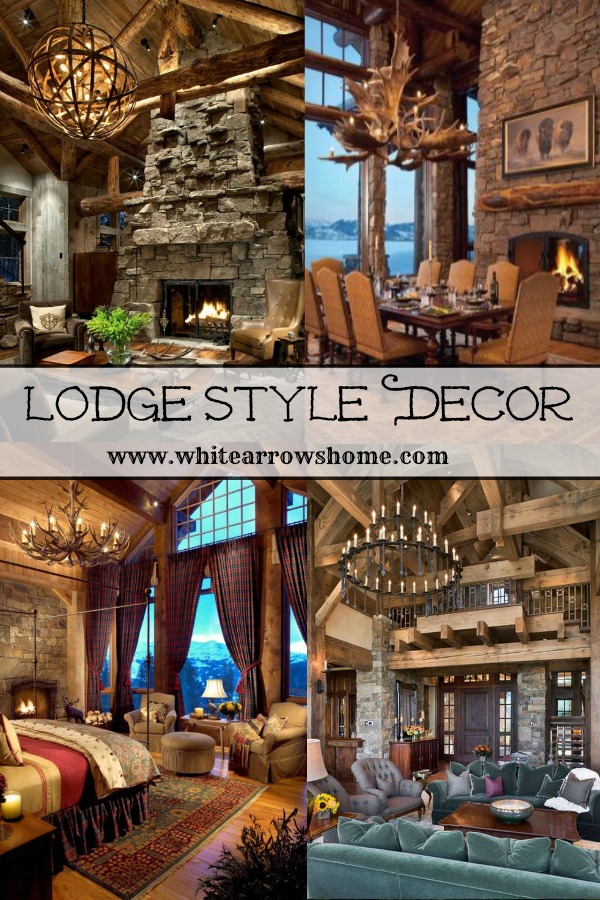 When I think of Lodge Style I think of the grand lake and mountain homes of yesteryear and today where the architecture of woods, metals and stone become art.
(Affiliate Links are shared for your convenience, read my full disclosure here.)
Expansive Rooms
Lodge homes have rooms full of space. They are the kind of rooms you walk into and stop in awe of the view and the architecture.
Even dining rooms and bedrooms are grand.
Towering Fireplaces
Stone fireplaces reach from floor to ceiling.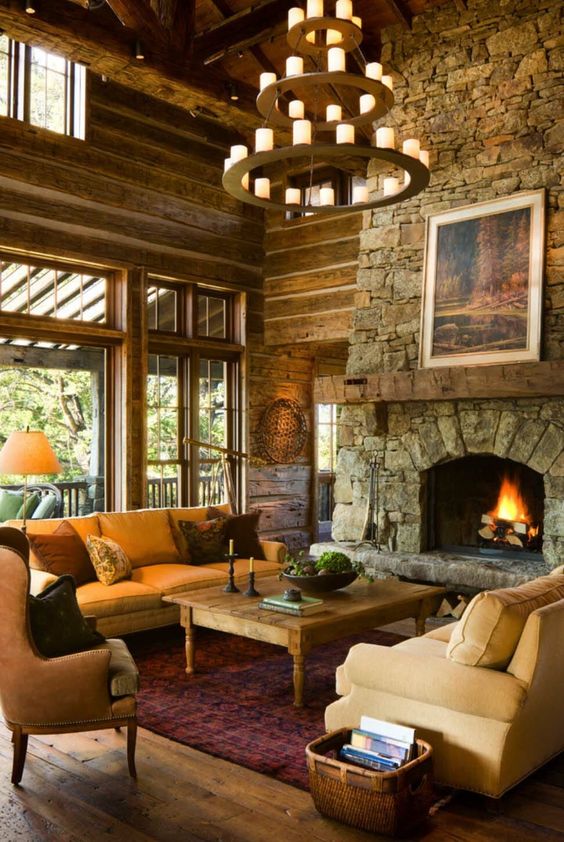 Fireplace surrounds can also be beautifully designed from wood like in this hunting lodge.
Soaring Ceilings
I know, this space had me at PLAID, but the lofty whitewashed beams are stunning. High ceilings in Lodge Style homes make way for large windows to showcase the views outside.
These soaring ceilings give views from above to the coziness below.
Plush Seating
Velvet couches have a special place in my heart and are so inviting. Furnishings in Lodge Style homes mix soft, lush fabrics with beautiful wood accent pieces.
Statement Lighting
So many of the photos I'm sharing show the kind of stunning lighting used in Lodge Style homes where the height of the ceilings give space for dramatic large chandeliers.
Antler lighting is often used for an elegant, rustic look.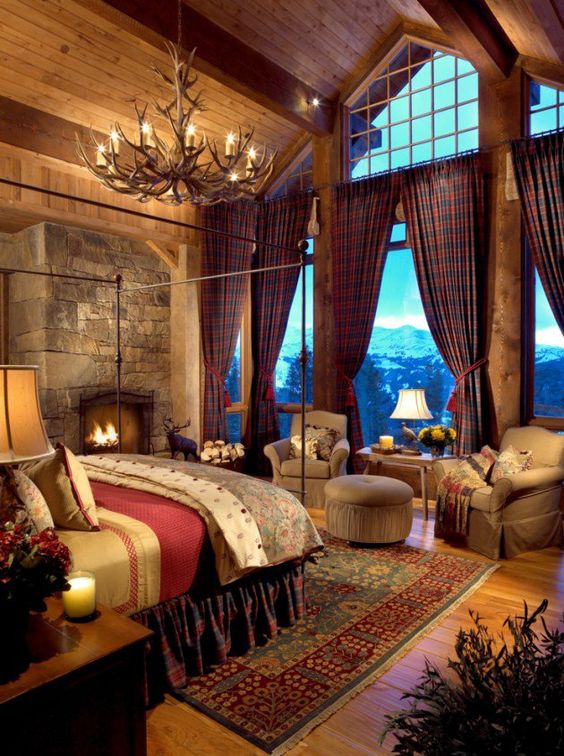 Creative chandeliers come in different materials and sizes.
Layers of Cozy Bedding
No matter the season, bedding in Lodge Style homes make you want to curl up in them forever. Thick duvets, blankets, maybe some flannel sheets all work together for the best night sleep and the prettiest bed.
Colors or neutrals look beautiful and a few extra throw blankets add the perfect touch.
(Affiliate Links are shared for your convenience, read my full disclosure here.)
Even if you don't live in the mountains, on a lake or have gigantic windows with amazing views, you can include some of these design elements into your home. Your home may not have vaulted ceilings and a massive fireplace, but if you like this look here are some tips to incorporate Lodge Style.
Add statement lighting. Even in a small space you can choose a light that makes a big impact. Here are a few suggestions: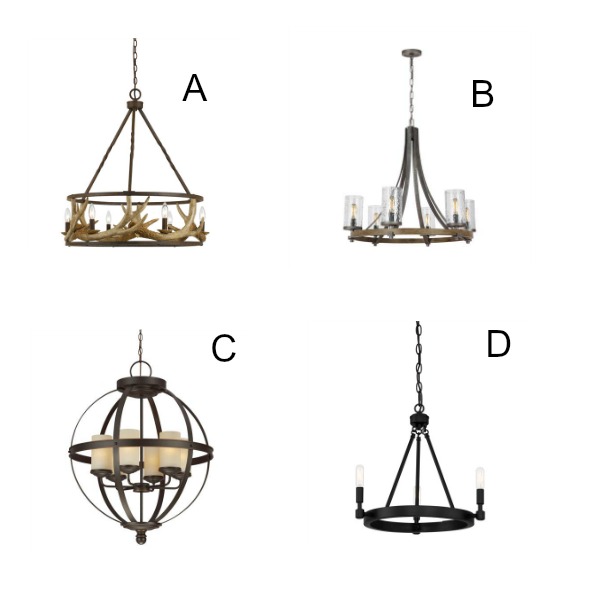 Use layers of bedding on your bed. Start with high thread count sheets, add a blanket, a comforter and fold a down duvet at the end. Here are some of my favorites: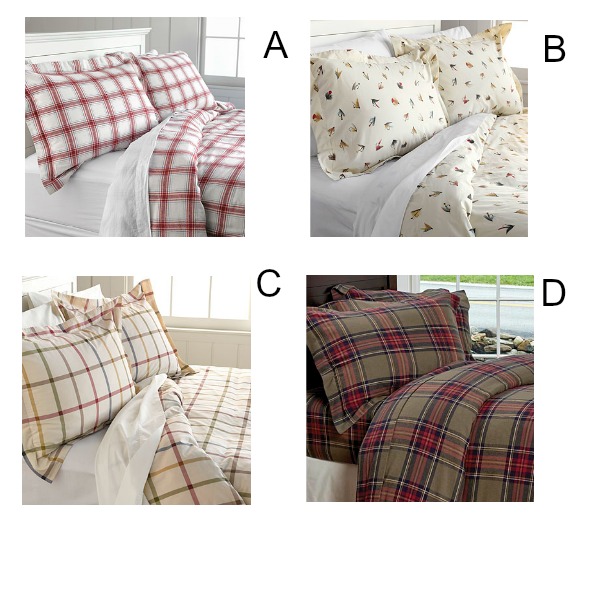 Furnishings that give plush, luxurious places to sit like these: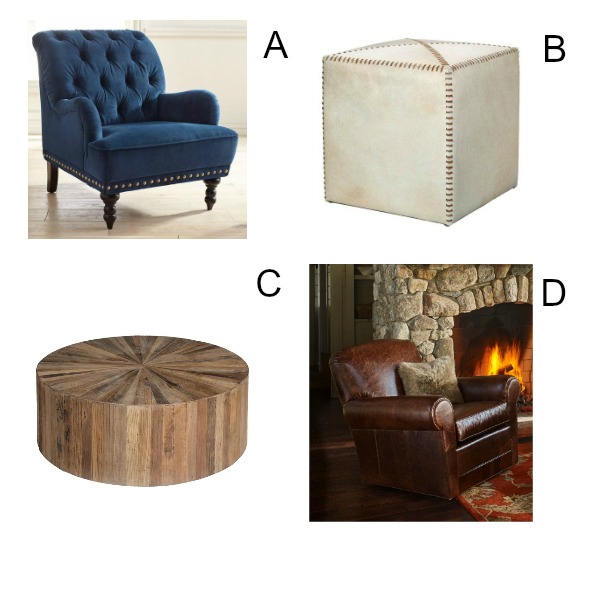 Find more inspiration on my Lodge Pinterest board.
You may also like: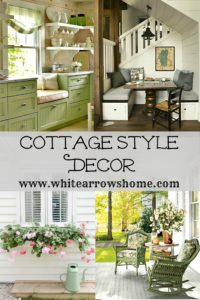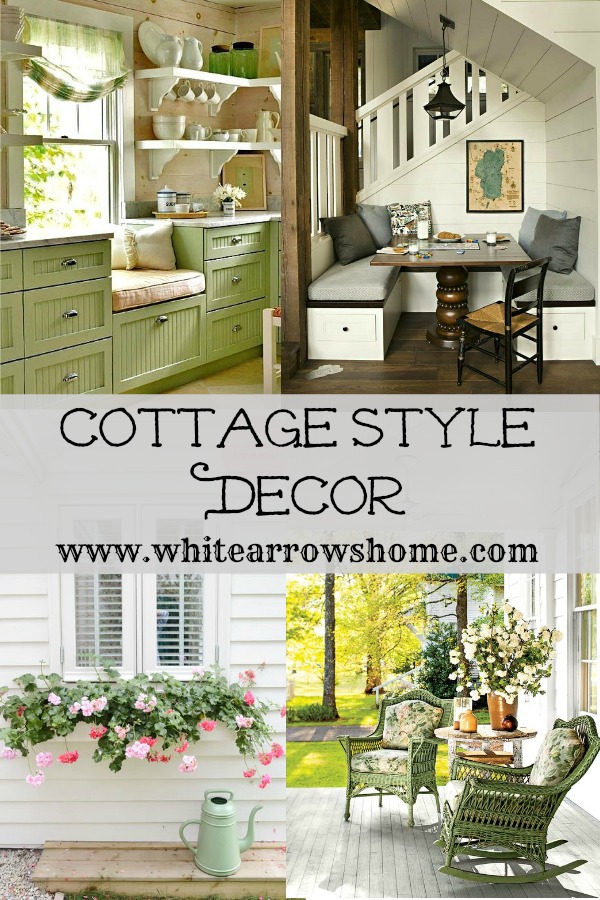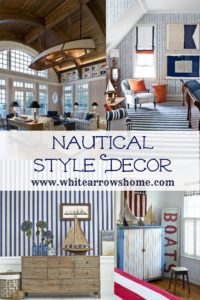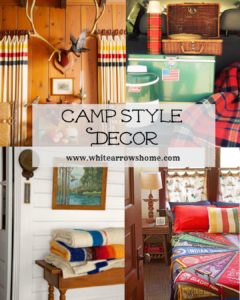 I'll be excited to share more inspiration with you each day on:
Instagram ~ Pinterest ~ Twitter ~ Facebook