As part of my Thrive Series I am sharing small ways to find more energy, find more time to connect with others and our self, how to easily put more care into daily tasks, and flourish in our everyday lives.
Does good penmanship matter anymore? We spend so much time on virtual activities, does it matter what our handwriting looks like? In day two of my two week Thrive Series I share why I'm making good handwriting a goal in my life again, just like it was in third grade.
As I deep dive into how to build a life where I thrive, one of the things that I'm looking at is how to make small changes, changes that take only little tweaks and minutes to make a difference. A small difference that when added up make a big, beautiful life.
(Affiliate links are used for your convenience. Read my full disclosure here.)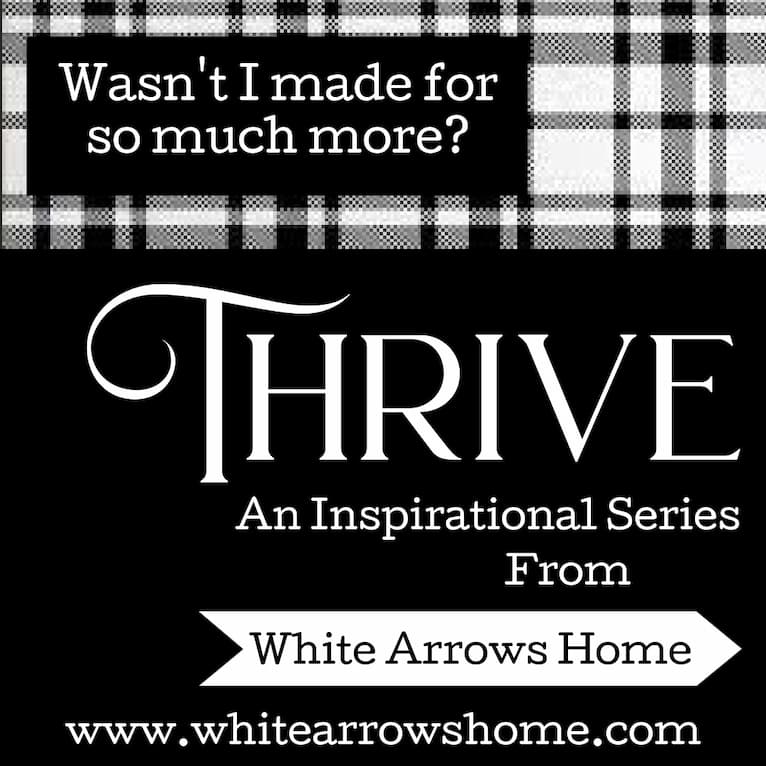 I hope you will follow along with me in this two week series as I share what I've been learning to help me grow personally, professionally and spiritually. In case you missed day one you can READ THE POST HERE.
One of the things I hear most from my friends, followers and people I'm in conversations with is that they are looking for ways to slow down. Just a short time after a time when we were forced to halt our business, we have fallen right back into the hectic routines and running around.
I am consciously always looking for ways to stay slower while still enjoying activities, events, obligations and social outings.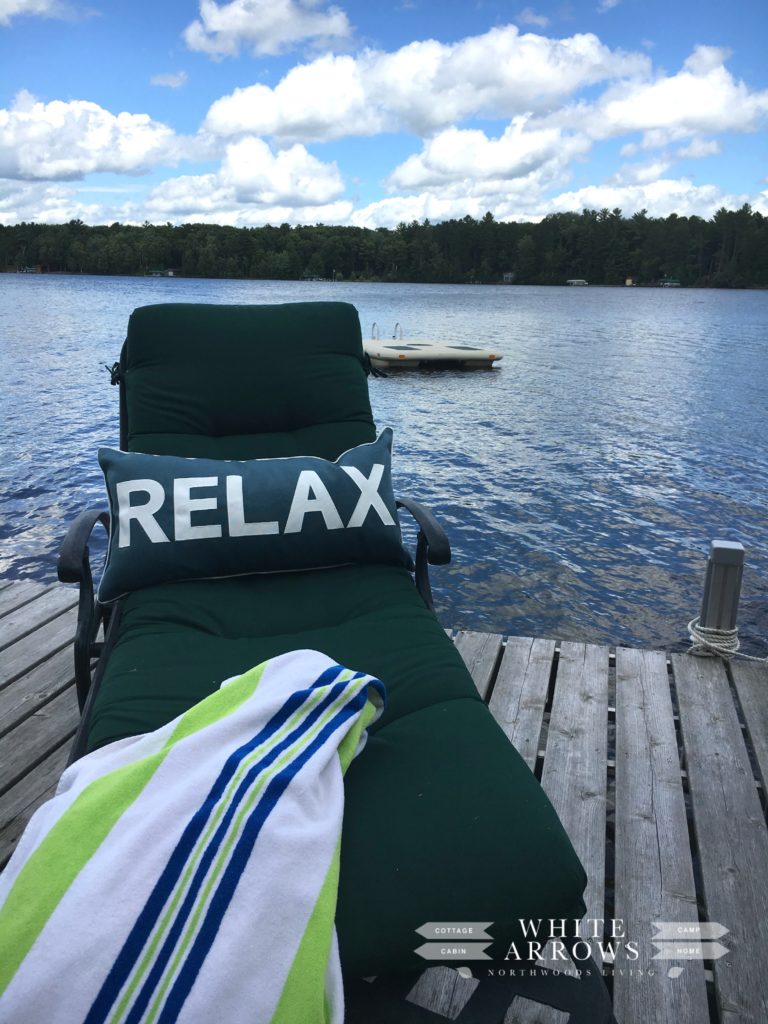 Something I'm trying to do to force myself to slow down is to try to once again have good handwriting. I don't know if you're like me, but I had better handwriting in elementary school than I do now.
SUBSCRIBE HERE so you don't miss any inspiration!
I have over the years quit caring and let it be something I hurry through. So much of what we do is typed on the computer, in emails and through texting that when an opportunity comes for me sign my name or, heaven forbid write a few lines I rush through. Often I can't even read back what I write and my signature has become more of a monogram, and not a pretty one.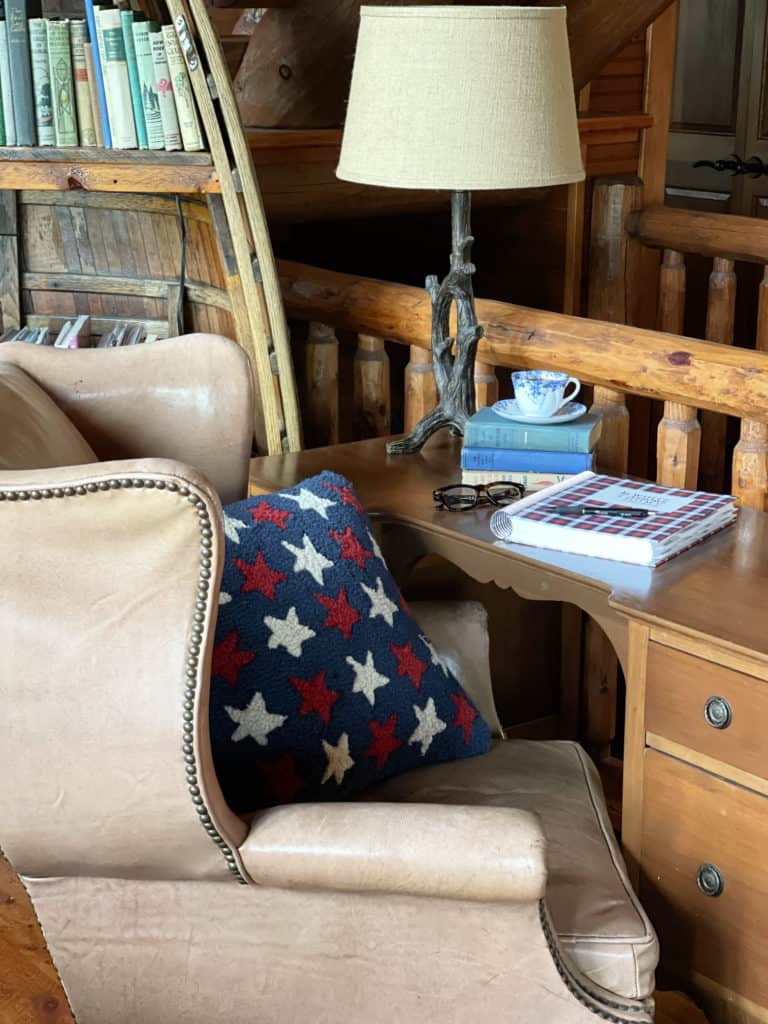 There are still plenty of opportunities out there to use my penmanship. It doesn't have to be perfect cursive or even fancy calligraphy, just legible and something to feel some pride in.
One of the reminders I like to give myself is "To Take the Extra Minute." It only takes minutes to make a difference.
A Handwritten Note
It is still one of the most touching kindnesses to get a handwritten note. I got one the other day from one of my followers. It was in a pretty notecard and full of encouragement for what I do at White Arrows. Talk about warming my heart! I think I smiled all day long. It probably took her only a few minutes to pen and a few extra to get it to the post office and it made an impact that still lasts.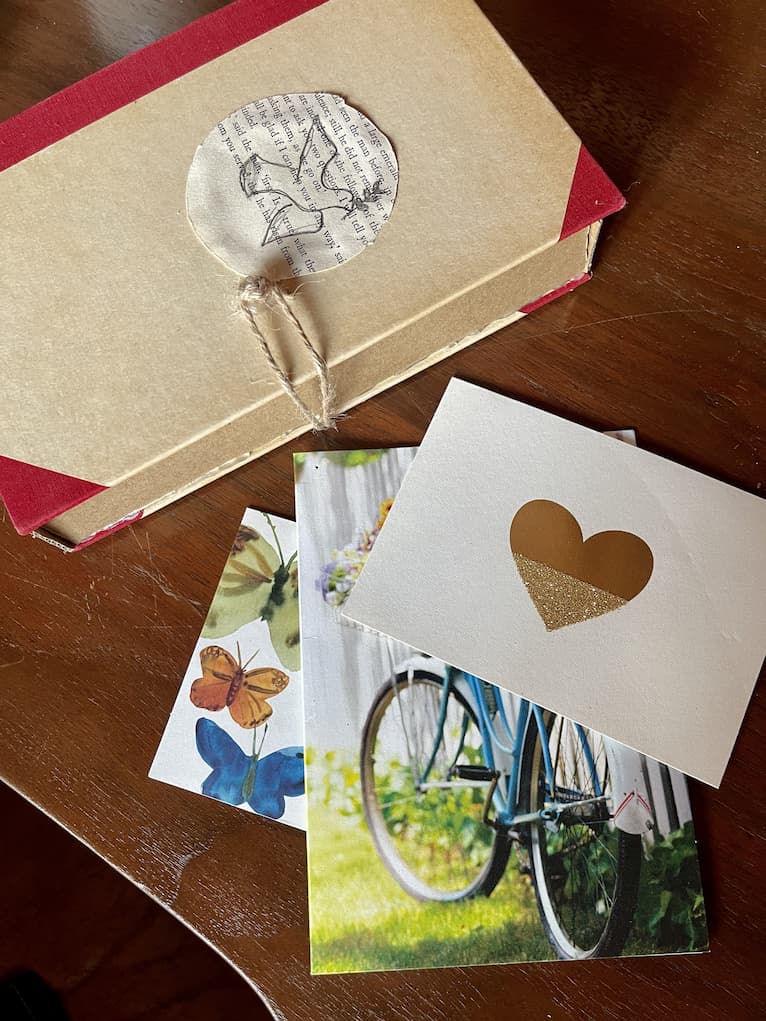 My grandmother and I exchanged handwritten letters up until she passed away a year ago. I treasured those letters then and I still treasure them now, after saving them in my memory box. I know they meant the world to her too. I have a box where I keep all the special notes I've gotten over the years. This one my daughter made out of an old book.
You know I can still remember the handwriting of my childhood friends because we passed notes throughout the day. When I was a teacher in the early 2000s I knew whose paper was whose if they forgot to put a name on it, because I recognized their handwriting. Our handwriting was an extension of ourselves, our personality and style. Did you add hearts instead of dots on top of your i?
I want to write more handwritten notes on beautiful stationary and in pretty cards hand picked for people I care about. I want to take my time to write them legibly and beautifully in a handwriting they will recognized because they will see it often.
Thank You Notes
The art of the thank you note. I am usually good at thank you notes, but I'm not good enough. Again, I need to "Take the Extra Minute" to write them. A note doesn't take hours, just minutes and appreciation and gratitude needs to fill more of our messages.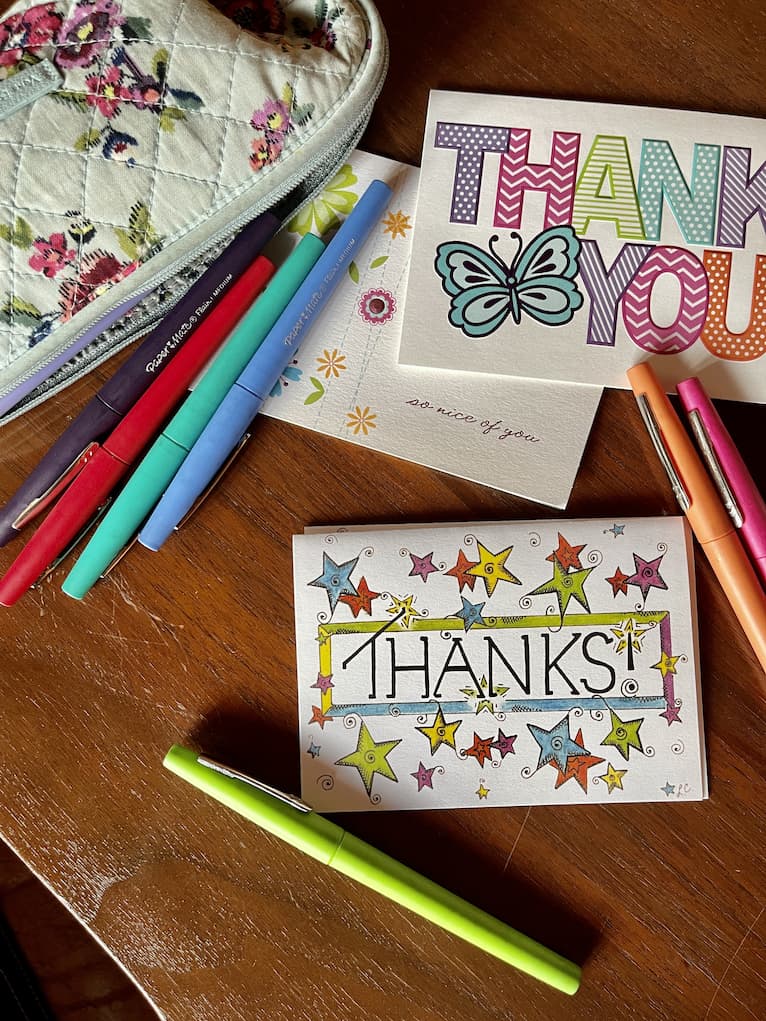 I never expect a thank you note from others and often tell a new mom I drop a meal off for or other gestures not to write one because they have enough on their plate, but I want to be better at sending them out myself.
I keep a drawer with thank you cards in it for my kids to grab, pens and stamps. There's also a sheet of paper with family members names and addresses on it so they can copy it down on the envelopes. It makes it easier for them. They have fun choosing the card and can be independent.
Signature
I'm not famous, I don't have to give my autograph to fans, but I do need to sign my name often enough in my kids' planners for school and on forms. The electronic signature at the grocery store, doesn't count (that pen is beyond my control! LOL!) But when I sign with a pen, I want to take my time to make my signature legible and pretty.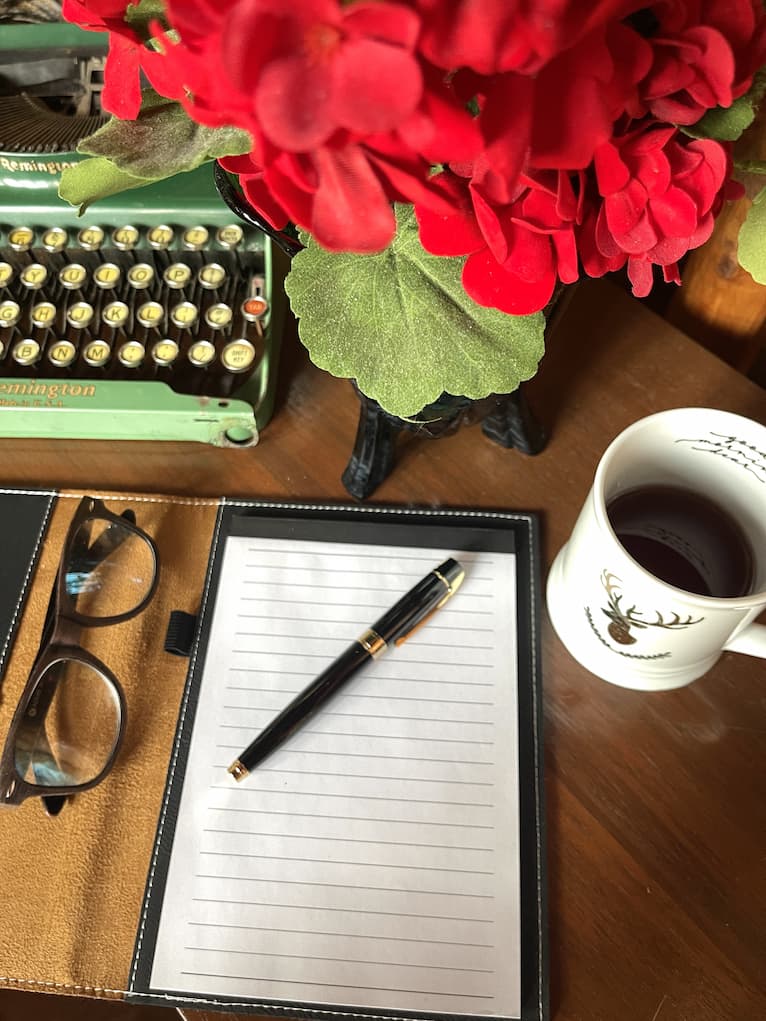 I never felt like I had nice handwriting growing up, there were always classmates and friends that I felt had such beautiful papers. I always had a theory that my friends who were good at hair and makeup had the best handwriting (and that wasn't me! 😉 ) But now when I look back at a paper I wrote in my scrapbook, I'm amazed at how neat I actually wrote!
Calendar
I'm still a paper calendar girl. I love handwriting on a calendar. It helps me visualize my schedule and input activities and appointments into my memory when I write them down in pen or pencil. The problem is I so often do it quickly and have trouble reading what I write. I need to slow down and take time to write neatly.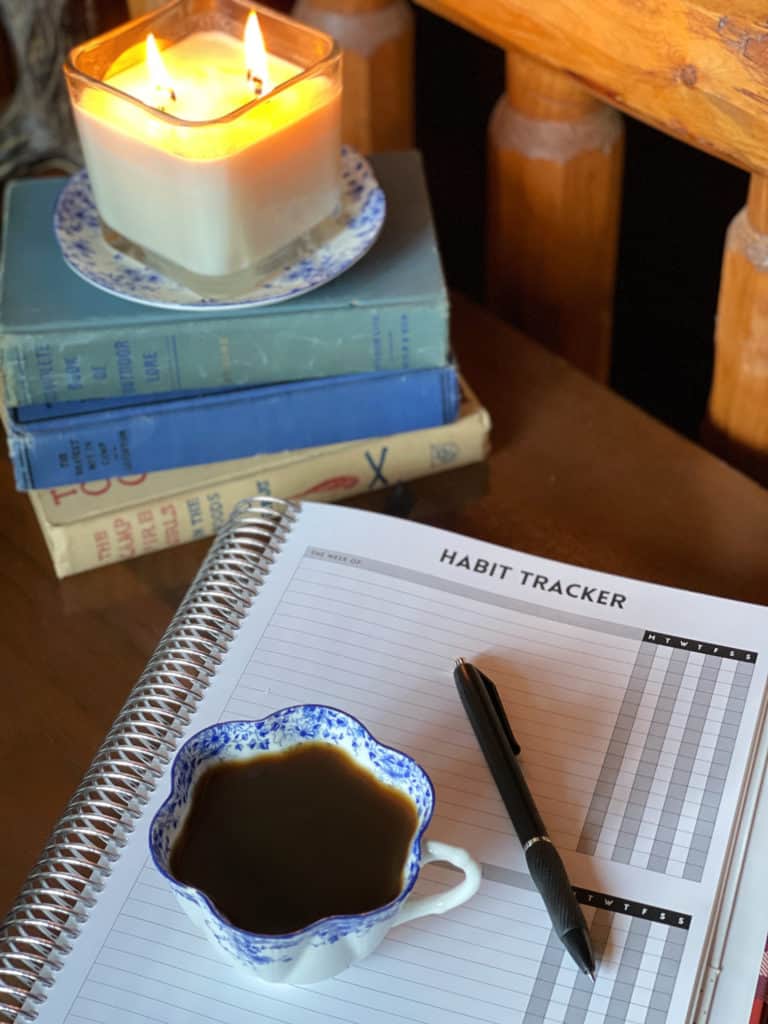 Taking the extra time to write each entry on the calendar I can take time to think good intentions for the event or pray for the activity as I write. I can feel gratitude for the things I "get" to do instead of "have" to do. This change in verbiage is one of the ways I change my perspective to feel thankful instead of frustrated. It's a privilege to have the health and means to do so many of the things that go on the calendar from doctor appointments to watching school plays.
As my kids see me write in the calendar neatly, it shows them I care about their activities and supporting them.
Book Inscriptions
A tradition I love is when a giver writes a message and a date inside a book they are giving as a gift. I have some treasured books, like my copy of The Secret Garden, by great grandmother gave me. Inside the cover is a note to me, the date and her signature. I loved pointing it out to my daughter when she was younger and we opened the book to read it together as one of our bedtime books.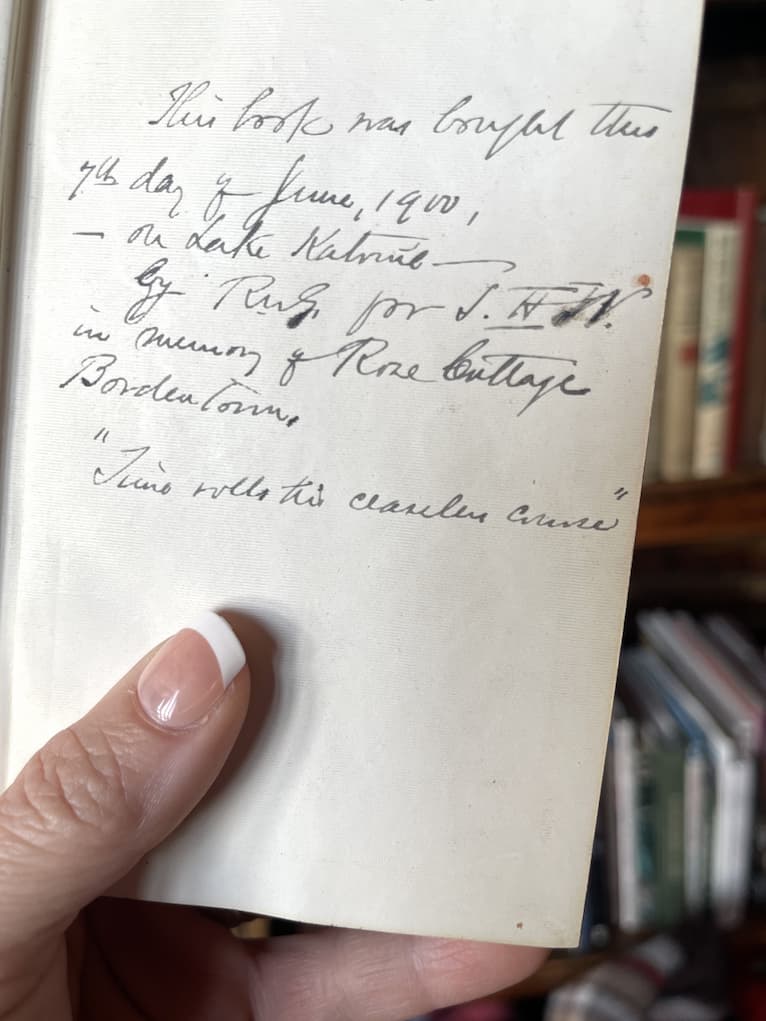 I collect vintage books and when I find one with an inscription in it it makes it even more special. Some of the messages are romantic, meaningful and so special.
It's a tradition I think should be brought back. Books make wonderful gifts for any occasion and all the better with a special message inside. Even if we can't think of the words to leave a message, just a To: a From: on this special occasion of your… and the date, it's a wonderful memory.
Bills, Checks and Envelopes
I have not switched everything over to paperless yet. I will get there, but in the meantime I need to slow down when I'm paying my bills and write out my checks neatly and address the envelopes with better penmanship reminding myself again that it only takes a little extra time, it shows appreciation that I can pay my bills, and helps the post office get it to the right address!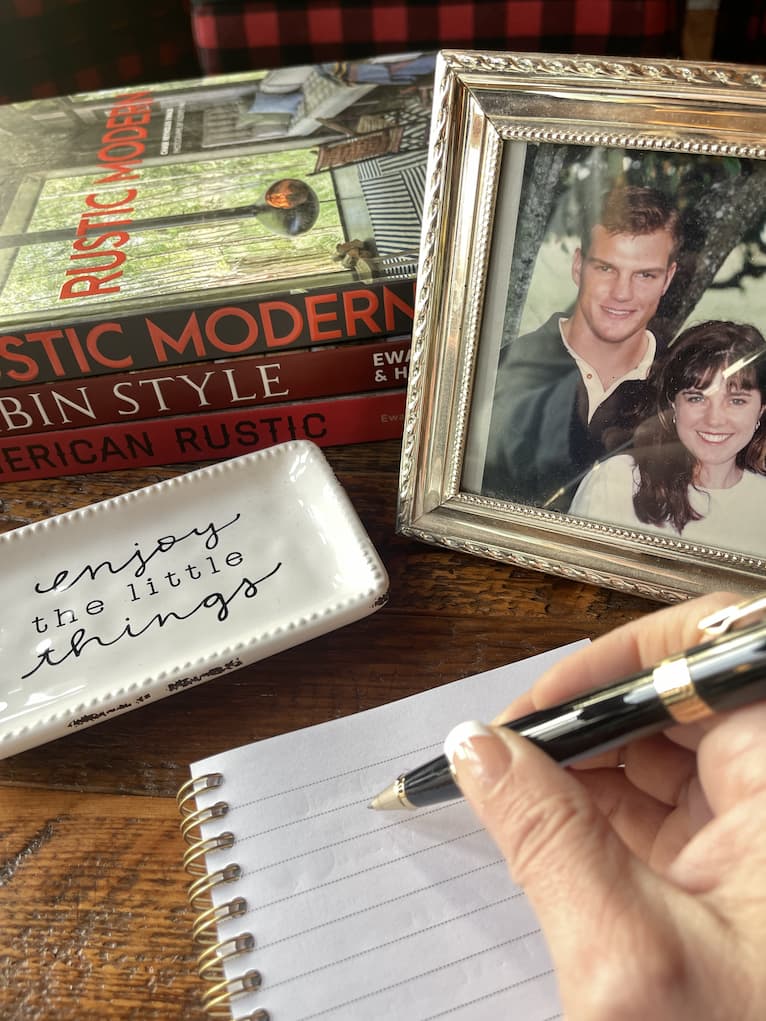 Now the last thing I want is for everyone to be evaluating my penmanship and checking up on me, everyone needs to "paddle their own canoe." but I'll be over here continuing to remind myself to have better handwriting.
Another thing I believe it that we are never to old to learn something new or start a new habit so I want to get better at all these things.
Set up a beautiful desk space where you can have pretty notecards, journals, pens and all the things right where you can find them relax and enjoy writing.
A Few Fun Finds


FOLLOW ALONG
Instagram ~ Facebook ~ Pinterest ~ Twitter ~ YouTube ~ Tik Tok ~ Liketoknow.it ~ Podcast