I'm sharing how I style spaces intentionally to rejuvenate, relax and restore giving myself places to have time to think, slow down and find peace.
(Affiliate links are used for your convenience. Read my full disclosure here.)
Each day throughout my Thrive series I'm sharing the strategies I use to try and live a full life where I'm learning every day, enjoying the company of family and friends and growing into the woman God created me to be using all my gifts.
In day four of the series, I'm sharing how I style spaces intentionally to rejuvenate, relax and restore giving myself places where I can go have time to think, slow down and find peace. These spots give my brain a recharge, my body a boost and a way to connect with myself where I feel recharged to enjoy time with those I love and my community fully.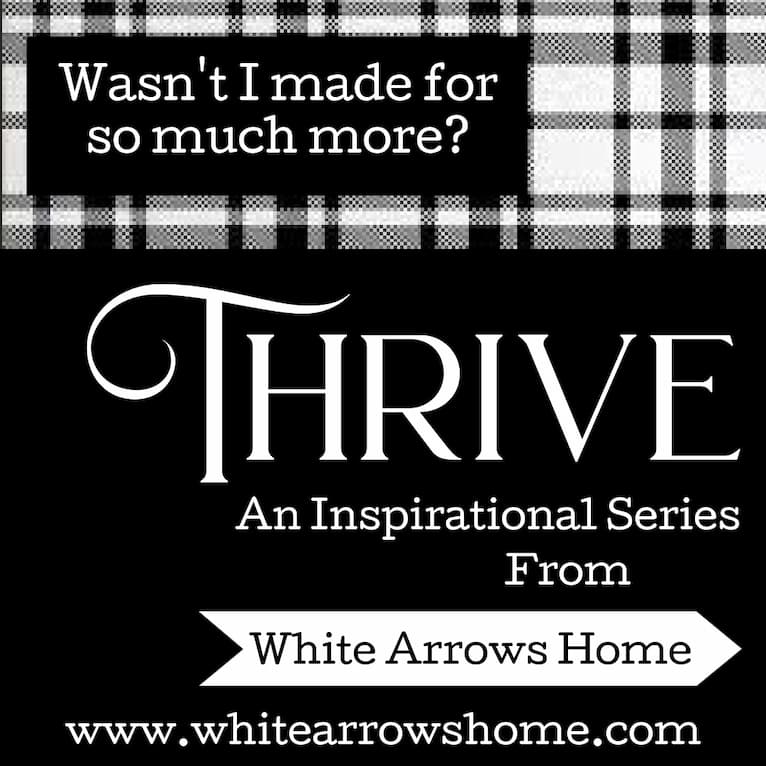 Throughout this post you will find references to Far and Wild Oils. I want to thank them for the oils and diffuser they generously donated to me. Our family has been enjoying them greatly in so many ways not only for the wonderful smells, but the other healthy benefits.
Having a calm home is a priority for me and always has been, especially when my kids were little. This is achieved in several ways.
A home decorated with spaces that encourage hanging out together and lingering longer, but also spaces to be alone and quiet to rejuvenate, relax and restore
Things organized so that they can find them easily
Music in the background
Smells, aromatherapy
Morning and bedtime routines
A wife and mom that is calm (though I am wired with an optimistic outlook and calmness, it is something I work at intentionally)
Lots of laughter, smiles and love
There are several spaces in our home that I go to rejuvenate, relax and feel restored. It starts when I walk in the door.
Warm Welcome
When I get home I want my home to be relaxing and welcoming for myself and my family. Coming home should automatically help us get calm.
How to Style An Entryway
I style a welcoming front porch for the seasons and include spaces to sit. Porch sitting is a wonderful way to relax while reading, visiting or just looking out at nature.

After walking in the door I style the entryway to be not only attractive, but functional. There's a seat to sit and take off your shoes, a coat rack to hang your jacket on and cubbies for the kids "stuff."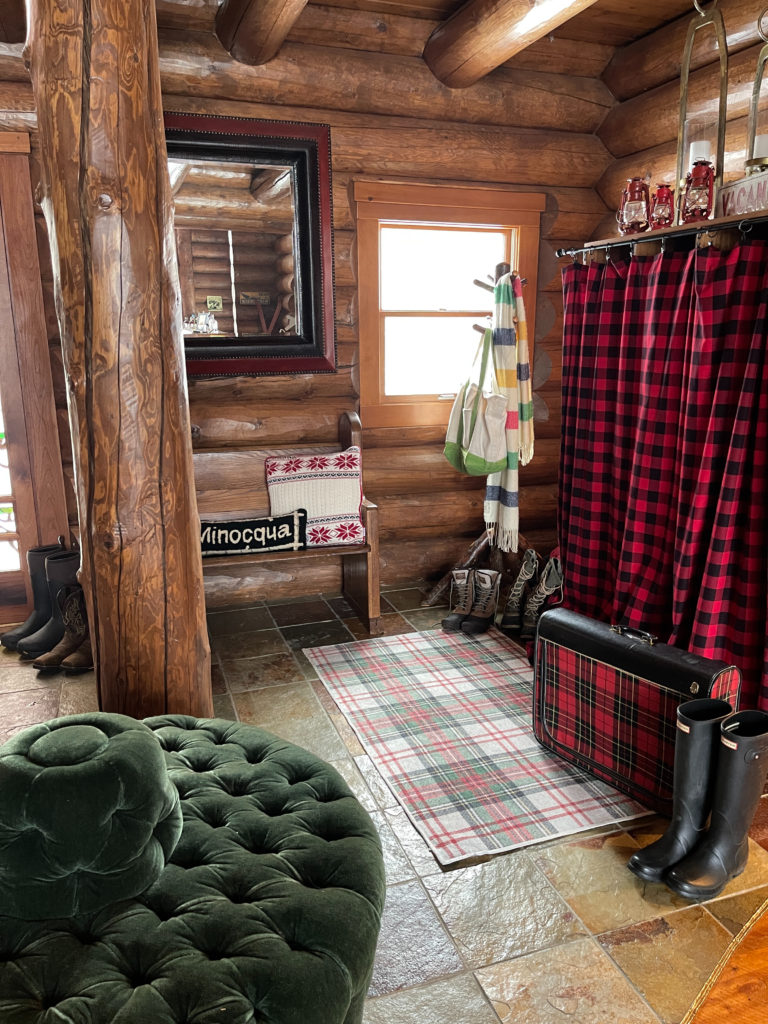 That first smell when you walk in someone's home leaves a big impression. We even felt immediate affection when looking for our cabin, when the realtor brought us in and the smell of a pine scented candle filled the air. It was just perfect for a cabin tucked in the woods.
Having a fresh, clean smelling fragrance in the entryway makes me instantly relax.
Far and Wild Oils make it easy to order directly from their website without any membership fees or monthly minimums typically associated with essential oils.
Bedroom
My bedroom is my greatest retreat. I do several things to help make it peaceful. I keep it tidy, I don't let it become a dumping ground and every morning I make my bed. See more of my bedroom IN THIS POST.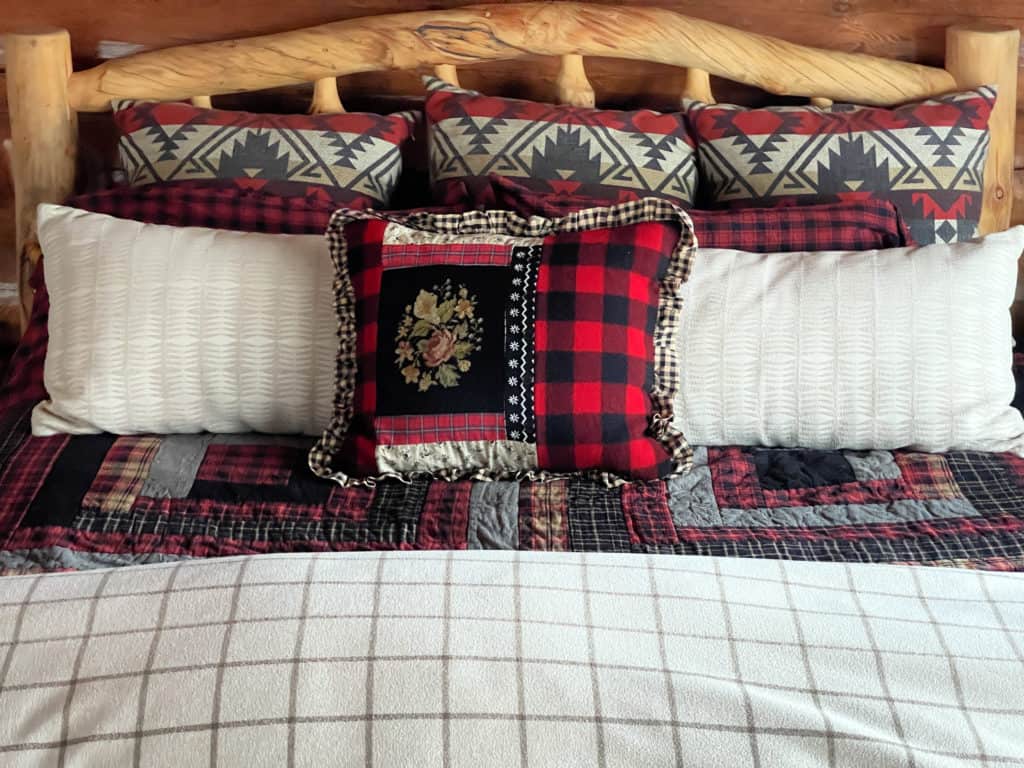 How to Fall to Sleep Fast
Having a great bedtime routine is the best way to fall asleep fast. When our kids were little we intentionally set up a bedtime routine that the whole family looked forward to. After dinner the kids took their baths or showers then we gathered to watch a show. We went through old TV series like Little House on the Prairie, The Brady Bunch, Leave it Beaver, MacGyver and so many more. Then I would make the rounds tucking everyone in and reading to them.
Now that the kids are older, I don't go around and tuck them in, but go right to my own wind down routine. Here are the things that help.
In the evening when it starts to get dark, I turn off any overhead lights and turn on all the lamps.
We start to do quieter activities, watching a show together or sitting by the fireplace visiting or reading.
I take a shower, if I didn't already take one after a workout.
I follow a routine every night for my skin care and my teeth. Routines help unwind and tell our brains it's bedtime.
In the Winter, I turn on our fireplace to get the room cozy before I do my face and teeth.
We keep the house temps cooler at bedtime.
I say my prayers and praises.
If I'm having trouble falling asleep I take a virtual walk through my childhood home, grandmother's house or another home I loved. I usually never make it through the whole house before falling asleep.
I try to eat two-three hours before bedtime.
I fill my diffuser with lavender essential oils.
Far and Wild Oils are the highest quality and purity grade of essential oils available, not watered down like many on the market.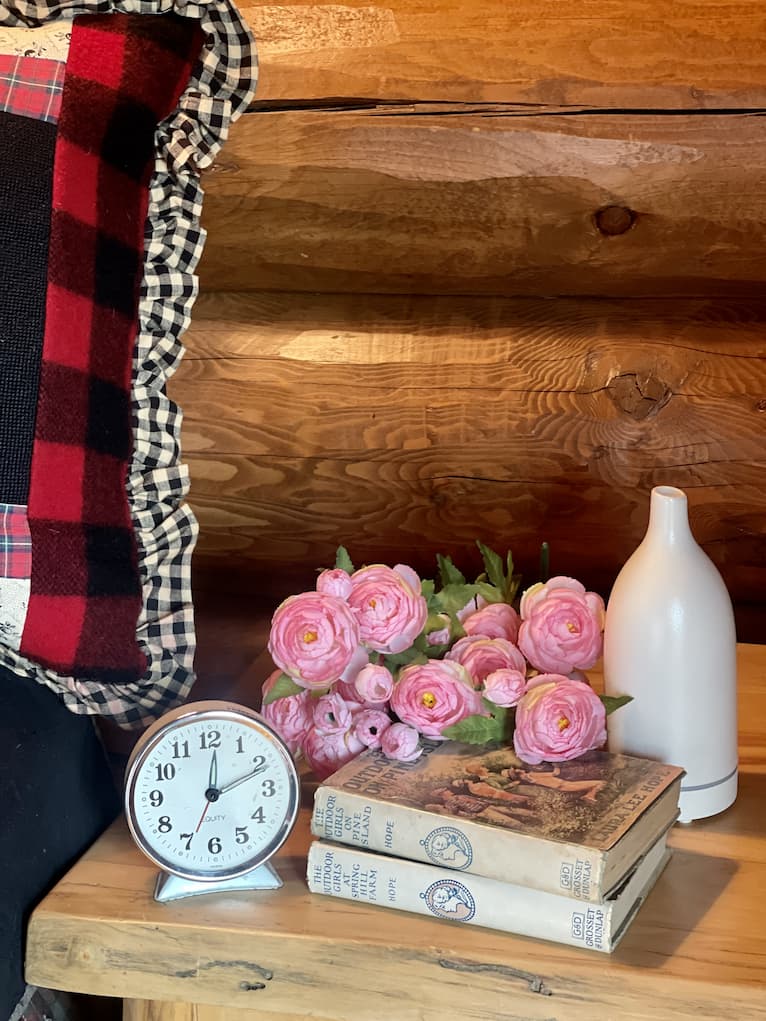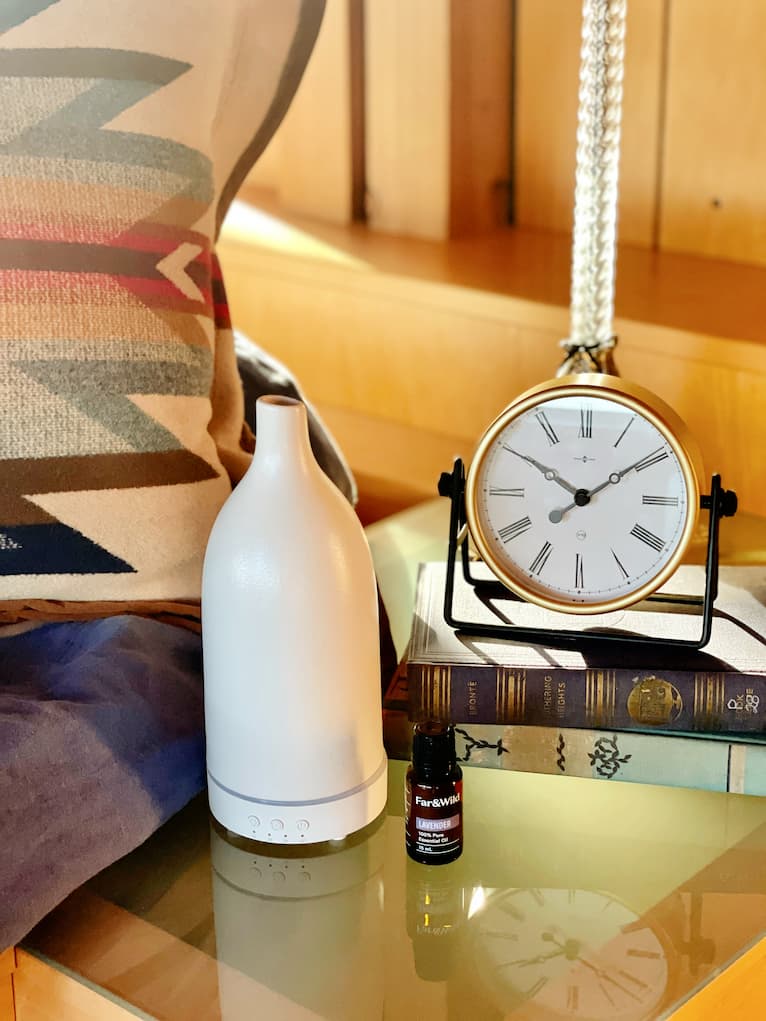 Living Room
Far and Wild Oils certify every oil they sell and can even send out purity certificates/testing analysis upon request.
Workspace
I love having a beautifully styled desk space to work at where even when I'm not working it looks inviting.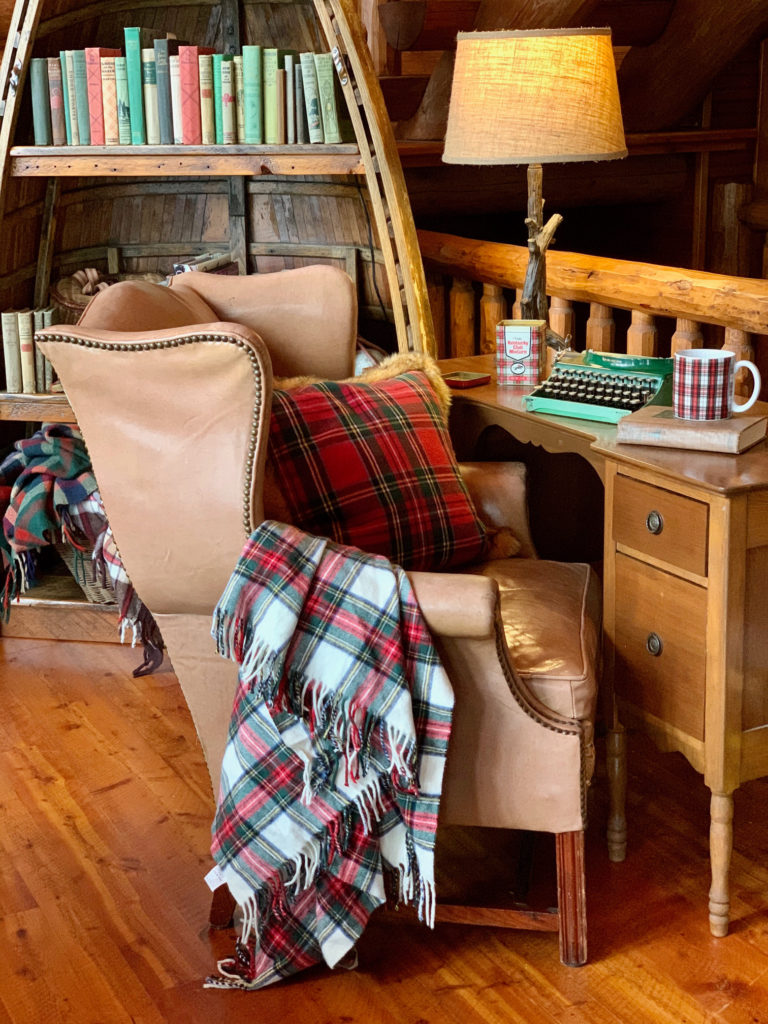 How to Stay Focused While Working
There are several things I do to help myself stay focused while I'm working.
I light a candle or start my diffuser with an essential oil like the Calm blend from Far and Wild Oils.
I bring along a warm drink, kombucha or lemon water.
I'm someone who likes music on when I work, I have a "writing" playlist full of instrumental favorites and movie scores, songs with no words.
SUBSCRIBE HERE so you don't miss any inspiration!
Bathroom
Time in my bathroom at the beginning and ending of my day are very important parts of my restoration process. In the mornings my shower is about waking up my body with minutes of cold water and aromatherapy. In the evenings it's part of winding down and getting my body calm before bed.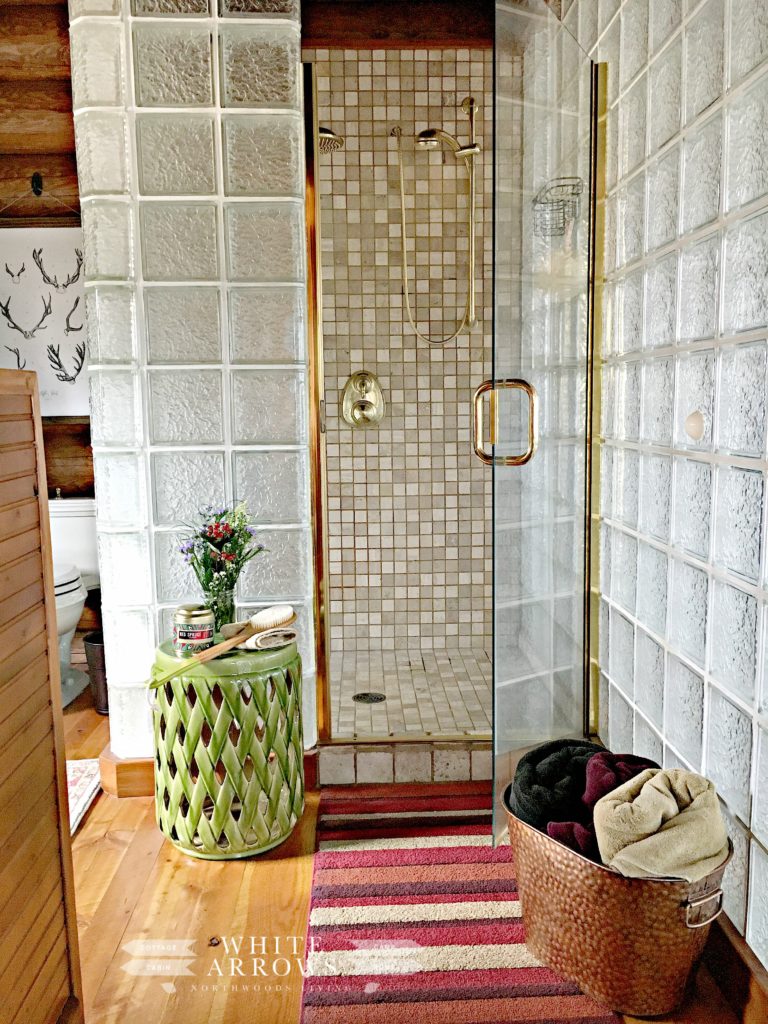 How to Make A Spa Like Bathroom
There are several things I do that are inexpensive and beautiful to give my bathroom a spa like feel. You can read more about creating a spa like bathroom IN THIS POST.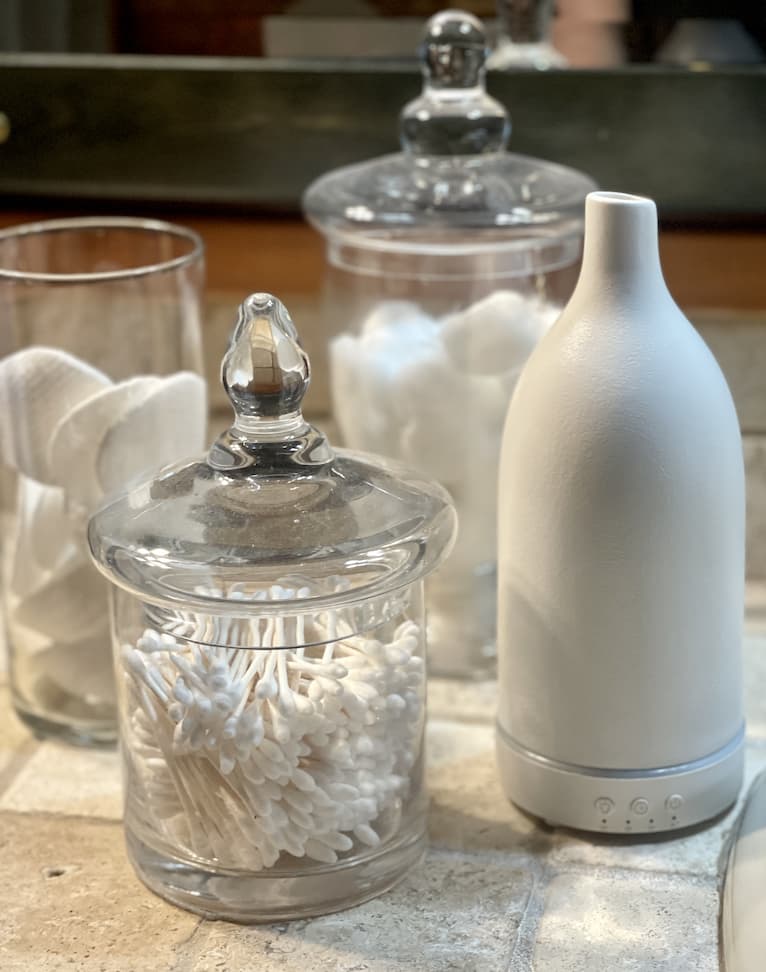 I love to add to the experience by filling my diffuser with Eucalyptus essential oils.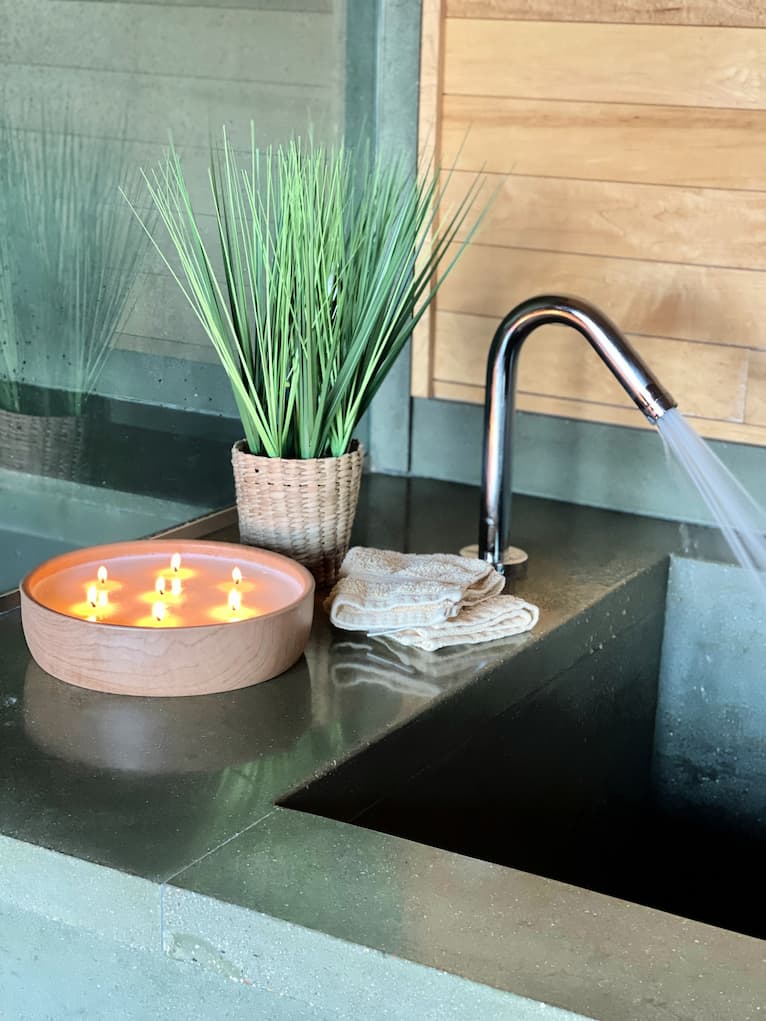 Candles, scrubs and favorite soaps add to the experience.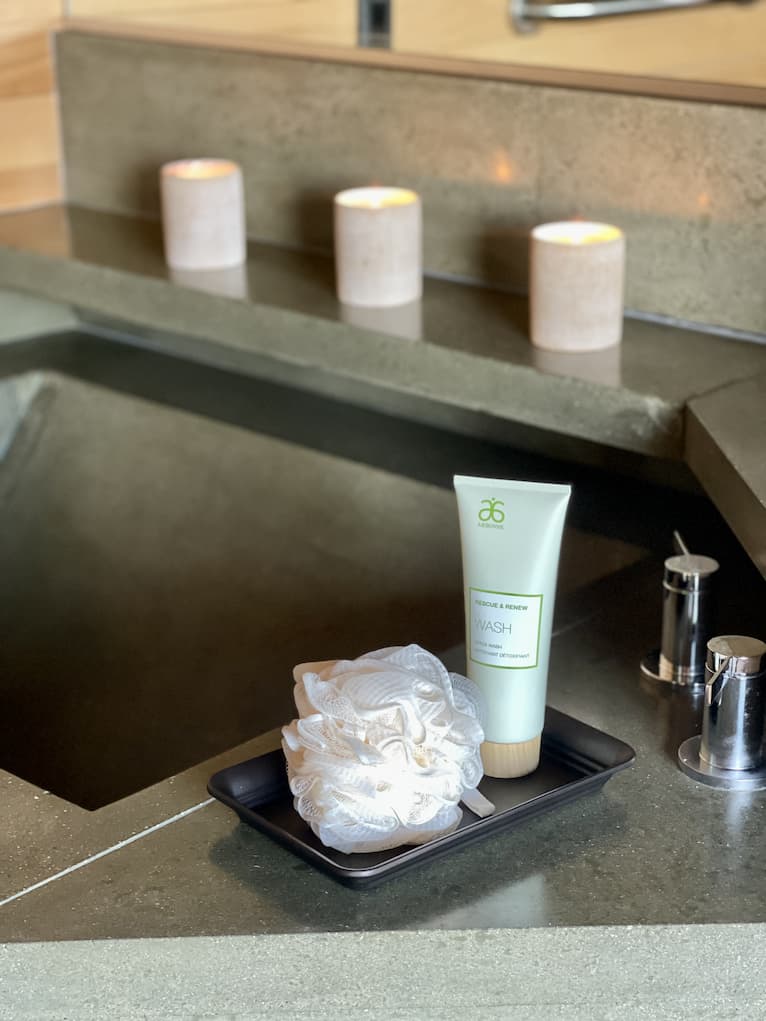 Workout Studio
Another favorite spot to relax is in our workout studio. I love starting each day with stretching and a little yoga. It's such a peaceful way to begin the day. It also helps me stay mobile and pain free all day and throughout the years as I age.
Later in the day, I love to spin, run or do circuits with my husband and kids. It's one of our favorite ways to spend time as a family.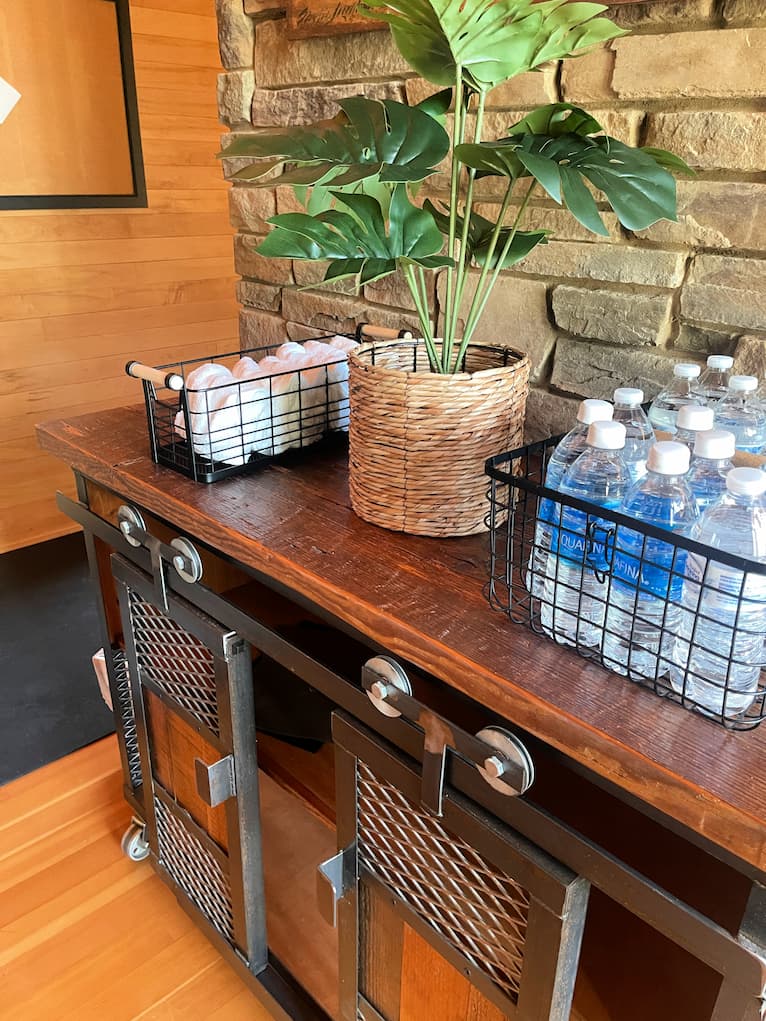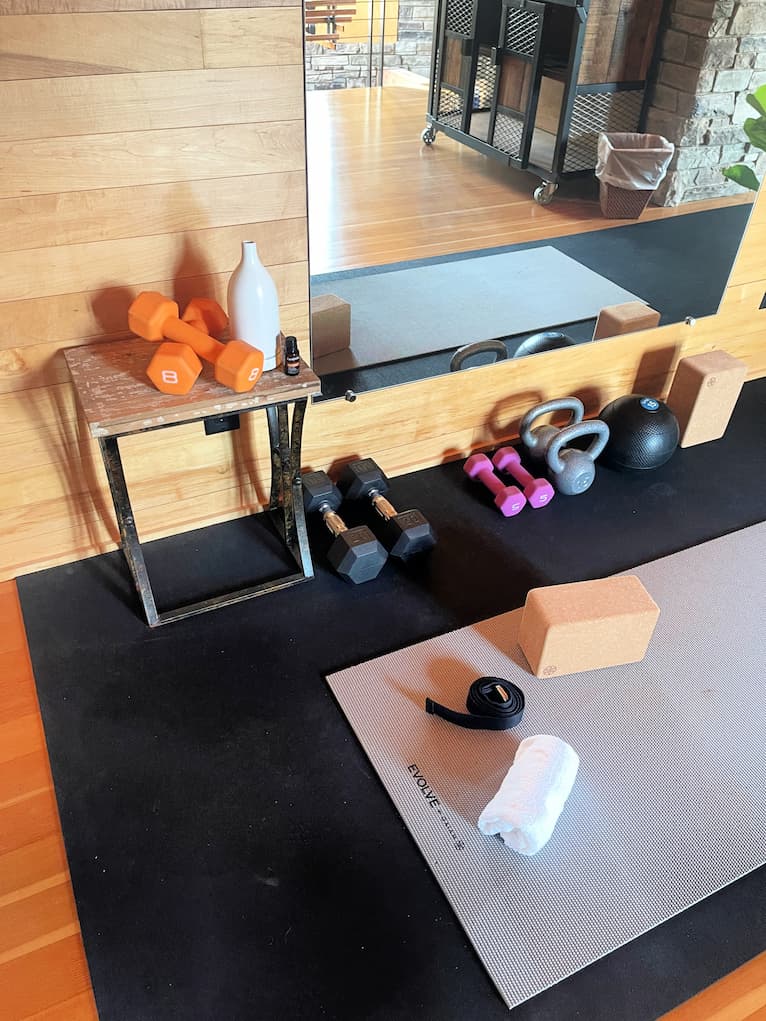 How to Create a Workout Space
You don't need a lot of equipment or need to spend a lot of money to create a great workout space. You can turn a corner of your room or the closet under the stairs into a great space with just a mirror, yoga mat and a few weights and bands. Follow along on all my socials (Instagram ~ Facebook ~YouTube ~ Tik Tok) where I often share ideas for spaces and the workouts we do in them.
At the cabin, we turned a single car garage into a workout room with a treadmill, bike, weight sets and more that our family gets a lot of use out of. We put a glass door on it so when the weather is bad or cold we can still get lots of light in and see out. When it's a nice day we can open the door and get a lot fresh air taking our workout outside the garage as well.
At Badger Hollow, our getaway in The Driftless Area of Wisconsin we turned a landing on the second floor into a small studio.
I also love to put a diffuser by my yoga mat to get the benefits of the aromatherapy as I stretch.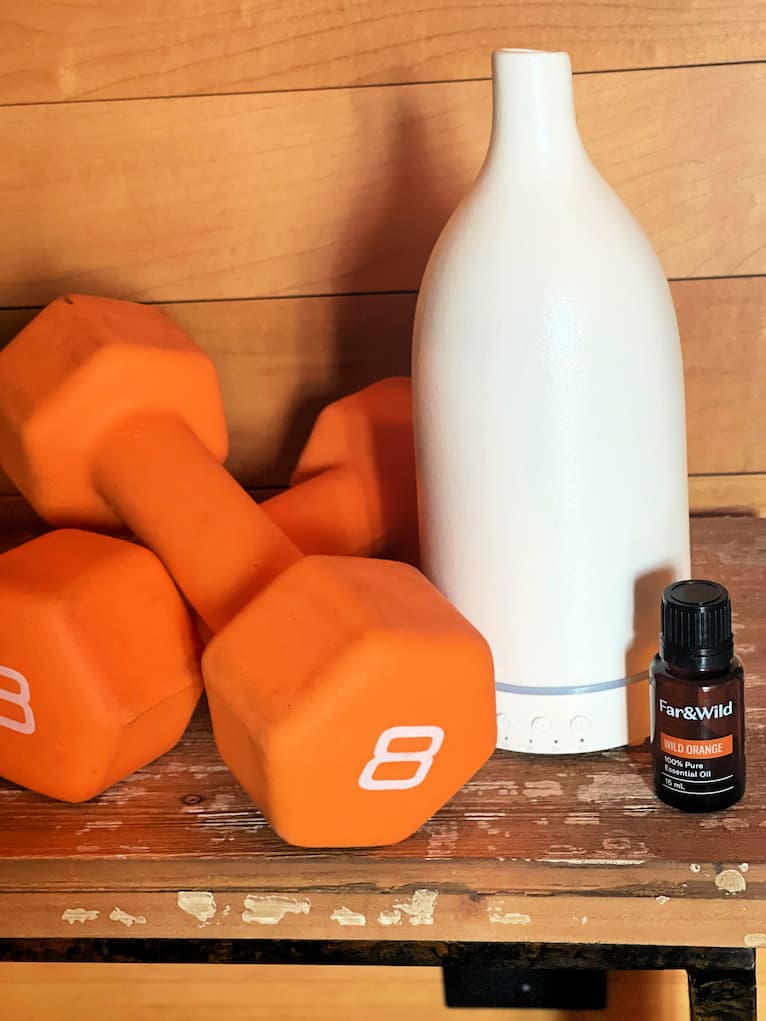 Thanks so much for joining me throughout this Thrive Series. Head back to read the posts you may have missed and stay tuned for the posts to come over the next several days. Let's Thrive together!
Thrive Series:
COMING UP IN THE SERIES:
What's Your Fuel?
Never Too Old
Chase That Dream
FOLLOW ALONG
Instagram ~ Facebook ~ Pinterest ~ Twitter ~ YouTube ~ Tik Tok ~ Liketoknow.it ~ Podcast