It's time for another seasonal Blog Hop. This one is hosted by my friend Pasha of Pasha is Home. These blog hops are such a fun way to see lots of inspiration as you follow the links from home to home like a virtual progressive dinner. They are usually organized by one blogger who serves as a host collecting all the links and setting the theme.
I'm sharing inspiration for setting a Spring Tablescape. Setting the table is one of my favorite things to do. I feel like its a simple way to show love to my family daily and my extended family and friends when entertaining.
If you are coming over from Willow Bloom Home Blog, welcome to White Arrows Home. Wasn't her table beautiful and the perfect spot for Easter gathering!
Welcome to White Arrows Home
I'm so glad you've come to visit! I hope you will find inspiration for not only decorating, but to lift your heart as well as I share how I use decorating my home to share love with my family and friends.
We live in a full log cabin that sits lakeside in The Northwoods of Wisconsin. We are still sitting in several feet of snow right now. Our Spring is late and short, rushing into Summer. So this view of my cabin is where we are headed, but not quite yet.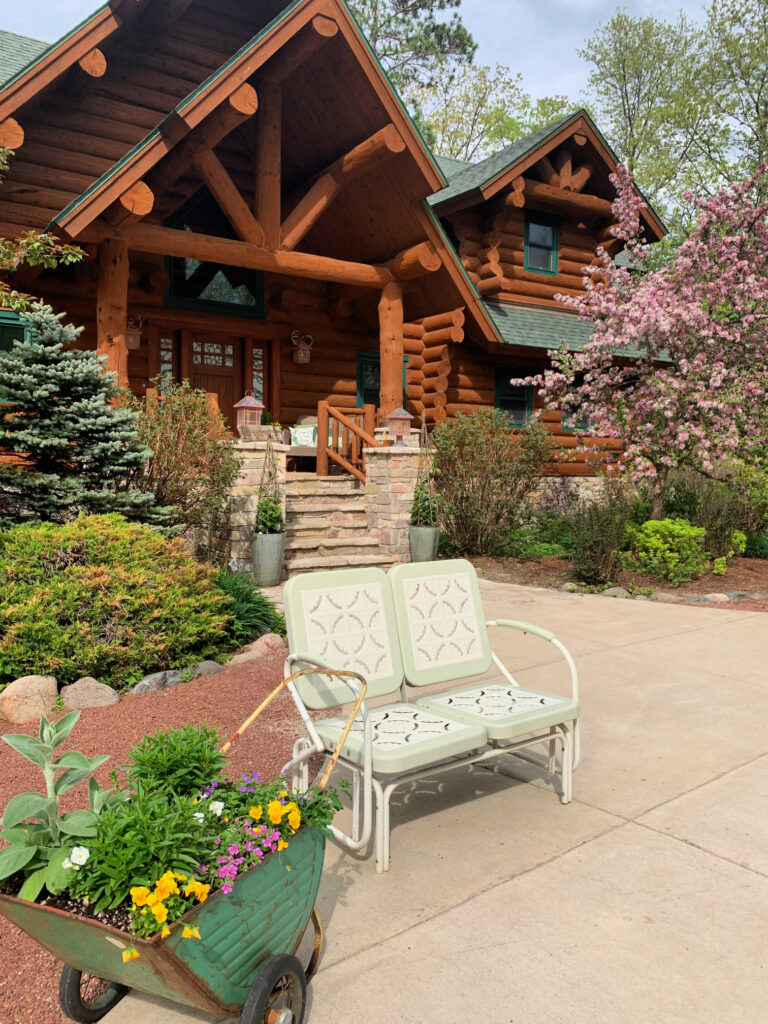 Inside this time of year, I slowly transition between Winter decor and Spring. I'm so inspired in my decorating by what is right outside my windows and happening in nature, but we get a bit itchy for color. The freshness of Spring decor inside brings gives us a boost when more snow falls in March and April.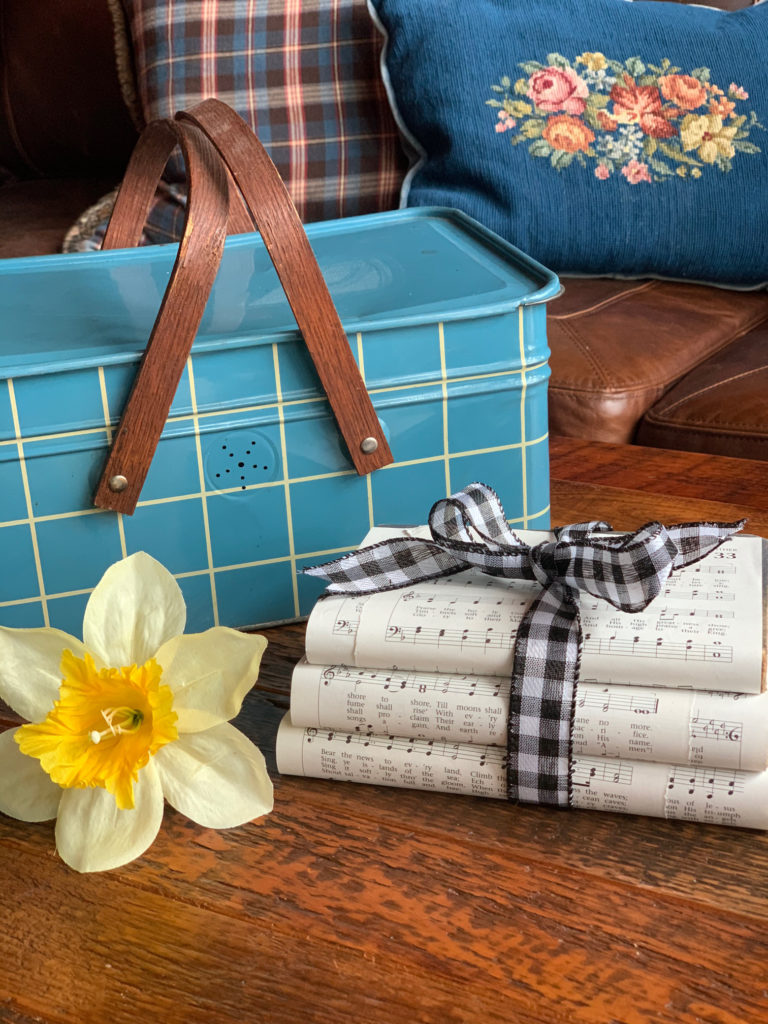 I start with vignettes around the house, my mantel and then our dining table.
Setting the Table
This year we had a big change as we transitioned to just four of us at the table for meals. I'm the mom of five kids, but now only two are still at home, one in high school, one in middle school. The older kids are in college or working.
We have a big dining room table that I love. This Fall after the big kids went back to school, the dining room table felt a bit empty with four of us all the way on one end. So I got an idea.

Right off the dining room is our sunroom that we have never quite found how we like to use. So I asked my husband if he and my son could move the big table into the sunroom and bring the smaller antique round table from the guest house over to the dining room.
We have LOVED the transition! The round table is so perfect for the four of us, looks darling in the dining room and somehow calls us to sit at it for homework, after school snacks and chats, and my quiet times.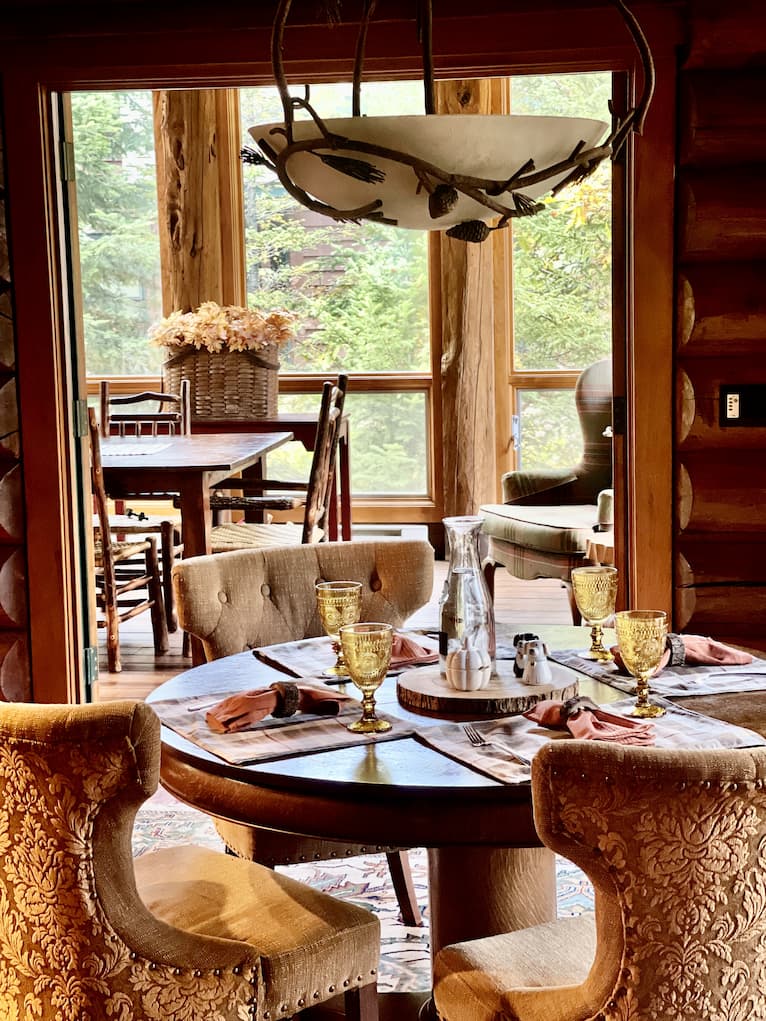 The big table out in the sunroom is gorgeous! It's magical in every season. Living in the woods, we are surrounded by God's beauty. In the Fall with the colorful leaves, Winter the trees flocked with snow. We are looking forward to the buds of Spring.
Here was the table at Christmas.

Setting a Spring/ Easter Table
When I set a table there is usually one thing that springboards the whole set up:
A Color
The Centerpiece
The Season
What I'm Serving
For my table right now I knew I wanted to set it with fresh, bright Spring colors, but mix in some neutrals.

I wanted texture. These woven placemats are one of my favorite things to use especially in Spring when I love using baskets and woven items in my decorating.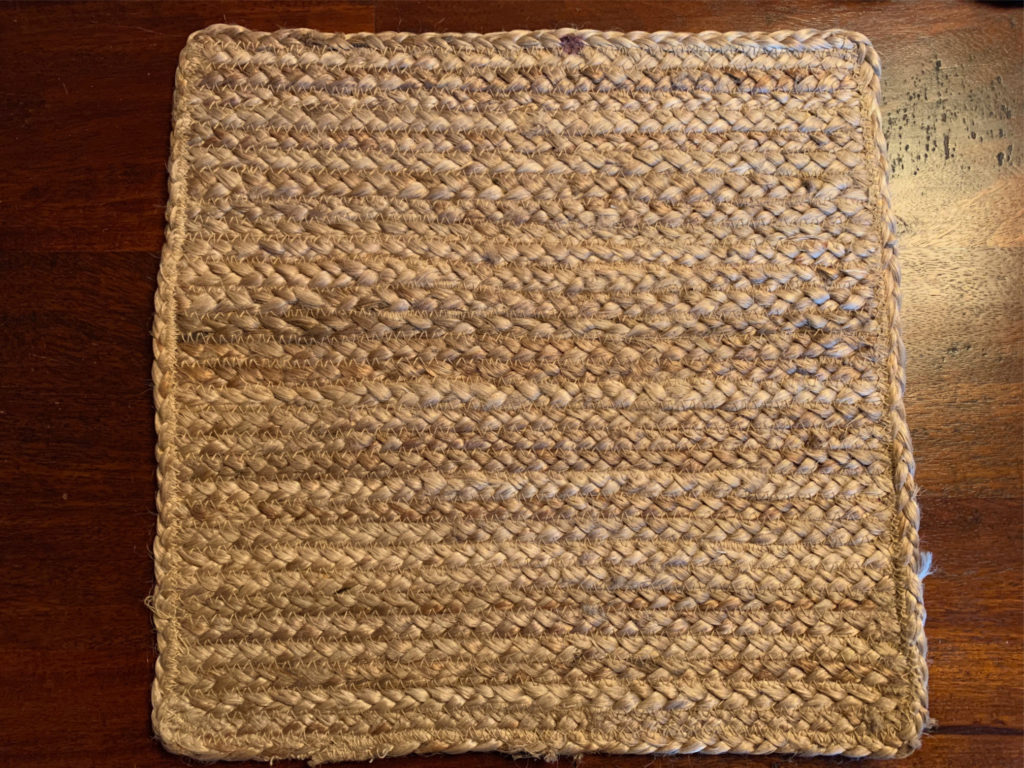 My lamb cookie jar I found out Thrifting with the Gals this Winter was what I wanted to use for my centerpiece. Isn't it cute? It was only $8!!! What a find!

I added some lamb's faux stems to some of my milk glass vases next to the cookie jar. Milk glass is one of my favorite things to collect. You can see more ways I use it around my house in THIS POST.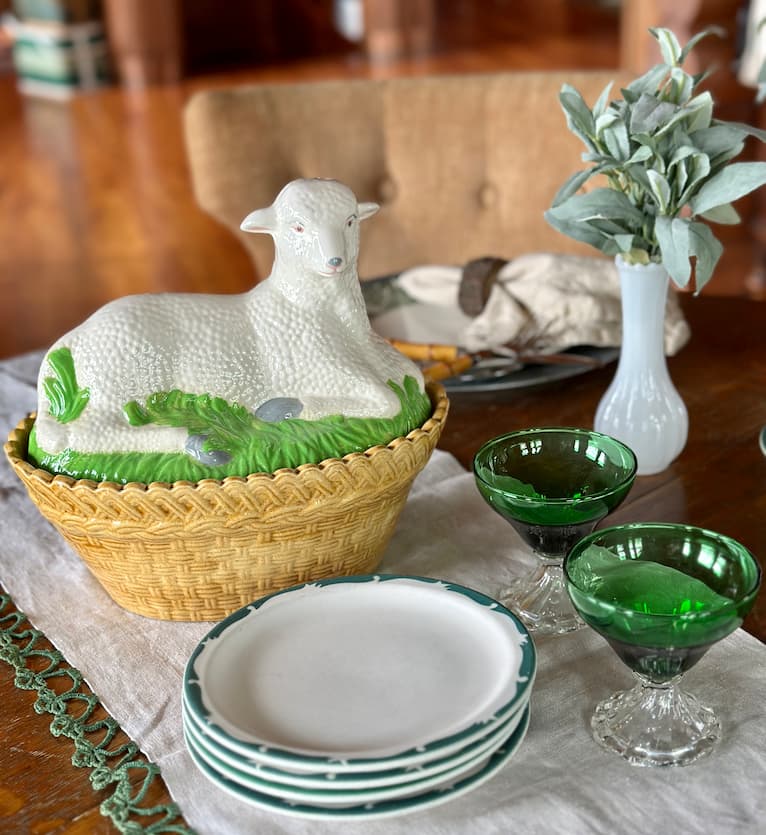 A few things I love:
I love mixing and matching my vintage dishes and layering them on chargers.
I love using real napkins and putting them in cute napkin rings.
I love different styles of silverware.
I love being creative in how I style all the pieces.
I grew up in the South. I was a debutante, I took lots of manners classes and I care about manners. But I love the freedom today to be creative in setting my table. It's good to know the traditions, but fun to not be bound by expectations! Set your table in ways that make you happy!

One of the questions I get is how I keep all my dishes, chargers, napkins and other serving pieces stored and organized.
My most used pieces I keep in the armoire by my table in the dining room.
Plates
Placemats
Chargers
Silverware
Napkins
Napkin Rings
Glasses
The other pieces I keep in a closet near the kitchen.
This was another one of my recent projects that I have LOVED! I transitioned the storage closet full of cleaning supplies to a Dish Pantry. Now I can see what I have, it's organized and easy to grab and use.
Next up on the tour you are headed to Paint Me Pink. Deviled eggs are one of my favorite treats, especially at Easter and wait until you see hers! Can't wait to try mine this way.
Thanks so much for visiting! I hope you will become a regular, if you are not already. Subscribe to receive my posts directly to your inbox and my weekly newsletter.
SUBSCRIBE HERE so you don't miss any inspiration!
You can also hang out with me over on Instagram and Facebook where I share in stories directly from daily life each day. Twitter is where I love to help Fuel You Up with daily inspiration in quick bursts to keep you motivated and smiling.
Take the Tour
Spring Inspiration from Some Very Talented Bloggers

How to Use Easter Bunny Decor in a Classy Way // Pasha is Home
Creating An Enchanting Easter Centerpiece Using Flowers and Cabbage // Shiplap and Shells
DIY Golden Easter Eggs with Floral Imprints // My Sweet Savannah
How to Make a Spring Lantern // Sand Dollar Lane

Best Front Porch Ideas to Decorate for Easter // The Ponds Farmhouse
5 Easy Ways To Decorate Your Mudroom For Spring // White Lilac Farmhouse
The Prettiest Spring Tablescape for your Easter Gathering // Willow Bloom Home Blog
Simple Steps to a Beautiful Spring Tablescape // White Arrows Home

Easter Deviled Eggs // Paint Me Pink
How to Make a Neutral Wood Bead Carrot in 3 Easy Steps // Simply 2 Moms
Easter With Faberge Eggs // A Stroll Through Life
How to Set an Easter Table with Bright Colors // Cottage in the Mitten

Easter Egg & Daffodil Spring Wreath // Cottage on Bunker Hill
Simple And Rustic Easter Wreath With Carrots // Midwest Life and Style
Decorating for Easter with Neutrals // Robyn's French Nest

When is Easter 2023? Everything You Need to Know This Year // Southern Crush at Home
Easy Centerpieces for the Easter Table Ideas // Bricks 'n Blooms
Four Easy Spring Centerpieces // Vintage and Grace Living
FOLLOW ALONG
Instagram ~ Facebook ~ Pinterest ~ Twitter ~ YouTube ~ Tik Tok ~ Liketoknow.it ~ Podcast