One of the best parts of Summer is dining on the porch and enjoying the beautiful outdoors.
I'm excited to be joining some of my blogging buddies for a hop today sharing outdoor dining inspiration. Thanks so much to my friend Pasha of Pasha is Home for organizing this fun tour! You can find links to all the bloggers participating at the bottom of this post.
(Affiliate links are used for your convenience. Read my full disclosure here.)
If you are coming over from Pasha is Home then you are probably just like me and planning to have a potato bar dinner as soon as possible! I loved her post!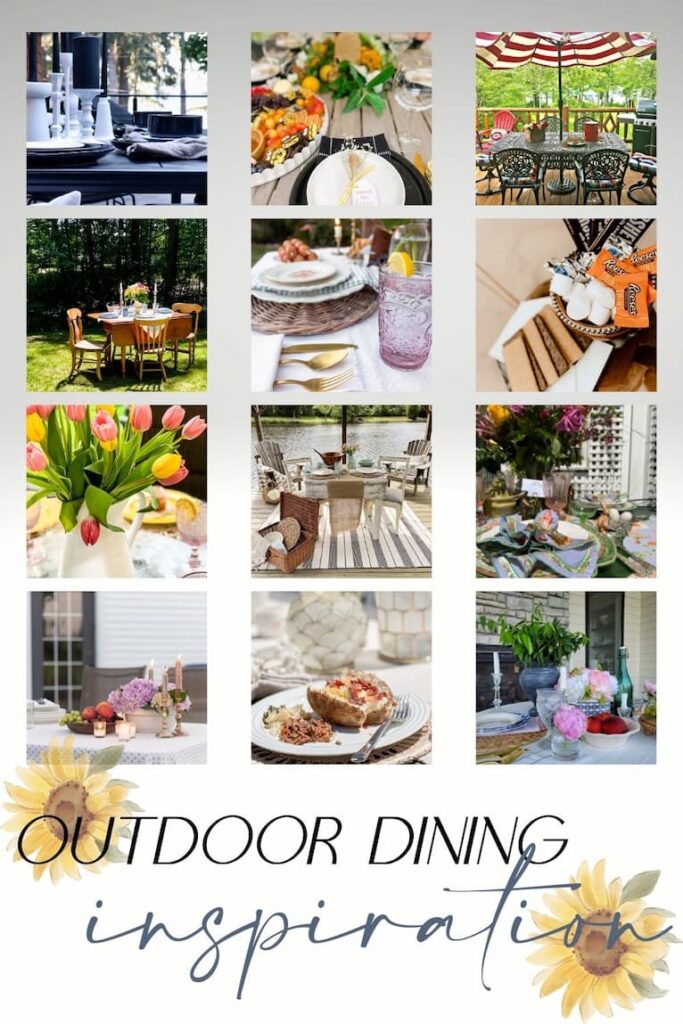 The Back Porch
One of our favorite places to eat is on our porch just outside our dining room and kitchen. It over looks the backyard and our lake views.
I love hearing the happy sounds around our table and from the lake as we eat and visit. We hear the boats go by and laughter from kids being pulled on tubes. If the evening gets longer we start to hear the loons.

Our family loves to linger around the table and have long dinners. My husband and kids are so funny. They tell great stories and bounce off each other. Especially if my older daughter is home for a visit. It's like getting to watch a great tv show for me.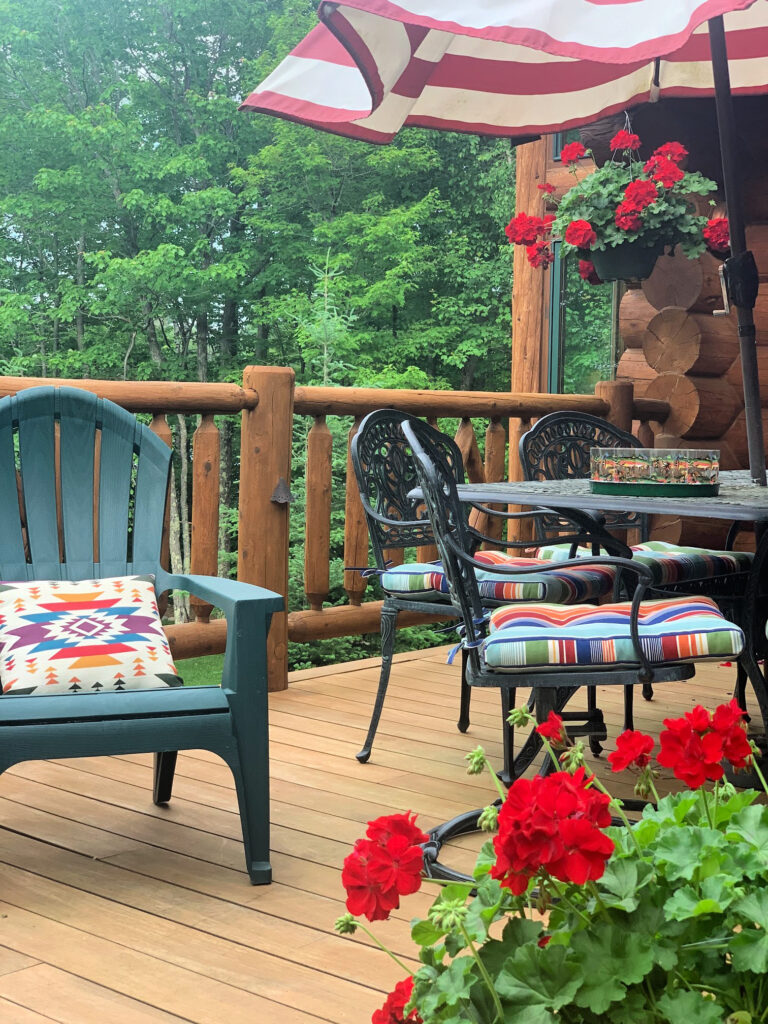 Does your family have specific spots they all like to sit at meals or does it change around every time? My family usually sits in the same spots. It can even get a bit serious. When my older daughter went off to college her youngest brother moved into her spot. Now when she's home it's a race to the table to see who gets it.
The Back Patio
A few years ago we redid our back patio and it became one of our favorite spots to spend time in the Summer. It's a wonderful space to entertain in.
The patio overlooks the fire pit and a path down to the lake lies just beyond. With views of the backyard, everyone can play yard games and then come over to eat. A few of their our family's favorite games are: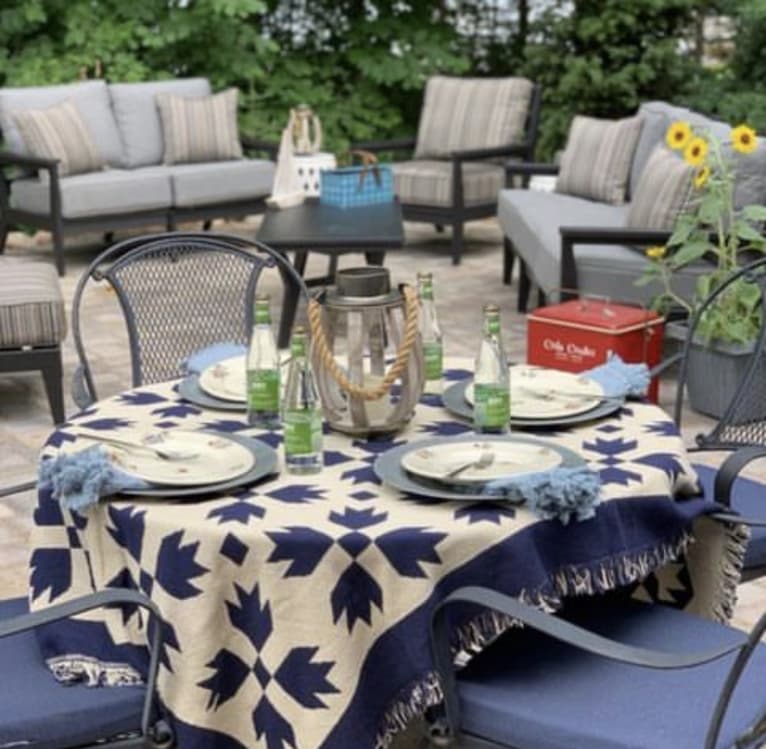 They even love using my old croquet set that I leave out for decoration.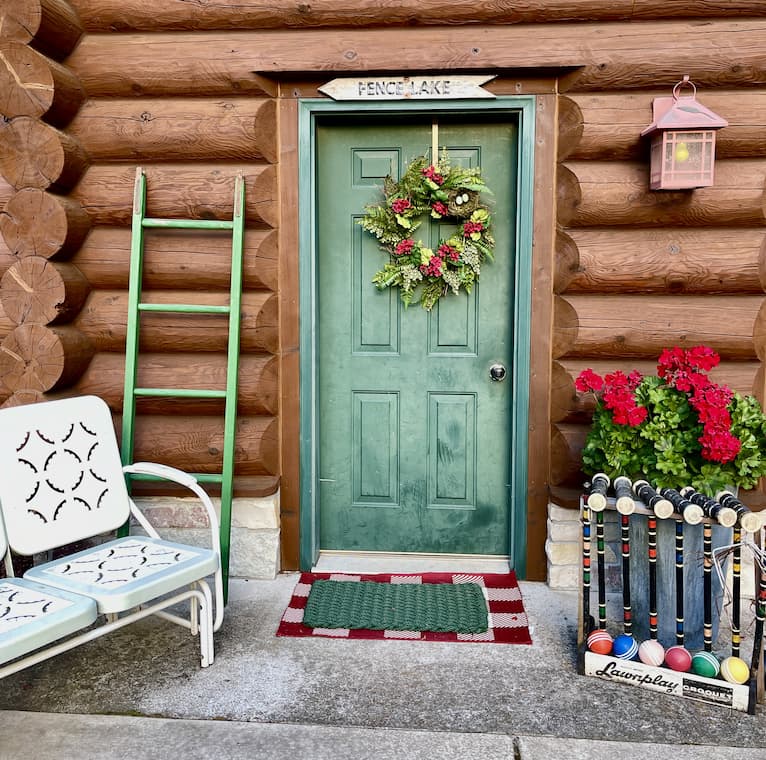 One of my favorite parts about outdoor dining is setting the table. I have so much fun mixing and matching my vintage and new decor starting with the table covering and then the centerpiece.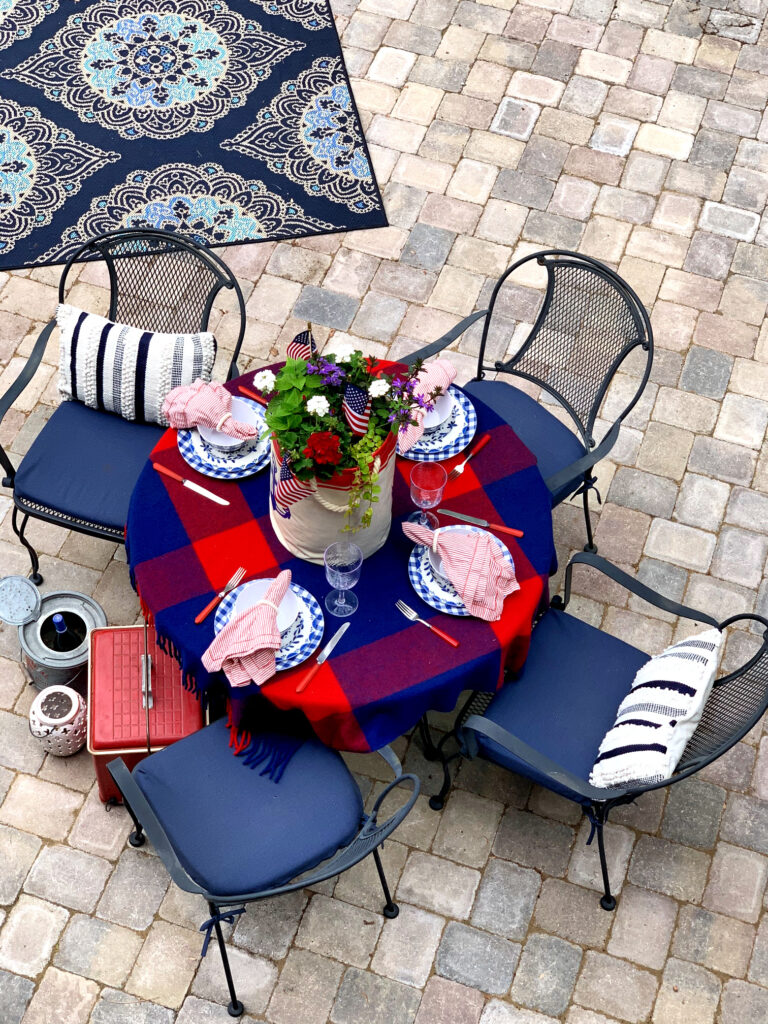 Dishes are one of the things I collect so I enjoy choosing which ones to use, as well as which napkins, silverware and glasses.
For this Summer table I used some melamine blue and white dishes with red and white striped napkins. Plastic goblets also help make sure there's nothing to worry about breaking.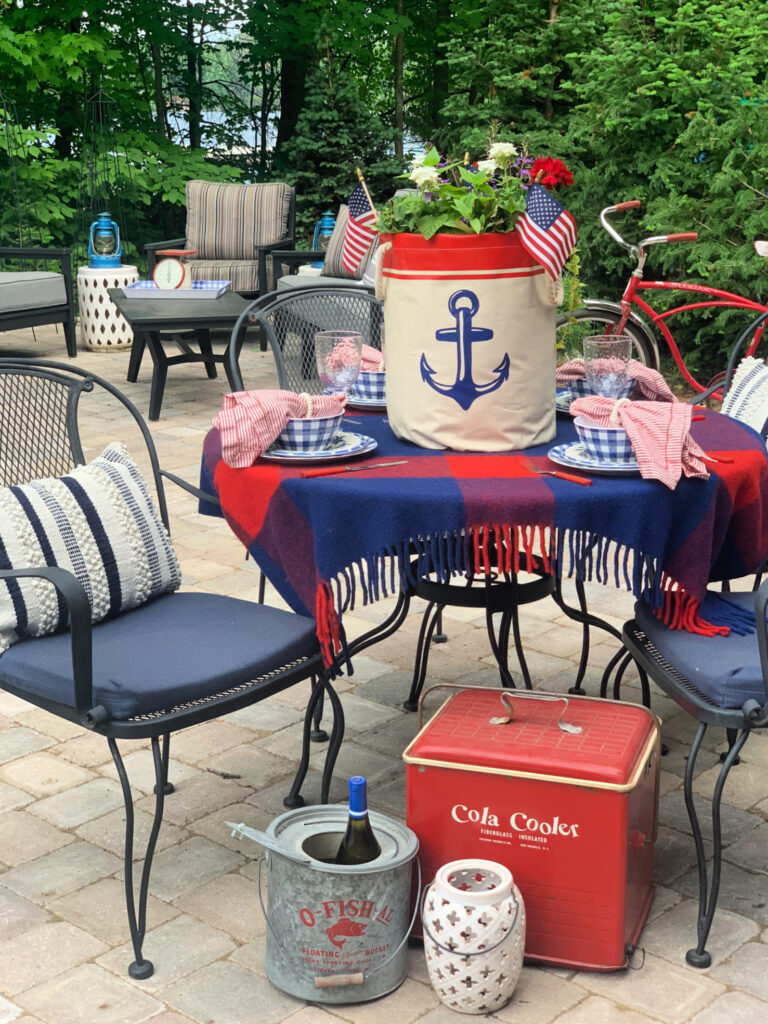 You can read all about our patio remodeling project in THIS POST and THIS POST.


The Side Yard
I also like keeping a table in our side yard between the main house and guest house along the driveway. My kids love to play in the driveway shooting hoops, playing four square or whiffle ball so we keep a grill under the covered porch of the guest house.
Hanging out as a family is a priority to me and my kids are great friends with each other, so I style spaces around where the action is. I love watching them and it makes it easy to jump in the game too. It's the best way to make memories. Usually the friends they have over all blend in with the whole group too so it makes it really fun.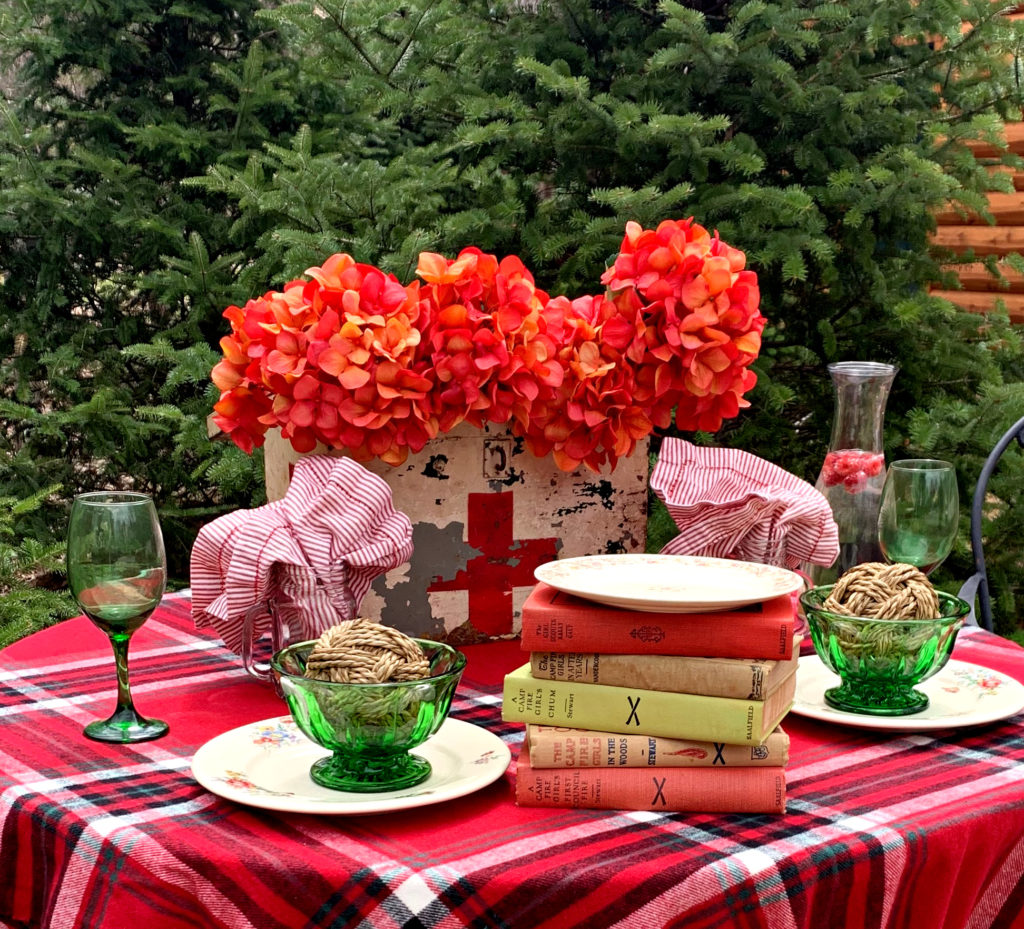 Along with setting the table, I love to be creative with the centerpieces and with the accessories. In this table I used a stack of books holding a plate as a cake stand.
I love a table that's pretty to look at throughout the day and easy to shift into meal time.
Often I serve things buffet style and everyone grabs their silverware in the line as well. I announce the "plan" as they all start lining up.
Heading Into Fall
We don't just enjoy eating outside in The Summer, we love the Fall as well. Our autumn's are beautiful as the leaves start changing and we know a long winter is ahead so we enjoy lingering outside as long as possible.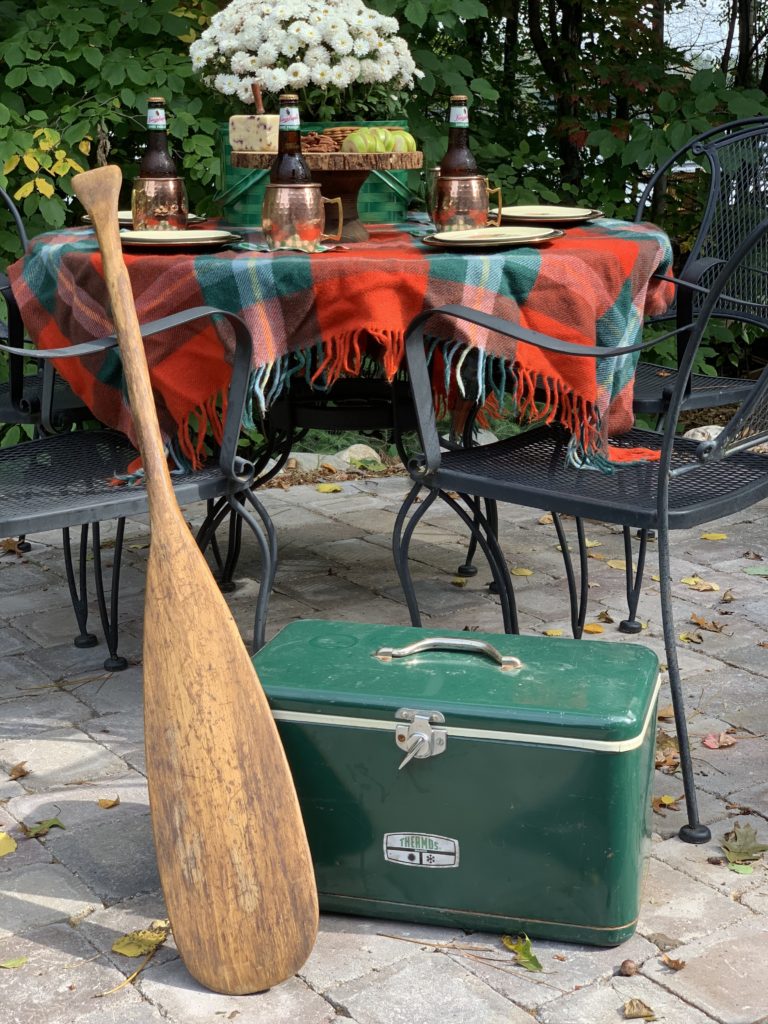 An easy way to keep drinks as an easy grab and self serve is by using one of my vintage coolers by the table.


Having friends over can be simple. I don't even need to plan a full meal, just some snacks to enjoy while we visit.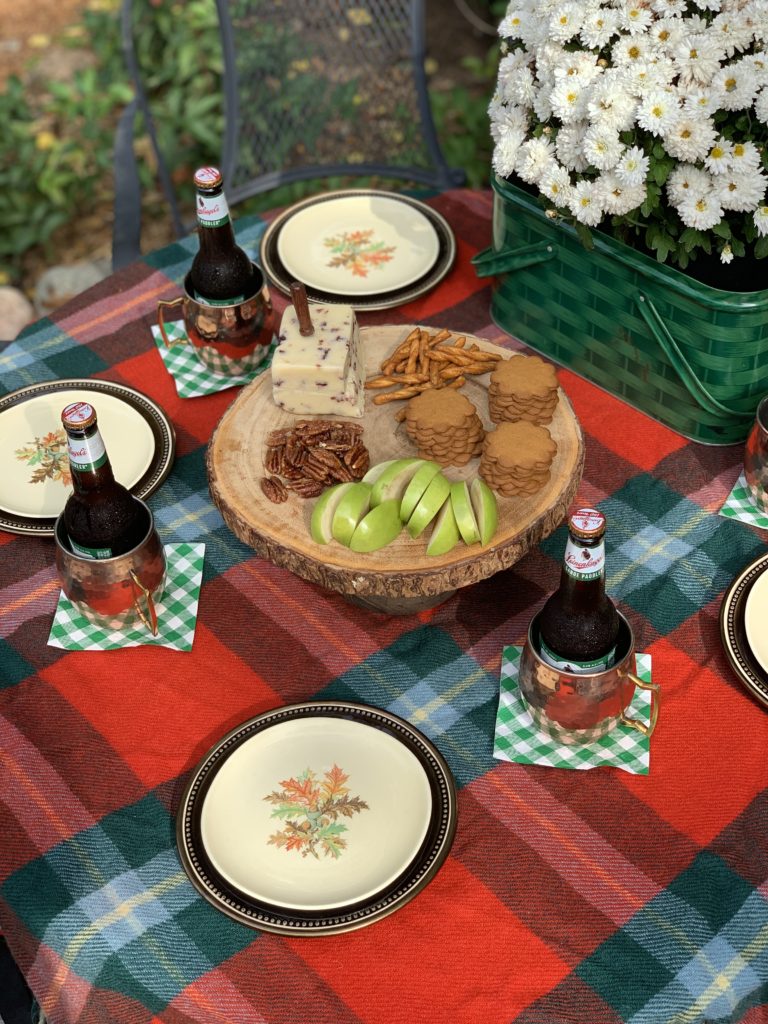 Picnics are another fun way to eat outside. We can take them to go or just to enjoy out back down by the water or on the dock.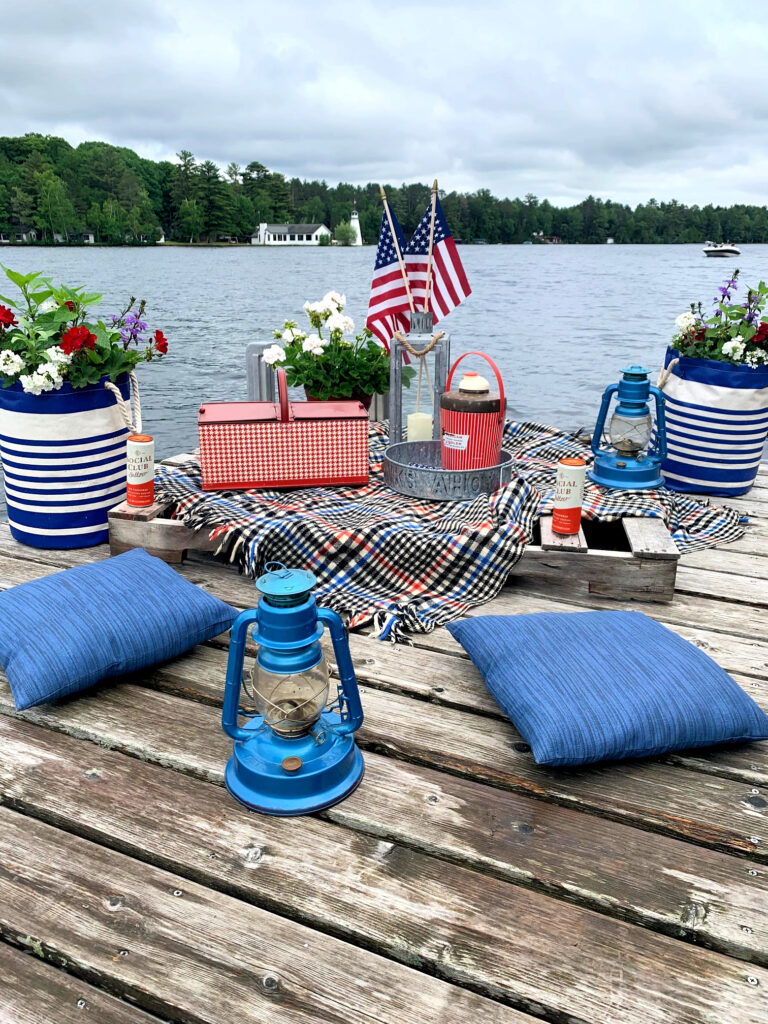 Thanks so much for joining me today. If you are new to my blog, I hope you will become a regular!
Next up, you are headed to my friend Libbie's at A Life Unfolding and she has amazing ways to Easy Ways to Elevate Your Picnic.
Take the Tour
All Things Outdoor Dining

Al Fresco Dining // My Sweet Savannah
How to Fashionably Bring Your Dining Room Outside This Summer // Dabbling and Decorating
How To Create An Easy Outdoor Table Setting // Cottage in the Mitten
A Casual and Easy Outdoor Summer Table Setting with Hydrangeas // Open Doors Open Hearts

Summer Honey-Themed Outdoor Dining // Tater Tots and Jello
Cozy And Casual Backyard Picnic Breakfast In The Backyard // Midwest Life and Style
Top 10 Best Dining Alfresco Table Ideas // The Pond's Farmhouse
How to Set Up a Potato Bar for a Summer Dinner Party // Pasha is Home

Summer Dining on the Porch // White Arrows Home
Easy Ways to Elevate Your Picnic // A Life Unfolding
How to Set a Beautiful Table for High Tea // Peacock Ridge Farm
How to Create a Cottage Style Summer Table // Truemans Treasures
FOLLOW ALONG
Instagram ~ Facebook ~ Pinterest ~ Twitter ~ YouTube ~ Tik Tok ~ Liketoknow.it ~ Podcast