Late Summer is the perfect time to make a blackberry recipe bursting with flavor.
I'm excited to share with you one of my favorite things about late Summer today. Cooking with what is in season and right outside my door- fresh blackberries. Enjoy this blackberry recipe busting with flavor as you enjoy Blackberry Puff Pies.
My friend Pasha of Pasha is Home has hosted some wonderful blog hops this Summer and I'm so honored to be part of them. Today 10 of us are sharing End of Summer Recipes.

(Affiliate links are used for your convenience. Read my full disclosure here.)
Read More of Our Summer Blog Hops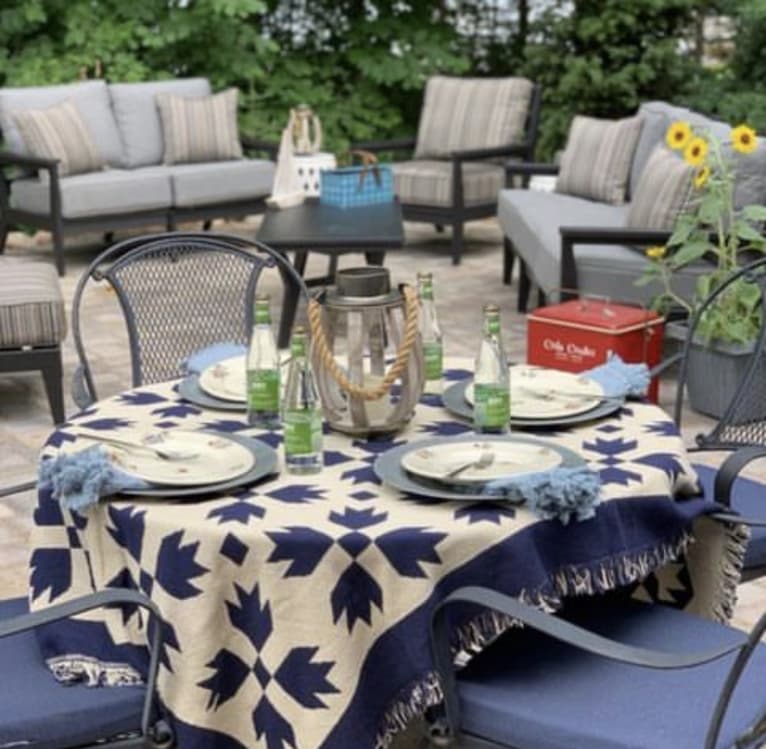 If you are coming over from my friend Jen's at Midwest Life and Style I bet you are as eager as I am to try her Chocolate Chip Zucchini Muffins with Streusel. She always shares the best recipes.
I'm excited to now welcome you to my Wisconsin home. We live way Up North in an area known as The Northwoods about three hours north of Madison. It's a vacationland paradise all year round as visitors come to enjoy our lakes and forests.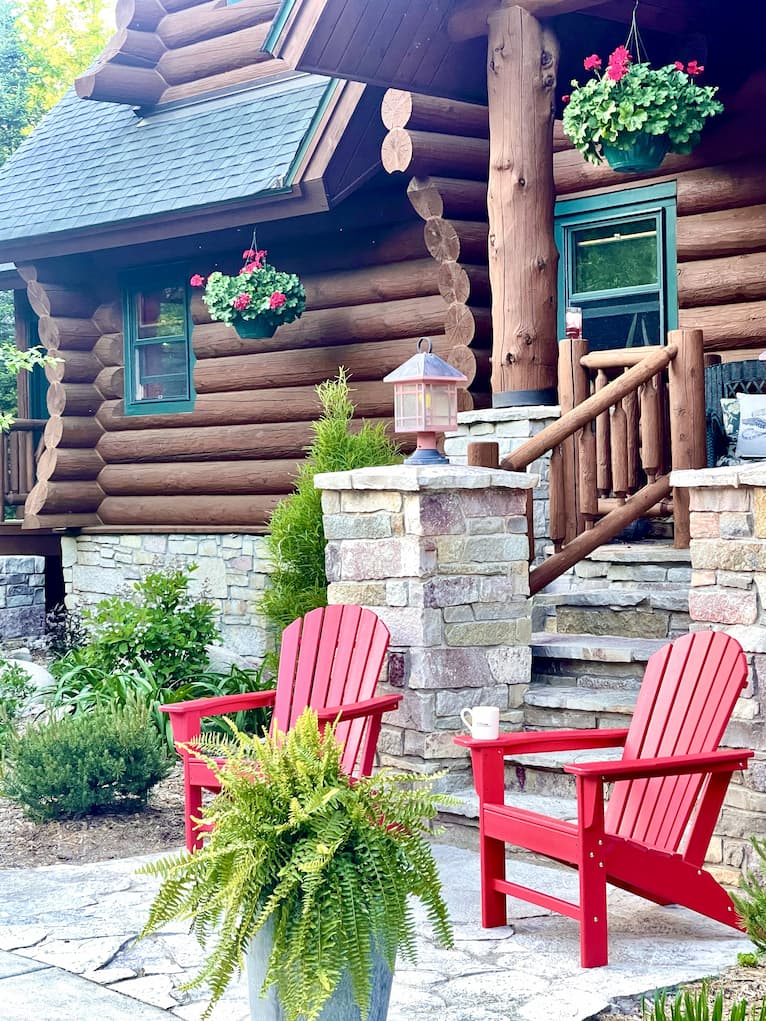 Living in a forest means we get to forage for one of my favorite treats as we head into late Summer- blackberries. Blackberries grow down the edges of our driveway and down along our road and into the woods in abundance. As we get to the end of August and Labor Day weekend they are ripe and ready to pick and enjoy.

There is something extra special about either growing food from our own garden or picking it ourselves as it grows wild in the woods.
One of our favorite blackberry memories is picking them with my grandmother, my kids great grandmother. They called her GeeGee. She came up to visit one Labor Day and joined in on all the fun picking berries and then baking them into a cobbler with the kids.
She passed away over a year ago so having these moments to remember as so special.

There are so many recipes I love to make with blackberries. This is one of my favorites that really let's you enjoy the full bursting flavor of the berries in a sweet package. They are great to serve for breakfast warm from the oven or as a dessert with ice cream.
You can also make this recipe with other fruits substituted for the blackberries like blueberries, cherries or strawberries.
You can add in some toasted almond slivers or white chocolate chips to change it up too. Pour over whipped cream or a bit of maple syrup to make them even sweeter.
Blackberry Puff Pies
1 cup fresh blackberries
2 Tbsp. of sugar
1 Tbsp. of cornstarch
1 tsp. lemon juice
1/4 tsp. cinnamon
1/2 pkg. frozen puff pastry, thawed
1 tsp. butter
1 egg- lightly beaten
sugar to sprinkle
Preheat oven to 350 degrees.

Add blackberries, sugar, cornstarch, lemon and cinnamon to a bowl and stir gently.

Unfold puff pastry on a parchment paper covered baking sheet. Make sure it is thawed, but still cold. Pour blackberry mixture to the middle of the pastry. Add a bit of butter on top of the berries and fold up the edges.

Brush with the beaten egg and sprinkle a little sugar.


Bake for twenty minutes removing when it is bubbly and golden.
Can You Use Blackberries in a Cocktail?
One of the things I love to do is have a self serve bar set up when we are entertaining often with a signature cocktail themed for the evening or season.
A delicious one for late Summer when the blackberries are ripe is a Blackberry Mule.
Vodka
Blue Curacao
Ginger Beer
Fresh Blackberries
Mint
Lime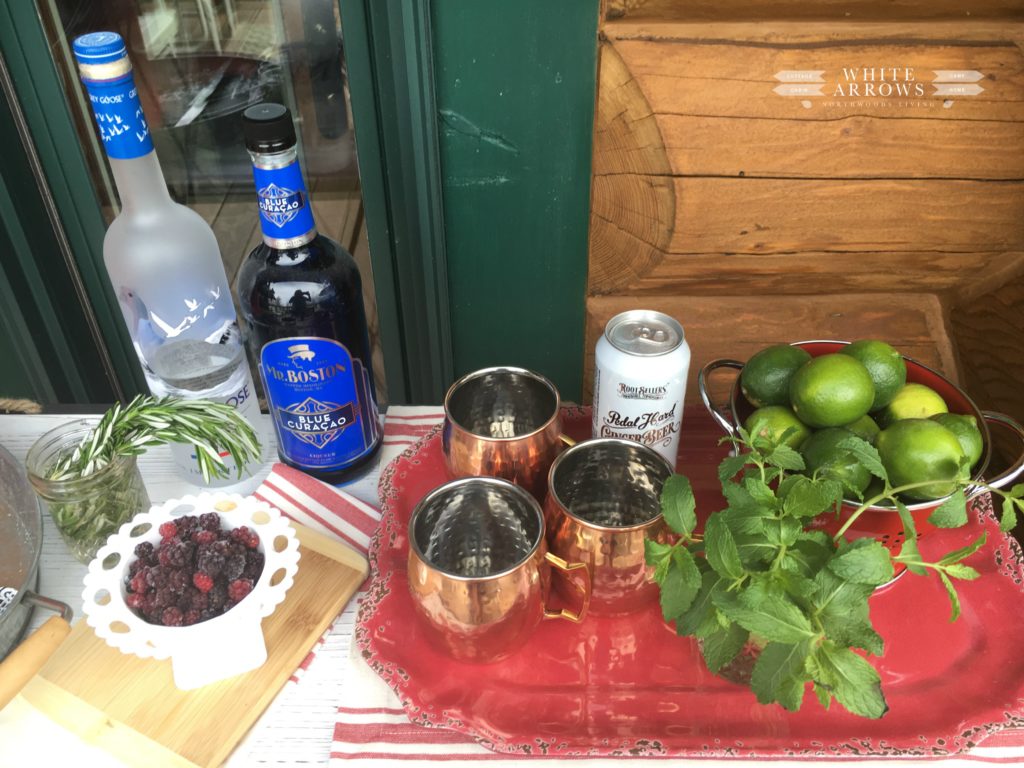 Want to get daily encouragement? SUBSCRIBE HERE so you don't miss any posts!
You can also use blackberries to make an amazing mojito, gin and tonic or margarita.
What Enhances the Flavors of Blackberries?
Some people find blackberries to be bitter. Adding a little sugar, cinnamon, lemon. Choose recipes that take the bitterness away like pairing them with a savory meat dish like a pork tenderloin, baking them into a cobbler or serve them with cheese on a charcuterie board.
What Tastes Good With Blackberries?
There are so many ways to enjoy blackberries.
Add them to pancakes
Top your yogurt parfait or morning granola
Mix them in with a spinach salad along with walnuts
Layer them in a panini sandwich of turkey and gouda on fresh sourdough
Find more amazing recipe ideas on my Blackberry Pinterest Board.
Can I freeze blackberries?
It's a great idea to freeze your blackberries so you can use them in recipes for longer. They have a short growing period and freezing them extends the enjoyment.
When we first noticed our blackberries growing down the driveway we would pick them and eat them as we went. Then we decided that made the fun too short so we intentionally only ate a few and then saved the rest so we would have enough to cook with and freeze for later.
Why Do You Soak Blackberries?
Blackberries are delicate so be careful as you handle them. Gently rinse them and give them a soak in salt water mix of one cup of warm water and one teaspoon of salt to make sure any bugs are out of them.
Thank you so much for visiting! Next up you are headed over to my friend Kylie's blog, Truemans Treasures. She has wonderful Inspiration for Summer Dinners.
Tasty and Delicious End of Summer Recipes
Take the Tour

Easy Pickled Onions // My Sweet Savannah
A Super Easy Chocolate Chip Dessert Recipe // Pasha is Home
How to Make the Best and Simple Mexican Crock Pot Meal for Your Family // Robyn's French Nest
How To Make the Best Blueberry Buckle // Cottage in the Mitten

Chocolate Chip Zucchini Muffins With Streusel // Midwest Life and Style
Blackberry Recipe Bursting WIth Flavor // White Arrows Home
My Favorite Summer Dinner Idea // Truemans Treasures

Best Mixed Drink With Rum for Summer // Bricks 'n Blooms
The Best Summer Shrimp Salad // Peacock Ridge Farm
Maryland Crab Cakes With Homemade Coleslaw // White Lilac Farmhouse
FOLLOW ALONG
Instagram ~ Facebook ~ Pinterest ~ Twitter ~ YouTube ~ Tik Tok ~ Liketoknow.it