The Hewing Hotel in Minneapolis, Minnesota is a beautiful downtown getaway when traveling to The Twin Cities.
The Hewing Hotel in Minneapolis, Minnesota has now been checked off my bucket list. And I can't wait to go back again!
I'm sharing this hotel in Day Three of my Boutique Hotel Stays Series. See links to all my posts so far at the bottom of this post.
(Affiliate links are used for your convenience. Read my full disclosure here.)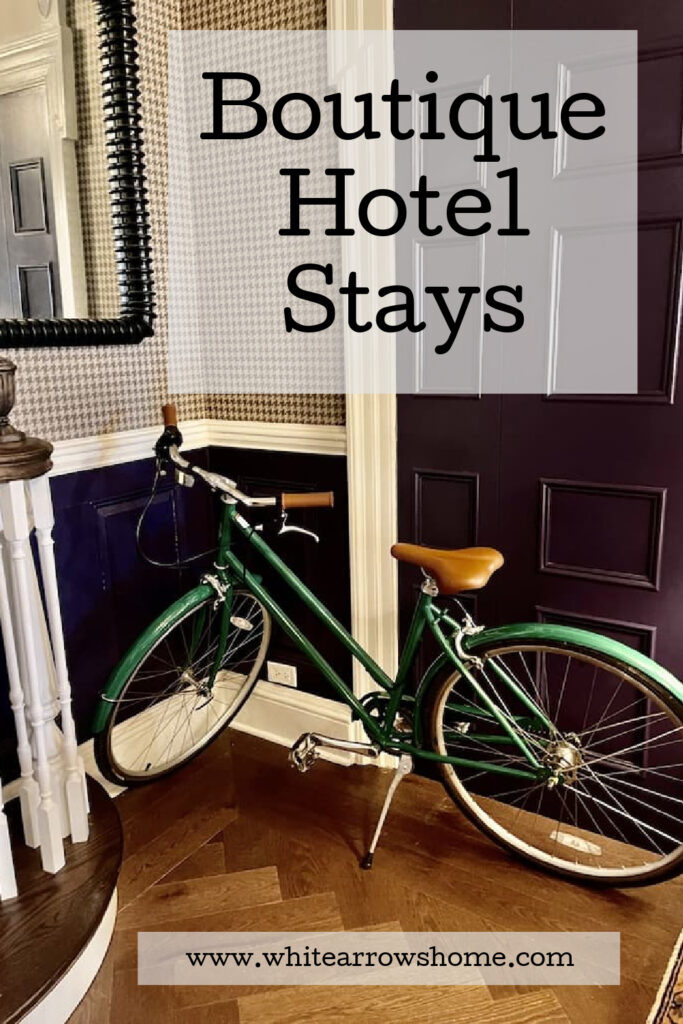 Today I'm sharing my stay at a hotel that I have been wanting to go to for years, The Hewing in Minneapolis, Minnesota.
When some of my girlfriends and I decided to check Junk Bonanza off our list, we decided it would be a perfect opportunity to stay at The Hewing. You can read more about that trip and our junking adventure in THIS POST.

Located in the North Loop neighborhood of downtown Minneapolis, The Hewing is "curated by Aparium, a national hotel group that specializes in converting historic spaces into premium accommodations. Hewing combines its rustic Minnesota history with modern amenities for an authentic and unforgettable stay in the Twin Cities." ~ Source
One of the things that draws me so much to this hotel is their gorgeous branding and use of pattern like the tile on the floor and their logo.

The Lobby

I love the way The New York Times described The Hewing's style: "Channeling the spirit of an urban lumberjack, massive, rough-hewed posts picket the sunny lobby filled with low-slung leather couches. Patterned wallpaper featuring fish and moose and retro accessories on library shelves including vintage hockey gloves mirror Minnesota's affinity for the outdoors."

A great lobby is one where you want to sit often, alone to read or work, sipping a cocktail and visiting or simply people watching, where there are so many beautiful options for seating you have to go back often to try them all.


The Hewing opened in 2016 in the historic Jackson Building which was built in 1897 and used as a warehouse for timber that was traveling down the Mississippi River. It was also used as showroom for farm equipment. ~ Condé Nast Traveler
I love the color scheme of browns, navy and yellows. There are great patterns throughout and so many beautiful furniture pieces.

Want to get daily encouragement? SUBSCRIBE HERE so you don't miss any posts!
The Guest Rooms
Our guest room was so beautiful and comfortable. The mini bar was stocked with local sips and treats.

I love how simple the decor is while being full of details. The white bedding keeps things clean and fresh and balances out the darker shades on the walls and floor. I love the pattern in the carpet!

I love that the rooms include Faribault Woolen Mills throws. For over 150 years Faribault has been weaving beautiful wool blankets in Minnesota. Read the amazing American Industry story HERE.
The simple addition of the plaid blanket and feather pillow adds just enough color and interest.

All throughout the room are a variety of textures from this woven ottoman, to leather drawer pulls.

Simple, yet striking art is found in the room giving a nod to Minnesota and its Scandinavian ties. Items like this painted antler or a framed hatchet.

I love the mix of hard and soft materials and the way the left so much of the original architecture in place. You will find lots of exposed brick, wood beams and cement. The beautiful grey Nordic patterned wallpaper was one of my favorite touches.

One of the things I love most about boutique hotels is the attention to creative details like the leather strap and buckle on the headboards.
When I walk around boutique hotels, like The Hewing, it's a treasure hunt and there are "oohs and ahh" all around.

Other amenities at the hotel include:
A Dry Sauna
Rooftop Lounge
Workout Center
Rooftop Pool
Pet Friendly
The Bar & Restaurant
Next time I visit I want to experience more of Tullibee, The Hewing's unique restaurant. "It's menu is influenced by rural Nordic practices of foraging, butchery and fermentation." ~ Source
The restaurant gets its name from a small, northern fish that heralds a healthy lake environment. Serving brunch and dinner, they bring farm to table recipes to diners using local farmers, fishermen and other local sources as much as possible.

We had already planned to have dinner at The Supper Club across the street so didn't get to eat here. We did have after dinner cocktails and hang out in the lobby after dinner.
Their cocktail list was a amazing, unique and any ones that we tried were delicious.

Be sure to head to The Hewing's website to learn and see more about this beautiful hotel and begin to plan your getaway there!
SEE THE OTHER POSTS IN MY BOUTIQUE HOTEL SERIES
Other Hotels I've Shared
Continue to follow along as I share more boutique hotels I've visited the past few months in this two week series.
FOLLOW ALONG
Instagram ~ Facebook ~ Pinterest ~ Twitter ~ YouTube ~ Tik Tok ~ Liketoknow.it