Our Sunroom finds its calling when we turn it into our dining room with amazing views out the giant windows overlooking the lake.
(Affiliate links are used for your convenience. Read my full disclosure here.)
I'm so excited to be joining a group of my blogging friends to share ideas for Summer decorating in this fun hop hosted byPasha is Home. I'm sharing how we dine in style for summer in the sunroom.You'll find a list of links to all bloggers participating at the bottom of this post.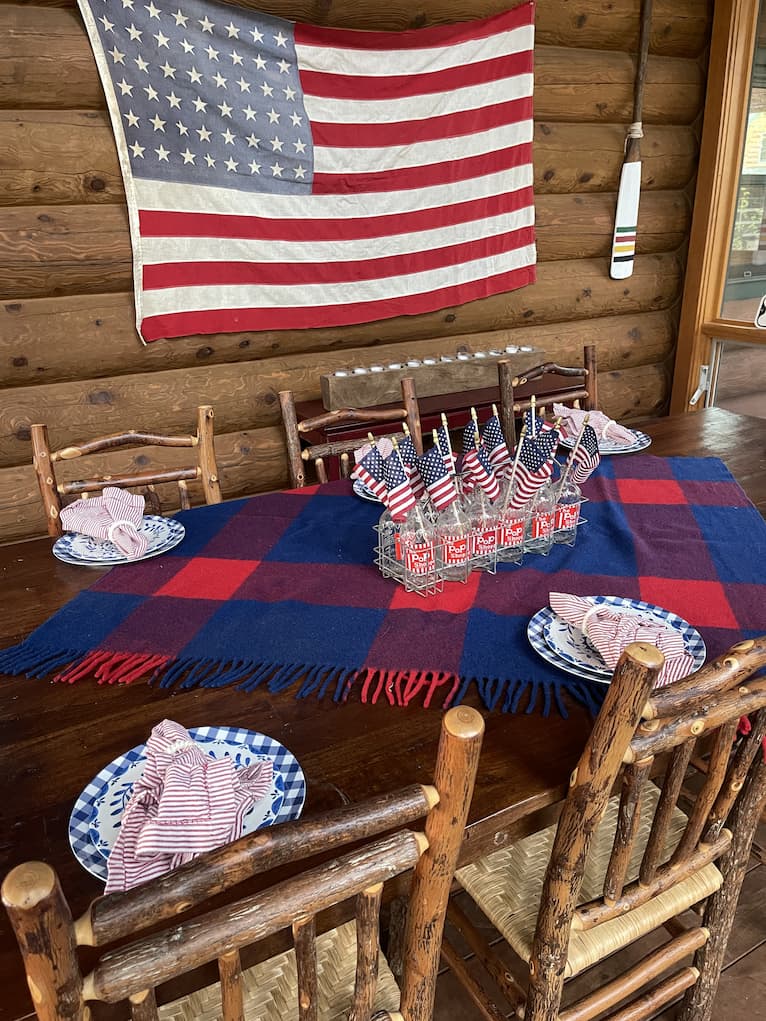 If you are coming over from Cottage in the Mitten, welcome! Didn't you love Kim's Simple Vintage Americana Porch Table Ideas? She always inspires me so much!
Welcome to The Northwoods of Wisconsin, the land of woods and lakes. It's the perfect Summer getaway spot and I'm so lucky to live here every day. We spend Summer days on our dock and on the boat soaking up the Sunshine.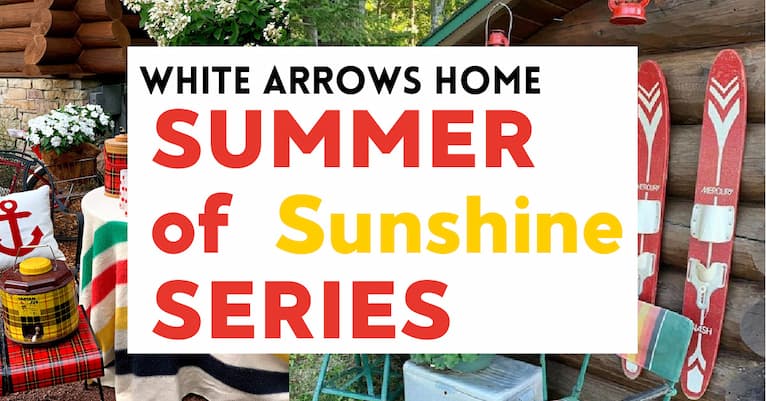 I'm sharing my patriotic sunroom for this hop and Day Two of my Summer of Sunshine Series here on White Arrows. So far in the series I've shared:
Want to get daily encouragement? SUBSCRIBE HERE so you don't miss any posts!
How to style a Sunroom
Our sunroom has gone through many iterations. When we first bought our cabin the sunroom was a screened in porch. When it wasn't full of snow, it was full of pollen and we rarely used it. After a few years we decided to take the screens out and add in windows and baseboard heating so we could use the space more throughout the year.
We used it as a sitting room, but didn't end up sitting out there as often as we thought we would. I changed up what furniture was out there a few times. I added games. I added a record player with music. But none of my attempts got the space to where I wanted it.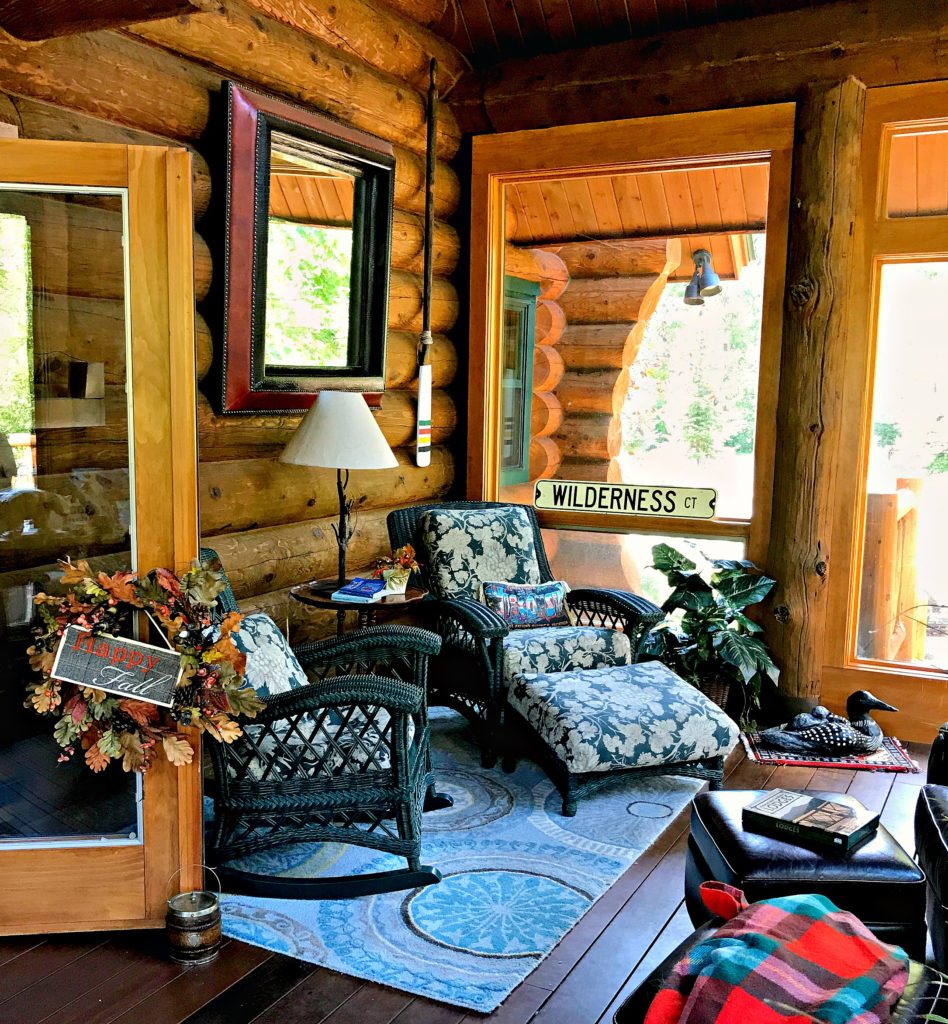 A few weeks ago I got an idea and Brian liked it so much he started to move the furniture right away.
I suggested that we move the dining room out into the sunroom, at least for Summer time. In the dining room after the table moved to the sunroom, we'd set up a gathering area of four chairs.
For decor out on the porch I'm giving it patriotic style for the Summer. I love using red, white and blue all Summer long from Memorial to Labor Day here at the lake. See more of my patriotic style IN THIS POST.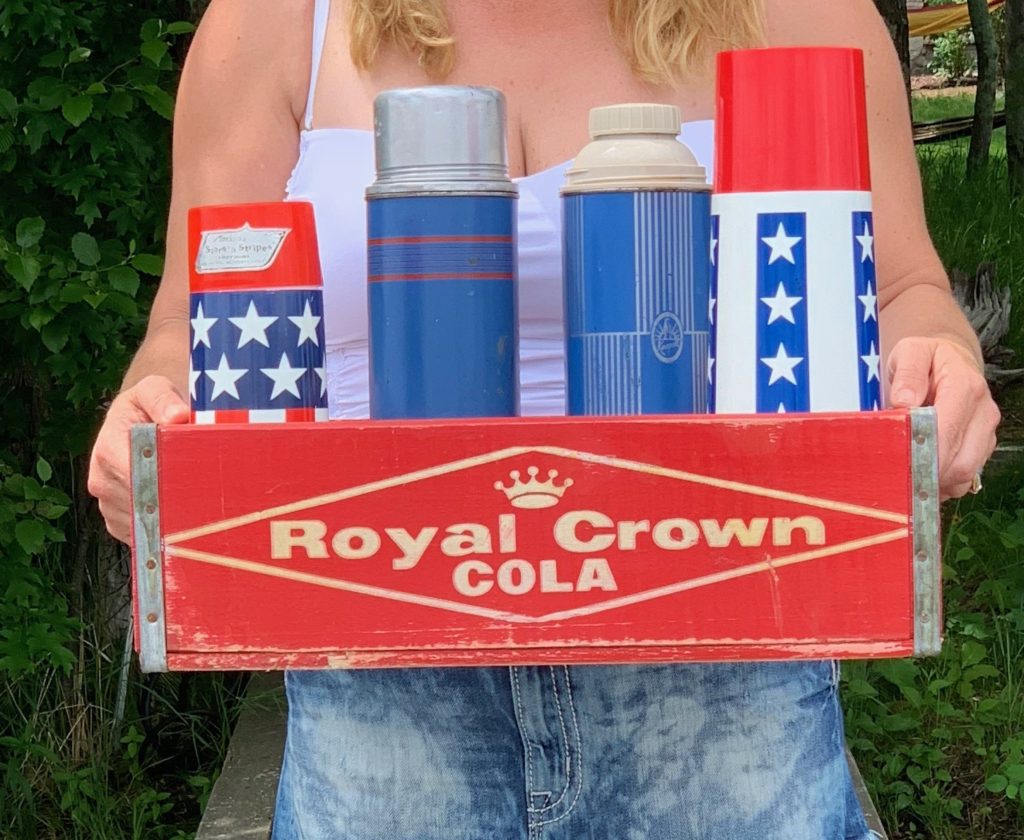 I found a big 48 star Reliance American flag at a local antique shop and hung that on the log wall. It took seconds to make a big impact.
The paddle on the wall was an old one I painted along with some girlfriends for a fun craft day. READ MORE HERE.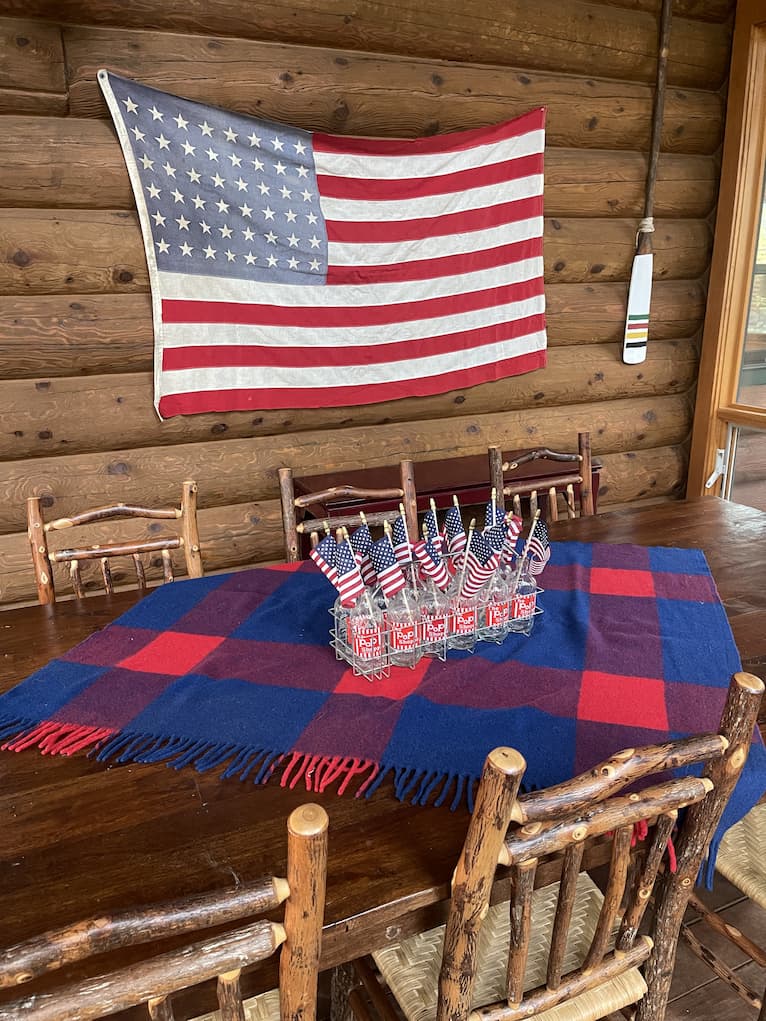 At the table I used my red and blue plaid camp blanket as a table throw.
My dishes are the perfect Summer addition, a mix of blue and white patterns in The dishes are melamine, and the lightweight, durable plates and bowls work well if we eat inside in the sunroom or take the meal out onto the deck.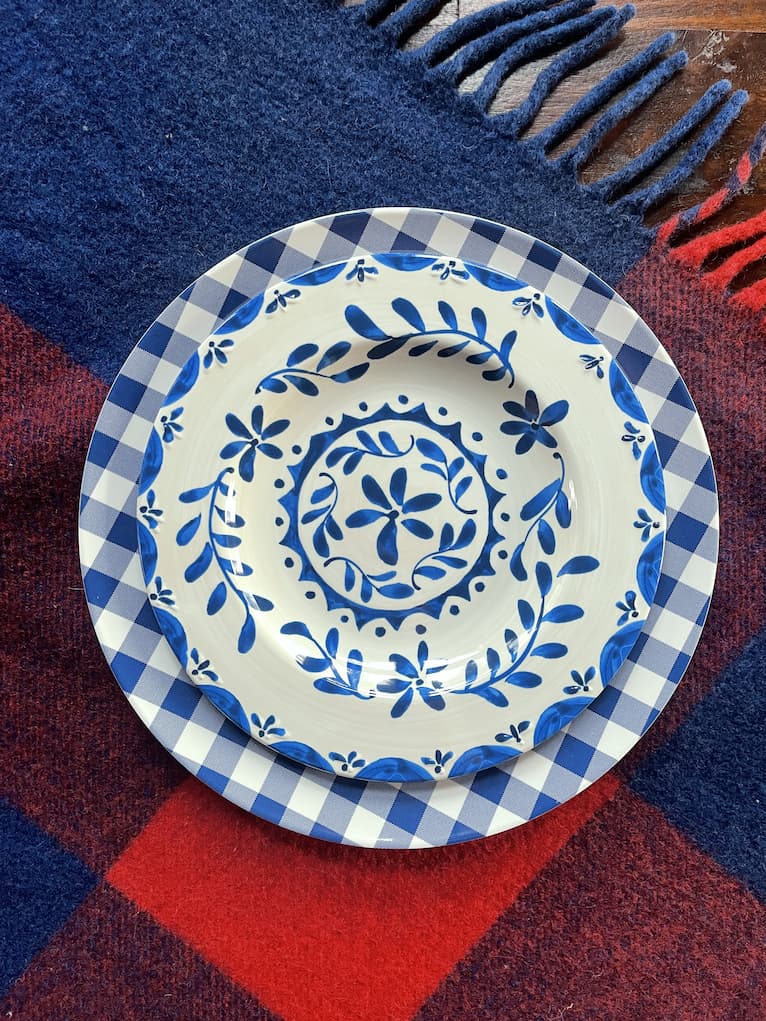 Our deck is just outside the sunroom, so it works well to extend the eating area when we have a large crowd.

I used my red and white napkins inside the nautical rope napkin rings I made by wrapping rope around rings and securing with hot glue. They took minutes to make and gave me exactly the look I wanted. I found all the supplies at Hobby Lobby.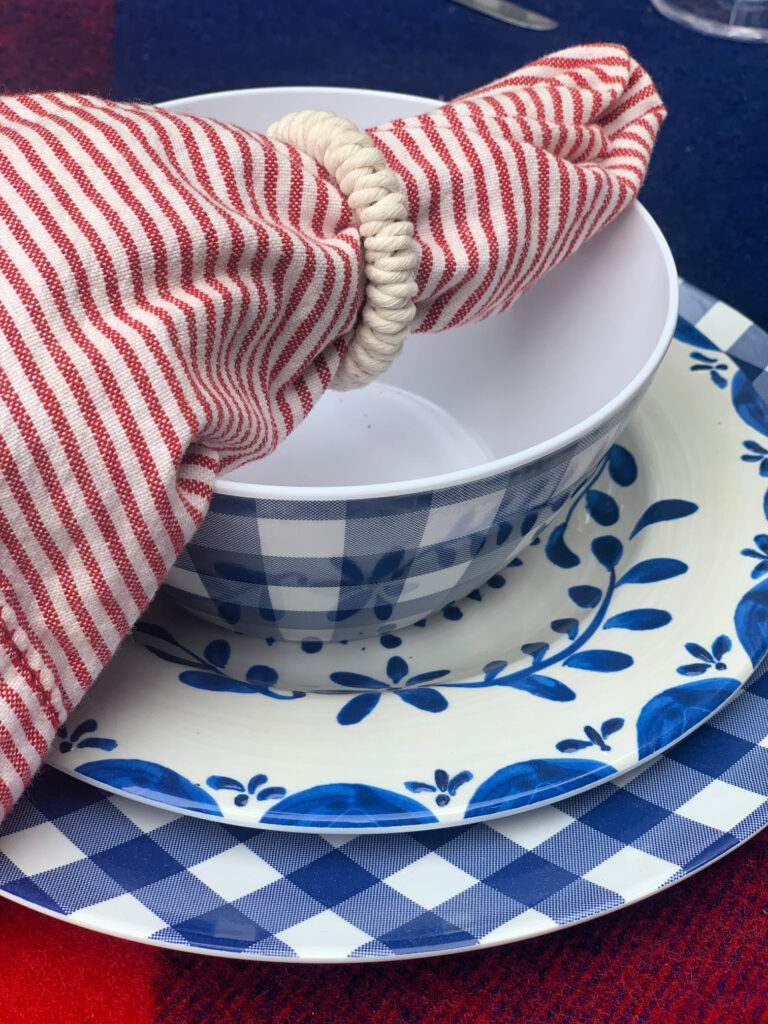 For a centerpiece I used a drink carrier full of vintage Pop bottles. It works great to add a flag inside each bottle. White daisies or red geraniums look perfect too.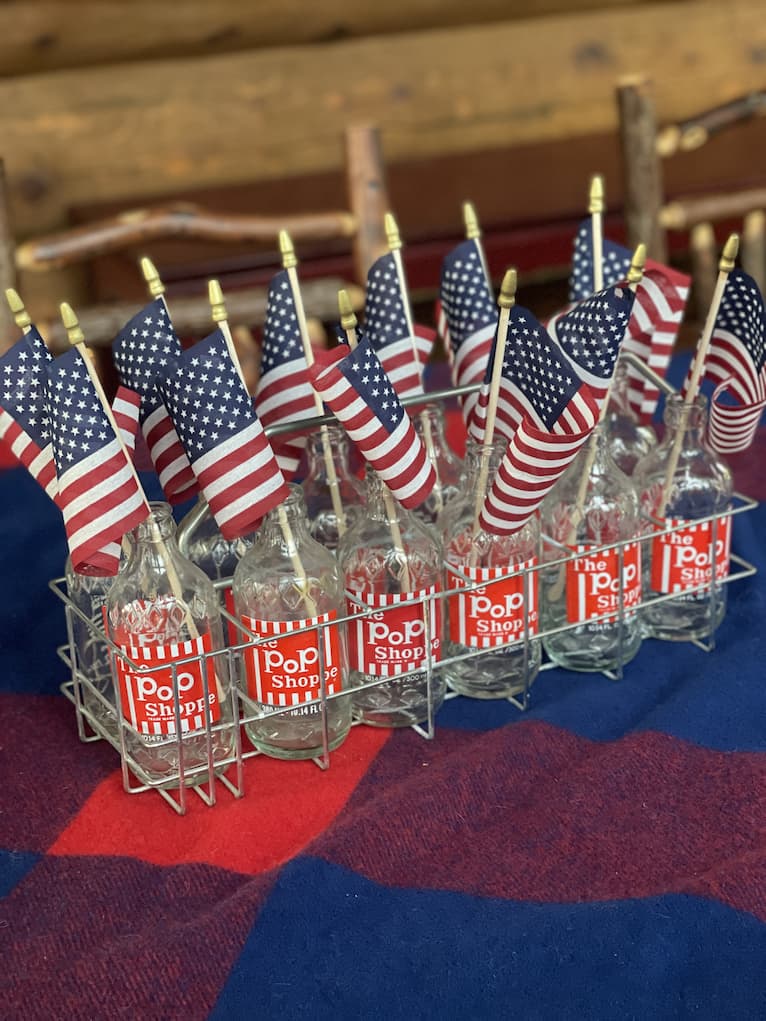 I'm still trying to decide on a rug for the space, but until then I added felt circles to the bottoms of the chairs to make it easy to scoot back and forth from the table on the wood floor.

Thanks so much for stopping by! I've been so excited to share my sunroom transformation with you! We have been loving it and having dinner out there every night! Stay tuned in The Summer of Sunshine series as I share more ways to decorate your Summer table next week with easy ideas for every day of the week.
I'm the last one on the tour. If you haven't taken the whole tour yet, start at the top at my friend Ann's beautiful home. She blogs at Dabbling & Decorating and is sharing Simple Vintage Americana Porch Table Ideas.
Take the Tour
More Patriotic Decor Ideas from 8 Talented Bloggers

Simple Vintage Americana Porch Table Ideas // Dabbling & Decorating
How to Make Simple Patriotic Wall Decor // Robyn's French Nest

No Sew Patriotic Scrap Flags // Tater Tots & Jello
Simple Ideas to Decorate with Red, White, and Blue // Simply 2 Moms

How to Make a Festive Patriotic Front Porch // Pasha is Home
Patriotic Picnic Ideas & How To Decorate // The Pond's Farmhouse

Simple Vintage Americana Porch Table Ideas // Cottage in the Mitten
Summer Sunroom Dining // White Arrows Home
Fun Finds


FOLLOW ALONG
Instagram ~ Facebook ~ Pinterest ~ Twitter ~ YouTube ~ Tik Tok ~ Liketoknow.it