A round up of some of my favorite Patriotic Decor That Works beautifully from Memorial Day to Labor Day.
(Affiliate links are used for your convenience. Read my full disclosure here.)
I'm excited to be joining my friend Cindy of County Road 407 for another Pinterest Challenge. She hosts these monthly blog hops where she shares the same photo of Pinterest and then all the bloggers participating have to style a space linspired by the photo. It's fun to see everyone's different take on the same photo.
If you are coming over from DIY Beautify I know how inspired you are feeling, because Cindy inspires me so much!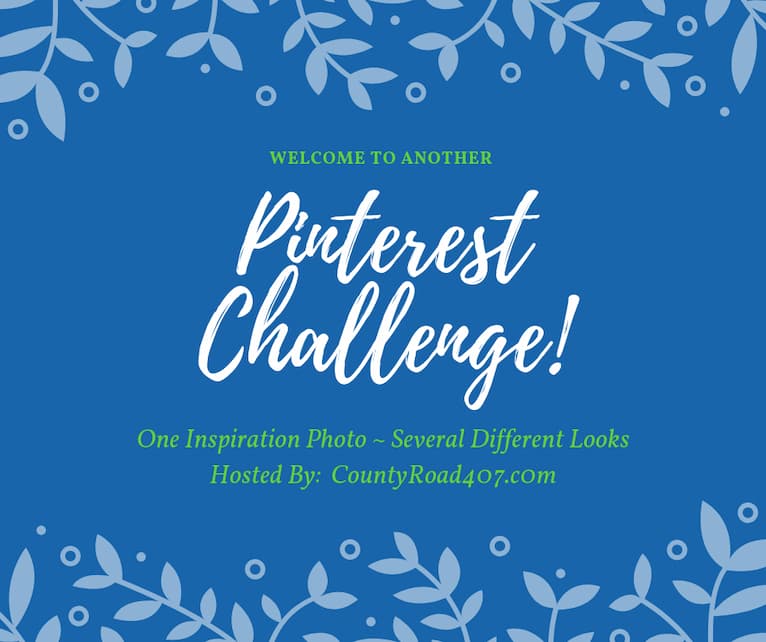 This month's inspiration photo is wonderful inspiration and I can't wait to see the other bloggers posts!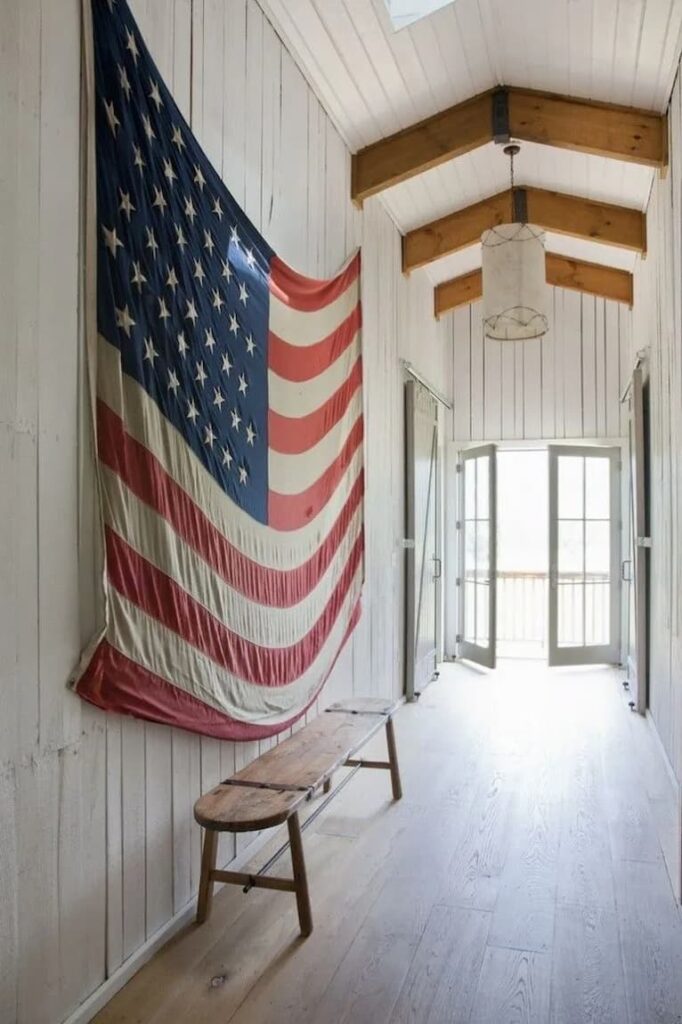 Want to get daily encouragement? SUBSCRIBE HERE so you don't miss any posts!
Patriotic Decor Inspiration
We live in a lakeside log cabin in The Northwoods of Wisconsin where the Summer season kicks off Memorial Day weekend and ends on Labor Day. Living on the lake we don't just bring our patriotic decor and red, whites and blues out for the Holidays, we leave it up all Summer long.
Here are some of my favorite ways to incorporate the colors and tradition of flags and things that say an American Summer is for making amazing memories.
Outdoor Patriotic Tablescape
I set up this fun table on the back patio. A canvas bag worked as a great planter and a vintage blanket made a great table cloth. Favorite red and white napkins and fun plates and bowls in blues. See more IN THIS POST.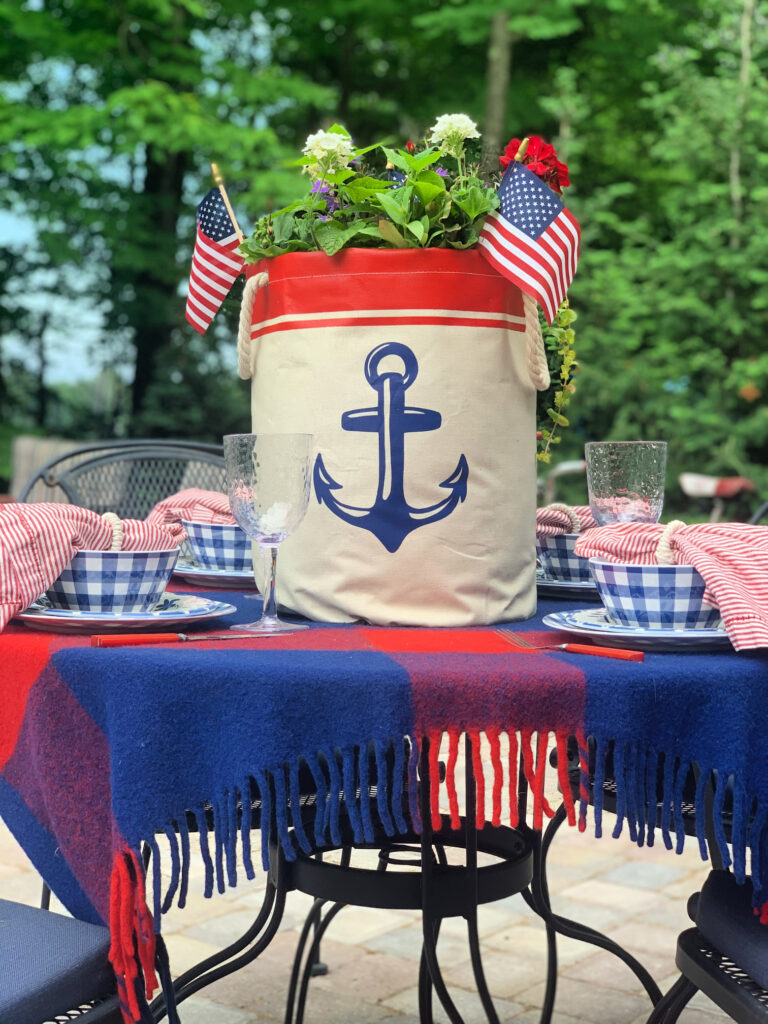 Patriotic Styled Tray
A Pinterest Challenge from a while back had us styling a patriotic tray. I love styling trays and this one was so much fun adding a lantern with flags and a vintage soda bottle as a vase. See more IN THIS POST.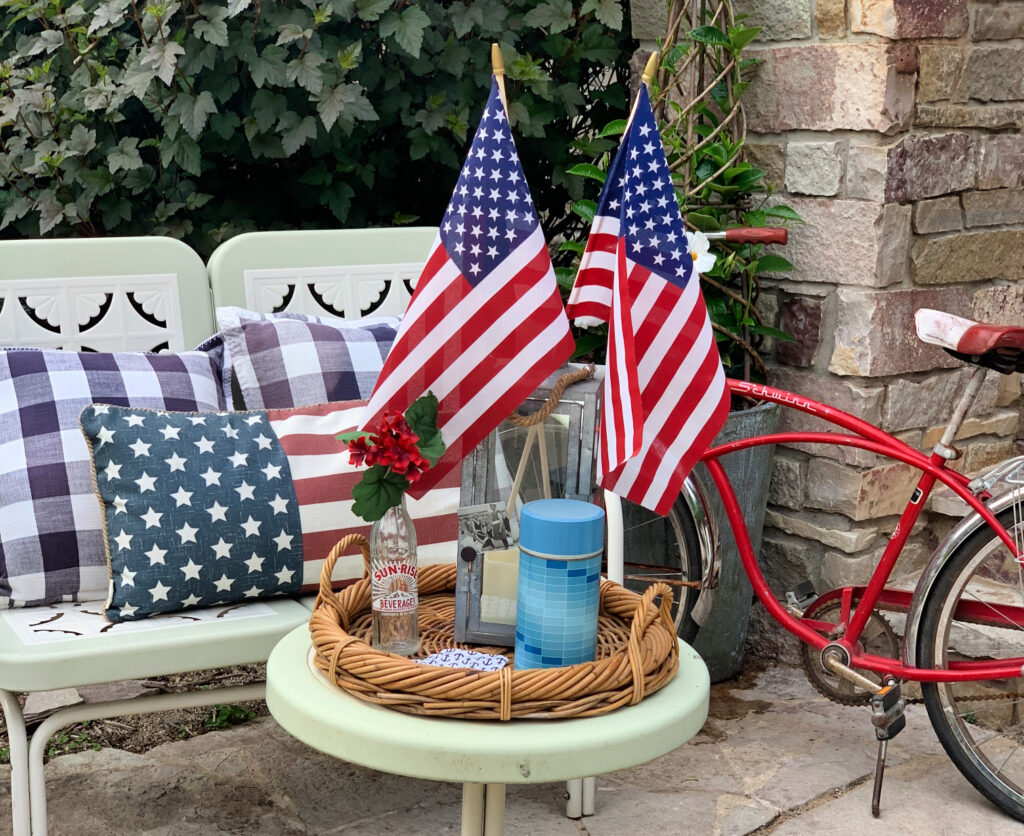 Patriotic Porch
Decorating our porches is such a fun way to kick off the Summer season. I love adding Patriotic touches like pillows and a stars and stripes thermos to hold flags. See more IN THIS POST.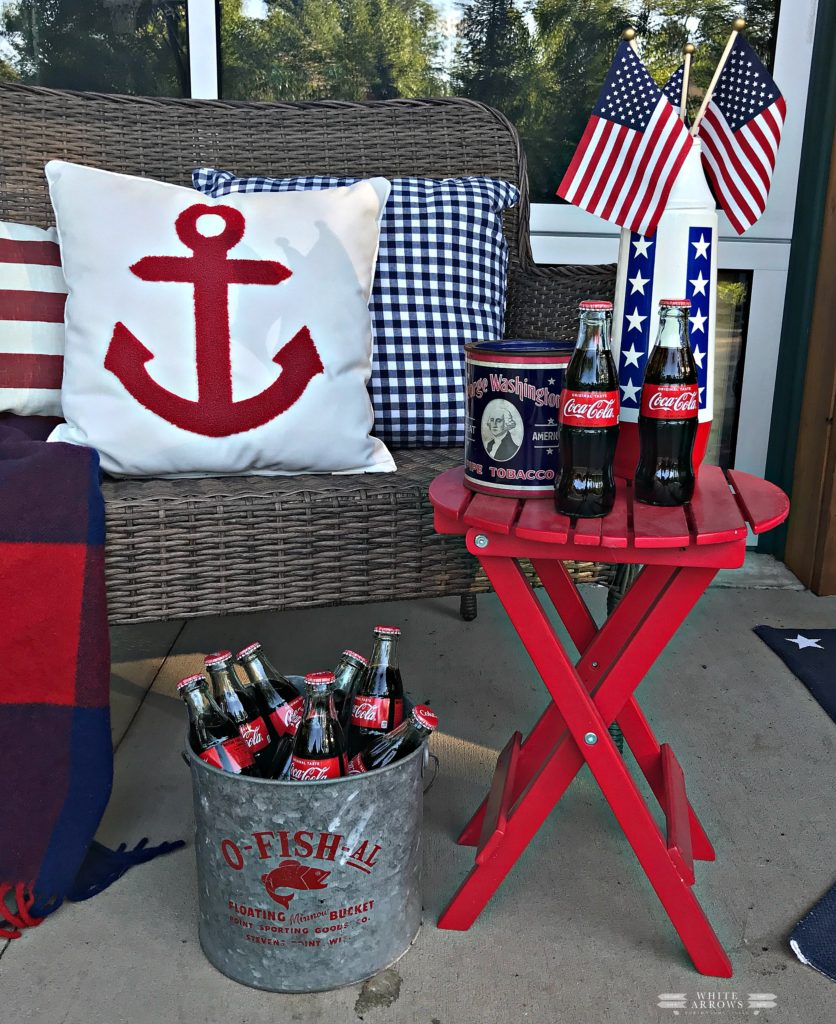 I love using minnow buckets from my collection in so many ways like up above to hold special drinks to welcome guests to our cabin. I used them this Summer on my fireplace mantel. See more IN THIS POST. It was day one in my Summer of Sunshine Series here on White Arrows. This post is Day Two. Continue to follow along for all the fun!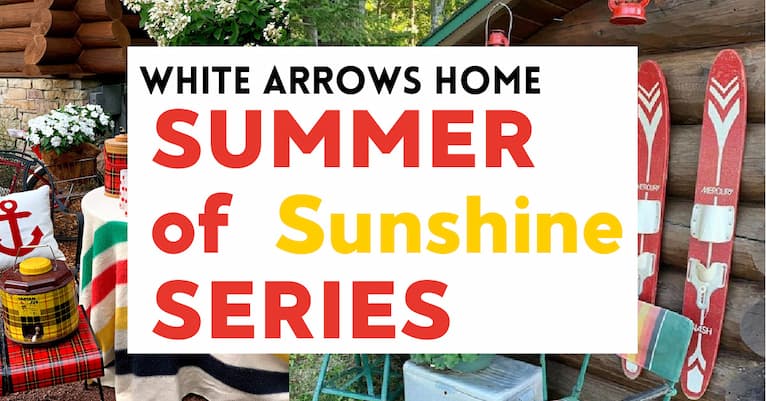 Patriotic Mantel Decor
A few years ago for Summer I styled an Americana mantel using ship artwork, trophies and flags. See the full mantel and more details IN THIS POST.
I love looking for new nautical decor when I am out Thrifting With the Gals. Follow along on Instagram Stories to see my girlfriends and I from around the country on our adventures to antique shops, vintage markets and thrift stores.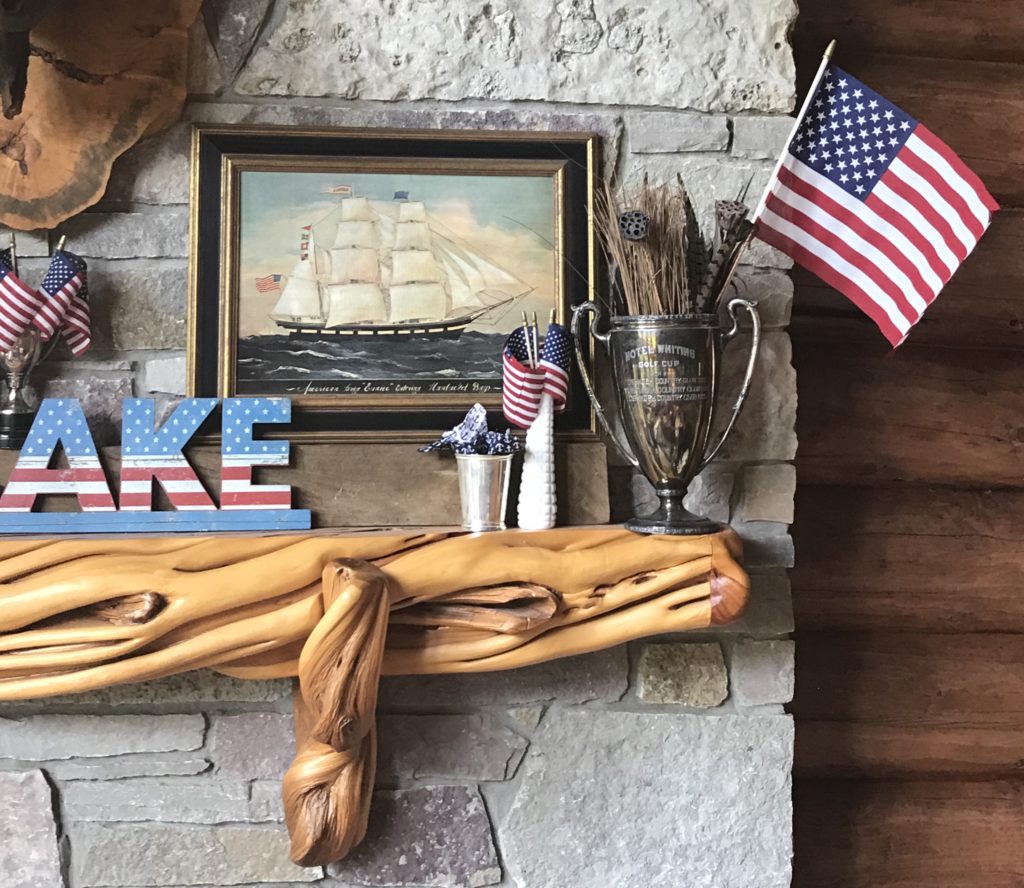 We have a mantel in the basement that I love to decorate too. I have it decorated right now with my vintage marshmallow tins, old lanterns and a framed flag.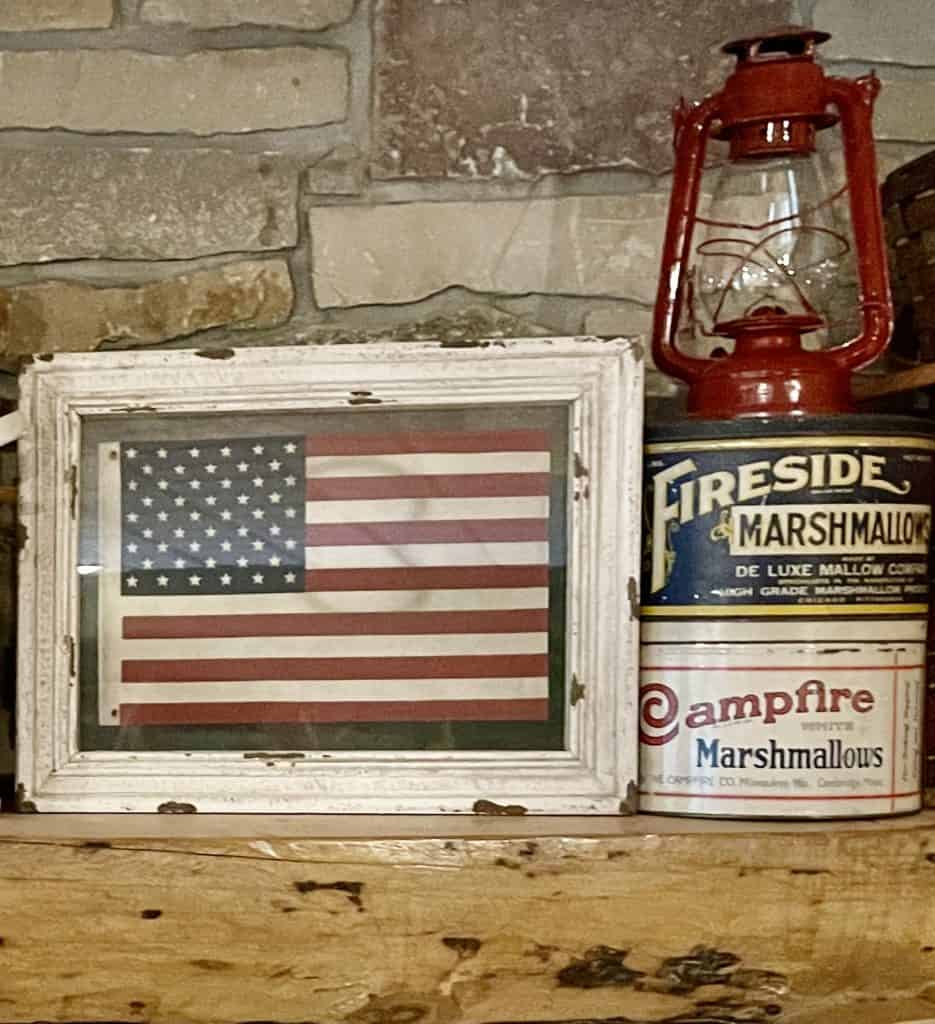 Where to Find Patriotic Decor
We sell lots of patriotic products in my shop too. You can find antique, vintage and new furniture, accessories and gifts in my brick and mortar shop in Minocqua, Wisconsin or my booth in The Shops at Station 8 in Columbia Falls, Montana. All our inventory can be found online as well so you can shop from anywhere.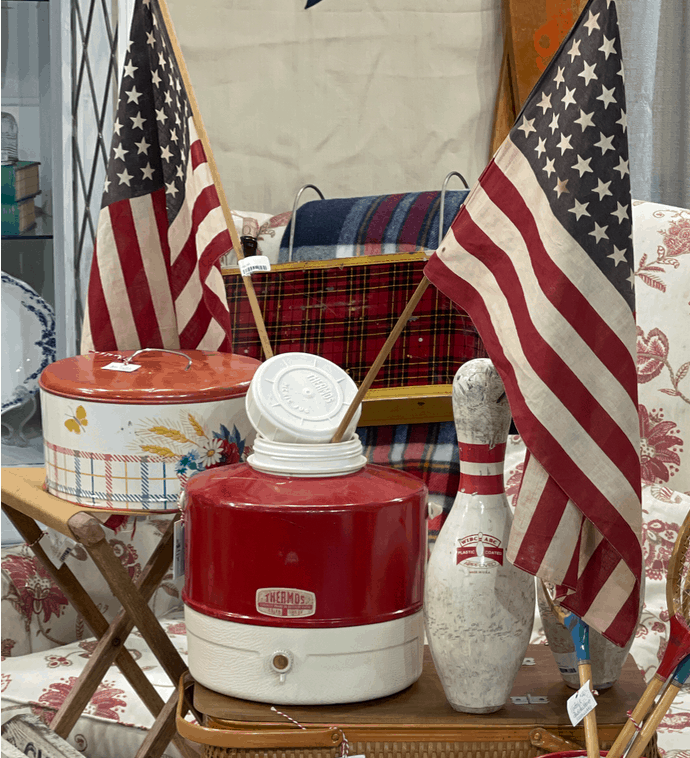 One of the quickest ways to update for the seasons or a Holiday is to change out your throw pillows and blankets.
To get a patriotic, Summer look I switched for blue gingham and a swiss cross pillow. I added a vintage blue and red vintage camp blanket too.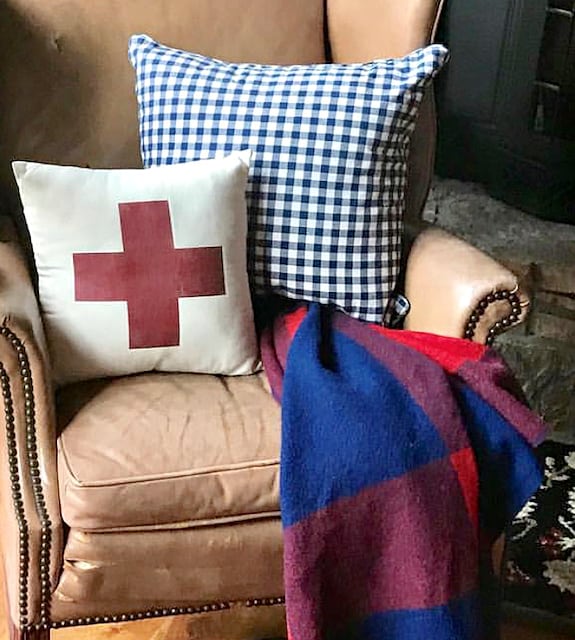 More Patriotic Mantel Ideas
Here's another year's patriotic Summer mantel. My George Washington tin is one my favorite things to have mixed in this time of year. You saw one of the others from my collection on my patriotic porch up above.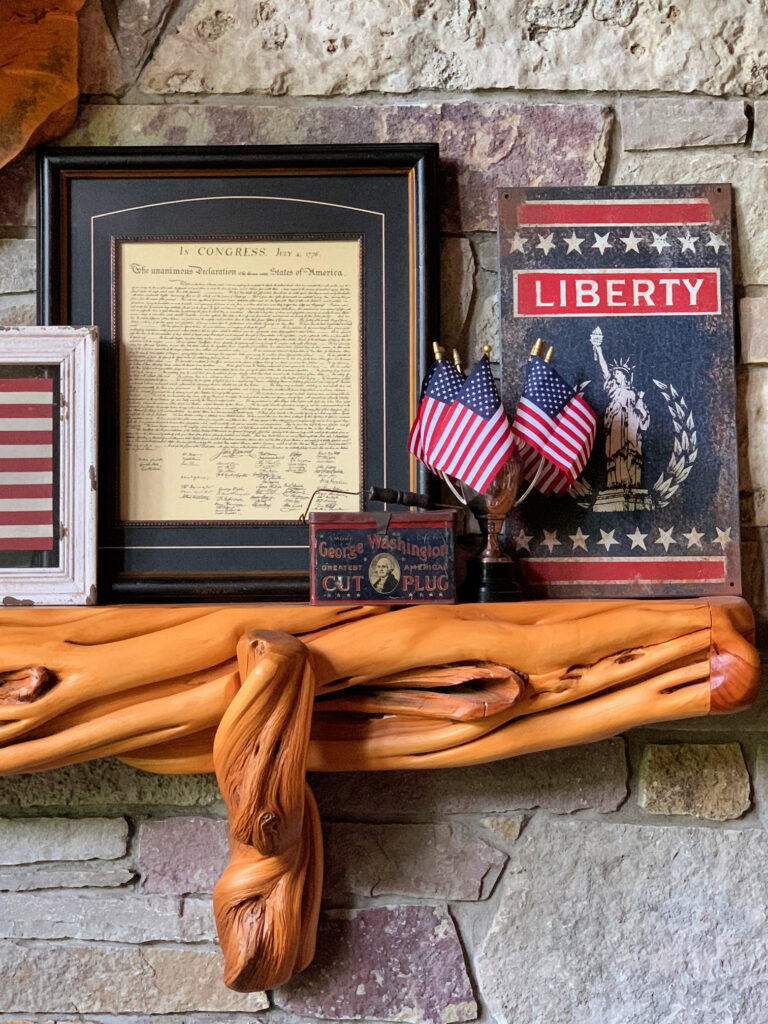 A few more of my favorite vintage treasures made their way on the mantel the Summer I found this old red truck. I styled it alongside my patriotic thermos and some old red, white and blue books.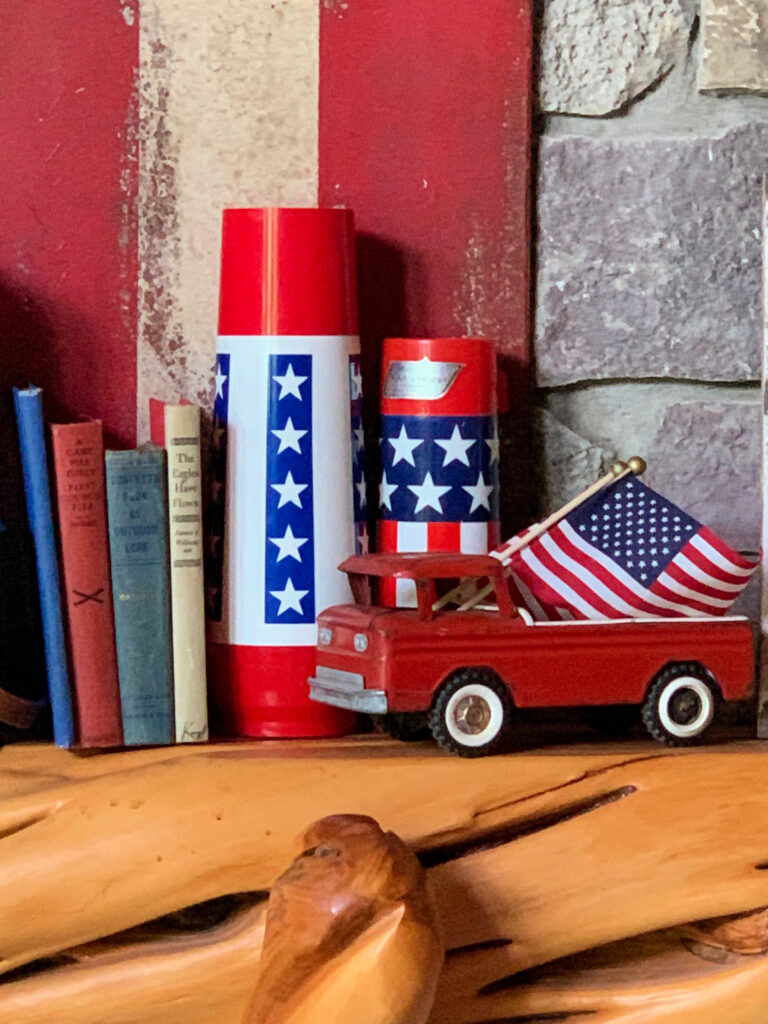 Easy Patriotic Decor
More spots around the Great Room I added seasonal pillows and throws to tie all the decor together. You can see the red geraniums outside on the deck through the window behind the couch.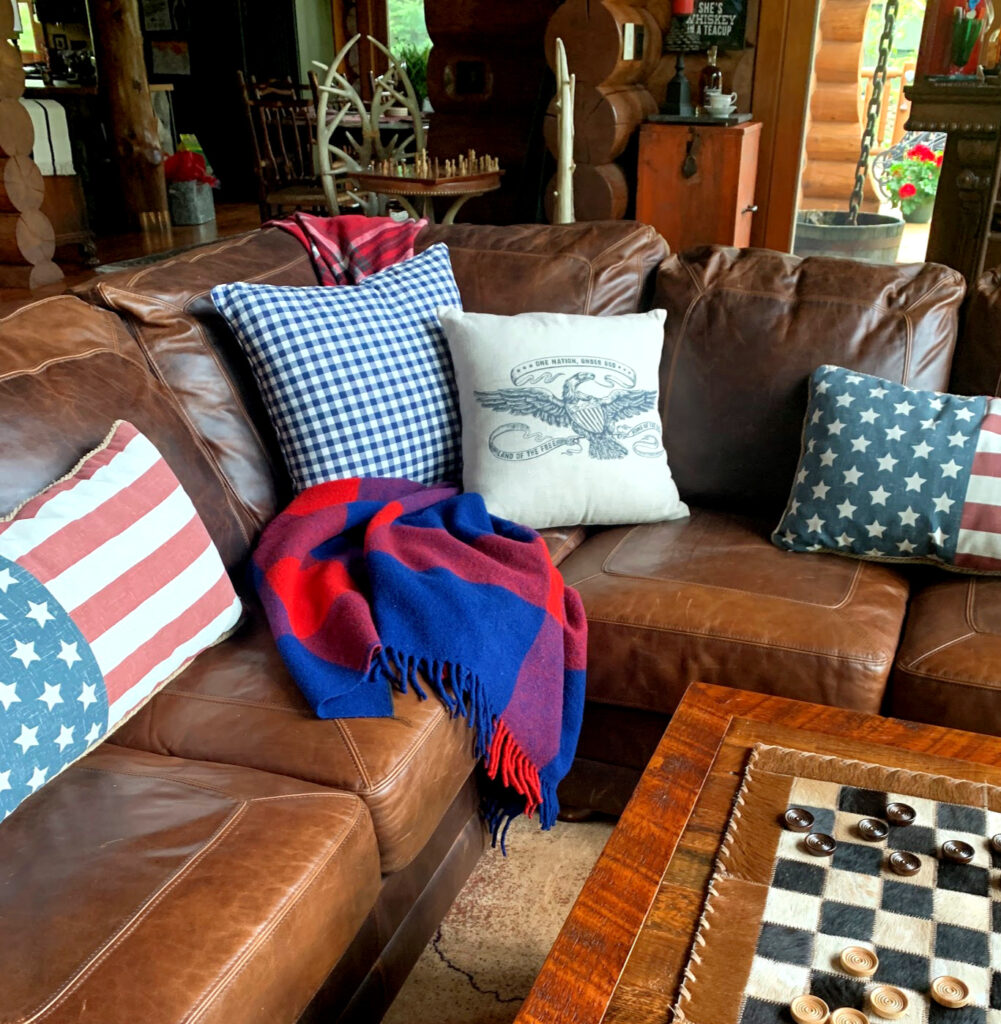 Some of my old soda crates stacked together work great to pull together a patriotic look along with a Pendleton USA blanket and flags.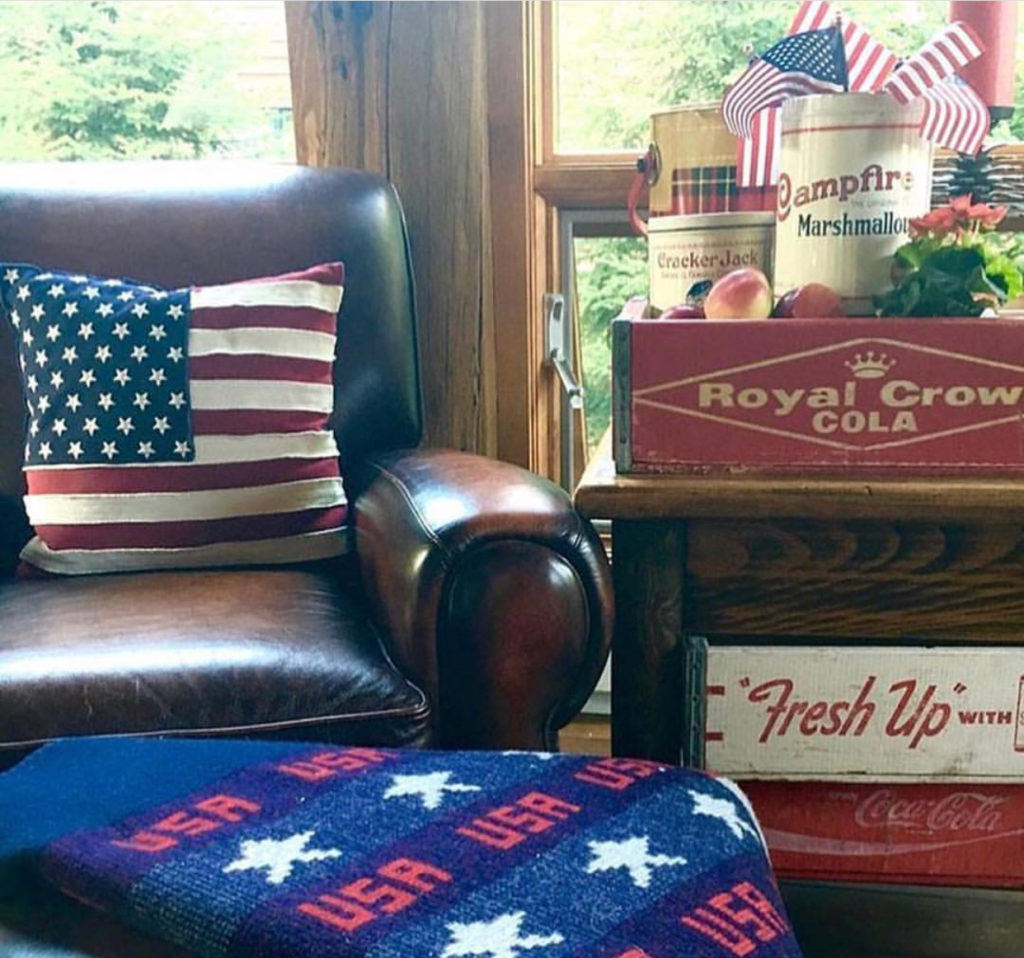 I love decorating with flowers, but flags are just as cute in the Summer and they never need to be watered.
Using vintage containers as vases is one of my favorite things to do. Here's a post where I shared more ideas.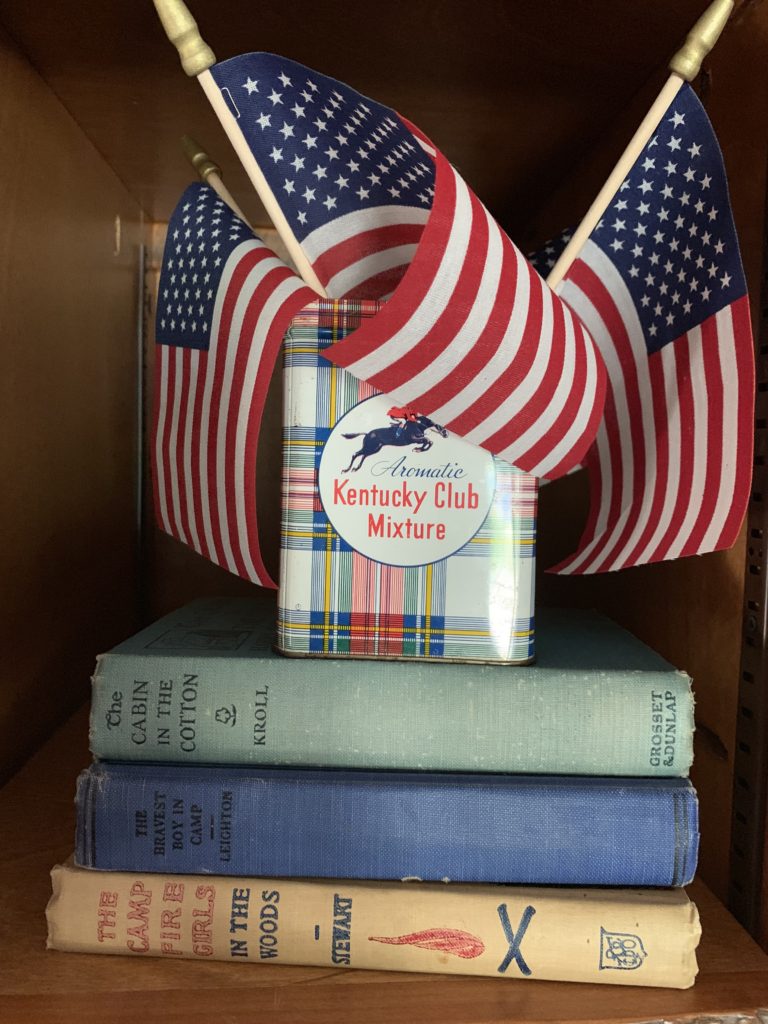 Most of my vintage thermos, jugs, crates and other decor I have out year round in different places, but when I pull together the red, white and blue pieces it works great for Summer patriotic decor.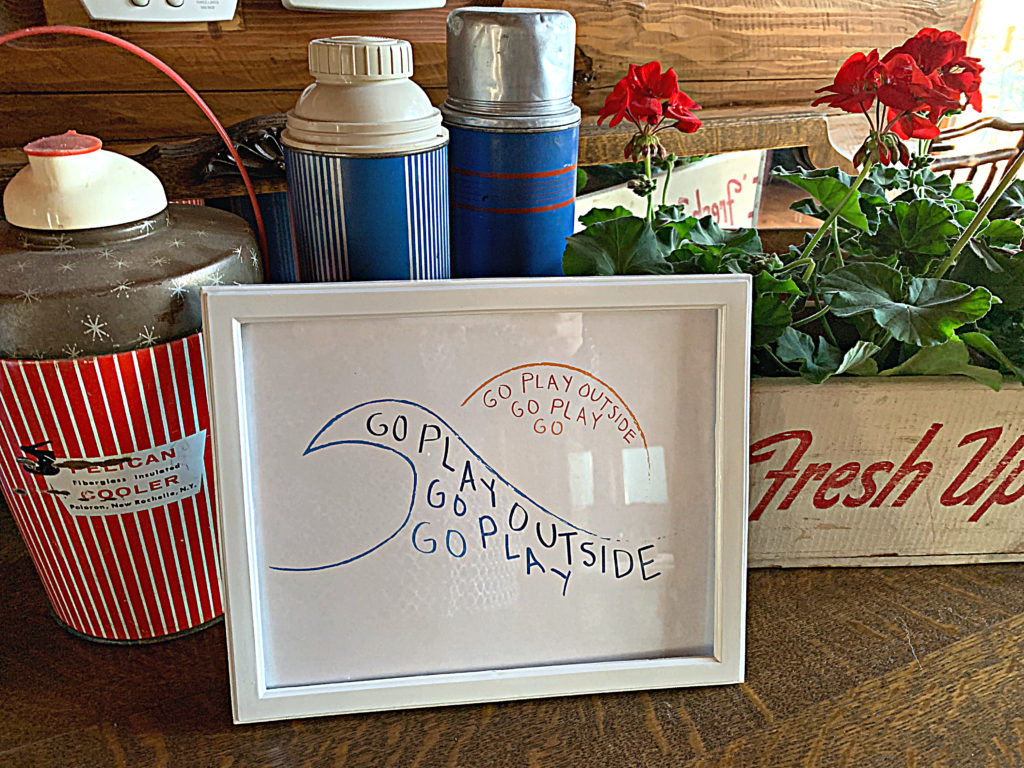 Next up on the tour is my friend Carol of Bluesky at Home. She always has the most wonderful craft projects! You will love her painted flag!
Thanks so much for visiting today! To my dedicated followers, thank you for all your continued encouragement and kind words! To those of you that are new, I hope you will become a regular by clicking HERE! Be sure to check in each day for the rest of the Summer of Sunshine Series.
In case you missed Day One enjoy- Summer Mantel Decor and Great Room Styling.
Take the Tour

You are invited to the

Inlinkz

link party!
County Road 407 ~ DIY Beautify ~ White Arrows Home ~ Bluesky at Home ~ Lora Bloomquist  ~ A Stroll Thru Life ~ Decor To Adore ~ Thistle Key Lane  ~ The House On Silverado ~ Everyday Edits ~ My Family Thyme ~ French Ethereal
FOLLOW ALONG
Instagram ~ Facebook ~ Pinterest ~ Twitter ~ YouTube ~ Tik Tok ~ Liketoknow.it