Take a tour of our lakeside cabin all set for Summertime.
(Affiliate links are used for your convience. Read my full disclosure here.)
Thanks so much to Marty of A Stroll Thru Life for hosting this fun Summer Tour of thirty bloggers sharing Summer decor inspiration! I've been participating in Marty's tours for several years now and it's an honor to be part of them and see all the inspiration from the bloggers participating!

If you are coming over from 11 Magnolia Ln. welcome to White Arrows Home. Didn't you love Christy's tour? She has such gorgeous style! It's so fun to see her life overseas in her Stuttgart apartment.
Now you are coming to visit my lakeside log cabin home in The Northwoods of Wisconsin.
We bought our cabin as a vacation home ten years ago and moved up to it full time with our five kids eight years ago. We have enjoyed raising our family on the lake, in the woods way Up North.
It's been fun to add projects and improvements to our home and property over the years. We are getting close to finishing most of them. Some have been big like building the guest house and others have just been little dreams like having hanging baskets of geraniums across the front.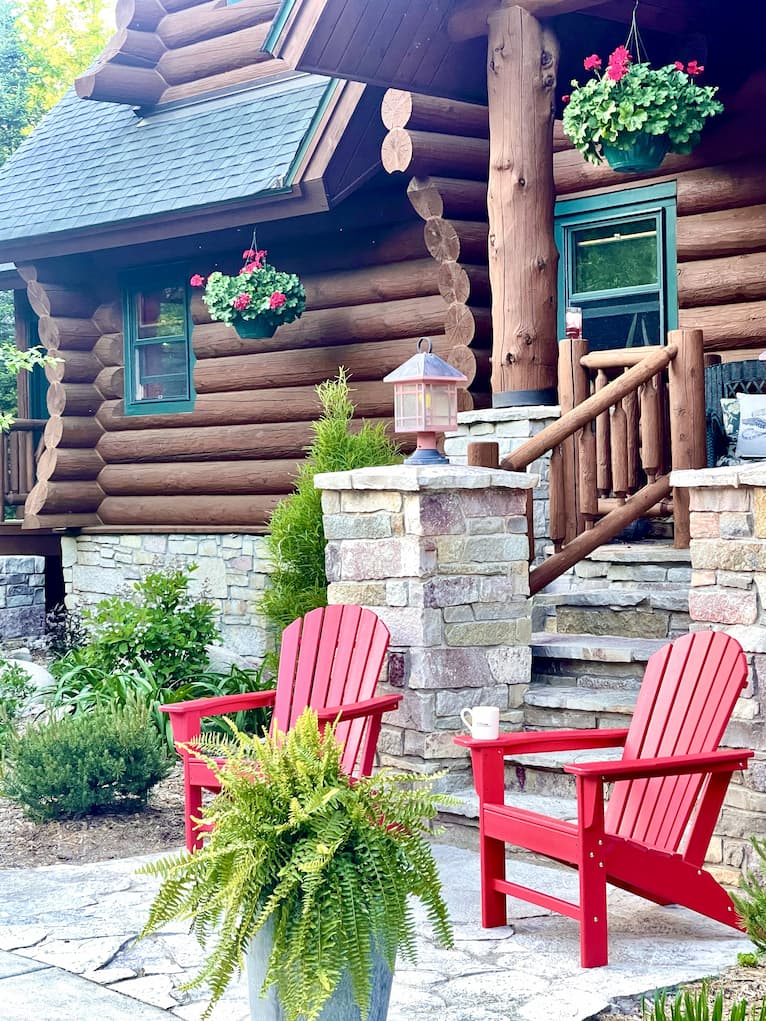 My blog is called White Arrows Home after the wooden white arrow signs that point you all over The Northwoods of Wisconsin directing you to businesses, restaurants, cabins, cottages and lake homes. They are a nostalgic symbol of our area and seemed the fitting inspiration for my blog where I write encouragement for you to find more direction and connection in your life with yourself, family, friends and faith.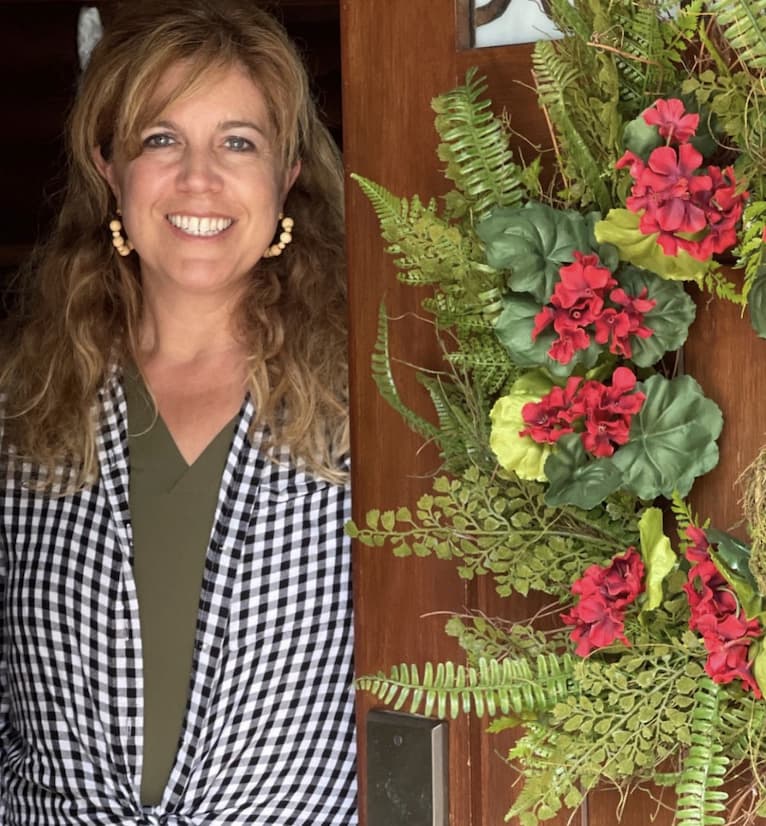 I love to decorate with a mix of old and new. Vintage and antique finds are found all throughout the cabin filling it with a story.
Minocqua, where we live, is a vacationland paradise where people come from all over to visit and enjoy our beautiful scenery and recreational activities. So I love adding a little nod to travel in our entryway with the vintage suitcase. My favorite color is plaid, so you will find it throughout my rooms.
The VACANCY sign is off an old resort. You can see more of my entryway in THIS POST.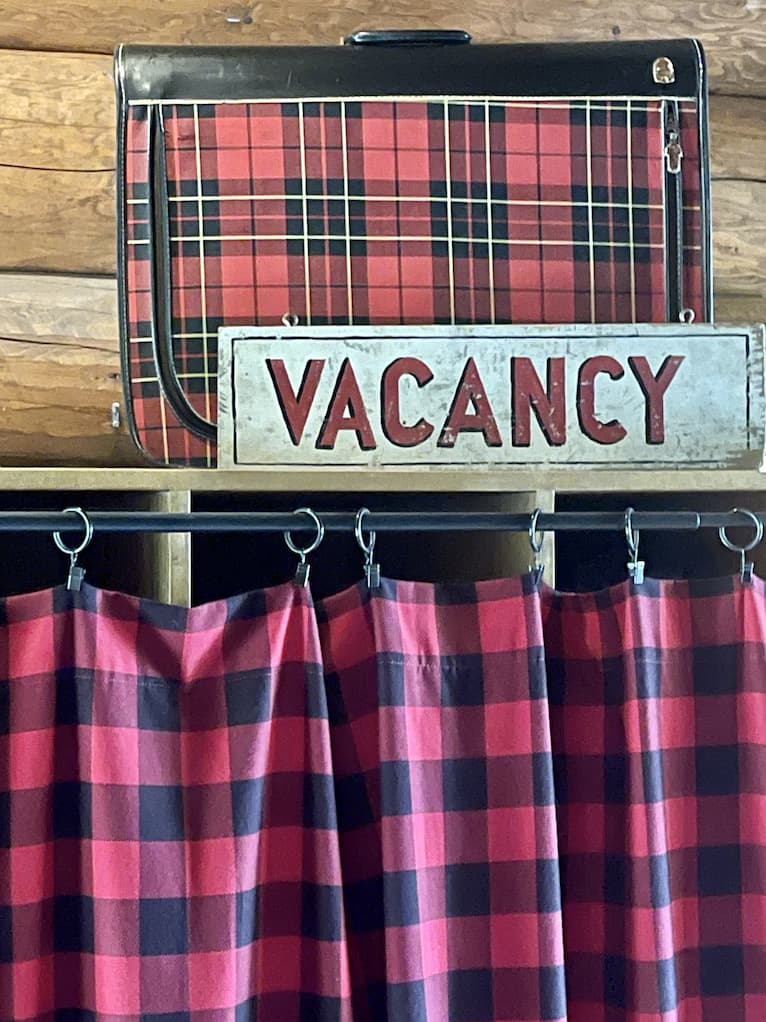 Want to get daily encouragement? SUBSCRIBE HERE so you don't miss any posts!
Just outside the entryway is a wall between the dining room and kitchen. I styled the antique buffet with my collection of red lanterns in a line down the top. This buffet was the first antique Brian and I bought together.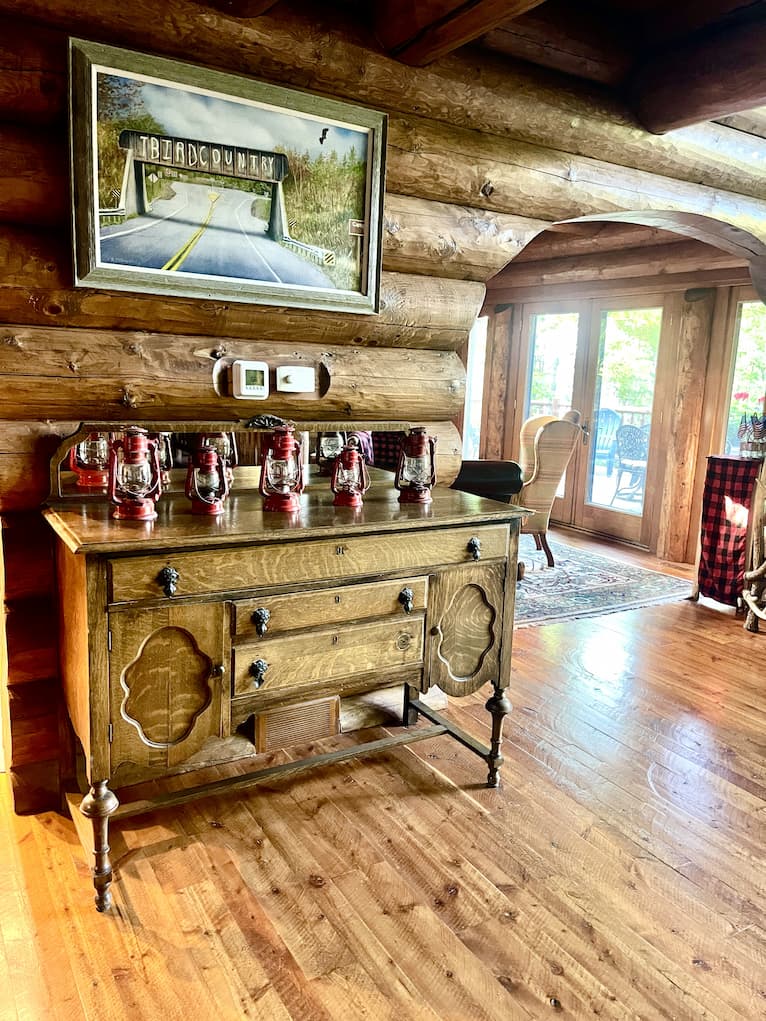 One of the big changes I made this Summer was to move our dining room out into the sunroom and make a gathering area under the light in the dining room space. We have all loved how it worked out and how much we enjoy eating in the sunroom surrounded by pine trees.
Its great for whoever is cooking or working in the kitchen because others can sit and visit nearby.The kids have been gathering here to play games a lot.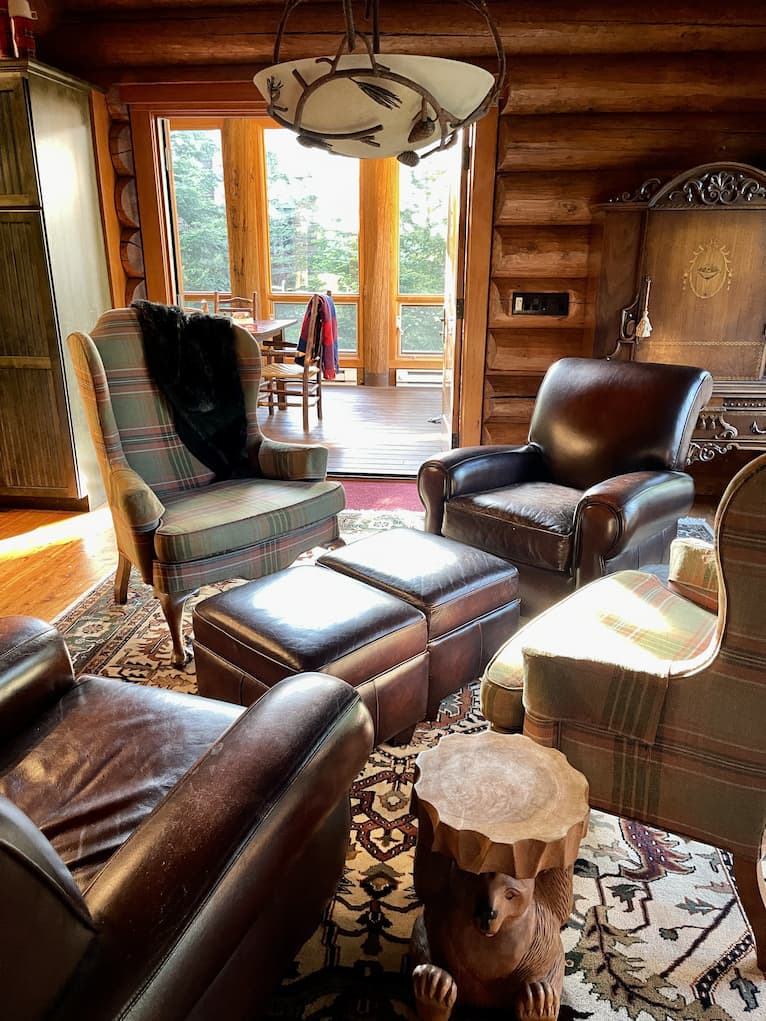 The dining room feels grand now with the tall ceilings of the sunroom and the views of the woods and lake out of the three walls of floor to ceiling windows.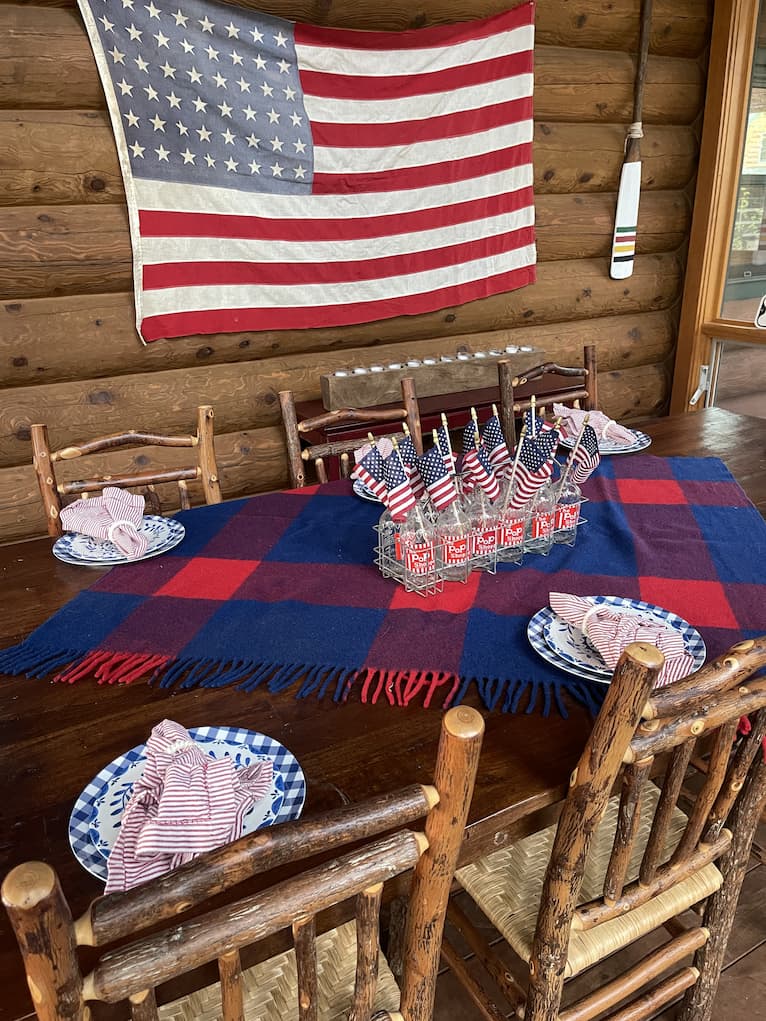 The Kitchen
One of the best parts of Summer is fresh fruit. I keep fruit out all the time for fresh healthy snacking options.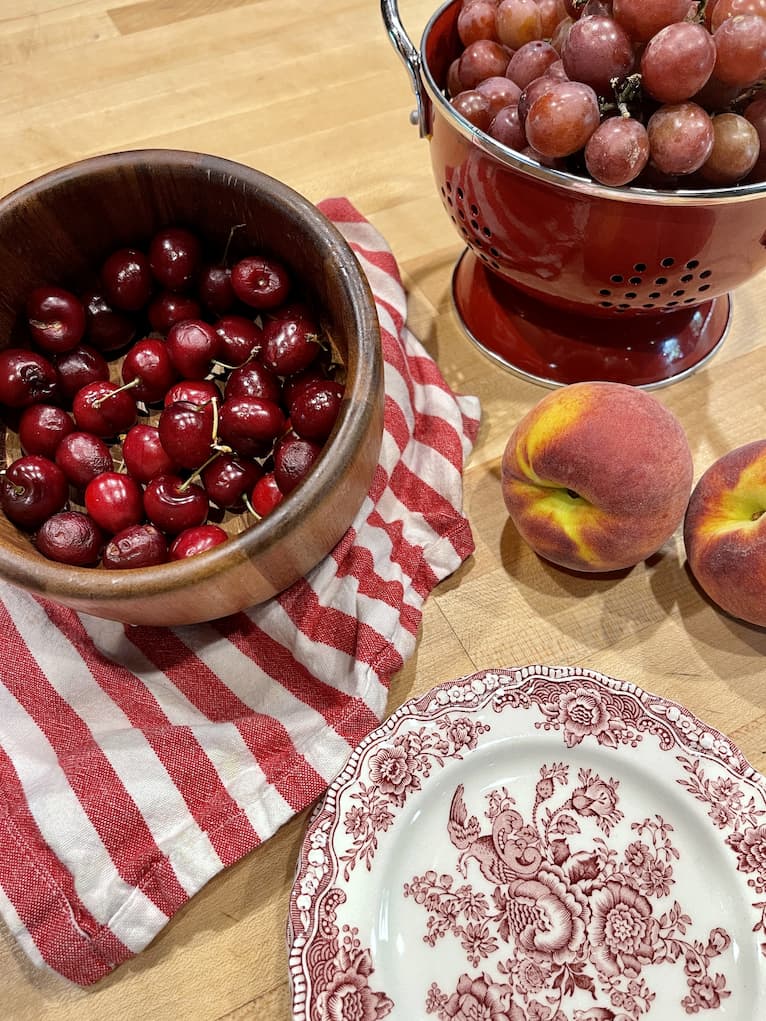 Another fun part of Summer is having big breakfasts. My kids favorites are pancakes and French toast. I started collecting vintage syrup dispensers a few years ago. I love that they come in different sizes. I usually just pick ones with red tops, checking to make sure the openings aren't rusty.
You can find one of our favorite pancake recipes in THIS POST.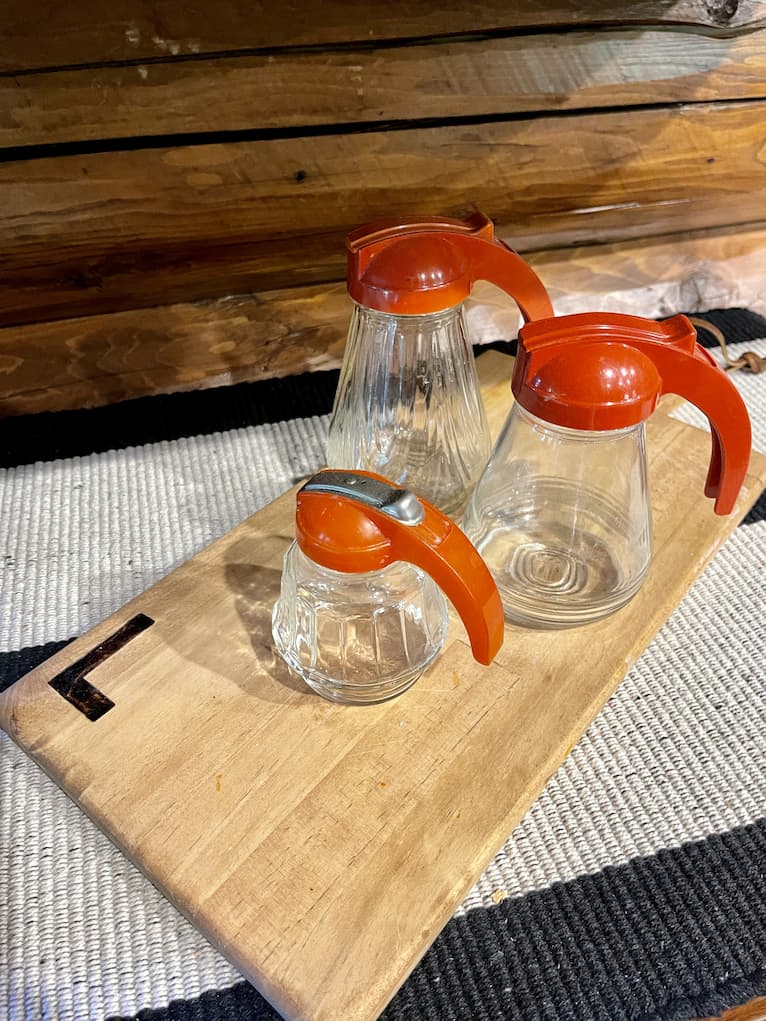 The Great Room
It is all good in the woods, one of my favorite sayings and it's on a pillow! Find the pillow and other decor like you find in my home in my shop.
Notice the stack of vintage picnic baskets on the side of the chair. I love using my fun finds in new ways, different than what they were designed for, The basket stack makes a great end table. See THIS POST for more ideas for fun side tables.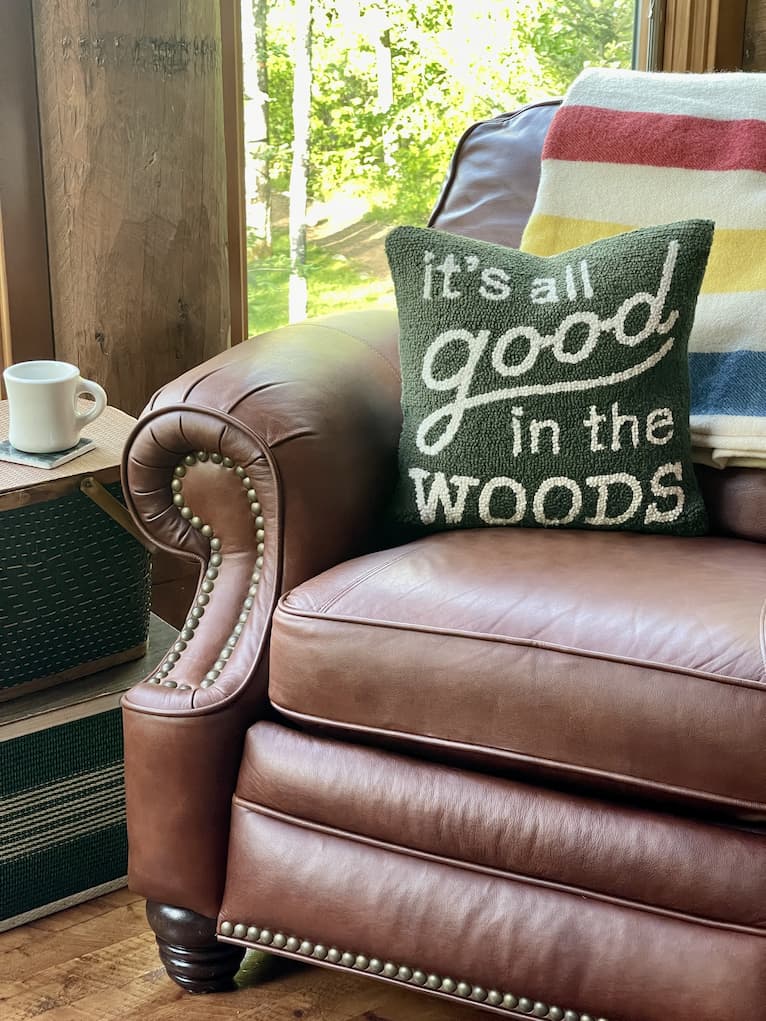 A view of the great room looking back at the loft and beams. The loft is my next project and I have some fun ideas, so stay tuned.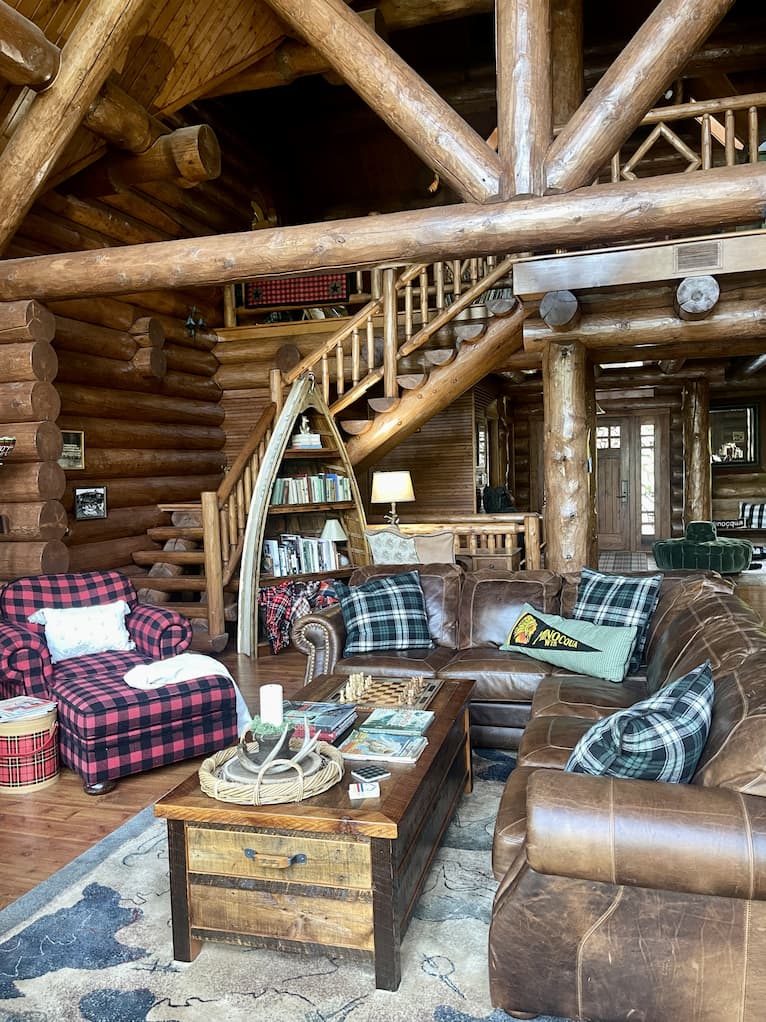 I shared more of my Great Room Summer Styling and my mantel decor IN THIS POST.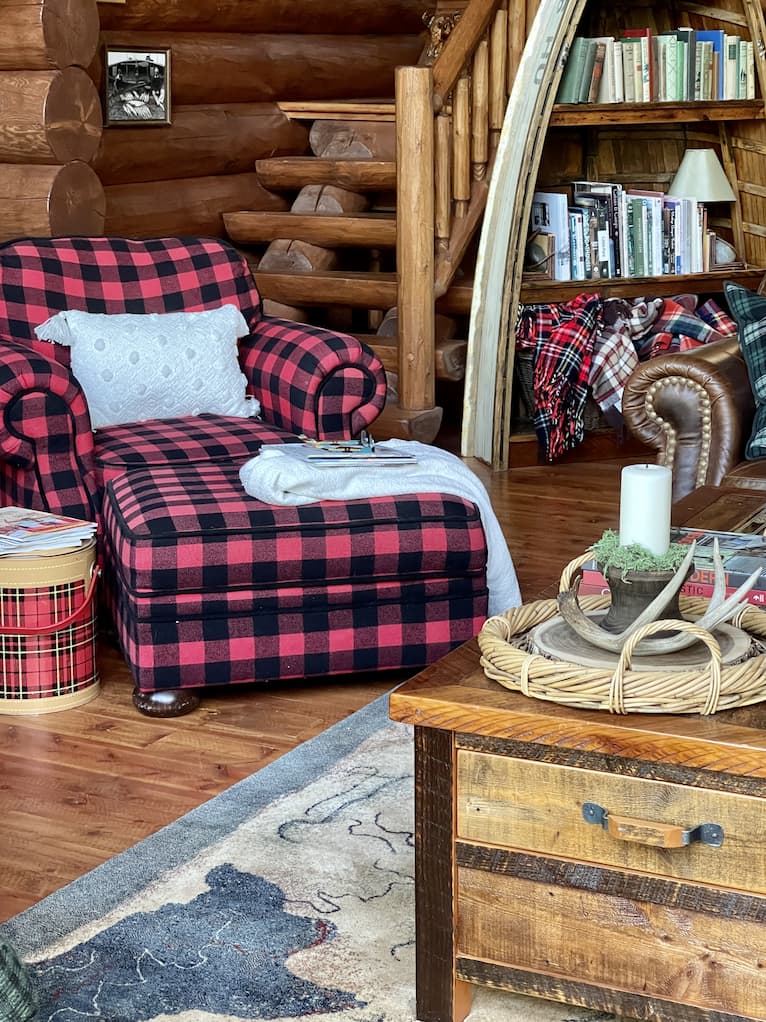 I've been in three magazines in the past few months: American Farmhouse Style, Girl Camper and was named a Favorite Follow by Log Home Living and Timber Home Living Magazines.
The cute Pendleton glasses are one of the most popular items selling right now since they came in last week to My Shop.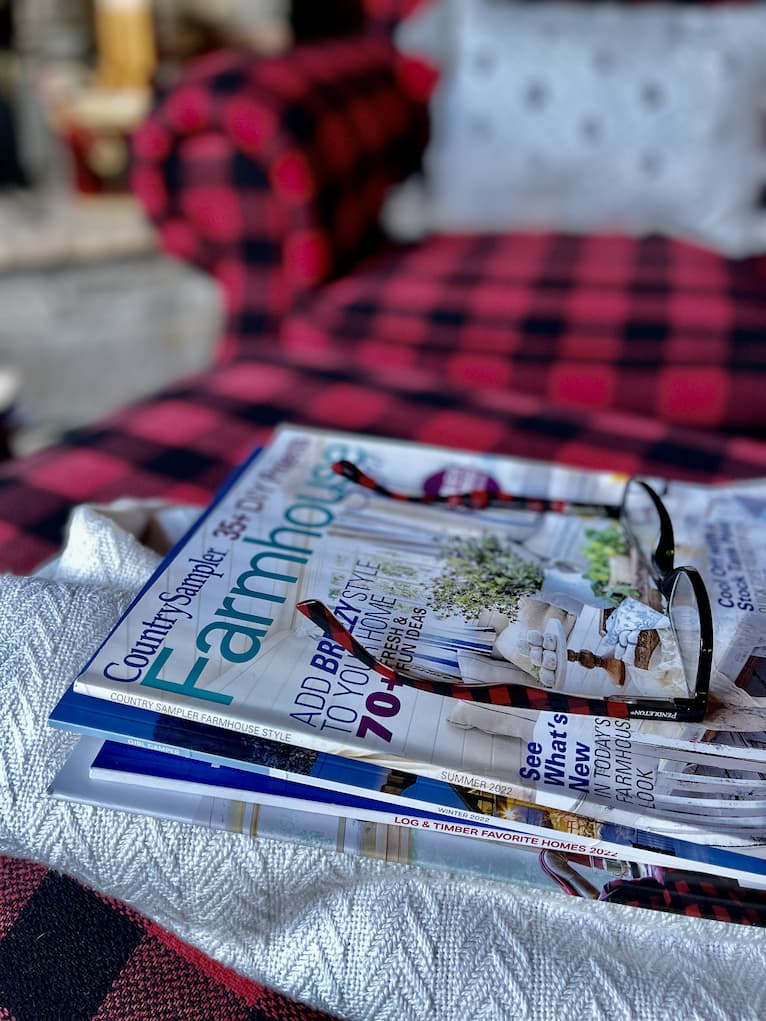 I like to decorate all Summer, from Memorial Day to Labor Day, with Patriotic Decor. Here are some of my favorite ways to decorate with the style In THIS POST.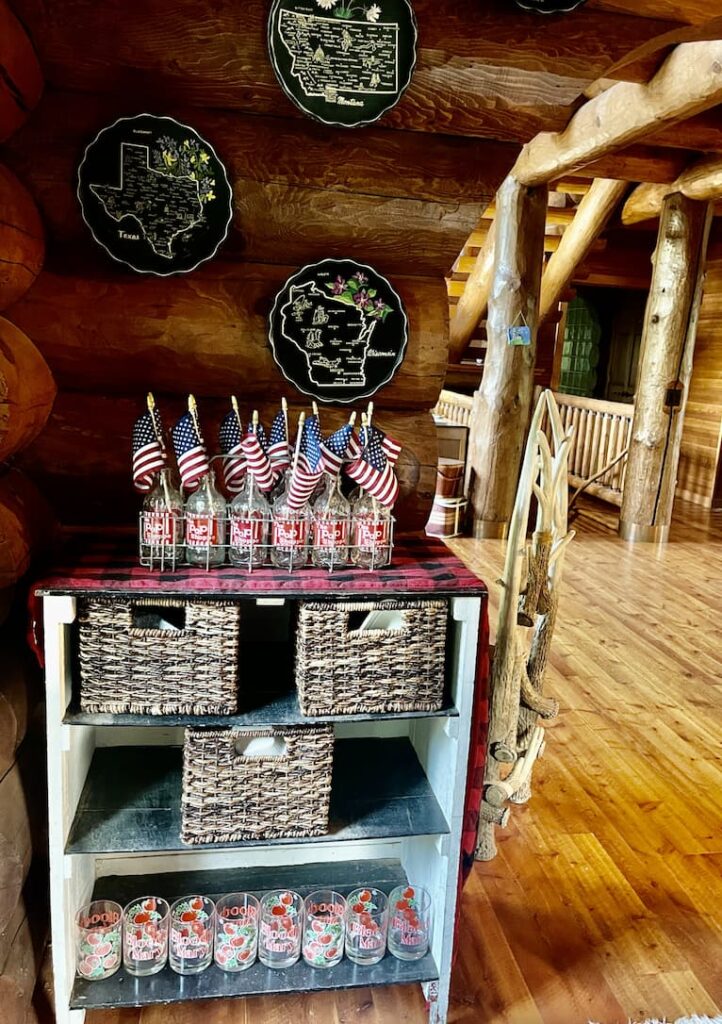 Thanks so much for visiting!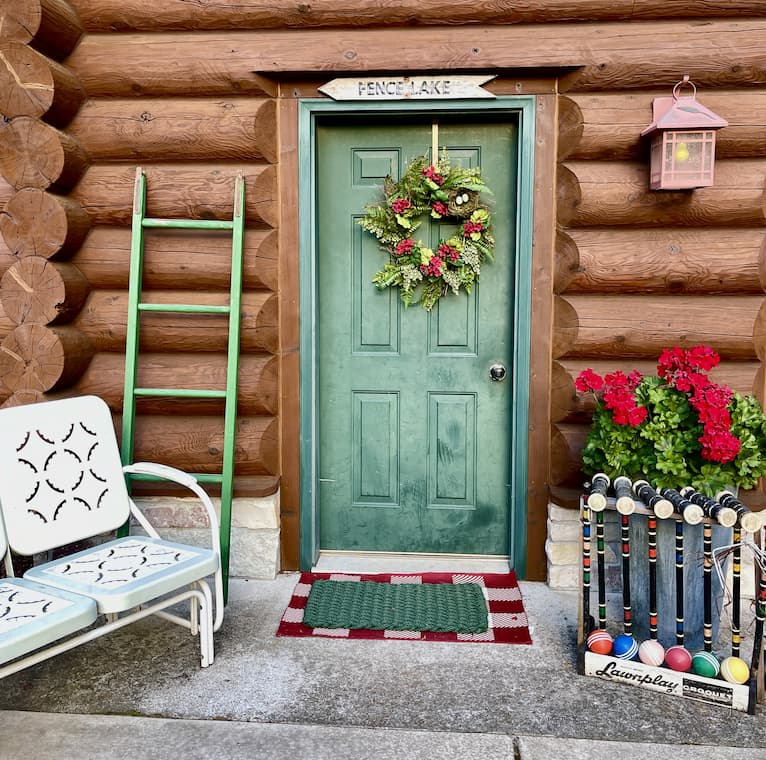 Next, you are heading over to Christina at Remodelando la Casa. You will love her beautiful home and tour!
Don't be a stranger, come back and visit often! Want to get daily encouragement? SUBSCRIBE HERE so you don't miss any posts!
Take the Tour
Monday – June 6th Lineup

A Stroll Thru Life – Our Southern Home – Grace In My Space
Hymns & Verses – Southern Hospitality – Chalking Up Success
Tuesday – June 7th Lineup

Calypso in the Country – StoneGable – 11 Magnolia Lane
White Arrows Home – RemodelaCasa – Pink Peppermint Design
Wednesday – June 8th Lineup

Designing Vibes – Cuckoo4Design – Whispering Pines Homestead
Decor to Adore – Thrifty and Chic – Clean and Scentsible
Thursday – June 9th Lineup

CitrineLiving – Southern Home and Hospitality – Worthing Court
The Stonybrook House – Southern State of Mind – This is our Bliss
Friday – June 10th Lineup

Follow The Yellow Brick Home – Country Road 407 – Quarters One
Shiplap and Shells – Simply2Moms – Pasha Is Home
FOLLOW ALONG
Instagram ~ Facebook ~ Pinterest ~ Twitter ~ YouTube ~ Tik Tok ~ Liketoknow.it