Summer Mantel Decor and Great Room Styling to kick off Summer in style inside and reflecting the fun of the season just outside our lake view windows.
(Affiliate links are used for your convenience. Read my full disclosure here.)
It's Day One of my Summer of Sunshine Series here on White Arrows Home. I'm so excited to share with you ideas for Summer decor, recipes, entertaining and memory making throughout the series. Today I'm sharing my Summer mantel decor and Great Room styling.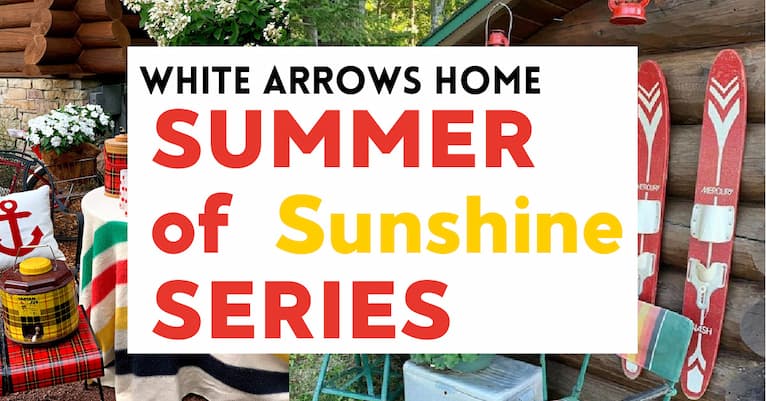 Last Summer I decorated the mantel with inspiration from my green oars and my Wisconsin Resorts framed print. It was all about greens and natural elements and texture. In my decor you will always a mix of old and new.
I used vintage green and white books, an antique trophy topped with a boxwood ball, an old lantern and DIY rope candle holders. See how I made those IN THIS POST.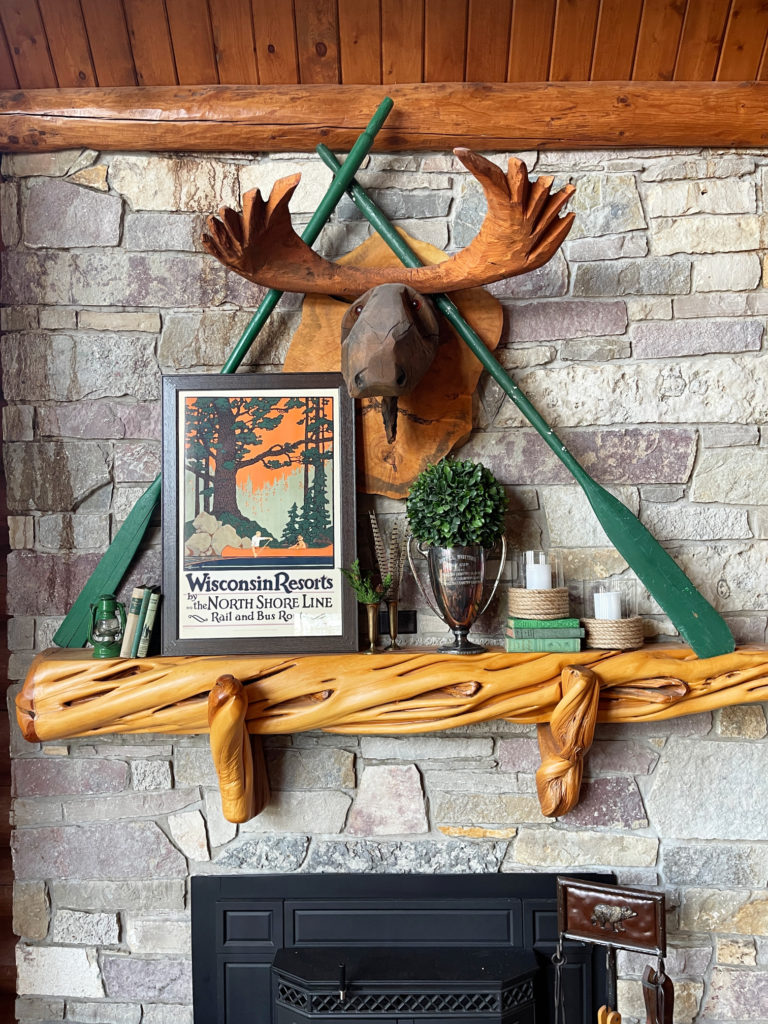 I change my mantel decor in each season. It's one of my favorite spots to decorate. Every time I style my mantel, I love how it turns out so much I think I'll decorate it the same way the next year.
Want to get daily encouragement? SUBSCRIBE HERE so you don't miss any posts!
This year I put the green oars back up and the Wisconsin Resorts framed print too, but then my creativity went another direction.

I gathered up a couple of the minnow buckets from my collection to incorporate and stack. Minnow buckets are one of my favorite vintage treasures to use all throughout my lake house. Not only do they reflect the nostalgic charm of lake like, but are practical in so many ways:
To hold toilet paper in a bathroom
As a flower vase
Holding sunblock, bug spray and other outdoor necessities on the back patio
The inside piece that is full of holes makes a wonderful lantern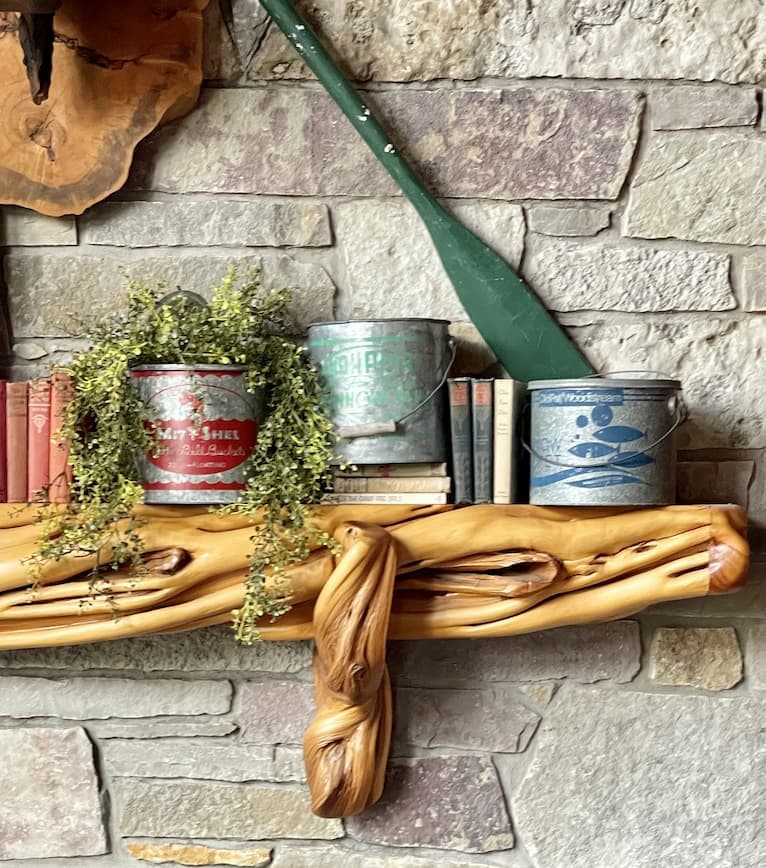 Get the Look


My goal is always to create spaces that make family and friends want to linger longer. Honey, our Great Pyrenees, is letting me know I've accomplished just that, feeling peaceful and cozy.

A lot of people ask me about my buffalo plaid chairs. A lot of people think of this pattern just in the Christmas Holidays, but it is perfect in our cabin all year. I love color and I love pattern. I treat the plaid chairs as a neutral, meaning that I mix and match them with everything. They are signature staple pieces and everything else will complement it.

Two of my recent finds are these black and white vintage photos. One is of a grandpa and young boy, their canoe and the fish they caught.
The old camp photo is from one of the local camps in our area, Camp Minocqua. It was my favorite find at Junk Bonanza this year. Read about that thrifting adventure to the Twin Cities and the vintage market IN THIS POST.
On my wish list is to find one more special framed photo to add. I don't want to make a busy gallery wall here, but just do a trio of photos.
My vintage pennant pillow is from Jules Pillows.

As much as I love decorating my mantel, I love styling my coffee table just as much. There are a few elements you will usually find:
stacks of books
a styled tray
game or puzzle
deck of cards
One great place to find antique, vintage and new decor is from my shop, White Arrows Home. You can stop in our brick and mortar shop in Minocqua, Wisconsin, visit our booth at The Shops at Station 8 in Columbia Falls, Montana, or online from anywhere.

Get the Look


There are so many great ways to style a tray. Our coffee table is large, so adding a tray is a great way to add some seasonal decor or entertaining pieces. Right now I'm using my basket tray with a simple candle surrounded by moss and a giant antler. Antlers are another thing I love in my decor all year long. See more ideas for using antlers IN THIS POST. Brian found this one on the shores of the The Sorthfork of the Flathead River while fly fishing with my dad.

Adding a game or puzzle to the coffee table is a great way to encourage the family to keep hanging out and off their phones. Checkers, chess, tic tac toe, even a puzzle come in such beautiful styles now that when no one is around or playing it, it still looks amazing.
This chess board I carried home from a trip to Spain. I bought it from an artisan on the streets.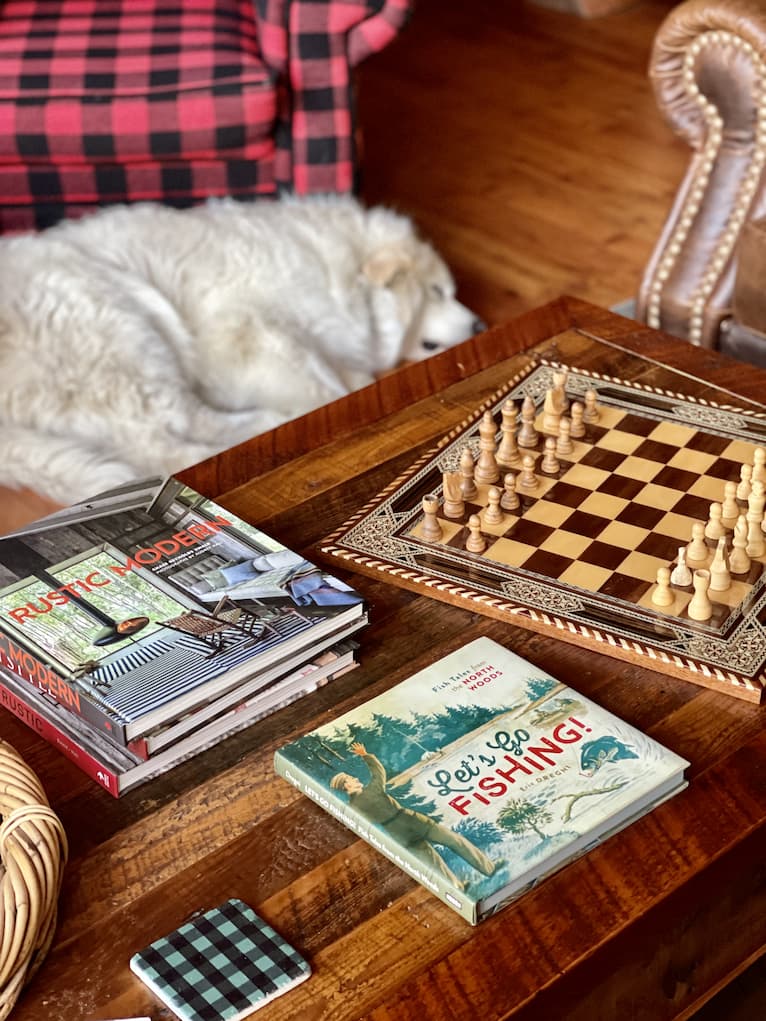 Because our stone fireplace is so tall, I like to add pieces with height like the oars and the art print. I gave the left side more height by stacking two of the buckets next to the print. Giving the space a triangle shape brings your eyes up and around to take in the whole view and leaving you at peace.

Get the Look


In one of the buckets on the right I added some greenery cascading out. So the final touch I gave the mantel was to add some blooms to the top bucket on the left.

Adding spots to gather around the Great Room is a priority in my decor, but so are spaces to curl up independently to read, take a nap or just gaze out at the view.

Thanks so much for following along! I'm so excited to kick off the Summer with you. Come hang out with me on my Instagram and Facebook Stories and see how we spend Summers enjoying the lake and life up here in The Northwoods.
FUN SUMMER FINDS


FOLLOW ALONG
Instagram ~ Facebook ~ Pinterest ~ Twitter ~ YouTube ~ Tik Tok ~ Liketoknow.it