9 Inspiring Summer Porches give ideas for making a welcoming first impression and a special spot to sit and enjoy company, quiet time and the view.
(Affiliate links are used for your convenience. Read my full disclosure here.)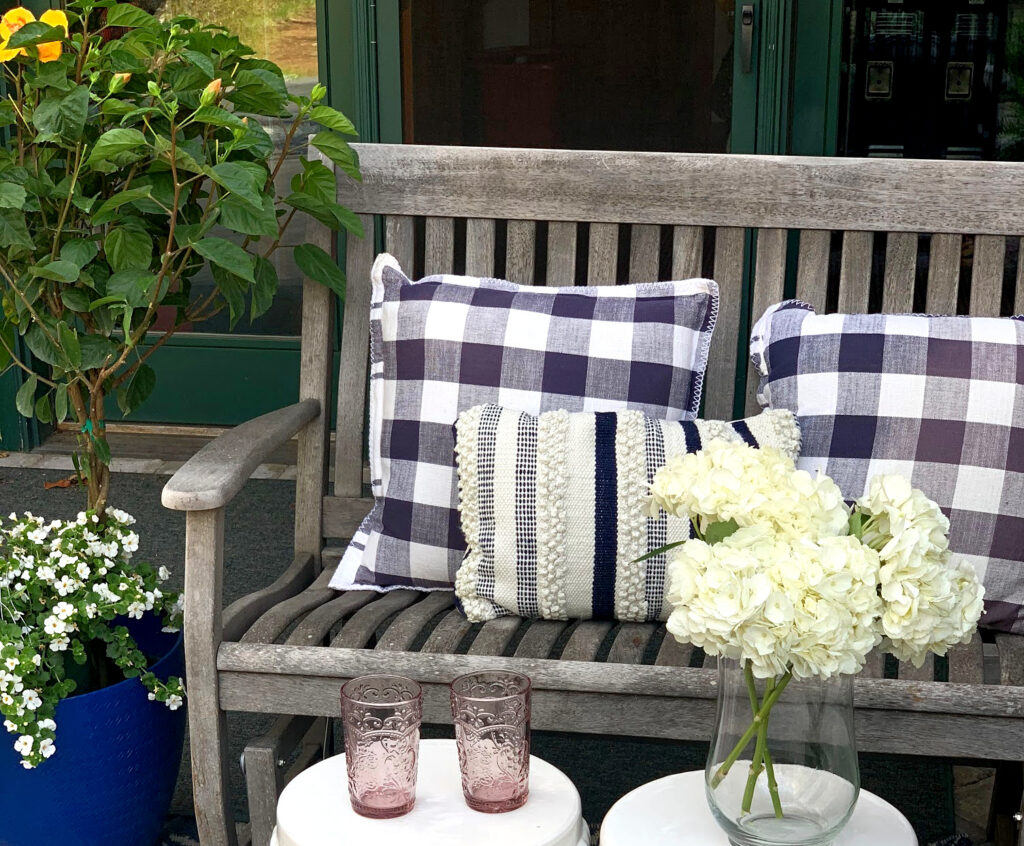 I'm sharing 9 Inspiring Summer Porches in a round up today of decorating ideas for Summer. These round ups are such a great way for me to share ideas I'm loving and introduce you to some inspiring bloggers you'll love following.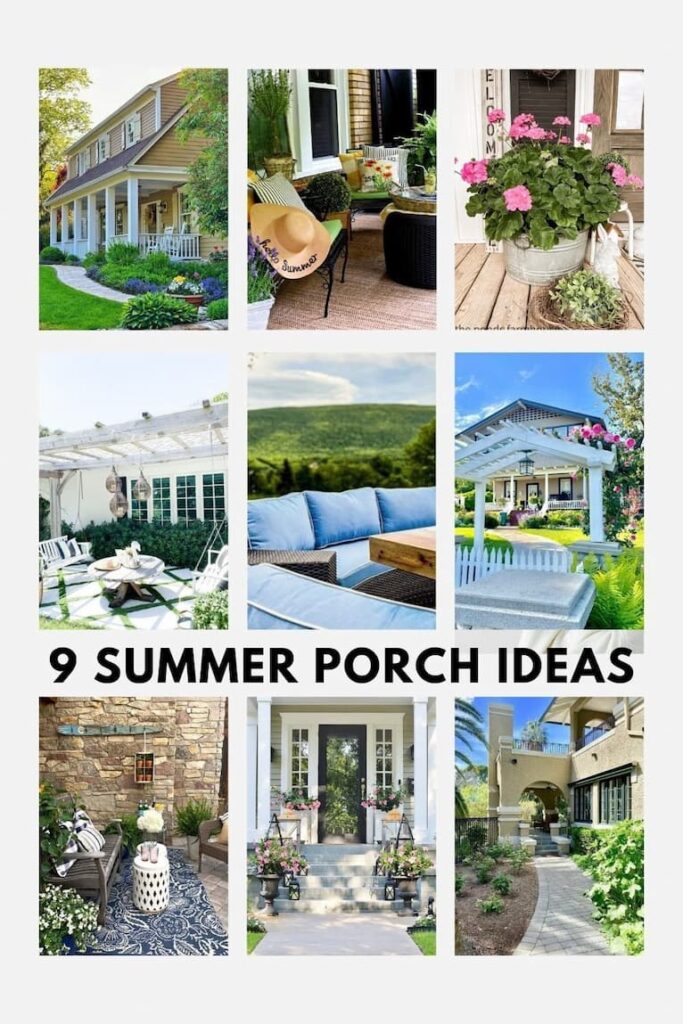 Thanks so much to my friend Rachel The Ponds Farmhouse for the idea for this post!
I love decorating my porches for Summer. Yesterday, I shared how I've decorated mine this year as part of my Summer of Sunshine Series. You can read the full post HERE.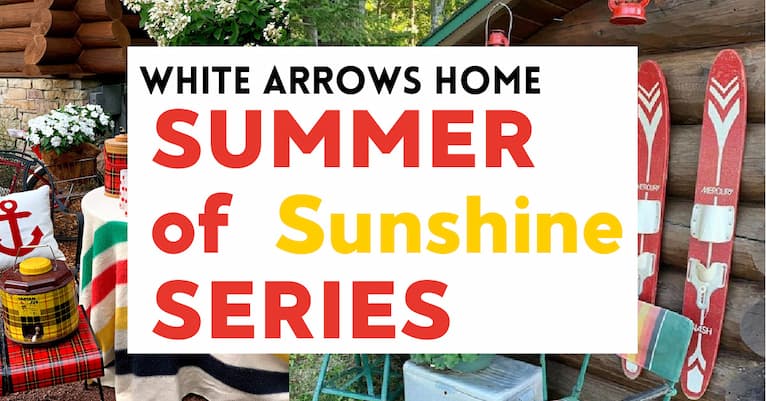 Have you been following the Series? Here's posts you may have missed:
Porch Curb Appeal
Summer Reading
Want to get daily encouragement? SUBSCRIBE HERE so you don't miss any posts!
9 Inspiring Summer Porches
A few years ago, I did a fun project on my back porch. I set up a seating area in a dead zone space that I had never known what to do with and I loved how it turned out.
There were several things that made this porch decorating extra fun.
I decorated in a different color scheme than I usually do, with blues and whites.
The styling was part of the monthly Pinterest Challenge I participate in.
It worked well to place this seating just outside our outdoor shower.
You can see all the details in THIS POST.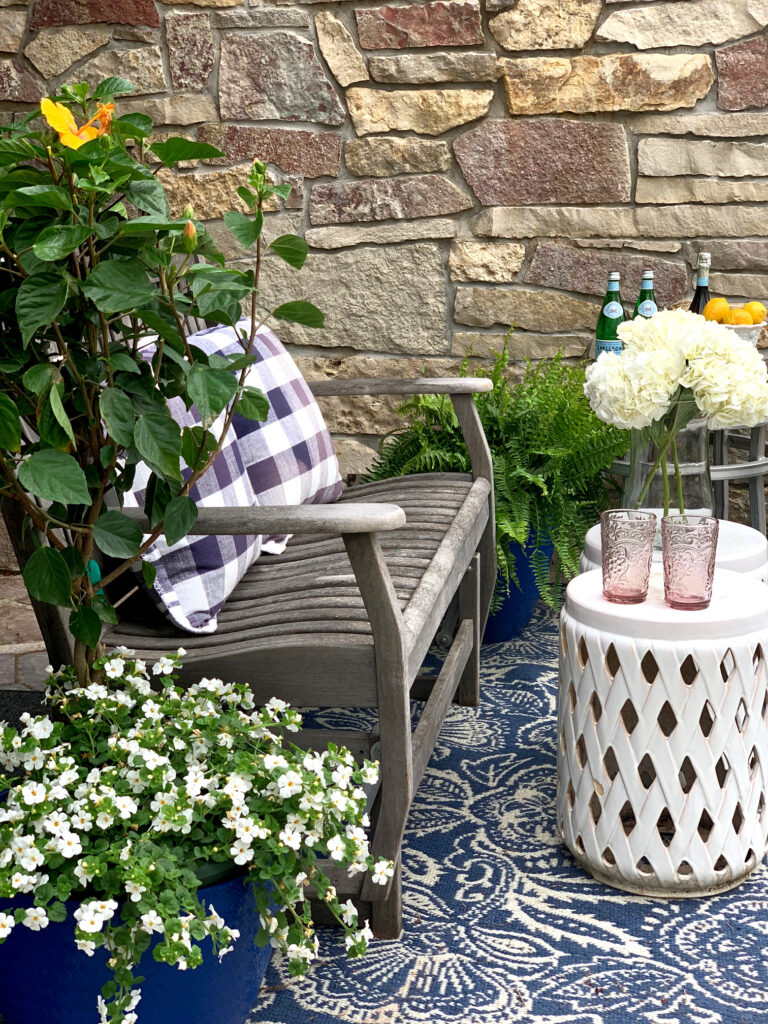 8 More Inspiring Porches
At The Ponds Farmhouse my friend Rachel gives her porches special touches mixing in old and new and her amazing DIY projects.
It's fun to see Rachel's porch in any season and you'll definitely want to spend time exploring her blog to see her greenhouse, her ponds and the inside of her home.
Get lots of great tips for your Summertime porch in THIS POST. Rachel shares things like how to keep bugs away, protect your fabrics, even how to water your plants when your gone. She always inspires me so much!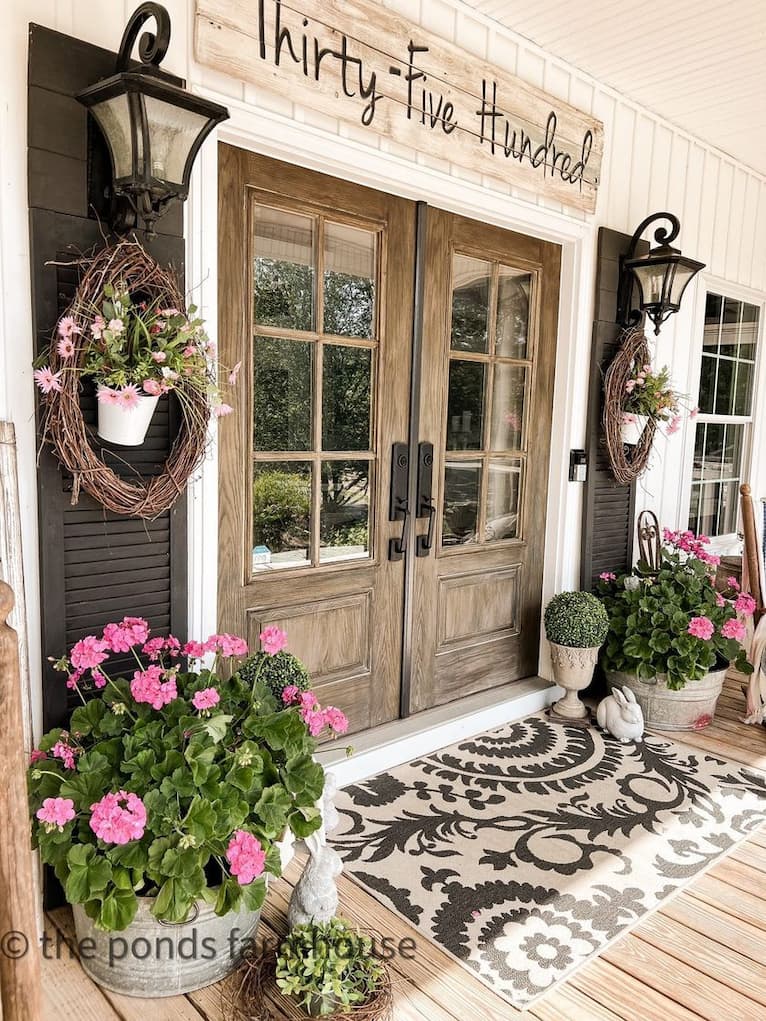 If you love homes with a history, you will love my friend Mary's in Arizona. She blogs at Life at Bella Terra.
I was so inspired by her outdoor terrace project. I love how they redid the barbecue area, wait until you see the before and afters of this area! The floors got an overhaul and so did the furniture. See all the details in THIS POST.
Mary gives so many tips on her blog for how to maintain your home and keep it looking gorgeous forever. She has so many amazing ideas and such great style. Wait until you see her gardens and recipes. Mary has so many talents and it's a blessing that she shares them with us!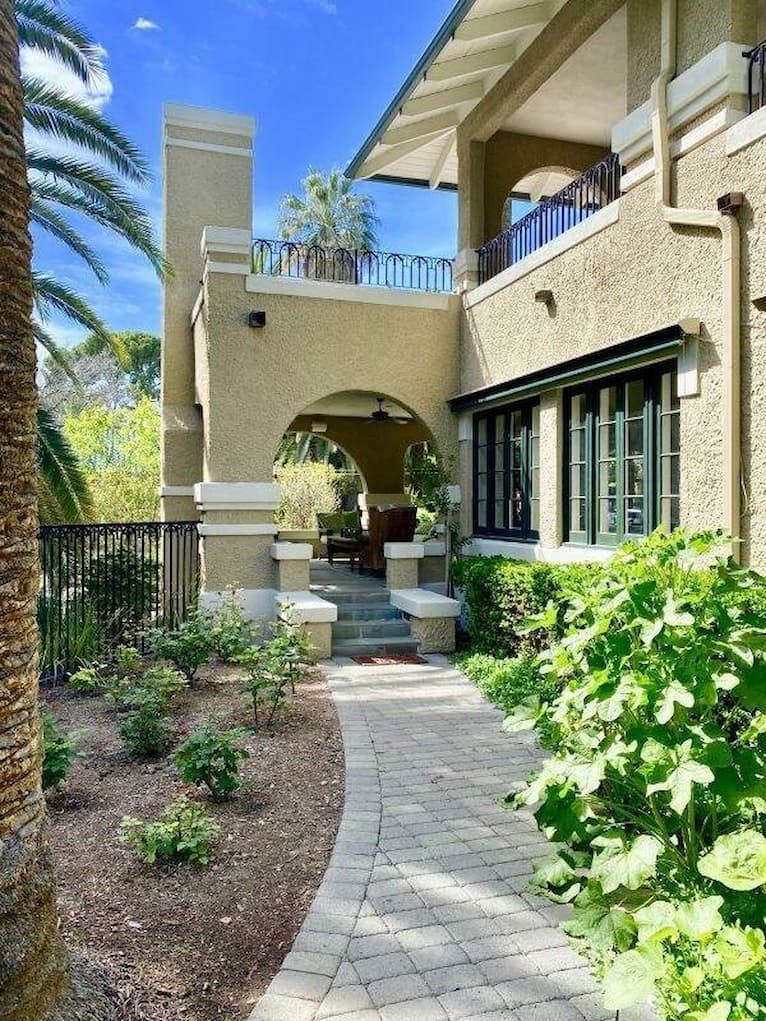 My friend KariAnne of Thistlewood Farms has the most beautiful front porch on her historic Texas home.
There are so many special things about her house and her porch. She has lots of memories there because she grew up in the house! In her blog posts she tells a lot of those fun stories.
Another special thing is that I've stood on it! I attended a blogging retreat a few years ago and all of us went out on the porch to take a group photo. Mary, who I introduced you to above, was also there! It's an amazing experience to meet your online friends in person! And meeting KariAnne and Mary was such a blessing!
KariAnne not only has a beautiful, welcoming front porch, but a gorgeous back-porch and yard as well. You can see more of how she decorated it in THIS POST. I love the colors she used and how she made an inviting space to enjoy all throughout the day from morning coffee to family dinners.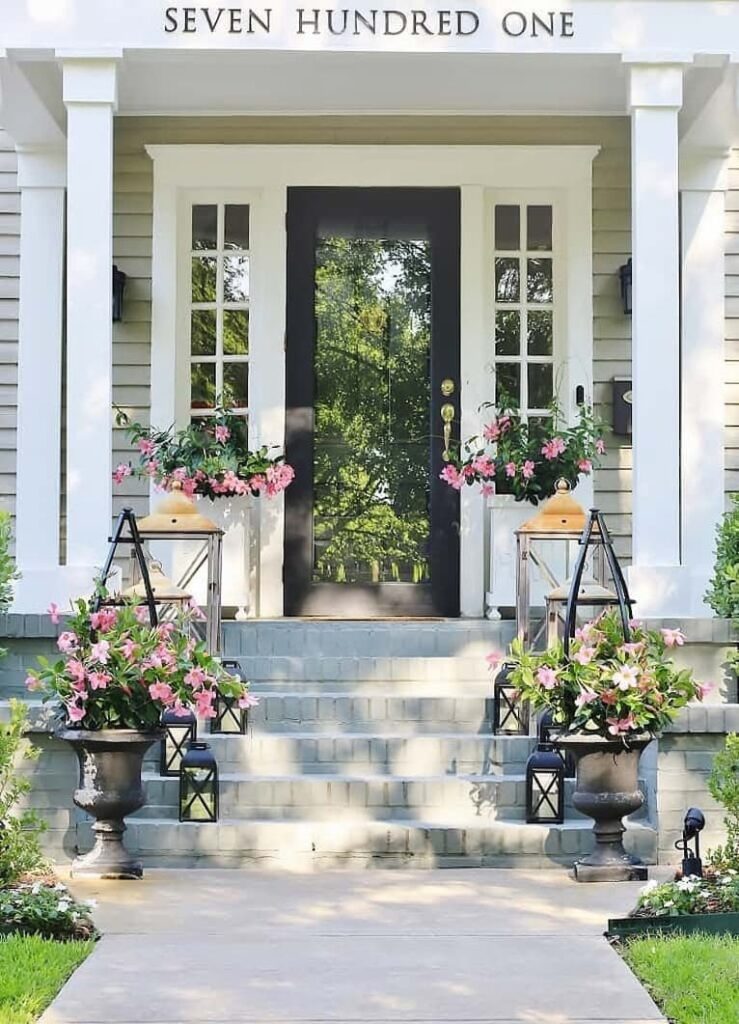 Some of my favorite gardening tips come from my friend Stacy of Bricks n' Blooms. She just moved into a new house and is transforming the gardens there and based on the flowers she had at her last home, this one will be fantastic too!
The porch on Stacy's home is so welcoming! I love that there's a rocking chair for her and one for me! I could sit on this porch all day! And look at the beautiful path up to the porch. I always linger over Stacy's photos trying to learn as much as I can to help my own gardens.
Stacy has such great ideas not only in the gardens, but in her decor as well. She recently shared a really fun and easy thrifted flip idea for the porch. You can read all about it in THIS POST and see how pretty it turned out!

Down in Florida my friend Robyn shares decor inspiration from her blog, Robyn's French Nest. One of the things I think would be fun would be to have homes in many different styles and one like Robyn's would be on the list.
I love the way she styles in her vintage finds throughout her home and she gives so many amazing tips on her blog. Her porch styling on a budget is one example. I love how she used two porch swings on her back porch. It's such a great idea and so pretty too. Read all about it HERE.
I find so much inspiration from Robyn. Her porch lanterns and pavers pattern is so amazing. It makes me want to get started on a new project at my own home right away!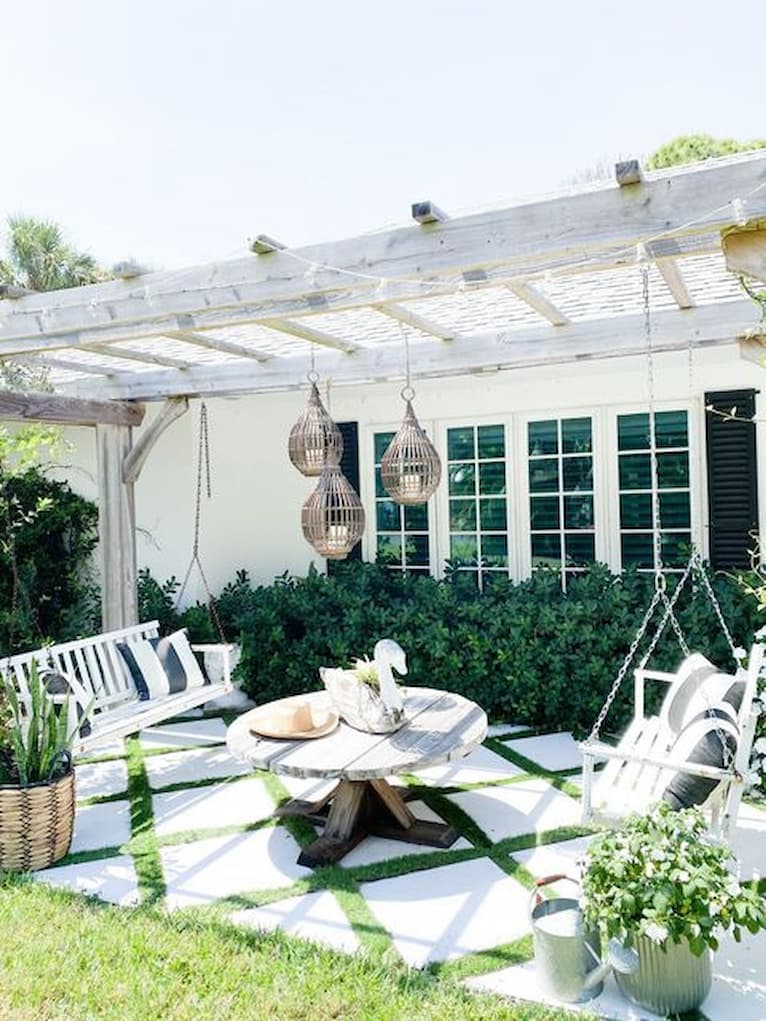 Wendy of WM Designs is just full of joy and it spills out of her blog posts and throughout her home and gardens.
You will love reading about how she breaths life into her home built in the late 1800s! The curb appeal she gave to her front porch and entry is a great example. You can read all the details IN THIS POST. It's such a fun post as she talks about the importance and history of porch sitting. We all need to do more of it and I feel so inspired to do so by her encouragement!
Wendy's blog has so many great ideas for entertaining, decorating and DIYs and you will love seeing her spaces inside and outside!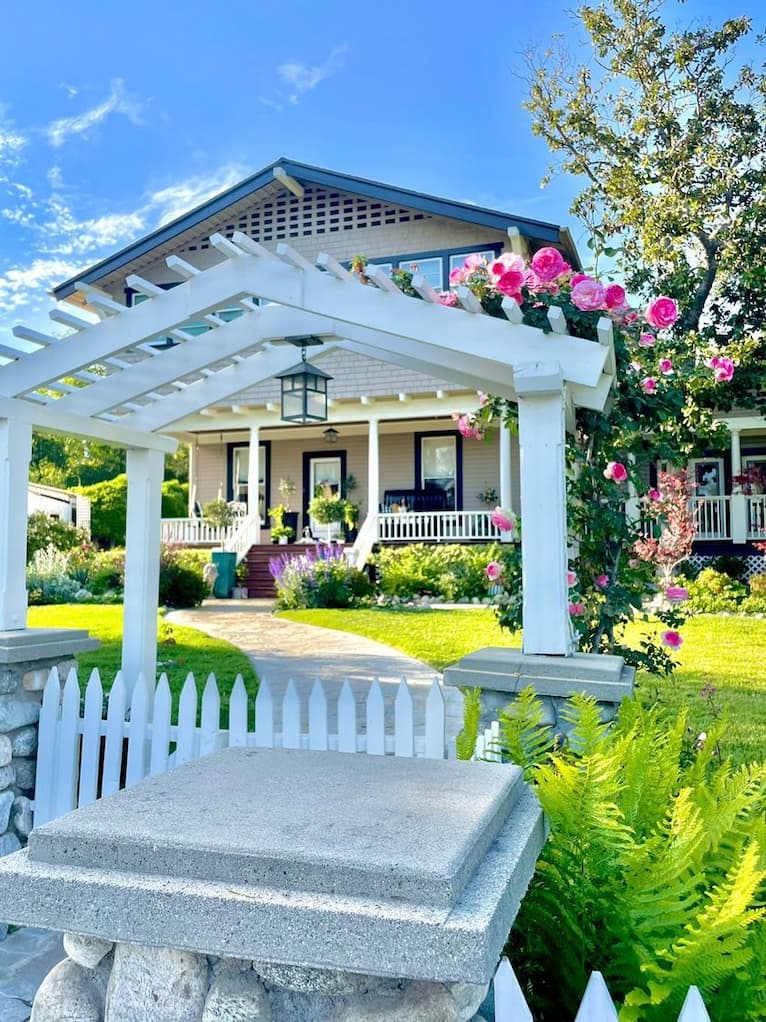 One of my first friends when I started blogging was Amber from Follow the Yellow Brick Home and she has been an inspiration to me every day since.
Amber blogs from her beautiful old Kentucky home where she styles in antique and vintage treasures so beautifully. I love how she created her porch space giving it privacy and intimacy perfect for a gathering of friends or family. I sure wish I could go sit with her there! See more of her porch and ideas in THIS POST.
You will love following Amber and the inspiration she gives inside and outside her home. Wait until you see her kitchen remodel. Talk about goals!
Her home is a favorite of mine in every season!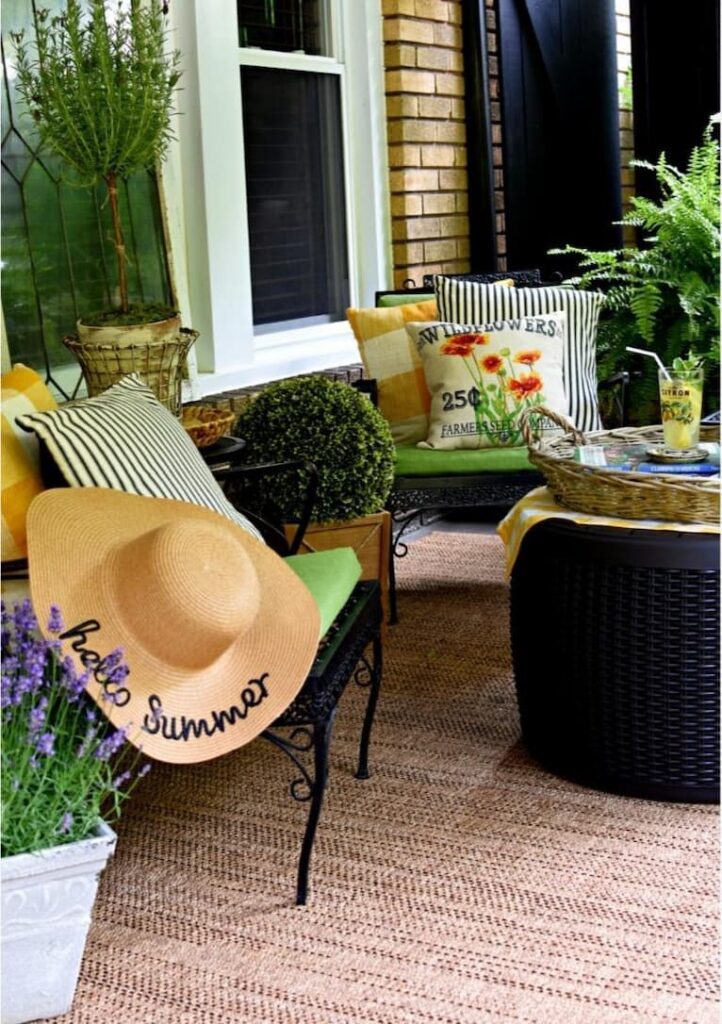 Out East, my friend Ann blogs from her homes in Vermont and Maine at Dabbling & Decorating. It's fun to see how much where I live in Wisconsin and Ann's area have in common as she shares her adventures thrifting and styling her beautiful homes.
Her home in Maine has been a labor of love and so much fun to follow along. The home was her parents' and she includes treasures passed down from her mom throughout the house alongside new finds from local antique shops.
You will love seeing her new fire pit and conversation area. See all the details in THIS POST. She has the most beautiful views and the space is so inviting. I'd have trouble deciding where to sit at Ann's house though, her hot tub, fire pit area or porch! You can see all on her blog.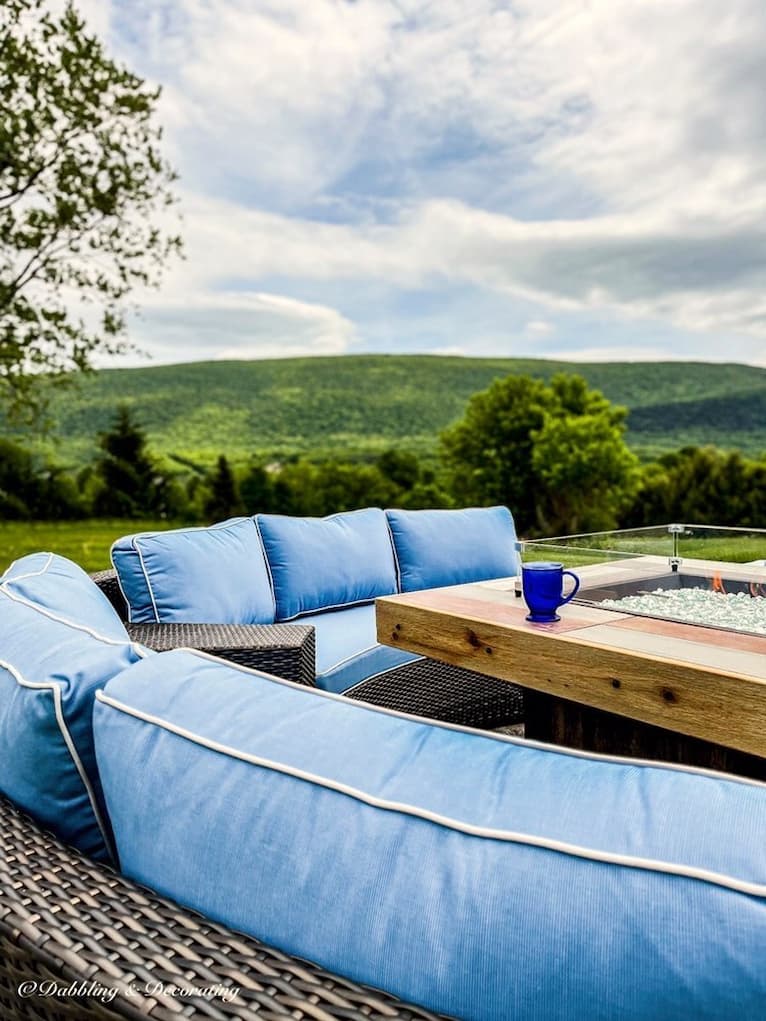 So you've been around the country today being inspired by beautiful porches, from North Carolina, Arizona, Florida, Wisconsin, New Jersey and more. You've been out East, West, Down South, Up North and in the Midwest!
Enjoy time on your porches this Summer! I know I'm making a conscious effort to spend more time on mine, mostly just sitting and watching, doing some visiting, some coffee sipping and some reading. I'd love to hear about your favorite porch to sit on and why you love it so much. I'd also love to hear what has inspired you in this post, what new idea you got or thought you had. Share in the comments below.
FOLLOW ALONG
Instagram ~ Facebook ~ Pinterest ~ Twitter ~ YouTube ~ Tik Tok ~ Liketoknow.it