12 Favorite Vintage Finds for Winter Decor collected over the years and perfect for the season.
(Affiliate links are used for your convenience. Read my full disclosure here.)
Thrifting With the Gals
I love sharing my thrifting adventures with you over on Instagram Stories during the week when I hit my local antique shops in Minocqua, Wisconsin, thrift stores and vintage markets for our #thriftingwiththegals series. My Thrifting With The Gals friends share from where we all live across the country, in Vermont and Maine, North Carolina and Florida, Minnesota and Wisconsin. I love passing on their storied adventures to you too.
Monthly the Thrifting Gals come together for a blog hop where we share how we are using or upcycling our finds in our own homes. Thanks so much to Ann Dabbling & Decorating for pulling us all together years ago to get this fun group started.
SUBSCRIBE HERE so you don't miss any inspiration!
MEET THE GALS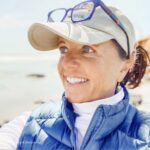 Ann @ Dabbling & Decorating | Pinterest | Instagram | Facebook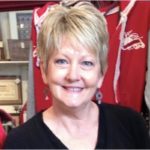 Rachel @ The Ponds Farmhouse | Pinterest | Instagram | Facebook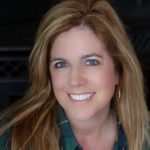 Kristin @ White Arrows Home | Pinterest | Instagram | Facebook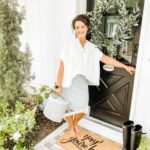 Robyn @ Robyn's French Nest | Pinterest | Instagram | Facebook
And Our Guest Host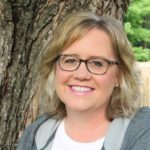 Lora @lorabcreateandponder | Pinterest | Instagram | Facebook
If you are coming over from my friend Robyn's Florida home, I know you loved her post and time reading her blog, Robyn's French Nest. She's got me dreaming of Spring with her 10 Common Thrift Store Finds for Spring Decor!
Now welcome way Up North to my Wisconsin home. My style is a mix of antique and vintage finds with legacy pieces and a bit of seasonal decor. We live in a full log cabin that sits lakeside in the woods where snow lasts though April.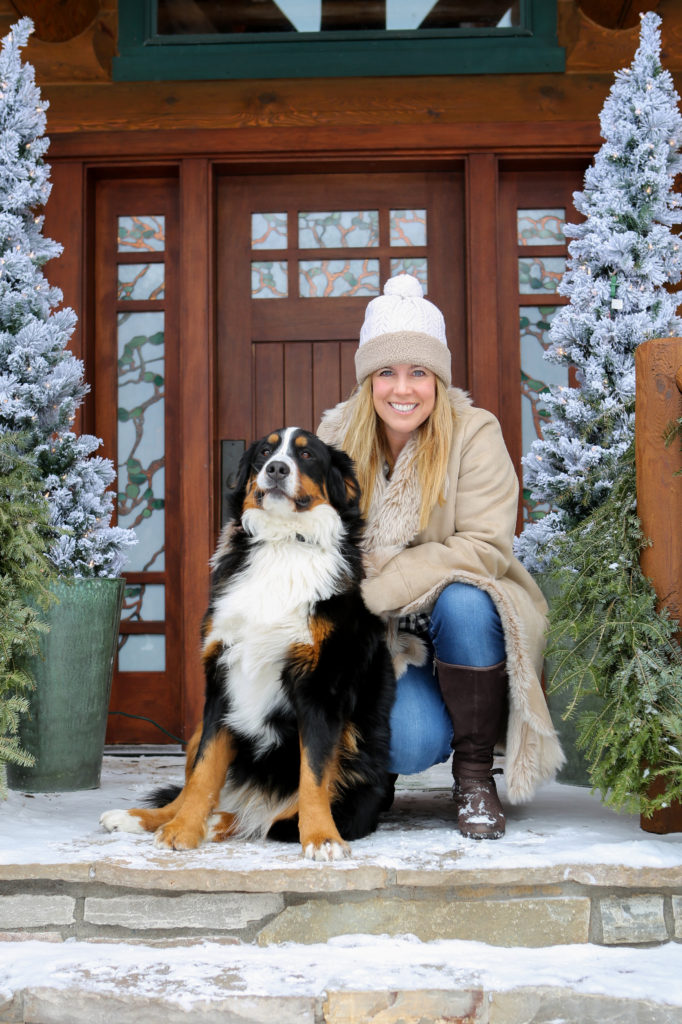 My decor usually mirrors what is right outside the window. Winter decor stays up until Spring break and then I start to bring in some Spring decor. Here are some posts sharing my Spring decor.
Until then I'm embracing Winter and my Winter decor, especially my vintage decor. Here are 10 of my favorite vintage finds for Winter decorating.
Milk Glass
I use pieces from my milk glass collection all year long. It works so beautifully in Spring and Summer, but it's also a favorite in Winter when my accessories tend to be neutrals. Whatever is outside my windows each season inspires my decor inside. We get some years around 100 inches of snow, so I see lots of white.
The forests surrounding our cabin are full of birch and pine so I love to bring birch in where I can. I added some small sticks to a milk glass ice bucket. It's like a Winter flower arrangement I never have to water.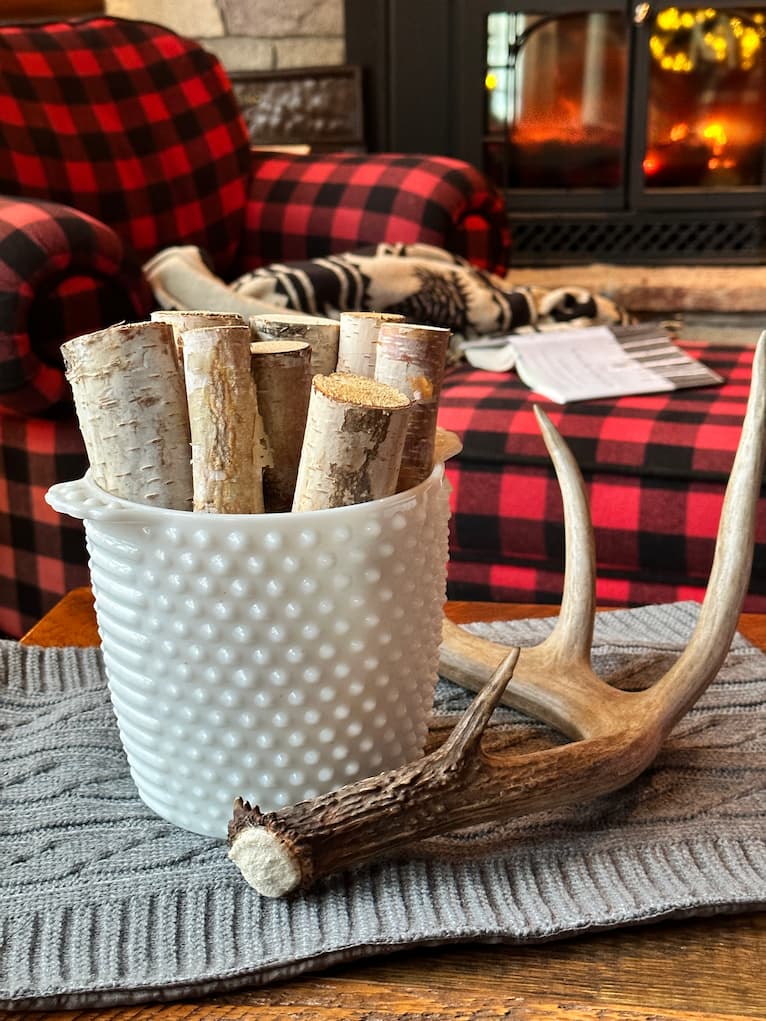 Shop Milkglass


Sleds
There are so many fun ways to use old sleds. They make a great tray or centerpiece. They also look great just simply leaning on the front porch.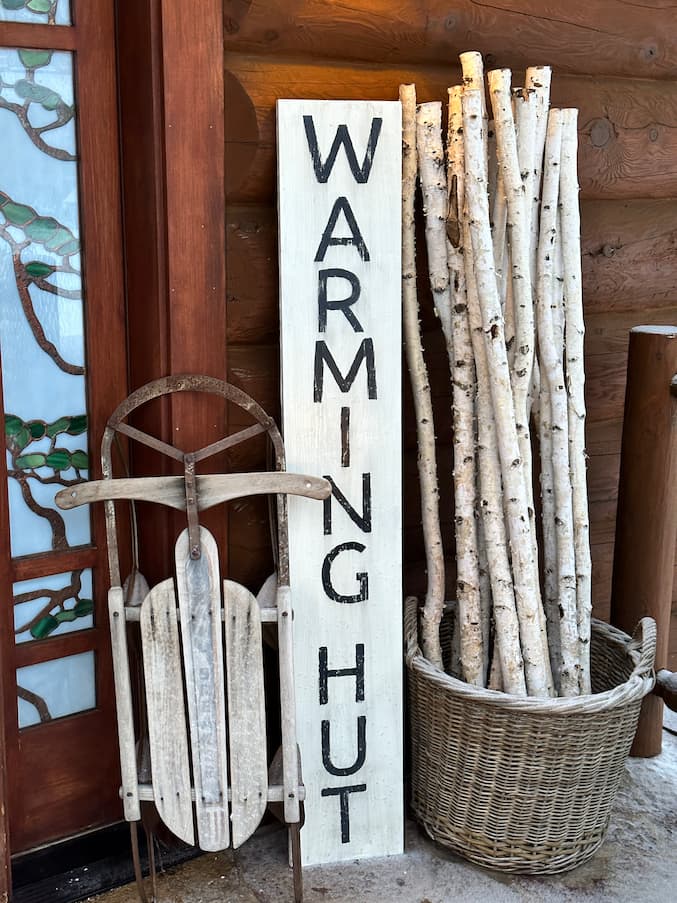 Shop Sleds


Snowshoes
One of my favorite things to collect are vintage snowshoes. They can be pricy so I'm always on the hunt for a good deal and a style I don't have. They are like works of art to me. The time the maker took to weave them, the different shapes and sizes, the stories they must hold all make them so special.
I love them hung on the wall, on the mantel or even used as a tray. Here's a post I wrote showing more ways I decorate with snowshoes.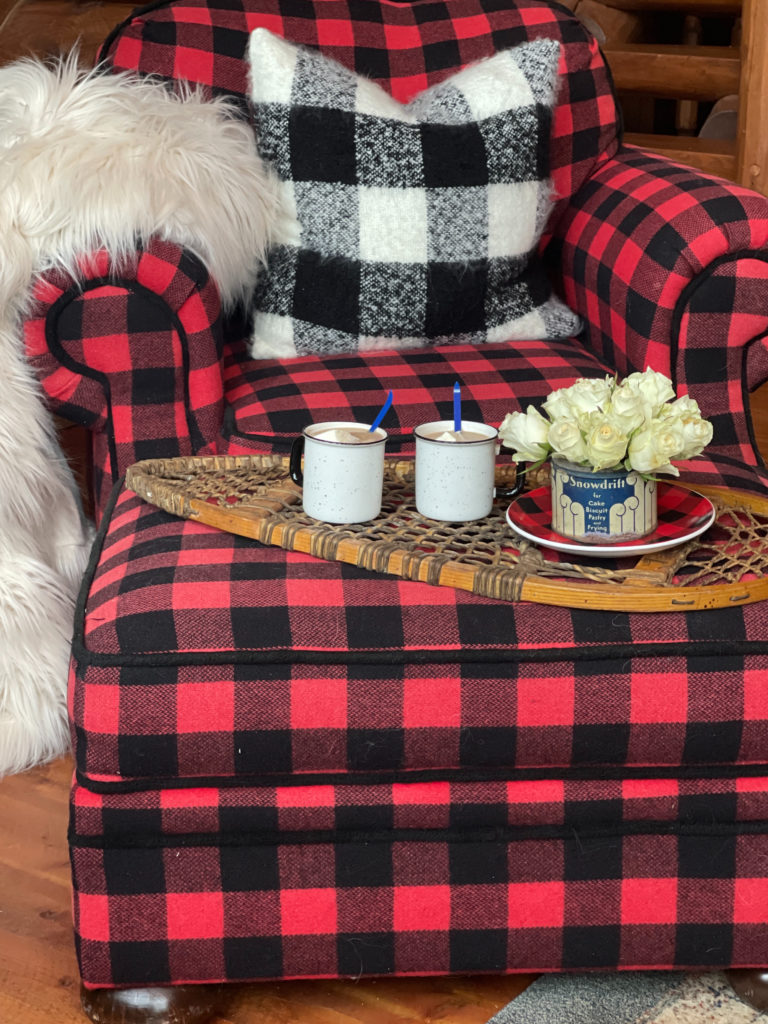 Shop Snowshoes


Tins
I love collecting all kinds of tins for their graphics, colors or nostalgia. These two are favorites to use in Winter. When I saw them I knew instantly how fun they would be to use in my Winter decor for the names, Snow Bird and Snowdrift, and the blues and whites.
There are so many great ways to use old tins. You can just stack them or add them to a vignette, turn them into a vase or candle holder, or store things inside.
When I use one as a vase, I put a mason jar inside to hold the water and keep the tin safe.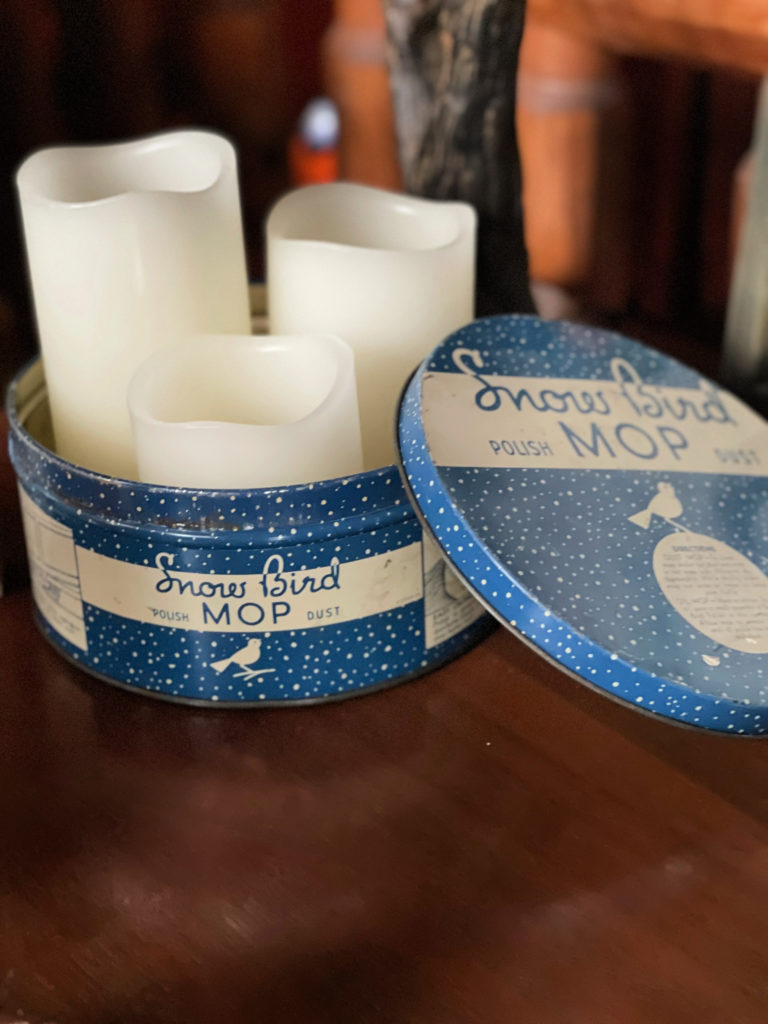 Shop Tins


Blankets
An easy way to up the cozy factor in Winter is to have blankets all around to easy grab and curl up in. I collect old camp blankets and camp stripe throws. The camp stripe blankets can be found from several makers like Hudson Bay Co., Pendleton and several others. Who made them affects the price and quality.
If I find a damaged one at a good price, it's still worth grabbing to use for a project like making pillows or recovering a seat.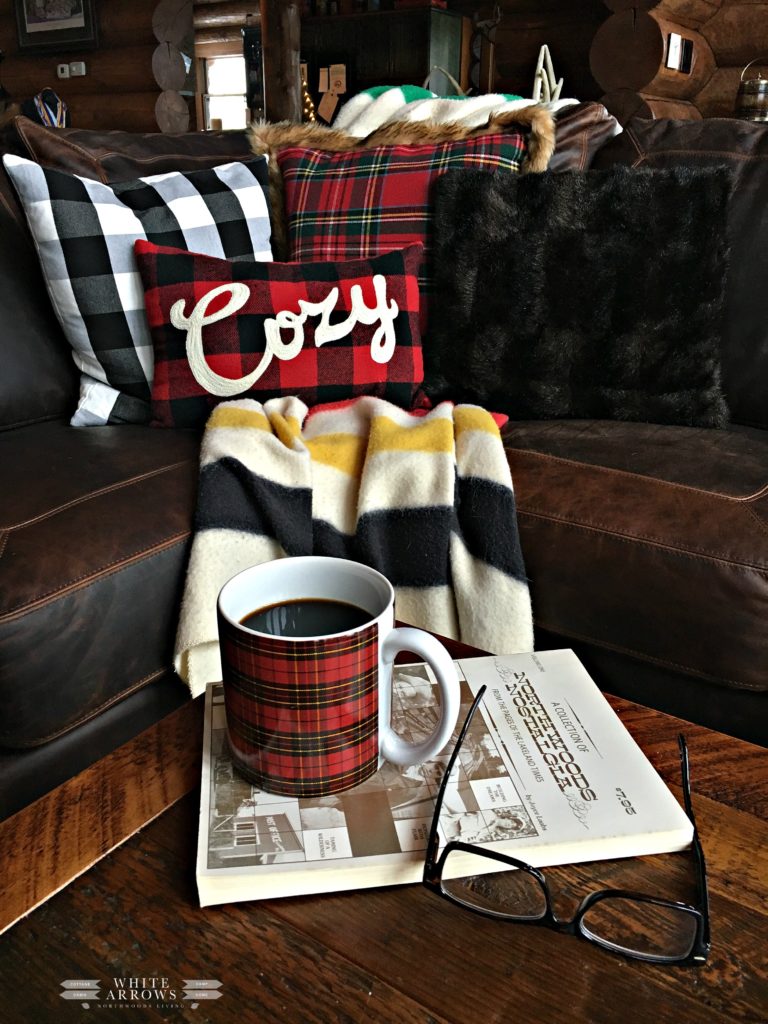 Shop Blankets


Skis
I love down hill skiing! My parents live on a ski slope in Montana and we love spending time out there skiing as a family making memories. I also enjoy cross country skiing here where I live with friends.
My vintage ski collection has been fun to add to. I am always drawn to red skis and have several pairs. I also have some in other colors and wooden ones.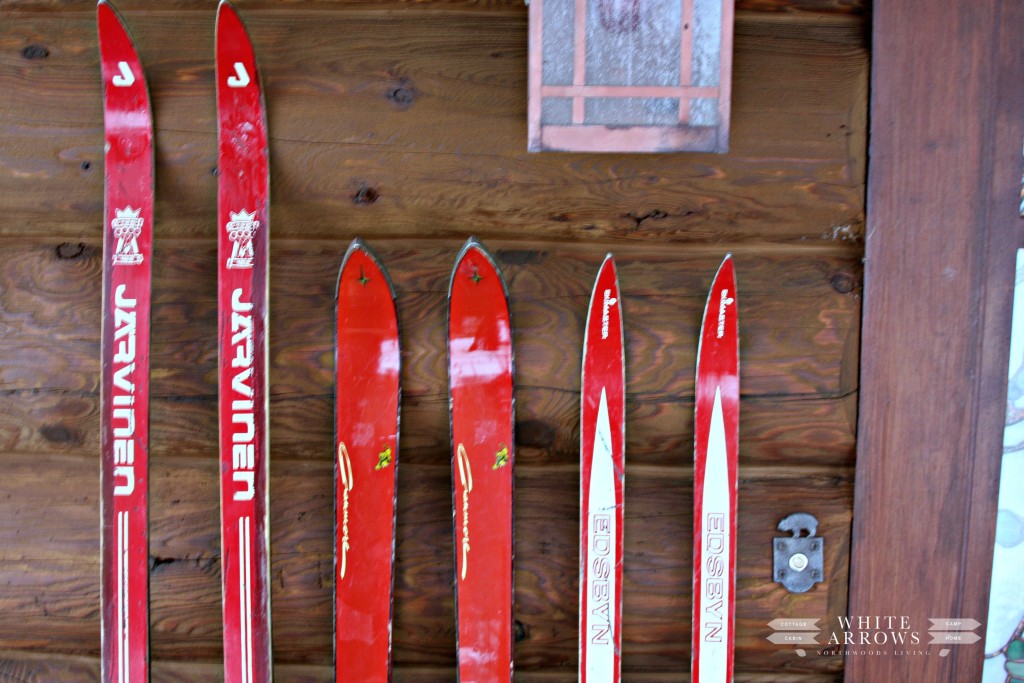 Shop Skis


Books
Every time I'm at an antique shop, I take time to scan the books. I'm always looking for ones with great outdoor titles, beautiful bindings and certain colors. This Ski the Mountain always gets a special spot in Winter.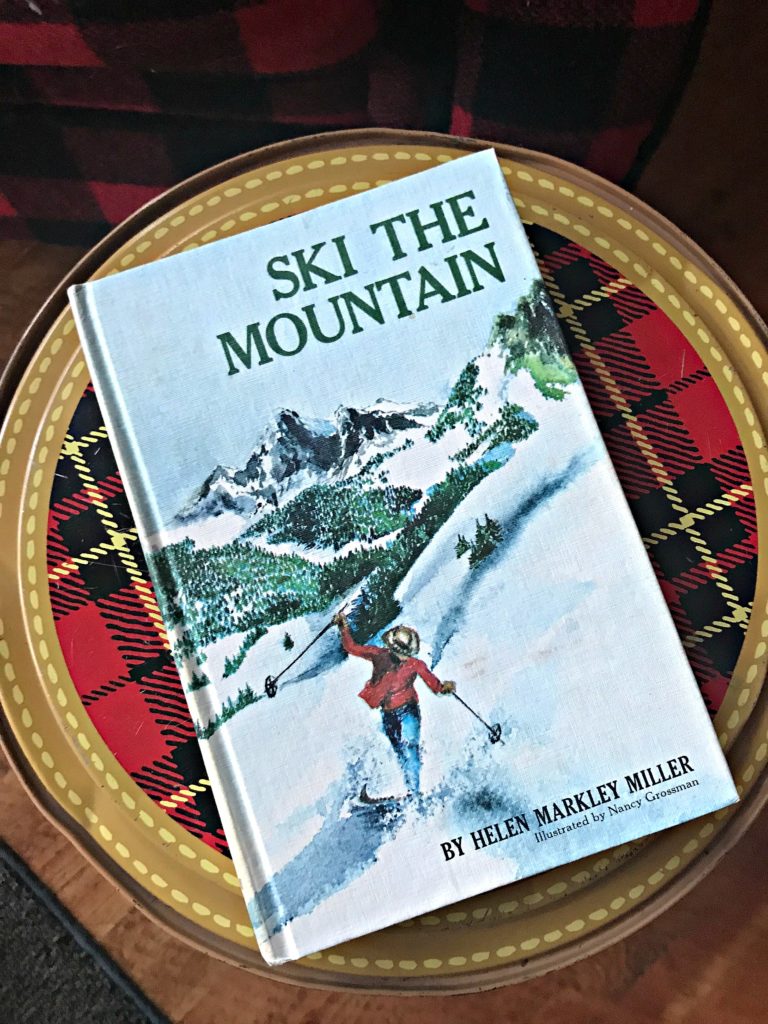 Shop Books


Lanterns
Old lanterns are always on my list. I will pick up black, white and green, but red are my favorite.
I enjoy collecting things that I often find for under $20 so on a walk through of a thrift store or antique shop I can bring home at least one affordable find. Here's a post I wrote about things to collect you can sometimes find under $10.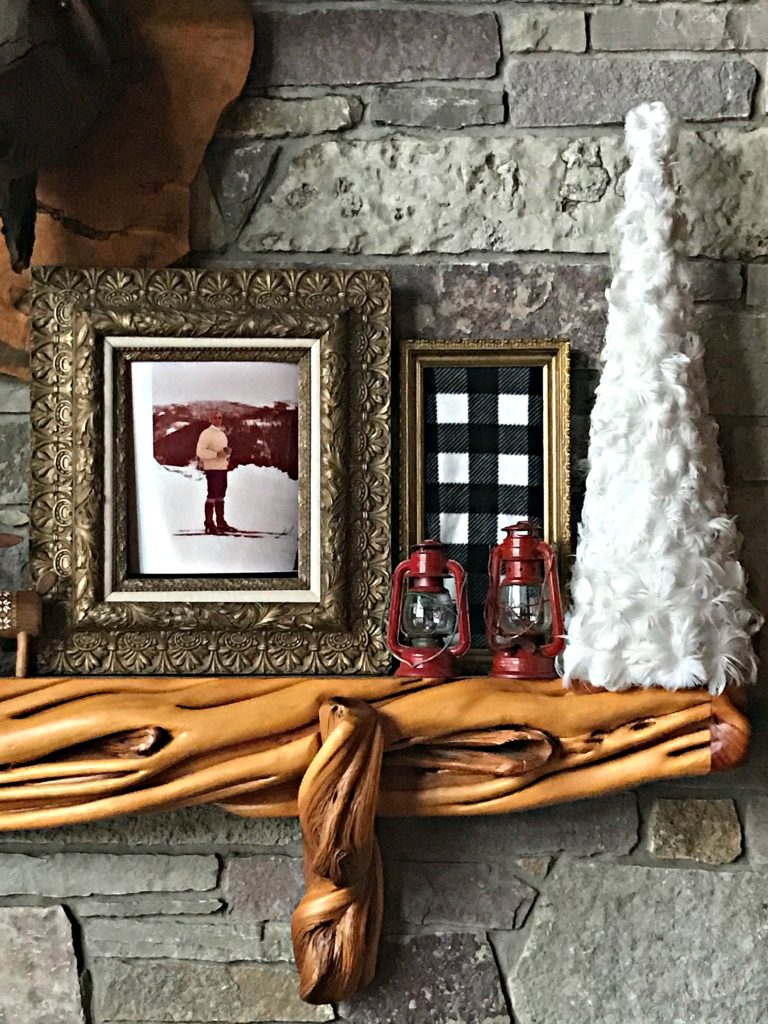 Shop Lanterns


Ice Skates
Old ice skates are a great example of things I love to collect because of the nostalgic memories they bring back. When people spent time ice skating in the past, just as now, they would have been laughing and smiling and enjoying every moment outdoors on the ice.
Our cabin sits lakeside on a 3483 acre lake where all Summer we enjoy boating, swimming and fishing. In the Winter the lake is still fun as it freezes thick enough to drive a truck on. We can still fish, but also snowmobile, snowshoe and ice skate.
My husband will plow off the snow in an area and we can skate around or play hockey. We've even done ice bowling!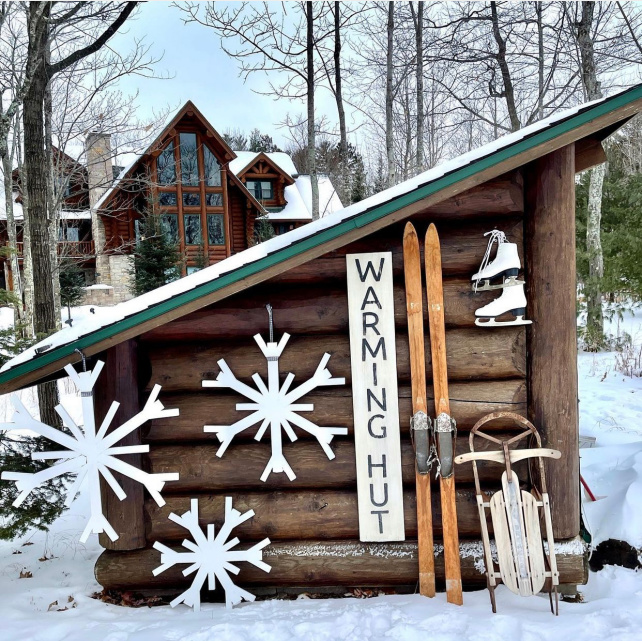 Shop Skates


Thermos
I have a big thermos collection. Many of the old ones are still usable and I'll fill them with hot chocolate to take down when the kids are skating. The thought of warm drinks inside makes them perfect in Winter decor.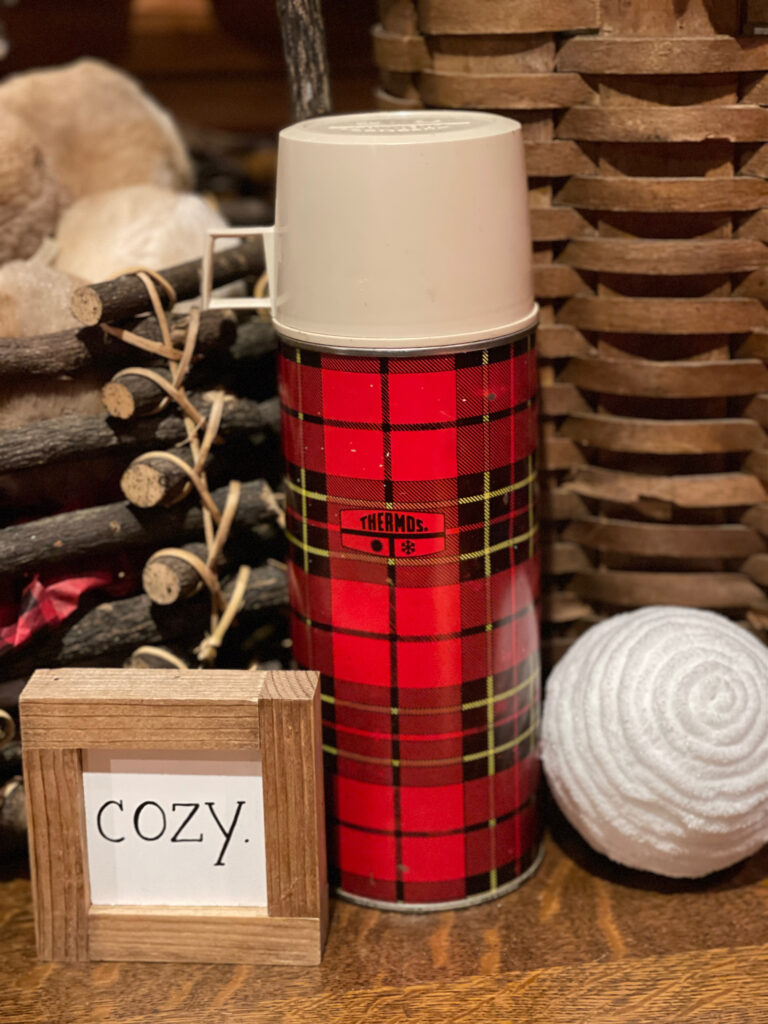 Shop Thermos


Thanks so much for visiting. Next up you are heading to North Carolina and my friend Rachel's blog, The Ponds Farmhouse . I love following her thrifting adventures and this post is such a great example of why. Check out her fun finds in Asheboro.
Take the Tour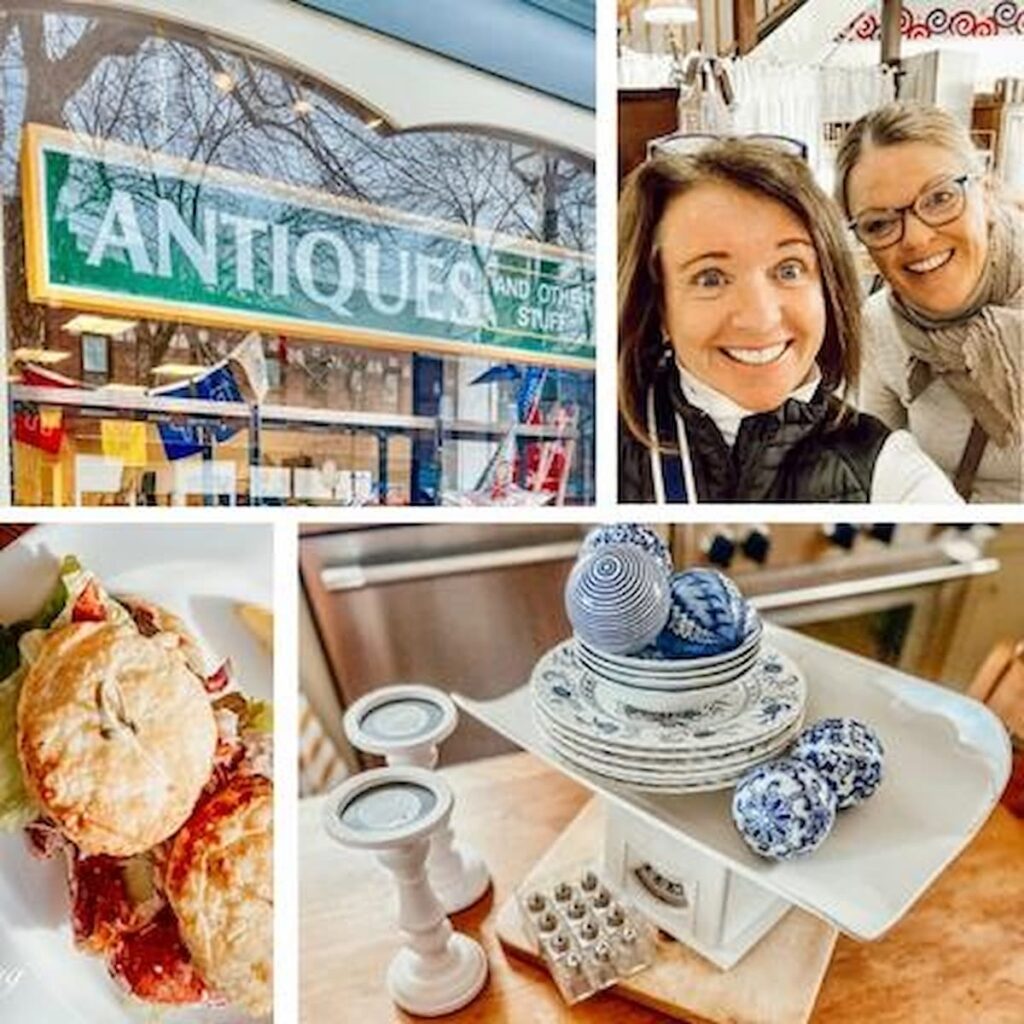 Ann | Dabbling & Decorating ~ Robyn | Robyn's French Nest ~ Kristin | White Arrows Home ~ Rachel | The Ponds Farmhouse ~ Lora B Create & Ponder
FOLLOW ALONG
Instagram ~ Facebook ~ Pinterest ~ Twitter ~ YouTube ~ Tik Tok ~ Liketoknow.it ~ Podcast